The Best Crypto Exchanges in Canada
There are a large number of Cryptocurrency exchanges popping up these days, so which should you be using?
In Canada there are some really great options, the main exchange is excellent. We've put together the top 10 best exchanges in our table below including important information on the location, currency, available cryptocurrencies and the fees.
Our rating is based on the most important factors such as security, ease of use, fees and support.
Featured On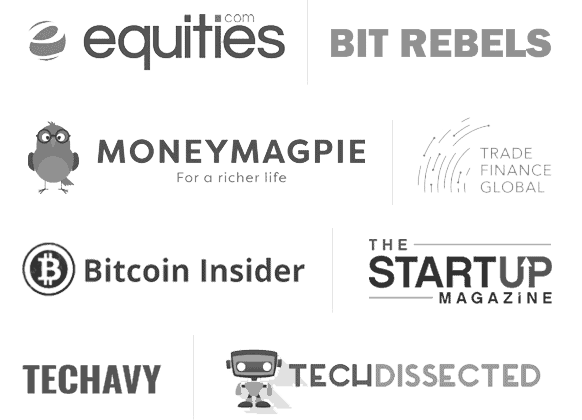 The Best Cryptocurrency Exchange in Canada: Top 10 Comparison – May 2019
We hope our in-depth list has helped you choose the best exchange for you to use in Canada, luckily there are some great options to choose from!
We would highly recommend picking one exchange and sticking with it, this will make your life much easier and will help you keep a handle on your portfolio. One of the things people stress with the most is keeping their crypto portfolio safe which is why we advise people to use a hardware wallet to store their cryptocurrency long-term.
If you want to find out more information about each exchange, you're in luck! We have detailed breakdowns on each exchange below so you can make an informed decision.


Leonard – Crypto Head Founder
Best Cryptocurrency Exchanges in Canada: Reviews May 2019

1. Quebex Exchange
Website: quebex.com
Country: Canada
Currency: CAD
Fees: 1%
Available Cryptocurrencies: Bitcoin, Ethereum & Litecoin
95%
Available Cryptocurrencies
Quebex is the only other Canadian exchange we would recommend considering but it's definitely not as reputable or popular as QuadrigaCX. They do offer a good platform for Canadian users but it is a little more complex to use than our featured exchange. There isn't too much information about the security of the exchange which leads us to advise being cautious if you do choose to go with this exchange. Something we would recommend for all exchanges but more specifically this one is to use a hardware wallet to store your coins.
Realistically, we don't see any upside to using this exchange over QuadrigaCX but some Canadian users have opted to use it over the more popular exchange.

2. Binance Exchange
Website: www.binance.com
Country: China
Currency: USD
Fees: 0.1%
Available Cryptocurrencies: 120+ Cryptocurrencies
95%
Available Cryptocurrencies
Binance is quickly becoming the most used exchange in the world and for good reason and is widely adopted by American users. The platform is perfect for experienced users but not recommended for beginner users which is why it's not higher up on our featured list. Binance has pairings for all of the major cryptocurrencies you would want to trade. The main drawback is that you can't connect up a bank account and put money in to buy cryptocurrencies. To use this exchange you will need existing cryptocurrencies which you send to this exchange and trade for other currencies.

3. eToro Exchange
Website: www.etoro.com
Country: Europe
Currency: GBP, USD
Fees: Daily Fees
Available Cryptocurrencies: Bitcoin, Ethereum, Ripple & 3 more.
70%
Available Cryptocurrencies
eToro is known in Europe as a large financial brokerage, it's more of an investment platform than a Cryptocurrency exchange. The exchange allows for the financial trading and investment for a wide range of industries including Crypto, ETFs, Stocks, Indices, Commodities and Currencies. One of the great things about eToro is that they've been around since 2006 so they are generally more trusted than most of newer Crypto-based exchanges. eToro includes a number of interesting features they have developed including following popular people to see how they are investing.
For Canadian users eToro isn't the best to go with, there are other better options out there. eToro is also still working on the Crypto section of the website and are looking at expanding their portfolio of coins over time. It's quite possible that this exchange will become one of the most popular ones in a 5-year window but currently it's features are sub-par.

4. Coinbase Exchange
Website: www.coinbase.com
Country: United States
Currency: USD
Fees: 4%
Available Cryptocurrencies: Bitcoin, Ethereum & Litecoin
50%
Available Cryptocurrencies
Coinbase is the largest exchange in the United States, even so, we highly suggest not leaving your coins on this platform. There are a number of horror stories of people using Coinbase and their terribly poor Customer Support (some people having coins stuck on their platform for over a year). As a general rule of thumb, we always advise against leaving your coins on any foreign exchanges and would highly recommend using a hardware wallet instead. Coinbase has very high fees for trading, they are able to do this because of the number of people that use them for their "security" due to them being one of the largest in the world.
One of the main criticism's with this exchange is that it is difficult to use, something not uncommon with Crypto exchanges but there are a number of reasons not to use Coinbase.

5. BitTrex Exchange
Website: bittrex.com
Country: United States
Currency: USD
Fees: 0.25%
Available Cryptocurrencies: 190+ Coins
Bittrex has a very large range of coins on it's platform, one of the most in the world which is the reason a number of people use it. The exchange has been critcised in the past due to it's "pump and dump" nature for smaller coins, people often use this exchange to abuse and manipulate coin prices. The positive here is that if you are looking for a new, or less popular coin there is a high chance that Bittrex has it for trading. As stated previously and especially for this exchange, we highly recommend not leaving your coins on this exchange.

6. CoinMama Exchange
Website: www.coinmama.com
Country: Slovakia
Currency: USD & EUR
Fees: 6%
Available Cryptocurrencies: Bitcoin, Ethereum, Ethereum Classic, BitcoinCash, Litecoin, Cardano, Qtum
CoinMama is one of the older Cryptocurrency exchanges having been founded in 2013. It is available in over 188+ countries making it quite popular, Canadians have been known to use this exchange as well. The main downfall of this exchange are the fees, at 6% they are by far the highest featured on our list. We would consider this as a good exchange to use if it provided a service leaps and bounds above others, but it really doesn't. In almost every way, it's actually worse than our featured exchange and doesn't justify the large fees.

7. Kraken Exchange
Website: www.kraken.com
Country: United States
Currency: USD, GBP & EUR
Fees: 0.26%
Available Cryptocurrencies: Bitcoin, Ethereum, BitcoinCash + 14 others
Kraken is another old Cryptocurrency exchange, it was founded in 2011. One of the main drawbacks with Kraken is that it has been inundated with bad press over the years making most people cautious when approaching it. They are known to have very bad customer service and dissatisfied customers so we'd be very careful if you were considering this exchange. For Canadian users this exchange really doesn't tick many boxes other than the amount of Cryptocurrency being traded on a daily basis which is useful for people who are trading regularly.

8. Bitfinex Exchange
Website: www.bitfinex.com
Country: Taiwan
Currency: USD
Fees: 0.2%
Available Cryptocurrencies: 20+ Cryptocurrencies
Bitfinex is currently the largest exchange used globally, most of these users are from east-asia and adoption in Canada is very minimal. Bitfinex was also hacked in August 2016 which saw them the way their platform works. Even though this is the most used exchange we wouldn't recommend it for Canadian users as there are much better options that have better, local support.
9. Kucoin Exchange
Website: www.kucoin.com
Country: Hong Kong
Currency: USD
Fees: 0.1%
Available Cryptocurrencies: 150+ Cryptocurrencies
Kucoin is a very small exchange, but they have a huge portfolio of coins available. One of the main issues with this exchange is there aren't as many people using it and trading so you'll often find it difficult to make fast transactions. Something like Binance would be a better option due to a large number of people using it and it almost has as many coins. With Kucoin, similar to other exchanges there is no option to deposit funds from your bank which makes it pointless for new users.

10. OKEx Exchange
Website: www.okex.com
Country: Hong Kong
Currency: USD & CNY
Fees: 0.15%
Available Cryptocurrencies: 130+ Cryptocurrencies
OKEx opened in May 2017, the platform itself has one of the best user experiences which is why it is quickly gaining popularity. However, for Canadian users this definitely isn't comparable to our featured exchange and we wouldn't recommend it.
Reviewing the best crypto exchanges in Canada: Why we do it!
Cryptocurrency is quite a complex industry and can be scary for people who are new to the space. Choosing the right place to buy, sell and trade is incredibly important. Our goal is to make the process as easy as possible and we focus on the most important aspects for new users. Luckily in Canada, there is a great exchange that takes our number one spot and is perfect for users of all experiences.
At Crypto Head we do our best to research each exchange and provide our opinions on each, just as we have done for this top list. The last thing we want is for people to trade on an untrustworthy exchange that could be hacked or go bankrupt.
What You Need to Know About Cryptocurrency Exchanges in Canada
If you haven't heard of cryptocurrency, then you haven't been listening. Lately, these new types of digital currency have been all the rage – made famous by Bitcoin when the currency took off to an unprecedented level. Bitcoin allowed those who entered into the game early enough to turn spare change into millions of dollars. The immensely successful digital currency spurred the creation of a lot more – and now users have a lot of options available at their disposal to choose what they want to invest in.
Of course, for such a market of a plethora of digital currencies to function, this makes the necessity of cryptocurrency exchanges prevalent. So, if you want to get into the world of cryptocurrency and trade, here is everything you need to know about their exchanges and how to navigate them.
What Are Cryptocurrency Exchanges?
These days, there are a lot of different Canadian options for cryptocurrency that people are interested in investing in. With the help of cryptocurrency exchanges, this is all made much more easy, convenient, and lucrative.
Cryptocurrencies are an emerging industry. Some people know a lot about how this industry works, while others are absolutely clueless as to how to navigate this new world. The basics, however, are simple once you have done a little bit of research. It starts with exchanging your typical currency for the cryptocurrency that you choose. To make this happen, you need to use a cryptocurrency exchange. Start by finding one that best fits your purposes.
Before getting too deep into the research process of finding the right cryptocurrency exchange that you need, you must first understand the different types of exchanges you might encounter, what their benefits are, and the risks that some of them might pose that you need to watch out for.
If you are just getting your feet wet with cryptocurrencies, it is a good idea to understand the different options available when it comes to exchanges. They pose both rewards and risks, depending on how you choose to obtain your coins. Here is a little insight:
Peer to Peer vs Traditional
Peer to peer and traditional are two different types of currency exchanges you might encounter during your search for the right exchanges in Canada. First, traditional exchanges are organizations that purchase and sell cryptocurrencies as a business. These types of exchanges often offer the best rates to their users. In addition, they also impose the most requirements in a number of situations. Because these organizations are designed to transmit, facilitate, and exchange cryptocurrencies, they impose many procedures and regulations, both to protect themselves from falling victim to fraud, and to follow the law.
You will frequently encounter wait times, either to transfer funds or when trying to verify your identity. After you have become an established client, the exchange will lessen in the amount of time that passes before you can receive your cryptocurrency.
The reason all of this can be so time consuming is that there are limited payment options available through traditional exchanges. Through them, the only way to make the exchange from your typical currency to a traditional currency is to make a bank transfer of your funds to the exchange. It takes time for this transfer to clear, delaying the amount of time it takes for you to receive the cryptocurrency. If you think a traditional exchange is the right option for you, it's important for you to carefully research the requirements that the exchange imposes and make sure it is still able to fit your needs.
Peer to peer exchanges, on the other hand, are exchanges that allow you to exchange your typical currency for cryptocurrency through a transaction that takes place between two private individuals. These exchanges have a lot of things in common with traditional exchanges. However, they do come with their own benefits and risks.
With peer to peer exchanges, it is common for the verification steps and wait times to be less than what you would find from a traditional exchange. Using a peer to peer exchange essentially means taking on different risks for increased benefits. As you will be conducting private transactions with other individuals, you will not be afforded the protections that come with trading with a reputable, Canadian, established, traditional exchange. In most cases, transactions on peer to peer exchanges are completed smoothly, with thousands of successful trades conducted on a daily basis.
Features to Look Out for When Choosing an Exchange
Now that you know a little bit about the two main types of exchanges you will encounter during your time trading with cryptocurrency from Canada, the next step is to start looking at specific exchanges. Before you commit to a certain one, though, it's important to know what features to look for in the exchange of your choosing – and which ones to avoid.
Here are the things you should consider before settling on an exchange option:
The location of the trading partner or exchange
History and reviews you find online
Verify the legitimacy of the exchange
The size and strength of the exchange
The Verdict
Obviously, there is a lot to consider before you choose the right cryptocurrency exchange for you and your purposes. Whether you're an early adopter of cryptocurrency or just trying to break your way into the market now, finding the currency exchange that fits your needs is essential.
To find it, the first step is understanding the difference between peer to peer exchanges and traditional exchanges. The next step is conducting your research on the different specific exchanges you want to try out. Then, finally, apply those findings to selecting the exchange that best fits your needs! With a bit of digging, you should be able to find one that checks off all the boxes on your list.
Once you have done all of that, the only thing that will remain to be done is trade your cryptocurrencies all you like! With so many different options on the market today, the right exchange makes it a breeze to get everything done that you like and allow you to invest your way! So, what are you waiting for? Find the cryptocurrency exchange that is right for you – and happy trading!