Disclaimer: We may receive a commission for purchases made through the links on our site. However, this does not impact our reviews and comparisons. Learn more about our Affiliate Disclosure.
Established in 2013 and based in London, CEX.IO is one of the top UK crypto exchanges that initially operated as a cloud mining provider as well.
In 2015, the platform closed the doors on its mining options and now operates solely as an exchange.

CEX.IO is a cross-platform exchange, offering support on both its website and an iOS or Android mobile app. This popular Bitcoin exchange is attractive to users who prefer a simple and intuitive interface. The site is easy to navigate and is perfect for those who are both new to the world of cryptocurrency and is an experienced trader.
The site boasts nearly three million registered customers. Users get high liquidity on an exchange that offers plenty of trading options. CEX.IO is compliant with all UK licenses and regulations, so you can trust you're buying, selling, and trading, on a reliable and trustworthy platform.
Supported Cryptocurrencies
Currently, CEX.IO supports 28 cryptocurrencies (this list is growing over time) and setting up an account on the platform is quick and straightforward. Accounts on CEX.IO are classified as either Intro, Identity, Address, Enhanced, or Corporate based on the verification documents provided.
Many reputable exchanges request certain forms of identification to confirm you are who you're claiming to be. As a result, your deposit and withdrawal limits are increased based on the personal information you provide. However, what's most important, verification helps increase security of your funds and data. Usually, these verification forms, known as KYC (Know Your Customer) checks, consist of your passport, driver's license, or another type of government-issued identification. This type of test shows the exchange complies with local AML policies.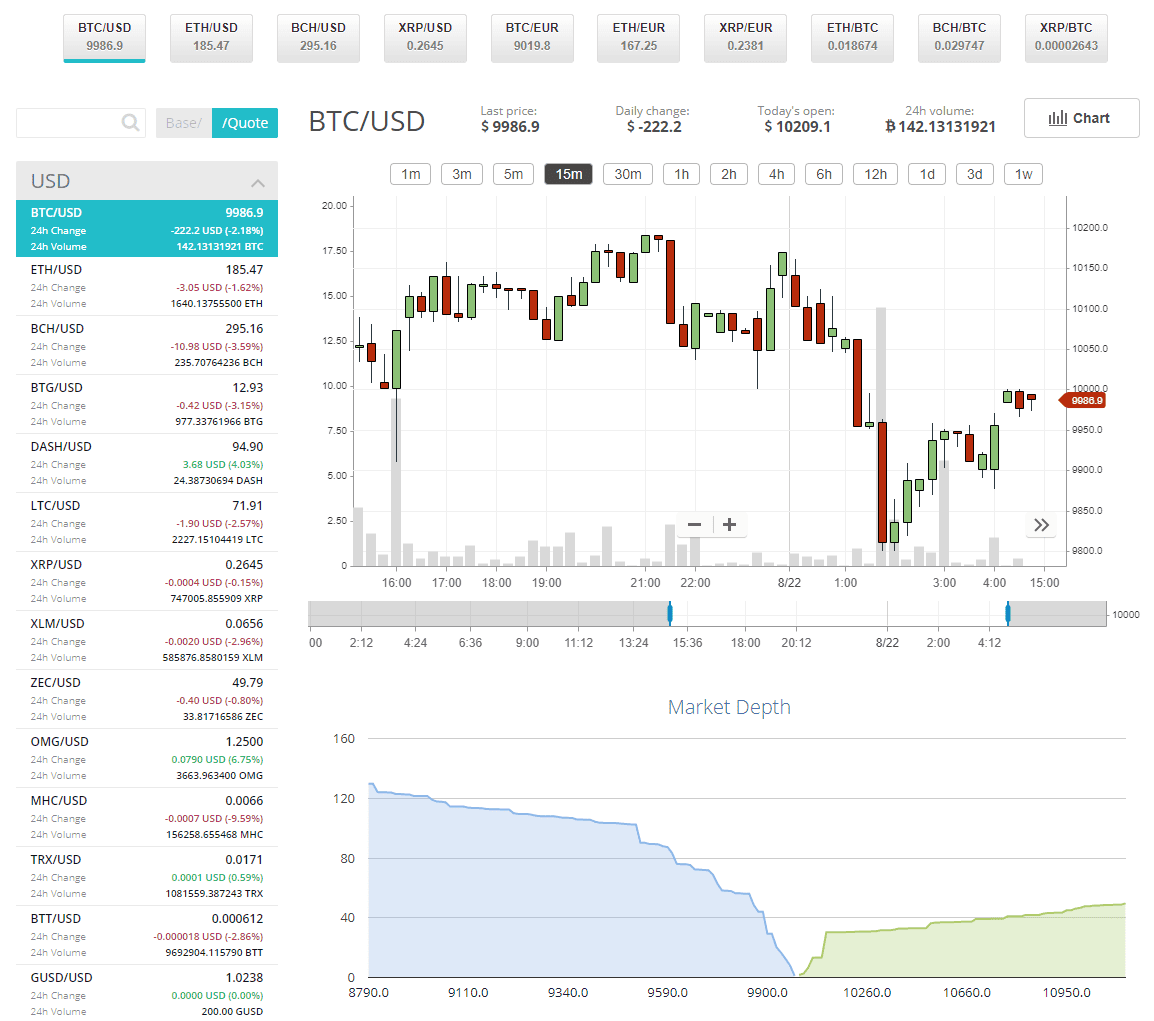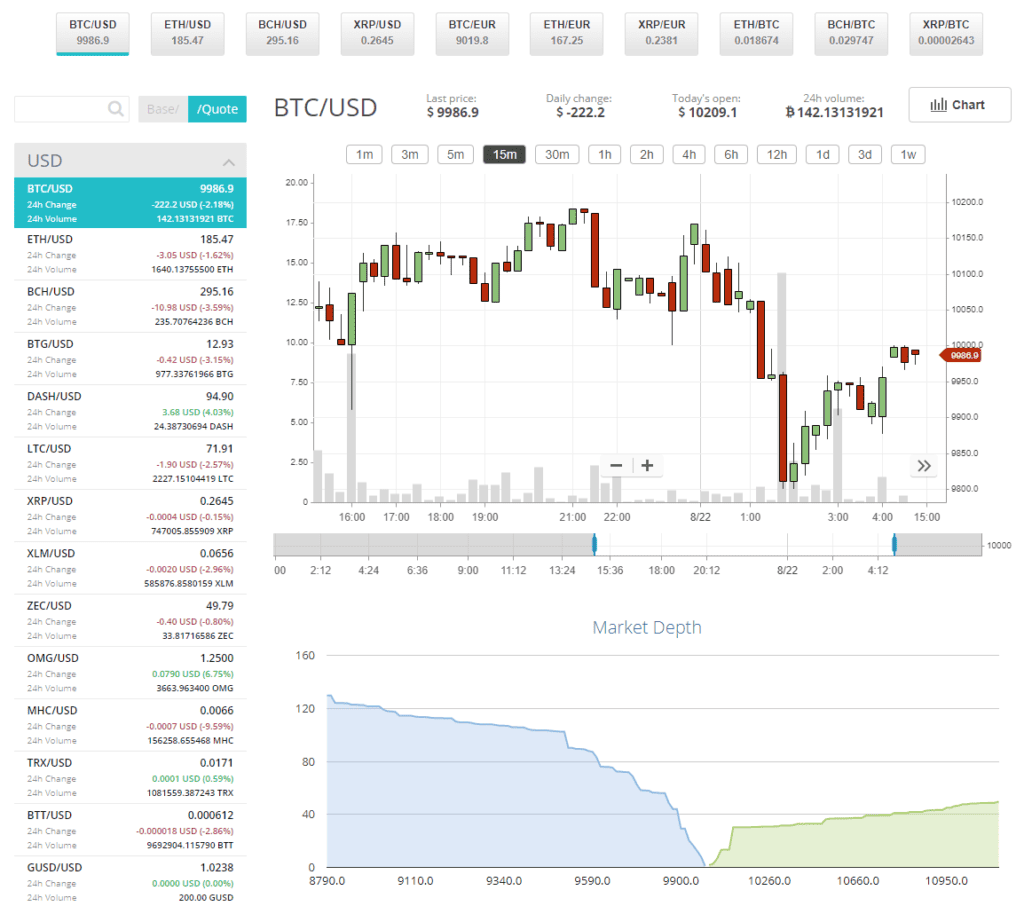 You can deposit both cryptocurrency and fiat currency such as US Dollars and Euros into your CEX.IO account, which is a nice feature that many exchanges don't offer. Most make you choose one or the other, so CEX.IO sets itself apart in this regard with its variety of trading pairs.
If you prefer to use fiat currency, the platform will accept GBP, EUR, RUB, and USD. If you're interested in buying, selling, or trading digital assets using the CEX.IO exchange, there are several from which you can choose. CEX.IO supports Bitcoin (BTC), Ethereum (ETH), Bitcoin Cash (BCH), Ripple (XRP), Litecoin (LTC), Bitcoin Gold (BTG), DASH, Stellar (XLM), MetaHash (MCH), BitTorrent Token (BTT), OmiseGo (OMG), Cardano (ADA), NEO, GAS, Basic Attention Token (BAT), TRON (TRX), Cosmos (ATOM), Tezos (XTZ), Gemini Dollar (GUSD), Ontology (ONT), Ontology Gas (ONG), Tether (USDT), USD Coin (USDC), WABI, MATIC, LINK, 0x (ZRX), HoloToken (HOT).
Trading Fees and Payment Methods
You'll encounter a 2.99% charge when using a credit card to deposit funds into your account. The benefit of using a credit card, however, is that the transaction is processed instantly. You don't have to wait for your funds to show up in your account.
At CEX.IO you can trade by placing market and limit orders. When you place them, there will be trading fees implied. These fees depend on the monthly trading volume and diminish with the higher volume.
Apart from trading by placing market and limit orders, you can use an Instant Buy and Sell services. It means that you can buy any crypto with your debit or credit cards and get the purchased coins to your CEX.IO within minutes. This option is available in the CEX.IO website and in the mobile app.
As for the Instant Sell service, it allows you to sell your crypto and then withdraw your fiat funds either to your card or to your CEX.IO balance. It takes literarily few minutes to do that.
The advantage of these services is that you're getting what you agreed to immediately, which helps to establish trust with the exchange. As a result, you're guaranteed to get your Bitcoin at the price you wanted, using your preferred payment option. However, this guarantee comes at a cost. Check their fees here.
Additionally, CEX.IO implements a service charge of 7% for using Instant Buy service. It's built into the price of the digital asset. Most of the complaints are in relation to this fee and the high exchange rates. Keep in mind that you're only charged when you purchase cryptocurrencies on the Buy/Sell page of the CEX.IO platform, where you can find the mentioned service. If you trade for your digital coins on the Trade page, then you'll encounter different fees, based on your monthly trade volume.
The difference between using the Instant Buy service and Trade page is that in the first case you receive the service instantly without the need to place an order. It's like using an express and standard delivery — in both cases you get the good, but it's the speed and convenience that matters.
Transaction fees on the CEX.IO exchange vary for different payment methods. There are zero deposit and withdrawal fees for FasterPayments, ACH, and SEPA transfers, while Skrill payments incur a 3.99% deposit fee and 1% withdrawal fee. SWIFT deposits are also free. Overall, the transaction fees and rates you'll encounter on CEX.IO are similar to what you'll find throughout the cryptocurrency market.
Trading Platform Limits
When you start using CEX.IO, the minimum amount of Bitcoin you can purchase via Instant Buy service is 0.0015 BTC. Through different account types, CEX.IO provides users a range of options, each of which has varying transaction limits.
It might take a little longer for Enhanced Verified and Corporate Verified Plus users to receive approval due to higher limits. However, once they do, transactions are quick and smooth. Here are the account types available through CEX.IO.
Identity
If you choose to go with an Identity account, you'll have the ability to buy up to $3000 worth of Ethereum, Bitcoin, or other crypto each day. To sign up for an Identity account, CEX.IO asks for a copy of a valid, government-issued form of identification to filter scam accounts.
Address
With an Address account, you can buy $10,000 of either Bitcoin, Ethereum, or other crypto each day. If you want to have an Address Verified account type, you'll need to provide a copy of an official proof of your residence.
Enhanced and Corporate
Enhanced and Corporate accounts have no limitations or restrictions on the amount of Ethereum, Bitcoin, or other crypto, which they can buy, sell, or trade. To get an Enhanced account, you'll have to give CEX.IO all the information requested for Identity and Address accounts. Additionally, you'll have to provide financial information confirming you have the necessary funds. If you want to open a Corporate account, you'll need to provide official documents about your company registration and activity.
Withdrawals and Withdrawal Fees
One great feature about CEX.IO that isn't available on other exchanges is the ability to withdraw your monies directly onto your debit or credit card.
All credit card withdrawals fees can be found on the CEX.IO website, in the Limits and Commissions page.
If you have an Address account type, CEX.IO provides the opportunity to withdraw your funds through international and domestic bank transfers. You can either use SWIFT and pay 0.3% + $25.00 for withdrawal or take advantage of the free withdrawals via SEPA, ACH or Faster Payments.
Customer Support
CEX.IO usually gets high marks when it comes to customer support. You can contact the support team via the ticket (submit a request), phone call, ask questions in chat, or send an email.
The platform typically responds to emails and requests within 48-hours, which isn't a bad turnaround time.
One of the most common questions new users ask is whether an exchange is safe. CEX.IO answers with a resounding yes, as it has been a reputable and reliable exchange for several years. Its high number of users and additional features make this platform a safe choice when you want to buy, sell, or trade cryptocurrency.
Operating out of the UK means CEX.IO has to adhere to the laws and regulations set forth by the national government. This is especially true as the exchange serves users from all around the world.
CEX.IO is incorporated in the UK and is registered with FinCEN. Additionally, it is fully compliant with the Payment Card Industry Security Standards Council and PCI DSS. CEX.IO received a Distributed Ledger Technology (DLT) license issued by the Gibraltar Financial Services Commission (GFSC). And also, CEX.IO has obtained Money Transmitter Licenses (MTLs) in 28 US states, and keep on working on covering more.
For the most part, your funds are safe on CEX.IO as the exchange states that it keeps user funds in cold storage. This method is secure as it protects your assets while they're on the platform.
If you want to enhance your account security, CEX.IO suggests you activate two-factor authentication for every login and order you make.
Verification Process
To access higher limits on the CEX.IO exchange, you'll need to go through the site's verification process. Here are the necessary steps to verify your identity on the platform:
Prove your residence – The first thing you have to do is prove that you're living where you say you are. Choose your country from the dropdown list, then choose your state and county if necessary. If you're in the US, you'll have to provide your social security number. If you're elsewhere, you can use a tax id number, or turn this step off and move on to the next field.
Verify your identity – CEX.IO asks for documentation that shows you are who you say you are. Fill in the information requested by the platform, then take a selfie with the identification you're submitting.
Confirm your address – Provide proof of your address to CEX.IO by submitting a utility bill or statement that shows your street address, city, state, country, and zip code.
Link to social media (optional) – While you aren't required to submit this information to the exchange, it does help your chances of successfully passing the verification process. You can submit your Facebook, Twitter, or LinkedIn profiles to CEX.IO.
After you've submitted everything to the exchange, it is placed in a queue. Once it is reviewed and approved, you'll receive a notification from CEX.IO letting you know that you now have access to the site.
If for some reason your application is rejected, CEX.IO will let you know the issue. It can happen because of the low-quality photos or incomplete information provided.
Ease of Use
For a lot of users, the KYC checks and verification process seem too time-consuming and tedious. However, if you submit all information properly and accurately, you can get verified within minutes. They also complain of CEX.IO's confusing fee schedule and the differences in payment options based on the user's location. Availability of the payment options depends on your local regulations and laws. CEX.IO is a regulated exchange that provides services worldwide and, hence, abides with the legislation in place. As far as the trading interface is concerned, you don't have to be a professional trader to find your way around it and enjoy all the trading features it offers.
Frequently Asked Questions
Does CEX.IO have an app?
CEX.IO does have an app. If you prefer to buy, sell, or trade digital currencies while you're away from home, you can download the mobile app from either the App Store or Google Play markets. As a result, you don't have to be connected to your computer if you want to keep an eye on your favorite digital asset.
What countries are supported by CEX.IO?
CEX.IO does operate in the vast majority of countries from around the world. However, some do not have 100% access to the platform, meaning they might have a limited amount of cryptocurrencies to trade or limited payment options. Again, this is because of the local regulations in place.
For example, the following nations can't purchase cryptocurrencies with their credit cards: Afghanistan, Algeria, Iraq, Lebanon, Kuwait, Nigeria, Libya, Iceland, Oman, Palestine, Vietnam, Yemen, and Saudi Arabia.
Similarly, these countries can't purchase cryptocurrencies through bank transfer: Afghanistan, Cote d'Ivoire, Democratic Republic of Congo, Ethiopia, Haiti, Eritrea, Iraq, Kenya, Iran, Syria, Liberia, Libya, Somalia, Vietnam, Turkey, Sudan, Tanzania, Yemen, Tunisia, and Zimbabwe.
CEX.IO is registered to operate in the United States. Currently, it can provide service in 47 states and aims to expand US coverage.
Does CEX.IO provide a cryptocurrency wallet?
CEX.IO does have a local wallet on its platform where you can store your favorite digital currency. CEX.IO uses cold storage, so you can safely store your funds in your CEX.IO account.
Moreover, CEX.IO has a Staking service, which allows users to earn crypto by simply storing coins of their CEX.IO accounts. Currently, this service is available for 6 cryptocurrencies — NEO, TRX, ONT, MHC, ATOM, and XZT. Soon, CEX.IO is planning to add ADA and MATIC staking too.
Summing It Up
CEX.IO is a London-based cryptocurrency exchange with an easy-to-navigate platform and mobile app. They offer ample security and great versatility in terms of available currencies and funding options.
Their transaction fees seem on a higher side, but the exchange offers flexible options for users depending on their tasks and goals on the platform. Also, some can find the verification process tedious. However, on the flip side — it's a security measure that helps you be sure your funds are safe and won't mix with "bad industry players". Overall, it offers safety, flexibility, and ease of use — which makes the platform a good choice for both entry-level and experienced traders.
Disclaimer: Digital currencies and cryptocurrencies are volatile and can involve a lot of risk. Their prices and performance is very unpredictable and past performance is no guarantee of future performance. Consult a financial advisor or obtain your own advice independent of this site before relying and acting on the information provided.