Best Crypto Exchanges in Australia 2022
Last Updated on November 22, 2022
Finding the best crypto exchange in Australia can be tricky these days, as there are so many options to choose from.
We've reviewed and ranked the best ones looking at factors such as ease of use, fees, trading features, customer support, and more.
Based on our research & reviews, these are the best Australian crypto exchanges:
1. Swyftx: Best Australian Exchange

Website: swyftx.com.au
Country: Australia
Currency: AUD
Fees: 0.6%
Available Cryptocurrencies: 300+ Cryptocurrencies & adding more regularly
Support: Live chat, Phone
Notable Features:

OTC and SMSF options
Earn up to 80% interest on crypto
Tax reporting
Recurring orders
Swyftx are currently running a promotion for new users, you can get $20 BTC credit when you sign up.
Swyftx is by far our most recommended Australian cryptocurrency exchange, given that their trading platform is the easiest to use and their online wallet makes trading pain free. With Swyftx you can keep any coins you buy in their online wallet and it doesn't have the same risk as keeping it on regular exchanges.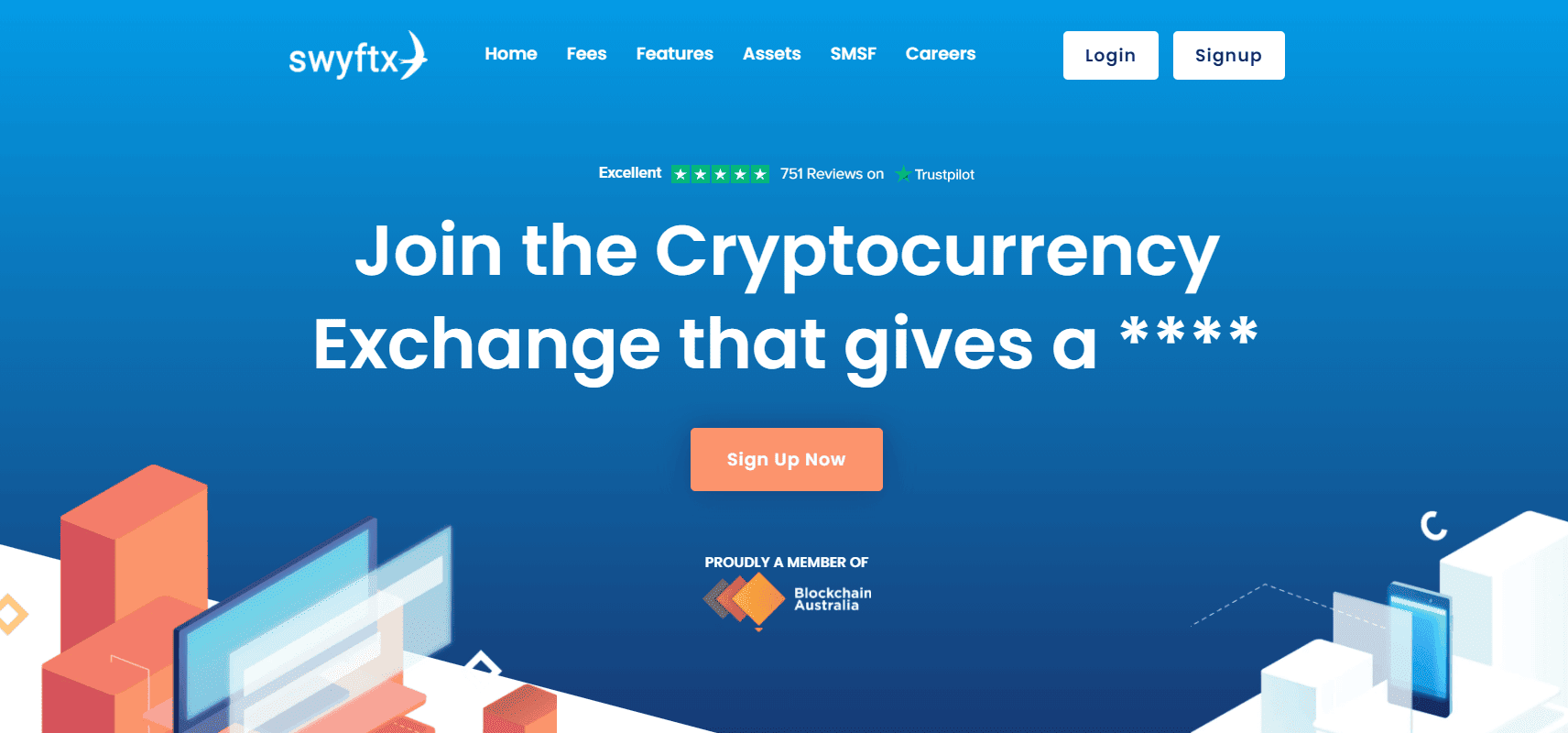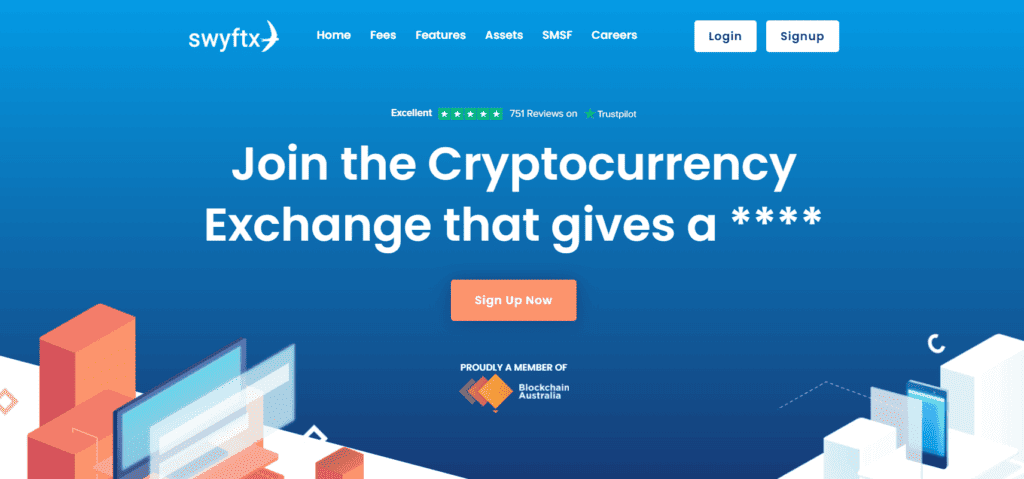 Swyftx makes day trading incredibly easy, allowing you to swap, buy and sell coins instantly. You can buy crypto assets with AUD deposits via bank transfer, POLi, or PayID. I really appreciate that the team at Swyftx are incredibly helpful and being Australian based they are always active when you need them. The account verification process is very smooth.
For me, the main standout features for Swyftx are low trading fees, excellent user interface, and unmatched support/onboarding. This all makes for a great user experience and hence deserves our stamp as the best cryptocurrency exchange in Australia. I really feel like Swyftx goes out of its way to make sure you are getting what you need so when you sign up, you are assigned an account manager who will help you out with any questions you have. This makes Swyftx perfect for beginners with limited experience in trading or cryptocurrency.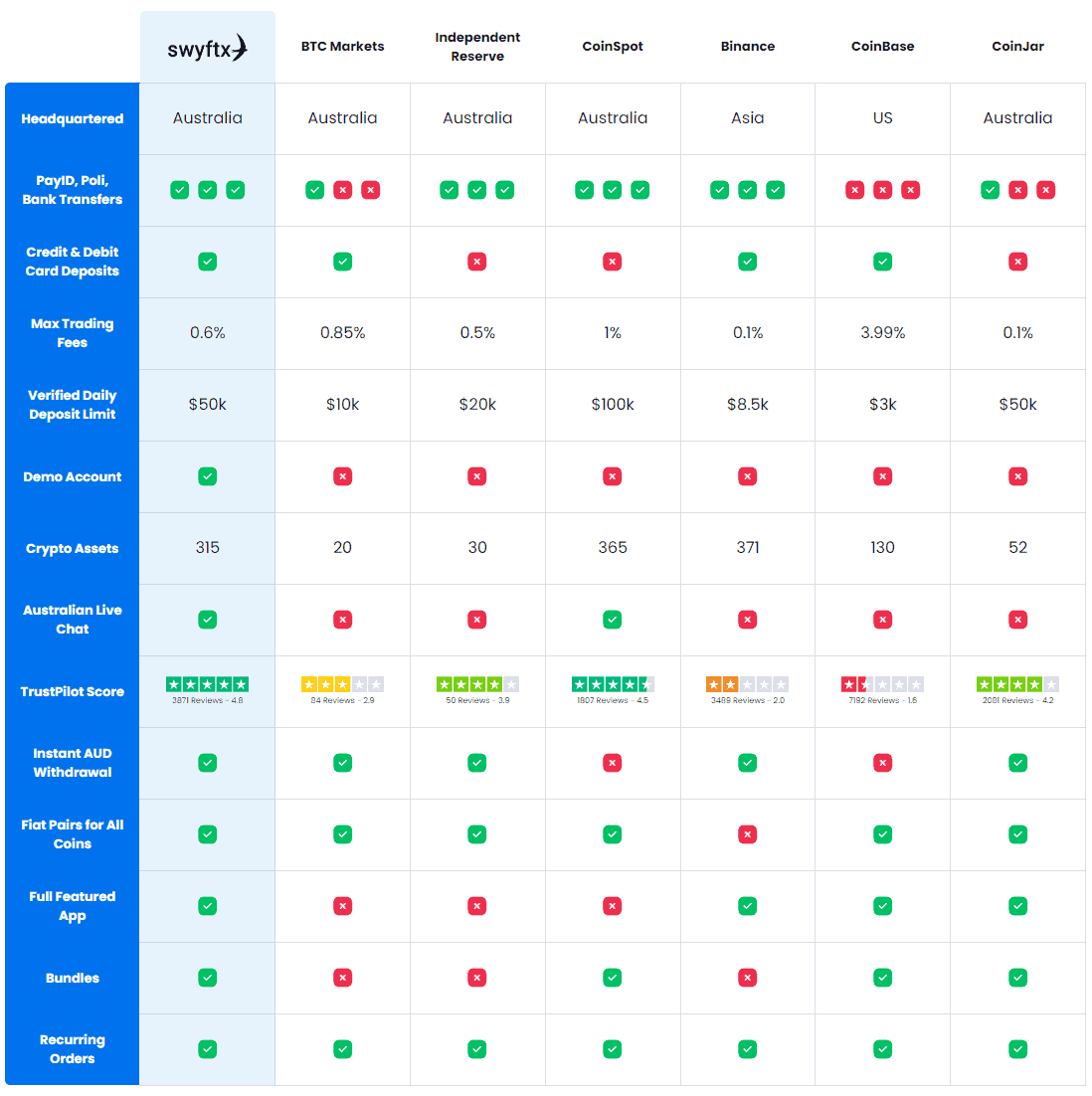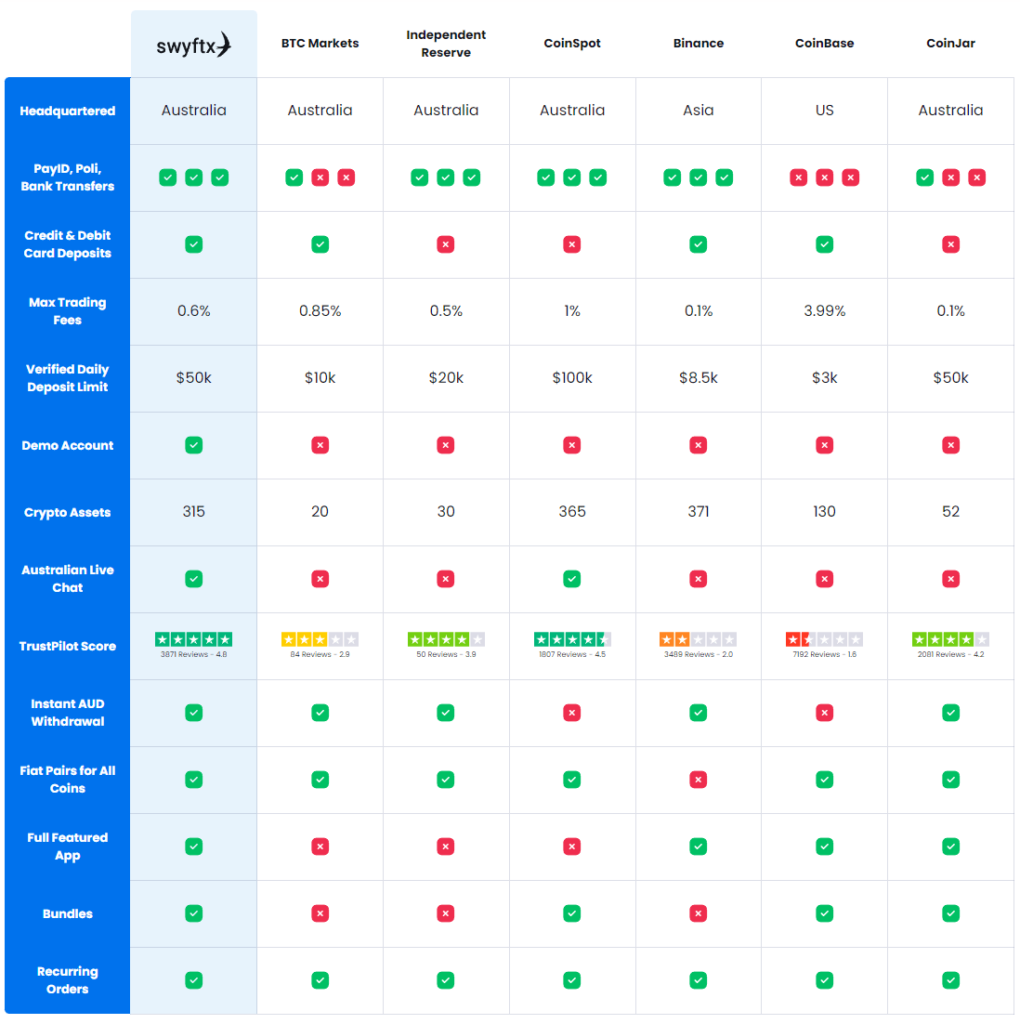 Swyftx also has additional features for the more experienced traders. For instance, I like how you can customize your dashboard with your preferred metrics, use TradingView charting, activate recurring deposits, or ask Swyftx to generate tax reports.
Pros:
Easy to use
Quick verification process
Large choice of available cryptocurrencies
Fair pricing
24/7 live chat support
Cons:
Available only for residents of Australia and New Zealand
Related:
2. CoinSpot: Best for Beginners
Website: www.coinspot.com.au
Country: Australia
Currency: AUD
Fees: 1%
Available Cryptocurrencies: 200+ Cryptocurrencies
Support: Live chat, 24/7 CS via email or phone
Notable Features: 

SO 27001 accredited security standards
OTC trading available
Includes multicurrency wallet
NFT marketplace
CoinSpot is a great Australian crypto exchange for new users, I like the UI of their dashboard, it's easy to use and clutter-free which makes the process to buy and sell your first cryptocurrency very easy. I do think that the main issue with CoinSpot, however, is that it charges above-average trading fees. There are many other trading platforms that provide almost the same experience but with a much better trading fee structure.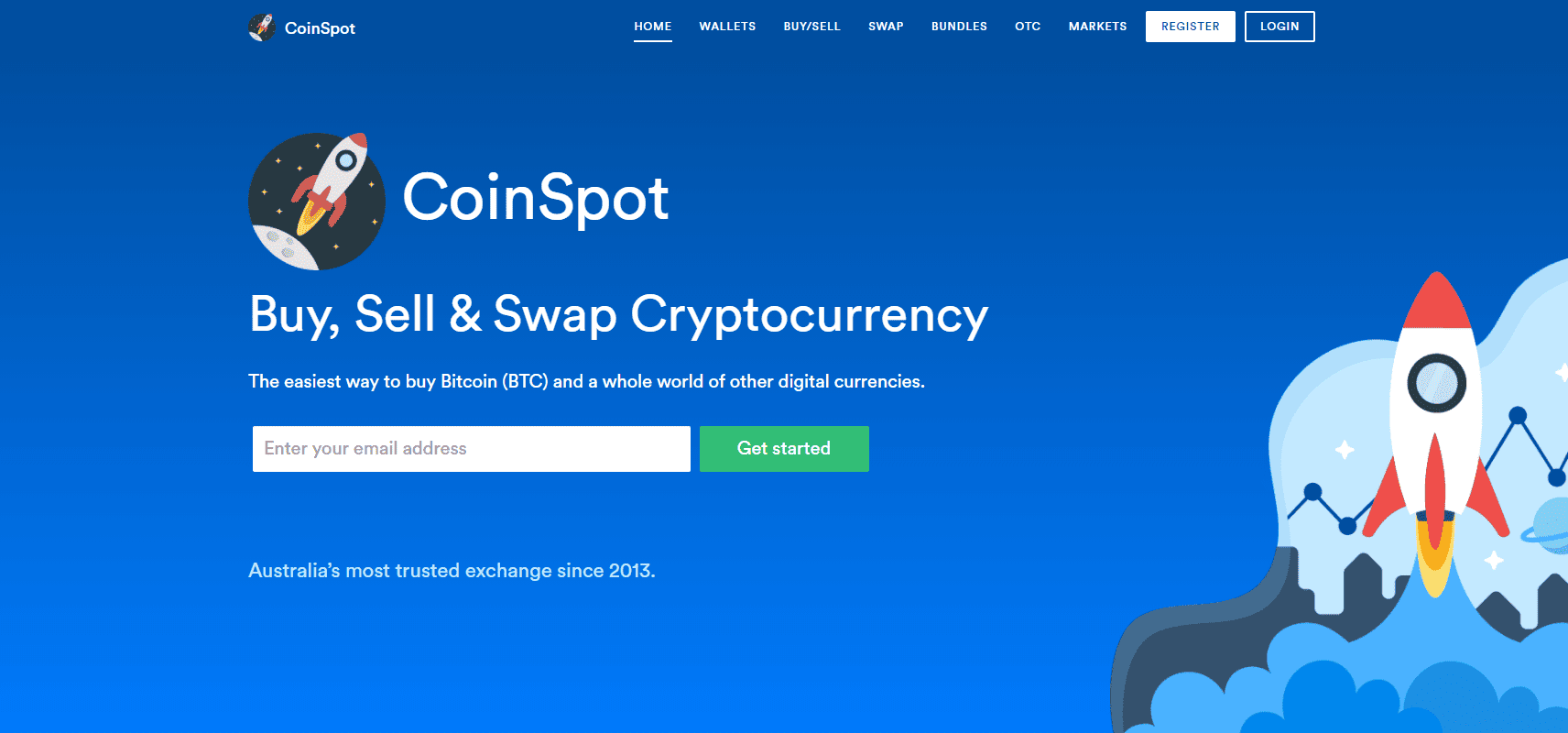 Most people once they've started trading a bit more, end up moving to an international exchange where they can trade with lower fees. On the other hand, one of the advantages of CoinSpot is that it has a large number of trading pairs. Moreover, it's one of the few Australian crypto exchanges that support buying and selling decentralized finance tokens. It also supports a range of deposit methods: BPAY, POLi, PayID, direct OSKO bank transfers, and cash, and includes an OTC desk for large-volume orders.
All in all, I think that CoinSpot is a great entry point but as we said, chances are you won't stay on there long term. If you're curious to find out more before you make up your mind, check out our more in-depth CoinSpot review page which provides much more information on the business, its history, and other more technical aspects.
Pros:
Intuitive navigation
Automatic purchases on a daily/weekly/monthly basis
Largest selection of DeFi tokens and NFTs
Minimum or no deposit and withdrawal fees
SMSF Account
Cons:
High weekly volume limit
Lack of margin trading support
Related:
3. Binance: Best for Day Trading

Website: www.binance.com/au
Country: Australia
Currency: 50+ Fiat Currencies
Fees: 0.1%
Available Cryptocurrencies: 400+ Cryptocurrencies
Support: Live chat, Twitter, email
Notable Features: 

Largest and most liquid exchange platform
Supports short selling
Up to 125x leverage margin
Has its own NFT marketplace
Peer-to-peer trading available
Binance is quickly becoming the most used exchange in the world and for good reason. The platform is perfect for experienced users looking to get more serious with their trading. I do believe that it can take some getting used to for beginners, which is why Swyftx is the most recommended exchange for beginners.
As mentioned in our Binance review, they have pairings for all of the major cryptocurrencies you would want to trade. On top of that, they offer all sorts of deposit methods. Australians can use the separate Binance Australia platform launched in July 2020 which offers instant AUD deposits and withdrawals. Its trading fees are very low, only 0.1%, and you can even get a further discount with their BNB tokens.
If you are looking at doing regular trading known as day trading, I would recommend using this exchange. Also, the platform offers margin trading (leverage trading) for the more experienced. For Binance, safety is a big priority which is why the exchange created its Safety Asset Fund for Users to which it allocated 10% of all the fees and uses the money in case of a security breach.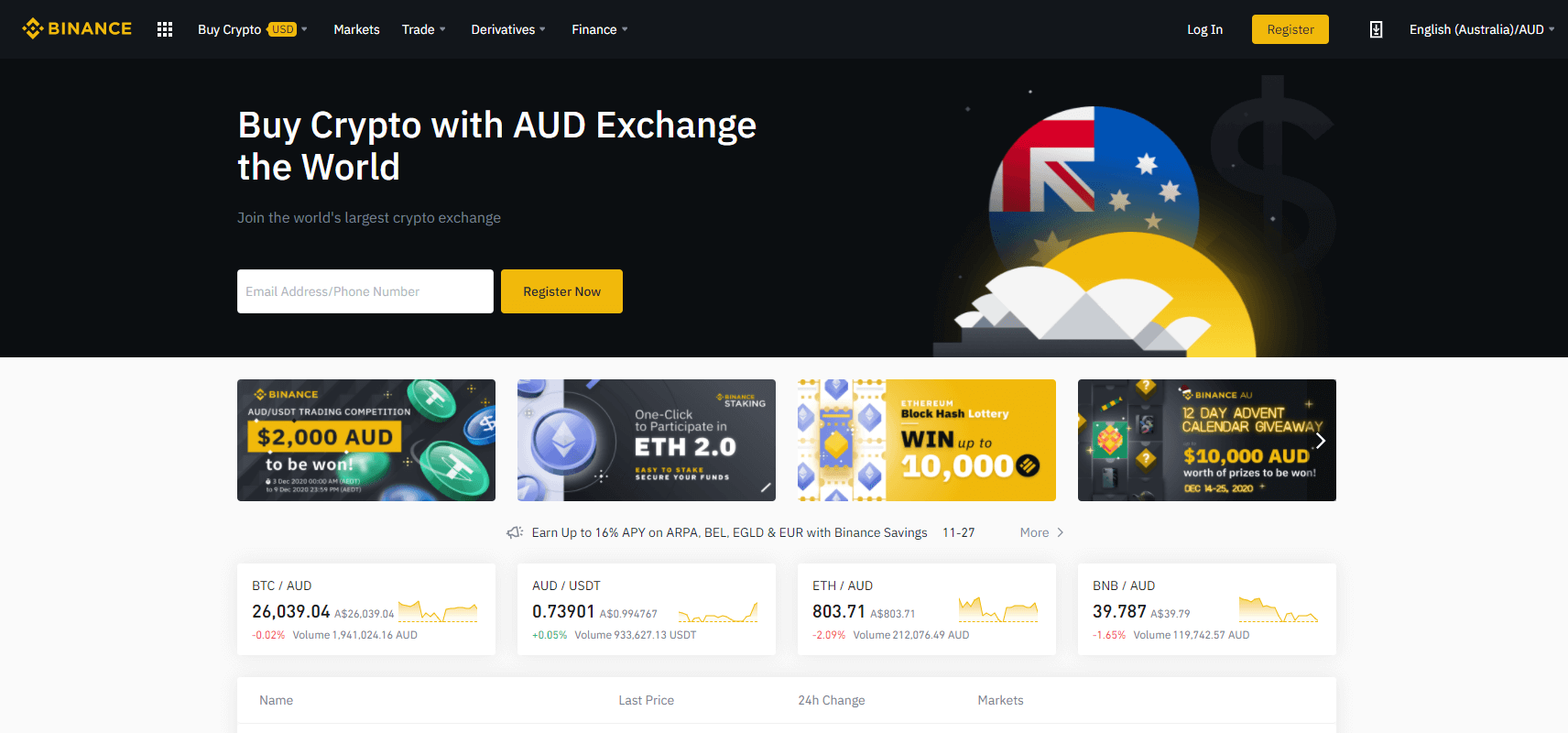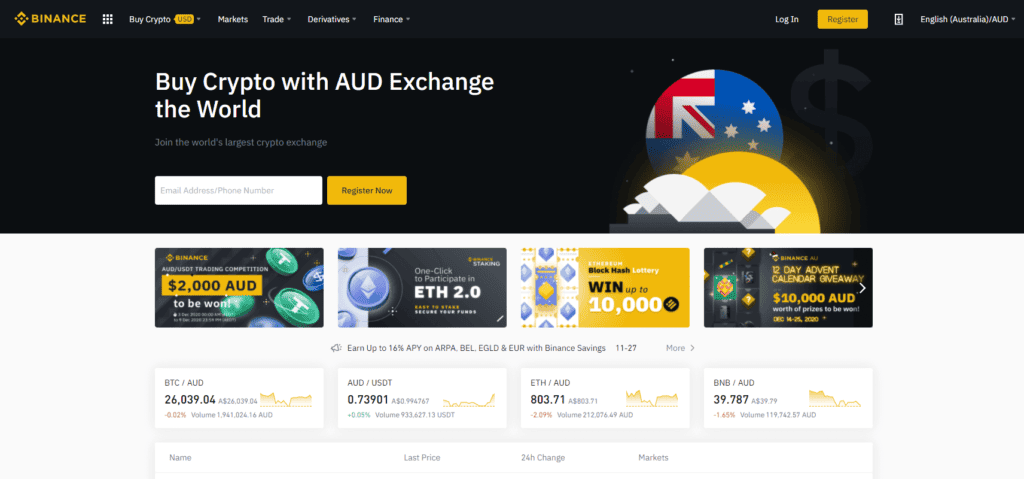 Pros:
Superior trading features under one roof (margin and futures trading)
Exceptionally large selection of altcoins
The lowest trading fees
Separate wallets for different markets (OTC, margin trading, P2P, futures)
Highest liquidity on the market
Cons:
Lack of support for traditional payment options
Overwhelming structure for absolute beginners
Related:
4. ByBit

Website: bybit.com
Country: Singapore
Currency: 40+ Fiat Currencies
Fees: 0.01% – 0.06%
Available Cryptocurrencies: 220+ Cryptocurrencies
Support: Live chat, email
Notable Features: 

Perpetual and futures trading
Derivatives and spot trading
Margin trading with up to 100x leverage
Testnet platform to practice trading with no risk
Insurance fund to protect users
ByBit is a Singapore-based digital asset exchange that focuses on futures contracts and other crypto derivatives products. The exchange was founded in 2018 by the renowned fintech expert Ben Zhou and registered in the British Virgin Islands to bypass the strict KYC requirements. I remember ByBit being warmly welcomed by the avid crypto community immediately after its launch, thanks to its incredibly rich trading package.
You can feel the professional edge the very moment you step on the ByBit platform. The user interface looks pretty advanced because of the complex charting tools and the numerous trading options. Still, I can't say that the platform isn't intuitive enough for sleek navigation across different markets.


ByBit knows how to create a perfect atmosphere for professional traders. It features a sophisticated spot market with over 300 crypto-to-crypto trading pairs. However, they put the limelight on the derivatives platform by offering multiple types of futures and perpetual contracts with up to 100x leverage. On top of this, the exchange employs different mechanisms to protect users against the lurking risks of margin trading and has its own insurance fund worth around 2,100 BTC.
In addition to the spot and derivatives markets, ByBit provides a built-in bot system, an NFT marketplace, and a few plans for passive income. Trading fees are slightly below the industry average and there are no deposit fees for crypto funding. You can also buy crypto in exchange for fiat but you must use a third-party provider for these transactions since ByBit doesn't support fiat payments.
Pros:
Top-notch UI design;
All-in-one trading platform for derivatives;
Robust security features;
Transparent fee system and low spreads.
Cons:
No fiat currency is accepted across all markets;
Not available for US residents;
Slowly responsive customer support.
5. Digital Surge: Best for Value

Website: digitalsurge.com.au
Country: Australia
Currency: AUD
Fees: 0.5%
Available Cryptocurrencies: 260+ Cryptocurrencies
Support: 24/7 email and live chat support
Notable Features:

23% APY with Digital Surge Earn
Pay monthly bills using bitcoin with Digital Surge Pay Wizard
Tighter spreads (~0.5%)
Great mobile app with price alerts
Important: Due to their exposure to FTX (an exchange that went bankrupt following a liquidity crisis), Digital Surge has currently halted withdrawals and deposits.
Digital Surge is one of the smaller Australian Cryptocurrency exchanges but they provide excellent services. Currently, they support over 260 cryptocurrencies which makes this platform great for people looking to trade a wide range of cryptos. If you are looking for a quick and simple way to buy Bitcoin or other cryptocurrencies, then Digital Surge is a great choice. People online boast how easy the platform is very user-friendly and I definitely agree!
Digital Surge provides a unique solution to paying Australian bills because with Bitcoin via the BPAY billing feature. This is something that no other Australian crypto exchange currently supports and it's a step in the right direction for future mainstream adoption of cryptocurrencies. The trading fees starts at 0.5% and falls down to 0.1% for large-volume traders, which I think is quite competitive. As for deposit methods from your bank account, they support PayID (for deposits and withdrawals) and POLi (up to $8000).


The platform is registered with AUSTRAC which is mandatory for Australian exchanges and complies with their AML and CFT policies. This minimizes any potential threats to your investment.
Digital Surge is quickly climbing the ranks of the best cryptocurrency exchanges in Australia.
For more in-depth information you can check out our Digital Surge Review where we analyze the exchange and its services even further.
Pros:
An easily comprehensive platform
Fast sign-up and verification process
A facility for bills payment and price alerts
Cons:
No credit cards supported
A limited number of pairs for spot trading
6. CoinJar: Best for crypto bundles

Website: www.coinjar.com/au/
Country: Australia
Currency: AUD
Fees: 1% on the main platform, 0% takers fee, max 0.1% makers fee on the exchange
Available Cryptocurrencies: 53 Cryptocurrencies
Support: Via Phone, knowledge base, ticket, live chat
Notable Features:

Quick verification time (less than 10 minutes)
Coinjar Bundles to diversify your portfolio
Earn reward points to pay exchange fees with Coinjar Rewards
Pay with crypto using Coinjar Card with no monthly or activation fees
CoinJar is one of the longest-running crypto exchanges in Australia and has an international presence. It's a simple exchange for beginner crypto traders to start on with competitive fees and many trading features.
I think one of the main drawbacks of CoinJar is the lack of altcoin support. CoinJar doesn't have support for a huge range of Cryptocurrencies but is working on adding more regularly. CoinJar is a great fiat gateway and lets you purchase crypto with AUD or GBP (other fiat currencies will be converted) via PayID, or by making a Blueshyft cash deposit.
As far as fees are concerned, CoinJar has been known to have quite large spreads compared to our most recommended exchange Swyftx. Like CoinSpot, the platform charges a flat fee of 1%. Trading fees on their actual exchange differ for makers and takers based on their 30-day trading volume with the highest fee being 0.1% for makers and a flat 0% for takers. What makes CoinJar special is the innovativeness of its team. So far, they've launched numerous solutions to make crypto trading easier for both retail and institutional traders.
For example, I really like their newest feature, CoinJar Swipe, it's the first Australian digital currency EFTPOS card! You can use this card all around the country to purchase goods with your CoinJar balance or withdraw money from an ATM.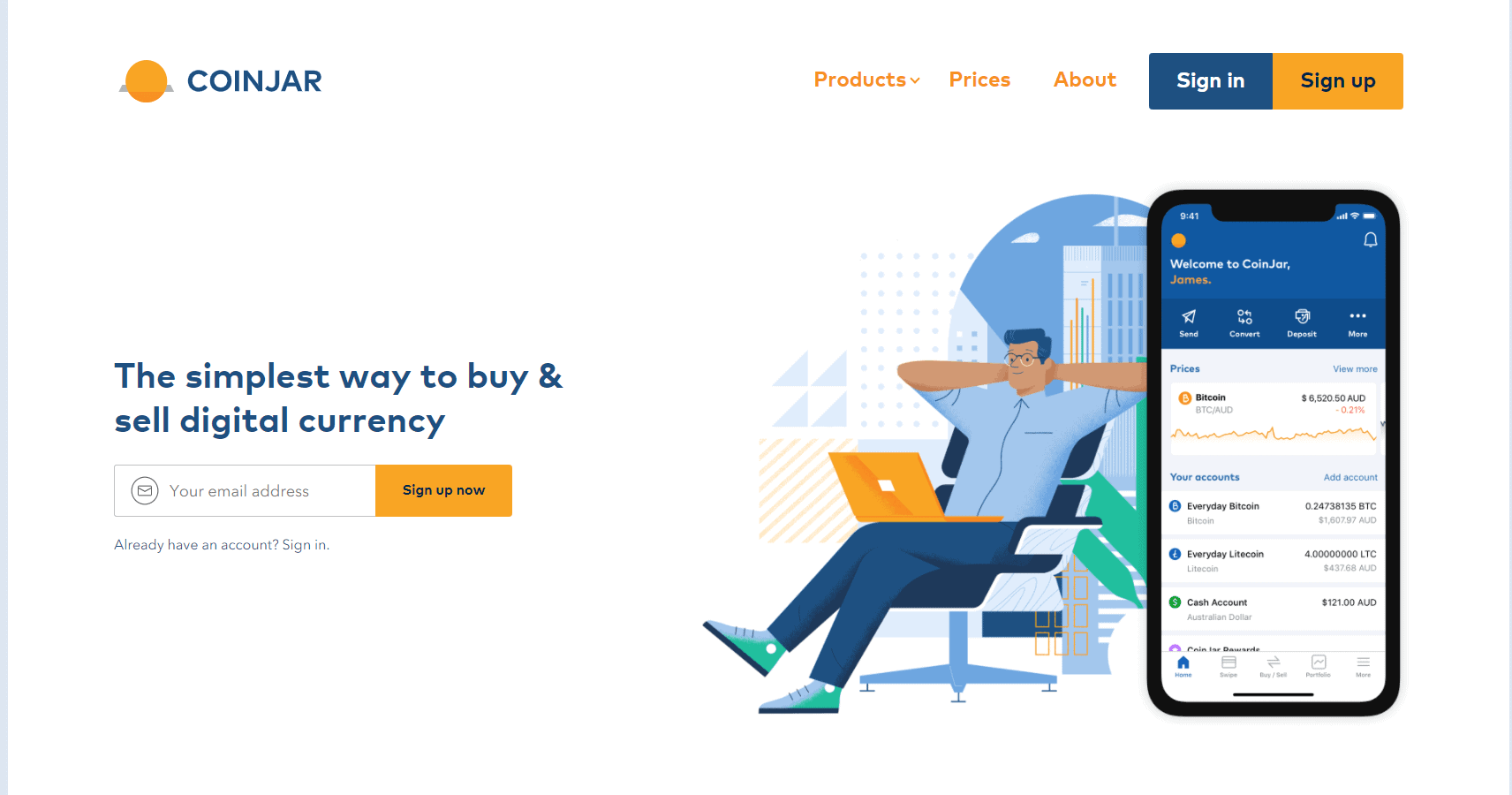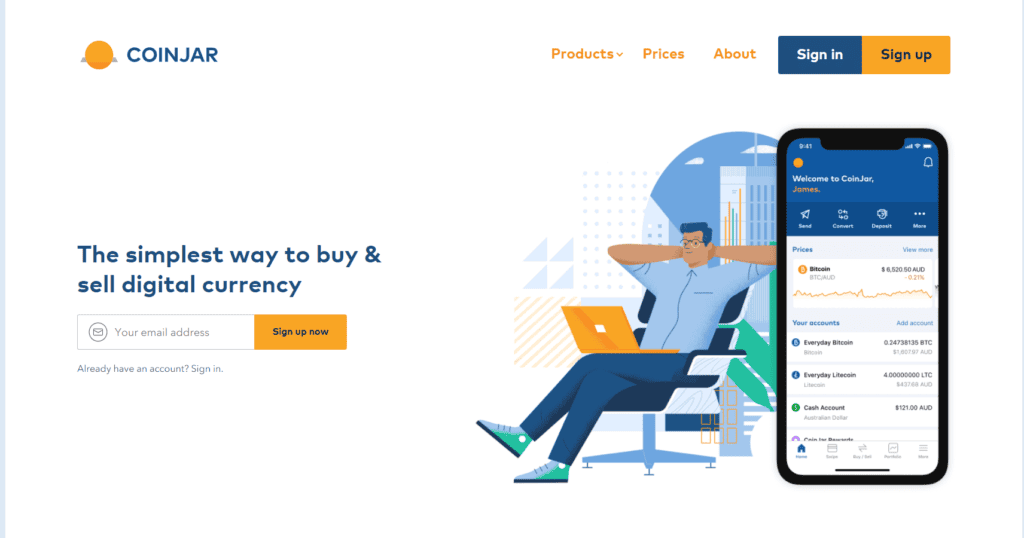 Pros:
A beginner-friendly platform supported by a functional mobile app
A multi-feature exchange with swap and wallet services
CoinJar reward points
Cons:
A small range of supported cryptocurrencies
7. Independent Reserve: Best for OTC Purchases

Website: www.independentreserve.com
Country: Australia
Currency: AUD, USD, NZD
Fees: 0.5%
Available Cryptocurrencies: 13+ Cryptocurrencies
Support: 24/7 support, help docs, phone, social media
Notable Features: 

Gold certified member of Blockchain Australia
Library of best trading strategies you can copy using AutoTrader
Insured funds for Premium Users
Integrated with TradeView charting
Accommodates various order types
Independent Reserve is another Australian cryptocurrency exchange. They offer a great platform to buy crypto but I think it can be a little difficult to get the hang of it at first.
IR supports 13 cryptocurrencies in total. These are BTC, ETH, BCH, XRP, LTC, EOS, XLM, BAT, GNT, REP, OMG, 0x, and PLA. IR accepts EFT, Osko, SWIFT, PayID, and POLi payments. Independent Reserve has the lowest trading fees out of all the Australian exchanges which is why it is one of the most popular. They start at 0.5% and get as low as 0.05% as your trading volume continues to grow, which I believe is quite competitive.


It's also much safer to keep your coins in their online wallet as opposed to keeping them on an international exchange like the others on this list. As noted in our Independent Reserve review, I do like how security is one of their highest priorities, which means you can get peace of mind knowing you're trading on a safe platform. Recently, they've also started offering insurance to Premium Accounts and have an integrated KPMG tax tool as well.
Pros:
Robust security and fund insurance
A variety of trading opportunities, multiple order types, and an OTC desk
Tax calculator
Cons:
Very high minimum limits for wire deposits
Low altcoin liquidity
8. Kraken: Experienced international exchange


Website: www.kraken.com
Country: United States
Currency: USD, AUD, EUR, + 4 more
Fees: 0.26%
Available Cryptocurrencies: Bitcoin, Ethereum, Bitcoin Cash + 50 others
Support: 24/7 live chat, phone, and email
Notable Features:

Highly secured platform
Kraken PRO for advanced traders
Up to 5x leverage (margin trading)
Integrated NFT marketplace
Kraken was founded in 2011, making it one of the oldest exchanges currently on the market. Kraken is best loved for its transparency, performance, and excellent security maintained by its dedicated team of experts spearheaded by Jesse Powell.
I like how the platform supports a variety of assets including defi tokens and stablecoins. Recently, Kraken made over 14 cryptos available to Australians to trade against AUD. The exchange even allows for advanced trading options like margin trading and futures markets. The fees are average, starting at 0.16% for makers and 0.26% for takers.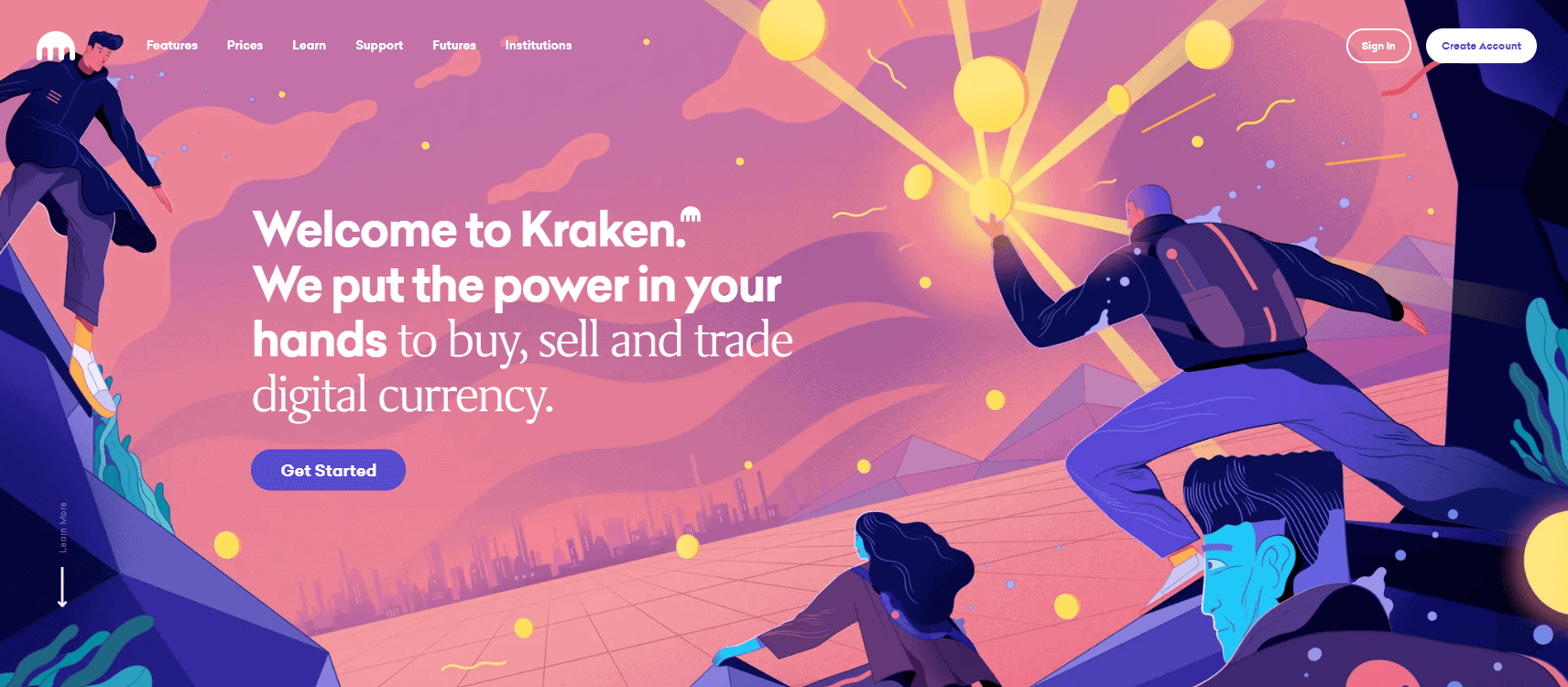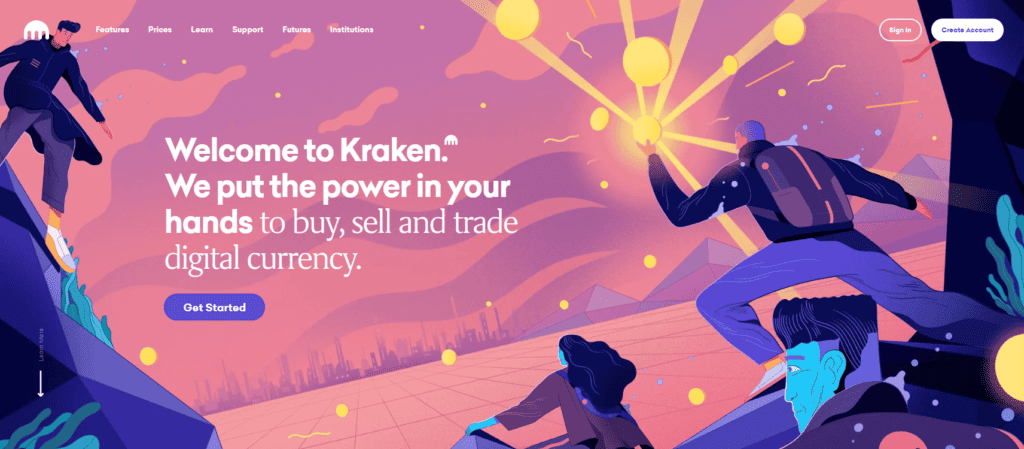 Like most other major exchanges, they also have an app for trading while on the move. Kraken even has an app for its futures platform, which is quite cool, and an advanced Kraken Pro app with more complex trading features.
In order to secure your account, Kraken encourages you to activate two-factor authentication, Global Settings Lock, and a Master Key. For more info, read our article on Kraken's safety and security history.
Pros:
Unparalleled security standards
High liquidity on all supported coins
Neat interface with many customizable settings
Cons:
Limited access on starter accounts
High minimums on deposits and withdrawals
Related:
9. Coinbase: Best international exchange for beginners

Website: www.coinbase.com
Country: United States
Currency: USD
Fees: 4%
Available Cryptocurrencies: Bitcoin, Ethereum, Bitcoin Cash & Litecoin
Support: Phone, live chat, email
Notable Features:

High liquidity platform
Coinbase PRO for more experienced users
Integrated NFT marketplace
Spend crypto or fiat with no fees via Coinbase Card
Earn up to 5.75% APY through Coinbase Earn
Coinbase is the largest foreign exchange, based in the United States. Even so, we highly suggest not leaving your coins on this platform. We always advise against leaving your coins on any foreign exchanges and instead recommend you to transfer them to a hardware wallet or a local online wallet.
Since Coinbase is a brokerage, users can send, receive, buy, sell, or convert one cryptocurrency into another. It's not a trading platform like Binance, for example, but a couple of years back it launched Coinbase Pro, an advanced platform for those interested in crypto trading. Coinbase Pro also supports additional cryptocurrencies.
While it's true that Coinbase charges more for fiat deposits, in essence, you are paying for quality, safety, and assurance. For example, card purchases incur a 3.99% fee per transaction but buying crypto assets with credit or debit cards always costs more, no matter what exchange you're using.
I do believe that the platform takes great care of its customers' queries and whenever it has extra work on its plate, it hires extra staff. We recommend reading our Coinbase Review and do your own research before making a decision.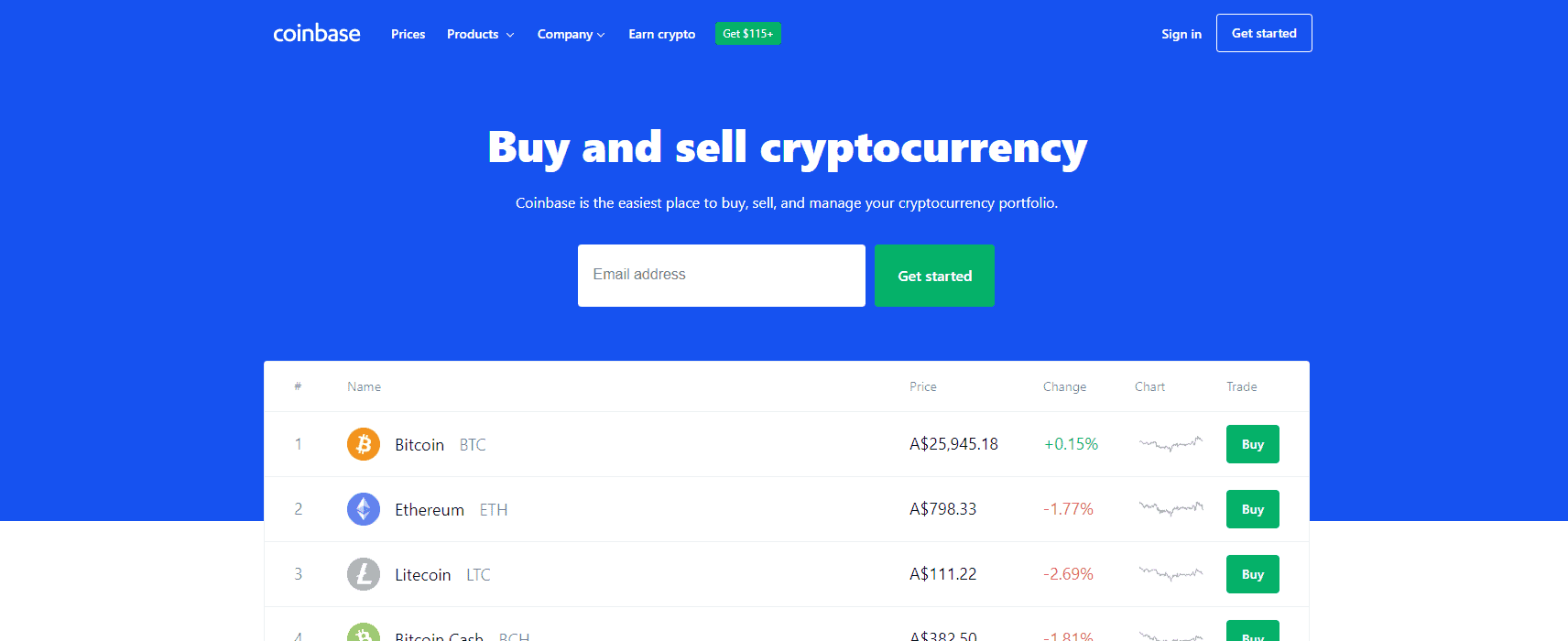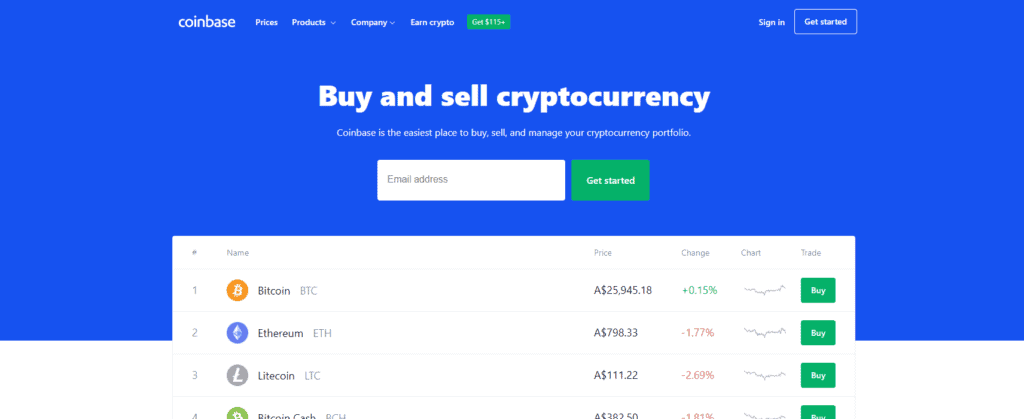 Pros:
The most beginner-friendly platform
Highly regulated and secure exchange
FDIC-insured
Advanced Coinbase Pro version for experienced traders
Cons:
A complex and relatively expensive fee system
A small number of supported altcoins
Related:
10. Bittrex

Website: bittrex.com
Country: United States
Currency: USD
Fees: 0.2%
Available Cryptocurrencies: 190+ Coins
Support: Twitter, email, FAQs/knowledge base, ticket
Notable Features:

One of the most secure exchanges in the industry
Highly rated mobile app for iOS and Android
Offers Cardano staking
Features several order types
Bittrex has a wide range of cryptocurrencies available for purchase. The exchange does have a large turnover for the cryptocurrencies it lists, and this has been criticized due to its "pump and dump" nature. However, as noted in our Bittrex review, they do seem to act quite quickly in making sure they remove less credible coins.
That being said, if you are looking for a new or less popular coin, there's a high chance that you'll find it on Bittrex. Bittrex accepts fiat deposits via regular bank transfers, SEPA, or wire transfers. As for card payments, only debit cards are allowed.
If you've read our take on "Is Bittrex Safe?", you'll know that the exchange uses sophisticated technology to secure its data and platform operations. One of these tools is the Chainalysis Know Your Transaction (KYT) feature which monitors the website traffic and fishes for suspicious trading patterns.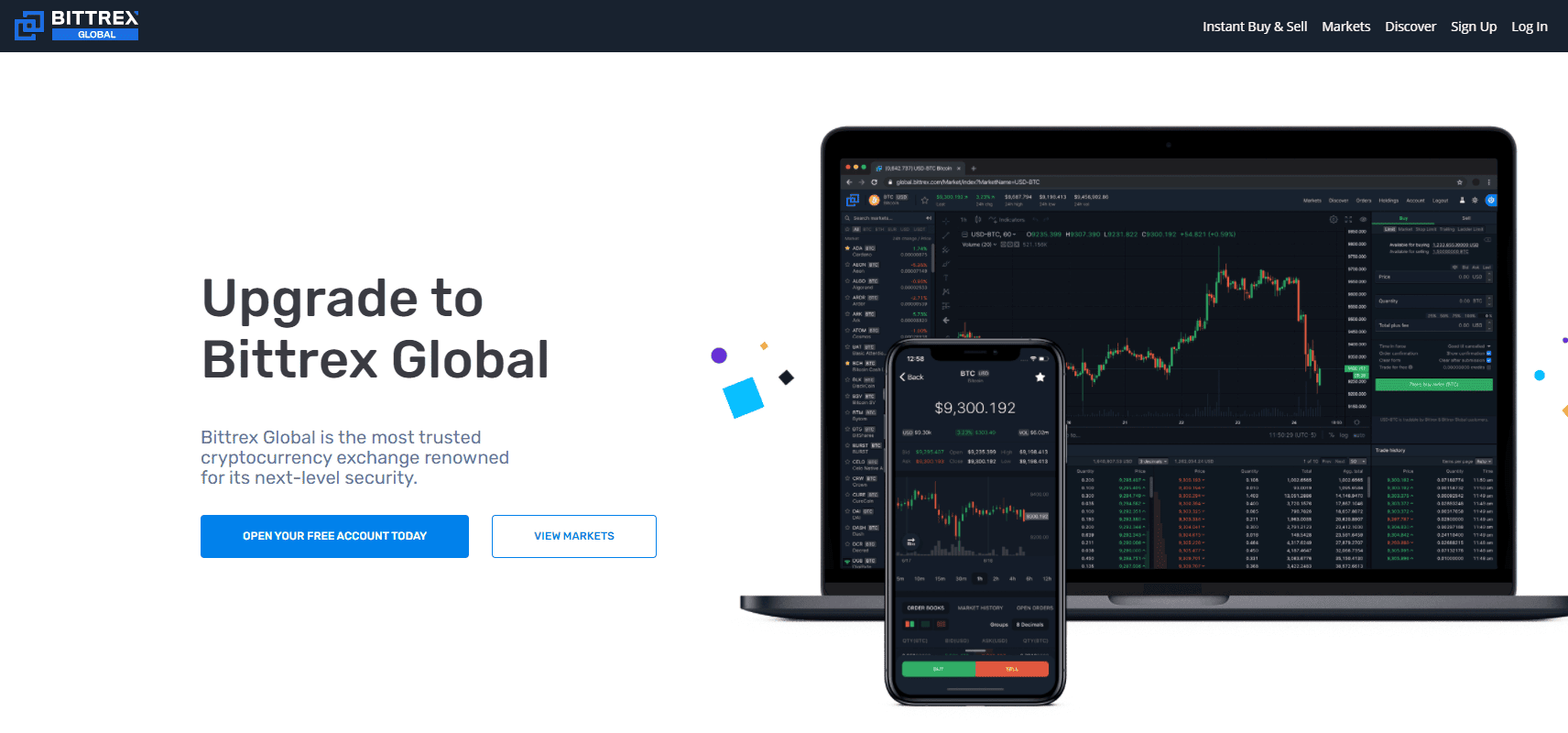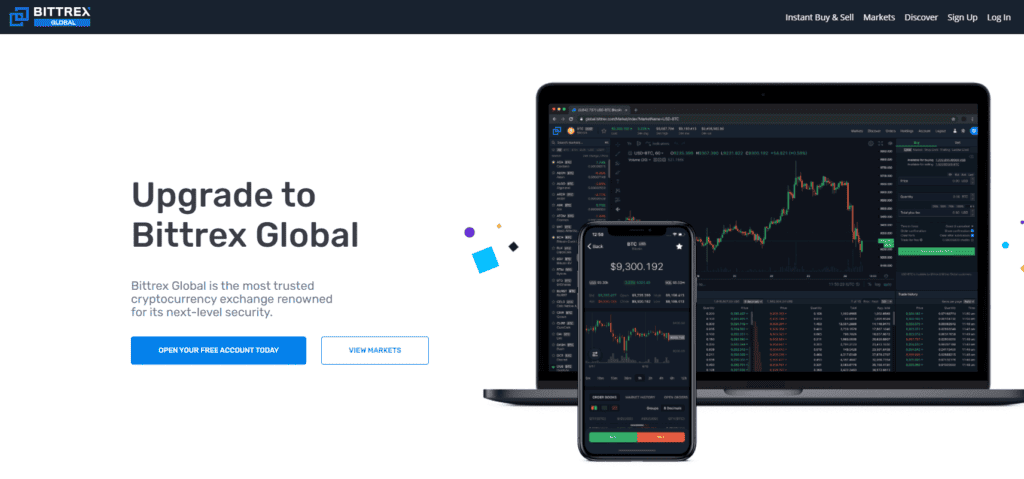 Pros:
Very high trading limits
An exceptionally long list of supported cryptocurrencies
Robust trading view and charts
Cons:
Poorly responsive customer support
No option for margin trading
11. CoinMama

Website: www.coinmama.com
Country: Slovakia
Currency: USD & EUR
Fees: 6%
Available Cryptocurrencies: Bitcoin, Ethereum, Ethereum Classic, Bitcoin Cash, Litecoin, Cardano, Qtum
Support: Phone, email
Notable Features: 

Accepts almost every fiat currency
Discount of up to 25% on fees via the Coinmama loyalty program
Coinmama charges are based on the market rate of TradeBlock's XBX Index plus 2%
High spending limits depending on verification level
Coinmama was founded in 2013 and has been a leading cryptocurrency exchange for many years. It's available in over 188+ countries making it quite a popular exchange worldwide.
Coinmama only supports a couple of prominent crypto assets: BTC, BCH, ETH, ECH, XRP, LTC, ADA, and QTUM. The platform was first to accept card payments for crypto purchases but the fees for this type of service are on the higher end of the scale. On top of the hefty commission fees (up to 3.9%), Coinmama charges an additional 5% service fee for card payments.
I think the main problem with the high fees is that they aren't justified as the exchange doesn't provide anything more than other exchanges do and in some aspects it's even subpar to some major exchanges featured on this list.
Compared to other platforms, Coinmama even lacks enough security methods to protect users' funds and accounts. For more info on the security of the platform, check out our article on Coinmama safety features.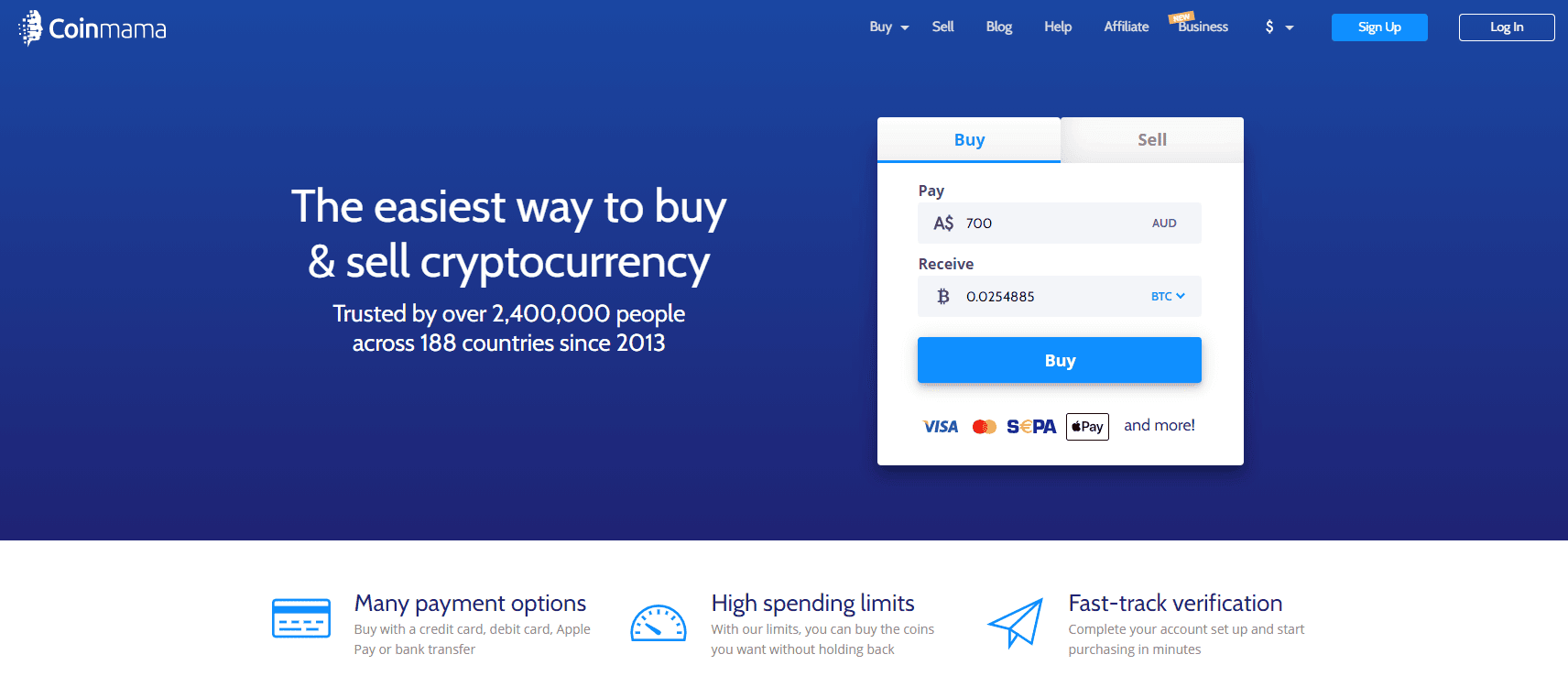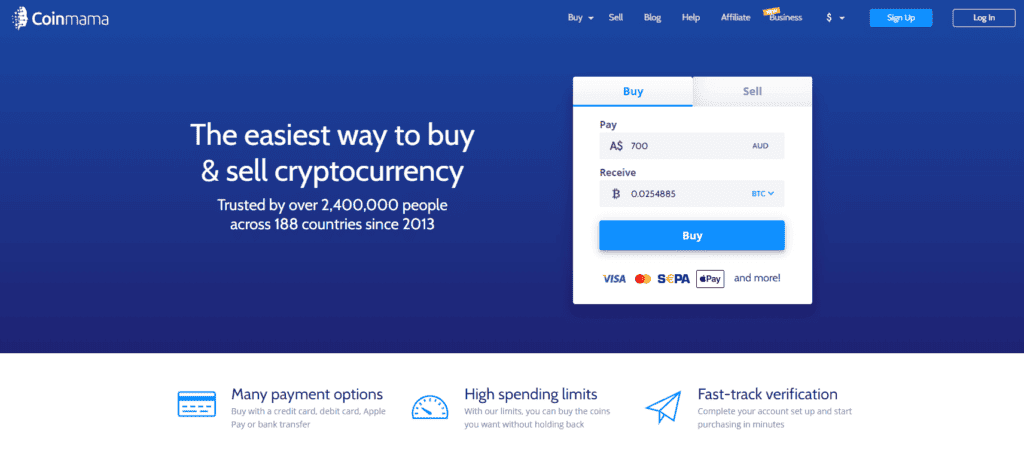 Pros:
Great variety of payment methods
High limits for credit-card-purchases
Fast and very smooth direct purchases
Cons:
No separate mobile app
No storage (wallet) option
12. Kucoin
Website: www.kucoin.com
Country: Hong Kong
Currency: 20+ Fiat Currencies
Fees: 0.1%
Available Cryptocurrencies: 150+ Cryptocurrencies
Support: 24/7 online chat, ticket, or email
Notable Features: 

Vast selection of cryptocurrencies
Up to 500 USDT bonuses for new users
Peer-to-peer exchange available
KuCoin Shares (KCS) holders get a trading fee discount
KuCoin is a much smaller exchange and one of the main drawbacks here is that there aren't really many people trading for you to be able to make fast transactions. A platform like Binance would be a better option for crypto traders but people still opt for KuCoin because it features a lot of different cryptocurrencies including underrepresented small-cap assets too.
These coins can be either traded for another crypto or bought via PayPal, wire transfer, or Interac e-transfer. If you want to buy crypto with a credit or debit card, you can do that via Simplex and some other third-party payment providers, but not all of them accept AUD.
I think another thing that's attractive about KuCoin is its unique fee system. There's a fixed 0.1% fee per transaction, the sum of which the platform then distributes among holders of its native token, KuCoin Shares (50% of all daily fees), users who have recommended the platform (40%), and only keeps the remaining 10% for company purposes.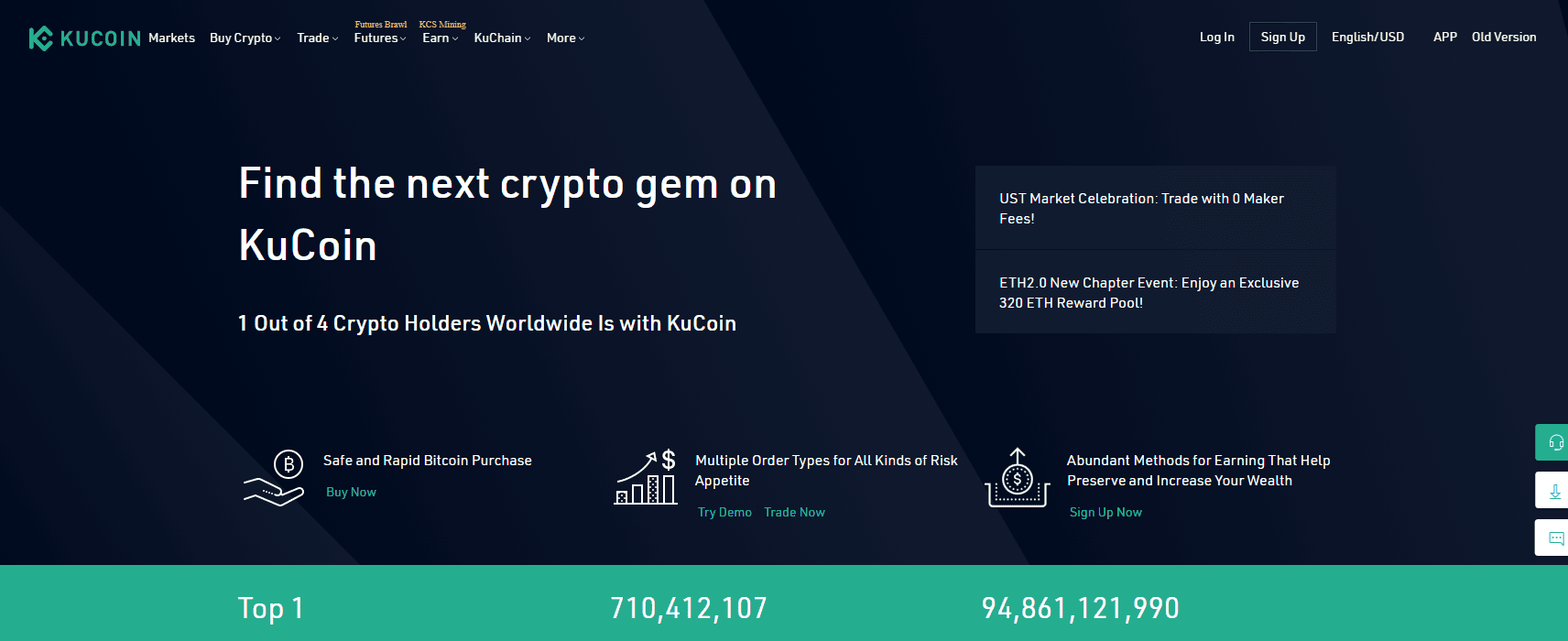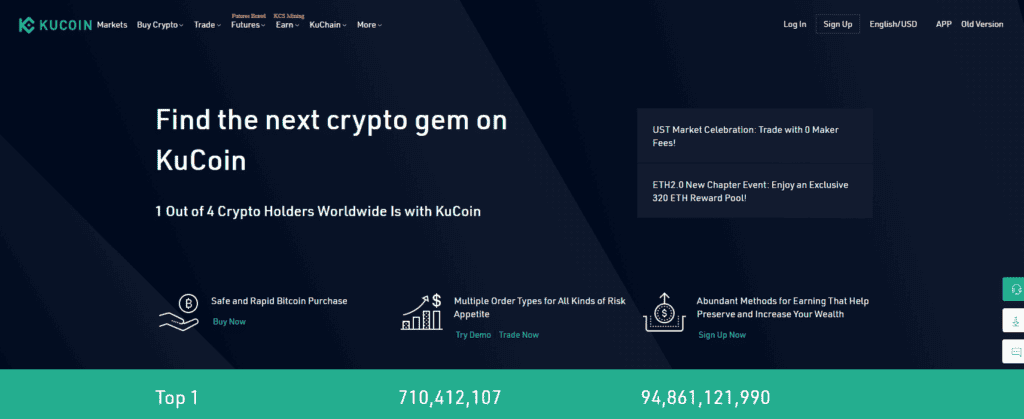 KuCoin is a fully licensed and regulated exchange that has mandatory KYC checks for all users if they want to trade more than 2 BTC per day. For more info on the security of the platform, check out the following post: Is KuCoin Safe?
Pros:
Super-low trading fees
A broad scope of trading opportunities and supported coins
No KYC required for first-time users and crypto-to-crypto trades
Option for stake profits
Cons:
Difficult to navigate for beginners
No fiat-to-crypto trading pairs
An unregulated crypto exchange
13. Easy Crypto

Website: easycrypto.com
Country: Australia
Currency:AUD
Fees: 1%
Available Cryptocurrencies: 130+ Cryptocurrencies
Support: Email, knowledge base, social media
Notable Features:

Non-custodial exchange platform – no funds are held on Easy Crypto's platform
100% funds safety guarantee on all orders
Purchase crypto in real-time with AUD; no need to deposit first
Established in 2017, Easy Crypto is an exchange that operates across five territories— Australia, New Zealand, Brazil, South Africa, and Nigeria—with a registered office in each of these countries.
Easy Crypto Australia has gained immediate recognition on the local market for its incredible ease of use and high-level security. The exchange allows you to buy, sell or swap over 130 different cryptocurrencies with AUD directly from your bank account. This simplifies the transaction process to a great extent, as you won't have to deposit the funds to your exchange account first and convert them into USD or BTC. All you have to do is select the crypto coin on your wishlist, select Buy Now, and complete the purchase in two clicks.
Remember that Easy Crypto is a non-custodial exchange meaning that you won't gain an in-built crypto wallet upon setting up an account on their platform. However, you'll get seamless integration with your independent hardware or app wallet and total control over your private keys.
Based on the operational method, Easy Crypto is closer to a crypto retailer store rather than a regular trading platform. That said, it's a perfect fit for beginners who find it hard to navigate cluttered trading interfaces. In return, fees are drastically higher than the industry standard, ranging from 0.70% to 0.90% per transaction.
Easy Crypto is considered a highly secure marketplace — as an AUSTRAC registered company, Easy Crypto must be strictly compliant with all AML/CTF and this includes a full KYC verification for every new customer.
Pros:
Large selection of cryptocurrencies
Suitable for inexperienced traders
Full control over your assets
Transparent fee structure
Cons:
High fees and spreads
Slow processing of transactions during high-volume times.
14. BTC Markets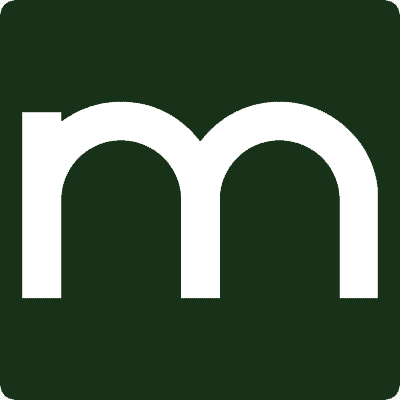 Website: btcmarkets.net
Country: Australia
Currency: SGD, USD, and AUD

Fees: 0.22%
Available Cryptocurrencies: 15+

Support: Via email, social media, ticket, knowledge base
Notable Features: 

Advanced trading tools like OTC
Offers staking
No deposit fees if you use an Australian bank
Australia's most reliable and most liquid digital asset exchange
BTC Markets is a fully Australian-run crypto exchange operating on the local market since 2012. As an industry veteran, it has maintained a reputation as a trustworthy marketplace with reliable customer support. The exchange is equally suitable for novices and institutional clients.
On the BTC market, you can buy and sell cryptocurrencies against 20 trading pairs with BTC or AUD as an underlying asset. The exchange provides a supreme trading platform and market insights powered by TradingView. Here you can find a live order book with a variety of advanced orders like stop-limit, time-in-force, and take-profit orders.
When it comes to the fee structure, BTC markets incurs a fixed fee of 0.22% for crypto-to-crypto trades. If you trade with AUD, fees per transaction are calculated based on your 30-day volume. Initially, AUD deposits and withdrawals can be made through a free wire transfer.
BTC Markets gives you a unique opportunity for a Self-Managed Super Fund (SMSF) that provides personalized service for high-net investors and serves as a tool for reporting taxes.
Pros:
Suitable for users from all levels
Support for SMSF (self-managed super funds) investors
One of the few Australian exchanges that provide automated API for AUD-crypto pairs
Cons:
Some of the listed trading pairs aren't available or have low liquidity
Higher trading fees than its competitors
Australia's Top Crypto Exchanges Compared
| Exchange Name | Deposit Methods | Fiat Currencies | Crypto | Trading Fees | Fiat Deposit Fees | Crypto Deposit Fees | Fiat Withdrawal Fees | Crypto Withdrawal Fees | Sign Up |
| --- | --- | --- | --- | --- | --- | --- | --- | --- | --- |
| Swyftx | PayID, POLi, OSKO, Bank Transfer, Debit Card, Credit Card, and Crypto | USD / AUD | 300+ | 0.6% | $0 | Network fees | $0 | Network fees | $20 BTC Sign-up Bonus |
| CoinSpot | Bank Transfer, Crypto, Fiat, BPAY, PayID | AUD | 300+ | Instant buy/sell: 1% OTC: 0.1% | POLi, PayID, bank transfer: $0 BPAY: 0.9% | Network fees | $0 | Network fees | |
| Binance | Crypto, Debit Card, Credit Card, PayID, Osko | 40+ | 350+ | 0.1% | $0 | Network fees | $0 | Network fees | |
| Bybit | Credit Card, Debit Card, Bank Transfer, Wire Transfer, EFT, Crypto | 50+ | 160+ | 0.1% to 0.6% | Bank transfer: $0 | Network fees | Vary | Network fees | |
| Digital Surge | Crypto, Bank Transfer, OSKO, PayID, POLi | AUD | 300+ | 0.5% | Bank transfer: $0 POLi: Varies | Network fees | $0 | Network fees | |
| Coinjar | Google Pay, Apple Pay, NPP, Crypto, Cash, Osko, Blueshyft, PayID | AUD | 50+ | Instant Buy fees (Visa/Mastercard): 2% Conversion fees: 1% | PayID, Bank Transfer | Network fees | $0 | Network fees | |
| Independent Reserve | Crypto, POLi, PayID, Swift, Osko, EFT | AUD, USD, NZD, SGD | 30+ | 0.02% – 0.5% | $0 for AUD 100 and above | Network fees | $0 | Network fees | |
| Kraken | Swift, Osko, Bank Transfer | USD, GBP, CAD, YPY, EUR, AUD, and CHF | 100+ | Maker fees: 0% – 0.16% Taker fees: 0.10% – 0.26% | $0 | Network fees | $0 | Network fees | |
| Coinbase | Crypto, Debit Card | USD, AUD, GBP, EUR, AUD | 50+ | Credit/Debit Card Fee: 3.99% Taker Fee: 0.60% ($0-10K) – 0.05% ($500M+) Maker Fee: 0.40% ($0-10K) – 0% ($500M+) | Varies | Network fees | Varies | Network fees | |
| Bittrex | Crypto, SEPA Transfer, Wire Transfer, Bank Card | USD, EUR, GBP, JPY | 300+ | Maker fees: 0% – 0.75% Taker fees: 0.05% – 0.75% | Card deposit fees: 3% | Network fees | $0 | Network fees | |
| Coinmama | Debit Card, Credit Card, Apple Pay, Google Pay | AUD, JPY, USD, CAD, EUR, GBP | 8+ | 0.99% – 3.90% | Credit card, Apple Pay, Google Pay : 5% Instant bank transfer, ACH, SEPA, Swift: $0 | Network fees | Varies | Network fees | |
| KuCoin | Debit Card, Credit Card, Wire Transfer, SEPA, Crypto | CNY, USD, AUD, EUR, GBP, TRY, VND, KRW, JPY | 500+ | 0.1% | $0 | Network fees | $0 | Network fees | |
| Easy Crypto Australia | P2P, OSKO, POLi, Bank Transfer | AUD | 100+ | Taker fees: 0.5% – 1.6% Maker fees: 0.5% – 1.6% | Card deposit fees: 0% | Network fees | $0 | Network fees | |
| BTC Markets | Bank Transfer, POLi, OSKO, P2P | AUD | 100+ | Taker fees: 0.5% – 1.6% Maker fees: 0.5% – 1.6% | Card deposit fees: 0% | Network fees | $0 | Network fees | |
Disclaimer: Digital currencies and cryptocurrencies are volatile and can involve a lot of risk. Their prices and performance is very unpredictable and past performance is no guarantee of future performance. Consult a financial advisor or obtain your own advice independent of this site before relying and acting on the information provided.
Disclaimer: We may receive a commission for purchases made through the links on our site. However, this does not impact our reviews and comparisons. Learn more about our Affiliate Disclosure.
How to Choose a Crypto Exchange in Australia
There are a number of things you should pay close attention to when looking for the best cryptocurrency exchange on the market. Here are some pointers to get you started.

Payment Methods: A good entry-level crypto exchange will allow users to choose a payment method that suits their individual trading preferences.
Generally, the most convenient way to make a seamless deposit is to link your bank account with the exchange account (this works with most banks like ING, ANZ, Commbank, Suncorp, etc). Besides regular bank transfers, the majority of exchanges in Australia support e-payment processors like PayID, POLi, Credit/Debit cards, or Osko.
Type of Trading: Crypto exchanges typically offer one of the following two types of trading: fiat-to-crypto trading and crypto-to-crypto trading. The former is perfect for anyone who wants to trade the BTC/AUD trading pair, while the latter works best for someone who likes to speculate on crypto price fluctuations and capitalize on the difference in prices between two or more crypto assets (e.g. BTC/LTC, ETH/XRP, etc). Then there's also futures trading, CFDs, and of course shorting crypto.
User-Friendliness: It's important to find a platform that's suitable for your level of expertise. Newbies need an intuitive, straightforward interface where they can easily get around and place a simple buy/sell order.

Seasoned traders would benefit from an advanced trading platform with more complex charts and technical indicators that they can use to customize their orders. The exchange should support things like margin trading (trading with borrowed funds) and advanced order types: market, limit, stop-loss, fill or kill order, etc.
Supported Cryptocurrencies: Make sure the exchange you choose supports your target cryptocurrency. By now, the market has over 1,000 different crypto tokens, which means that no platform is able to list all of them.

Some crypto exchanges stick to the most prominent cryptocurrencies like Bitcoin (BTC), Ethereum (ETH), Litecoin (LTC), Stellar (XLM), and Bitcoin Cash (BCH) because their demand is always on the rise or at least stable and liquid enough. Other platforms, on the other hand, support up to 200 crypto assets, stablecoins, and DeFi tokens (e.g. ERC-20 tokens).
Trading Fees: A lot of crypto traders only focus on deposit and transaction fees when trying to determine whether the exchange is cheap or not. However, you should also take into account withdrawal fees and spreads, i.e. the difference between the buy and the sell price.
Limits: This category refers to limits such as the minimum or maximum amount of funds you can deposit into your account to purchase cryptocurrency or the minimum/maximum amount of cryptocurrency you can buy/sell per day. Most exchanges also have a limit on daily and monthly withdrawals based on your level of verification.
Loyalty Programs and Discounts: Some exchanges offer discounted fees to traders who own their native cryptocurrency. Also, most trading platforms use a scaled fee structure that rewards high-volume traders with lower trading fees.
Another way to gain access to discounts and VIP services is to join a loyalty program hosted by the exchange or get a referral link. One example is our Swyftx referral code, which gets you $20 of free BTC.
Liquidity: High liquidity is synonymous with high trading volumes. If an exchange provides high liquidity, then you don't have to worry about delays in processing orders or whether or not there will be any order at all for the coins you wish to buy. Liquid exchanges are always able to match incoming buyers with sellers and vice versa. In order to be sure that the platform you like has the right level of liquidity, take a look at its order books before you register an account.
Account Verification Process: One of the first requirements of local financial regulators is for registered crypto exchanges to adhere to Anti-Money Laundering (AML) and Counter-Terrorism Financing (CTF) policies. And how do platforms achieve that?
They require all new users to verify their identity by completing a Know Your Customer (KYC) check and providing the following information: full name and address, phone number and email address, a scanned copy of an ID, and sometimes even a bank statement.
Security: Security is crucial when transferring money over online platforms. Therefore, don't forget to check whether the exchange includes a two-factor authentication option or whether or not it stores customer funds in offline wallets (cold storage). How are your private keys secured? Is there an option to create a withdrawal address whitelist and protect your account from unauthorized IP addresses?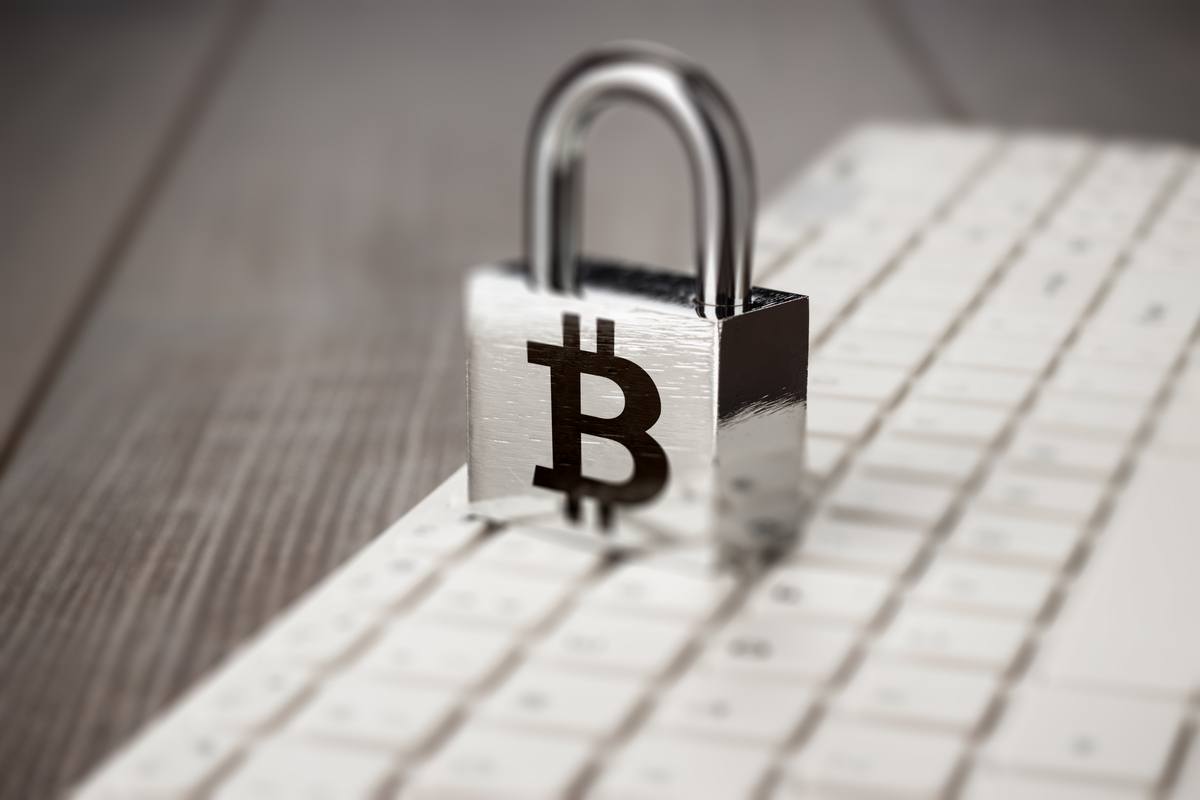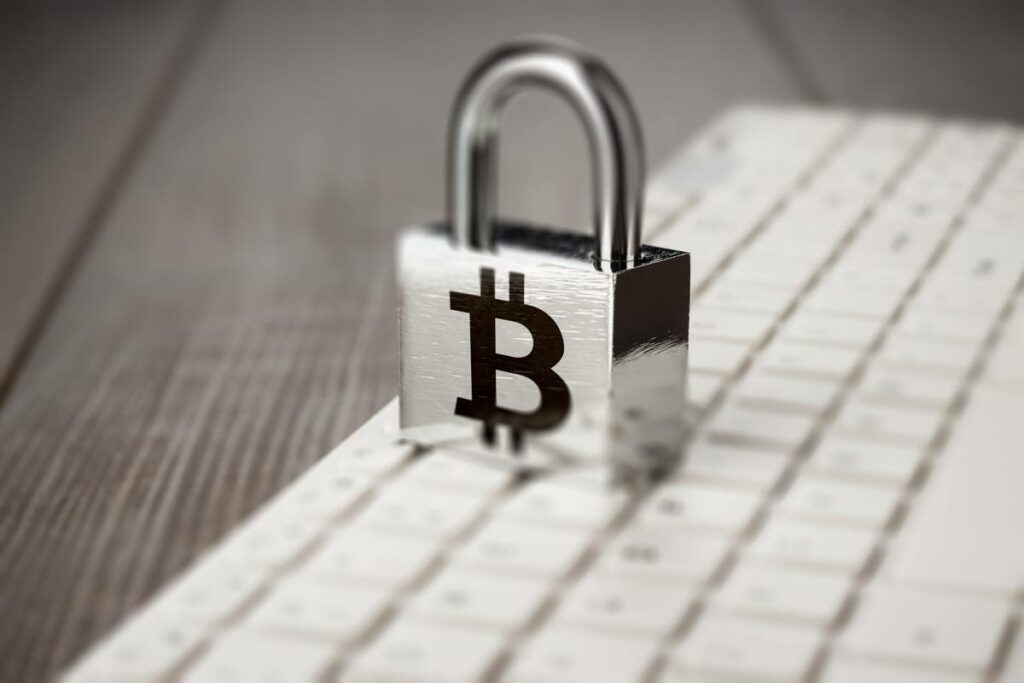 Does the exchange use strong encryption and do you start using the exchange immediately or do you have to pass a KYC check first? Finally, are your funds fully, partially, or not at all insured?
Customer Support: The first thing that users review about a given platform is the responsiveness of their support team. No one wants to wait for days to get a simple issue fixed with their account or transactions. Visit the exchange's website to check what support channels they offer (email tickets, live chat support, or a separate phone line).
Are their agents available 24/7 or only during business hours? Does the exchange offer multilingual support and a knowledge base/FAQ section with detailed guides on how to use the platform's services?
Is It a Regulated Exchange in Australia?
Local crypto exchanges as well as international ones that want to operate on the Australian market need to register with AUSTRAC or the Australian Transaction Reports and Analysis Centre and strictly follow its guidelines. International platforms typically answer to additional regulatory bodies which is why some features might not be available for Australian traders. For instance, Aussies can buy cryptocurrency on Coinbase, but they can't sell it or trade it.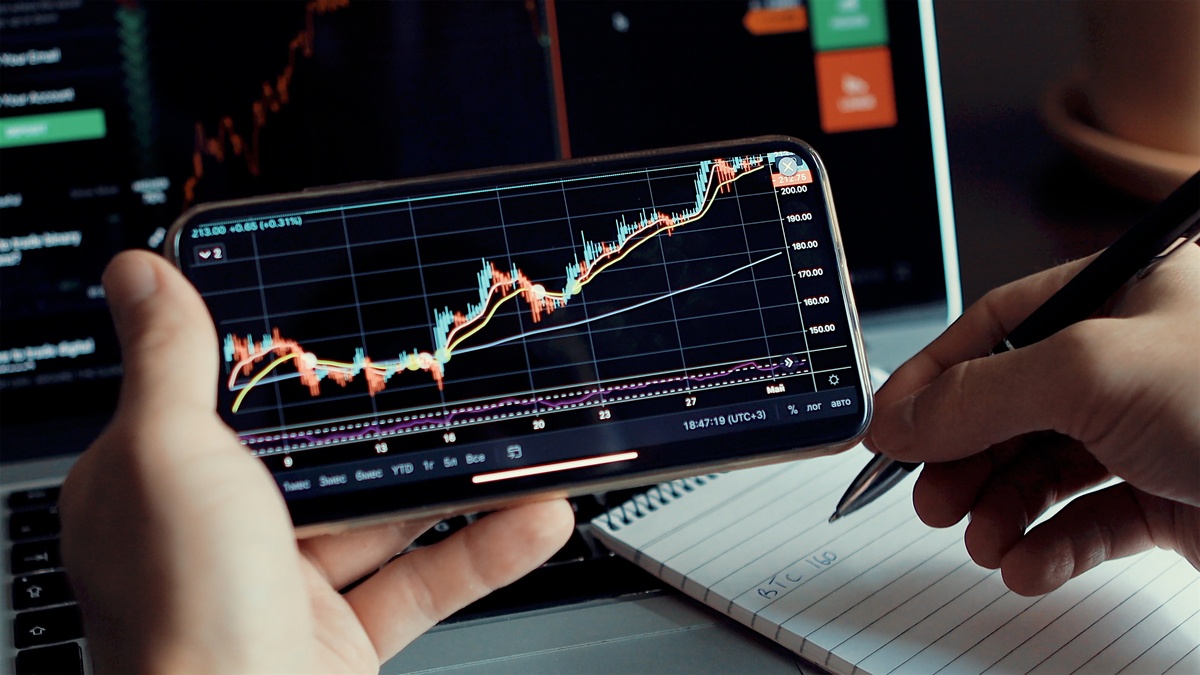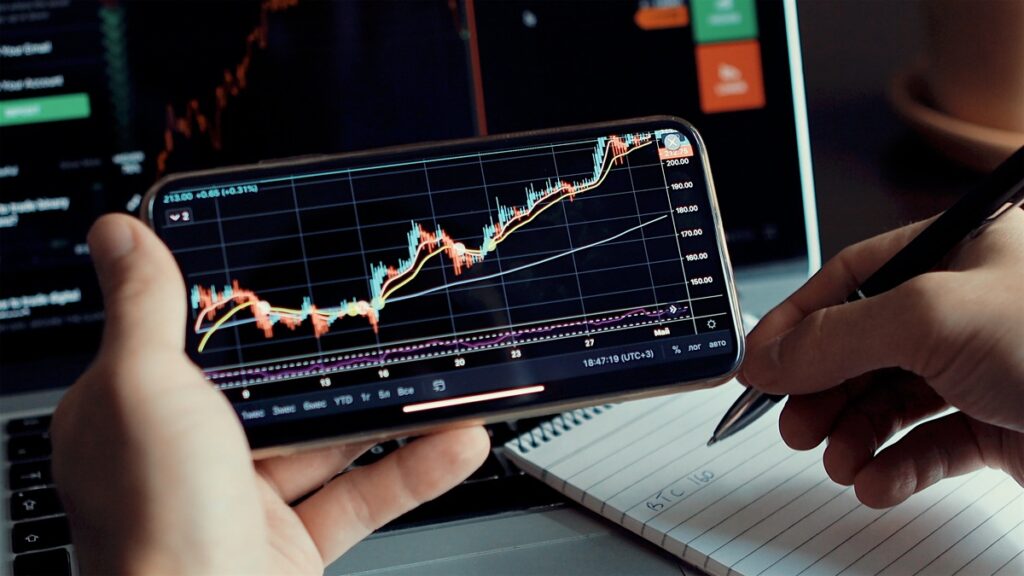 How to Use a Cryptocurrency Exchange in Australia
To start trading using a crypto exchange, you'll need to go through a few easy steps.
Choose a trading platform that works for you
Head over to their site and sign up.
Go through the required verification process (KYC)
Fund your account using your preferred deposit method (if the exchange supports it). The usual options are PoliPay, PayID, bank transfers, or credit/debit card.
Wait for the funds to hit your account on the exchange, this could take a day or 2 if it's the first deposit (and depending on the payment method)
Find the cryptocurrency you're wanting to buy on the exchange
Enter the trade amount, either in AUD, or in the crypto, and hit the buy button.
How we chose the best crypto exchanges.
To rate and rank the exchanges we review, we look at (and test) factors like ease of use, fees, trading features, and support. We also look at the aggregate sentiment by analysing user reviews. Keep in mind that we didn't review every single exchange available, and depending on your situation, the exchange you prefer might be different from the ones we picked.
For more info, see our rating process.
What is the best crypto exchange for beginners in Australia?
The best Australian crypto exchange for beginners is Coinspot. They have a very streamlined onboarding process and easy-to-use trading interface. That being said, Swyftx is a very close second for beginners as they too have a very fast and easy sign-up process. Both Coinspot and Swyftx also have a fantastic app to buy and sell crypto with.
What is the biggest crypto exchange in Australia?
The biggest crypto exchange is Binance. They have the highest trading volume, supported cryptocurrencies, and advanced trading tools for day traders. They're also a global exchange operating in a lot of countries.
What is the cheapest crypto exchange in Australia?
Binance is the most affordable crypto exchange. Binance is the most affordable place to buy and sell crypto, with trading fees of 0.1%. However, their customer service is somewhat lacking in comparison to other providers.
What is the most trusted exchange in Australia?
There are many trusted cryptocurrency exchanges in Australia. Some of our top recommendations are Swyftx and Coinspot as well as Binance, Digital Surge and Coinjar. AUSTRAC is required to register a crypto exchange in Australia.
What is the best crypto app in Australia?
It is difficult to find the best crypto app. Many exchanges offer great apps. Both Coinspots and Swyftx have great cryptocurrency apps. They are very simple to use.
What is the best crypto exchange for day traders in Australia?
The best Australian crypto exchange for day traders is Binance. Not only do they have one of the biggest variety of cryptocurrencies on offer, but they also have a very advanced trading interface that allows for multiple order types. Combine this with their native token called BNB, which traders can use to get a discount on the trading fees, and extremely low trading fees overall, Binance is definitely the trading platform to choose for day trading.
Are there any Australian exchanges that allow leverage trading of cryptocurrencies?
Leverage or margin trading is a long-existing trading practice that found great acceptance on the cryptocurrency market. In a nutshell, the principles of crypto margin trading are very simple. As an experienced trader, you can borrow funds from the crypto exchange or your peer traders to place an order that is much larger than your investment budget (leverage can go up to 200x).
This enhances the prospects of higher earnings, but it also comes with a great risk of total financial collapse. Admittedly, this type of advanced trading feature is better seen on international exchanges such as Binance, Kraken, and eToro.
Why do some Australian crypto exchanges ask me to verify my identity?
Centralized crypto exchanges work as regular entities under government-issued security AML/CFT practices. These regulatory procedures impose an obligatory KYC verification for every new user on the crypto trading platform. It's true, revealing such an amount of personal information and documents can be really intimidating at times.
But let's broaden our perspective here: the very fact that the exchange requires an ID verification speaks a lot about the exchange itself — it's regulated, highly secure, and trustworthy.