Best Crypto Exchanges in Australia 2023
Last Updated on October 2, 2023 | SEE UPDATES
Finding the best crypto exchange in Australia can be tricky these days, as there are so many options to choose from.
I've reviewed and ranked the best ones looking at factors such as ease of use, fees, trading features, customer support, and more.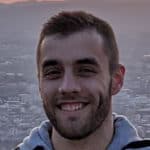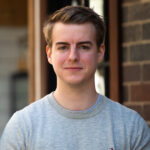 Quick Summary: If you don't have much time to research, the best cryptocurrency exchange in Australia is Swyftx. They are AUSTRAC-registered and the most popular choice for Aussies. They are the fastest-growing Australian crypto exchange in the last 2 years with over 300+ cryptocurrencies supported and an amazing support team to help you on your journey.
Based on my research & reviews, these are the best Australian crypto exchanges:
These are the top five exchanges from our research. There are hundreds of exchanges in the world but having personally tried each of these exchanges I can say these are the best for Australians based on a range of different factors.
Top 5 Crypto Trading Platforms Australia Comparison
To quickly compare the best cryptocurrency exchanges in Australia I've collated all the information into a simple table below. This includes all the important data like the overall rating, location & currency, available cryptocurrencies, fees, and other useful information.
Website
Overall Rating
Location & Currency
Available Cryptocurrencies
Fees
Our Review
Visit Site

swyftx.com.au
Australia

Bitcoin
Ethereum
300+ Cryptocurrencies
Adding more regularly

0.6%
Swyftx Review
Visit Site

Get Bonus $20 BTC After Signing Up


coinspot.com.au
Australia

Bitcoin
Ethereum
200+ Cryptocurrencies

1%
CoinSpot Review
Visit Site

binance.com/en-AU/
Australia

Bitcoin
Ethereum
Ripple
400+ Cryptocurrencies

0.1%
Binance Review
Visit Site

bybit.com
Singapore

Bitcoin
Ethereum
220+ Cryptocurrencies

Varies
ByBit Review
Visit Site

coinjar.com
Australia

Bitcoin
Ethereum
64 cryptocurrencies in total

Varies
CoinJar Review
Visit Site
Disclaimer: We may receive a commission for purchases made through the links on our site. However, this does not impact our reviews and comparisons. Learn more about our Affiliate Disclosure.
Best 5 Australian Crypto Exchanges: Extended Reviews
If you are the sort of person that likes to do extra research like me, I've included some more in-depth information about each exchange below. I dive into the reasons why they are on our top 5 list, a bit of history about each exchange as well as any other useful information. More than ever it's important to do your research before you start trading, exchanges are subject to collapse so make sure you are confident in your choice.
1. Swyftx: Best Australian Exchange

5.0 out of 5.0
Website: swyftx.com.au
Country: Australia
Currency: AUD
Fees: 0.6%
Available Cryptocurrencies: 300+ Cryptocurrencies & adding more regularly
Support: Live chat, Phone
Notable Features:

OTC and SMSF options
Earn up to 80% interest on crypto (temporarily paused)
Tax reporting
Recurring orders
Swyftx are currently running a promotion for new users, you can get $20 BTC credit when you sign up.
Swyftx is by far our most recommended Australian cryptocurrency exchange, given that their trading platform is the easiest to use and their online wallet makes trading pain free. With Swyftx you can keep any coins you buy in their online wallet and it doesn't have the same risk as keeping it on regular exchanges.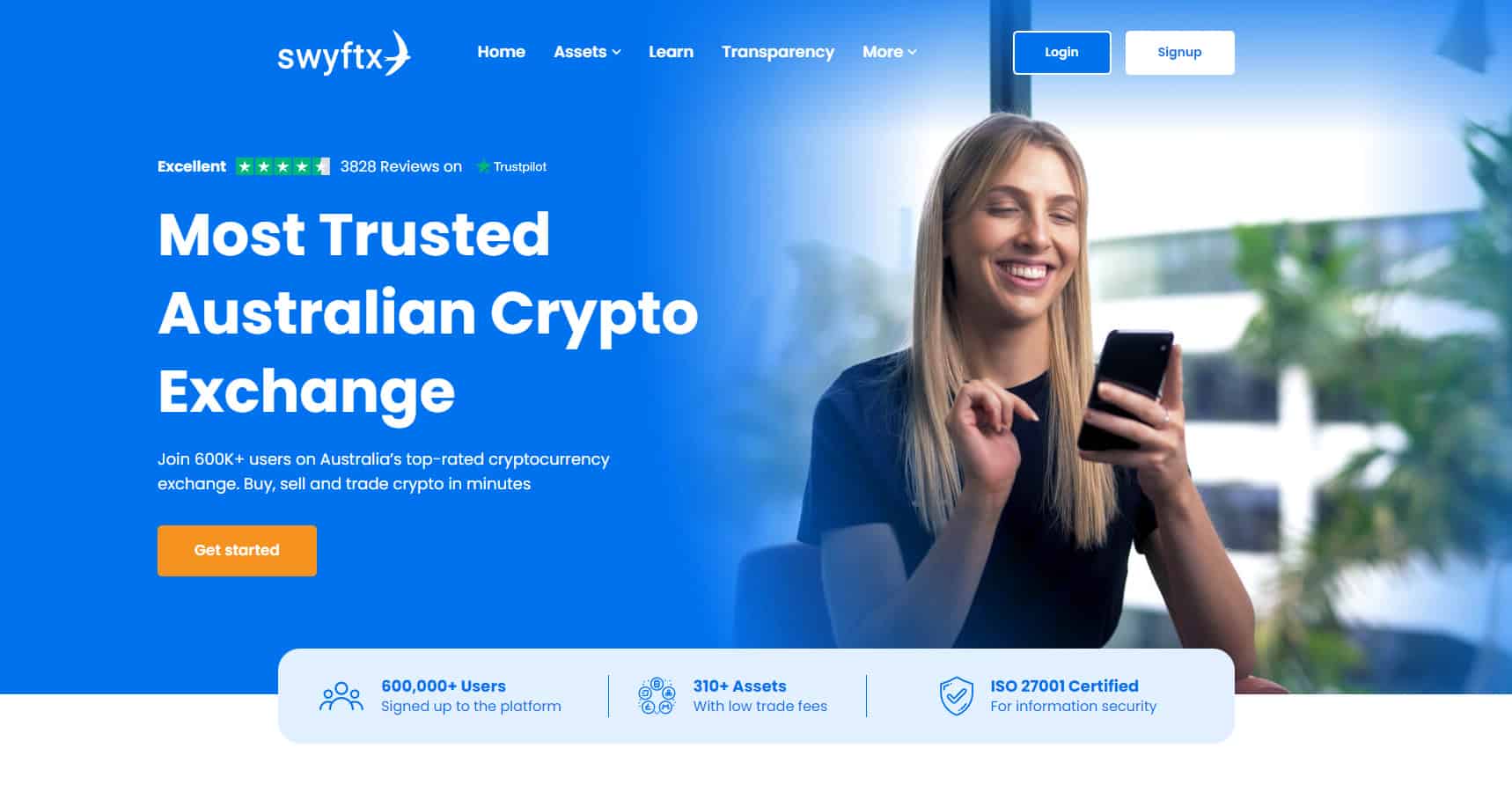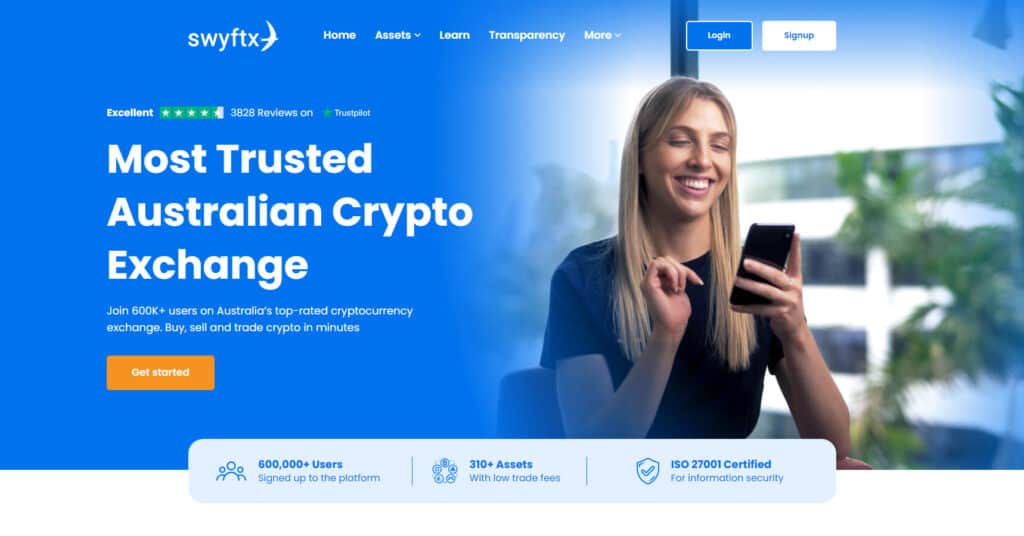 Swyftx makes day trading incredibly easy, allowing you to swap, buy and sell coins instantly. You can buy crypto assets with AUD deposits via bank transfer, POLi, or PayID. I really appreciate that the team at Swyftx are incredibly helpful and being Australian based they are always active when you need them. The account verification process is very smooth.
For me, the main standout features for Swyftx are low trading fees, excellent user interface, and unmatched support/onboarding. This all makes for a great user experience and hence deserves our stamp as the best cryptocurrency exchange in Australia. I really feel like Swyftx goes out of its way to make sure you are getting what you need so when you sign up, you are assigned an account manager who will help you out with any questions you have. This makes Swyftx perfect for beginners with limited experience in trading or cryptocurrency.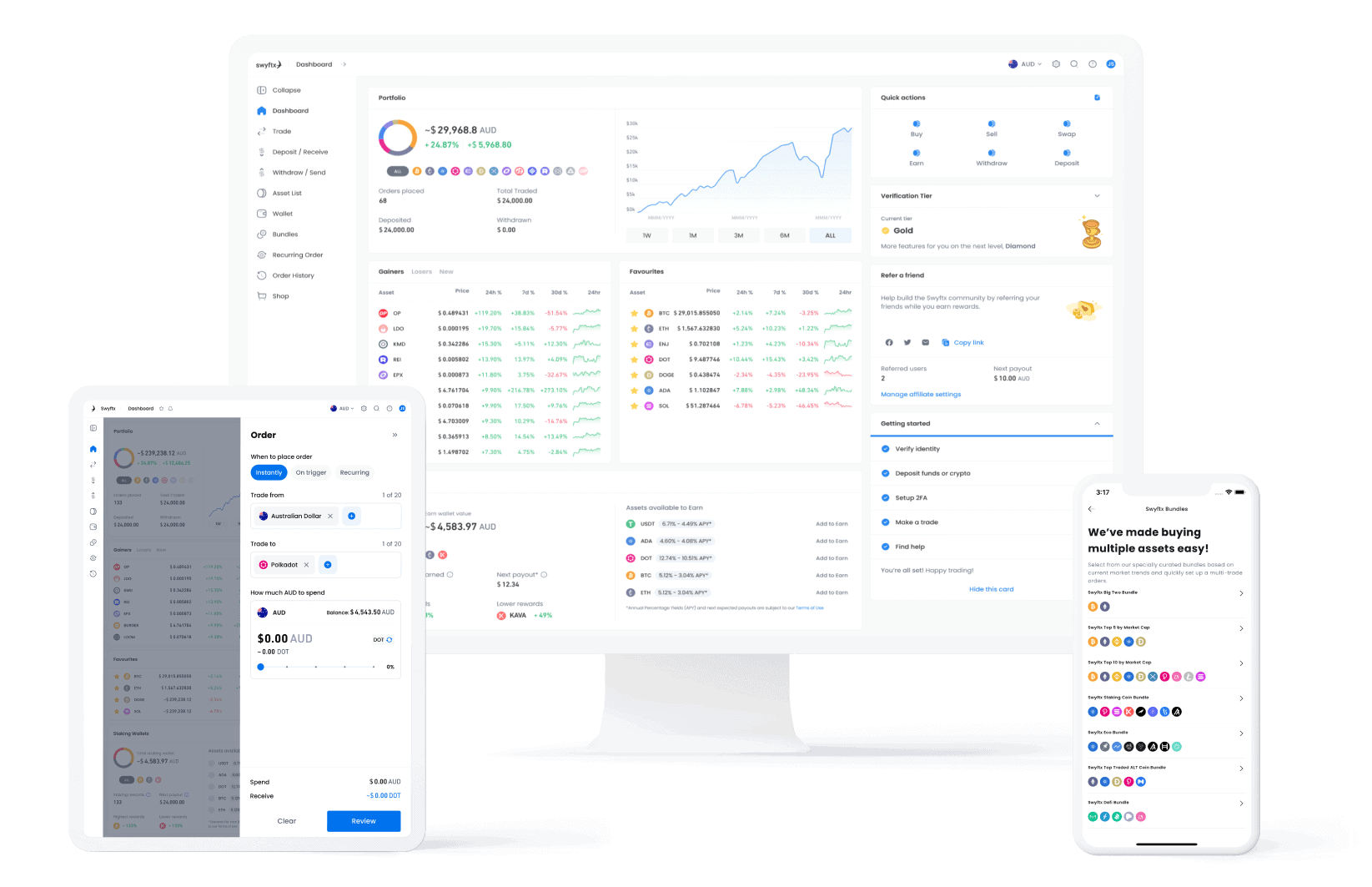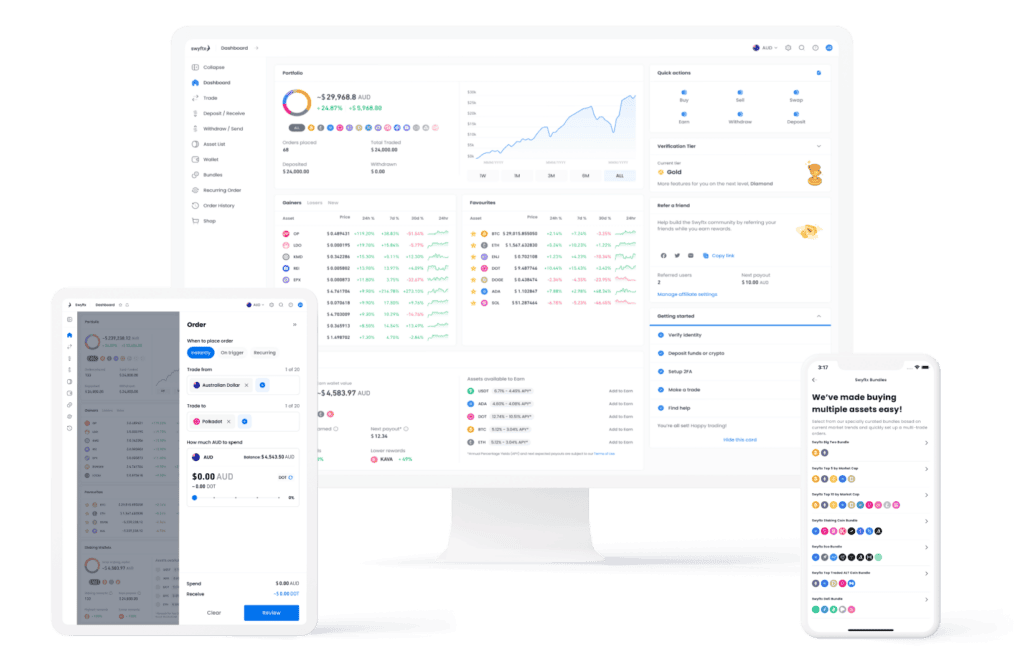 Swyftx also has additional features for the more experienced traders. For instance, I like how you can customize your dashboard with your preferred metrics, use TradingView charting, activate recurring deposits, or ask Swyftx to generate tax reports.
Pros:
Easy to use
Quick verification process
Large choice of available cryptocurrencies
Fair pricing
24/7 live chat support
Cons:
Available only for residents of Australia and New Zealand
Related:
2. CoinSpot: Best for Beginners
4.2 out of 5.0
Website: www.coinspot.com.au
Country: Australia
Currency: AUD
Fees: 1%
Available Cryptocurrencies: 200+ Cryptocurrencies
Support: Live chat, 24/7 CS via email or phone
Notable Features: 

SO 27001 accredited security standards
OTC trading available
Includes multicurrency wallet
NFT marketplace
CoinSpot is a great Australian crypto exchange for new users, I like the UI of their dashboard, it's easy to use and clutter-free which makes the process to buy and sell your first cryptocurrency very easy. I do think that the main issue with CoinSpot, however, is that it charges above-average trading fees. There are many other trading platforms that provide almost the same experience but with a much better trading fee structure.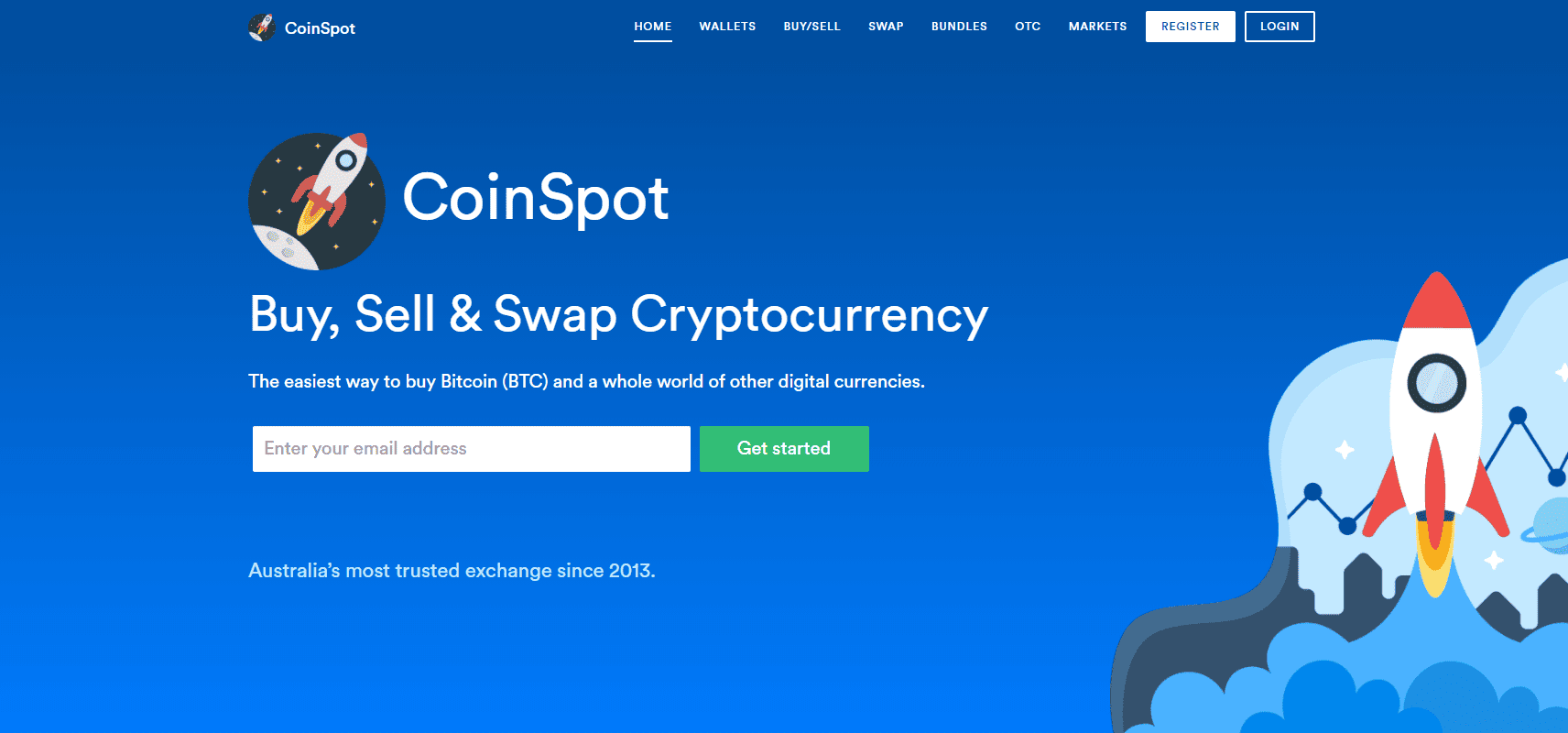 Most people once they've started trading a bit more, end up moving to an international exchange where they can trade with lower fees. On the other hand, one of the advantages of CoinSpot is that it has a large number of trading pairs. Moreover, it's one of the few Australian crypto exchanges that support buying and selling decentralized finance tokens. It also supports a range of deposit methods: BPAY, POLi, PayID, direct OSKO bank transfers, and cash, and includes an OTC desk for large-volume orders.
All in all, I think that CoinSpot is a great entry point but as we said, chances are you won't stay on there long term. If you're curious to find out more before you make up your mind, check out our more in-depth CoinSpot review page which provides much more information on the business, its history, and other more technical aspects.
Pros:
Intuitive navigation
Automatic purchases on a daily/weekly/monthly basis
Largest selection of DeFi tokens and NFTs
Minimum or no deposit and withdrawal fees
SMSF Account
Cons:
High weekly volume limit
Lack of margin trading support
Related:
3. Binance: Best for Day Trading

4.1 out of 5.0
Website: www.binance.com/au
Country: Australia
Currency: 50+ Fiat Currencies, no AUD
Fees: 0.1%
Available Cryptocurrencies: 400+ Cryptocurrencies
Support: Live chat, Twitter, email
Notable Features: 

Largest and most liquid exchange platform
Supports short selling
Up to 125x leverage margin
Has its own NFT marketplace
Peer-to-peer trading available
Binance is quickly becoming the most used exchange in the world and for good reason. The platform is perfect for experienced users looking to get more serious with their trading. I do believe that it can take some getting used to for beginners, which is why Swyftx is the most recommended exchange for beginners.
As mentioned in our Binance review, they have pairings for all of the major cryptocurrencies you would want to trade. On top of that, they offer all sorts of deposit methods. Australians can use the separate Binance Australia platform launched in July 2020. Its trading fees are very low, only 0.1%, and you can even get a further discount with their BNB tokens. It allows margin trading (leverage trading) as well.
If you are looking at doing regular trading known as day trading, I would recommend using this exchange. For Binance, safety is a big priority which is why the exchange created its Safety Asset Fund for Users to which it allocated 10% of all the fees and uses the money in case of a security breach.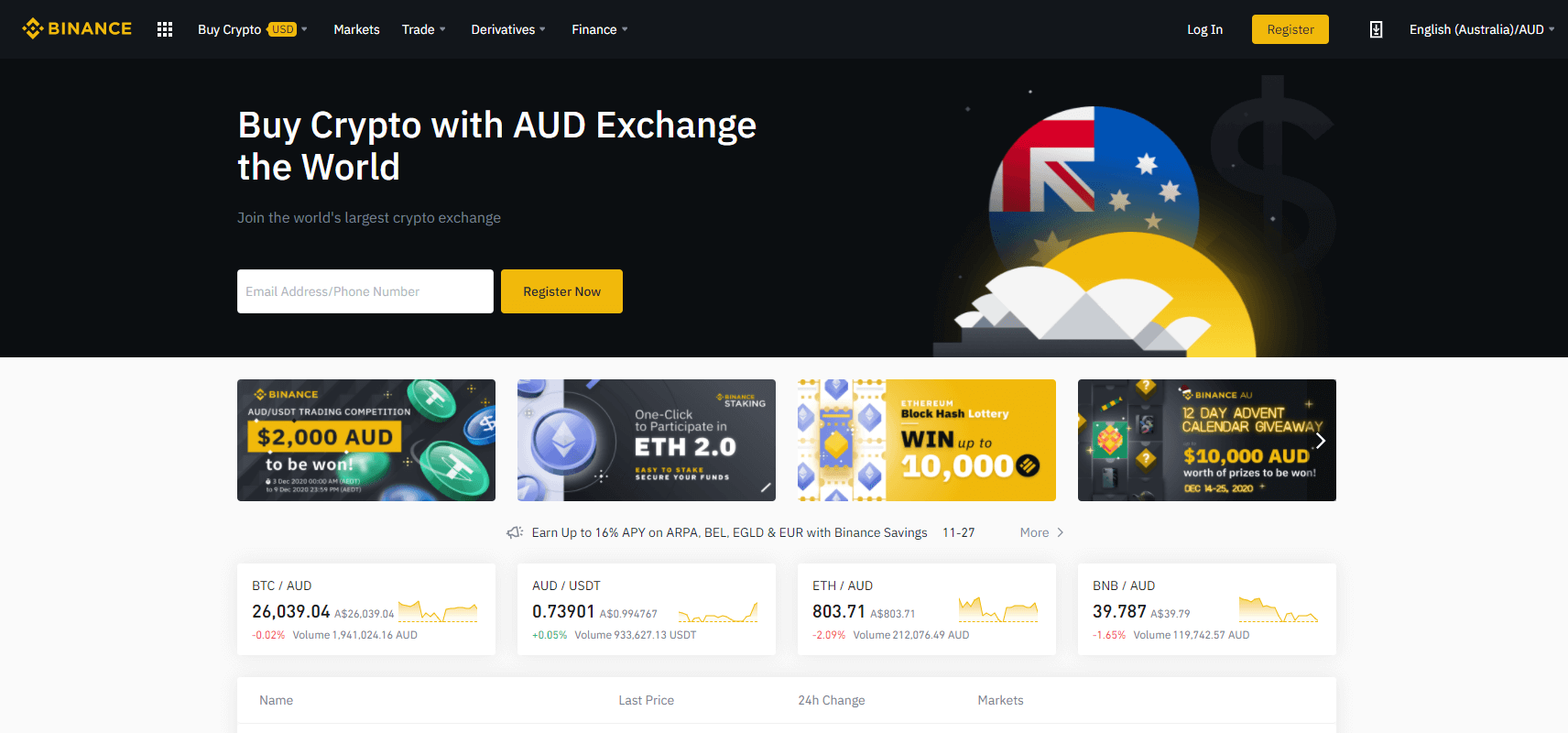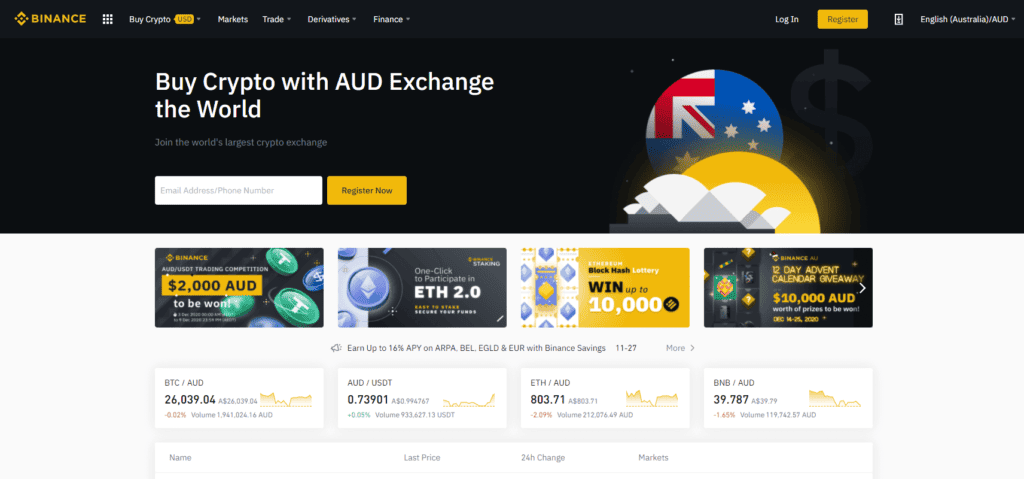 Pros:
Superior trading features under one roof
Exceptionally large selection of altcoins
The lowest trading fees
Separate wallets for different markets
Highest liquidity on the market
Cons:
Lack of support for traditional payment options
Overwhelming structure for absolute beginners
No AUD on- or off-ramp
Related:
4. ByBit: Best Non-Aussie Platform

3.5 out of 5.0
Website: bybit.com
Country: Singapore
Currency: 40+ Fiat Currencies
Fees: 0.01% – 0.06%
Available Cryptocurrencies: 220+ Cryptocurrencies
Support: Live chat, email
Notable Features: 

Perpetual and futures trading
Derivatives and spot trading
Margin trading with up to 100x leverage
Testnet platform to practice trading with no risk
Insurance fund to protect users
ByBit is a Singapore-based digital asset exchange that focuses on futures contracts and other crypto derivatives products. The exchange was founded in 2018 by the renowned fintech expert Ben Zhou and registered in the British Virgin Islands to bypass the strict KYC requirements. I remember ByBit being warmly welcomed by the avid crypto community immediately after its launch, thanks to its incredibly rich trading package.
You can feel the professional edge the very moment you step on the ByBit platform. The user interface looks pretty advanced because of the complex charting tools and the numerous trading options. Still, I can't say that the platform isn't intuitive enough for sleek navigation across different markets.


ByBit knows how to create a perfect atmosphere for professional traders. It features a sophisticated spot market with over 300 crypto-to-crypto trading pairs. They also offer multiple types of future and perpetual contracts with up to 100x leverage and an insurance fund.
In addition to the spot and derivatives markets, ByBit provides a built-in bot system, an NFT marketplace, and a few plans for passive income. Trading fees are slightly below the industry average and there are no deposit fees for crypto funding. You can also buy crypto in exchange for fiat but you must use a third-party provider for these transactions since ByBit doesn't support fiat payments.
Pros:
Top-notch UI design;
All-in-one trading platform;
Robust security features;
Transparent fee system and low spreads.
Cons:
No fiat currency is accepted across all markets;
Not available for US residents;
Slowly responsive customer support.
5. CoinJar: Best for crypto bundles

3.0 out of 5.0
Website: www.coinjar.com/au/
Country: Australia
Currency: AUD, GBP, EUR, USD
Fees: 1% on the main platform, 0% – 0.1% takers fee, 0.06% – 0.1% makers fee on the exchange
Available Cryptocurrencies: 64 Cryptocurrencies
Support: Via Phone, knowledge base, ticket, live chat
Notable Features:

Quick verification time (less than 10 minutes)
Coinjar Bundles to diversify your portfolio
Earn reward points to pay exchange fees with Coinjar Rewards
Pay with crypto using Coinjar Card with no monthly or activation fees
CoinJar is one of the longest-running crypto exchanges in Australia and has an international presence. It's a simple exchange for beginner crypto traders to start on with competitive fees and many trading features.
I think one of the main drawbacks of CoinJar is the lack of altcoin support. CoinJar doesn't support a huge range of Cryptocurrencies but is working on adding more regularly. CoinJar is a great fiat gateway and lets you purchase crypto with AUD, EUR, USD or GBP (other fiat currencies will be converted) via SEPA (EUR), Faster Payments (GBP), bank transfer, PayID (AUD), or by making a Blueshyft cash deposit.
As far as fees are concerned, like CoinSpot, the platform charges a flat fee of 1%. Trading fees on their actual exchange differ for makers and takers based on their 30-day trading volume with the highest fee being 0.1% for makers and a flat 0% for takers. What makes CoinJar special is the innovativeness of its team. So far, they've launched numerous solutions to make crypto trading easier for both retail and institutional traders.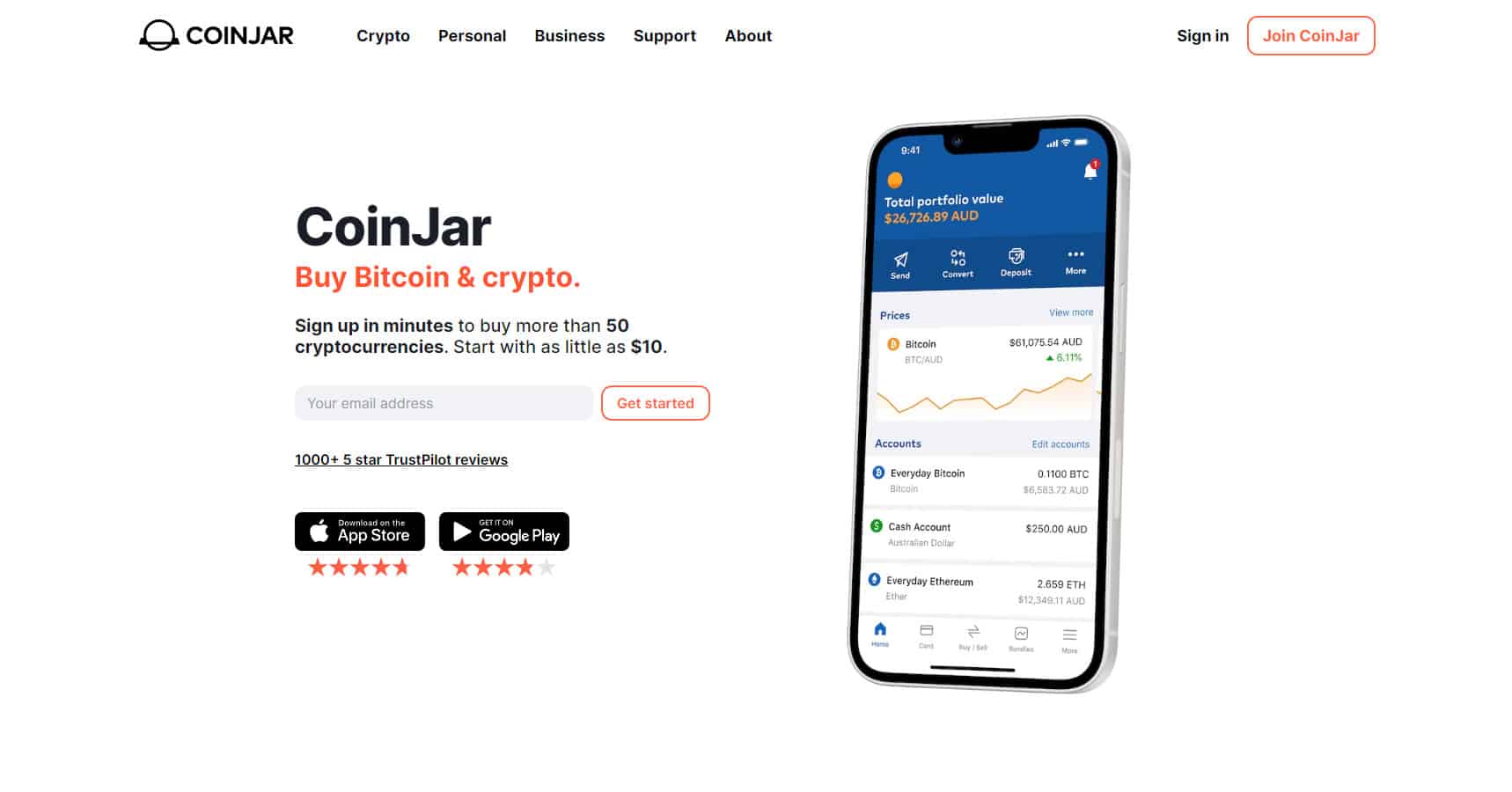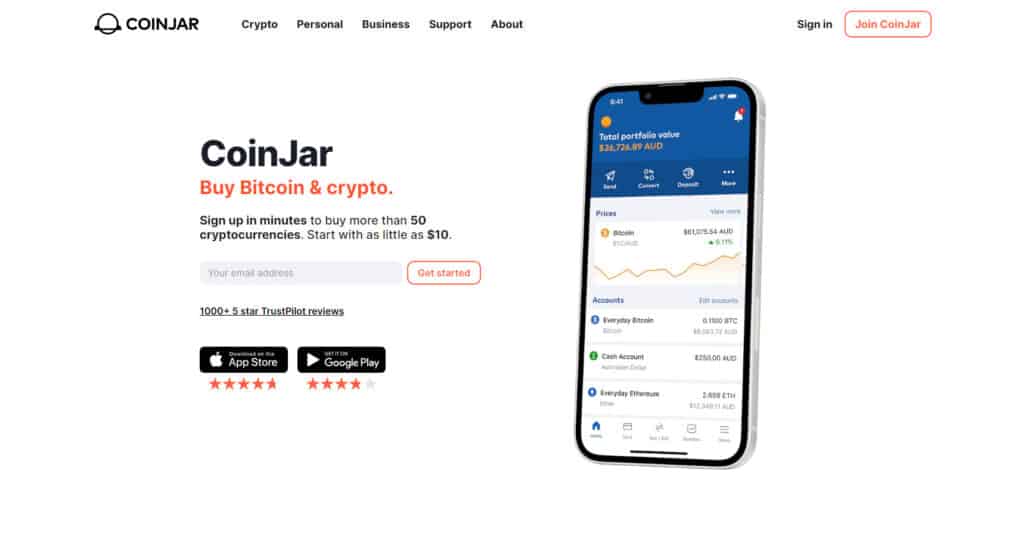 Pros:
A beginner-friendly platform supported by a functional mobile app
A multi-feature exchange with swap and wallet services
CoinJar reward points
Cons:
A small range of supported cryptocurrencies
How to Choose a Crypto Exchange in Australia
There are a number of things you should pay close attention to when looking for the best cryptocurrency exchange on the market. Here are some pointers to get you started.
Payment Methods: A good entry-level crypto exchange will allow users to choose a payment method that suits their individual trading preferences.
Generally, the most convenient way to make a seamless deposit is to link your bank account with the exchange account (this works with most banks like ING, ANZ, Commbank, Suncorp, etc). Besides regular bank transfers, the majority of exchanges in Australia support e-payment processors like PayID, POLi, Credit/Debit cards, or Osko.
Type of Trading: Crypto exchanges typically offer one of the following two types of trading: fiat-to-crypto trading and crypto-to-crypto trading. The former is perfect for anyone who wants to trade the BTC/AUD trading pair while the latter is suited for those who want to speculate on crypto price fluctuations. Then there's also futures trading, CFDs, and of course, shorting crypto.
User-Friendliness: It's important to find a platform that's suitable for your level of expertise. Newbies need an intuitive, straightforward interface where they can easily get around and place a simple buy/sell order.
Experienced traders may want an advanced trading platform with complex charts and technical indicators where they can customize their orders and use features like margin trading and advanced order types. This includes market, limit, stop-loss, fill, or kill orders.
Supported Cryptocurrencies: Make sure the exchange you choose supports your target cryptocurrency. By now, the market has over 1,000 different crypto tokens, which means that no platform is able to list all of them.
Some crypto exchanges stick to the most prominent cryptocurrencies like Bitcoin (BTC), Ethereum (ETH), Litecoin (LTC), Stellar (XLM), and Bitcoin Cash (BCH) because their demand is always on the rise or at least stable and liquid enough. Other platforms, on the other hand, support up to 200 crypto assets, stablecoins, and DeFi tokens (e.g. ERC-20 tokens).
Trading Fees: A lot of crypto traders only focus on deposit and transaction fees when trying to determine whether the exchange is cheap or not. However, you should also take into account withdrawal fees and spreads, i.e. the difference between the buy and the sell price.
Limits: This category refers to limits such as the minimum or maximum amount of funds you can deposit into your account to purchase cryptocurrency or the minimum/maximum amount of cryptocurrency you can buy/sell per day. Most exchanges also have a limit on daily and monthly withdrawals based on your level of verification.
Loyalty Programs and Discounts: Some exchanges offer discounted fees to traders who own their native cryptocurrency. Also, most trading platforms use a scaled fee structure that rewards high-volume traders with lower trading fees.
Another way to gain access to discounts and VIP services is to join a loyalty program hosted by the exchange or get a referral link. One example is our Swyftx referral code, which gets you $20 of free BTC.
Liquidity: High liquidity is synonymous with high trading volumes. If an exchange provides high liquidity, then you don't have to worry about delays in processing orders or whether or not there will be any order at all for the coins you wish to buy. Liquid exchanges are always able to match incoming buyers with sellers and vice versa. In order to be sure that the platform you like has the right level of liquidity, take a look at its order books before you register an account.
Account Verification Process: One of the first requirements of local financial regulators is for registered crypto exchanges to adhere to Anti-Money Laundering (AML) and Counter-Terrorism Financing (CTF) policies. And how do platforms achieve that?
They require all new users to verify their identity by completing a Know Your Customer (KYC) check and providing the following information: full name and address, phone number and email address, a scanned copy of an ID, and sometimes even a bank statement.
Security: Security is crucial when transferring money over online platforms. Therefore, don't forget to check whether the exchange includes a two-factor authentication option or whether or not it stores customer funds in offline wallets (cold storage). How are your private keys secured? Is there an option to create a withdrawal address whitelist and protect your account from unauthorized IP addresses?
Does the exchange use strong encryption and do you start using the exchange immediately or do you have to pass a KYC check first? Finally, are your funds fully, partially, or not at all insured?
Customer Support: The first thing that users review about a given platform is the responsiveness of their support team. No one wants to wait for days to get a simple issue fixed with their account or transactions. Visit the exchange's website to check what support channels they offer (email tickets, live chat support, or a separate phone line).
Are their agents available 24/7 or only during business hours? Does the exchange offer multilingual support and a knowledge base/FAQ section with detailed guides on how to use the platform's services?
Is It a Regulated Exchange in Australia?
Local crypto exchanges as well as international ones that want to operate on the Australian market need to register with AUSTRAC or the Australian Transaction Reports and Analysis Centre and strictly follow its guidelines. International platforms typically answer to additional regulatory bodies which is why some features might not be available for Australian traders. For instance, Aussies can buy cryptocurrency on Coinbase, but they can't sell it or trade it.
How to Use a Cryptocurrency Exchange in Australia
To start trading using a crypto exchange, you'll need to go through a few easy steps.
Choose a trading platform that works for you
Head over to their site and sign up.
Go through the required verification process (KYC)
Fund your account using your preferred deposit method (if the exchange supports it). The usual options are PoliPay, PayID, bank transfers, or credit/debit card.
Wait for the funds to hit your account on the exchange, this could take a day or 2 if it's the first deposit (and depending on the payment method)
Find the cryptocurrency you're wanting to buy on the exchange
Enter the trade amount, either in AUD, or in the crypto, and hit the buy button.
How we chose the best crypto exchanges.
To rate and rank the exchanges we review, we look at (and test) factors like ease of use, fees, trading features, and support. We also look at the aggregate sentiment by analysing user reviews. Keep in mind that we didn't review every single exchange available, and depending on your situation, the exchange you prefer might be different from the ones we picked.
For more info, see our rating process.
What is the best crypto exchange for beginners in Australia?
The best Australian crypto exchange for beginners is Coinspot. They have a very streamlined onboarding process and easy-to-use trading interface. That being said, Swyftx is a very close second for beginners as they too have a very fast and easy sign-up process. Both Coinspot and Swyftx also have a fantastic app to buy and sell crypto with.
What is the biggest crypto exchange in Australia?
The biggest crypto exchange is Binance. They have the highest trading volume, supported cryptocurrencies, and advanced trading tools for day traders. They're also a global exchange operating in a lot of countries.
What is the cheapest crypto exchange in Australia?
Binance is the most affordable crypto exchange. Binance is the most affordable place to buy and sell crypto, with trading fees of 0.1%. However, their customer service is somewhat lacking in comparison to other providers.
What is the most trusted exchange in Australia?
There are many trusted cryptocurrency exchanges in Australia. Some of our top recommendations are Swyftx and Coinspot as well as Binance, Digital Surge and Coinjar. AUSTRAC is required to register a crypto exchange in Australia.
What is the best crypto app in Australia?
It is difficult to find the best crypto app. Many exchanges offer great apps. Both Coinspots and Swyftx have great cryptocurrency apps. They are very simple to use.
What is the best crypto exchange for day traders in Australia?
The best Australian crypto exchange for day traders is Binance. Not only do they have one of the biggest variety of cryptocurrencies on offer, but they also have a very advanced trading interface that allows for multiple order types. Combine this with their native token called BNB, which traders can use to get a discount on the trading fees, and extremely low trading fees overall, Binance is definitely the trading platform to choose for day trading.
Why do some Australian crypto exchanges ask me to verify my identity?
Centralized crypto exchanges work as regular entities under government-issued security AML/CFT practices. These regulatory procedures impose an obligatory KYC verification for every new user on the crypto trading platform. It's true, revealing such an amount of personal information and documents can be really intimidating at times.
But let's broaden our perspective here: the very fact that the exchange requires an ID verification speaks a lot about the exchange itself — it's regulated, highly secure, and trustworthy.
Conclusion
Swyftx is definitely the best cryptocurrency exchange in Australia, with low fees, a range of trading features and a passionate team. It makes buying and selling cryptocurrencies easy for beginners while also providing great options for advanced traders. Swyftx has gained a huge amount of popularity just in the last 2 years but they show no signs of stopping.
I've personally had the opportunity to spend time with their team here in Brisbane Australia and I can tell you for certain that they really care about the platform and the service they provide. You can definitely feel this all the way through while using their app and talking to their support staff.
Article Sources
Sinclair, S. (2021, September 16). Top Australian Crypto Exchanges Say They Aren't Threatened by the Bigger Players. Retrieved from https://www.coindesk.com/business/2021/09/16/top-australian-crypto-exchanges-say-they-arent-threatened-by-the-bigger-players/
Lindrea, B. (2022, November 17). Aussie treasurer promises crypto regulation next year amid FTX debacle. Retrieved from https://cointelegraph.com/news/aussie-treasurer-promises-crypto-regulation-next-year-amid-ftx-debacle
Chez, B. (2018, August 2). Top Cryptocurrency Spot Exchanges. Retrieved from https://coinmarketcap.com/rankings/exchanges/
Helms, K. (2020, February 10). 312 Crypto Exchanges Registered in Australia. Retrieved from https://news.bitcoin.com/crypto-exchanges-australia/
Nelson, J. (2022, November 16). Australian Authorities Suspend License of FTX Australia. Retrieved from https://decrypt.co/114764/ftx-australia-license-suspended-australian-authorities-asic
Nguyen, J. (2018, May 28). Australia's Crypto Scene. Retrieved from https://www.forbes.com/sites/nguyenjames/2018/05/28/australias-crypto-scene-what-consensus-2018-signals-for-the-future/
Brumpton, H. (2022, December 14). Australia Targets Crypto, Clearing Reforms in Finance Overhaul. Retrieved from https://www.bloomberg.com/news/articles/2022-12-13/australia-targets-crypto-clearing-reforms-in-finance-overhaul
Note: While we aim to keep this up to date as possible, we might miss changes every now and then!
30 Jan 2023 – Added back informational content to page.
18 Jan 2023 – Added new images for exchanges. Updated information for CoinJar.
17 Jan 2023 – Added sources
13 Jan 2023 – Reduced list from 13 to 5, removed a lot of informational content. Made our top list more simple and easy to consume.
02 Sep 2022 – Complete article rewrite after website rework.
20 Jul 2022 – Adding additional informational tables, changed top 10 list, added lots of extra information to our reviews.
25 Apr 2022 – Added ByBit to the list.
11 Feb 2022 – Added additional FAQs.
05 Jan 2018 – 11 Feb 2022 – Exact changes weren't documented. Lots of changes to our list and information on the page in this period of time.
05 Jan 2018 – Original article written.
Disclaimer: Digital currencies and cryptocurrencies are volatile and can involve a lot of risk. Their prices and performance is very unpredictable and past performance is no guarantee of future performance. Consult a financial advisor or obtain your own advice independent of this site before relying and acting on the information provided.