Disclaimer: We may receive a commission for purchases made through the links on our site. However, this does not impact our reviews and comparisons. Learn more about our Affiliate Disclosure.
Coinmama is a Slovenian cryptocurrency exchange established in 2013, operated by the Israeli-based software firm New Bit Ventures. Coinmama.com has over one million customers and 30 employees, and serves most countries, excluding sanctioned countries such as North Korea and Syria, so we can easily call it one of the more accessible international cryptocurrency exchanges.
Earlier in the year, Coinmama was the target of a substantial multi-platform attack that affected over 450,000 customers. The email addresses and passwords of these customers were leaked on a dark web registry. Unlike many other high-profile cryptocurrency exchange breaches, Coinmama's users did not lose any money as a result of the attack. Though no money was stolen, users were urged to change their passwords in addition to Coinmama's monitoring of those accounts for suspicious activity afterward.

Related Comparison:
Coinmama services
Coinmama is unusual because it doesn't allow trading or selling cryptocurrency on its platform. The platform is solely a cryptocurrency broker and not a trading platform. All purchases made by customers are sourced directly from the company's holdings and are transferred to the customer's private wallet, ensuring simple and secure transactions. However, there is a limit to the purchase amount.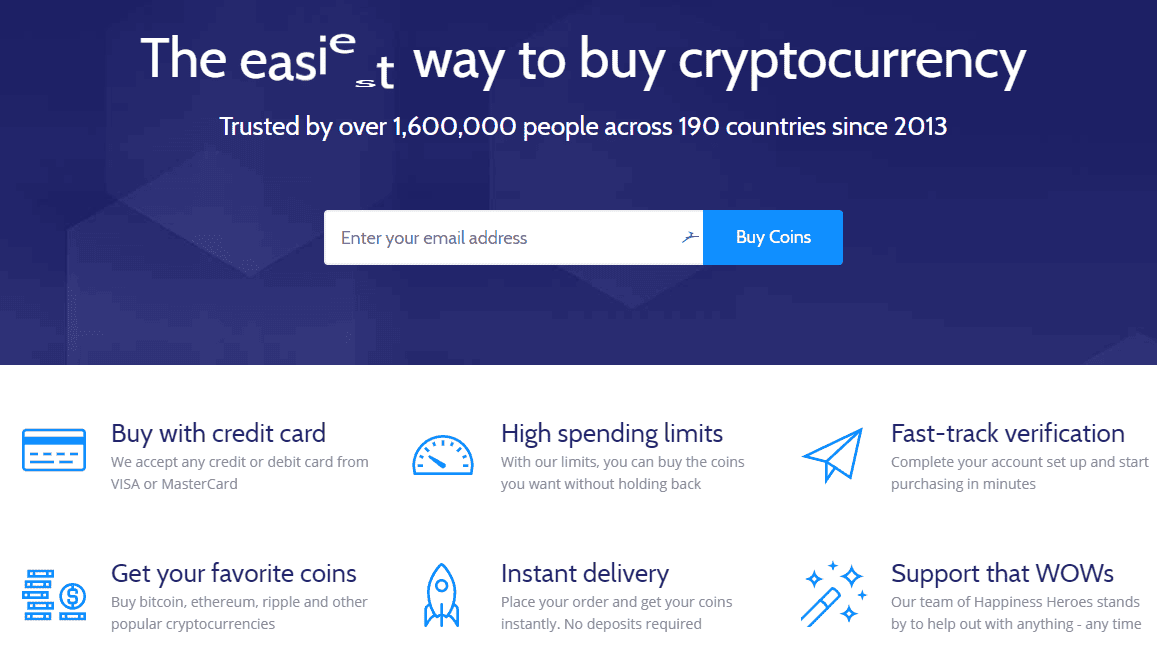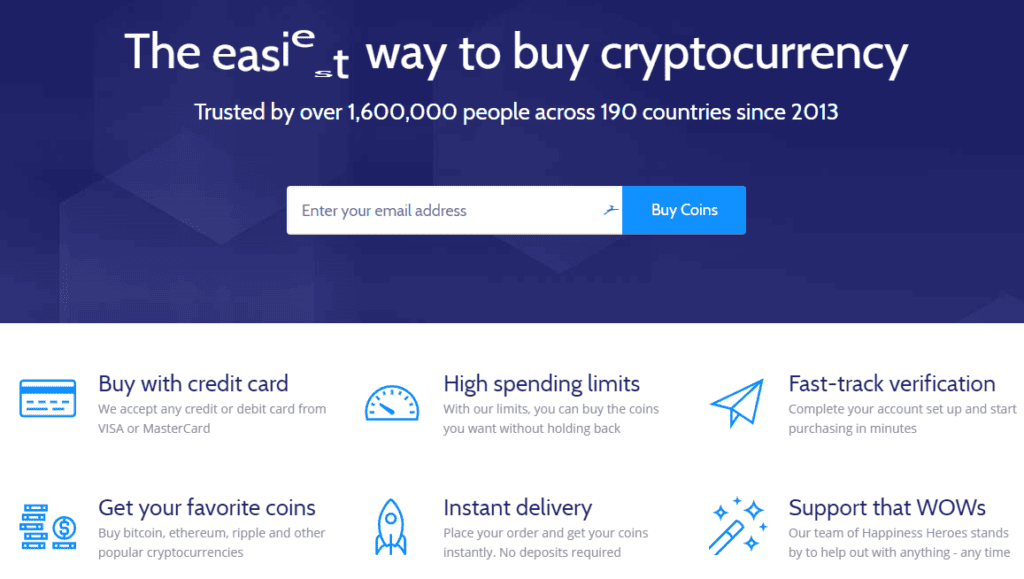 When you place an order with Coinmama, the exchange rate at the time of purchase is locked in. These locked-in rates mitigate the volatility of the cryptocurrency market. Users get precisely the amount of currency they ordered, regardless of market fluctuations between the time of order and time of receipt. Locked-in rates eliminate confusion when less or more cryptocurrency is received than anticipated. If for any reason your order aborts, Coinmama will void the payment and refund your money back into your bank account within 48 hours.
Coinmama verification
As with many cryptocurrency exchanges, users need to provide a whole array of personal information and validate this information using verified documents. The initial registration and verification is relatively quick and allows customers to purchase a small amount of cryptocurrency immediately. However, if you want to buy large amounts of currency, you'll have to submit further documentation. Coinmama has three levels of account verification, and each one comes with a higher total purchasing limit.
The first level requires a national ID such as a passport, driver's license, or ID document that is still valid. The second level requires two valid government-issued IDs and a utility bill. If you can't access your utility bill, you can take a selfie of yourself holding your ID instead. Level three authorization requires that, in addition to the previous documentation, you fill out a form and send it through to Coinmama.
These documents tend to be processed relatively quickly by Coinmama's staff, though the time it takes will depend on when you submit the documents. If you send them through during business hours, it may take a couple of hours to process. However, if you send it through during the weekend or evening, you may have to wait a bit longer to get verified. If you require faster verification, you can get in touch with Coinmama, as their customer support team does try and expedite urgent verifications.
Buy Bitcoin and Other Cryptocurrencies
You can use either USD or EUR to buy the following cryptocurrencies from Coinmama:
BTC (Bitcoin)
ETH (Ether)
XRP (Ripple)
LTC (Litecoin)
ADA (Cardano)
BCH (Bitcoin cash)
QTUM (Qtum)
ETC (Ethereum Classic)
This is a slim selection compared to other cryptocurrency brokerages that support wider varieties. However, if you're a cryptocurrency novice, sticking to stable and well-known currencies is suggested.
As far as fiat currencies are concerned, Coinmama accepts USD, EUR, GBP, CAD, AUD, and JPY payments. If you use a different fiat currency, there's a small conversion fee.
Coinmama Fees and Limits
Fees
Coinmama uses Trade Block's XBX index to calculate their brokerage fees and is included in the price you see on the website. These fees tend to be around 6%, though this figure will vary between regions and also depend on the XBX index.
In addition to the transaction fee, Coinmama charges an extra 5% credit card processing fee if you buy cryptocurrency with your credit card. So, when you make a card purchase, be prepared to add 11% above the market rate, significantly higher than other cryptocurrency exchanges and brokerages.
Limits
Coinmama sets buying limits on a daily and monthly basis. These hard limits apply to all account holders, regardless of what verification level their accounts have reached. The daily limits are calculated as 24 hours from when the placement of the last order, while monthly limits work on a moving sum of the previous 30 days. When you buy from Coinmama, the lowest amount you can purchase is $60, while the upper daily limit is $5,000. The monthly limit is $20,000.
While these time-based limits are in place for all account-holders, Coinmama has a verification system that allows users to purchase a maximum total amount of currency. The maximum amount is dependent on their verification level. The higher the level, the more cryptocurrency you're allowed to purchase through Coinmama in total. Users can raise their verification level by providing various forms of identification as detailed above.
The total limits for the various accounts are as follows:
Level 1 – $15,000
Level 2 – $50,000
Level 3 – $1 million
Customer Support
Coinmama has a comprehensive help center and FAQ that answers the most common questions that potential users may have.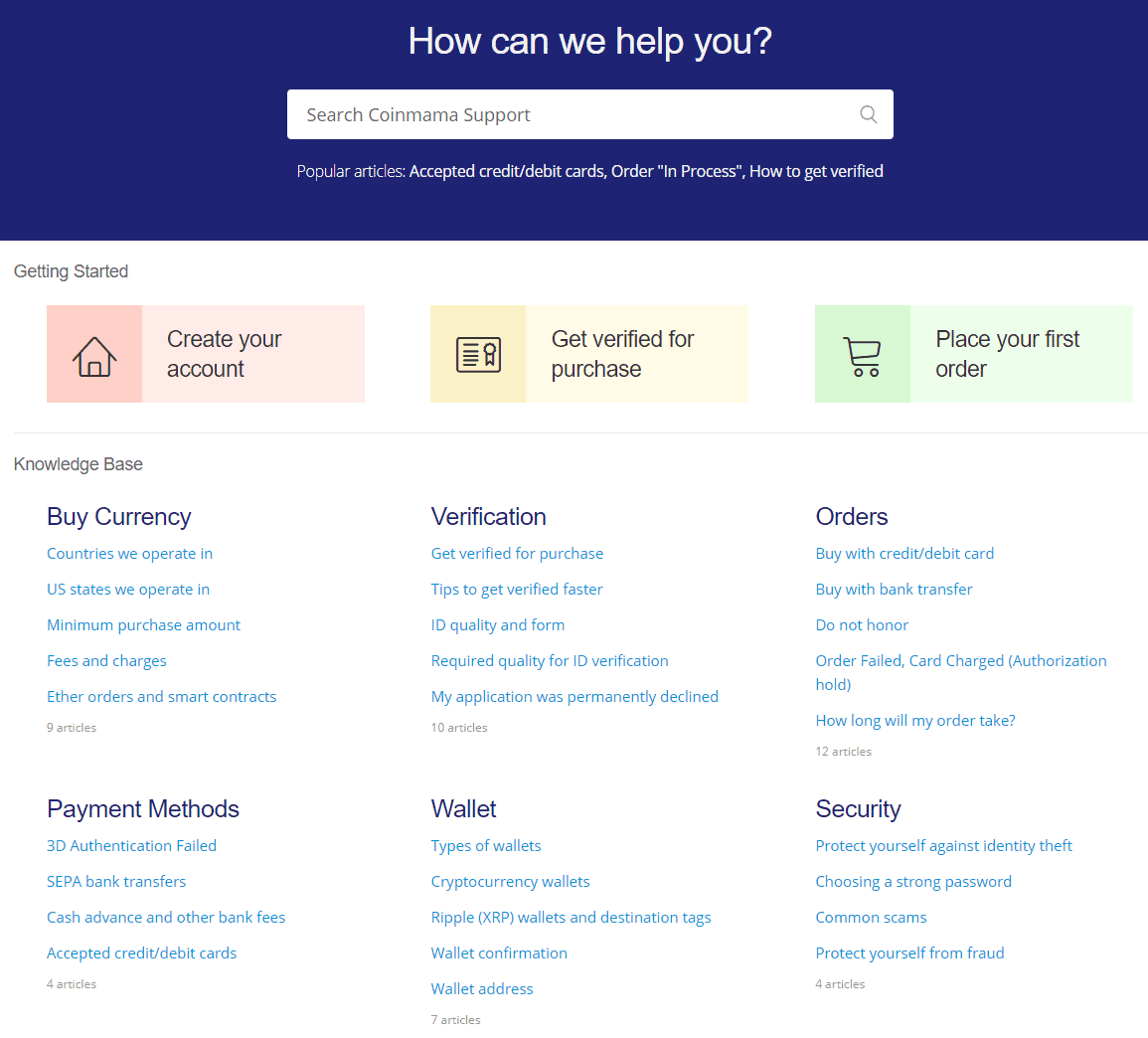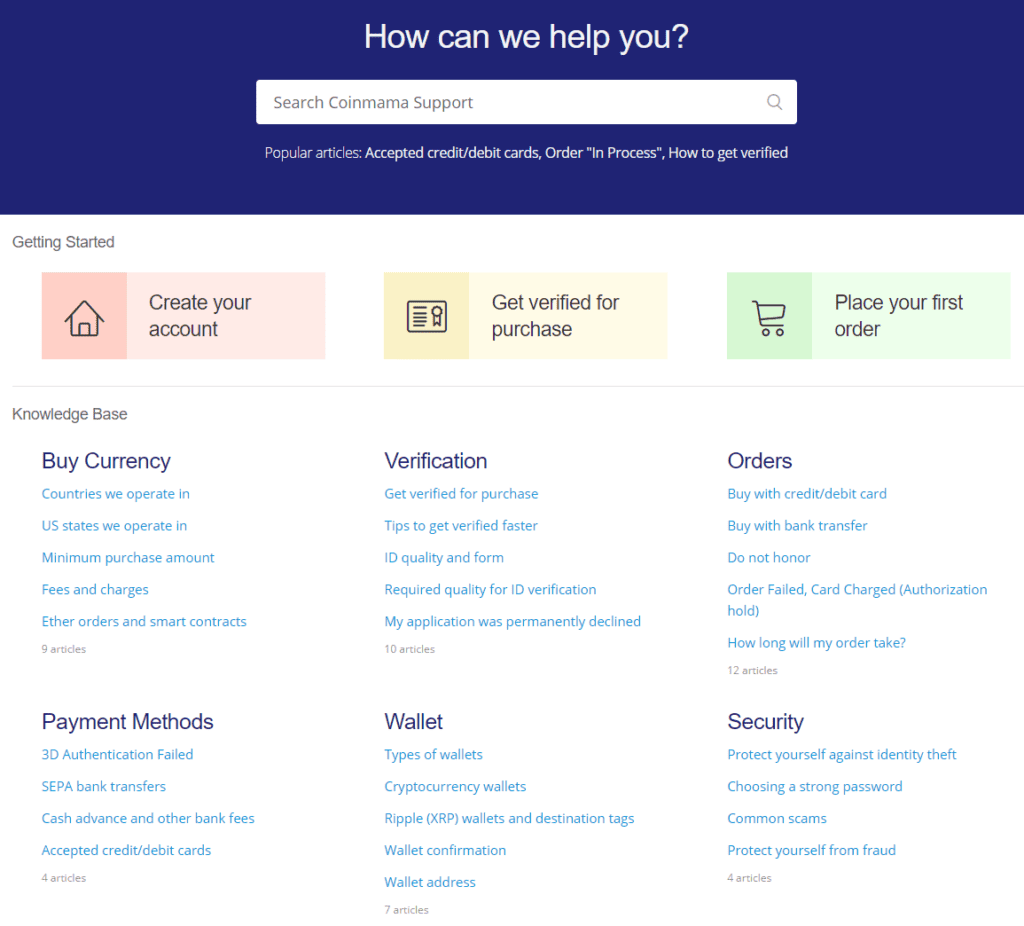 You can also get in touch with them via email. In general, users report that their queries were answered within 24 hours by the Coinmama support team, which is much better than the response times of most other cryptocurrency exchanges. Their business hours may be awkward for Americans due to their location in Israel. Hours of operation are listed as 11 pm to 7 am Pacific Time, Sunday to Thursday.
In general, most consumer complaints pertain to the identity verification process, with many users finding it intrusive. Some users have had their applications rejected without any reason as to why. Be mindful that following the submission of verification documents, Coinmama will usually verify you within a couple of hours. Unfortunately, as Coinmama has to comply with Anti-Money Laundering (AML) and Know Your Customer (KYC) regulations to operate in the United States and EU, this information is required by law. Be aware that Coinmama can disclose your personal information to the government, mainly if it detects suspicious activity on your account.
Coinmama: Scam or Legit?
Many cryptocurrency brokerages have the reputation of being scams, where people pay for a digital currency that they never receive. Luckily, Coinmama is registered as a money service business with the Financial Crimes Enforcement Network (FinCEN) of the United States Department of the Treasury, giving it more credibility than many other cryptocurrency brokerage sites on the net. FinCEN is responsible for investigating all variety of financial crime in the United States, such as fraud, tax evasion, and money laundering. As with any cryptocurrency exchange, if Coinmama is ever implicated in fraudulent conduct, they will be investigated and charged accordingly.
Coinmama is still a relatively small exchange, which means that it's an unlikely target for most hackers who want a big break. Even so, if they ever were attacked, they have a focus on security by ensuring that they don't keep your credit card information on their exchange servers. Any purchases you make go directly through them without the intervention of a third party and are sourced directly from their funds.
One of the best security aspects of Coinmama is that they force users to set up a separate digital wallet. Coinmama does not hold any user's cryptocurrency on the user's behalf, absolving liability for users' loss of funds in the event of a breach. If you're new to the world of cryptocurrency, take the time to read up on wallets and why you need to have them. It's an essential step to protecting yourself and your assets from the inevitable data breaches that affect cryptocurrency exchanges.
So far, Coinmama has only had one breach of security which accessed the email accounts and passwords of around 450,000 customers. Coinmama immediately put out a statement notifying users of the breach and suggested ways to prevent their information from being used. Their advice urged users to change their passwords, supplementing their monitoring for suspicious activity. Coinmama's willingness to take responsibility for security breaches and their transparency towards the affected users has set a positive precedent. Coinmama has a reputation as a reputable and trustworthy broker that provides a safe space to buy cryptocurrency.
FAQ
Does Coinmama have an app?
No. At present Coinmama doesn't have an app and is only available in website form. Coinmama hasn't released an API that would enable users to make custom applications that would be compatible with the Coinmama site. Even if you're on mobile, you have to use the desktop site. Luckily, the website works relatively well on mobile devices, with little noticeable lag. It's not ideal, but it should suffice if you want to check your balance or make a purchase on the go.
What countries are supported by Coinmama?
Coinmama serves most countries, excluding those that are sanctioned, such as North Korea and Syria. Currently, all purchases are made in either USD or EUR, which is converted to the local currency following local exchange rates. Any person with a valid Visa or MasterCard card issued in a non-sanctioned country can purchase from Coinmama.
When it comes to the United States, there are only a few US States that currently are supported by Coinmama. These include Alabama, Alaska, Arizona, Arkansas, California, Colorado, Delaware, Georgia, Illinois, Indiana, Kansas, Kentucky, Louisiana, Maine, Maryland, Massachusetts, Michigan, Minnesota, Mississippi, Missouri, Montana, Nevada, Nevada, New Hampshire, New Jersey, North Carolina, North Dakota, Ohio, Oklahoma, Pennsylvania, Rhode Island, South Carolina, South Dakota, Tennessee, Texas, Virginia, Washington, West Virginia, Wisconsin, and Wyoming.
What payment methods does Coinmama support?
The site allows users to use either debit or credit cards to make purchases, a welcome relief for anybody who's ever tried to buy cryptocurrency via wire transfer. You don't need to register your credit or debit card information on the site. You can enter it during the checkout phase. Coinmama doesn't store your card information on their servers, so you'll have to repeat the process every time you perform a transaction. After payment is completed, the cryptocurrency is sent to the user, which is then available for transfer to their private wallet. SEPA and SWIFT bank transfers are also an option.
Does Coinmama provide a cryptocurrency wallet?
No. Coinmama explicitly encourages users to set up individual secure digital wallets as part of their purchasing process. The website strongly advocates protecting your assets by storing them off the exchange, and Coinmama will never hold any cryptocurrency on your behalf. Their knowledge base provides an in-depth overview of both hot and cold wallets to help users choose and set up a wallet that best meets their needs. If you already use a third-party wallet provider, simply copy the wallet address into Coinmama when purchasing cryptos.
Summing It Up:
Coinmama is a cryptocurrency brokerage that is focused solely on selling cryptocurrency. It offers convenient payment methods and sells most of the popular and stable cryptocurrencies, including Bitcoin and Ripple. It's not an exchange, which means that users' funds aren't stored on the exchange. Instead, they are transferred to the user's private wallet. This, combined with the fact that Coinmama is registered with FINCEN, makes Coinmama one of the most trusted and reputable brokerage sites on the internet.
High fees are the biggest drawback of Coinmama—a concern that drives many people away from the service. Not only is there a 6% brokerage fee, but you also have to pay credit card fees. You're paying well above market price for your cryptocurrency. Some people view this as a convenience tax, but it can be limiting for people who want to buy large amounts of cryptocurrency regularly.
Overall, Coinmama is an excellent place to buy a select few common cryptocurrencies. Not only is the process easy and secure, but customer service is also generally responsive, and the verification process can be completed relatively quickly. If you're looking to start buying cryptocurrency and want to use a simple payment method, Coinmama is a great place to start.
Disclaimer: Digital currencies and cryptocurrencies are volatile and can involve a lot of risk. Their prices and performance is very unpredictable and past performance is no guarantee of future performance. Consult a financial advisor or obtain your own advice independent of this site before relying and acting on the information provided.