CoinSpot Review 2022 – Australian Cryptocurrency Exchange
Disclaimer: We may receive a commission for purchases made through the links on our site. However, this does not impact our reviews and comparisons. Learn more about our Affiliate Disclosure.
Before CoinSpot came along, buying and selling cryptocurrency was quite a hassle, definitely if you wanted to trade anything other than Bitcoin, like Ripple, Monero, or any of the other 100's of coins out there. This is because most Australian cryptocurrency exchanges only offer a handful of coins (Bitcoin, Ethereum, Litecoin, etc).
The way it used to work was you had to buy Bitcoin, transfer it to another exchanges (like Binance or Bittrex), then trade your Bitcoin for the coin you wanted. And if you wanted to cash out, you had to do the process in reverse, hoping nothing bugged out during transfers.
That all changed with CoinSpot, they enable you to buy 100+ coins with AUD, and trade between them, making it the most accessible platform in Australia by far! It's easy to see how they're now one of the top Cryptocurrency exchanges in Australia!
95%
Available Cryptocurrencies
Pros
Buy with $AUD
Biggest selection of Cryptocurrencies available
Super easy-to-use platform
Range of excellent options for deposits and withdrawals
Completely backed by AML/CTF laws
Registered AUSTRAC Digital Currency Exchange
Huge amount of support for ERC20 wallets
Cons
Deposit limits for new users
How To Get Started With Coinspot
Setup Your Account
As mentioned above, Coinspot is our go-to for trading cryptocurrencies in Australia, definitely if you're starting out. It's the most trustworthy exchange available and it makes trading buying, selling and switching coins incredibly easy.

Sign Up Here
After creating your account the first thing you'll want to do is Enable 2FA (2-factor authentication, adds an extra step for logging in to your account, very easy to setup), you should see the message below at the top of your page while on the dashboard.

Verify Your Account
Before you do anything on CoinSpot you'll have to verify your account.
Click top right on Account  > Verification
First, you'll have to verify your email and mobile number before continuing with the verification process.

You will then have to fill in all of your personal information including documents, don't be alarmed uploading this information, every exchange requires it. It's to ensure your safety and make everyone on the platform accountable.
Connect Bank Account
You'll need to connect up your bank account if you want to buy coins on the platform.
Click top right on Account > Bank Details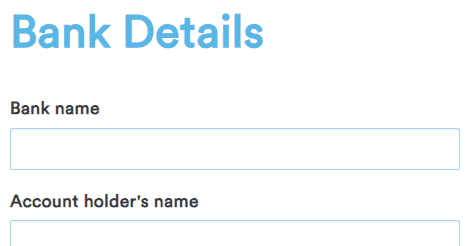 Fill in the required bank information.
Buy Coins
Once your account is verified and you've added your bank account details you can start buying and selling cryptocurrency.
Go to Buy/Sell
This page lists all the coins that CoinSpot has available (which is a lot). Simply click on "Buy" and input the amount of the coin you want to purchase or the amount of AUD you want to spend.
We highly suggest paying with POLi as it allows for near-instant transactions.
Easy as that! You now have bought some cryptocurrency. We highly recommend moving your cryptocurrency to a hardware wallet if you are planning on holding it for a while. If you are planning on day trading, or trading fairly regularly we suggest keeping it on the CoinSpot platform.
CoinSpot.com.au Review & Breakdown
CoinSpot Trading Fees
| Buy/Sell Method | Fee | Description |
| --- | --- | --- |
| Instant Buy & Sell | 1% | This method allows you to instantly buy or sell your coins on the CoinSpot market for the current value. This is quick and easy and the method that most users use. |
| Market Orders | 0.25% | When buying or selling on the BTC, LTC, ETH & DOGE markets the CoinSpot fee is only 0.25%. This method often takes a little longer to buy/sell your coins and the price can often change which is why people usually prefer to use the instant buy/sell method. |
CoinSpot Bank Deposit/Withdrawal Fees
| Payment Method | Fee | Minimum Deposit | Maximum Deposit | Deposit Time | Description |
| --- | --- | --- | --- | --- | --- |
| POLi Payments | Free | None | $10,000 every 24 hours | Instant | This method is preferred for most users, the deposits are not only FREE but they are also INSTANT. |
| BPAY Payments | 0.9% | $1 | $10,000 every 24 hours. *Can request higher limit | 1-3 Business Days | Some banks don't allow POLi payments, and some users prefer not to use it, in which case BPAY is the next best option. |
| Blueshyft Cash Payments | 3% | $50 | $2,000 every 24 hours | Instant, once cash is deposited. | You also have the option to pay with cash, this method can often take a while but it is available! |
CoinSpot Transfer & Withdrawal Limits
| Transaction Method | Limit |
| --- | --- |
| Buy Order | $20,000 per transaction |
| Sell Order | $5,000 per transaction |
| POLi Deposit | $10,000 every 24 hours |
| BPAY | $10,000 every 24 hours |
| Cash Deposit | $2,000 every 24 hours |
About coinspot.com.au
In April 2018 Australian laws were changed so all businesses providing digital currency exchange services were regulated. This meant that businesses providing these services had to be registered, CoinSpot submitted it's application the day of the laws changing and was accepted on the same day. CoinSpot is now registered with AUSTRAC to provide digital currency exchange services in Australia which is a huge step for the platform and the industry as a whole.
Later in April 2018 CoinSpot announced they were reducing fees across the entire platform from 3% to 1%. This was due to the stability enforced with Australian regulations and strengthening banking relationships. Excellent news for all Australian residents looking to buy Cryptocurrency on their platform.
CoinSpot prides itself as a leader in the digital currency industry, providing exceptional customer service and truly revolutionising the market in Australia by providing the first secure platform to trade on. CoinSpot has a strong focus on community with the goal to educate Australians on blockchain assets and gain wider acceptance. The platform is perfect both beginner and experienced users by providing an easy to use platform allowing anyone to easily enter the Cryptocurrency market.
History of CoinSpot
The business behind CoinSpot is Casey Block Services Pty Ltd with the ABN 19 619 574 186. Founded in December 2013 by Russell Wilson, CoinSpot was setup using Russel's existing ABN which he had from IT consulting work, running CoinSpot as a sole trader with the trading name of CoinSpot. He then registered the PTY LTD in 2014 and planned to set up the company to own and operate the CoinSpot platform but continued to operate under the sole trader and eventually closed the PTY LTD in late 2016. In 2017 the company went through some huge changes with the increase in popularity for Cryptocurrency in Australia, growing his team substantially and finalising the company structure. Having had focus on strong security throughout has served them well as they are now known as the most secure and trusted Cryptocurrency exchange in Australia.
Is CoinSpot safe?
Out of all of the exchanges available in Australia, CoinSpot has the most reputable background also complying with Australia's new AML/CTF laws enforced by AUSTRAC. CoinSpot requires a strict verification process to protect its platform and its users. As many other exchanges do, CoinSpot uses the two-factor authentication (2FA) security method which requires you to enter a code on your phone each time you login to the platform. This makes your account much harder to hack and is the preferred method for most exchanges around the world.
The platform offers a multi cryptocurrency wallet system with built-in trading features. This means that it provides a wallet for all of the Cryptocurrencies it has on offer so you can safely store them in escrow and move them whenever you need to. CoinSpot uses bank-level security in its system meaning there is a very low risk that the platform will be hacked. You are free to send your Cryptocurrencies to other platforms/devices whenever you want to with no restrictions.