Digital Surge
 

Review 2023 – Australian Crypto Exchange
Disclaimer: We may receive a commission for purchases made through the links on our site. However, this does not impact our reviews and comparisons. Learn more about our Affiliate Disclosure.
Important: Due to their exposure to FTX (an exchange that went bankrupt following a liquidity crisis), Digital Surge has currently halted withdrawals and deposits.
It's a bit tricky to find a crypto exchange that feels just right for your trading profile. There are so many out there. And while reading through exchanges' features, I sometimes have the impression that beginner-friendly exchanges offer nothing more than buy-and-sell services, while the attractive trading packages are somehow cluttered and obscure to navigate.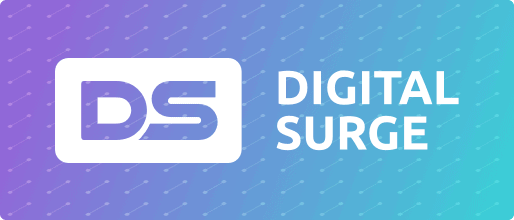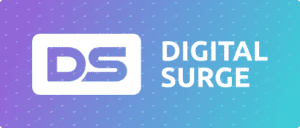 But, what if I tell you that it's possible to find a cryptocurrency exchange that sensibly combines convenience with a "pile" of crypto functionalities? I'm talking about Digital Surge — an Australian cryptocurrency exchange created with the very goal of availing crypto investments to broader audiences.
Now, let's give a deeper look at the features of Digital Surge and find out how to benefit from its exceptional ease of use.
Website: https://digitalsurge.com.au/
Country: Australia
Mobile app: Yes
Deposit Methods: POLi, PayID, bank transfers, debit cards.
Trading Fees: 0.5%
Fiat Currencies: AUD
Cryptocurrencies: Bitcoin (BTC), Ethereum (ETH), Solana (SOL), Litecoin (LTC), and 300+ more
Pros
All-in-one beginner-friendly design;
Options for advanced orders and dollar-cost average, together with the standard trading interface;
Wide range of over 300 digital assets;
Low fees for instant buys;
Highly responsive customer support.
In-platform system for paying bills with crypto
Cons
No access to DeFi markets and NFTs;
AUD-only fiat payments;
No possibility for credit-card deposits.
What Is Digital Surge?
Digital Surge is a Brisbane-based digital currency exchange, delivering high-quality services to Australian crypto users since 2017. The exchange is a masterpiece of two renowned IT experts, Josh Lehman and Dan Rutter, who sensed what type of encouragement Australians needed to adopt crypto in their long-term investment plans.
My first impression of Digital Surge was that I landed on a platform that I could trust — partly because of the visually appealing design and partly because of the transparently displayed terms and fees.
I was astonished to discover such an abundance of features on a simple user interface. Probably, that's a carefully crafted user-experience strategy, and all I can say is that the DS team has nailed the idea of functional minimalism.
Digital Surge provides an optimal environment for convenient crypto purchases with AUD — prompt verification, intuitive buy-and-sell panel, working deposit solutions, and affordable fees.
Who Is Digital Surge Aimed At?
At a glimpse, I'd say Digital Surge is a perfect destination for crypto beginners, given its comfort of use, simplified accessibility, and one-click AUD transfers. On second thought, I believe that you should consider Digital Surge as an alternative, even if you're highly fluent in crypto.
All seasoned treaders at some point get "sick and tired" with over-cluttered marketplaces or hidden spreads that ruin their desired trading outcomes. In such cases, the feature set of Digital Surge can be a remedy. However, you should know that the exchange isn't oriented to the DeFi industry, so don't expect any token-swap features, NFT markets, or yield farming.
Supported Cryptocurrencies
You can find over 300 different cryptocurrencies on Digital Surge. The list starts with Bitcoin (BTC) and continues with Ethereum (ETH), Binance Coin (BNB), USD Coin (USDC), XRP(XRP), Solana (SOL), Cardano (ADA), Dogecoin (DOGE), and plenty other popular and less-known altcoins. DeFi tokens like Sushi (SUSHI), Aave (AAVE), and Maker (MKR) are also available on the DS platform.
It always makes me happy to see a homey crypto exchange that is open to expanding its reach. Market trends in the crypto industry are changing so fast that many exchanges are struggling to cope, but not Digital Surge. It just excels in this respect. The only thing that caught my eye was that popular stablecoins like Dai (DAI) and Binance USD (BUSD) are missing from the list.
Key Features & Advantages of Digital Surge
My first crypto lesson was that a user can't expect everything from a single crypto exchange. Pro-trading platforms are usually cheaper but overwhelming for novices, globals brands are richer in trading opportunities, but somehow, frosty in providing customer support.

Let's say that a good crypto exchange knows how to keep a balance between these conflicting features. To show you how Digital Surge is doing on the scene, I underlined its core features and advantages.
Beginner-Friendly
I already mentioned that Digital Surge impressed me with its amicable design from the get-go. The dashboard feels exceptionally intuitive and transparent, offering precise details and on-site guidance for all trading or transferring activities.
You'll have a clear overview of your portfolio on the screen, rounded off with useful but basic information — exchange rates, price movements, and performance of the highest-ranked cryptos.
When you click on certain crypto, the exchange will show a more in-depth analysis and reviews related to the coin. Finally, you have a live chat available during your stay on Digital Surge and an extensive knowledge base to make your stay impeccably comforting.
Instantly Buy & Sell Cryptocurrency
I can tell you that instant purchases and sales of all available crypto assets are the core advantage of Digital Surge. The process has been simplified to fit the absolute beginner framework and satisfy the needs of the pickiest crypto-traders at the same time.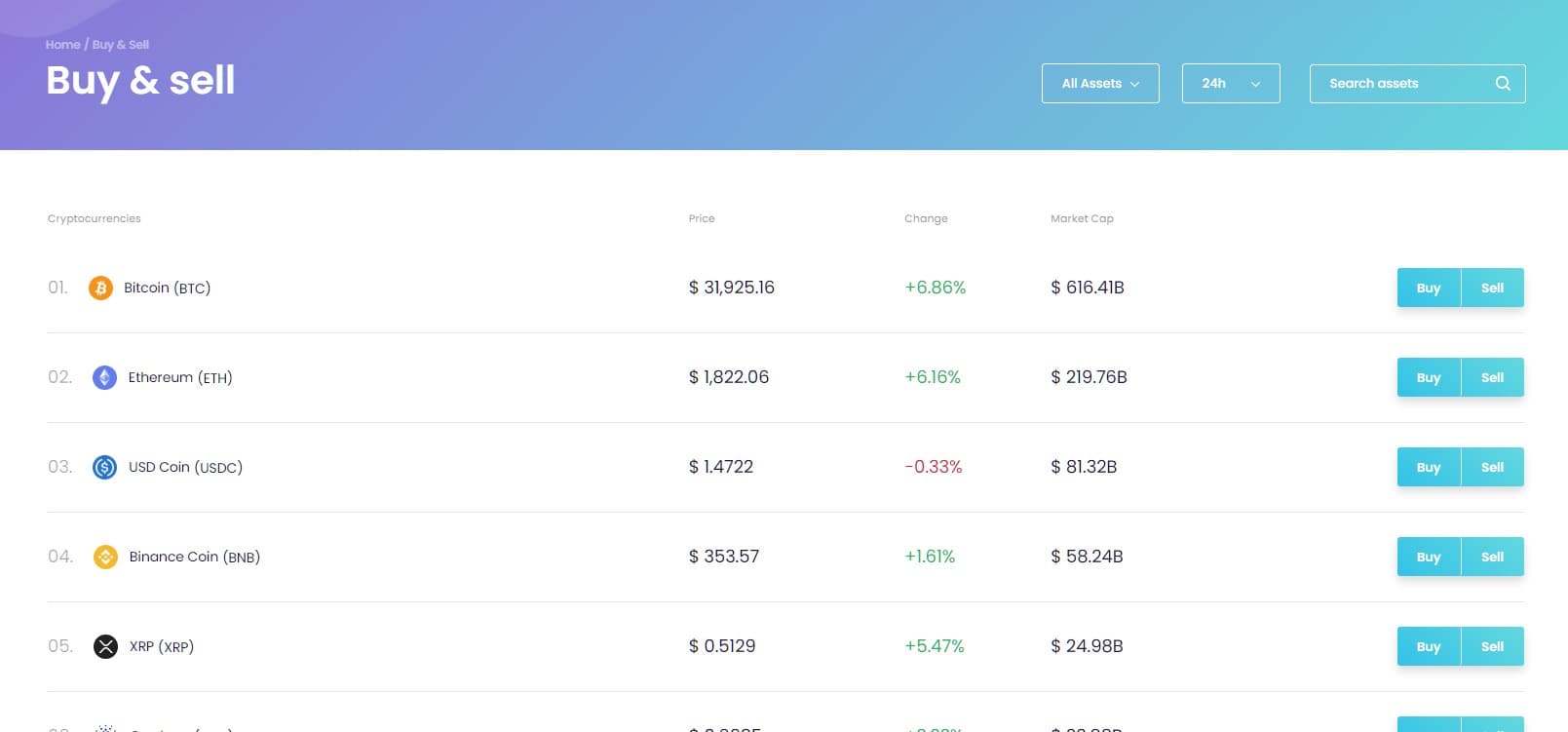 All you have to do is navigate to the Buy & Sell tab and browse or search for the crypto on your wish list. When I selected Ether, the platform showed me Ether's current exchange rate, market cap, and recent price changes. I really believe that this simplified visual setup can do only good for new users.
Staking: Earn Interest on Crypto with Digital Surge
Digital Surge has recently introduced a lending program that allows its users to stake their coins on the platform and earn a lucrative interest in return. With staking, you can earn up to 23% APY on Digital Surge, depending on the coin. For instance, Cardano can bring you up to 6% APY, PolkaDot up 12%, while Mina Protocol (MINA) and Secret (SCRT) can go above 20%.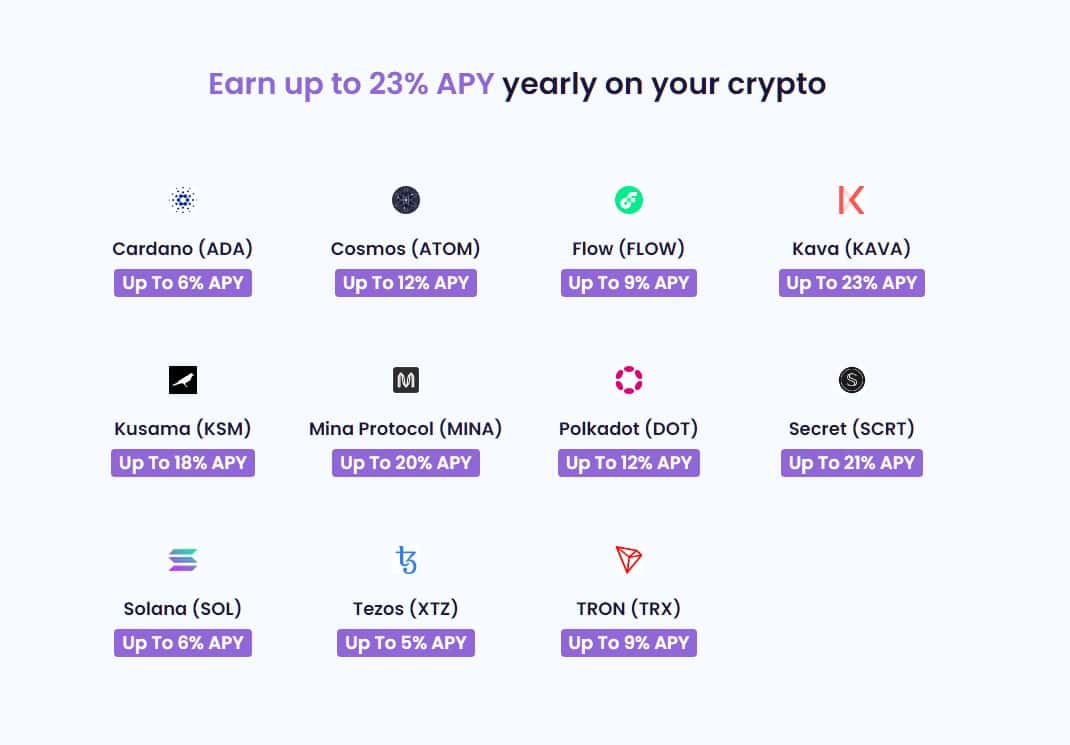 Rewards are calculated daily and settled monthly directly to your Digital Surge account. Even better, the exchange doesn't impose any limits on assets or the funds you can stake under Digital Surge Earn.
Mobile App for Convenience
A mobile platform has become a must among crypto providers for keeping a competitive edge in this fierce market. I've seen pieces of art across various crypto exchanges, so I downloaded the Android app of Digital Surge (iOS is also available) to check how it compares to its competitors in terms of design and functionality.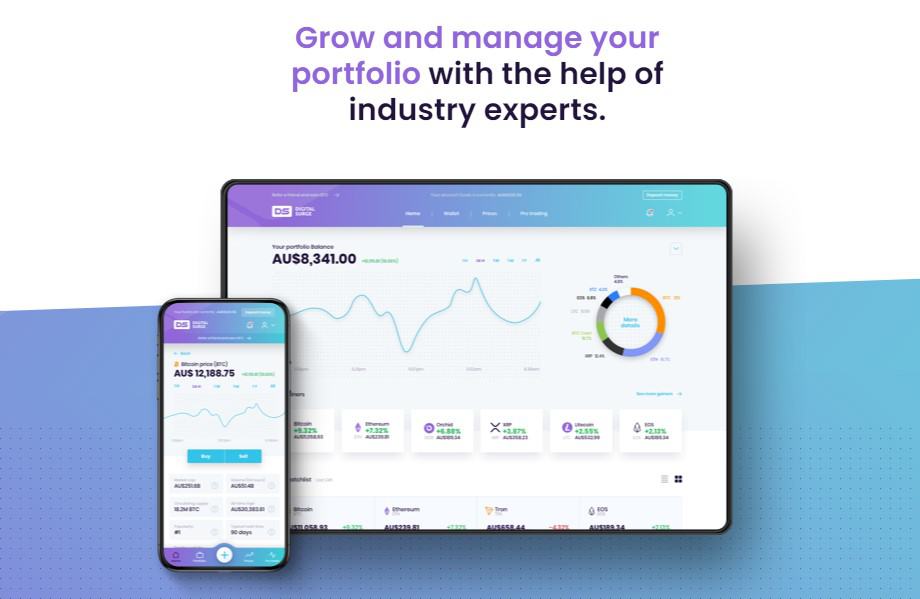 I found the same simplicity as the original web-based platform. In a word, the navigation through the app is seamless, with all options and real-time alerts for a full on-the-go experience.
Premium Customer Support
From what I can see on reviews, Digital Surge gets high ratings for its customer support. The tech team is available via email for 24 hours and live chat during working hours (from 8 am to 10 pm both on business days and weekends and public holidays). They responded to my email inquiry in less than an hour, so the 5-star scores are truly deserved.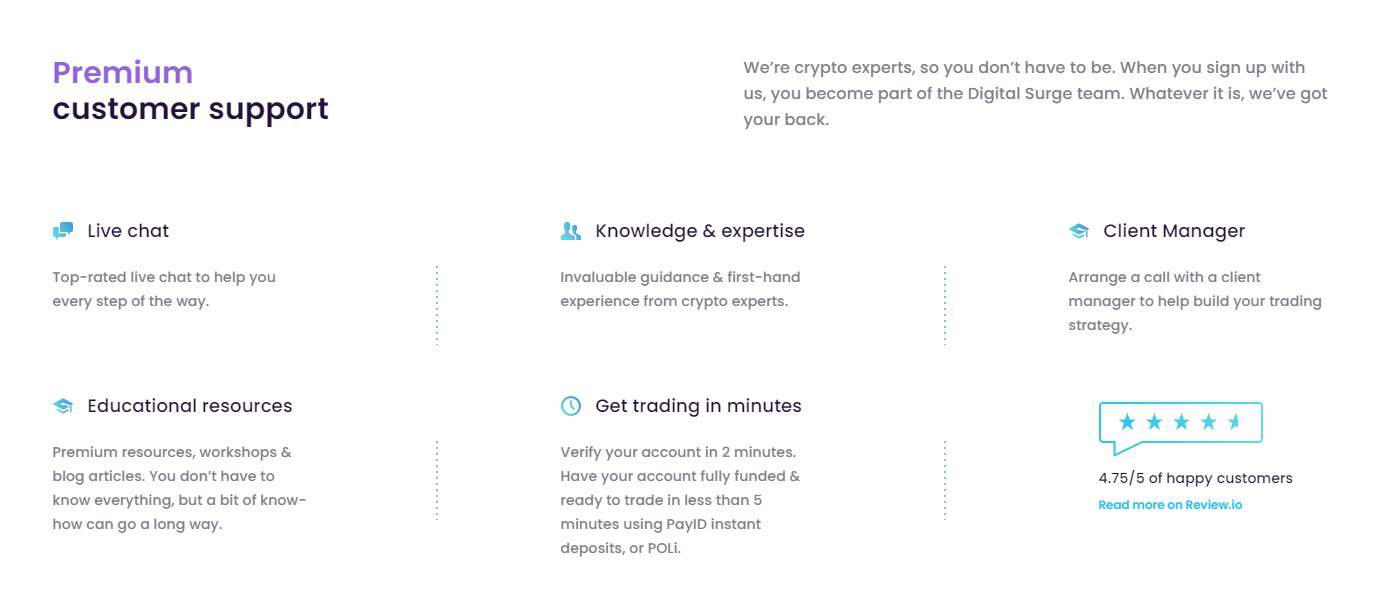 But do you know that Digital Surge goes a step further in providing upscale customer support? You can set up a personal call with a so-called client manager, who can assist you in building a personalized investment strategy, which is something you can't see very often across trading platforms regardless of whether they're dealing with crypto or traditional stocks.
Pay Bills With Bitcoin
Interestingly, this unique option of Digital Surge is very close to what Satoshi Nakamoto envisioned back in 2009 when they introduced Bitcoin — to use cryptocurrency as a payment method.
Digital Surge enables you to pay any Australian-issued bill or credit card containing a BPAY biller code with Bitcoin. This feature can save you hours of conversion times if planning to re-convert BTC to AUD first. Also, consider this — paying bills with Bitcoin can be smart fund management if you set the payment time when the BTC price is moving upward.

The process is pretty straightforward and fully guided by a platform wizard — just navigate to the Pay Bills tab, and you'll see 3 options: to pay a BPAY bill, to pay to a bank account, or a credit card. Select your option and enter the BPAY details. The exchange will automatically start the transfer by taking the funds either from your Digital Surge account or your external wallet.
Learning Materials and Documentation
I really enjoyed the Digital Surge library dedicated to beginners learning crypto ropes. There you can find an extensive knowledge base organized by topics written in plain English. The topics cover a ton of useful information and tips such as How to Stay Safe Trading Crypto, How to Choose the Right Crypto Exchange, 12 Beginner Crypto Mistakes to Avoid, etc.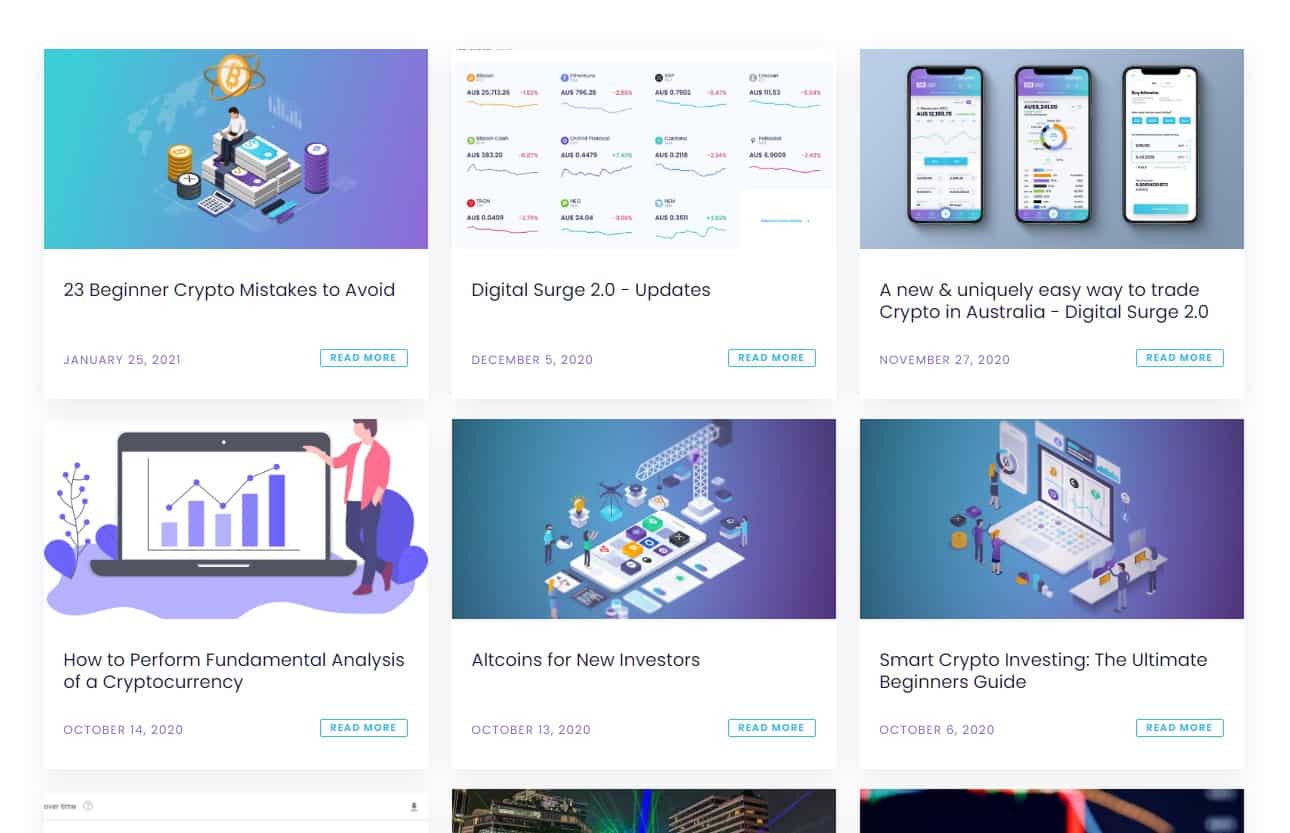 As a registered user, you'll not only get access to the library but also an opportunity to discuss these subjects and share your crypto-related concerns with a member of their support team.
As your crypto experience grows, you can take a look at the Digital Surge blog and stay updated on all upcoming market trends.
Fees and Costs
All in all, I think that Digital Surge is a great value for the money. The trading fees of 0.5% are slightly lower than other local exchanges that allow direct AUD purchases. For illustration, CoinSpot charges 1% while BTC Markets imposes a trading fee of 0.85% for the same service.

Compared to the same exchanges, Digital Surge is also superior with a low spread, which can go down to 0.4%. For the record, the industry spread standard ranges anywhere between 2% and 2.5%. Users that trade with large amounts are eligible for a fee discount down to 0.1%. However, your trading volume has to exceed $1 million to get qualified for such a discount.
When it comes to deposit fees, if you deposit AUD funds via POLi, you'll incur a 2-3.30 AUD charge per transaction. There are no additional charges if you use one of the other methods. Also, there are no withdrawal fees for cashing out AUD while transaction fees for transferring crypto to external crypto wallets depend on their native blockchains. Digital Surge doesn't have a separate fee structure for crypto withdrawals.
Is Digital Surge Safe to Use?
Australia is one of the few countries worldwide where you can trade crypto on a fully regulated landscape. All crypto-providing services in the territory down under have to be AUSTRAC compliant. Digital Surge isn't an exception.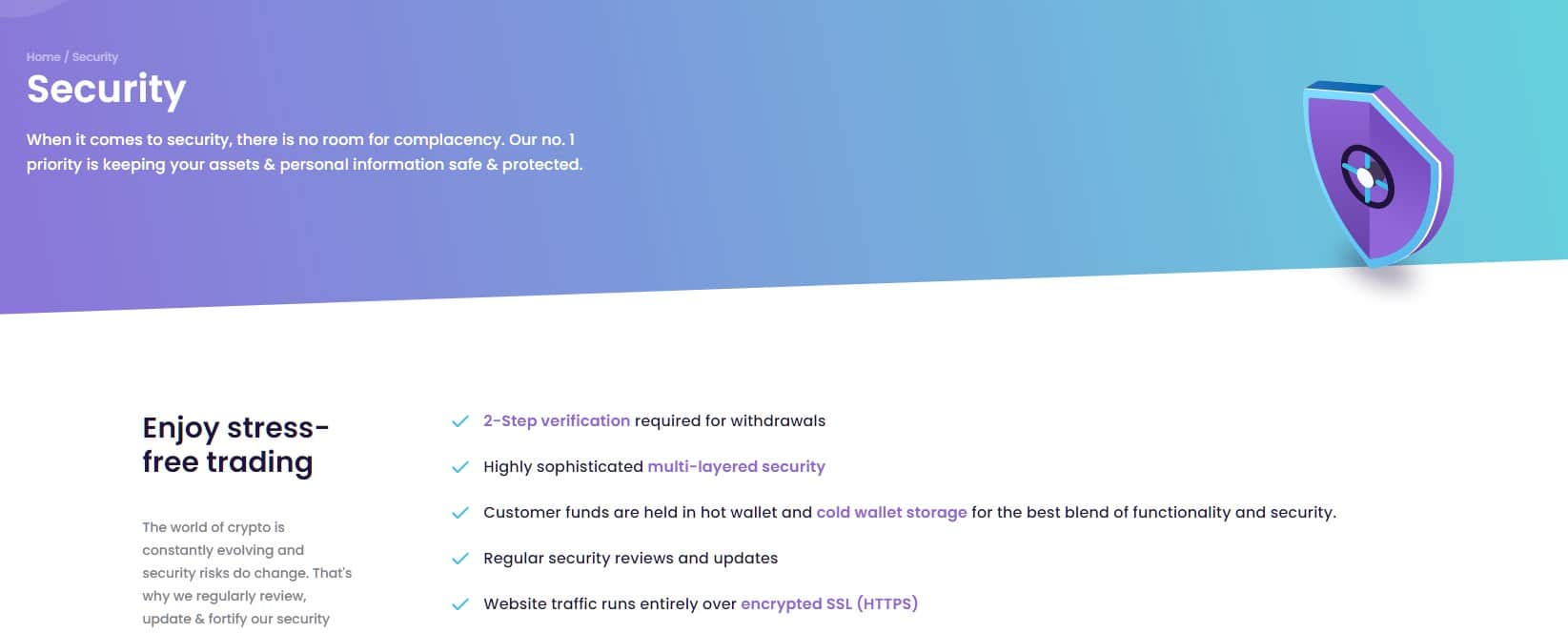 Digital Surge employs the standard set of security features — 2FA (two-factor authentication) for withdrawals, cold storage vaults for the majority of the circulating funds, and encrypted SSL (HTTPS) as a basis for the entire website traffic. Moreover, the company requires security clearance for all onboarding employees to ensure in-platform safety.
If you ask me, there is no security guarantee for any virtually-centered company, but based on its historical record track, Digital Surge is to be trusted. The exchange has never been a victim of a hacker attack or other forms of digital scams. Finally, you can notice while using the platform's services that Digital Surge is putting serious efforts to maintain the trustworthy image built through its years of existence.
Digital Surge Alternatives
Despite my well-established criteria for reliable crypto exchange, I sometimes find myself overwhelmed by the abundance of offers circulating on the internet. That's why I always say that a crypto-to-be trader should comb through the exchanges' features along with their personal needs and expectations. The best way to understand my point is through a vis-a-vis comparison between two exchanges rated as a good choice in the general framework.
Digital Surge vs. Binance
Digital Surge and Binance target different types of audiences. Binance is a global brand where you can find all possible crypto opportunities available on the market today. For starters, Binance features a large spot market with innumerable trading pairs. Its global exposure simply allows such diversity without any "liquidity drains".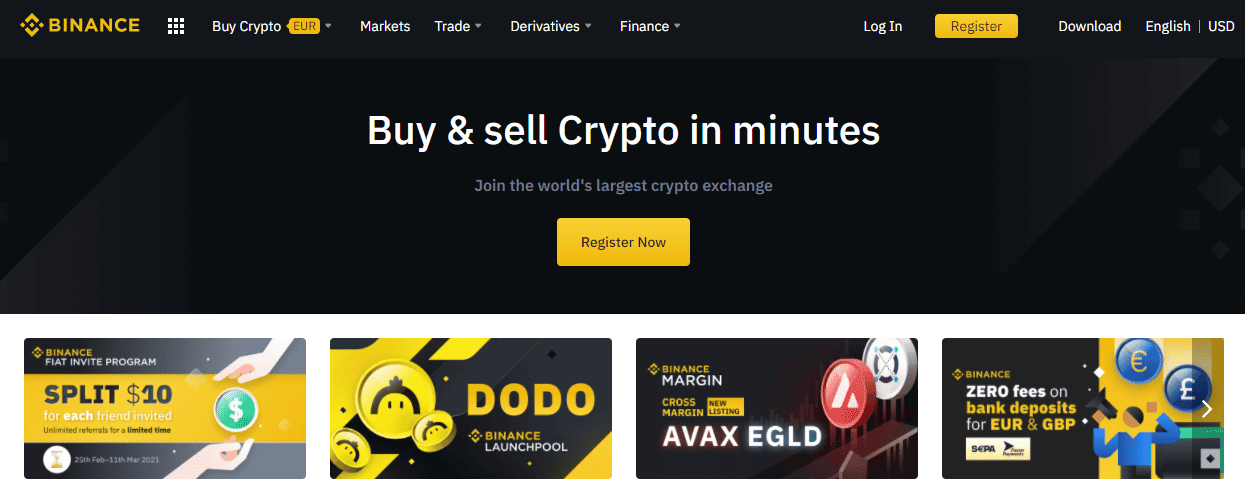 Yet, Binance also offers a big arena for margin trading, crypto derivatives, and an array of advanced order types. The exchange has its own P2P market, a mining pool, and even a "personal" blockchain.
So, if you're just about your crypto endeavor, navigating through Binance can be too challenging or, I can say, frustrating.
On the other hand, locally-based exchanges like Digital Surge offer a different set of advantages. They provide a more amicable environment for entry-level purchases, sales, and guidance based on local payment rules.
I don't want to say that Binance isn't well-tuned to the Australian market. On the contrary, the exchange allows local users to make free deposits via PayID/Osko and offers quite a few trading pairs with AUD as a base currency. It's just that a native exchange with a decent number of trading options will be a better choice unless you're a pro-trader with a busy crypto agenda.
Digital Surge vs. Swyftx
The "battle" here is between two Australian crypto exchanges that strive towards the same goal — to bring crypto trading closer to the local residents. In this case, I'll base my comparison on other details: fees, customer support, payment methods, and, depending on your trading approach, the number of supported cryptocurrencies.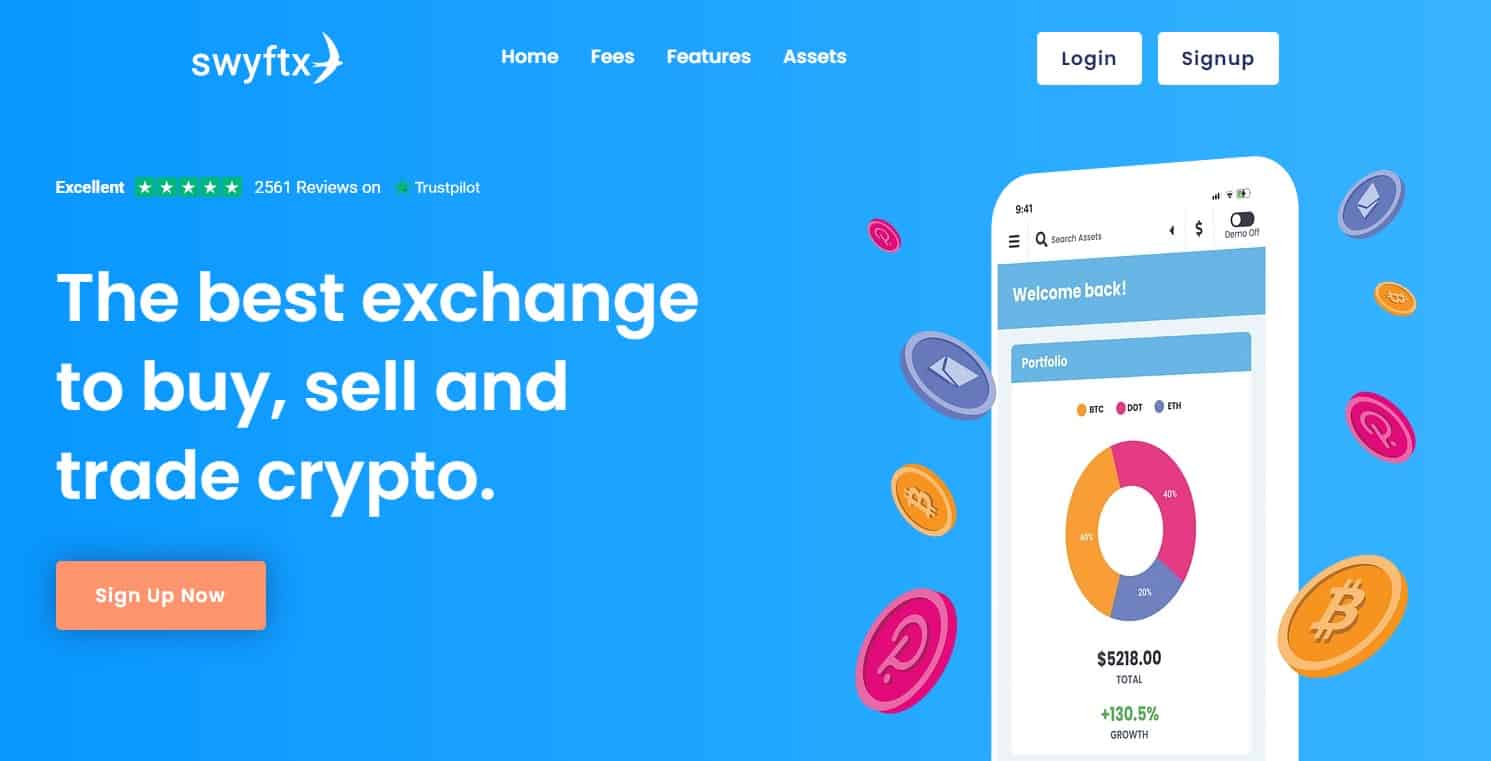 For starters, Swyftx trading fees are slightly higher — 0.6% against the Digital Surge fees of 0.5% per trade. Yet, Swyftx doesn't charge anything for POLi deposits and maintains a lower spread. On the other hand, Digital Surge supports debit card payments while Swyftx doesn't.
Both support a large base of around 300 available cryptocurrencies, with the Swyftx list being a bit larger. Also, they both have supreme customer support, but Swyftx offers a phone line as well. Finally, Digital Surge lacks a Demo Account for beginners to test the water before making a real investment.
Given the daily trading volume and the traffic, it seems that the Australian public has accepted Swyftx better, even though Digital Surge looks much more user-friendly to me.
How to Create an Account on Digital Surge?
I really like the way this exchange has organized the setup process — no hassles, no scans, or selfies. Everything seems just easy-flowing while the exchange keeps full compliance with all applicable AML/CFT practices.
Visit the official Digital Surge website and create an account by entering your email and setting a strong password. For added convenience, the exchange allows you to sign up with your active Facebook account.
Agree to Terms and Conditions and confirm your account via email.
At this point, you can explore all in-platform options, but before making a crypto purchase, you need to undergo a KYC verification.
Choose a government-issued document and fill in the information carefully. You can select one of the following options:
Australian driving license
Australian passport
Medicare card
Foreign passport with an Australian visa
ImmiCard
Australian citizen certificate
You don't need to wait for days for the exchange to approve the validity of your ID. Digital Surge processes the verification almost instantaneously. Now, you're ready to go.
Frequently Asked Questions
Who owns Digital Surge?
Digital Surge is an ASIC-registered company with an ABN (89 820 473 109) that operates under the legal name Digital Surge Pty Ltd. The company has its headquarters in Brisbane, with the co-founder Dan Rutter as its CEO.
Is Digital Surge a crypto wallet?
Digital Surge is a digital currency exchange with a built-in wallet where you can store and manage funds bought on the platform or deposit funds from another crypto wallet you own. There is a separate Wallet tab where you can see your total balance and the balances of each crypto in your possession. The good thing is that Digital Surge allows you to buy, sell, or otherwise send or receive digital assets directly from your wallets.
How many customers does Digital Surge have?
Digital Surge counts an impressive number of over 1 million people who have used the exchange services.
Conclusion
With its incredible ease of use and transparency, Digital Surge can be a loyal guide towards your crypto journey. It features everything you need to set off with confidence — robust security, beginner-friendly design, instant deposits, prompt verification, and reliable customer support.
For sure, it's quite legit to find the exchange, just not enough for your crypto appetites. Still, I believe that despite the modest choice of advanced markets, some of the features like Pay a Bill with Bitcoin will suit you very well, even if you're a seasoned crypto trader.
All in all, Digital Surge is a trustworthy crypto destination and personally one of my Australian favorites.
Related:
Digital Surge Alternatives
| Exchange Name | Deposit Methods | Fiat Currencies | Crypto | Trading Fees | Sign Up |
| --- | --- | --- | --- | --- | --- |
| Swyftx | PayID, POLi, OSKO, Bank Transfer, Debit Card, Credit Card, and Crypto | USD / AUD | 300+ | 0.6% | $20 BTC Sign-up Bonus |
| CoinSpot | Bank Transfer, Crypto, Fiat, BPAY, PayID | AUD | 300+ | Instant buy/sell: 1% OTC: 0.1% | |
| Binance | Crypto, Debit Card, Credit Card, PayID, Osko | 40+ | 350+ | 0.1% | |
| Bybit | Credit Card, Debit Card, Bank Transfer, Wire Transfer, EFT, Crypto | 50+ | 160+ | 0.1% to 0.6% | |
| Coinjar | Google Pay, Apple Pay, NPP, Crypto, Cash, Osko, Blueshyft, PayID | AUD | 50+ | Instant Buy fees (Visa/Mastercard): 2% Conversion fees: 1% | |
| Independent Reserve | Crypto, POLi, PayID, Swift, Osko, EFT | AUD, USD, NZD, SGD | 30+ | 0.02% – 0.5% | |
| Kraken | Swift, Osko, Bank Transfer | USD, GBP, CAD, YPY, EUR, AUD, and CHF | 100+ | Maker fees: 0% – 0.16% Taker fees: 0.10% – 0.26% | |
| Coinbase | Crypto, Debit Card | USD, AUD, GBP, EUR, AUD | 50+ | Credit/Debit Card Fee: 3.99% Taker Fee: 0.60% ($0-10K) – 0.05% ($500M+) Maker Fee: 0.40% ($0-10K) – 0% ($500M+) | |
| Bittrex | Crypto, SEPA Transfer, Wire Transfer, Bank Card | USD, EUR, GBP, JPY | 300+ | Maker fees: 0% – 0.75% Taker fees: 0.05% – 0.75% | |
Disclaimer: Digital currencies and cryptocurrencies are volatile and can involve a lot of risk. Their prices and performance is very unpredictable and past performance is no guarantee of future performance. Consult a financial advisor or obtain your own advice independent of this site before relying and acting on the information provided.