Disclaimer: We may receive a commission for purchases made through the links on our site. However, this does not impact our reviews and comparisons. Learn more about our Affiliate Disclosure.
If you ask me to describe Binance in one word, I'd say huge. Binance is associated with all facets of the blockchain game on top of being the most lavish crypto exchange.
Numbers say that the company handles $76 billion worth of crypto per day, which is more than its four largest competitors put together. Nothing gives a better stamp of credibility than numbers — if 13 million users around the globe have already put their trust in Binance, why wouldn't you?
Now, let me put it this way. Binance is to crypto what Amazon is to the eCommerce industry. But if Amazon doesn't deliver to your country, it's all for nothing. Eventually, you'll have to settle for a local retailer, which may or may not follow the latest shipping standards.
The crypto industry is far more complex, but the Amazon analogy works perfectly well here. The Binance team has adjusted the exchange services to the purchasing styles of Australian traders, and that policy of local adaption was one of the most inventive decisions that made Binance the fastest-growing exchange.
They top most of our comparisons of the best exchanges to use. From our list of the top Australian exchanges to the best UK crypto exchanges or the top crypto exchanges in Canada, they're pretty much everywhere, and for good reason.

Website: https://www.binance.com/en-AU
Country: Australia
Mobile app: Yes
Deposit Methods: PayID/Osko
Trading Fees: 0.1%
Fiat Currencies: AUD
Cryptocurrencies: Bitcoin (BTC), BNB coin (BNB), Ethereum (ETH), Dogecoin (DOGE), Solana (SOL), Shiba Inu (SHIB), Litecoin (LTC), and 600+ more
Pros
A large spot market with over 600 different cryptocurrencies;
Favorable fee system with possibilities for discount;
Sleek deposit and withdrawals;
Separate platforms for separate markets;
Advanced markets for pro-traders.
Cons
Complex platform design for beginners;
Fairly responsive customer support.
What Is Binance?
Binance was founded in 2017 at the dawn of the first crypto boom. Many other crypto exchanges popped up during this period, but none of them made such a success story. I've always wondered how Binance managed to surpass all competitors in such a short time.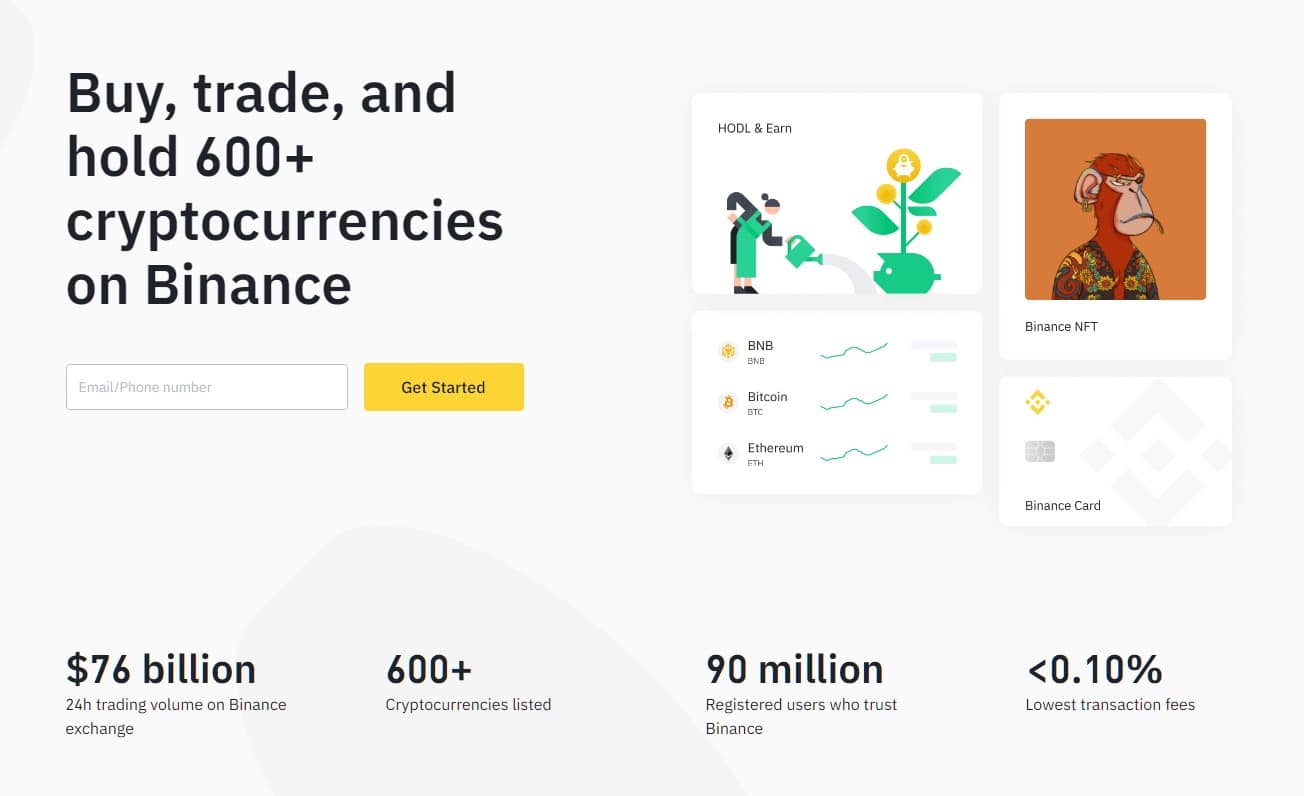 So, let's start from the beginning. The Binance founder, Changpeng Zhao, introduced the exchange with a clear vision — to establish grounds for a global form of money. The timing was perfect as the world had just started moving in a decentralized direction.
In July 2017, Binance raised $15 million in an ICO, pre-selling its native coin, Binance Coin (BNB). Unfortunately, the exchange's birthplace was China, which happened to ban ICO the same year that Binance appeared.
The creator continued his mission, moving from one crypto-friendly landscape to another (Hong Kong, Malta, etc.), only to assert later that global money doesn't need a location.
Interestingly, even though this attitude led Binance to a series of regulatory disputes, its popularity has never stopped blooming. It has proven to be fearless in expanding its services to a revolutionary level. I can say that everything Binance touches turn into gold.
The exchange started by developing a prodigal spot market, which is still its main product, but it didn't stop there. Over the years, Binance released a crypto card, separate P2P market, OTC desk, and mining pool. It acquired Trust Wallet and even adopted a blockchain for itself (BNB Smart Chain).
In the meantime, Changpeng Zhao admitted that the only way to global crypto adoption is through legal regulation. Today, Binance has a registered office in Australia, under the name InvestbyBit Pty Ltd (ABN 98 621 652 579), in full compliance with AUSTRAC.
Who Is Binance Designed for?
During my first encounter with the Binance platform, I gathered that their design solution might be a bit overwhelming for beginners. However, the Binance exchange has prepared a solid starter pack for new users as part of its strategy to target broader audiences.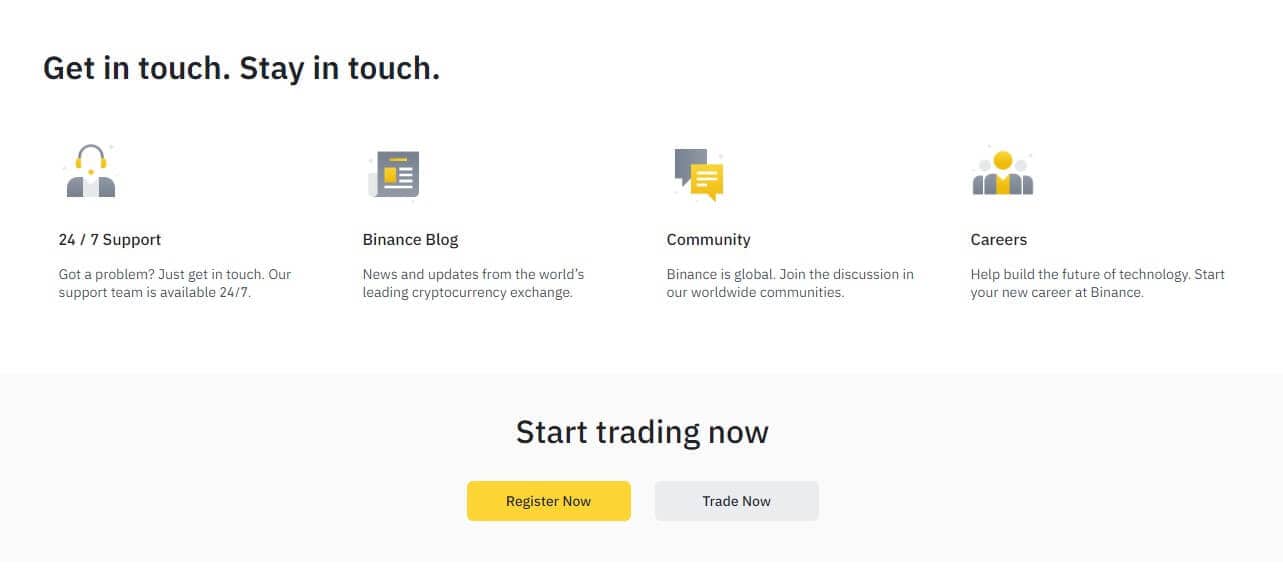 Binance has launched a separate Basic Mode that features no complex charting tools and other visuals that require crypto fluency. In this direction, Binance also offers the Binance Academy, which I could say, is the largest crypto library available online. So, despite the initial terrifying impression, beginners are always welcome to start their crypto journey on Binance.
On the other hand, I'm sure that seasoned traders will enjoy their stay on the exchange. Firstly because of the unlimited opportunities, and secondly, because of the way Binance organizes the navigation from one market to another.
For example, Margin Trading stands as an individual sub-platform and comes with a separate Margin Wallet.
If you're not sure where you can find a particular coin, then look no further than Binance. Their list consists of over 600 digital assets available for you to buy them instantly or trade them on the spot market — from the classics like Bitcoin (BTC), BNB Coin (BNB), and Ethereum (ETH) to popular DeFi coins such as Uniswap (UNI) and Sushi (SUSHI). They all can be traded against BTC, AUD (EUR, GBP, or another fiat), or stablecoins like Binance USD (BUSD), Tether (USDT), and USD Coin (USDC).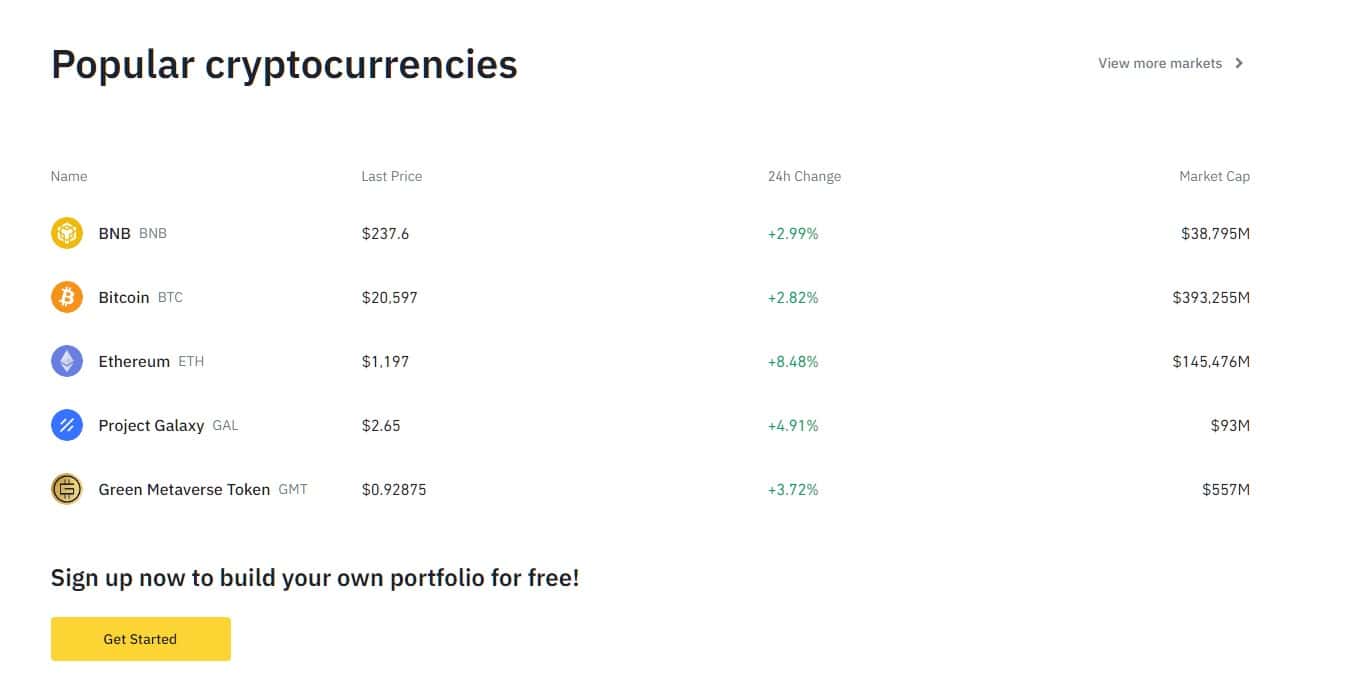 What I personally enjoy is exploring new projects — for example, I've just discovered that Binance has added Hiroki (HIRO) and MXM Token (MXM) to their list.
Key Features & Advantages of Binance
The answer to how Binance has managed to maintain such a high profile all this time lies in its outstanding feature set, so stay tuned as I walk you through the best Binance features.
Low Fees
Believe me when I say that nothing can be more pleasing for a crypto trader than a trading fee below the industry average of 0.2%. The Binance pricing list has always been a generous one.
While I'll be discussing the fee system in a separate section below, for now, I'd like you to know that one of the strongest links of the Binance global chain is the super affordable fees across all markets. Not only are fees incredibly low, but there are no hidden costs to surprise you in the middle of the transaction too.
Binance App
I must admit that I was very skeptical about the Binance mobile app. I mean, I knew that Binance could offer nothing less than a piece of art in terms of design, but I couldn't help but wonder how on earth they would manage to accommodate all those features on a 5-inch-screen?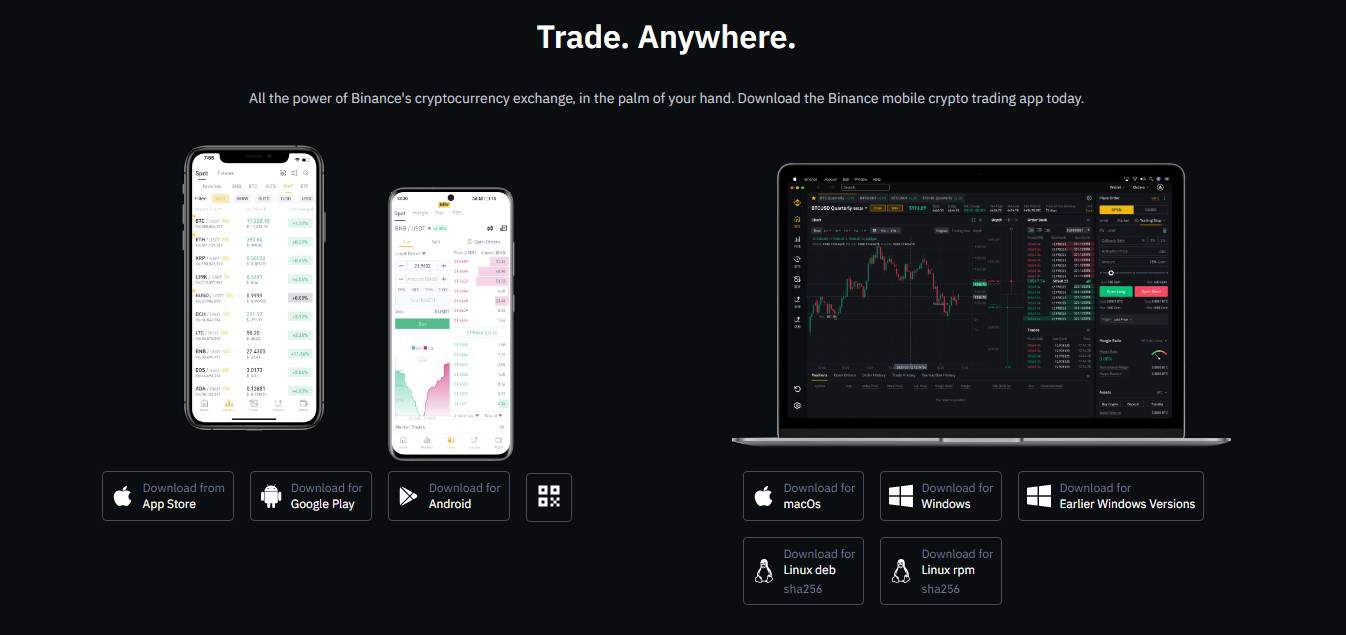 The experience was better than expected. The dev team has come up with a workable solution by providing a compact dashboard with a shortcut menu to the ten most frequently used options, including Leaderboard, Order Books, P2P platform, and Deposits. Both the iOS and Android versions have the same structure and outline.
And let's not forget to mention that Binance is one of the few exchanges out there with a downloadable desktop app compatible with Windows, Linux, and macOS operating systems. I was really glad to learn that Binance has also released a Binance Futures desktop app.
Binance Wallet
Similar to other centralized exchanges, Binance offers storage space for the crypto you buy "from their store" and the crypto you import to trade on the exchange. You get your crypto wallet as part of your exchange account, and that's why we call this storage style a custodial web wallet.
As I already mentioned, Binance provides separate wallets for each section, for example, a futures account wallet can be funded independently from a margin wallet. The internal transfers from one Binance wallet to another run smoothly and fast.
On the other hand, Trust Wallet is something different from what I explained above. It's a non-custodial Binance product in the form of a mobile app, which allows full control over your private keys. The exchange acquired the wallet app from the developer Viktor Radchenko and made it an official wallet of the Binance Smart Chain.
Trust Wallet was originally designed for the needs of ERC-20 tokens, but after Binance took it over, it turned into a host of multiple blockchains and dApps. Finally, Trust Wallet is very popular among the DeFi community counting over 25 wallet holders.
Switch to Basic Interface for Beginners
Putting myself in the beginners' shoes, I'd say that the Binance basic mode can be exceptionally useful to start with. Immediately after you register on the platform, you'll have the chance to switch to a more simplified platform that's easy to navigate and has a slightly limited feature set.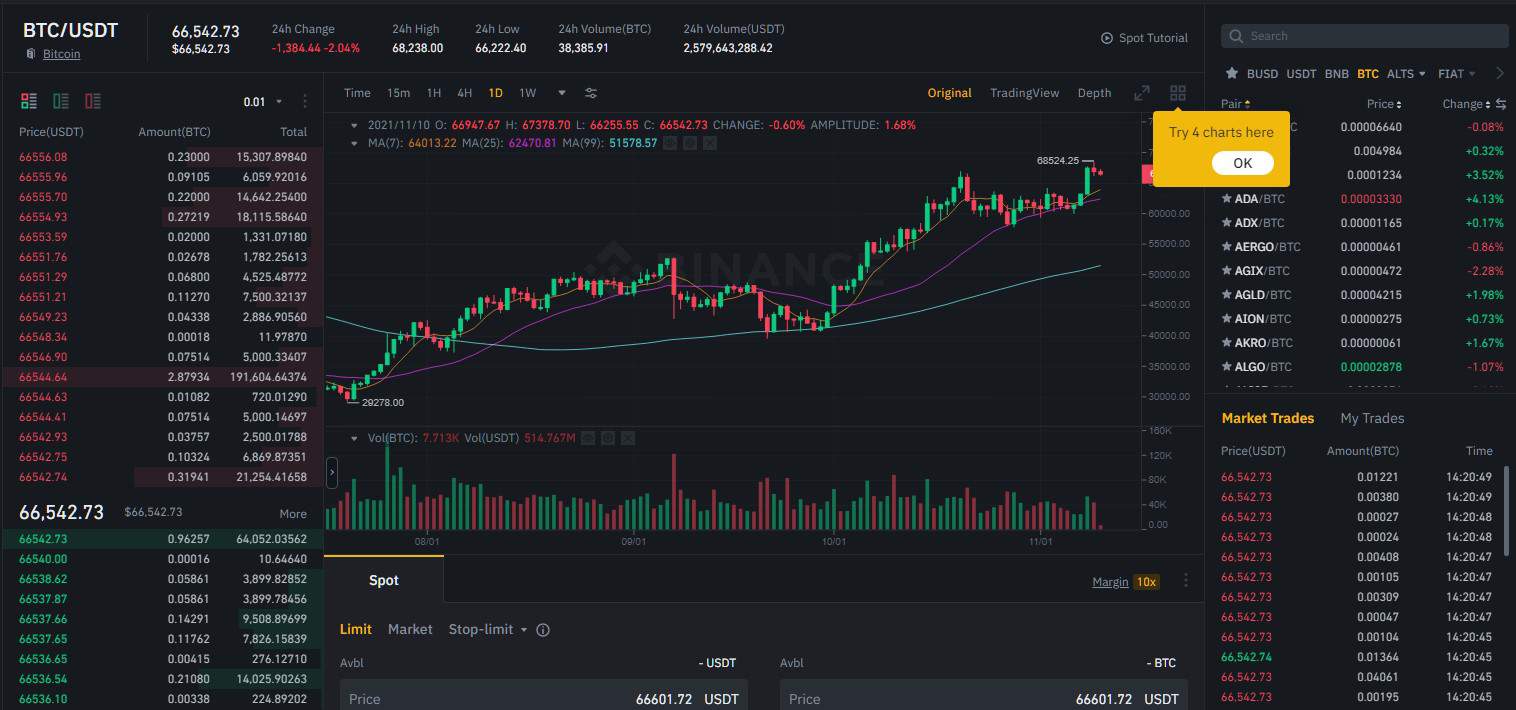 This switch-interfaces thing is nowadays more popular with the Binance app. The default version of the app (as I described above) is the Lite version. You can change it to Pro with a simple toggle and get access to a larger number of options like auto-investing, strategy trading, swap farming, etc. But, let's make it clear, this doesn't make the Lite mode a poor choice — it's much better organized and delivers all basic trading features (deposits, instant purchases, and exposure to the spot market)
Advanced Trading Tools
Binance is crypto heaven for day traders. They offer a futures section for speculating on Bitcoin's price and a margin option to place leveraged positions for a certain number of cryptocurrencies. They come with a decent charting package to level up your trading game and lead you through the latest market trends, price patterns, and movements.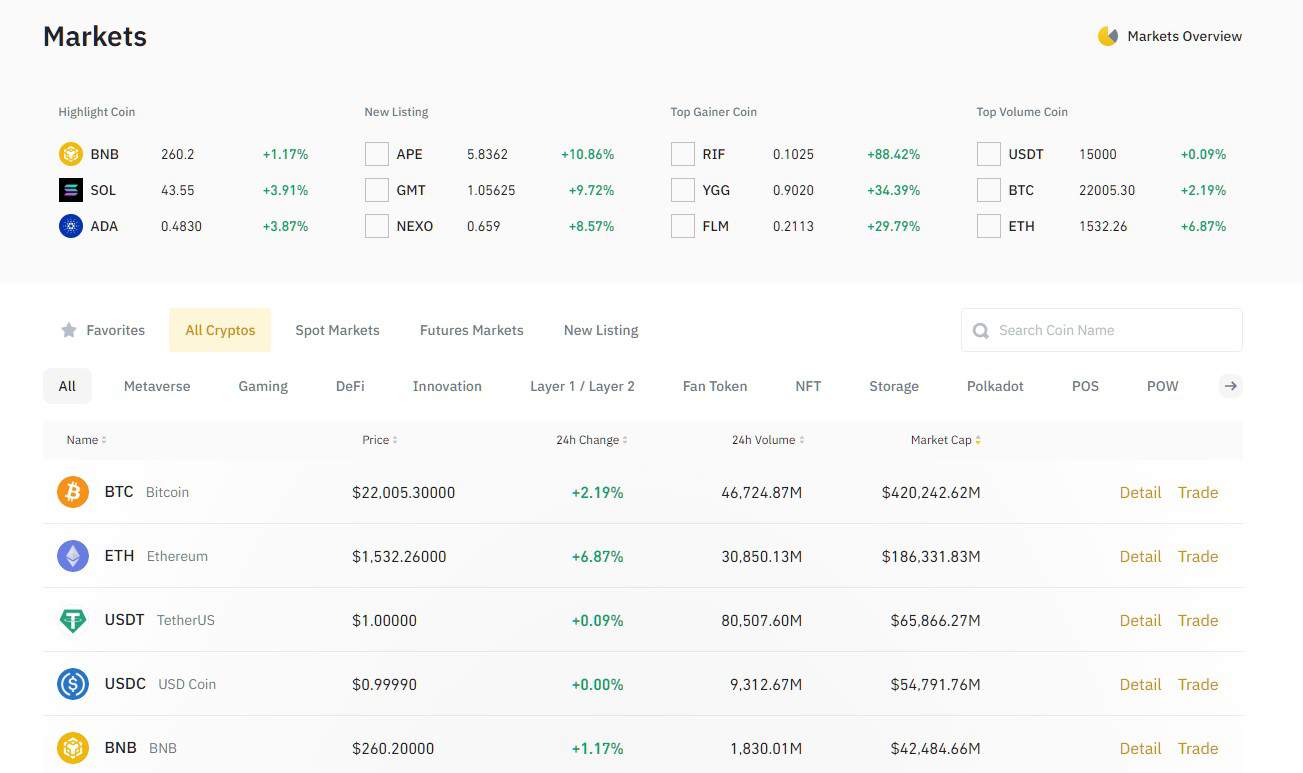 The important thing is that I don't need to integrate any external technical analysis software when day trading on Binance. I rely on 3 BOLL bands for monitoring price fluctuations and the StochRSI and BOLL indicators for analyzing my trades.
NFT Marketplace
If you want to know the hottest trend in the crypto industry, Binance is always here to feed your FOMO urge. NFTs have given an artsy touch to the crypto market boosting the industry with the added value of another $17 billion only in 2021. NFTs allows you to tokenize all form of artwork and intellectual property and sell it as a valuable collectible.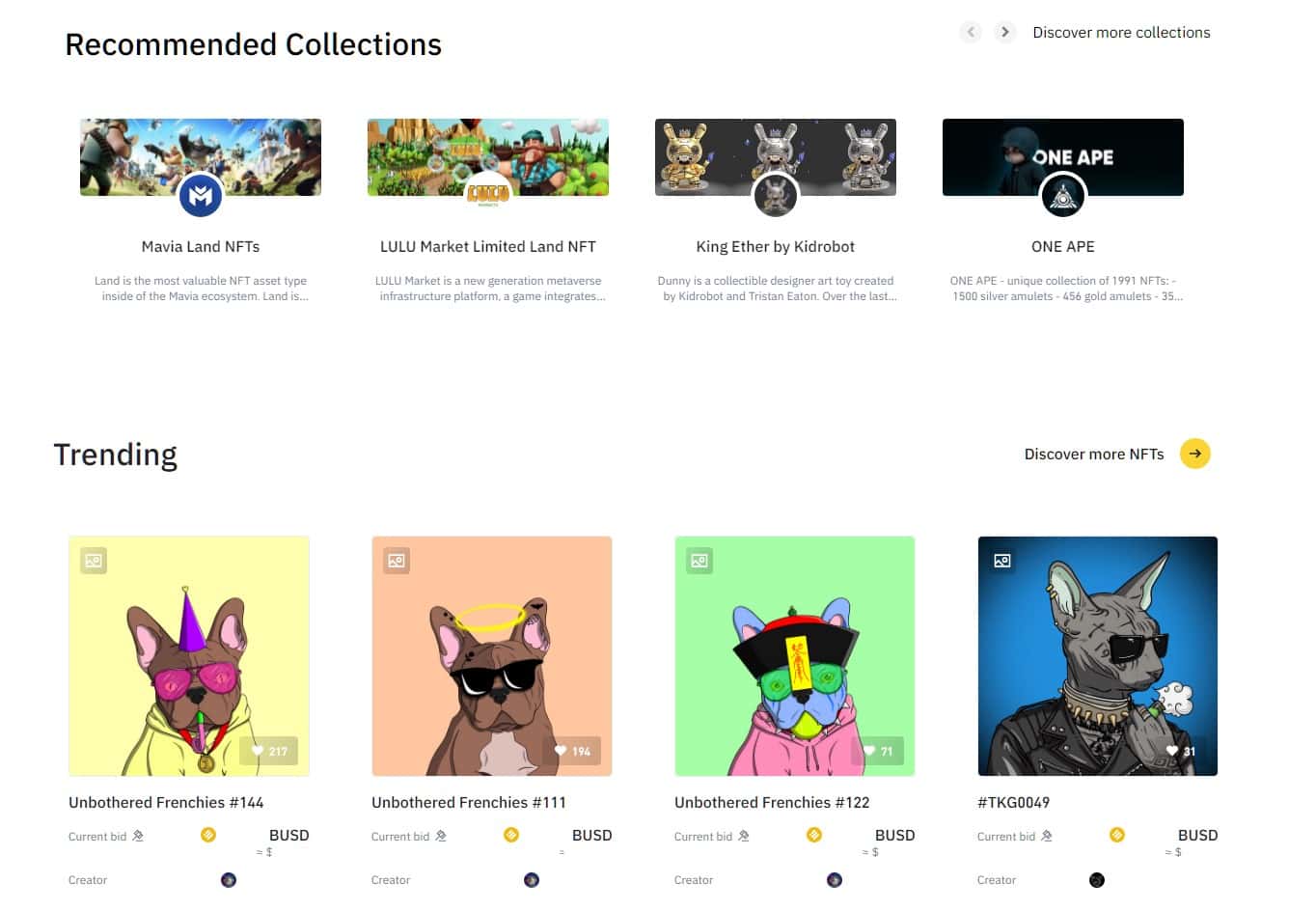 Sure, Binance is always here to provide a suitable market for buying and selling the most popular NFTs collections. Believe it or not, the Binance NFT marketplace processes an impressive number of 100,000 sales per day.
P2P Trading
Back in the early crypto days, advanced traders preferred P2P (peer-to-peer) platforms over traditional exchanges for their buy-and-sell activities because of the more decentralized environment. Namely, P2P exchanges just connect buyers and sellers under a single roof and then, let them arrange the transaction terms themselves — no custodial wallets, deposits, no payment processors.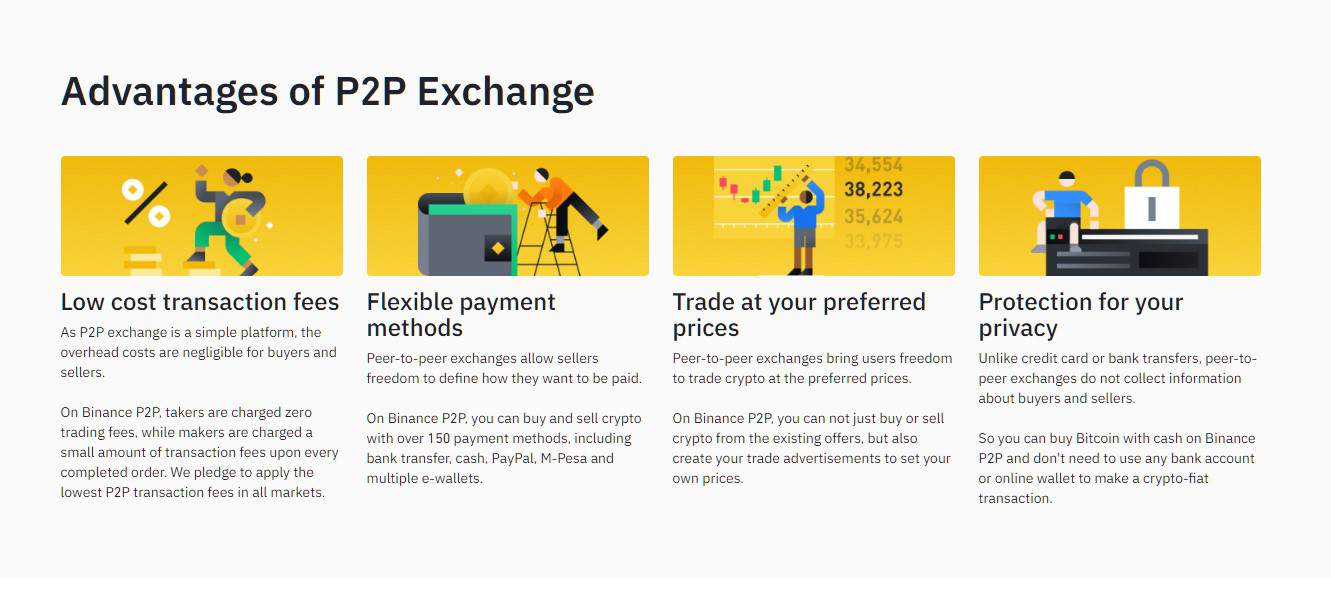 Personally, I avoid this trading strategy, but for those who aim at such freedom, Binance offers a separate P2P platform for the most popular crypto, where you can connect with millions of peer traders and choose among 350 payment methods to pay your crypto. The Binance P2P has a unique option — a selection of 15,000 verified local merchants who provide liquidity and reliable trading services for Binance users.
Binance Trading Platform
Now that I brought the key features of the Binance platform closer to your attention, I really want to share some of the best Binance trading tools.
Binance knows how to accommodate highly advanced features on a relatively user-friendly interface. And as I already pointed out, Binance keeps different-level markets apart, in addition to the clear cross-platform distinction between basic and advanced interfaces.
Once you get on board, you can navigate to your desired market and get an interface on par with the service profile. For example, there is no excessive charting on the instant market. This is one of the reasons I genuinely admire Binance.
Notable Trading Tools
Even though spot trading is the prime business venture of Binance, now I'll focus on a couple of more distinctive tools where Binance shines.
Binance Asset Conversion
This is another superb feature to make the life of futures traders easier. Binance Asset Conversion enables users to directly convert one coin from the coin-margined wallet to another.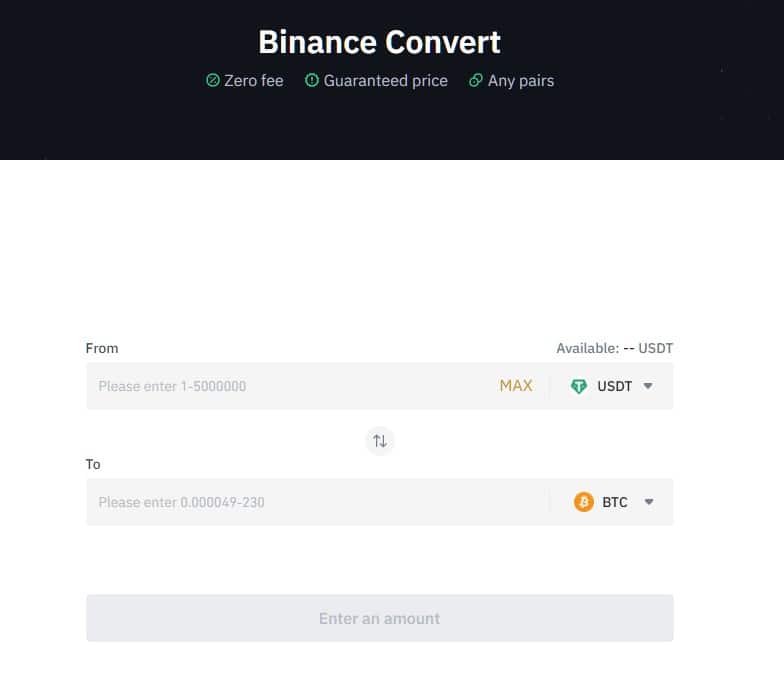 Otherwise, traders would need to transfer the coin to the spot market, place a market/limit order there, and transfer the new coin back to the coin-margined futures wallet. This is just too much for a market that changes directions in seconds.
For now, this option is available for the following cryptocurrencies: BTC, BNB, ETH, Cardano (ADA), Polkadoit (DOT), and Chainlink (LINK), but Binance is expanding the list faster than you can expect, so it won't hurt to check their official news page from time to time.
Cross-Collateral
Binance has introduced a new feature on the futures market where users can borrow assets using their own cryptocurrency as collateral.
For example, you can deposit 1 BTC as collateral and receive Tether (USDT) in return at a 50% LTV ratio. This means if your collateral is valued at 5,000 USDT, you will receive 2,500 tradable units.
Binance Fees
Now, let's see how Binance has finely crafted its pricing list. As I mentioned above, fees are the trump card of the exchange.
Binance Deposit Fees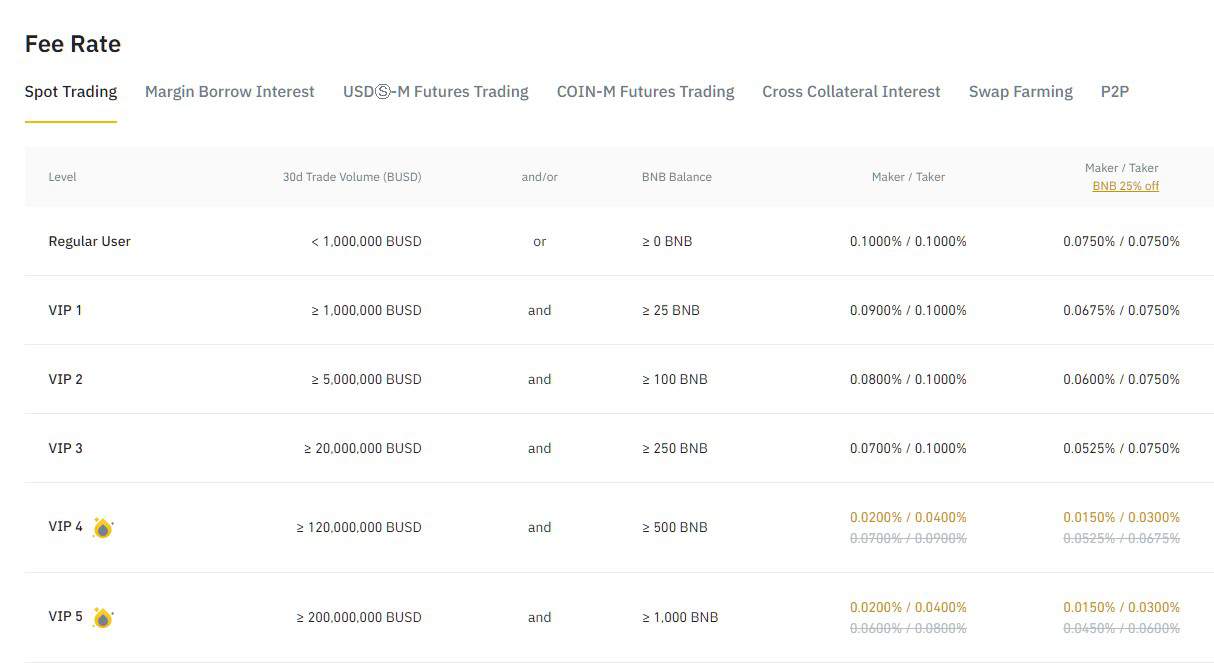 Deposit fees depend on the payment method. Under the Australian crypto horizon, you can deposit fiat through PayID/Osko for free. Debit card and credit card payments incur a certain fee, but as far as I can see, they aren't supported by Binance Australia.
Binance Withdrawal Fees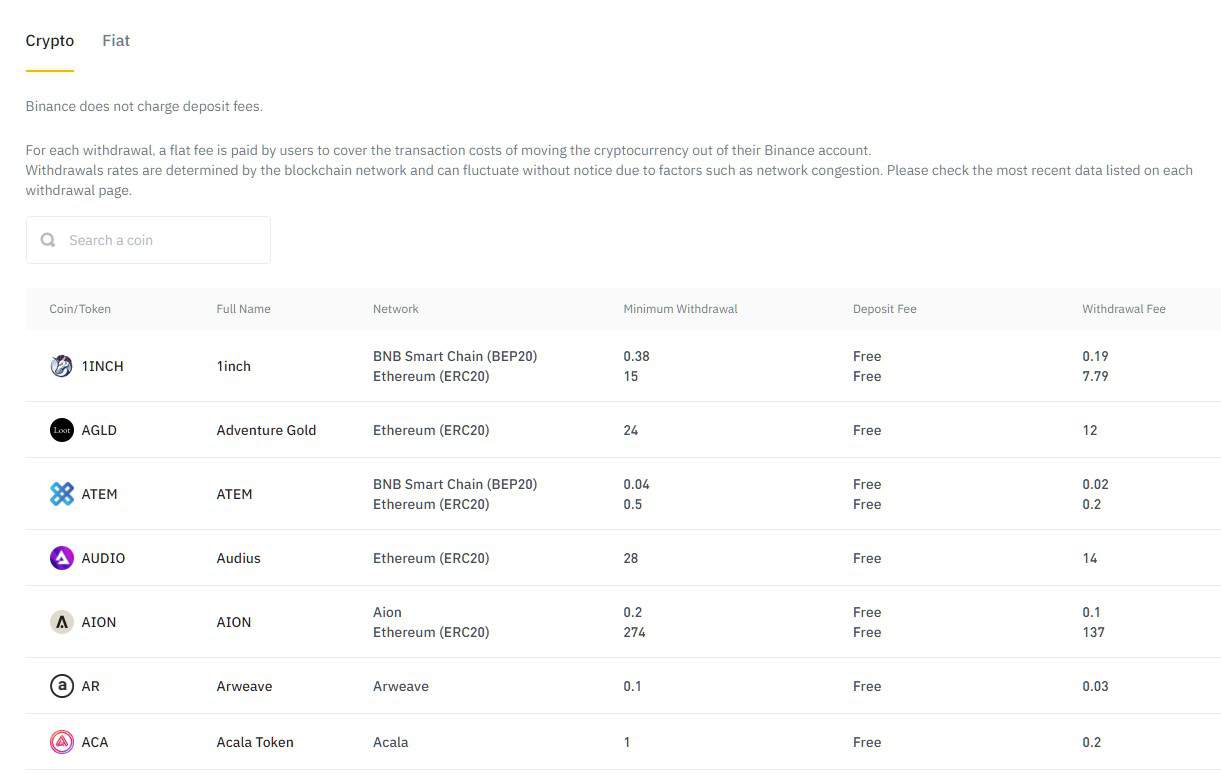 Cashing out AUD to your bank account is also free, while crypto withdrawal fees depend on the native blockchain of the coin being transferred out. You have regularly updated fee lists for both deposit and withdrawal fees on their official website.
Binance Trading Fees
Their trading fees on the spot market start from 0.1% and get lower thanks to their VIP system, which calculates your trading volume over 30 days. The ultimately low threshold is VIP 9 level, with a 0.02% maker fee and 0.04% taker fee.
Furthermore, if you trade with the native BNB coin, the exchange rewards you with an additional fee discount of 25%. However, I recently read that this promotional discount is about to end. I expected this sooner or later as BNB is now doing very well on its own and doesn't need marketing promotions to attract traders.
The fee schedule for the futures market is also one of the most competitive in the entire industry. They start from 0.02% / 0.04% for makers and takers respectively and can get down to 0.00% / 0.01% with the same VIP system.
Variety of Payment Methods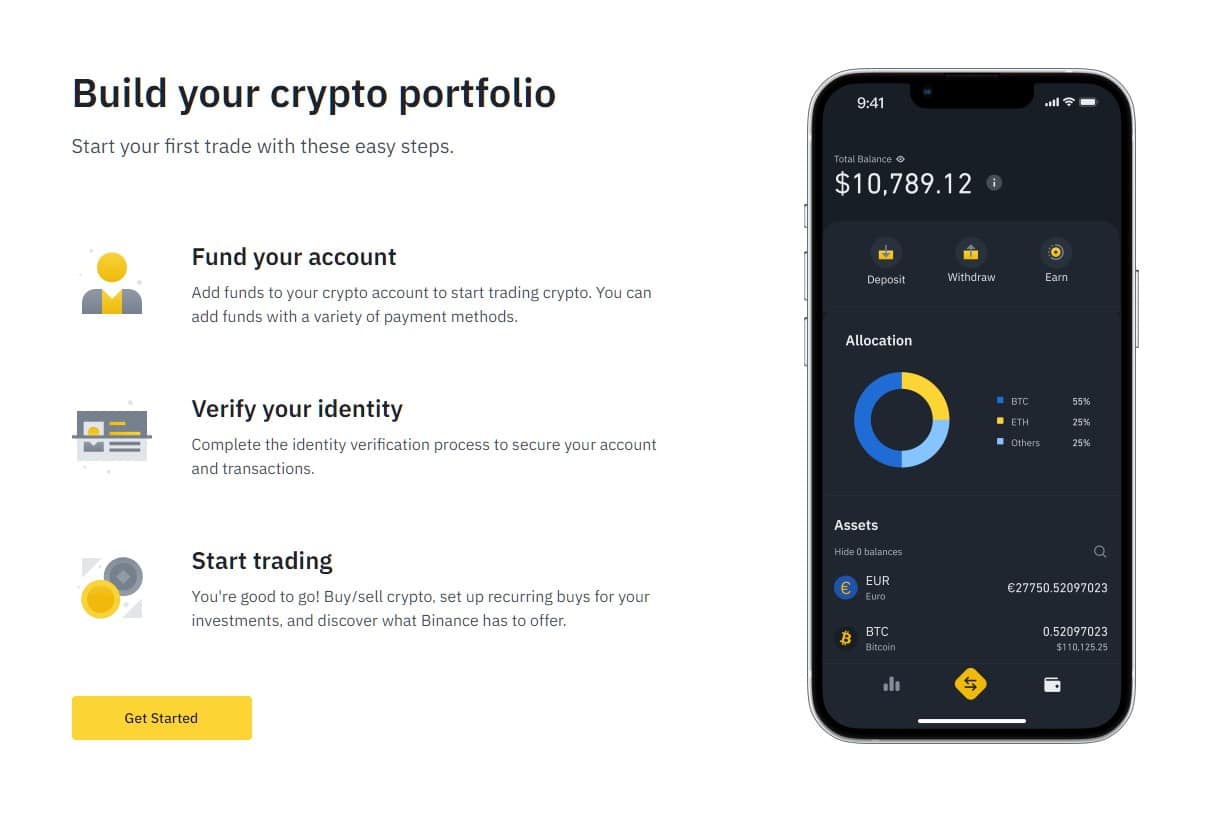 My impression is that Binance has been very flexible in the flow of fiat payments, which is expected for a platform of this caliber. However, since Binance operates in nearly 200 countries worldwide, I can also say that deposit options vary depending on your geographical location.
Credit/Debit Card
Visa and MasterCard are the golden standard for instant crypto purchases. Binance features a well-tuned instant market where you can buy Bitcoin or other supported altcoins and a single click with a commission of only 2%. However, this Binance service is available for a limited selection of around 20 countries — Australia isn't one of them.
SEPA/Wire Transfers
This is the regular route for funding your exchange account, and as you know, the processing times, fees, and limits are very often determined by the bank itself. For the most part, Binance doesn't impose any additional fees for bank deposits.
I did some research on the Binance website and found out that Australians can fund their Binance cash balances through their bank account. However, I couldn't find any specific details about AUD bank transfers.
Australian traders use PayID/Osko to make a free deposit to Binance. From my experience, the initial PayID transfer can take up to 24 hours, but after that, transactions are completed nearly instantly. Finally, you can't add over 10,000 Australian Dollars to your Binance account in a single day.
Is Binance Safe to Use?
For starters, I can give you a compact list of the key criteria that make a trustworthy crypto provider. Then, we can discuss whether Binance ticks all the boxes.
Compliance With Local Regulatory Norms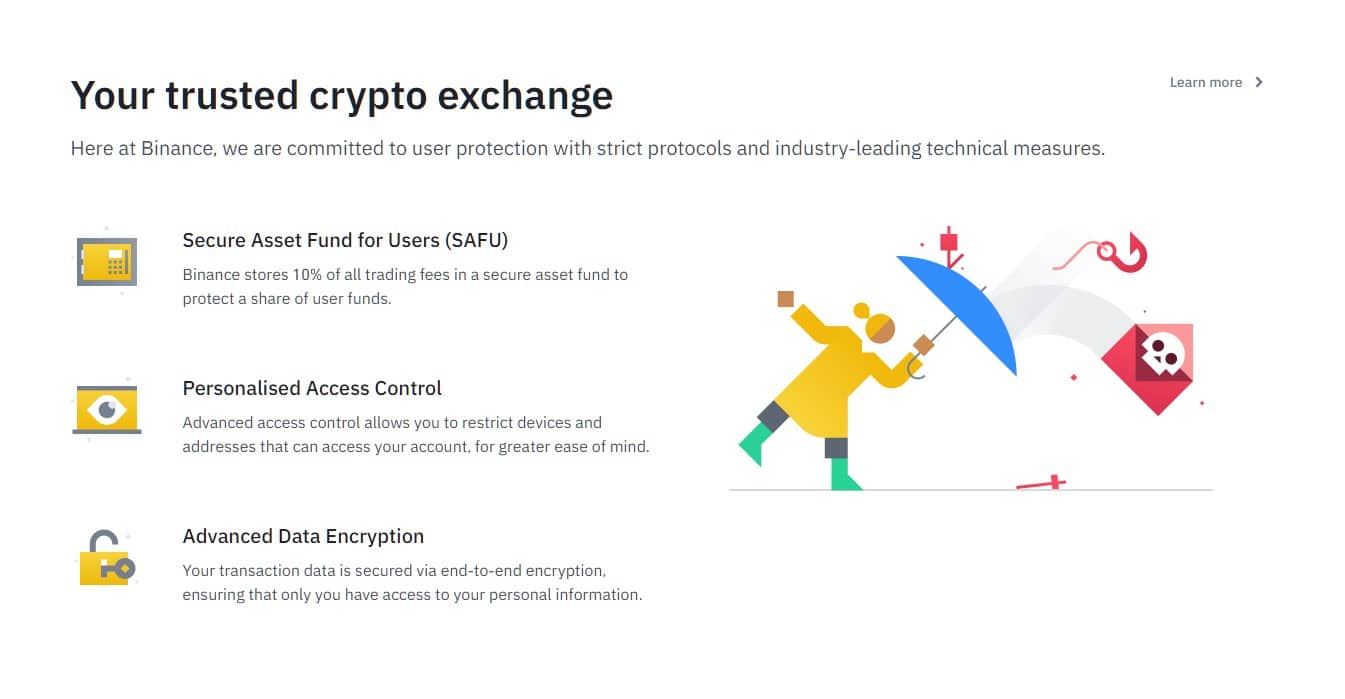 At the very beginning, the Binance creator stated that the exchange needed no headquarters and bank accounts. However, it was the time when users across the world burst forth crypto trading making Binace the greatest exchange ever within a few months.
This rush made Changpeng Zhao open the fiat gates, which eventually led him to government disputes with Japan, Canada, the UK, the USA, Thailand, Malaysia, Singapore, and South Africa.
Since Binance had no official headquarters, governments and individual investors found it difficult to decipher how and who to take it to court. In the meantime, the Securities and Exchange Commission (SEC) inquired into the Binance operations, banning the exchange from the USA territory in 2019.
But, recent events are telling us that things have turned in a different direction. I watched Zhao's interview, where he insists that all local regulations must be implemented so that the exchange can target a broader population. Even before that, I was surprised to see the change in the KYC policy, which was very loose in the early days.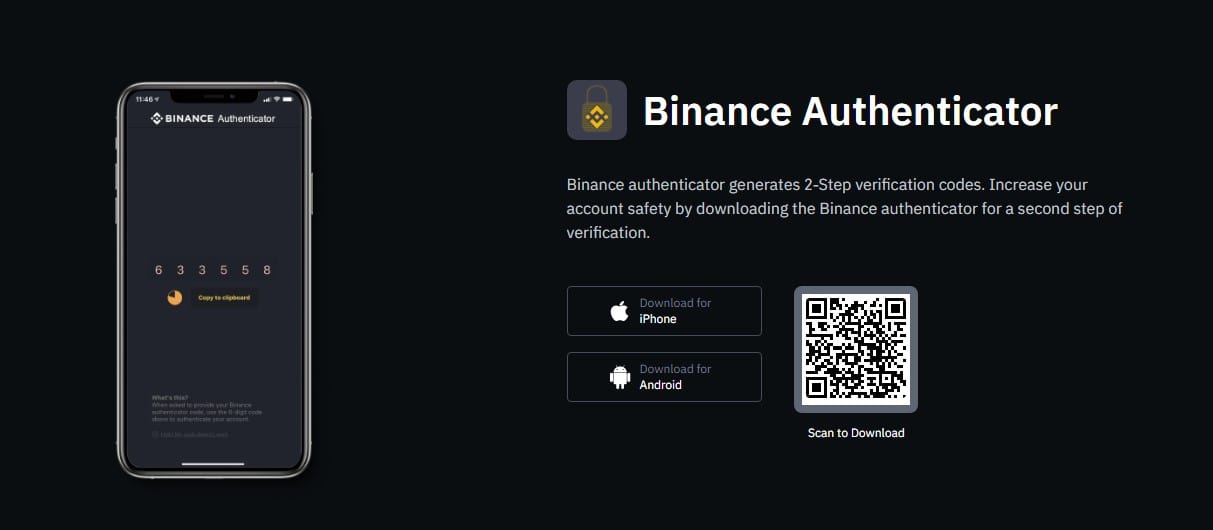 All things considered, Binance no longers plays on the "invisibility card" and follows the legal framework in all countries of operation. As an AUSTRAC-licenced company, Binance Australia strictly complies with the local AML/CFT policies, so there is no way to skip KYC identity verification anymore.
History of Cyber Attacks
Given the jaw-dropping funds circulating on Binance, you can guess that the exchange has been an attractive target for cybercriminals during all those years. There have been several critical hack attacks since 2017, but in all cases, the users remained safe after the financial injection of the Binance company reserves.
Robust Security Features for Accounts and Website Protection
Binance implements the latest cyber security measures to establish comfortable grounds for exchanging valuable assets. This security set includes Google authentication, 2FA (two-factor authentication), anti-phishing codes, and a cold technique for offline storage of over 90% of the circulating funds.
How to Create a Binance Account?
The navigation through the Binance platform may seem overwhelming, but the 3-step signup process is very streamlined. And did you know Binance gives up to $100 FREE voucher when you sign up using our Binance referral code?
Visit the official Binance website and select Register on the top right menu,
Insert your email, set a strong password, and enter a referral link if you have one. I recommend you activate 2FA at this point in the registration process.
Confirm the activation link on your email, which will automatically direct you to the verification section. There is a specified KYC rule set for Australian users in terms of required documents. The entire process will not take you longer than 15 minutes, but it can take Binance up to 10 days to review your documents.
How to Fund My Binance Account?
After receiving a green light from the exchange, you're all set to make the first deposit. All you have to do is navigate to the Deposit page, choose AUD, and insert the amount you want to deposit into your exchange account. Then, confirm the transfer by inserting your PayID email into your bank app.
Binance Alternatives
The fact that Binance is a leader on the crypto board doesn't mean that it's the best destination for you. I gathered all the Australian "blue chips" so that you can spot the difference between platforms similar and not-so-similar to Binance.
Is Binance Better Than Coinbase?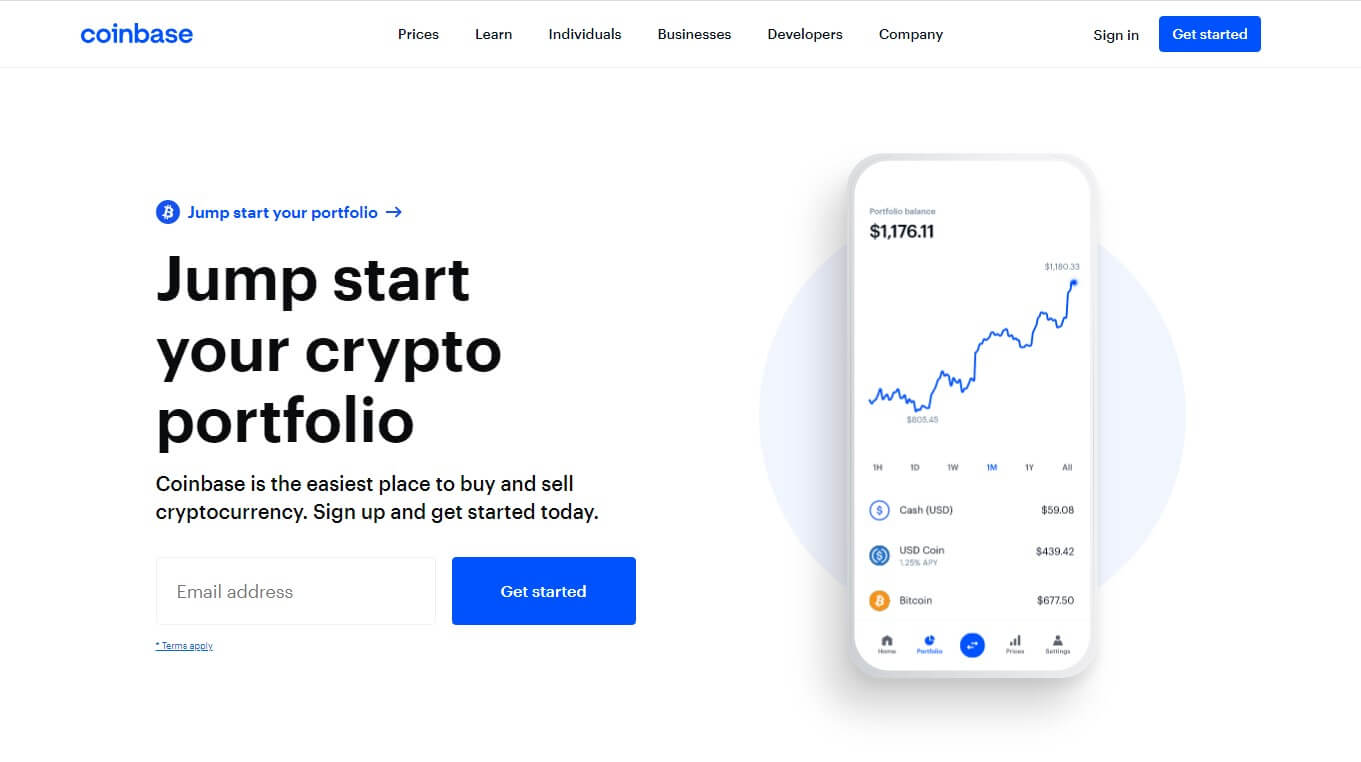 Interestingly, Coinbase was the gathering place for bitcoiners around the world until the inception of Binance. At this point, it's pointless to discuss how Binance "de-throned" Coinbase because these crypto exchanges differ in their core values.
While Binance gears toward expansion of trading services and digital assets, Coinbase operates as a beginner-friendly brokerage where you can buy crypto on a retailer level. It's a US-based crypto exchange, operating on a highly regulated basis since 2012. If you're an absolute beginner, Coinbase is always a better choice than Binance.
Is Binance Better Than Swyftx?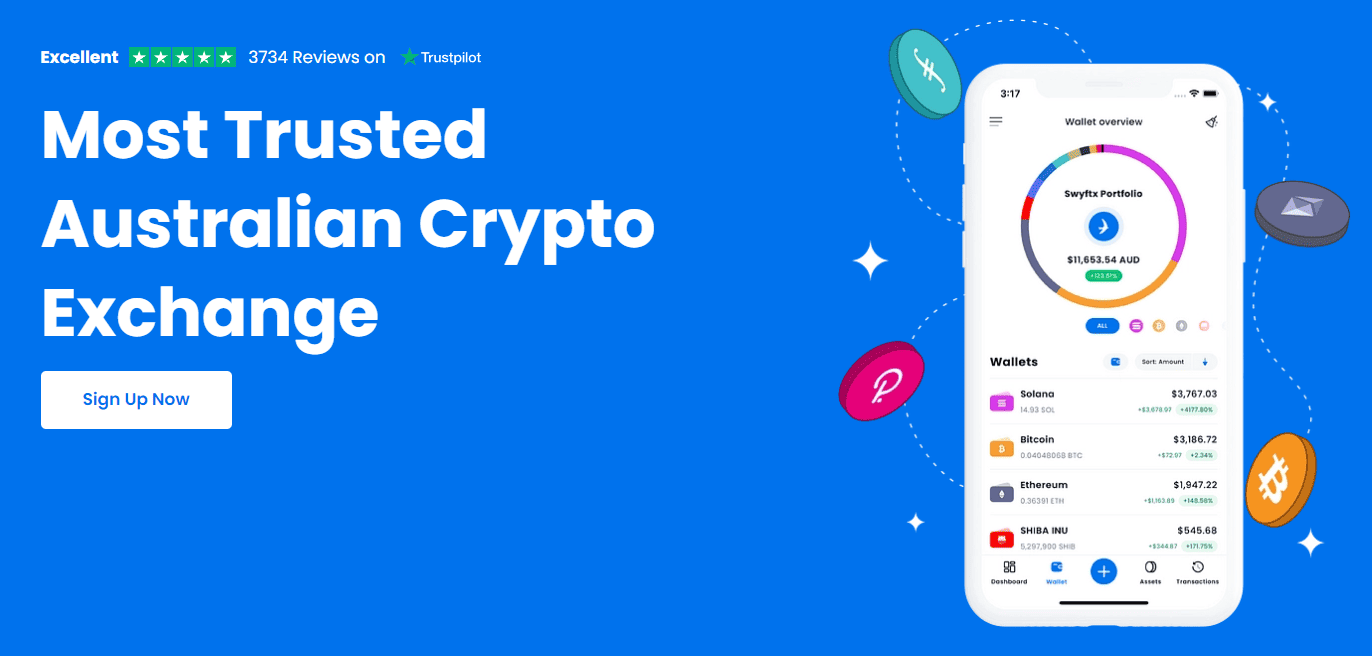 Swyftx is one of the best diversified Australian native exchanges, keeping the highest position on the crypto scene down under. Compared to Binance, it delivers a bit softer approach to crypto trading but it's a perfect package for Aussie crypto enthusiasts (sure, unless they're heading to sophisticated futures and margin trading markets).
Swyftx isn't advanced to the point of offering Futures Battle, but it gives you access to a highly liquid market, multiple options for deposit payments, and live customer support. So, I'm sure that the majority of you will find a better shelter on Swyftx.
Is Binance Better Than Coinspot?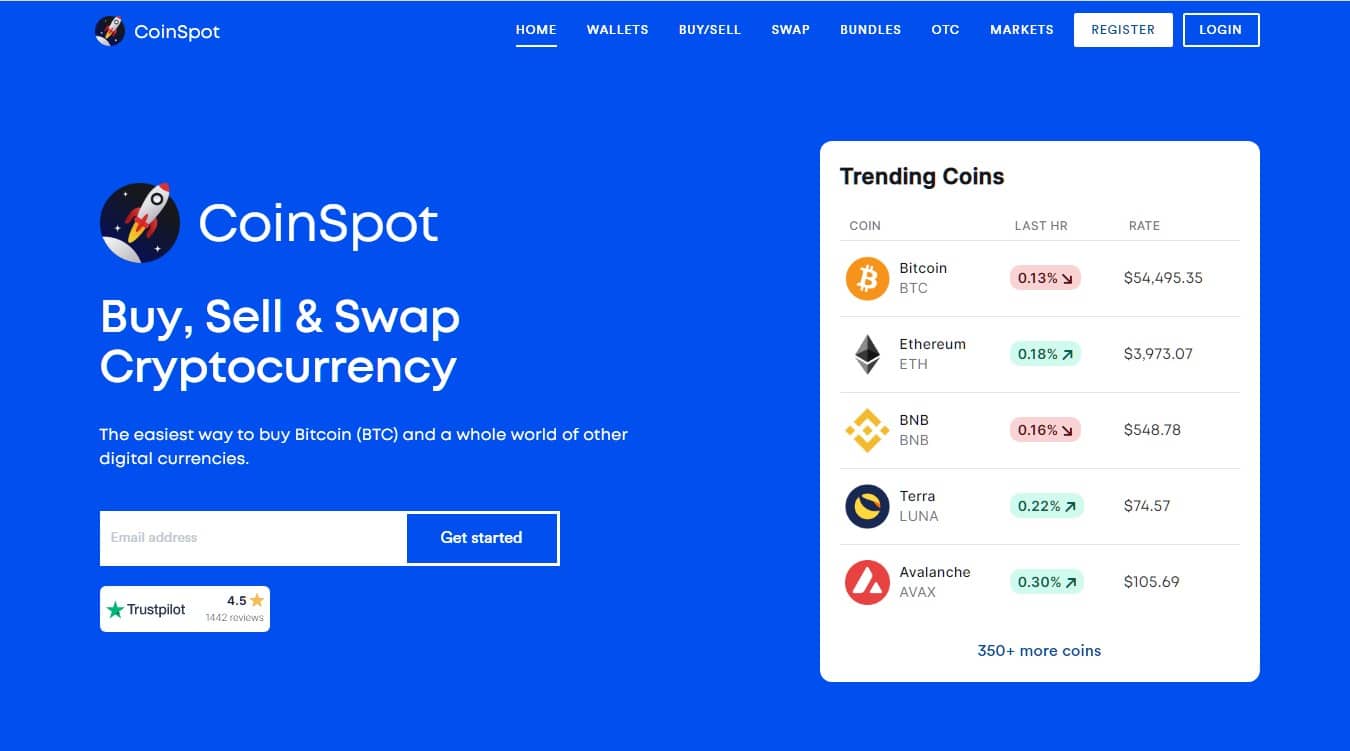 It depends. If you're aspiring to a crypto-trading career, I'd undoubtedly recommend Binance. But if you're about to make a one-off Bitcoin investment and need ease of use before anything else, then you should consider the Australian crypto veteran CoinSpot.
On second thought, I'd rather spend some time and energy learning the crypto ropes instead of paying CoinSpot 1% of the total transaction for a single instant purchase.
Is Binance Better Than Coinjar?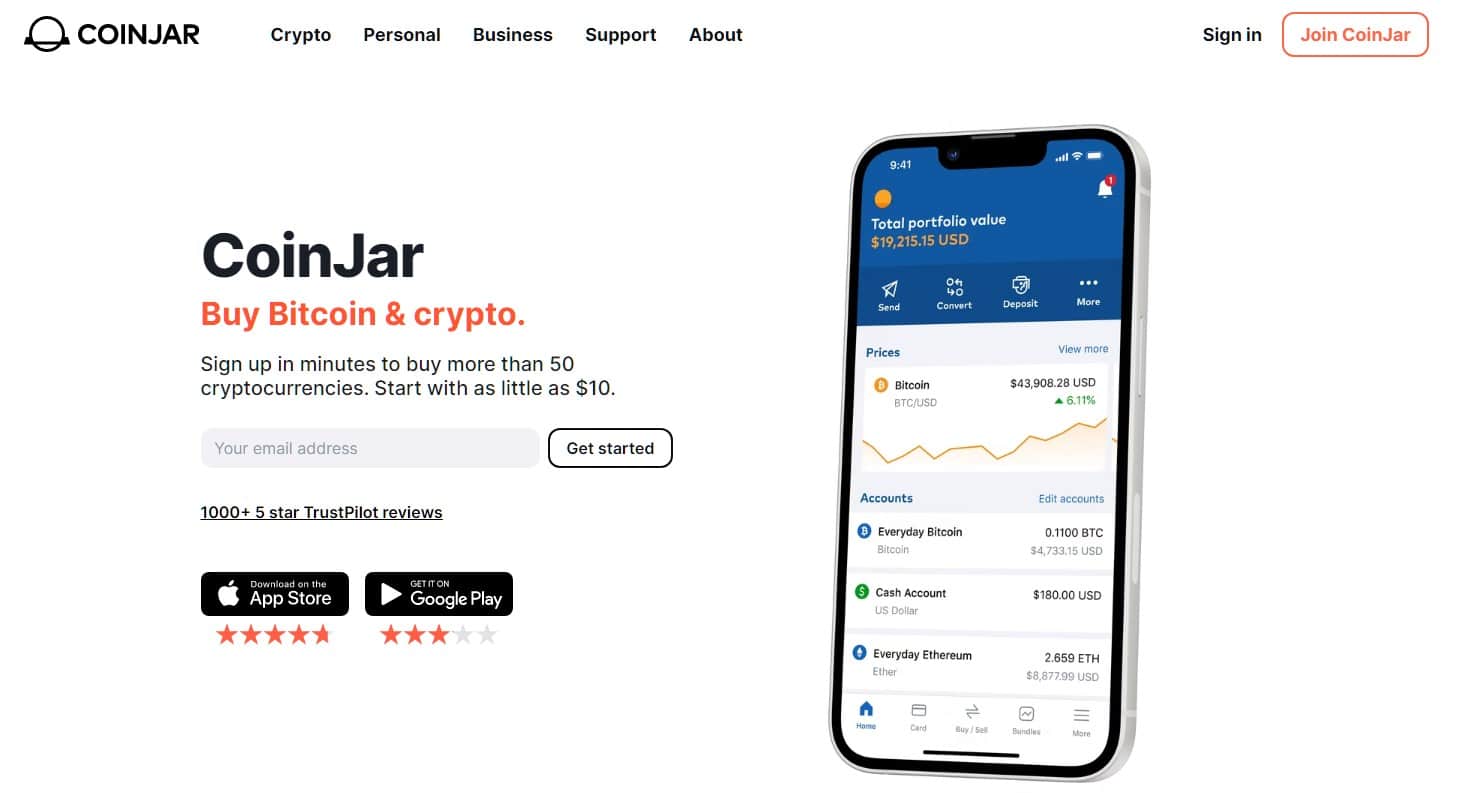 CoinJar resembles CoinSpot in many respects, with the difference that CoinJar allows credit and debit card payments. So, it's more or less the same answer. The only "force" that can make me choose CoinJar over Binance is the need for immediate liquidity, which can be settled much faster through card payments.
FAQ
Can you lose money on Binance?
Binance does everything in its capacity to protect its users, but it can't guarantee a positive outcome for your trades. The bottom line is that dealing with cryptocurrency is a highly risky business.
How do I get my money out of Binance?
The cashing out process on Binance is straightforward and relatively fast. Navigate to the Wallet tab on your dashboard and select Spot Wallet. Right next to your AUD wallet, you'll see the Withdraw option in the Cash Balance tab.
After your request is confirmed, you'll have your funds delivered to your bank account within 3-5 working days.
Is it safe to link a bank account to Binance?
Nothing that takes place in the virtual realm is completely safe but based on the security measures, Binance is a trustworthy crypto venture.
How does Binance make money?
In 2021, the exchange hit a revenue plateau of $20 billion from trading fees and trades. Plus, Binance charges margin borrow interest, fees for futures trading, and cross collateral interest rates.
Conclusion
I hope that this review has given you a chance to come to a clear conclusion about this crypto giant. Sometimes, the Binance platform reminds me of a crypto encyclopedia as it contains every term that collocates "crypto." This doesn't mean that Binance is perfect — I can count a number of features that require immediate improvement, but the thing is that I see no other cryptocurrency exchange that can deliver a more affluent package under a single roof.
Related Comparisons:
Disclaimer: Digital currencies and cryptocurrencies are volatile and can involve a lot of risk. Their prices and performance is very unpredictable and past performance is no guarantee of future performance. Consult a financial advisor or obtain your own advice independent of this site before relying and acting on the information provided.