Swyftx Review 2023
Last Updated on July 12, 2023
In a nutshell, we really really like Swyftx! Their fees are competitive and the exchange is very easy to use & trade with. But more importantly, the customer support is very well set up and responsive, which is something a lot of crypto exchanges lack these days.
They get a huge thumbs up from us, you can't go wrong with them!
Now, onto the review.
Generally, local exchanges have a few common advantages and disadvantages:
You can make deposits in your native fiat currency without any worries about double conversion (and the extra fees attached to foreign transactions).
You're more likely to find a common language with a home-based support team.
And finally, you can have better insight into the tax law when "playing with cryptos" in your country of residence.
However, local exchanges usually struggle to provide enough liquidity for less popular trading pairs, and hence, they offer quite a limited choice of markets, failing to keep up with the latest crypto trends.


This isn't the case with Swyftx. I promise you this Brisbane-based exchange is one of the best crypto exchanges in Australia. It has all the benefits that come with a local crypto provider and an automated mechanism for maintaining high liquidity. Swyftx sources its order book from multiple international giants like Binance Australia to deliver optimal prices and spreads.
In a nutshell, that's why Swytx is my favorite destination for trading crypto and the highest-ranked crypto service on TrustPilot. Now, let me show you a more detailed view of the full Swyftx "package."
Website: www.swyftx.com.au
Country: Australia
Mobile app: Yes
Deposit Methods: bank transfer, debit card, credit card, Osko, PayID, and crypto
Trading Fees: 0.6%
Fiat Currencies: AUD and NZD
Cryptocurrencies: Bitcoin (BTC), Ethereum (ETH), Solana (SOL), Shiba Inu (SHIB) and 320+ more
Pros
Super-fast option for credit and debit card withdrawals and deposits;
A large base of supported cryptocurrencies;
20 available coins for earning passive income;
Free demo account for newcomers;
Live customer support;
Cost-efficient balance of low trading fees and spread;
No deposit fees and withdrawal fees.
Cons:
Available only in the territory of Australia and New Zealand;
No options for advanced crypto markets, such as margin trading and crypto derivatives.
What Is Swyftx?
Established in 2018, Swyftx is an Australian cryptocurrency exchange, with headquarters in Milton, Brisbane. It was designed by Angus Golman and Alex Harper with a precisely-defined goal to make crypto trading easier for Australians. Soon after its launch, Swyftx expanded its services to New Zealand, with plans to include the UK and Canada on the list of supported countries.
Despite the already established crypto-friendly climate down under, the launch of Swyftx was an instant success, as far as I can remember. It presented a trading platform perfectly tuned to the payment habits of Australian traders.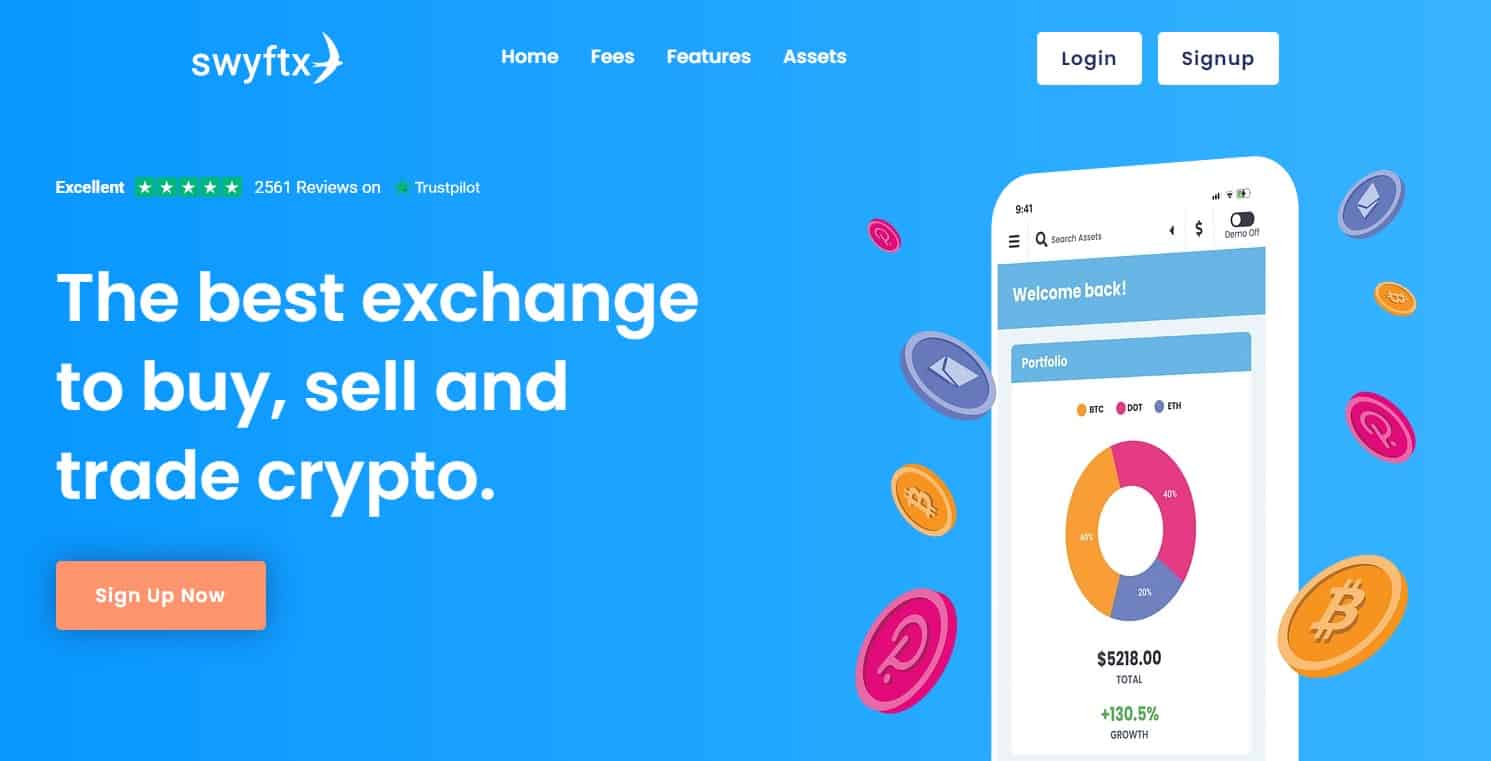 Why I personally prefer Swyftx over all other Aussie crypto providers is because of the full crypto package you get under one roof — access to an incredibly rich selection of crypto, a range of earning opportunities to keep you entertained, and a sleek mobile app to trade on the go.
So, I assure you that both beginners and experienced traders will find this user-centered approach just right for their trading routines.
If this is your first time on the crypto scene, you'll be delighted by the neat interface and streamlined navigation through the Swyftx platform. The ease of use is supported by responsive customer support for every popping-up issue when creating an account or during the trading process. And, for boosting your trading confidence, you'll get a free demo account where you can manage a real-live portfolio without making an actual investment.
But you won't go wrong landing on Swyftx if you're transitioning from another crypto exchange either. Believe me, you'll be pleasantly surprised by the low spreads.
Swyftx Features
The primary job of all cryptocurrency exchanges is to provide a workable platform where you can buy and sell crypto assets. What makes a great exchange is the feature set that gives a motion to this buy-and-sell process. And, this is what the full set of Swyftx looks like from my desktop.

Supported Cryptocurrencies
Swyftx is continuously expanding the list of supported cryptocurrencies and, as I mentioned, maintains high market liquidity in partnership with world-renowned trading platforms.
Among 320+ supported crypto assets, here you can find Bitcoin (BTC), Ethereum (ETH), and other mainstream altcoins like Dogecoin (DOGE), Litecoin (LTC), Cardano (ADA), Stellar Lumens (XLM), and Ripple (XRP), a range of trending DeFi tokens, such as 0x (ZRX), Aave (AAVE), 1inch (1INCH), and Balancer (BAL), as well as the most popular stablecoins like Tether (USDT), USD Coin (USDC), and Binance USD (BUSD).
Transferring Fiat and Cryptocurrency
This is my favorite part of the Swyftx story. The exchange delivers a smooth flow of all incoming and outgoing transactions both in fiat or cryptocurrency. Swyftx offers a few payment methods for its users to deposit AUD to their accounts, including wire transfers, Osko, PayID and POLi transfers, as well as debit and credit cards.
If you ask me, the easiest option to transfer fiat funds is through POLi or PayID linked with an Australian bank account. The deposit will arrive almost instantly, and you can immediately use it to purchase some crypto.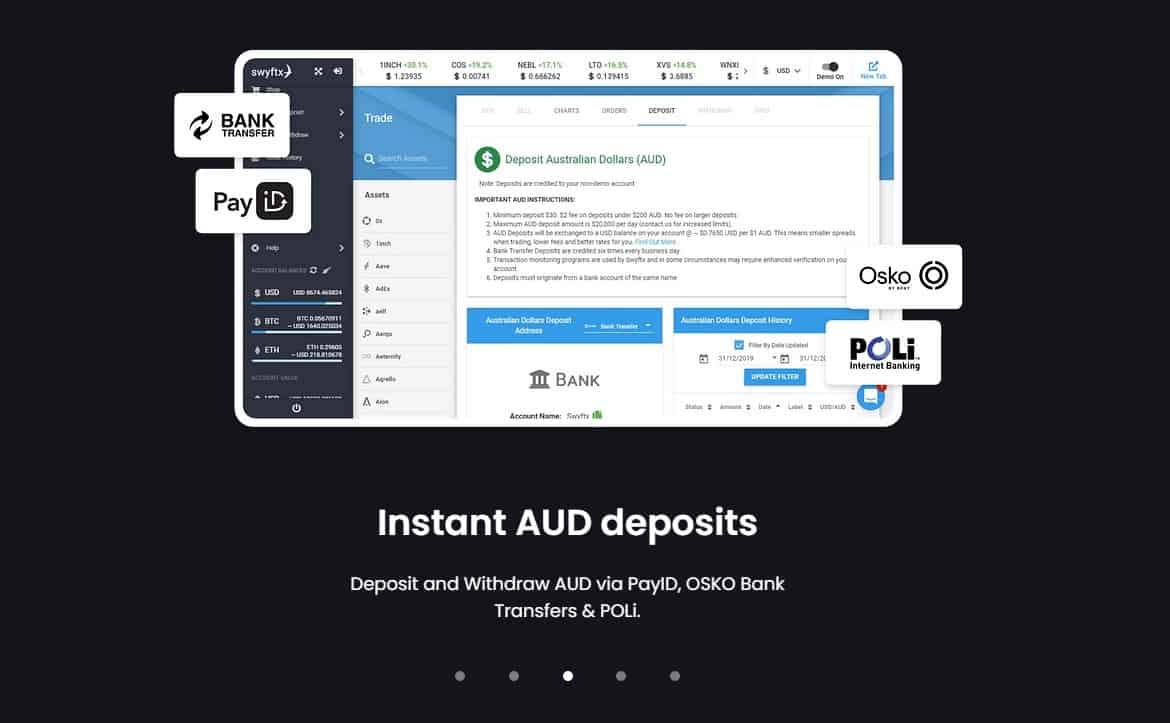 Depending on your verification level, the exchange imposes a certain minimum and maximum limit. As a fully verified user, I was able to deposit up to $100,000, with a minimum deposit limit of $30. Unfortunately, I couldn't find a way to buy crypto on Swyftx with PayPal or a direct cash deposit.
| | |
| --- | --- |
| Deposit method | Transaction times |
| Bank transfer (OSKO) | 1 minute |
| Regular bank transfer | 2-6 hours |
| POLi | 1 minute |
| PayiD | Almost instant |
| Credit and debit cards | Up to 30 minutes |
Trading Fees and Spreads
Swyftx features a very simple pricing schedule — a flat fee of 0.6% for every purchase and sale executed on their platform. Knowing that other crypto brokers can charge over 1% for instant purchases, I can say that the Swyftx fee system is more than decent.
What really makes Swyftx stand out among its competitors is the spread. The catch is that crypto exchanges usually "forget" to mention this hidden fee, which stands for the difference between the buying and selling price of your desired crypto. The average spread across exchanges ranges somewhere between 2% and 2.5%. Believe it or not, the spread on Swyftx is usually as low as 0.45%.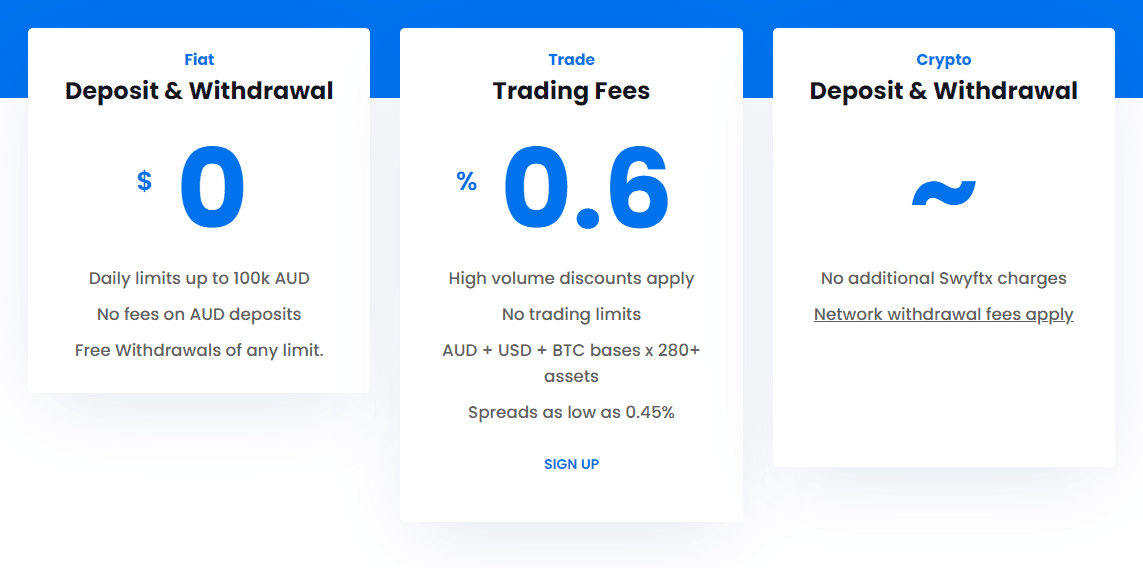 Not to forget that Swyftx charges no fees for AUD deposits and withdrawals made through your bank account. As for crypto, you'll need to pay only for the blockchain-imposed transaction fees, which are variable depending on the type of crypto you're transferring out.
Customer Support
From my experience across various crypto exchanges, I can say that the ticket system is usually the least painful method for the majority of them. For users, this can be a bit frustrating, especially if they're inexperienced in dealing with crypto platforms.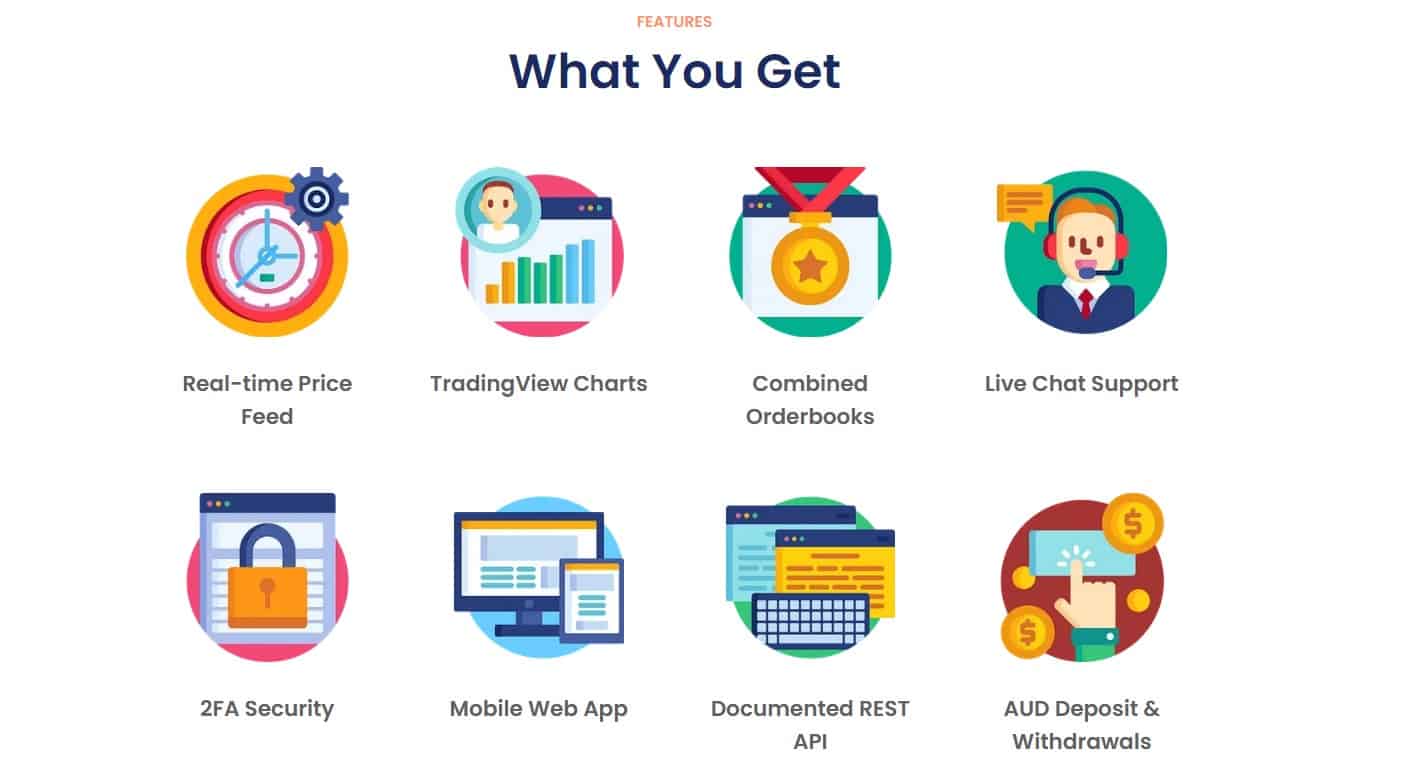 Luckily, Swyftx has a very personalized support team, and you can contact some of the members through an open phone line available 12 hours a day. But if you prefer written communication, Swyftx offers the standard email inquiries and live chat support for general issues.
Finally, I'd say not to underestimate the power of social media channels and user forums in case of an issue. The Swyftx community counts over 470,000 registered members.
Demo Mode
Demo accounts are a trending feature among modern crypto exchanges as they enable novices to learn the crypto ropes and get used to the platform without investing real funds. Swyftx has a great Demo Mode option where you can simulate real-life trading scenarios with an amount of $10,000 "playing money." The demo tour comes with an interactive response from the computer side, i.e., the platform returns to your moves, giving you a real trading experience.

OTC Trading
Crypto exchanges aren't the best solution for large-scale orders since the odds for fast fulfillment are very low. So, if you're planning to invest over $100,000 in crypto, Swyftx can offer you an over-the-counter service with guaranteed liquidity on their separate OTC desk.
There is a team of expert brokers who will take care of your trade through all stages — finding a seller, execution, and fast settlement. Most importantly, Swyftx won't rip you off from this service. Swyftx charges relatively low fees compared to other exchanges' OTC desks.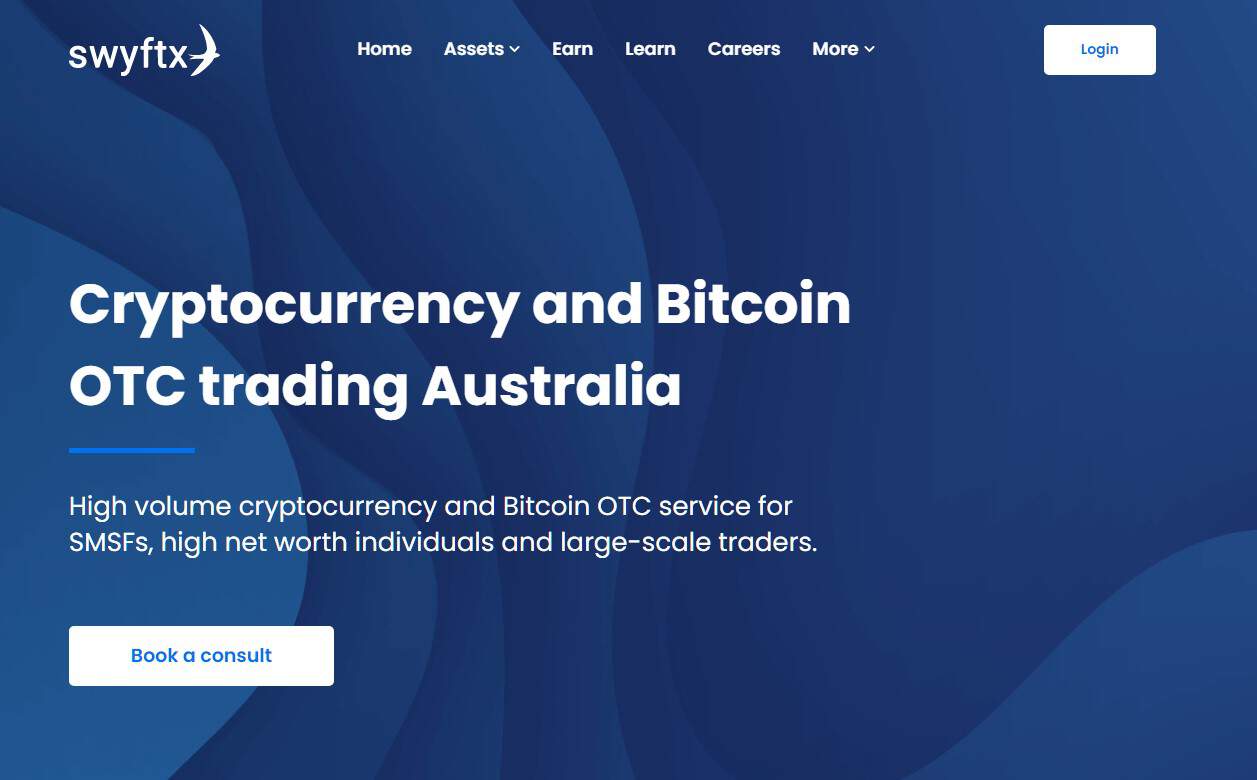 SMSF Support
Cryptocurrencies can be a great store-of–value material and, with the Swyftx support, part of your Self Managed Superfund. Many individuals across Australia opt for this saving package because of the low capital gain taxation the SMSF holders enjoy. The tax rate for gains achieved through this self-managed fund is 10%, which is considerably lower than the standard marginal rates applicable to individuals.
However, to qualify for this favorable tax rate, your SMSF has to be labeled as a complying fund under the Superannuation Industry (Supervision) Act by the ATO. Swyftx will support the creation of your SMSF retirement portfolio and set trustworthy grounds for managing your crypto-saving funds on their platform.
Bundles
One of the greatest challenges I faced as a crypto-beginner was to decide which path I should take — stick to Bitcoin, diversify my portfolio with popular altcoins, try my hands at new projects, or explore the DeFi sectors.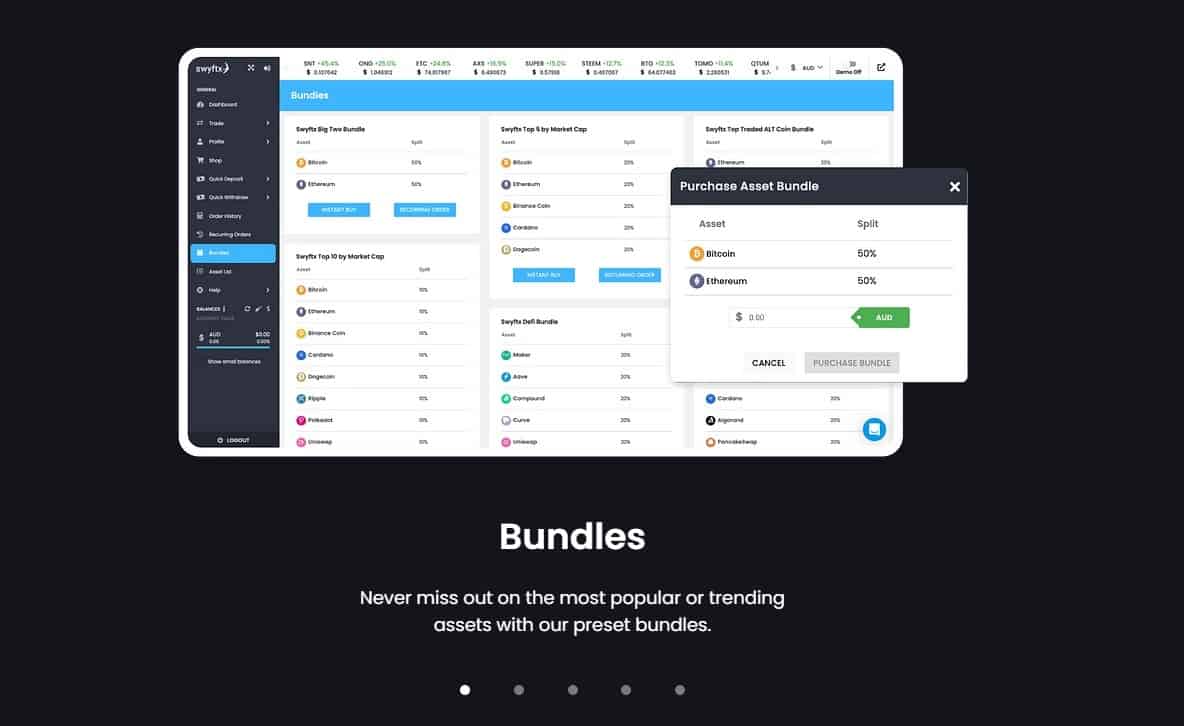 That's why I'm glad to see that Swyftx has come up with this Bundle option, which enables you to buy a collection of cryptocurrencies within a single transaction. The best thing is that the exchange has already classified the recommended "bundle" for you — for example, the top-5 crypto by market cap, a pack of 5 DeFi tokens, etc.
Swyftx Earn (Staking)
You've probably heard about crypto mining, but did you know that part of the coins and tokens are "produced" through staking (the Proof-of-Stake consensus)? The principle is pretty simple — you need to own a certain amount of that crypto, stake the crypto to a depository fund as a guarantee in the transaction process, and receive newly-minted crypto units in return. As such, staking has proven to be a lucrative method for passive income in the long haul.
Very often, staking takes place in organised groups powered by a well-established crypto exchange for a better competitive edge. Yet, not many Australian-based exchanges offer this option, but Swyftx does.
The exchange provides this feature for the 20 most popular Proof-of-Stake assets: ADA, SOL, Cosmos (ATOM), Tron (TRX), Polygon (MATIC), Kava (KAVA), Polkadot (DOT), and a few others. Moreover, you can earn up to 5.12% APY for storing your Bitcoin on the Swyftx platform even though its native blockchain doesn't allow staking.
Swyftx has a tiered interest model, with rates declining at each higher tier. You can see a yield calculator on Swyftx and easily calculate your expected profit based on the type of crypto, the staked amount, and the "lockdown" time.
Coin Swap
From what I hear, swapping is one of the most attractive Swyftx features nowadays. With coin swaps, you can save much time, as it allows you to buy one coin and sell another simultaneously.
Swyftx offers a separate Swap tab where you can insert the coin you want to sell and the coin you want to get in return. Technically, you're placing both a buy and a sell order at once instead of doing it separately. These swap orders will cost your 1.2% (0.60% + 0.60%) on Swyftx.
Tax Reporting
Sometimes, I think that those who were part of the wild-west crypto years were very lucky because taxation was off the table back then. Today, we're trading in a much different ecosystem. Crypto assets in Australia are classified as commodities and subject to Capital Gains Tax or Income.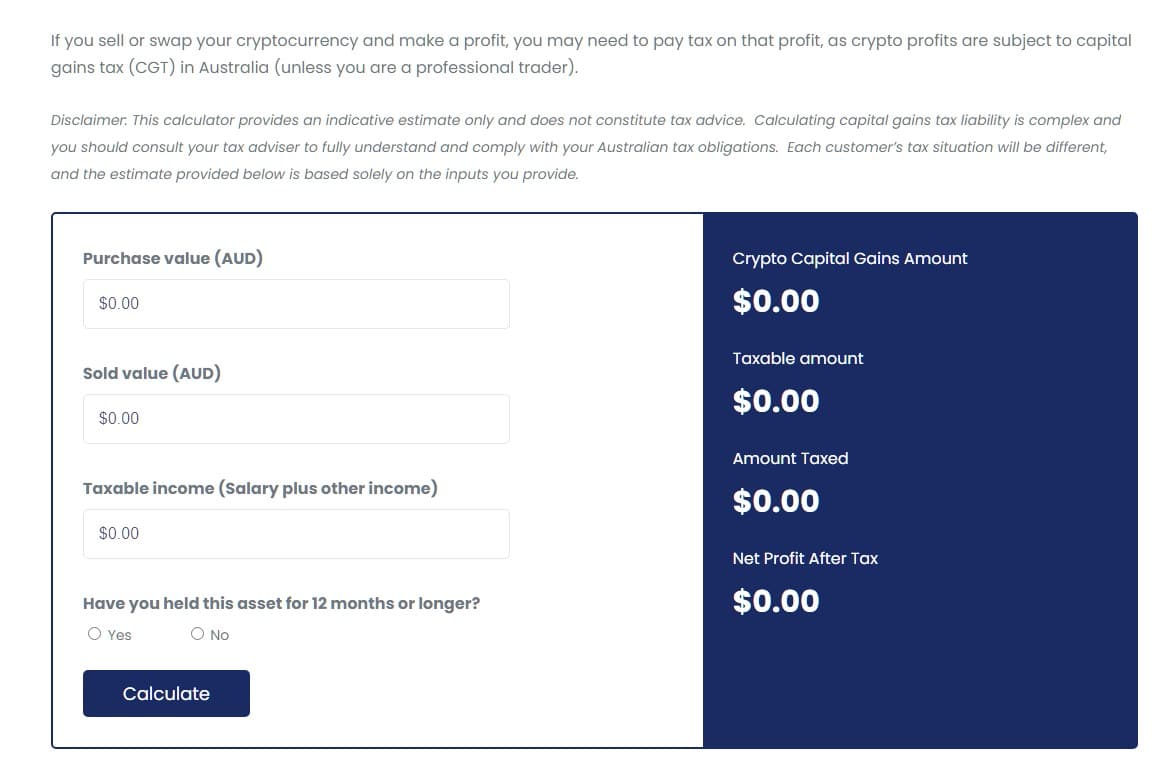 Now remember this, while purchasing crypto is not a taxable event, you need to declare in your annual tax return everything you've earned while selling, trading, or otherwise profiting from crypto above the amount of $18,201.
Since submitting full reports can be overwhelming, Swyftx is here to help you. In partnership with Koinly and CryptoTax, the exchange offers a Tax Report Generator, where you can get downloadable statements that contain all information ATO requires at the end of the taxation year.
Recurring Orders
Swyftx Recurring Orders allow you to arrange a regular schedule for automatic bank deposits and instant purchases at a given time interval. This is a common strategy in traditional markets called dollar-cost averaging, where the investor divides the total investment capital by purchasing the target asset gradually.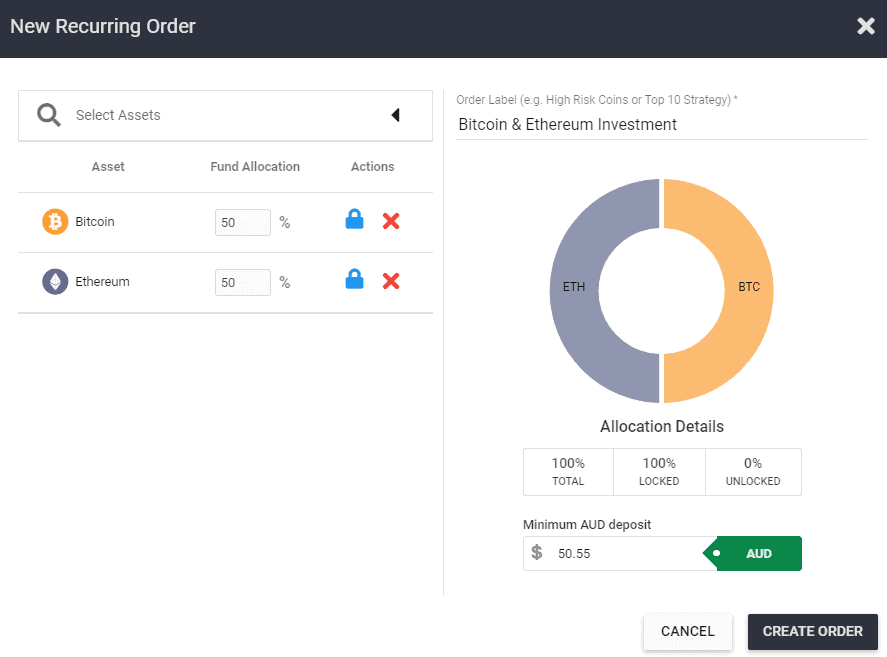 The price movements don't affect the execution of your automated trade whatsoever. Try small — you can see that this smooth trading practice fits very well in the volatile world of crypto.
Mobile App
I feel free to say that today almost all modern exchanges come with free mobile apps available for Android and iOS devices. And all these apps follow the latest UI trends. So, I analyzed the Swyftx mobile version based on its functionality and concluded the following:
Clear portfolio view
Deposits and withdrawal options
All trading features on disposal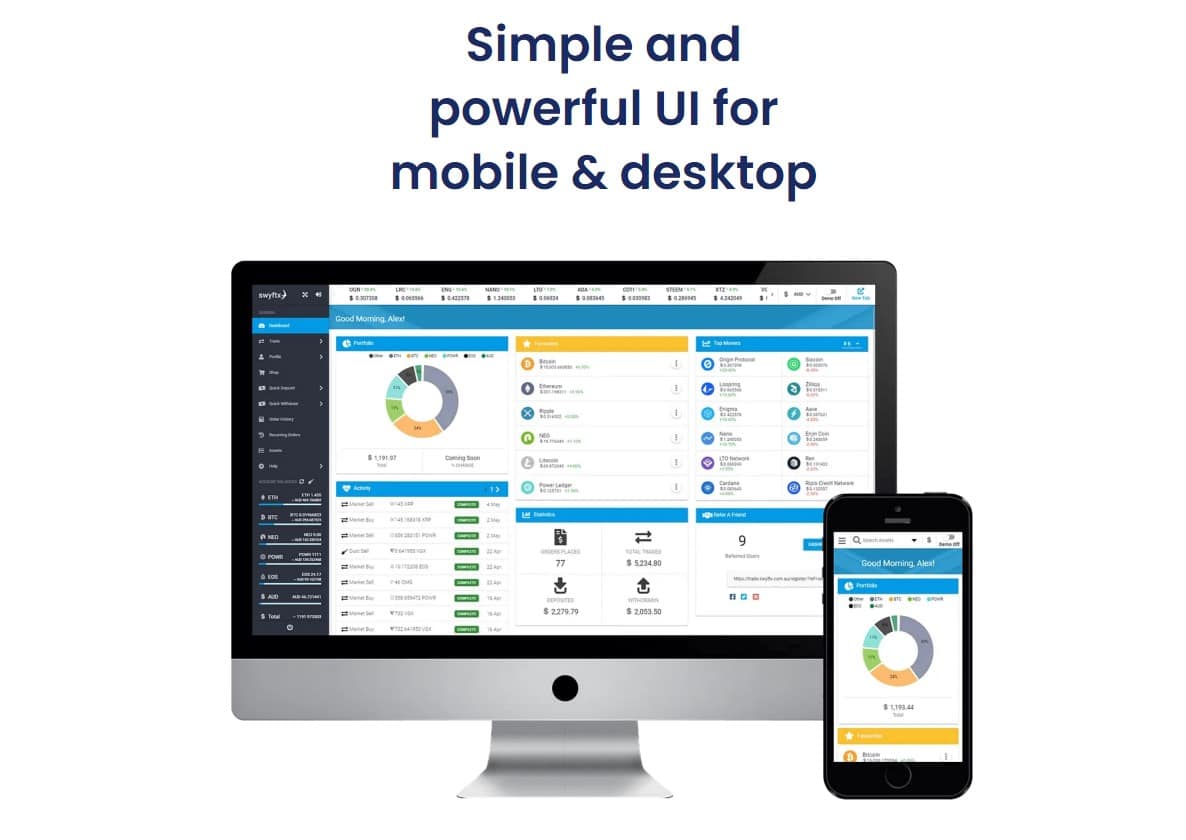 Quite enough for me to download and put it into use.
Swyftx $20 Sign-up Bonus

Do you know that Swyftx offers a $20 FREE Bitcoin as a promotion for creating an account with a Swyftx referral code? You don't need to deposit any funds to get the bonus, just register on their platform and complete the verification part.
How to Use Swyftx
I remember the time when I had to wait for days for Coinbase to verify my account, so let's say that opening a Swyftx account was a blast for me. The entire process runs smoothly and it's simplified to the extent that an absolute beginner can handle the registration with ease.
Signing Up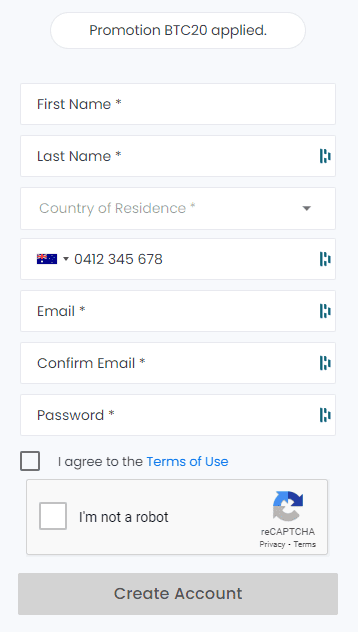 Visit the official Swyftx website and find the Sign Up button at the bottom of the page. It'll redirect you to the registration section. There you'll need to insert a valid email, set your password, and type in your phone number and name. Then, confirm the message you'll get on your email, and you're ready for the next step.
Verifying Your Account
Identity verification is something we can't skip today, regardless of the exchange you've chosen. I believe that the majority of traders-to-be hope to avoid this step, not because of the fear of exposing personal information, but because it takes so much time and effort — scanned copies of government documents, selfies with government documents, utility bills, etc.

Swyftx employs what we call rapid verification, which requires no more than 2 minutes. After opening your account, navigate to Profile on the left sidebar and find Verification. The exchange will ask you to enter 3 pieces of information: mobile phone number, email, and ID document number. As simple as that.
Transferring Funds
Now that you have the status of a verified user, you're all set to deposit some AUD or maybe crypto from your independent wallet to the newly-generated Swyftx wallet. As I mentioned in the Transferring Fiat and Cryptocurrency section, the easiest way to make a fiat deposit is through PayID. The entire process consists of two main steps, so I'll use it as an example:
Connect your PayID address to your Swyftx account
Find Quick Deposit on the menu and go to Deposit AUD.
Choose PayID from the list of deposit methods.
Insert your PayID (email) in the deposit information.
Make a new deposit from your bank
Log in to your bank account.
Initiate a new PayID method and submit your email address.
Insert the desired amount of AUD and confirm the transaction. Your funds will be transferred nearly instantaneously to your Swyftx account unless there is an internal delay in the bank.
Start Trading Crypto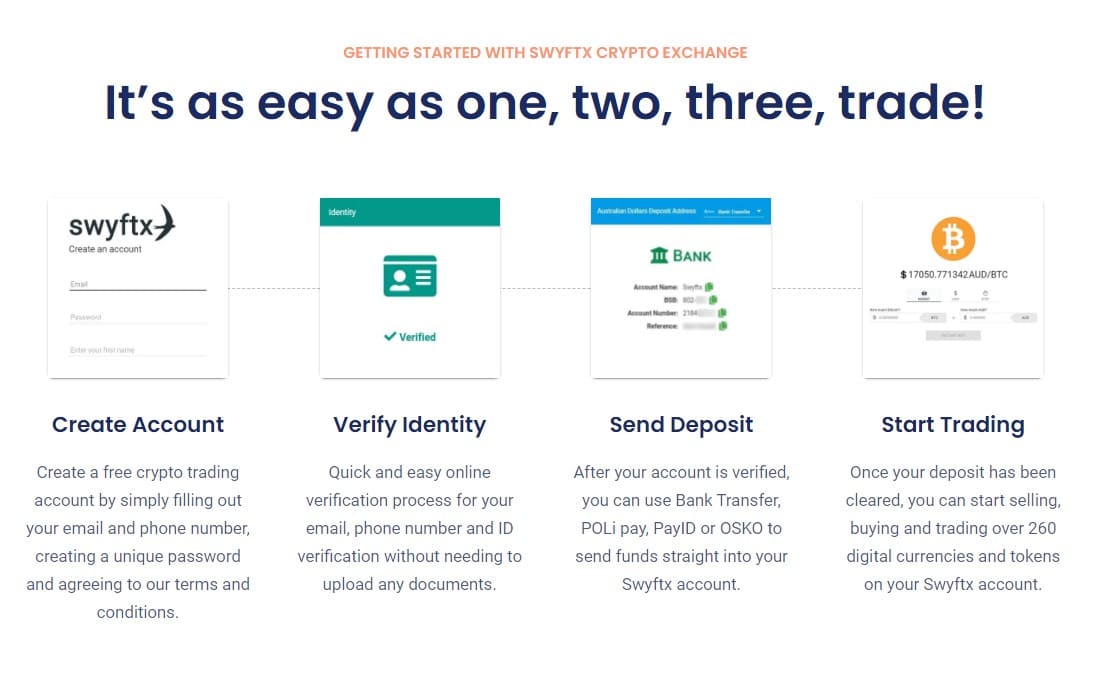 For buying and selling crypto on Swyftx, there is a very neat order-entry form that displays the exchange rate of the selected crypto (with BTC as a default option) against AUD. What I like best about the Swyftx Buy panel is that the exchange automatically deducts the 0.6% fee and presents only the final sum you can get for the money.
In addition, you can choose between a few order types:
Market order
Limit order
Recurring order
Stop order
The last two orders belong to the category of more advanced strategies and usually go with seasoned crypto traders. So, if you're looking for a pro-trading experience, you can bring up the in-platform charting package powered by TradingView. I shouldn't explain further — TradingView is a familiar tool in the digital trading community, well-known for its sophisticated charts and other real-time market indicators.
Frequently Asked Questions
Is Swyftx a secure exchange?
Swyftx is an AUSTRAC-registered company that complies with all applicable AML/CFT (Anti-Money Laundering/Combating the Financing of Terrorism) and KYC protocols. The exchange has a clear history — no hacks or identity breaches have been recorded since it began operating in 2017.
As I can see on their official website, Swytx applies the standard digital security measures, including breached password detection and pen testing, and strongly recommends users to activate biometric authentication and 2FA (two-factor authentication) for added security. In addition, Swyftx regularly appoints external auditors for transparency and uninterrupted regulatory compliance.
However, the exchange doesn't offer an insurance package for the funds (either crypto or fiat) of its account holders stored on the platform.
Does Swyftx have Australian-based customer support?
It does. The customer support team of Swyftx consists of industry experts, available for you on the Swyftx open phone line, live chat, or email — no bots, no impersonal responses but a real tech representative willing to help you at any time.
Is Swyftx suitable for beginners?
Swyftx interface is neat and uncluttered despite the abundance of trading and earning options. The verification process is as simple as possible. The buy-and-sell options are intuitively displayed with in-platform guidance and fee transparency. So, the answer is yes, Swyftx is perfect for beginners who reside in Australia.
Is Swyftx an Australian company?
Swyftx is an Australian brand owned and operated under the business trading name SWYFTX Pty Ltd. The company is an AUSTRAC-registered digital currency exchange and works in full compliance with Australian legislation to reduce the chances of money laundering or other financial scams.
Is Coinbase better than Swyftx?
Coinbase is a US-based crypto exchange with a global impact on the entire crypto industry. The exchange has been present on the crypto scene since 2012 and in its decade of existence, Coinbase has served millions of users across the world. It's a highly regulated company with an exceptionally user-friendly platform and hence, always attractive for beginners.
However, Swyftx is a better solution for beginners based in Australia. While Swyftx offers a few deposit methods, Australian users can fund their Coinbase accounts/ make instant purchases only through a debit card, resulting in higher costs.
Is Swyftx better than Binance?
It's almost impossible to make a direct comparison between Swyftx and Binance simply because they have different audience targets. Binance is a global giant and offers an advanced trading platform, featuring everything you can possibly imagine doing with crypto — from instant buys and spot markets to leveraged trading, futures, and a separate P2P platform. Binance services have been adjusted to the purchasing style of Australian traders, giving them an option to deposit Australian Dollars through PayID/Osko.
However, this uncountable diversity of markets and multiple platform layers can be overwhelming for beginners, so I recommend you stick to a local crypto service like Swyftx at the beginning. If nothing, you'll always have an Australia-based support team to rely on.
Which is better, CoinSpot or Swyftx?
Because of the ease of use and local availability, both Swyftx and CoinSpot are considered the best crypto exchanges for Aussie traders. However, it seems to me that Swyftx makes a better balance of the most-desired features of a crypto exchange — sleek navigation, demo mode, fee schedule, and personalized customer support.
Who is Swyftx owned by?
Swyftx is owned and fully operated by Swyftx Pty Ltd (ACN 623 556 730), with Alex Harper as the CEO of the exchange.
Does Swyftx have a withdrawal limit?
Maximum withdrawal limits on Swyftx depend on your verification tier. Ultimately, you can cash out up to AUD 100,000 per day, which is much higher than international exchanges like Binance ($8,500) and Coinbase ($3,000) and the majority of Australian crypto exchanges like Digital Surge ($10,000) and CoinJar ($5000).
Conclusion
All things considered, Swyftx is definitely the center on the Australian crypto map. It skillfully combines the perks you need for a full crypto experience — a satisfying diversity of coins and trading options like international leading brands and comfort of use, which is usually a perk of locally-based services.
Finally, I hope this detailed review helped you get a clearer picture of the Swyftx operational pattern and caught your attention enough to create a Swyftx account today.
Related:
Swyftx Alternatives
| Exchange Name | Deposit Methods | Fiat Currencies | Crypto | Trading Fees | Sign Up |
| --- | --- | --- | --- | --- | --- |
| Swyftx | PayID, POLi, OSKO, Bank Transfer, Debit Card, Credit Card, and Crypto | USD / AUD | 300+ | 0.6% | $20 BTC Sign-up Bonus |
| CoinSpot | Bank Transfer, Crypto, Fiat, BPAY, PayID | AUD | 300+ | Instant buy/sell: 1% OTC: 0.1% | |
| Binance | Crypto, Debit Card, Credit Card, PayID, Osko | 40+ | 350+ | 0.1% | |
| Bybit | Credit Card, Debit Card, Bank Transfer, Wire Transfer, EFT, Crypto | 50+ | 160+ | 0.1% to 0.6% | |
| Coinjar | Google Pay, Apple Pay, NPP, Crypto, Cash, Osko, Blueshyft, PayID | AUD | 50+ | Instant Buy fees (Visa/Mastercard): 2% Conversion fees: 1% | |
| Independent Reserve | Crypto, POLi, PayID, Swift, Osko, EFT | AUD, USD, NZD, SGD | 30+ | 0.02% – 0.5% | |
| Kraken | Swift, Osko, Bank Transfer | USD, GBP, CAD, YPY, EUR, AUD, and CHF | 100+ | Maker fees: 0% – 0.16% Taker fees: 0.10% – 0.26% | |
| Coinbase | Crypto, Debit Card | USD, AUD, GBP, EUR, AUD | 50+ | Credit/Debit Card Fee: 3.99% Taker Fee: 0.60% ($0-10K) – 0.05% ($500M+) Maker Fee: 0.40% ($0-10K) – 0% ($500M+) | |
| Bittrex | Crypto, SEPA Transfer, Wire Transfer, Bank Card | USD, EUR, GBP, JPY | 300+ | Maker fees: 0% – 0.75% Taker fees: 0.05% – 0.75% | |
About The Author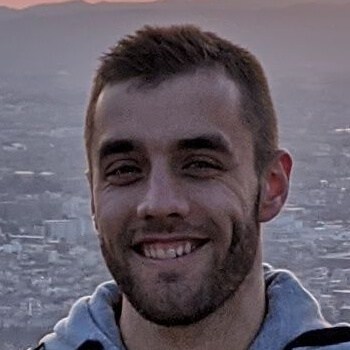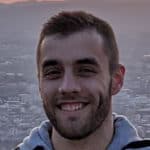 James is the main editor. With a passion for finance and anything blockchain, cryptocurrency is right up his alley. He's responsible for most of the content on the site, trying his best to keep everything up to date and as informative as possible.