Disclaimer: We may receive a commission for purchases made through the links on our site. However, this does not impact our reviews and comparisons. Learn more about our Affiliate Disclosure.
The easiest way to engage in trading crypto is through a reputable and trustworthy cryptocurrency exchange platform.
This is easier said than done because there are more than 400 trading platforms on the market, which can seem quite frightening for crypto newcomers. Every platform advertises itself as the best possible choice, emphasising its strongest points, but none of those exchanges discusses its negative aspects.
That's why you should always choose a platform that's among the leading exchanges, and Australian crypto enthusiasts really have a nice choice of platforms at their disposal.


VS


You can always choose a large international crypto exchange like Binance, Coinbase, eToro, KuCoin, or Kraken, but there are a bunch of Aussie platforms that also offer supreme quality crypto services, including the likes of Digital Surge, Independent Reserve, Swyftx, and CoinSpot.
In this guide, we'll take a detailed look at two high-quality crypto exchanges, KuCoin and Swyftx, through a comparative review to find out which platform provides better services overall and is better suited for Aussie crypto traders.
Be sure to stick to the end of this guide and find out which platform is our winner.
Comparison Table
| | | |
| --- | --- | --- |
| Features | KuCoin | Swyftx |
| Supported Cryptos | More than 500 cryptos | Nearly 300 cryptos |
| Trading Fees | 0.1% | 0.6% |
| Deposit Fees | You can't deposit fiat currency. Only direct crypto purchases are possible with fiat money on KuCoin. | Free |
| Withdrawal Fees | Free | Free |
| Average Market Spread | High market spread fluctuation, anywhere between 0.5% to 4%. | 0.4% |
| Regulatory Status | Isn't regulated by AUSTRAC and isn't licensed to operate in the US. | Regulated by AUSTRAC |
| Customer Support | Live chat and help desk support ticket option. | Live chat, email, and help desk support ticket option. |
| Payment Methods | Bank transfers for P2P trading. The other trading methods support PayPal, Apple Pay, WeChat, AliPay, Google Pay | Credit cards, debit cards, POLi, PayID, OSKO, and bank account transfers. |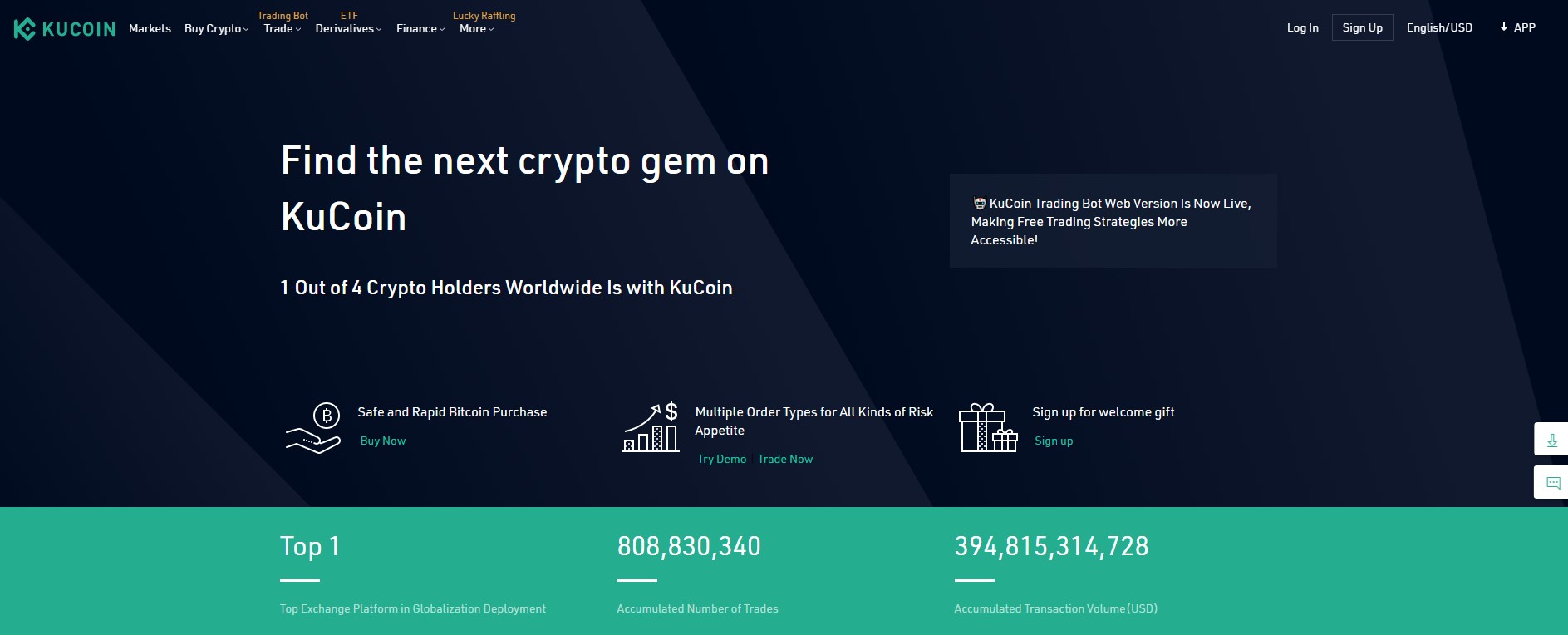 The Southeast Asian crypto market is enormous since it covers a geographical region with over two billion people, and KuCoin is one of the top choices for crypto traders in countries like India, Indonesia, China, and Vietnam, but it's also among the top picks for Aussie crypto enthusiasts.
The platform supports a wide range of Asian fiat currencies, plus the Australian dollar (AUD), which makes it a convenient choice for Australian traders.
The team behind KuCoin began working on the platform back in 2013, but they officially launched it through an initial coin offering (ICO) in 2017. The ICO brought considerable funds into the platform, through the sale of KuCoin Shares (KCS) tokens.
One of the main selling points of KuCoin is its huge selection of cryptocurrencies, wide support for Asian fiat currencies, and popular payment methods.
Pros
One of the largest selections of supported digital currencies, with over 500 different coins.
KuCoin supports 50 fiat currencies.
Low fees.
Cons
Isn't licensed to operate in the US.
Isn't regulated by AUSTRAC, which means users don't enjoy legal protection from Australian authorities in case they get scammed on KuCoin.
Not a very beginner-friendly platform.
Victim of a cyberattack with nearly 300 million USD worth of stolen crypto.
Low quality customer support services.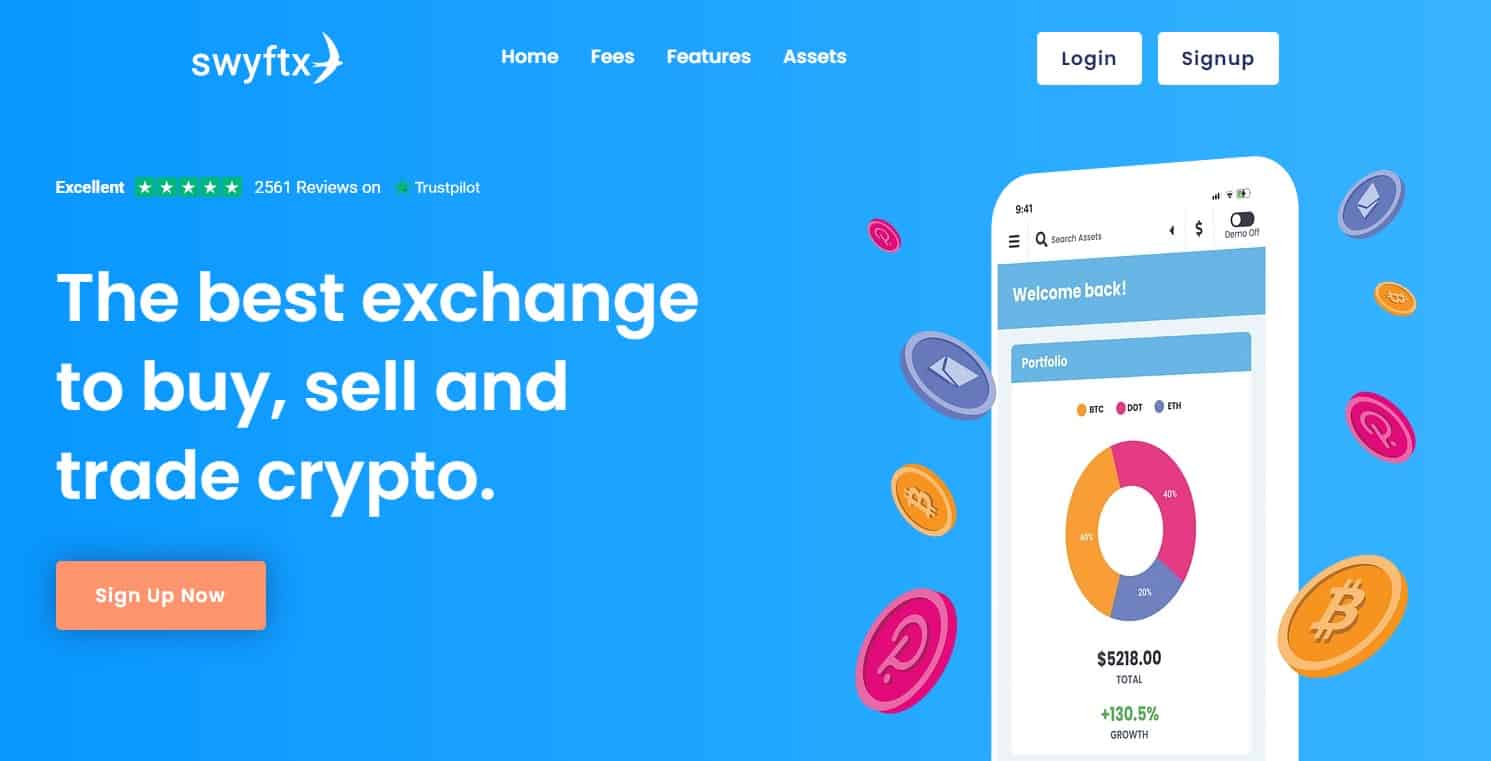 The Swyftx crypto exchange is specially geared towards beginners who want to get into the world of crypto investments without any unnecessary hassle. It's a local exchange that's been operating since 2018 with full focus on the Australian market.
For a local exchange platform, Swyftx offers exceptional services, from crypto selection to service fees.
As a platform focused on simplicity, Swyftx eliminates all sorts of access barriers, such as complex payment procedures or the need to deposit crypto from third-party wallet apps.
One of the most important characteristics of Swyftx is that it's fully regulated by AUSTRAC, which means users are fully protected against scams under Australian law.
During the account verification process, you'll be required to provide detailed personal information – but don't worry, the information is only used to prevent criminal activities and money laundering.
Pros
Consistently low spreads for crypto trading.
Almost 300 trending coins and tokens that are always available, without liquidity issues.
One of the best customer support teams among crypto exchanges.
Crypto tax filing options.
Users can open a demo account to practice trading.
Very easy to use, even for absolute beginners.
Cons
Lacks advanced trading tools and order types.
No technical analysis options that are usually available on crypto exchanges.
No margin trading, futures, or leverage features.
Crypto Selection
A lot of leading international exchanges actually have quite a limited crypto selection with just several tens of cryptos. KuCoin and Swyftx are different because both support all the coins you'll ever need.
KuCoin supports nearly all of the top 100 coins, according to Coinmarketcap. Officially, the platform supports more than 500 cryptocurrencies, ranging from low cap crypto projects that might not be worth investing in at all to some hidden crypto gems that might yet explode in terms of popularity and trading volumes.
Just name an altcoin, and KuCoin will make it happen. From Bitcoin (BTC), Cardano (ADA), Litecoin (LTC), Ripple (XRP), Binance Coin (BNB), Ethereum (ETH), Filecoin (FIL), Enjin Coin (ENJ), Fantom (FTM), and Dogecoin (DOGE) to Dash (DASH), Decentraland (MANA), Cosmos (ATOM), Komodo (KMD), and Compound (COMP) – this exchange isn't picky at all.
Swyftx doesn't trail behind either, as the Australian giant supports close to 300 cryptocurrencies, including leading digital currencies and numerous mid to low-cap coins.
The main difference between KuCoin and Swyftx lies in their liquidity. Despite supporting a much larger number of coins, KuCoin isn't very successful at providing liquidity for a large portion of those currencies.
This means that many coins have extremely high market spreads and high prices because their trading volumes are low. Swyftx, on the other hand, has relatively stable liquidity for most of its supported coins.
Crypto Selection Winner: Swyftx
Our winner is Swyftx, despite the fact that KuCoin officially supports more coins because Swyftx ensures solid liquidity levels for tradable crypto assets, which means you won't be dealing with high spreads and unrealistically high prices.
Fee Policy
The platform fee policy should always be in line with the quality of provided services. That's why you should take a detailed look at exchange platform reviews and customer feedback regarding the fees and service quality before signing up.
Some platforms might charge very low fees, but the quality of their services is also low, or they provide a very limited range of trading possibilities. Other platforms might have higher fees, along with a higher service standard and a broader range of features.
Sometimes, a platform can have low fees but still provide top-quality services. Both KuCoin and Swyftx belong to this last group.
Trading Fees
Just like many popular exchanges, KuCoin also uses the market maker/taker fee model for trading operations, divided into 12 tiers. Your trading fee starts at 0.1% for volumes below 50 BTC, and it can drop down to as low as 0.025% if you're a large-scale trader with at least 160,000 BTC worth of monthly trading deals.
Typically, most users stay in the 50 BTC trading tier.
Another way to advance in platform fee tiers is by holding KuCoin Shares (KCS) tokens. The entry fee of 0.1% is reserved for users who have been holding less than 1,000 KCS for at least a month, while the highest tier is reserved for holders of at least 150,000 KCS.
The Swyftx exchange has a much less complicated fee policy, which isn't surprising since the platform doesn't have advanced trading features and a classic trading interface.
Swyftx offers one trading mode through buy/sell crypto options with a fixed 0.6% platform fee. This fee policy is much more suitable for beginners.
Although the fee is considerably higher than the basic 0.1% KuCoin fee, keep in mind that most assets on Swyftx have solid liquidity levels, which means you won't incur high spreads.
Deposit and Withdrawal Fees
When buying crypto with any of the supported fiat currency payment methods, you won't be charged any additional KuCoin fees, but your payment provider might charge you a service fee.
Crypto deposits and withdrawals are also free of charge, except for the blockchain transaction fee which varies depending on the blockchain in question.
Similarly, Swyftx NZD and AUD deposits and withdrawals are totally free. Still, banks and other service providers might charge you additional fees for the favour.
Fees Winner: Swyftx
KuCoin's low fees might seem great at first glance, especially when compared to the much higher Swyftx trading fee. However, the low liquidity of many of KuCoin's cryptos means that you'll end up paying much more than the 0.1% fee, which is why Swyftx wins this round.
Crypto Market Spread
Apart from platform fees, you need to pay special attention to the market spreads because you won't have much use from low trading fees if the spreads are high. The crypto market spread signifies the difference between the average buy and sell prices for different cryptocurrencies on an exchange platform.
KuCoin doesn't have issues with market spreads of leading cryptos like BTC or ETH, but it has very high spreads for low and mid-cap altcoins. The spreads on KuCoin can go anywhere from 0.5% to more than 4%, which can be quite a lot if you're investing large amounts of cash in crypto.
If you buy crypto on KuCoin for the standard 0.1% trading fee, you actually end up paying more for that cryptocurrency than you would on many other platforms due to its high spreads.
Swyftx, on the other hand, is known for stable and low spreads, with an average crypto spread of 0.4%. When you combine the 0.4% Swyftx spread with their 0.6% trading fee, you often end up paying much less for your crypto than on platforms with much lower trading fees but higher spreads.
Spread Winner: Swyftx
With an average spread of 0.4%, our vote goes to Swyftx in the crypto spread category.
Customer Support
Even though email support is considered the most basic option for contacting an exchange platform's help desk, for some reason, KuCoin doesn't have this option. Instead, you can use the live chat and support ticket option.
The live chat support option sounds great, but in practice, your questions will be answered by chatbots that often lack the flexibility and understanding of solving complex user issues. Also, the KuCoin support ticket service has a lot of negative reviews by users who claim that their queries often end up unresolved for days.
The Swyftx support team is the sharp opposite of KuCoin. Users can contact support through email, support tickets, and live chat.
The key difference is that the Swyftx live chat is run by real humans, who are always ready to answer all of your platform-related questions and help you solve your account issues.
The team is very professional, and their average response time is just a couple of minutes. If you run into any problems while using Swyftx, a dedicated team of professionals is ready to help you right away.
Customer Support Winner: Swyftx
Swyftx is clearly the winner when it comes to customer support because chatting with an assistant who knows how to help you always beats talking with a chatbot with limited capabilities.
Mobile Apps
The early days of crypto, when the exchange platforms only had browser versions, are long gone. Today, every popular crypto exchange that aspires to attract a huge user base needs to have a perfectly working mobile app for Android and iOS compatible devices.
In fact, a large portion of cryptocurrency trading happens through mobile app versions. Brokers grew accustomed to being able to react to sudden price changes and initiate trading deals while on the move.
KuCoin really has a fantastic mobile app that's much easier to use than the web-based platform. The app comes with a smooth and clear design, enabling users to conduct all types of trading orders and crypto operations in just a few clicks.
A big plus for the KuCoin app is the fact that it supports all of the advanced trading features.
The Swyftx mobile app is also really easy to use, and all of the platform features are available through the app, but compared to KuCoin's app, the Swyftx app looks very limited because it lacks a lot of the advanced trading features and order types present on KuCoin.
Mobile App Winner: KuCoin
In the mobile app category, the winner title goes to KuCoin because their app offers a much broader range of functionalities and features than Swyftx.
It's worth noting that Swyftx can't compete with KuCoin in this segment because KuCoin is a platform geared towards experienced traders who develop complex trading strategies, while Swyftx only supports the most basic order types.
Deposit Methods
Crypto exchange deposit methods can be a serious entry barrier for many users. For example, exchange platforms that only allow crypto deposits are quite difficult to access by crypto beginners who aren't experienced in transferring funds from crypto wallets. That's why user-friendly platforms tend to enable various types of fiat currency deposit methods too.
Despite being one of the largest crypto exchanges on the market, KuCoin doesn't allow users to make direct fiat cash deposits. This means you can't top up your account with fiat money and then invest them in crypto.
Instead, KuCoin requires users to directly purchase crypto with fiat without depositing cash into their accounts.
Crypto purchases can be made with 50 different fiat currencies, including USD, GBP, EUR, AUD, KRW, JPY, VND, IDR, and many more. You can purchase crypto with a credit card, debit card, AliPay, WeChat, Google Pay, PayPal, and Apple Pay.
Bank transfers are also an option, but only if you're using the peer-to-peer (P2P) trading feature, which allows you to directly purchase crypto from other traders.
Swyftx doesn't support 50 fiat currencies since it isn't an international crypto exchange. The platform allows users to buy crypto with AUD and NZD. You don't need to directly purchase crypto with fiat on Swyftx because the platform allows users to deposit cash and spend it later.
It's possible to fund your Swyftx account with bank cards, bank account transfers, and with various popular Australian payment services like PayID, OSKO, and POLI.
Deposit Methods Winner: Swyftx
Swyftx is the apparent winner when it comes to deposit methods because KuCoin doesn't allow users to deposit cash, which can be a huge inconvenience for some users.
Platform Security
Regardless of the fee policy, available cryptocurrencies, and extra features such as staking or advanced order types, if an exchange platform has poor security features, the basic rule is that you should keep a safe distance.
KuCoin has millions of users across the globe, but in late 2020, the platform was the victim of one of the biggest security breaches ever experienced among crypto exchanges, losing a large number of users. The hack resulted in some 281 million USD worth of stolen crypto.
It's worth mentioning that most of the stolen digital assets were recovered and the affected users were reimbursed by the platform. Also, KuCoin stepped up its security measures and introduced various safety improvements, but the fact that they were a victim of such a hack is a serious deal-breaker for many users.
When it comes to Swyftx, the platform is known for being one of the most secure Australian crypto exchanges, with absolutely no hacking history.
User accounts are protected with passwords and two-factor authentication, and the platform itself is regularly tested for security weaknesses by independent, third-party security auditors.
Platform Security Winner: Swyftx
Security should be a top priority for every crypto trader, and that's why our vote goes to Swyftx because they've never been hacked.
The Final Verdict
Our winner is definitely Swyftx. It's a much better trading platform for beginners, with various fiat currency deposit methods, a better customer support service than KuCoin, and a spotless security record.
Still, despite all its shortcomings, KuCoin has a huge user base, and it is ranked pretty high among the largest global crypto exchanges. However, if you're looking for overall top-quality crypto services, Swyftx is a better choice in most categories.




Related:
Disclaimer: Digital currencies and cryptocurrencies are volatile and can involve a lot of risk. Their prices and performance is very unpredictable and past performance is no guarantee of future performance. Consult a financial advisor or obtain your own advice independent of this site before relying and acting on the information provided.