Disclaimer: We may receive a commission for purchases made through the links on our site. However, this does not impact our reviews and comparisons. Learn more about our Affiliate Disclosure.
It isn't easy evaluating a cryptocurrency exchange that's only been around since 2017. However, even though Kucoin.com is new to cryptocurrency markets, they've generated resounding praise with a reputation for excellent customer service and one of the top easy to use crypto exchanges available in the US. They must be doing something right.
Initially headquartered in Hong Kong, Kucoin was founded by a dedicated team of blockchain specialists. They started building the platform in 2011 but kept tweaking the design and security until it met their high standards. It took them 6 years to get the Kucoin platform and currency ready for the public. Kucoin is now relocated to Singapore.
The first thing you need to know about this exchange platform is that they are ambitious. Their goal is to be one of the top ten cryptocurrency exchanges by trading volume within ten years. At the current rate they are launching new currencies, they could do it.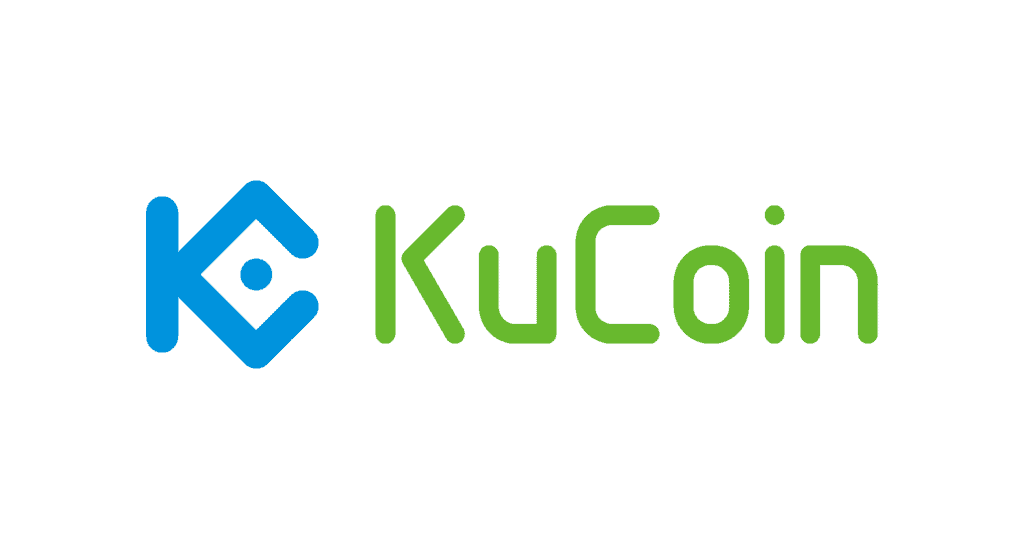 They have a good reputation for offering new coin pairs before most other exchanges. If you open a Kucoin account now, you'll have an excellent chance of getting low cryptocurrency prices on new crypto assets. It doesn't hurt that their exchange is also well-known as an excellent place for novice traders because of its easy interface and stellar customer service.
Kucoin Exchange Review
Kucoin is a Crypto-to-Crypto exchange. They don't offer fiat currencies yet, but there's a good chance that will change soon.
Even without a fiat currency option, the possibilities for crypto trading are astounding. Kucoin offers hundreds of currency pairs in addition to traditional cryptocurrency pairs. If there is a pairing that you haven't yet seen on the exchange, tell them what you have in mind, and they might help set it up.
Kucoin keeps its fees low to entice new customers. Like other exchanges, it operates on a tiered system that incentivizes users to carry a balance of Kucoins in their wallets. Those who do a higher volume, and have more Kucoins, reap the benefits of lower fees on trades and rewards.
They also return 90% of collected fees to the customer, either through the invitation bonus, or the buyback system. The buyback system uses 50% of the daily trading fees to buy back the Kucoin cryptocurrency and distributes them back to users who have at least 6 Kucoin in their accounts.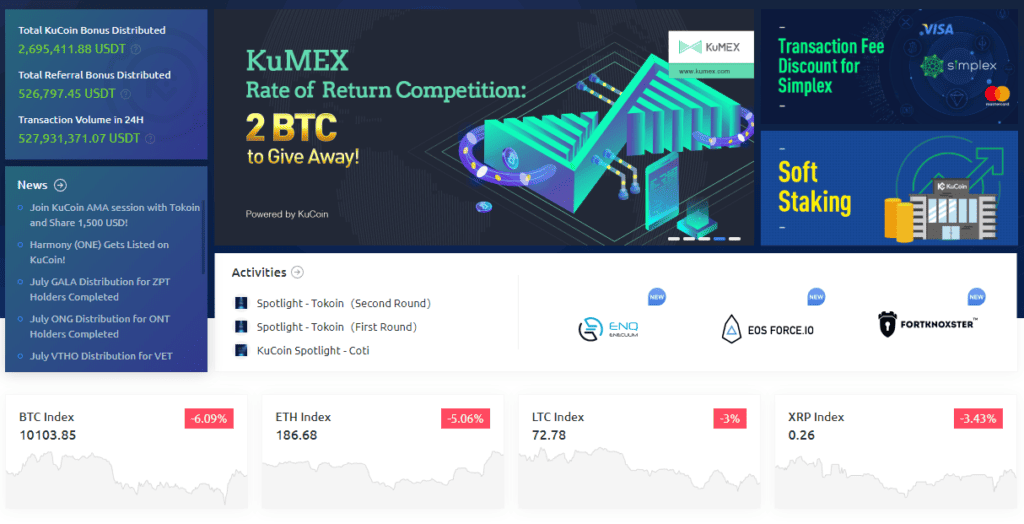 Kucoin has always taken security seriously. They built their exchange on banking-level security, with double encryption and disaster-proof, distributed, records vaults. They are, however, still new. Security might remain a concern for the future.
So far, Kucoin reviews on social media are almost entirely positive. People are very pleased with the ease of use on the exchange itself and happy with the quick customer service and speed of transactions.
If you're looking to get started, they've even provided a quick link at the bottom of their website. It walks you through the entire process as though you know nothing about trading, from opening an account to making your first trade. It can't get any easier.
Cryptocurrencies Offered
Kucoin is still growing, which makes writing about what they offer a little frustrating. They're always adding new trading pairs to their exchange, which you see if you glance at the news feed on their webpage. It can be challenging to keep up with their current offerings.
What we can say is that the exchange offers hundreds of digital assets to trade including Bitcoin (BTC), Bitcoin Cash (BCH), Ethereum (ETH), Ripple (XRP), Litecoin (LTC), USDT, Neo, ERC-20 tokens, etc. With all that they offer, it's no wonder they introduce several new pairings per week.
All of this means that you'll have access to new altcoins before they're available anywhere else. It also means that you'll have the starting prices for them, which are always low. Novice investors can get in before the professionals.
The most exciting thing about Kucoin is its cryptocurrency, the Kucoin Shares (KCS). The platform uses it to incentivize customers by providing discounts on fees and bonuses for referrals. It may sound like a scam, but Kucoin doesn't see any money from it. They've even voluntarily destroyed millions of their currency to keep it solvent and liquid.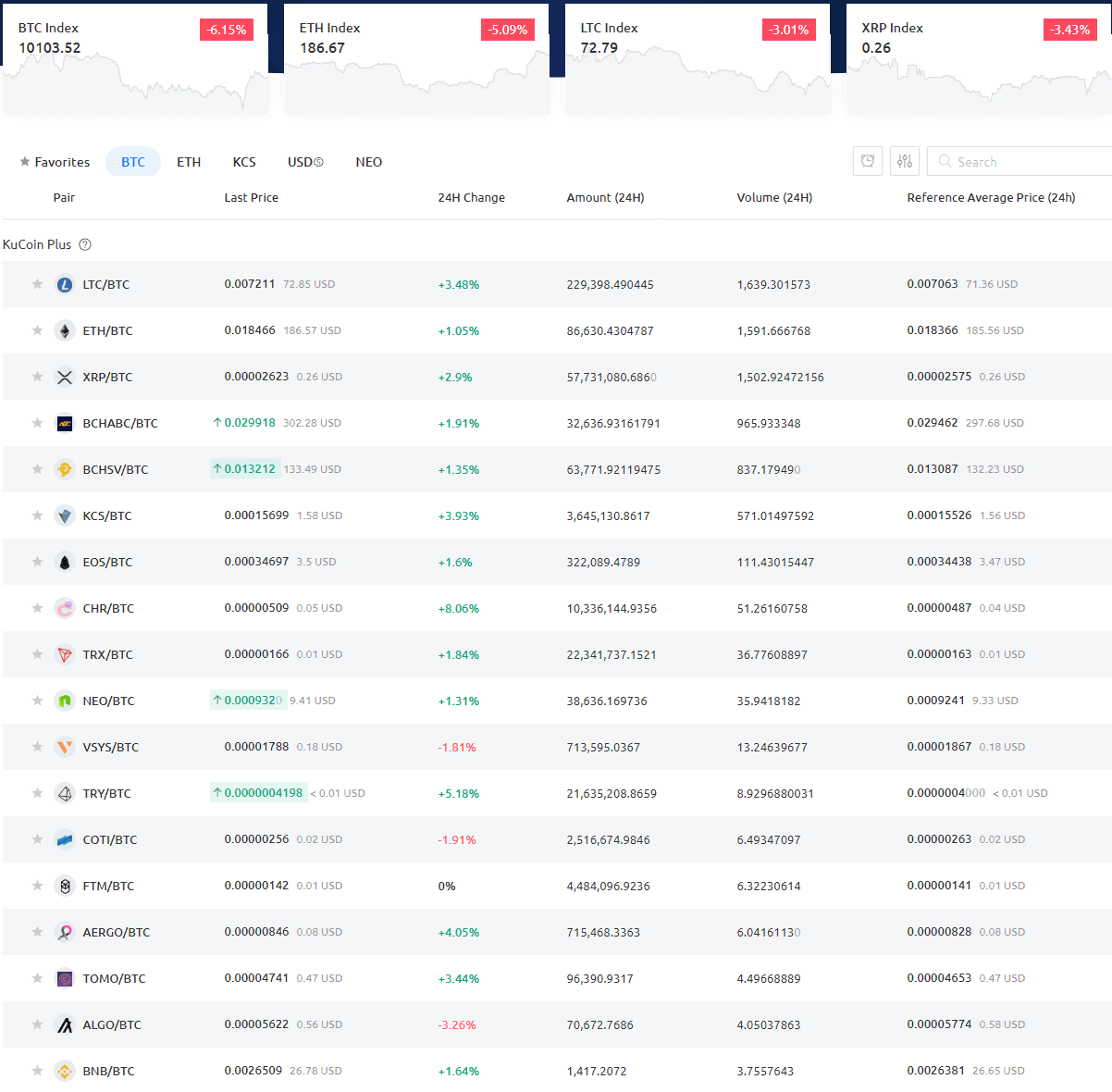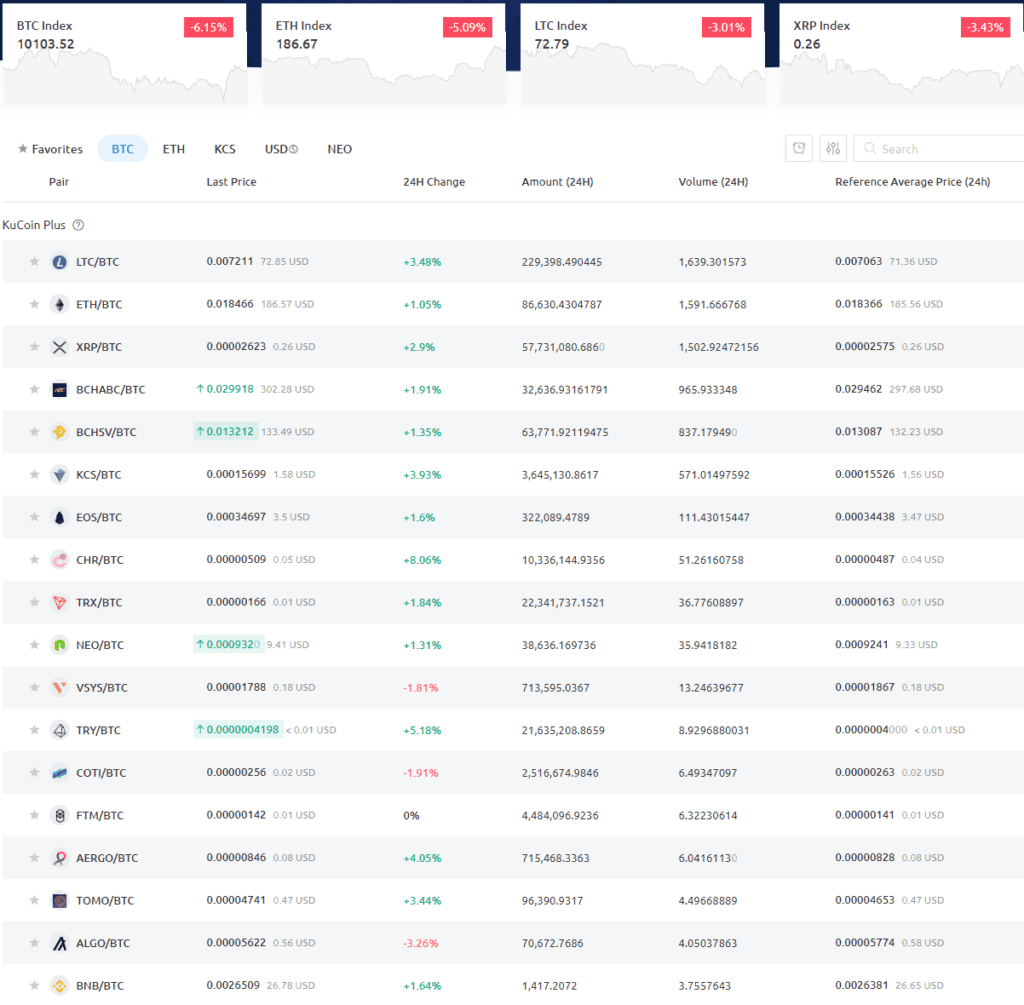 With all hundreds of cryptocurrency options in hundreds of distinct pairings, users can expect a growing marketplace that responds quickly to demand. It's unclear whether they can sustain the pace of growth, however—but, for the moment, they appear to be keeping up with things.
Kucoin Trading Fees and Limits
Let's take a moment to look at the exchange and see what all the fuss is about. As mentioned above, Kucoin designed its platform to be easy to use, particularly for beginners. It's customizable and adaptive, allowing quick access to order history, current and past orders, and current pricing in one glance.
Of course, before you can begin, you need to make an account. There's nothing special about this process. It's straightforward and user-friendly.
Once you perform a KYC check and your account has been verified, you'll need to start depositing. Kucoin is a crypto-to-crypto service only, so cryptocurrency coins might take a while to get there, but the flexibility offered by having so many different coins available means that you can deposit coins with a faster transfer rate.
Kucoin charges nothing for deposits.
Once your account is funded, you're ready to begin trading. Select the base currency of your deposit from a drop-down list, then find the paired trade you want to make. The trading activity for that pair will appear in the display with the pricing information at the forefront.
Kucoin offers many options to personalize the exchange screen, such as choosing between a candlestick view or a line graph, among other possibilities. If you want to set indicators, the exchange provides a drop-down list of available options. They even have a compare tool that allows you to track performance between different cryptocurrencies.
Kucoin designed its exchange to maximize accessibility for experienced traders and novices alike. Buy orders, for instance, appear in green, and sell orders are in red, which keeps things clean and easy to understand, even at a glance. The buy and sell order boxes are coded the same way, which makes for a nice and easy-to-read display that works well for everybody.
The center box at the bottom of the display shows active orders. There's a tab on top of it that allows you to toggle between current orders and past delivered orders. It's a pretty convenient method, allowing you to track your order history and the state of your current orders with a simple click.
Making trades is as simple as entering it into one of the order boxes and setting the prices and amounts. As with other exchanges, maker fees are always lower than taker fees.
Kucoin bases its fee structure on a tiered system that looks at the total amount of trades in the last 30 days as well as how many Kucoins you have in your account. The more Kucoins you have, the lower your fees will be. Due to the buyback program, which acts a little like a dividend, you'll receive steady shares of Kucoin just for doing business with them.
Withdrawals from an account are another story, though. Each different cryptocurrency has a withdrawal fee that depends upon its current market value. Kucoin also places a minimum on all withdrawals, which also depends on the type of currency withdrawn.
Customer Support
With a new exchange like Kucoin, you'd expect growing pains in regard to their commitment to customer service. That seems to be the case here as well. There is a flood of mixed reviews from customers. Some have nothing but good things to say about the service they received. Others are disgusted by a lack of professionalism and are frustrated with communication issues.
Kucoin offers multiple methods for contacting their dedicated customer support team. You can either chat instantly with available personnel through the online chat screen or send a report through email. The website promises that they will handle all queries in a timely and efficient manner.
The website also states that they have an incredibly professional staff who works hard to resolve issues in a timely fashion, but whether that works in practice remains to be seen. Customers report regular language issues with the representatives and their general lack of knowledge about the product and customer problems.
These difficulties aren't what users hope for when selecting a new exchange.
The mixed reviews make assessing their customer support as problematic as writing about their history. It's possible—and likely—that these issues will get addressed as they grow. For the moment, though, prospective customers should be aware that there may be service issues if they decide to work with Kucoin.
Is Kucoin Safe to Use?
Kucoin has never suffered a hack and is built on bank-level encryption. According to their website, they have taken impressive steps to guarantee security with multi-level encryption and disaster-proof storage. They offer two-factor authentication that requires Kucoin users to provide their password and the verification code sent to their mobile device or generated on an app like Google Authenticator.
Mixed user reviews imply that customers bring up security concerns with service personnel that never get answered satisfactorily.
It isn't easy to find much information about Kucoin's security on its website. If customers dig through their notices, they'll find reports on what to look for in Phishing scams and other identity poaching issues, but there isn't much concrete listed about their programs and procedures to provide protection.
Again, though, as of 2019, Kucoin hasn't suffered a hack. We know that they provide multiple levels of encryption for their platform and transactions and that they offer bank-level security by distributing data centers in disaster-proof housing. Beyond that, there is scant information on precisely what measures are in place.
Kucoin also exists outside of any regulatory body at present. Customers interested in having regulatory oversight of their trading exchange should be cautious. Given all this, some concerned users might consider whether it's the safest place for trading.
Bottom line: For the moment, evidence suggests that Kucoin is a safe and stable trading platform, but they seem unseasoned, and the lack of specifics about their security measures is worrying.
FAQ
Does Kucoin Have a Mobile App?
Kucoin offers apps for both Android and IOS available on the Google Play Store and iOS App Store, respectively. Customer reviews for both apps are positive—so far. The apps offer most of the features of the full exchange, including trading, real-time market view, and quotes that sync with the official site.
Some customers report difficulty accessing the app at times, but otherwise, customers are very pleased with both versions.
What Countries Are Supported by Kucoin?
Kucoin is not currently subject to any regulatory authority, so they operate in all countries, but as interest in cryptocurrencies is always evolving, countries may take a more active role in regulation as time goes on. This aspect could affect Kucoin in the future as they seem to be taking little action to adhere to any existing regulatory authorities.
What Fiat Currencies and Payment Methods Does Kucoin Support?
Kucoin supports regular bank transfers, wire transfers, PayPal, and Interac e-transfers. The platform has partnered with the payment provider Simplex to allow its users to purchase cryptocurrencies using debit or credit cards. At the moment, Kucoin supports only USD and EUR deposits.
Does Kucoin Provide a Cryptocurrency Wallet?
There is an online wallet through the site from which users make their trades, but Kucoin does not offer a wallet. Though most users consider Kucoin a safe trading exchange, it's a good idea to use a hard wallet, since the platform is new and untested.
Does Kucoin Support Margin Trading?
Kucoin offers some impressive advanced crypto exchange services. This includes margin trading, order books, real-time market analysis, and even an OTC desk for large-volume traders.
Conclusion
Kucoin has an overabundance of favorable online reviews that present a glowing picture of exchange on the rise. In particular, the app reviews create the impression of a fantastic exchange that's easy to use, versatile, and packed with terrific features. All of this may be true, but it's still too soon in the company's history to trust it entirely.
Their abundant offerings of new cryptocurrencies and fee structures look attractive to any novice trader. They are worth keeping a close, but cautious, watch on, but one can't help but be wary of the fact that they're so new— particularly with the negative reviews about their customer support.
If you're looking for a company that makes a novice feel comfortable, Kucoin might be right for you, but we'd be remiss if we didn't remind prospective customers that they've still got a lot to prove. For the moment, they're one of the most promising exchanges available, though.
Related:
Disclaimer: Digital currencies and cryptocurrencies are volatile and can involve a lot of risk. Their prices and performance is very unpredictable and past performance is no guarantee of future performance. Consult a financial advisor or obtain your own advice independent of this site before relying and acting on the information provided.