Bitbuy Review 2023 – Canadian Crypto Exchange
Disclaimer: We may receive a commission for purchases made through the links on our site. However, this does not impact our reviews and comparisons. Learn more about our Affiliate Disclosure.
Can I just say that Canada has always been a crypto-friendly country? Vancouver housed the first Bitcoin ATM in 2013, Vitalik Buterin came up with the Ethereum idea in Toronto, and the Canadian government was the first to include cryptocurrency in its legal framework.
This robustly regulated climate has made Canada inherently attractive to the global crypto market and stirred up the local investment community towards decentralized finance. That's why I was eager to check out the local offers and discover how the modern Canadian market compares to the global crypto leaders.
While the general impression was one of superb service delivery, I can definitely single out Bitbuy as the best Canadian crypto exchange — incredibly intuitive, highly protected, and very affordable.
Now, let me walk you through the feature set of Bitbuy — there must be a justified reason why the exchange has earned the title of Canada's favorite.


Website: https://bitbuy.ca/
Country: Canada
Mobile app: Yes
Deposit Methods: Wire transfer, Interac e-Transfer, credit card (via Simplex)
Trading Fees: 0.10% – 0.20%
Fiat Currencies: CAD
Cryptocurrencies: Bitcoin (BTC), Ethereum (ETH), USD Coin (USDC), Solana (SOL), Bitcoin Cash (BCH), and 25+ more
Pros:
Clean and intuitive user interface;
Highly regulated and secure trading environment;
Devoted customer support;
Fast and sleek CAD deposits.
Cons:
A small choice of supported cryptocurrencies;
Operable in Canada only.
What Is Bitbuy?
Bitbuy is a Toronto-based digital asset exchange that appeared in 2016 as a rebrand of the Canadian crypto veteran InstaBT. The new exchange model was introduced by the founder Adam Goldman, together with three other renowned IT experts, Tommy Dolan, Ademar Gonzalez, and Jeremy Murray.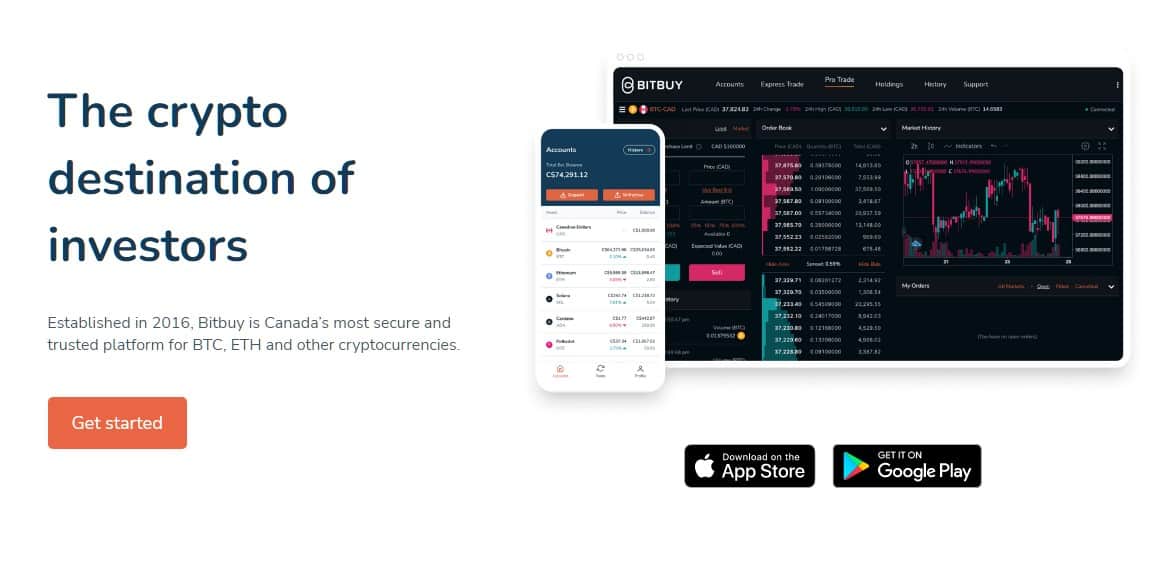 The team estimated the mainstream crypto climate pretty accurately and put considerable effort into establishing regulated grounds for transferring crypto assets. Today, Bitbuy is a FINTRAC-registered MSB (Money Service Business) and the first crypto provider in the territory of Canada, licensed by the Ontario Securities Commission and the Canadian Securities Administrators.
Amid the first Bitcoin frenzy in 2017, the exchange naturally asserted itself as a market leader mostly because it presented a workable plan for attracting investors from all walks of life. Over time, the creators have upgraded the platform with fancy functionalities, API, a mobile app, and crypto savings plans to keep up with global trends. This strategy seems to work well as Bitbuy rounded up 2021 with 400,000 registered users.
Recently, I read that the famous fintech giant WonderFi Technologies Inc acquired Bitbuy for $206 million. And according to WonderFi CEO Ben Samaroo, this partnership is a huge step toward secure access to decentralized finance (DeFi).
Who Is Bitbuy Aimed At?
As I implied above, Bitbuy targets a large customer base situated in Canada.
The exchange offers different trading models to suit different trading needs. At first sight, the entire concept looks like a beginner-oriented project, which is true to a certain extent. Bitbuy features an instant market called Express Trade, where users can buy and sell crypto against CAD in a few clicks.
However, the exchange offers a real trading platform, which is deeply liquid and equipped with all the analysis tools an experienced crypto trader needs. Because of the limited number of trading pairs, I won't recommend the Pro Trade platform to active day traders.
For whale investors, Bitbuy features a separate OTC desk. Your need to invest over 50,000 CAD to qualify for this personalized service. As an OTC customer, you'll get guaranteed execution of your order at a fixed price. The order you place won't be recorded on the exchange order book but executed individually by a Bitbuy broker.
Supported Cryptocurrencies and Tradable Assets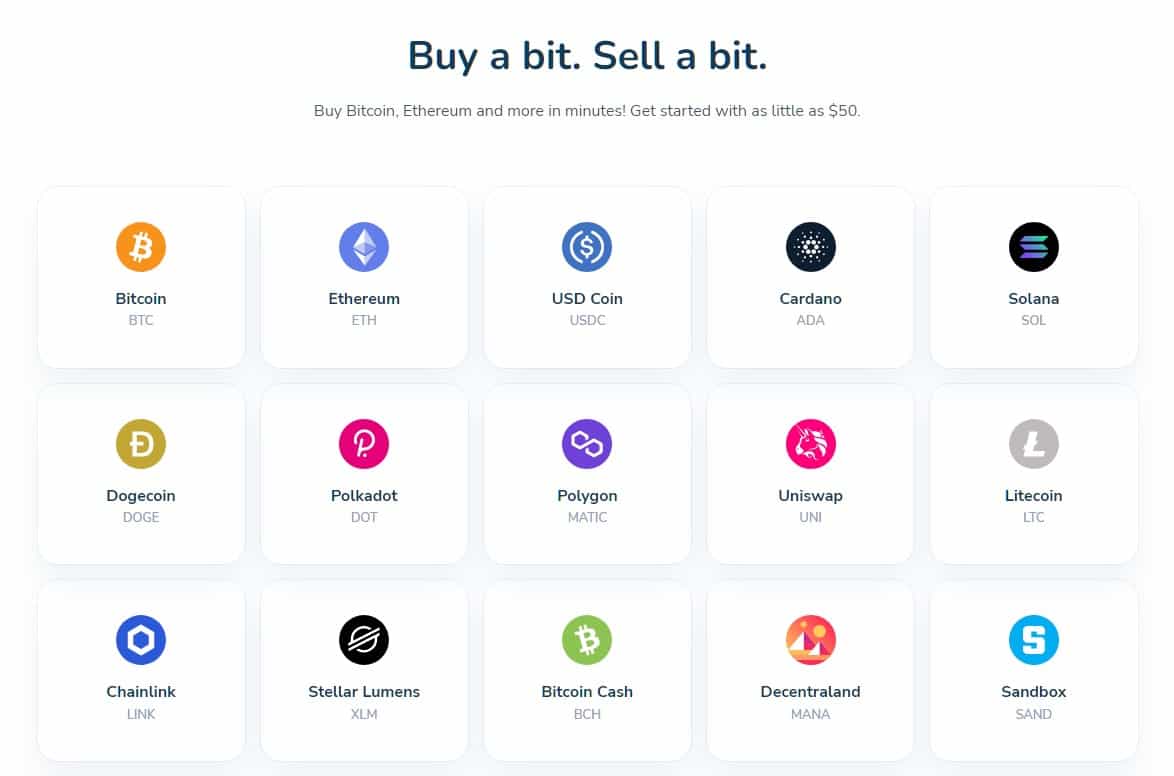 Despite the feature-rich trading platform, Bitbuy doesn't strive for coin diversity, which is not unusual for a locally-operating crypto provider.
The exchange offers nearly 30 digital assets, including Bitcoin (BTC), Ethereum (ETH), Litecoin (LTC), Cardano (ADA), Solana (SOL), EOS (EOS), Ripple (XRP), Stellar Lumens (XLM), Dogecoin (DOGE), and Polkadot (DOT). You can also find some of the most popular DeFi tokens such as Sushiswap (SUSHI), Sandbox (SAND), Axie Infinity (AXIE), Polygon (MATIC), Chainlink (LINK), and Aave (AAVE). Apart from the USD Coin (USDC), I couldn't find any other stablecoin.
The trading pairs on the Pro Trade platform consist of more or less the same cryptos from the instant-trade listing, and they can all be traded against CAD and BTC as a base currency.
Bitbuy Features
I was impressed by Bitbuy's sophisticated package of functionalities. They don't offer an array of advanced options like derivatives or CFDs but know how to keep you busy.
CAD Trading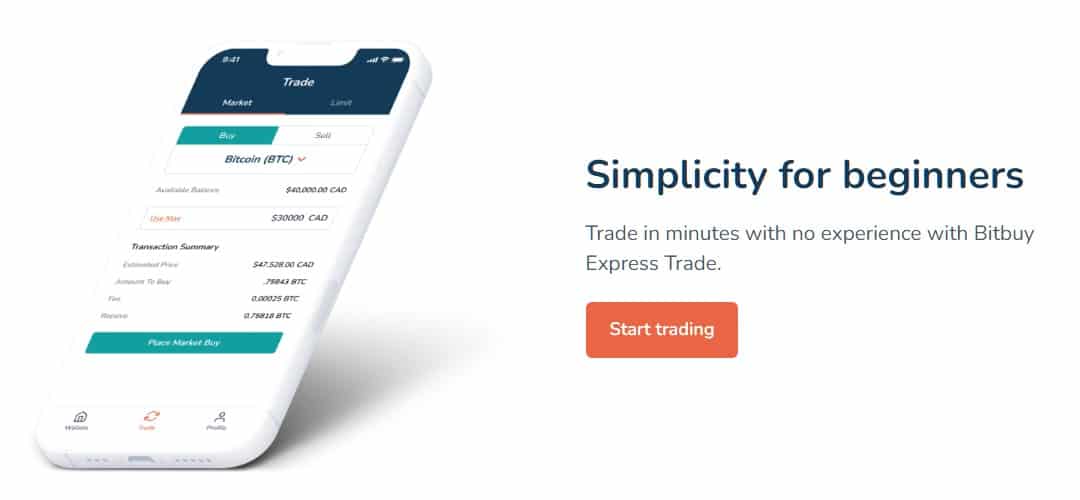 As a Canadian-based crypto marketplace, Bitbuy has done a great job bringing digital currency closer to the purchasing style of local investors. The exchange has open CAD gates on its Instant Trade and Pro Trade trading platforms and the OTC desk.
Wallet
Almost all crypto exchanges of this calibre offer an in-exchange wallet together with your exchange account. Bitbuy provides both fiat and crypto wallets for all cryptocurrencies offered on sale.
The Bitbuy wallet system is exceptionally practical to use. All you have to do is navigate to the separate Wallet page to see your total balance and the balances of each wallet individually.
In terms of safety, the general rule is that such built-in hot wallets are never recommended as a final storage solution for your crypto holdings. However, Bitbuy is one of the safest virtual safes available across Canada. The exchange keeps over 95% of your funds in cold storage.
Mobile App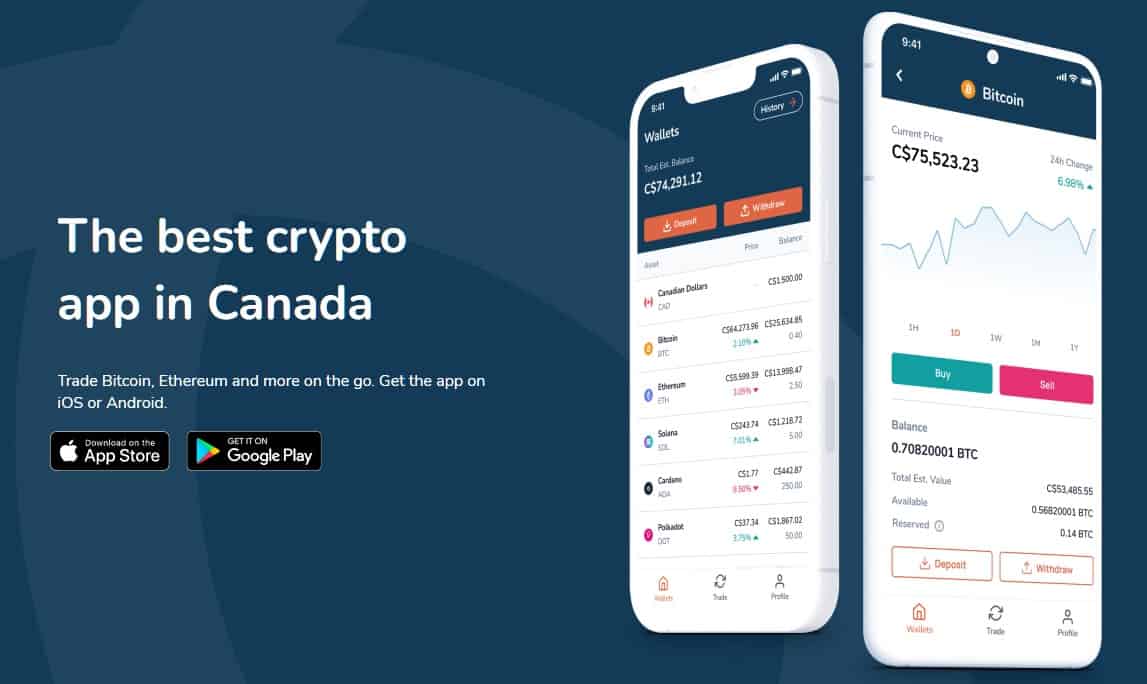 From what I can see out there, crypto exchanges are massively transforming into mobile-first platforms. Depending on the services they deliver, I can see quite successful mobile stories in the field of crypto trading.
Bitbuy is undoubtedly one of them. The exchange offers a very comfy-to-use pocket platform with a nearly identical feature set as the desktop platform. It won't be wrong to say that the mobile Bitbuy version is much easier to navigate than the original version.
For added security, the app can utilize the biometric capabilities of your iOS or Android device.
Insurance
Crypto exchanges have drastically improved in terms of fund and account protection over the past few years. Yet, I must admit very few exchanges offer an insurance plan for users' funds residing on their platforms. Unlike Coinbase, Bitbuy assets aren't FDIC-insured, but the exchange supports external insurance in partnership with the renowned BitGo custodian.
Instant Transfers to Kid Accounts
I was pleasantly surprised to learn that all transfers from a Bitbuy parent account to its kids' accounts are completely free of charge. Cross-account transfers are nothing new today, but not many crypto exchanges offer them without a substantial charge.
Pro Trading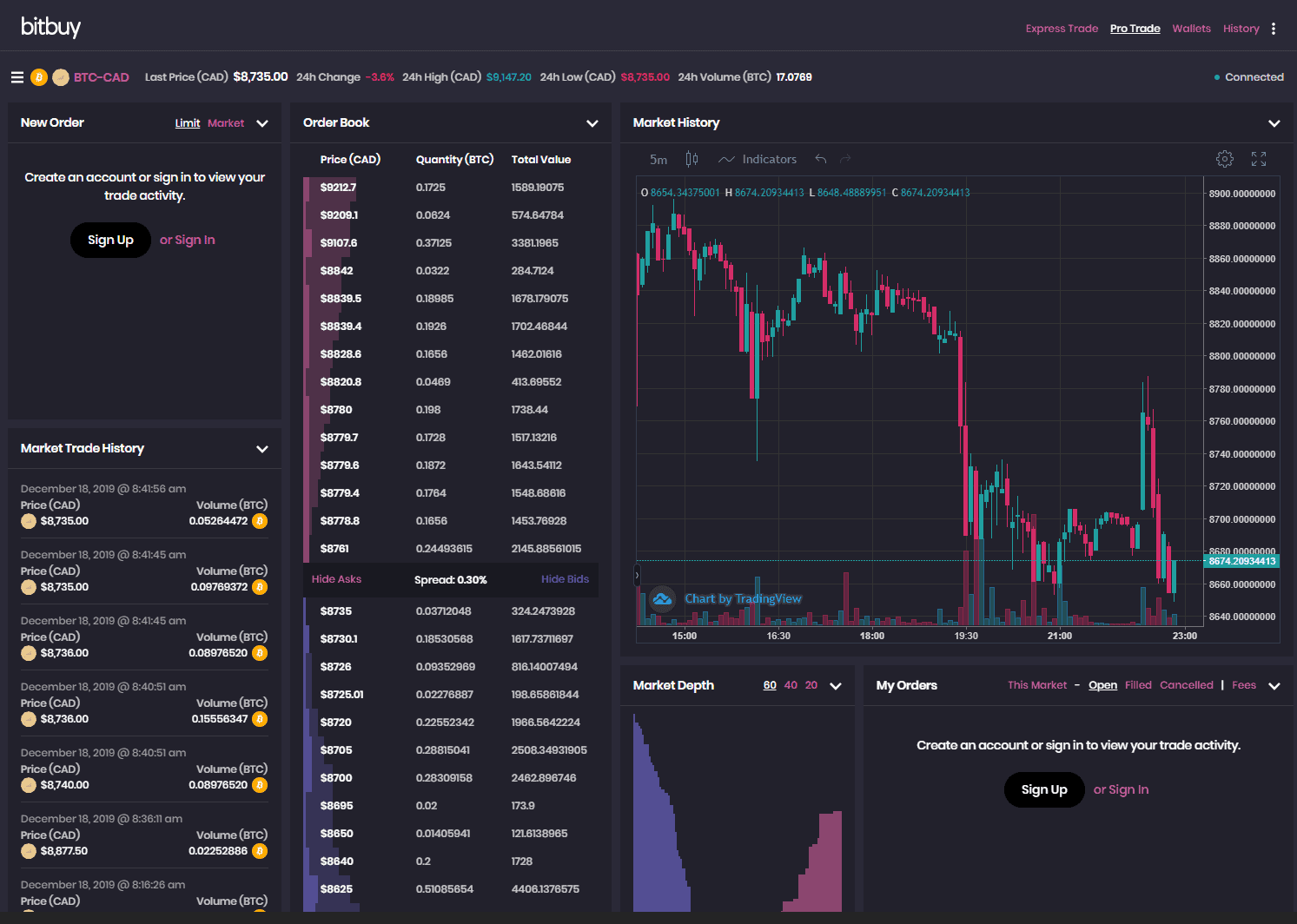 If you're not an absolute beginner, you can try your hands at the Bitbuy Pro-Trade platform. This is a rather different experience than the Instant Trade option. Here you'll get lower fees, greater control of your orders, and advanced visuals for a better market overview. Bitbuy supports both market and limit orders — I couldn't find any other advanced order types.
However, don't get confused. The Pro Trade platform isn't a paid upgrade to your basic exchange account but a matter of choice based on your experience level. You can jump to the order-based Bitbuy platform immediately after registering on the exchange.
Bitbuy Private Wealth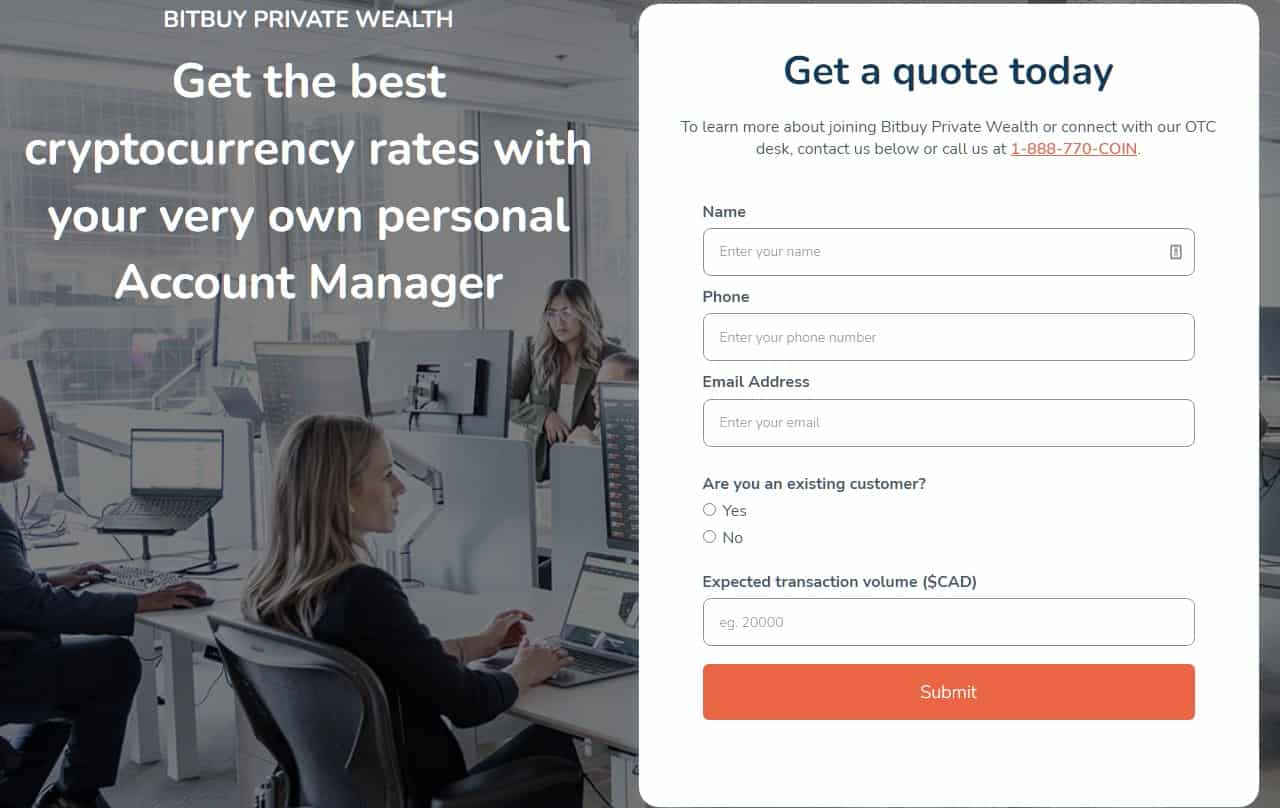 Private Wealth is the name for Bitbuy's OTC desk. They also call it Private Banking for Your Crypto Needs. As I already said, you are eligible for using the OTC service only with a high-net investment amount. In return, Bitbuy guarantees the best exchange rates for more than 100 popular cryptocurrencies (quite more than the exchange supported list), your account manager, and assistance from tax professionals.
Business Crypto
Despite being oriented toward the general public, Bitbuy gives business owners an option for Corporate Accounts.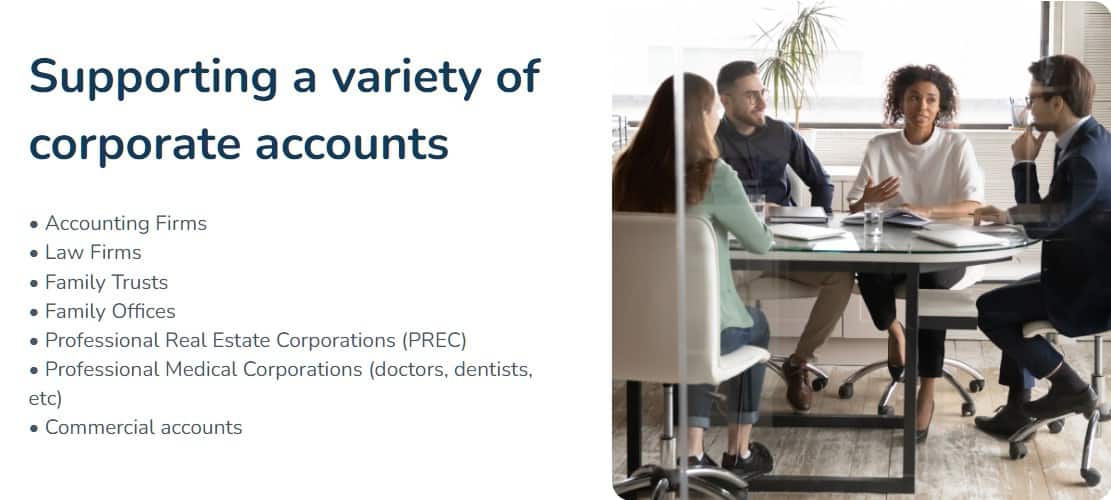 Popular global brands like Tesla are massively incorporating Bitcoin or other altcoins into their balance sheet to cushion the inflation and diversify their business portfolios. I can see that the Canadian business community doesn't fall behind the crypto investment strategy. The Bitbuy Corporate Solution page section states that over 1,500 local business has already given their trust in Bitbuy. This opportunity isn't limited to a particular company type — Bitbuy is here to host the business portfolio of law firms, family trusts, real estate corporations, etc.
Similar to the OTC desk, the Corporate Solutions program comes with a benefits package, including guaranteed liquidity and a dedicated account manager to help you with onboarding, deposits, and the trade execution itself.
Advanced Trading Platform
Compared to the platforms of Binance and KuCoin, Bitbuy is inferior in the choice of available trading pairs. But, I can assure you that in terms of design and visualization, Bitbuy stands shoulder-to-shoulder with all world-renowned crypto exchanges.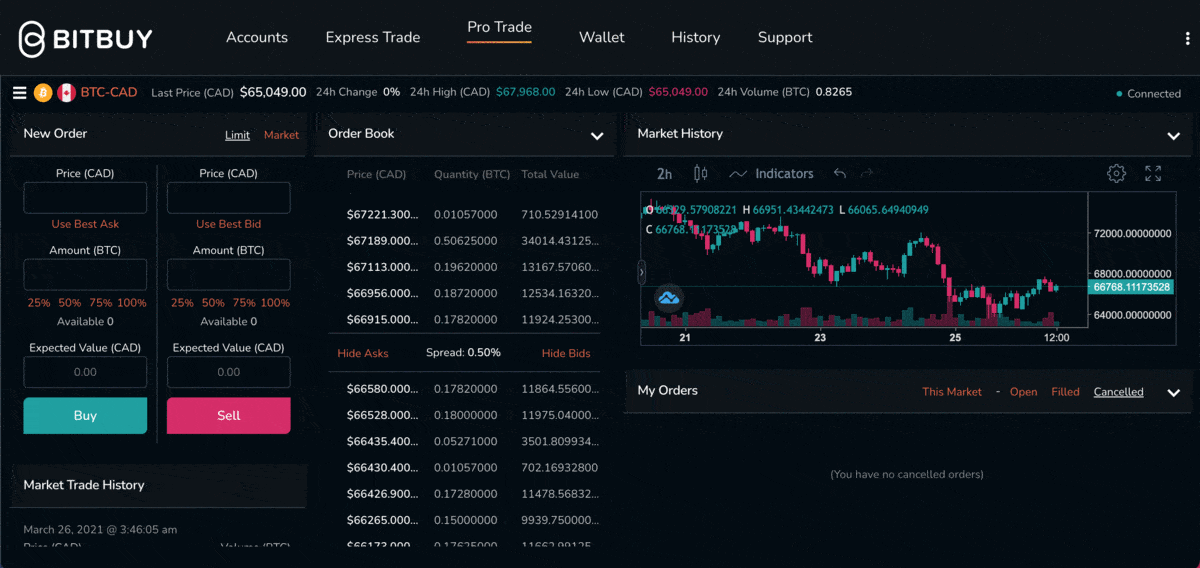 The advanced platform has a bit futuristic yet rather clear and intuitive look. You'll have full insight into the Bitbuy live order book in real-time as well as a clear view of your history transaction records and ongoing orders status. Charts are powered by TradingView and seem pretty adjustable to me. You can break out screens for easier access to the features you prefer.
Bitbuy's Fees
One of the best pieces of advice I've ever gotten is not to rush for the cheapest deal because they typically come with extra commission. Remember that trading fees are only one link in the fee chain of centralized crypto exchanges.
Exchanges usually "forget" to mention the spread, which is the difference between the buying and selling price. Bitbuy is very fair when it comes to its pricing — the spread is minimal, and the other fees are competitive.
Deposit and Withdrawal Fees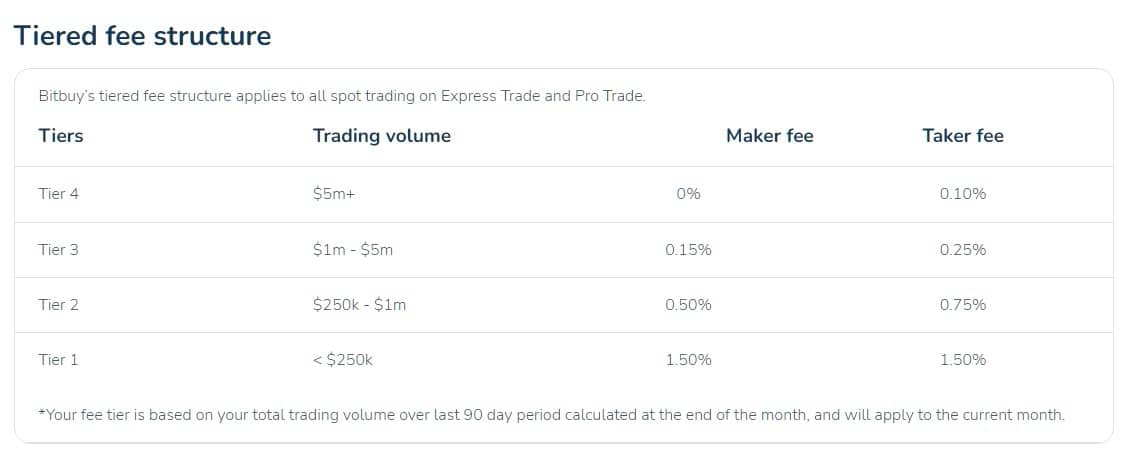 Fiat deposits are free regardless of whether you fund your account using Interac e-Transfers or bank wire. I can say that on Bitbuy, only the processing times and deposit limits make the difference when you fund your fiat account. For example, Interac transfers are nearly instantaneous, while wire deposits can take up to 3 business days.
On the other hand, I couldn't hide my disappointment with fiat withdrawal fees — an Interac withdrawal will cost you 1.50%. Luckily, wire bank transfers are slightly cheaper (1%).
On the crypto side, deposits come at no price, while outgoing crypto transfers depend on the type of crypto you're moving out
Trading Fees
Bitbuy trading fees are also incredibly low, and their pricing system is pretty straightforward. In general, fees differ on whether you trade instantly or use the Pro Trade platform.
The Pro Trade spot market distinguishes between maker fees and taker fees. In other words, users who add liquidity (place an order) on the Bitbuy order book are makers, while those who take out liquidity (respond to an order) are called takers. Makers pay 0.10% per trade and takers 0.20%. These numbers are on par with the industry standard, which ranges anywhere between 0.20% and 0.25%.
Finally, the fee system of Express Trade is what truly amazed me on Bitbuy. Instant traders are considered makers by default and pay a flat fee of 0.20%.
Bitbuy Funding Methods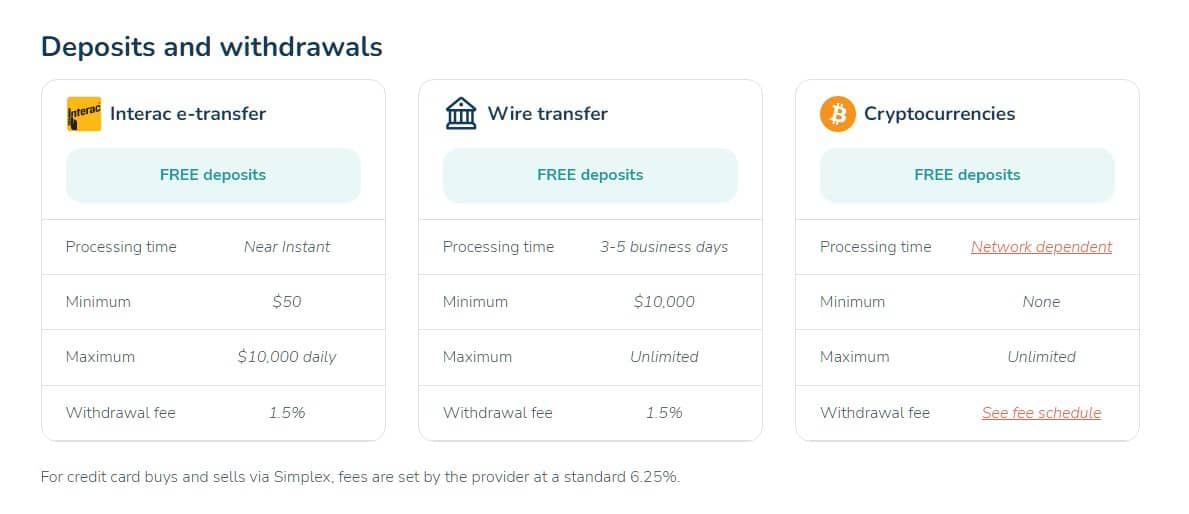 There are three ways to fund your Bitbuy account with Canadian Dollars — a wire transfer, Interac eTransfer, and credit card. Card payments are powered by a third-party provider, Simplex, which imposes its own verification rules and fees. As I previously mentioned, both in-exchange options are free but differ in limits and processing times.
| | | | | |
| --- | --- | --- | --- | --- |
| Deposit Method | Fee  | Processing Time | Minimum limit | Maximum limit per day |
| Wire transfer | 0% | 1-3 business days | $20,000 | $500,000 |
| Interac eTransfer | 0% | Nearly instant | $50 | $10,000 |
| Credit card | 6.25% | instant | n/a | n/a |
My depositing experience on Bitbuy was more than positive. I did the funding through Interac and got my CAD delivered to my exchange account immediately.
Is Bitbuy Safe?
It's impossible to discuss the safety of a particular crypto exchange in general terms. Keeping valuable assets in a virtual environment is a delicate job — it requires multiple factors satisfied to call an exchange trustworthy. Now, let's see whether Bitbuy checks all the safety boxes.
Transparent and Competitive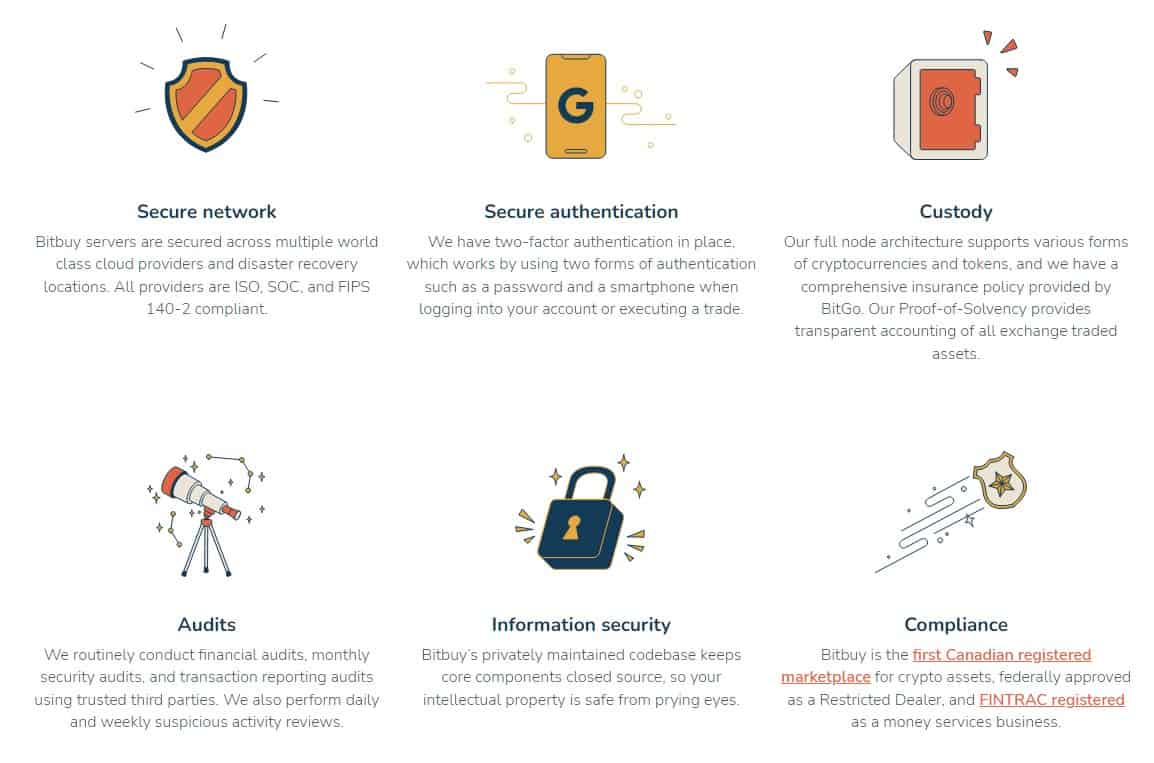 The transparency part is associated with the fee system and covers what I already explained in the Fee section. Low fees are important for a pleasant crypto experience but not as transparently displayed information about those fees. Bitbuy is doing a great job here — the exchange perfectly combines transparency with competitive fees. I can assure you there is no way for you to get ripped off with a hidden commission while buying, selling, or otherwise transferring fiat or crypto funds on Bitbuy.
Compliant and Regulated
The exchange is a FINTRAC-regulated Money Service Business for the territory of Canada and as far as I could see in the registration process, it fully complies with the applicable AML/CFT norms. In addition, Bitbuy is one of the very few Canadian cryptocurrency exchanges that can operate as both an investment dealer and a marketplace. For you, this means that you'll never have to worry if Bitbuy orders are filled externally.
Your Crypto's Safe and Secure
Finally, Bitbuy utilizes all security measures accepted as a standard for virtual money transmitters:
Bitbuy keeps over 95% of the circulating funds offline;
Its servers are physically stored across multiple disaster-recovery locations, and ISO, SOC, and FIPS 140-2 compliant clouds;
The exchange conducts third-party audits regularly. For example, the third annual Proof of Reserve and Security Audit was conveyed by Blockchain Intelligence Group. Based on the results the group released in the summer of 2021, Bitbuy keeps low "transactional risk scores," and the management performance shows no background flags;
Activating 2FA (two-factor authentication) is obligatory.
Since I know about Bitbuy, the exchange has never been a victim of a hacker attack or otherwise compromised users' funds and accounts in any way.
Excellent Customer Support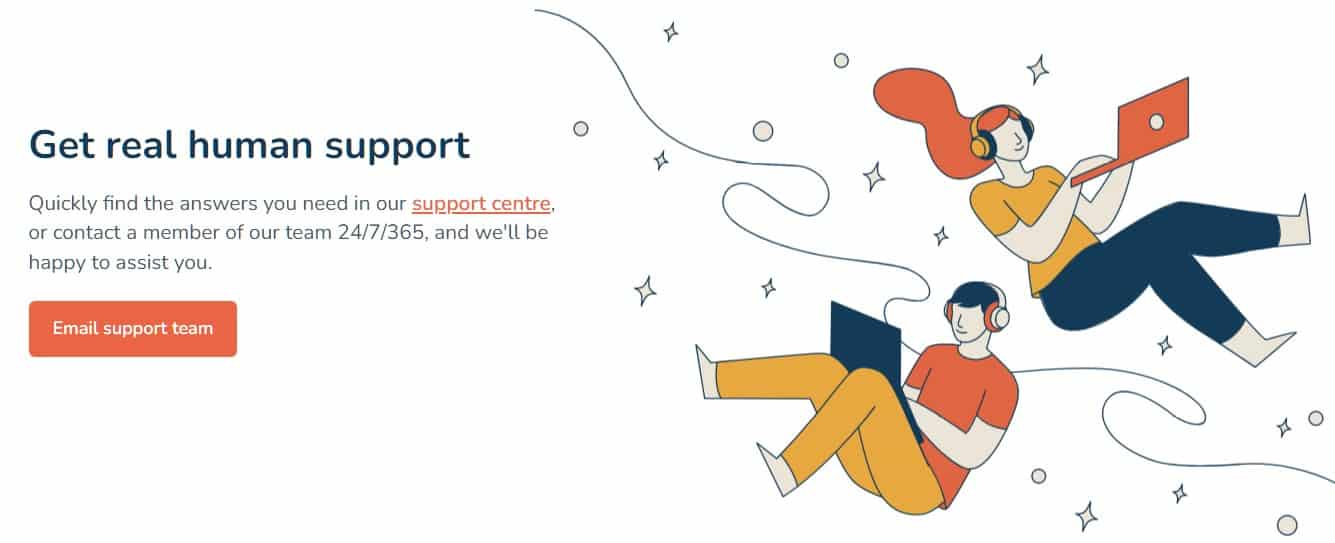 Without any doubt, the exchange knows how to give its users a sense of comfort in case they get stuck at any stage of the trading process. There are three ways to get the necessary assistance while staying on Bitbuy's platform.
First, you can turn to Bitbuy Support Page. It's a super-intuitive knowledge base where you can get answers to all common issues. There is also a chat-bot option that you can easily find at the bottom-right side of your account page. The bot also covers frequently asked questions, but it can be super handy for immediate use.
Last, if you need more personalized assistance, you can directly reach out to a Bitbuy customer service representative through an email inquiry. The response time is variable, and I've read mixed reviews about their efficiency. However, I got a response to my inquiry only 2 hours after contacting the Bitbuy team.
How to Create a Bitbuy Account
The registration process on Bitbuy is pretty streamlined unless you need to fill out the verification form manually. Otherwise, you can become a registered Bitbuy user in a few simple steps.
Did you know Bitbuy gives out $40 welcome bonus when you sign up with our Bitbuy referral link?
Step 1: Visit Bitbuy.ca
Once you get landed on the Bitbuy platform, you'll immediately notice the Get Started tab at your top right side on the homepage. First, you'll have to enter a user name and email address and confirm the verification email immediately after.
Step 2: Provide Your Account Details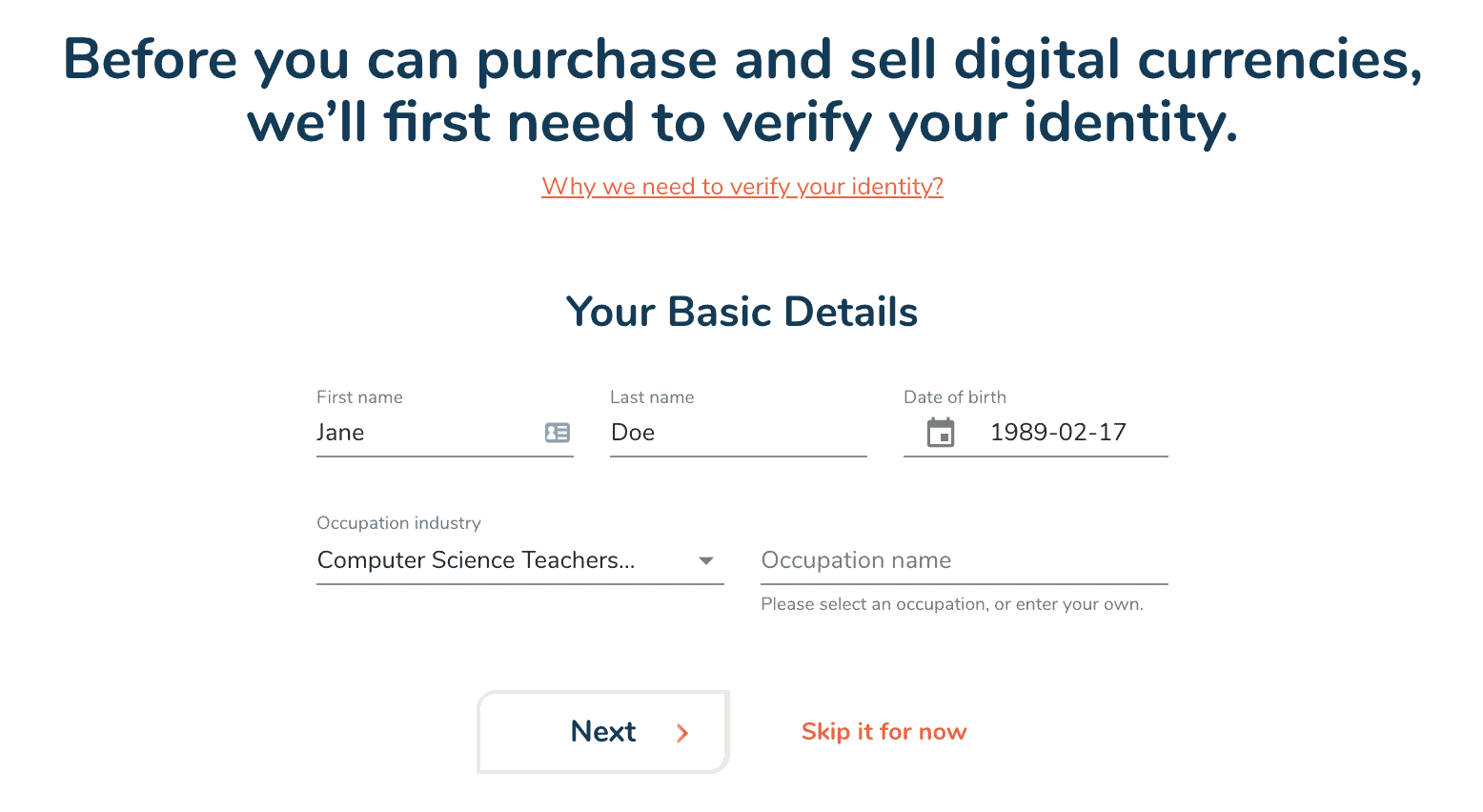 Now, it's time to create your account. The exchange will first ask you if you're signing up as an individual or a company. Based on this, you'll have to submit some basic personal information and an ID document in a live video/photo through a designated link.
Step 3: Verify Your Identity
KYC policies have become rather tight these days. There is no way of getting onboard without identity proof. I know that this stage can be discouraging for new users as it requires tons of info, and it takes a while until you get really started. Fortunately, more and more exchanges are integrating systems for instant verification, which can be a lifesaver.
On Bitbuy, there are three options for completing the KYC:
Bitbuy uses a third-party verification provider that automatically confirms your identity at the account-creating stage.
If for some reason, you aren't eligible for automatic verification, Bitbuy will allow you to pass the process by scanning a government issue document (ID card or driving license) and sending a selfie.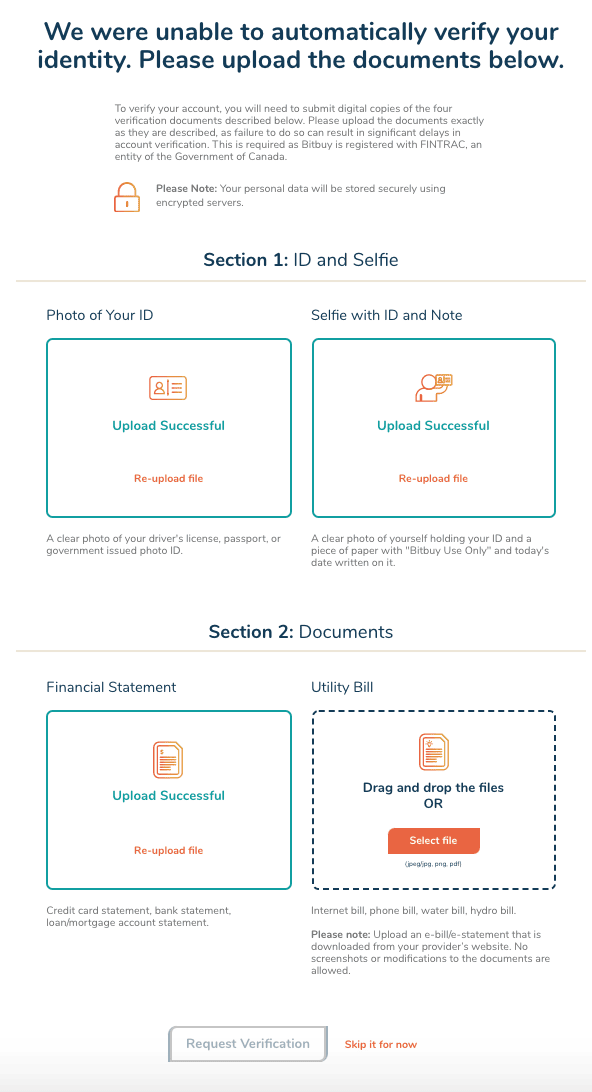 And, if your account can't go through both simplified forms of verification, you'll have to complete the KYC manually. This requires full documentation for assessing both your and your spouse's financial statements, utility bills, and tax liabilities
Alternatives
I often refer to Bitbuy as the favorite Canadian marketplace for buying and selling crypto. Now let's see how the exchange has earned this image in a face-to-face battle against other popular exchanges.
Is CoinSmart Better than Bitbuy?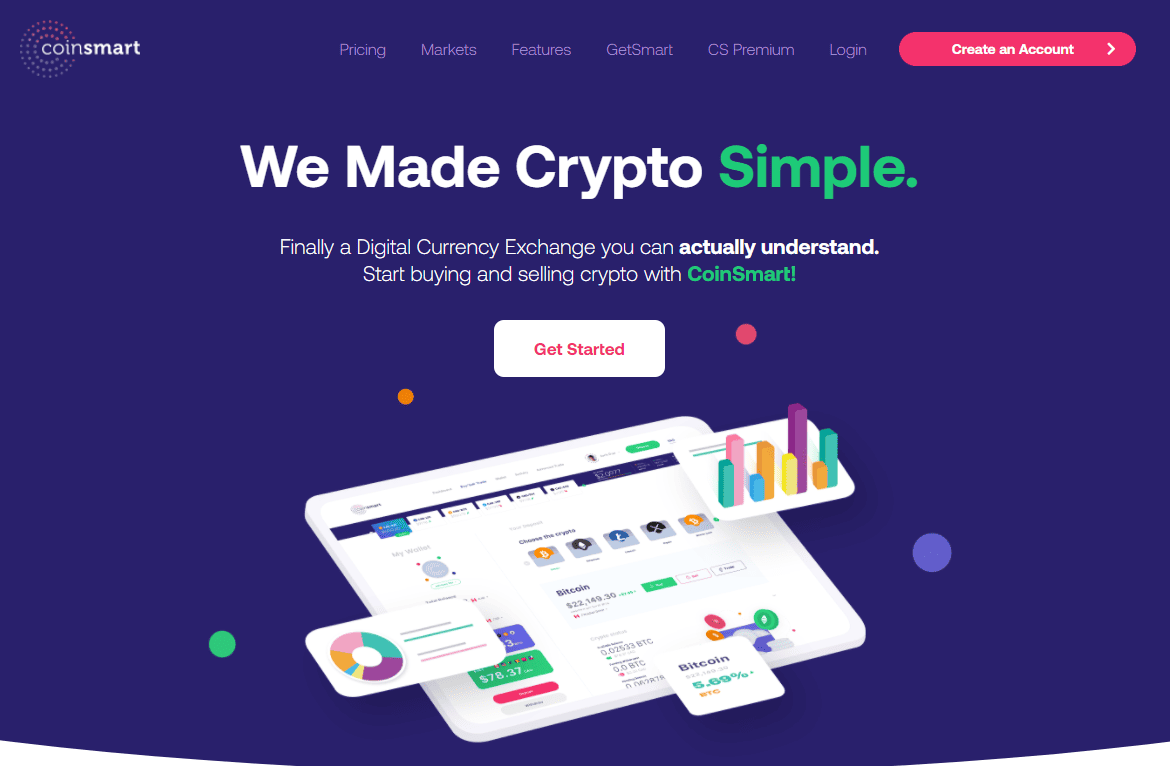 CoinSmart is slightly cheaper and has a larger selection of cryptocurrencies. However, Bitbuy offers a better user experience, and I have the feeling it's more beginner-friendly than CoinSmart. Finally, the Pro Trade platform of Bitbuy is far superior to what CoinSpot has to offer.
Is NDAX Better than Bitbuy?

I like NDAX for the intuitive trading platform it offers. I'm sure that this exchange has contributed a great deal to the mainstream acceptance of crypto trading. However, NDAX doesn't have a separate section for instant purchases — something like Bitbuy's Express Trade. Only because of this, my vote goes to Bitbuy.
Is MyBTC.ca Better than Bitbuy?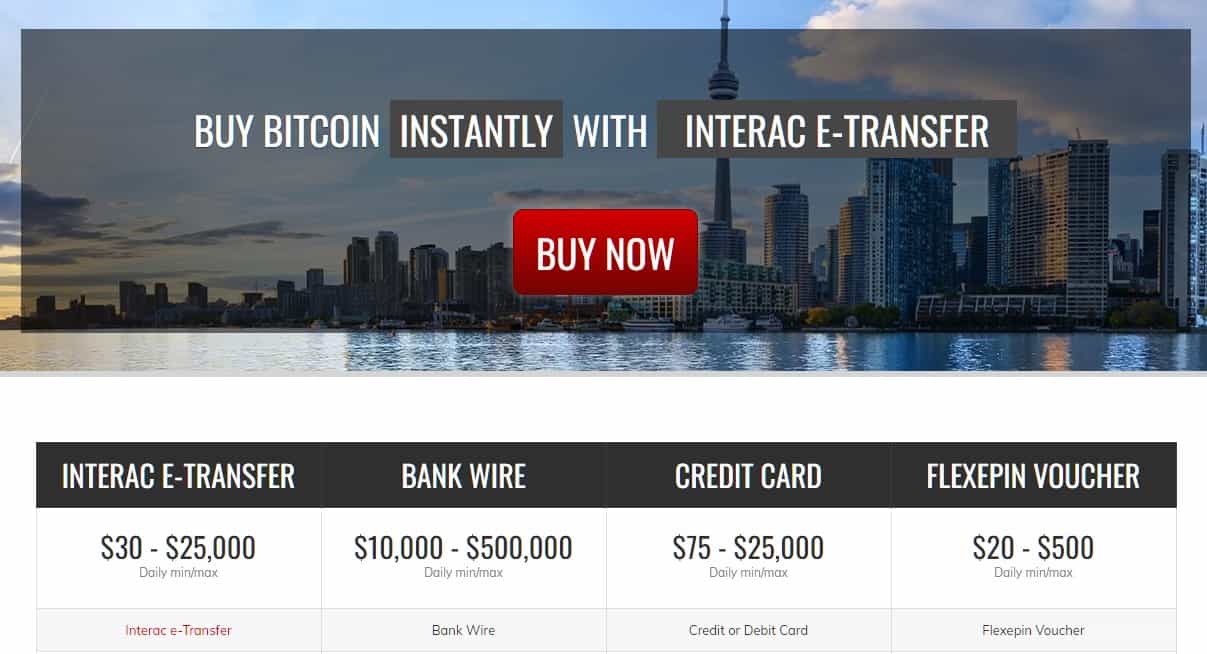 MyBTC.ca is a well-respected marketplace in Canada as it allows you to buy Bitcoin and Ethereum in an exceptionally simplified manner. The thing is that MyBTC.ca is limited to these two cryptocurrencies and doesn't offer a trading arena but operates as a broker. If you're planning to make a one-off Bitcoin investment, MyBTC.ca isn't a bad idea, but I must remind you that it's considerably more expensive than Bitbuy and similar exchanges of this type.
Is Newton Better than Bitbuy?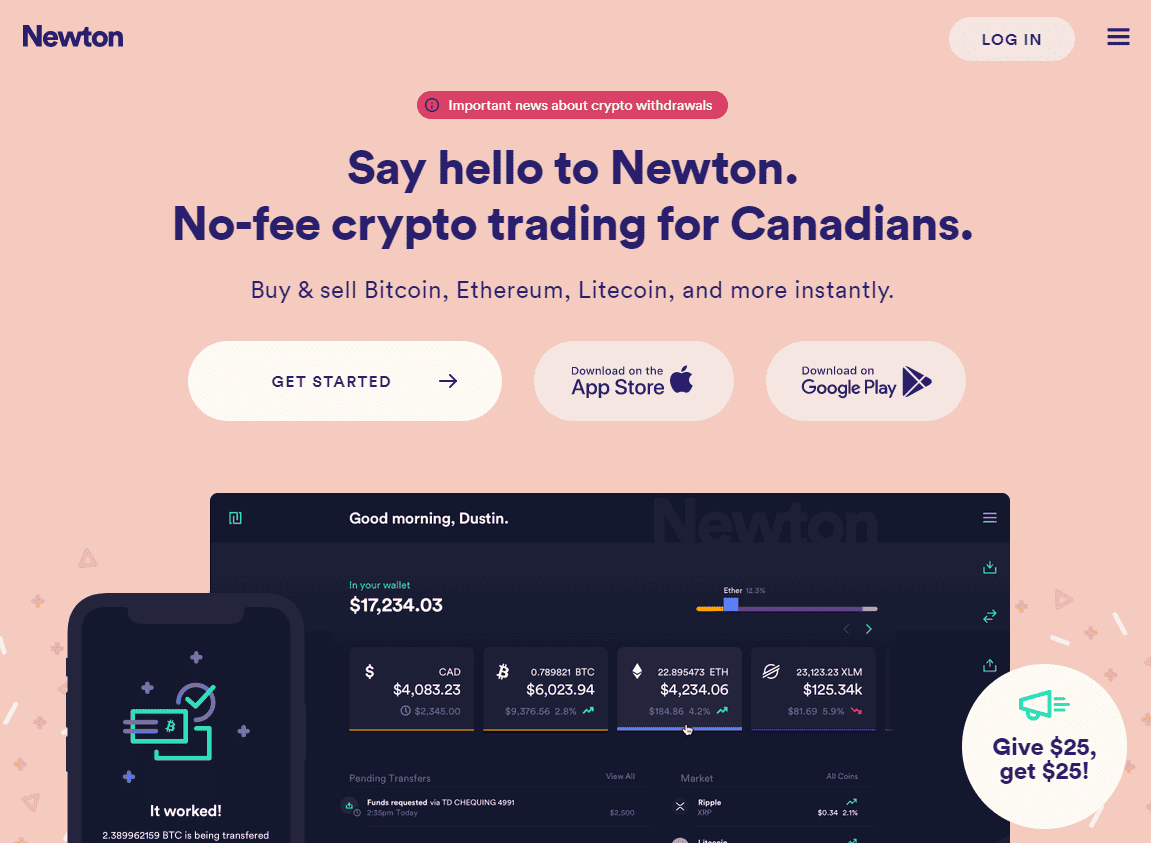 Newton is a cryptocurrency exchange of the new generation that delivers a refreshing feature set worth trying. The exchange claims to be the no-fee crypto marketplace, which can be very misleading since there are spreads that hit over 2.5%. All in all, Bitbuy seems to me much better-off in trading functionalities even though Newton is easier to navigate.
Is Shakepay Better than Bitbuy?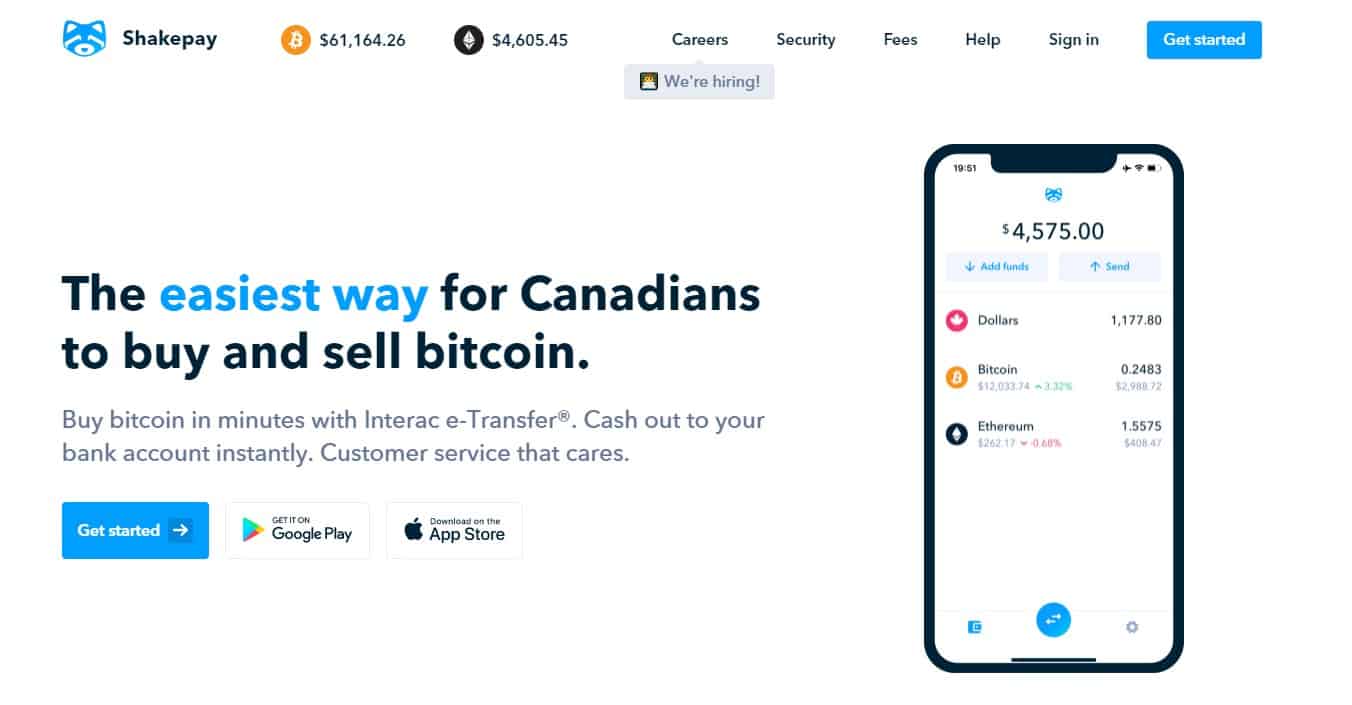 Similar to Bitbuy, Shakepay is a veteran in the local market, trusted by half-million crypto enthusiasts across Canada. However, I can say that it differs from Bitbuy on a fundamental level. Shakepay focuses on Bitcoin and Ethereum and has a similar no-fee schedule to Newton. I'd only choose Shakepay over Bitbuy because of the fiat withdrawal fees, as the platform doesn't charge anything compared to the 1.5% withdrawals of Bitbuy.
Is Coinberry Better than Bitbuy?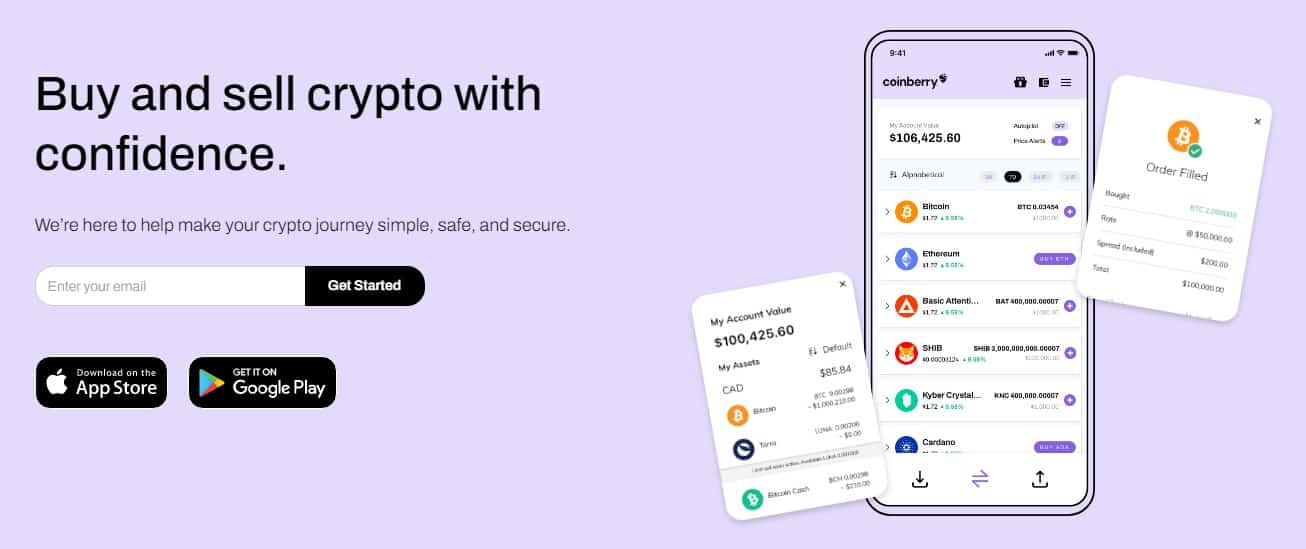 I find Coinberry and Bitbuy rather similar in their purpose. They're both highly regulated markets aiming to bring crypto closer to the general public. In this case, I need to dive deeper into more specific features before pronouncing my winner. So, let me put it this way — all fees and spreads considered, Bitbuy offers a bit more competitive deal. Coinberry wins the "battle" for better customer support and in-platform navigation but loses the "war" because of the sophisticated Pro Trade trading platform.
Is Coinbase Better than Bitbuy?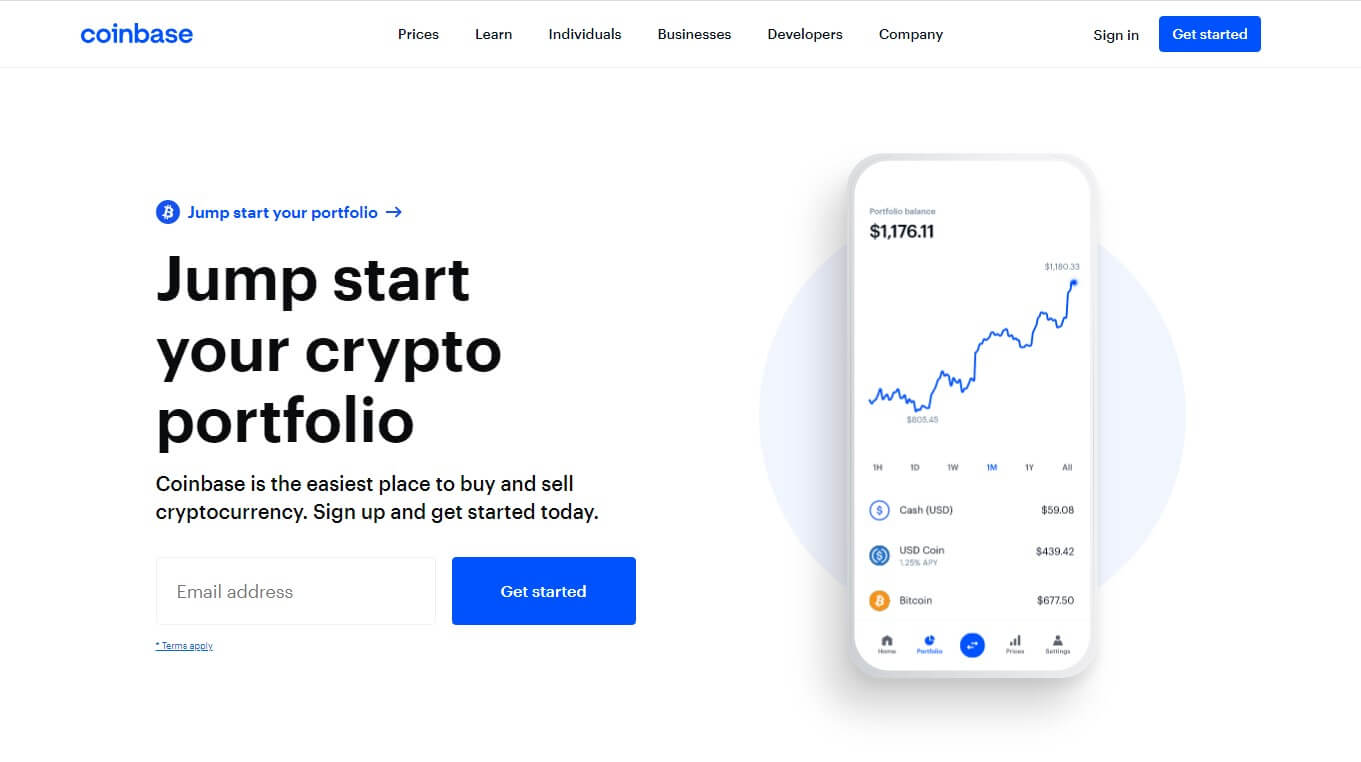 Since 2012, Coinbase has been a synonym for sleek crypto purchases on a global scale. Despite the appearance of hundreds of other crypto brokers, it has remained attractive worldwide because of the exceptional ease of use, high-security standards, and debit-card options. However, the crypto landscape has drastically changed in the past few years and there are a dozen of local exchanges that offer this convenience.
On Bitbuy, you can now fund your account using a credit card, but the service runs through Simplex, which means much higher fees — 6.28% against 3.99% on Coinbase.
Is Wealthsimple Better than Bitbuy?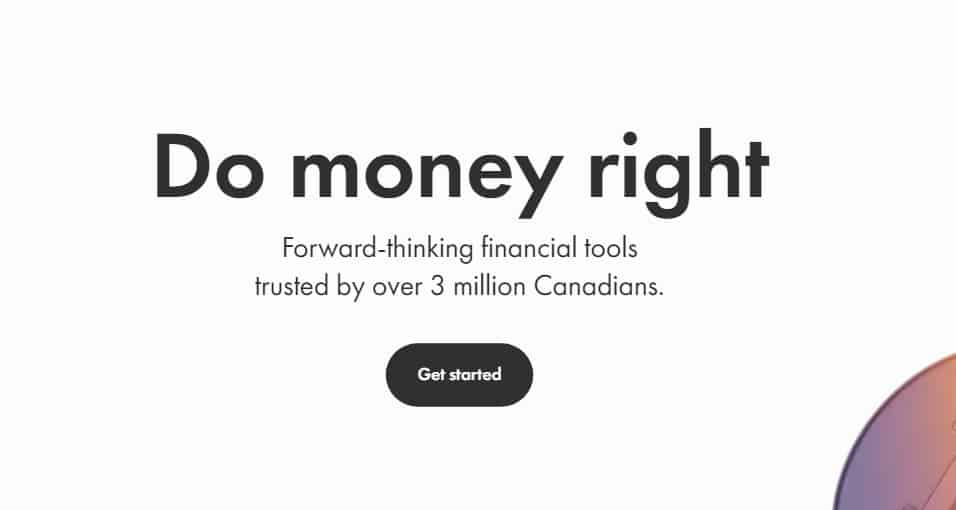 This is another close battle between two popular Canadian crypto exchanges. Wealthsimple has been present a bit longer on the scene than Bitbuy, and it's considered the first regulated crypto provider in Canada. However, at this point, Bitbuy doesn't fall any step behind Wealthsimple when it comes to regulation and security features.
In terms of supported cryptocurrencies, they're more or less the same. The points for ease-of-use and customer support go to Bitbuy, while Wealthsimple is the winner in the fee part. This exchange doesn't charge for withdrawals despite having substantially higher trading fees.
Frequently Asked Questions
How long do Bitbuy withdrawals take?
Fiat withdrawals depend on the payment method you've chosen. After activating the withdrawal request, you can wait up to 48 hours (Interac e-Transfer) or 3-5 days (wire transfer) until you get your CAD delivered to your bank account.
When it comes to crypto withdrawal transfers, they can take up to 3 business days due to in-exchange security checks.
How do I get my money from BitBuy?
Cashing out from Bitbuy is simpler than you can imagine. You need to navigate to the Accounts section on your dashboard to activate the withdrawal request. Select CAD, and you'll see a Withdraw button. Then, select a payment method and insert the amount you want to cash out. You'll be asked to insert a 2FA code before confirming the withdrawal.
If you go with Interac e-Transfer, the exchange will send the withdrawal details to your email address, and if you use a wire transfer, a Bitbuy representative will contact you personally for the necessary banking information.
The exchange has released a handy video tutorial to guide you through the entire process.
Does Bitbuy work In Ontario?
Yes. Ontario residents can register and use the Bitbuy Exchange without any regulatory limits.
Do you need a wallet to use Bitbuy?
You'll get an in-exchange custodian wallet immediately after opening a verified account on Bitbuy. However, it's also possible to transfer the crypto assets to an external crypto wallet immediately after buying them on Bitbuy.
Conclusion
Choosing a crypto exchange is always a matter of personal preferences. Yet, some exchanges fit the taste of all types of users. That's what gives Bitbuy a competitive edge in such a fierce industry. The exchange features a user-friendly design, competitive fees, and trading options for both beginners and experienced traders. Taking all the little details into account, my stay on Bitbuy was an enjoyable crypto experience.
Disclaimer: Digital currencies and cryptocurrencies are volatile and can involve a lot of risk. Their prices and performance is very unpredictable and past performance is no guarantee of future performance. Consult a financial advisor or obtain your own advice independent of this site before relying and acting on the information provided.