SimpleSwap Review for 2023
Disclaimer: We may receive a commission for purchases made through the links on our site. However, this does not impact our reviews and comparisons. Learn more about our Affiliate Disclosure.
In recent years, the evolution of the fintech industry has transformed the way in which we handle our finances and transact with others. At the same time, blockchain innovation and the growing demand of cryptocurrency has prompted the launch of many innovative crypto startups around the world.
Today, we'll take a look at one such project that promises to find the answers to important issues plaguing the crypto world. Keep reading as we introduce you to SimpleSwap, one of the best next-generation cryptocurrency exchanges, and its top-notch features.
About SimpleSwap
SimpleSwap is a revolutionary cryptocurrency exchange that's breaking new grounds for crypto investors with its innovative exchange services. What makes this platform stand out from the merciless competition (both country-specific and various international crypto exchanges) is its dedication to solving key issues associated with the crypto industry, such as the lack of simplicity, transparency, and privacy.
SimpleSwap believes that once we find a way to overcome these challenges, we will open the way to a smooth transition into the smart economy and encourage massive cryptocurrency adoption.
You're probably familiar with the first major incident of this kind that took place in 2014, when the most popular crypto exchange at the time, Mt. Gox, lost around 740,000 BTC to unidentified hackers. Today, that sum would've been worth several million! Moreover, in 2019 alone, hackers stole over $4 billion in crypto.
To avoid such scenarios, SimpleSwap has made the conscious decision not to store customers' funds on the platform. This means that, as a non-custodial exchange, SimpleSwap isn't an attractive target for malicious third-parties. Not only that but this lack of a complex storage system is one of the main reasons for the platform's outstanding 99% uptime.
Bitcoin and Other Supported Cryptocurrencies
SimpleSwap has identified another major problem – the underrepresentation of newly launched cryptocurrencies. In order for a digital coin to be added to the list of supported coins on one of the major crypto platforms, the platform has to assess the coin based on the requirements of its digital coin frameworks.
The platform typically checks the coin's AML and KYC compliance with local authorities, the security risk mitigation, and its liquidity and demand, among other criteria. However, it's known for a fact that a recently released digital coin will fail to deliver the desired level of liquidity and investors' demand, mainly because investors don't have access to these coins on major exchanges, and this process quickly turns into a vicious circle.
So, how does SimpleSwap solve this problem?
The platform's active engagement in the crypto industry has helped the company to create a vast network of partners in order to help SimpleSwap's customers to make quick and simple cryptocurrency swaps on the coins they support. That's the secret behind SimpleSwap's hearty offer of over 900 different cryptocurrencies.
To make an exchange, simply visit the official website SimpleSwap.io and select the cryptocurrency you want to trade from the taskbar menu. The platform will ask you to provide a wallet address and choose the target currency that you want to receive. The usual wait time is between 5 and 60 minutes before the coins reflect in your balance.
The SWAP Coin
SimpleSwap has also launched its own token called SimpleSwap Coin to be used as an internal currency on the platform. These utility tokens serve as the Loyalty Program and give benefits to its holders, such as cashback on exchanges, affiliate and bounty rewards, priority customer support, and way more features to come. You can earn SimpleSwap Coins as a reward (e.g. Bounty Campaigns and Social Media Contests) when you swap coins and as part of the Loyalty Program. SWAP is available for trading on ForkDelta as well.
SimpleSwap Affiliate and Loyalty Program
SimpleSwap welcomes new partners and collaborations which is why the exchange decided to offer an Affiliate program to new customers and partners. This program provides them with a unique referral link or widget they can use on their content or send it to their friends and family. Every time someone uses their link and swaps coins on SimpleSwap, they earn up to 90% of the revenue share in Bitcoin.
The second program available to you on SimpleSwap is the Loyalty Program that allows you to earn cashback rewards on all your exchanges based on your membership status. Your status gets higher as you purchase and acquire more and more SWAP tokens.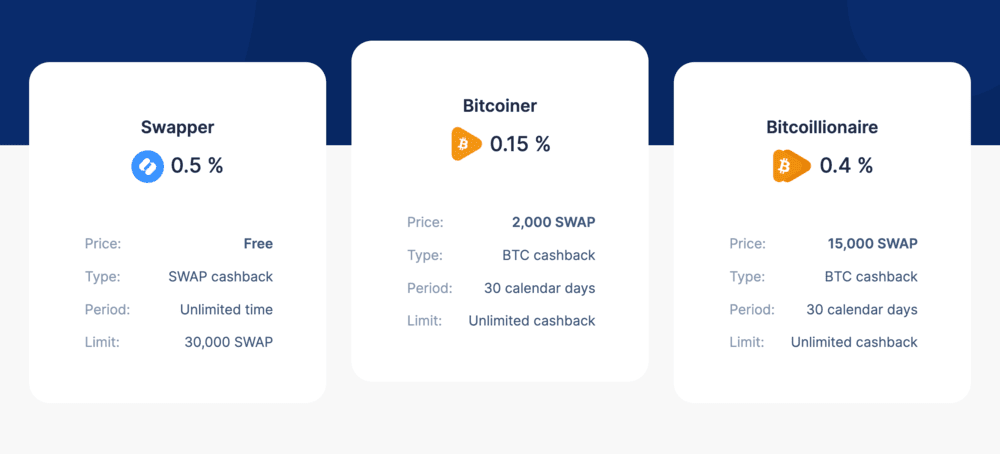 SimpleSwap Fees and Limits
SimpleSwap doesn't put upper limits on the number of cryptocurrencies you can exchange on its exchange platform. The only thing to keep in mind is the network fee for every transaction. The exchange can't determine the exact amount of this fee in advance, but we assure you it's so small that it won't make a difference to the final amount.
Is SimpleSwap Safe to Use?
You don't need to register for an account to be able to use the platform and swap cryptocurrency. This is made on purpose because SimpleSwap is a non-custodial exchange and doesn't store users' cryptos or any sensitive data.
As a result, SimpleSwap is far more secure than centralized exchanges. Because of all the money and information they safeguard, these exchanges are frequent hacking targets. SimpleSwap, on the other hand, seems less of a temptation for these malicious actors.
As you know by now, SimpleSwap has a whole network of partners and collaborators who comply with certain local AML (anti-money-laundering) directives and regulations. This means that some of them might request SimpleSwap users to perform a KYC check and provide a valid photo ID to verify their identity.
This practice reassures users they're dealing with a legitimate trading platform that takes great care to eliminate potential fraudulent activities and risks. However, SimpleSwap users have the right to reject a KYC request, at which point, the platform cancels the order and returns the funds back to their account.
Customer Support
The popularity of cryptocurrencies and the rapid growth rate of the crypto industry, in general, has caught the exchanges unprepared and this is reflected in the poorly managed customer support services.
On social media, customers complain about the slow responsiveness of the platforms' support teams. The problem is that they're usually understaffed and the employees they do have are overloaded with work and unable to answer all customer queries in due time.
At SimpleSwap, customer service is a key priority. On Reddit or TrustPilot you'll come across multiple reviews praising the team's readiness to solve customers' issues and answer their questions within a 24-hour timeframe. The support agents are available 24/7 and users can contact them via social media or email.
On its website, SimpleSwap includes an extensive FAQ section and runs its own blog to educate readers on the history behind cryptocurrencies, blockchain technology, the current crypto use cases, and future applications.
Mobile App
In May 2020, SimpleSwap introduced a mobile app that's available for download on both iOS and Android devices. The app makes it super easy to use the exchange services. There's no need to sign up and create an account. Once you download the app, you can use the search function to browse through the cryptocurrency listings and complete the crypto swaps, track your exchange history, receive notifications on your exchange status as well as special offers and discounts, and contact the support team.
The Bottom Line
Whether you're a new crypto enthusiast or experienced crypto investor, you definitely can't go wrong with a fully-fledged crypto platform like SimpleSwap. You get to choose from over 300 different crypto assets, and without upper purchasing limits.
On top of that, SimpleSwap even lets you earn cashback on your exchanges if you become a member in the Loyalty Program. It's super safe and user-friendly, available for trading on the go, and offers customer support around the clock. So, what are you waiting for?
Disclaimer: Digital currencies and cryptocurrencies are volatile and can involve a lot of risk. Their prices and performance is very unpredictable and past performance is no guarantee of future performance. Consult a financial advisor or obtain your own advice independent of this site before relying and acting on the information provided.