Disclaimer: We may receive a commission for purchases made through the links on our site. However, this does not impact our reviews and comparisons. Learn more about our Affiliate Disclosure.
Changelly is one of the biggest and most popular decentralized exchanges with over 1.5 million users and more than 90 cryptocurrencies available for trade. The exchange is easy to use, and they make decentralization seem simple.
You can buy cryptocurrency with fiat currency on the site, which is more than you can do on many other international exchanges. While they restrict your first few purchases, you can buy as much as you desire after one month.


Over time, Changelly has garnered a lot of trust within the community. They have established partnerships with wallets like Coinomi and Jaxx, and they have a lot of support from miner pools like Minergate.
The primary draw of Changelly for most users is the fact that they don't offer wallets on the exchange, making it much safer to use. They also tout instant transfers, which means that in less than thirty minutes after you click a button, you'll see your crypto in your wallet.
How Does Changelly Work?
Changelly is a cryptocurrency exchange. The platform's decentralized design adheres to the intended purpose of crypto transactions. Users don't need to verify their identity to use it, which is different than a centralized exchange or entity, such as a bank.
The company was founded in 2015 and now has more than 1.5 million users registered on the platform. Based in Prague, a city in the Czech Republic, Changelly is recognized worldwide as a trusted and respected cryptocurrency exchange.
ACH, Debit/Credit Cards, and Other Payment Methods
Changelly allows for more than just crypto-to-crypto exchange. The exchange platform makes buying cryptocurrency easy by allowing you to use fiat currency like Mastercard or Visa via Simplex. Their focus has always been to make things as easy as possible on their users—Changelly is very beginner-friendly. Even those who find cryptocurrency trading difficult to grasp can dive right in.
This flat gateway allows users to get in the door by buying Bitcoin with a Mastercard or Visa and then begin trading for other cryptocurrencies from there. Additional payment methods would be convenient. However, Changelly has done a great job of building something better than other platforms on the market as far as simplicity goes.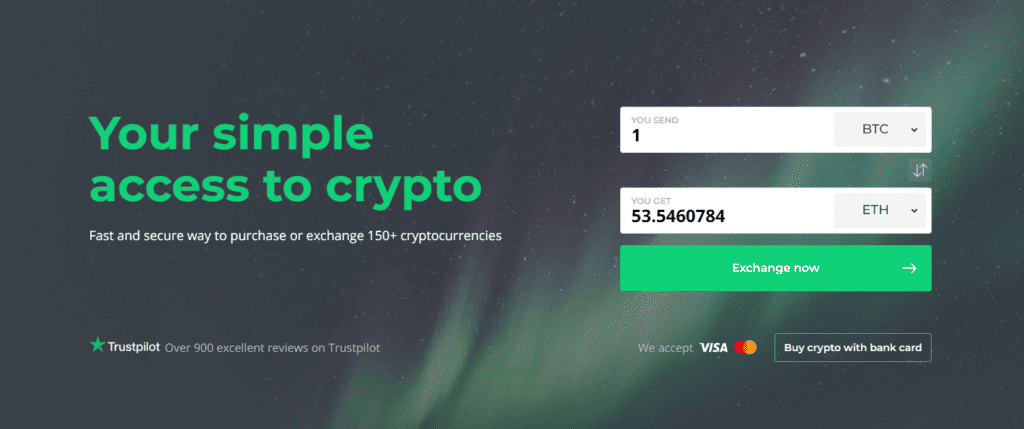 Its easy to open an account because of the short registration and verification process, and because Changelly supports so many altcoins as well as fiat currencies, it's a one-stop-shop. You don't need multiple accounts on several different exchanges to buy and trade the cryptocurrency you want.
Bitcoin and Other Supported Cryptocurrencies
To take advantage of all cryptocurrencies Changelly has to offer, you must know what set up is required. Let's take a look at how the platform works together.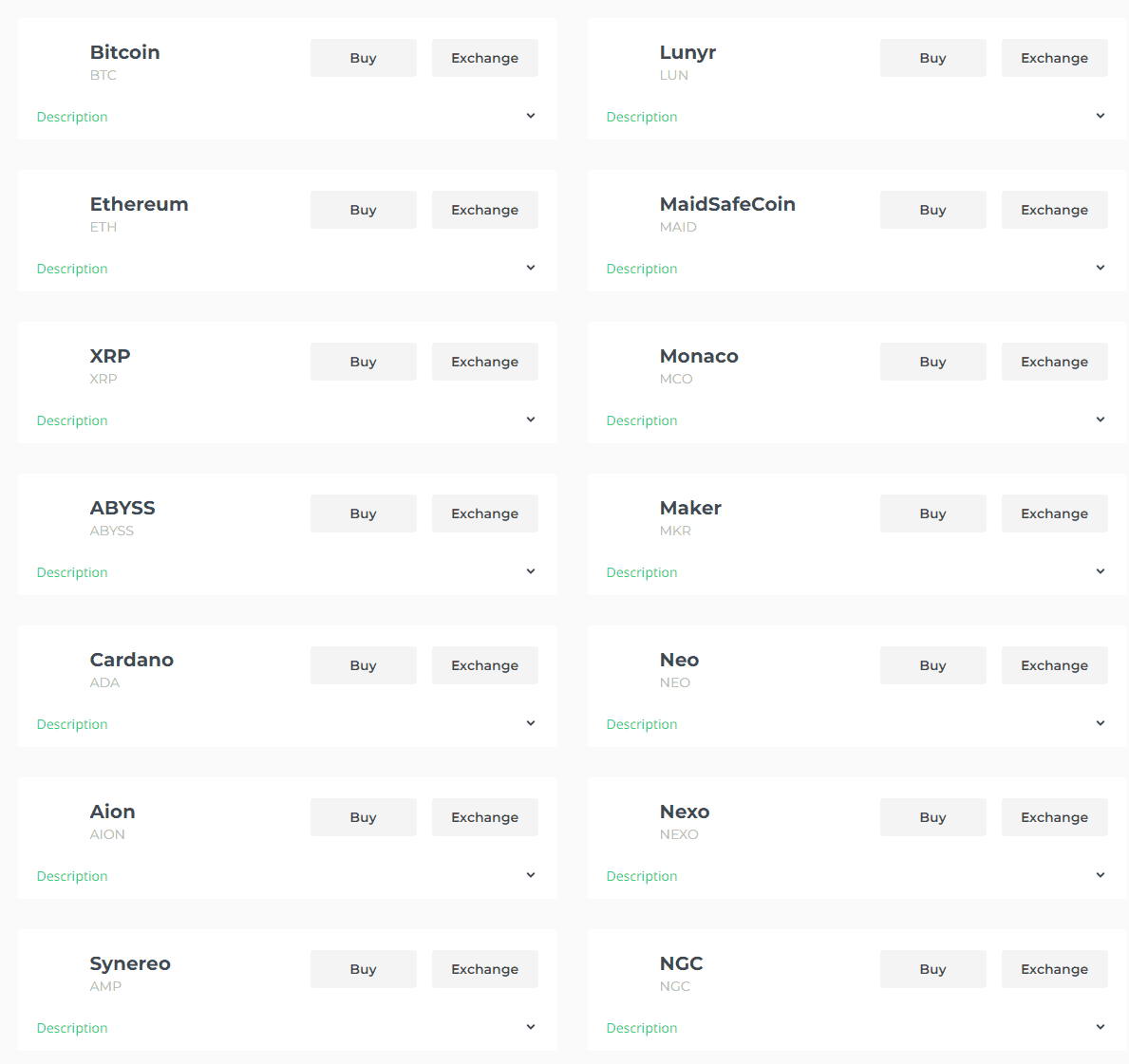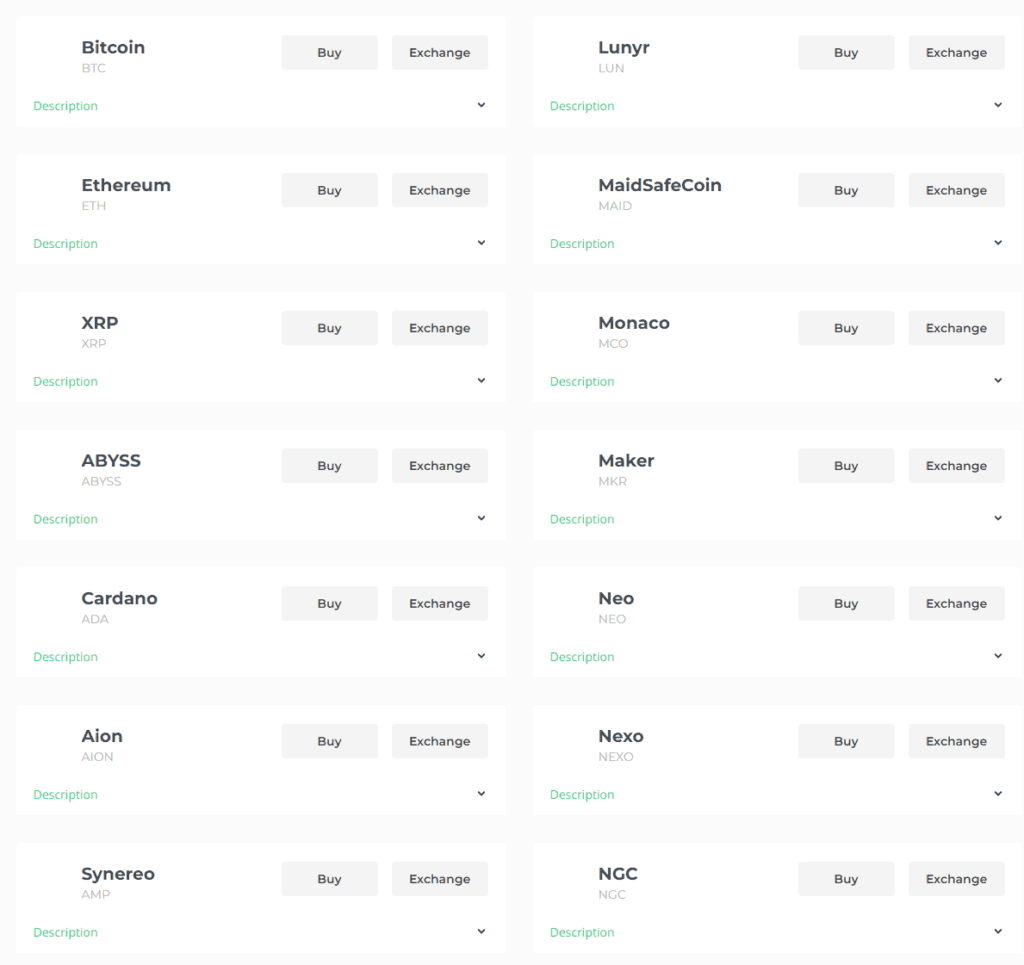 First, you need to enter your Mastercard or Visa information so you can buy Bitcoin on Changelly. You can use any currency of choice, but it will be converted to EUR or USD. Keep in mind that additional restrictions apply to your first few payments.
Your first transaction will be limited to $50. You can make a second transaction four days afterward, but you are limited to $100. You can make your third transaction seven days after the first, with a $500 restriction. After one month on Changelly, your limitations are lifted, allowing you to buy as much Bitcoin as you like.
Click "Sign Up" to get started. Changelly will ask for your email address, and they will send you an email with your account password. If you click "My Account" in the email and navigate to "Profile," you can change your password to something you will remember. You also have the option of enabling two-factor authentication.
That's it. It is that easy.
Now you're ready to buy Bitcoin or another cryptocurrency of your choice using fiat currency (USD, EUR, GBP, etc.). Just click "Buy Crypto with Credit Card" on the homepage. It will prompt you to enter the wallet address for the cryptocurrency you choose. If you don't have a cryptocurrency wallet, you will need to create one first. At this time, Changelly doesn't support the creation of wallets.
Changelly will ask you to enter payment details similar to other online purchases. After you fill out all the necessary information, you should see your Bitcoin in your wallet within thirty minutes.
If you already have crypto and you want to use the Changelly exchange, you can set up a trade. You don't even need a Changelly account to do so. If you navigate to the Changelly homepage, you will see two fields where you can enter what you want to exchange. Fill these out and click the "Exchange Now" button.
To take the guesswork out of trading your crypto, Changelly will also help you find the best exchange rates currently on the market. Enter the crypto you'd like to trade, and it will find you the best deal with any of the other 90 cryptocurrencies they support and suggest a trade.
This part of Changelly is powered by integrations with large trading platforms like Poloniex and Bittrex. Within milliseconds, Changelly can communicate with these platforms to create bids and find the best rates, then display your estimate on the Changelly site.
The trade details page will show you your fee and the estimated arrival time of your new cryptocurrency. It typically only takes about thirty minutes. Enter your wallet address and confirm the details, then click "Confirm and Make Payment."
Changelly supports over 90 cryptocurrencies so you can buy, sell, and trade as much as you like. These include popular cryptocurrencies like Bitcoin, Monero, Dash, Litecoin, Ethereum, Ripple (XRP), Eos, Tether (USDT), Dogecoin, Bytecoin, Status, Nem, Salt, Tokencard, Viberate, etc.
While there are plenty of cryptocurrencies to choose from, it's important to verify the desired cryptocurrency's availability. Otherwise, there is no reason to create an account. Changelly is always adding more, so keep checking back to see if they've added your favorites.
Trading Fees and Limits
Changelly Fees
While other platforms charge withdrawal fees, transfer fees, and big flat transaction fees, Changelly charges a 0.5% fee for each transaction without all the other stuff. Rates are never fixed. This way you always get the fairest deal.
Cryptocurrency is volatile and changes all the time. A fixed-rate on days when crypto is high is a great deal but can be horrible on days when crypto is trading low. Fortunately for Changelly users, you only pay a small portion of the exchange you make in fees.
However, Changelly does charge a 5% commission and a 5% processing fee on bank card purchases, meaning that if you're buying crypto with fiat currency, beware of the charges. Get your foot in the door, pay the fee once, and then trade among cryptocurrencies at the lower rate instead of using your credit or debit card every time.
Changelly Limits
Once again, Changelly does limit your first few transactions. Your first fiat payment must be $50 or less. Your second transaction must be four days after the first and is limited to $100. Your third transaction must be seven days after the first and is restricted to $500. After a full month, your restrictions are lifted.
While these limitations may be frustrating, keep in mind that most countries have individual restrictions, too. Countries in the EU share the same limits as Changelly, while most other countries limit the first transaction to $200. After one week, you have a limit of $2,000. Your limit in the first month is $10,000. After one month, all restrictions are lifted.
Changelly Affiliate Program
There are two ways in which you can take part in Changelly's affiliate program – using a referral link or a widget. The referral link is an URL link with your referral ID. When you send this link to a friend of yours and he/she registers for an account on Changelly, every time this person makes a transaction, you earn 50% of the transaction fee.
If you have a website on crypto-related topics, you can benefit from a Changelly widget. Again, whenever a person clicks the widget and creates a Changelly account, 50% of their transaction fees go directly to your account.
Customer Support
Changelly has a ticketing system for customer support on their site. Clicking on the support link brings you to a dialog box where you can send an email to the team on their helpdesk software.
Changelly does have an email address for support issues that you can email directly. You can email support@changelly.com with any problems you have. The unfortunate problem you may encounter is that the response time of the Changelly team is not very fast.
They do not offer phone support right now, and as with most cryptocurrency exchanges, they get some mixed reviews. Some people are pleased with the support, and others have complained about how slow it is on social media.
One of the primary reasons to trust Changelly is that the transactions are almost instant. You don't have to store your money on Changelly at all. They are not equipped to store your money in a wallet, which is why they require you to enter your own.
The fact that Changelly doesn't have a wallet is ideal. Other exchanges that provide wallets for convenient storing of crypto are subject to more hacking and risky business. When hackers find out that an exchange stores millions worth of crypto within the platform, that exchange becomes a target for hacking and other theft.
They also allow you to set up two-factor authentication, which protects your account from unauthorized access with extra security steps for logging in from unknown devices. You can also take a great deal of confidence from the sheer number of users Changelly has if you're worried about security.
Changelly regularly gets two or three million visitors to their website each month, with 1.5 million of them being users already. They process more than 15,000 transactions each day, and their monthly turnover of BTC is upwards of 60,000.
FAQ
Like any new account created online, especially one that pertains to your finances, questions arise before signing up. Here are some of the most common ones, answered.
Does Changelly have a mobile app?
Yes, Changelly has an app for Android, but if you're an Apple user, you'll be disappointed to find out that there is not currently an iOS app. If you have Android, you can enjoy all the same perks of Changelly's dashboard online on your mobile phone.
You can swap your crypto out for another coin. You can also view your transaction history and get access to a long list of support questions. You can add addresses to all your crypto wallets, and you have access to a button that allows you to buy crypto with your fiat currency. However, this feature is not built into the app. The button redirects you to the desktop page, which seems a little counter-intuitive. Regardless, their website is fairly mobile user-friendly—good news for Apple users.
What countries are supported by Changelly?
All countries are supported on Changelly's platform. Changelly itself does not restrict its users based on geographic location. However, when you buy cryptocurrency with fiat currency, it will first be exchanged for either USD or EUR before the transaction can be completed.
It is up to you as a responsible user to do the necessary research and ensure that your country will allow you to use Changelly. While Changelly doesn't put restrictions on users, some countries restrict their citizens from using the online trading platforms they deem unsafe or inappropriate.
Does Changelly provide a cryptocurrency wallet?
No, Changelly does not provide cryptocurrency wallets to their users. That's one of the reasons why Changelly is so safe. You're not storing any of your cryptocurrency on the Changelly exchange at all.
Users like this feature because it enhances their experience by allowing them to choose the wallet or wallets, they prefer rather than being boxed into the one offered by Changelly. You can select any crypto wallet for any of Changelly's over 90 cryptocurrencies and store your wallet address in your account for convenient transfers without ever storing your money on Changelly.
However, Changelly has partnered with wallet providers like Trezor, Exodus, Ledger, and MyEtherWallet among others, so you can easily link your Changelly account to any of them.
Summing It Up
Changelly is a decentralized cryptocurrency exchange based in the Czech Republic. They feature safe, fast transactions with the ability to buy crypto with fiat currency and request the best trades on the market in an instant. The simple user interface is easy to use, and with 1.5 million users, it's clear that people like it.
On the downside, their decentralized nature leaves them unregulated, and they offer little guidance on the legality of their use in differing countries. They also lack an iOS app and have lackluster, slow customer support.
Disclaimer: Digital currencies and cryptocurrencies are volatile and can involve a lot of risk. Their prices and performance is very unpredictable and past performance is no guarantee of future performance. Consult a financial advisor or obtain your own advice independent of this site before relying and acting on the information provided.