Disclaimer: We may receive a commission for purchases made through the links on our site. However, this does not impact our reviews and comparisons. Learn more about our Affiliate Disclosure.
With a vision to provide a solution to the difficulty of buying and trading cryptocurrency in the EU, European cryptocurrency enthusiasts developed Bitpanda in 2014.
After consulting European authorities, the exchange opened up as Coinimal in late 2014 in Vienna, Austria, and later rebranded as Bitpanda. One of the longest-running exchanges in Europe, Bitpanda is an attractive option for European cryptocurrency traders (for international trading, check out our list of top international crypto exchanges).
Bitpanda also recently expanded their trading options to include precious metals.

Bitpanda is fully automated, meaning that as soon as payment is confirmed, the currency transfers to the buyer. The automated system allows for quick, efficient service without the need for human supervision, allowing the team of engineers and developers to focus on security, optimization, and the addition of new services. The company has grown from the three founding members into an organization of 60 people spread over 21 countries and reports over 900,000 registered users.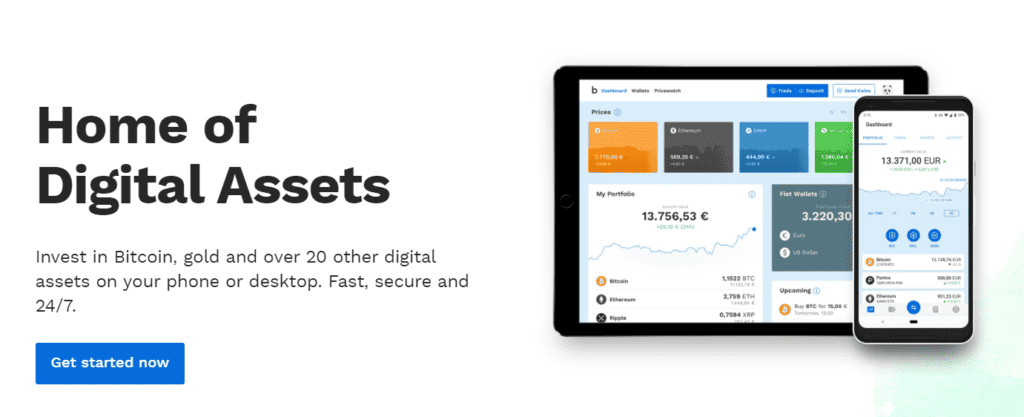 Unlike many other Bitcoin exchanges, Bitpanda has yet to experience a significant hack. As the exchange continues to grow, the chances are that more break-in attempts will occur. Hopefully, Bitpanda continues to have a strong focus on protecting their customers, as well as their own assets.
Supported Cryptocurrencies
Bitpanda Services
Bitpanda is a brokerage service that allows Bitpanda users to buy and trade digital assets. While they didn't use to operate like your normal exchange, they recently added the Bitpanda global exchange to their services, complete with a pretty advanced trading platform. Additionally, they offer a range of services aimed at different users. Some of these services include:
Bitpanda To Go: This service allows people to buy cryptocurrency indirectly. You first buy a cash-equivalent coupon in one of several Austrian post offices and then redeem the code on the website to purchase a cryptocurrency of your choice. If you don't want to use debit or credit cards, and you live in or nearby Austria, this is a convenient option.
Bitpanda Metals: If you want to diversify your portfolio away from cryptocurrency, precious metals are a good option. Bitpanda allows you to purchase 100% insured and backed precious metals, which you can also swap with any other asset in your Bitpanda portfolio.
Bitpanda Savings: This plan allows you to set aside a certain amount every month to buy cryptocurrency, effectively building up a savings account of digital currency.
Bitpanda Swap: A nice feature of the Bitpanda platform is the ability to freely swap between one cryptocurrency for another. This allows you to adapt and adjust your portfolio as the market shifts quickly.
Bitpanda Plus: Designed for experienced traders, this feature provides exclusive services and higher trading limits. By signing up with Bitpanda Plus, you get access to higher default limits, but you do need to go through a verification process and disclose the expected volume for your first trade.
Payment Options/Payment Methods
Bitpanda allows users to purchase cryptocurrency using a variety of fiat currencies, including the US dollar, the Euro, the Pound (GBP), and the Swiss franc (CHF). It also accepts a wide array of payment methods, including payouts via bank transfers, SEPA, Skrill, Sofort, Giropay, and debit and credit cards, amongst others. This robust service ensures that you'll always be able to use your preferred method of payment and preferred currency.
Future Services
Bitpanda is planning to launch a token system called BEST (Bitpanda EcoSystem Token) that will offer Bitpanda customers discounts on various services. The system includes 25% fee reductions on trading fees as well as early access to future products and services.
They are also ready to launch a dedicated trading platform that will allow worldwide crypto-to-crypto trading with a large number of trading pairs. It will allow users to use fiat currency, the Euro, to purchase cryptocurrency in 27 EU countries and will allow for global withdrawals. It will also have a large array of alternative payment options and will have a transparent fee pricing structure that will decrease the more you trade.
Bitcoin and Other Supported Cryptocurrencies
Bitpanda supports many popular cryptocurrencies as well as several more alternative options.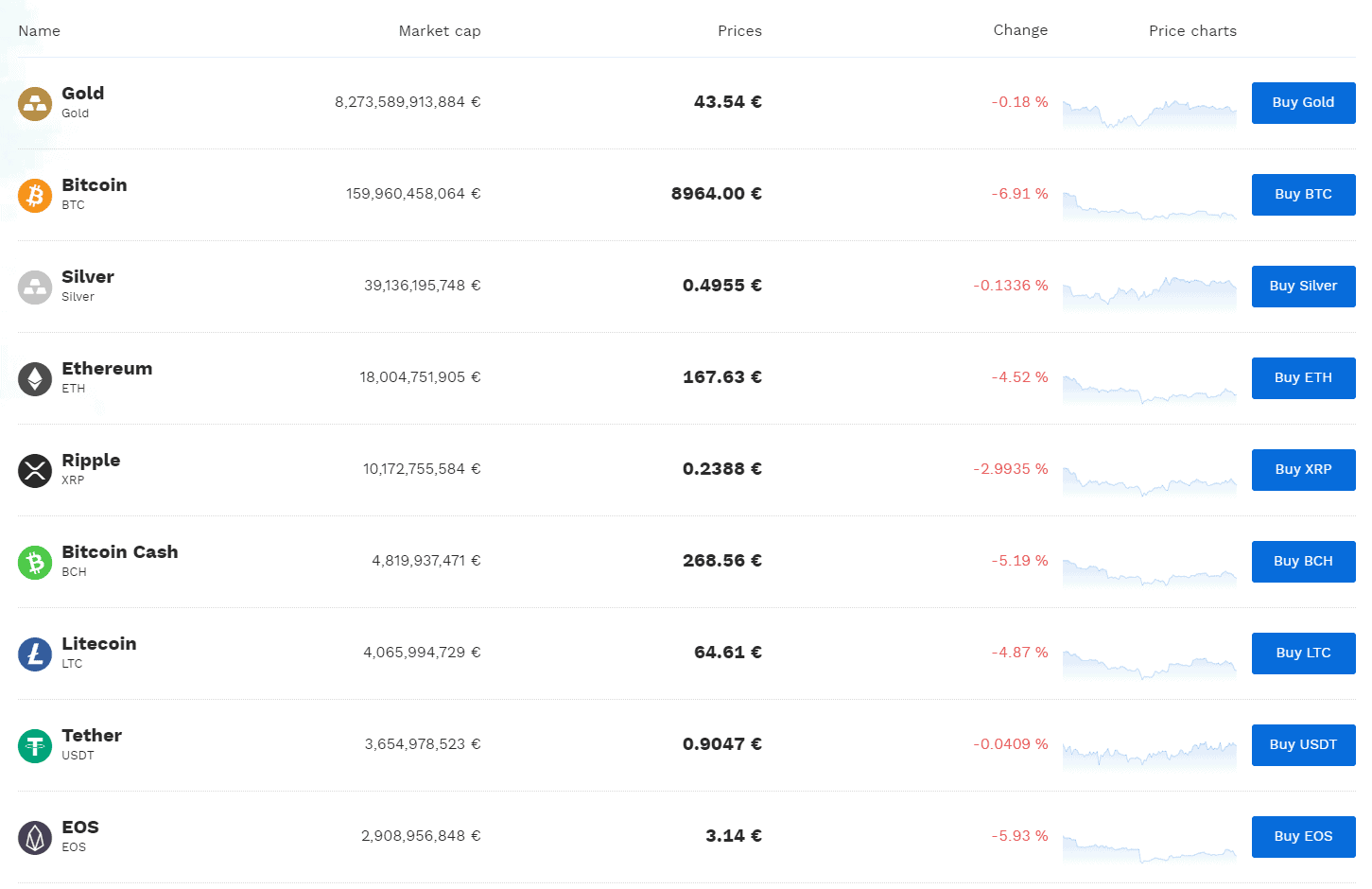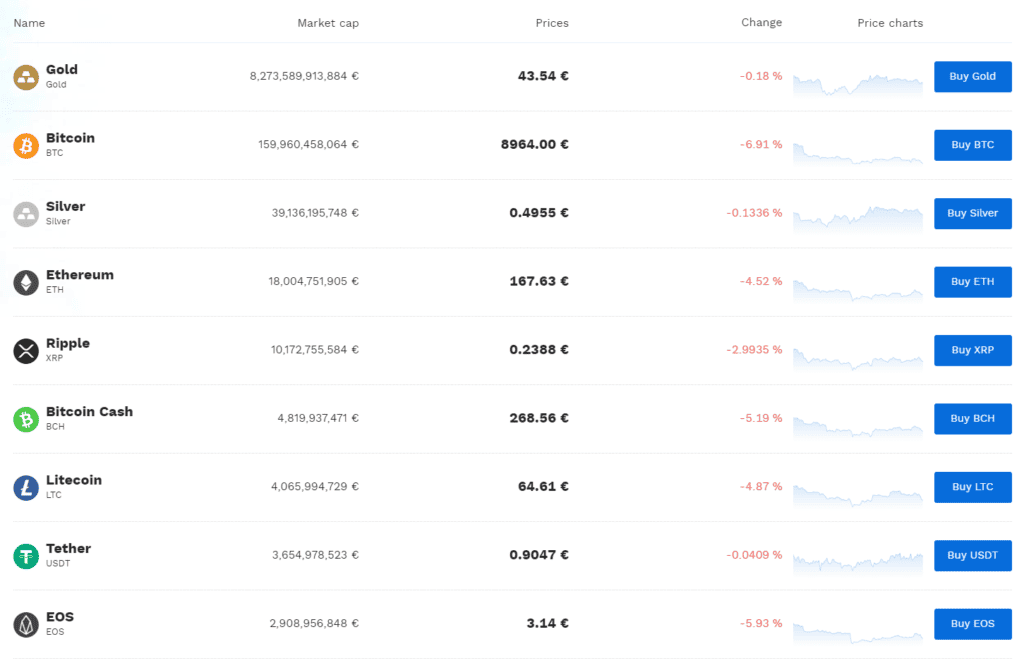 To keep up to date, they continually evaluate and check new cryptocurrencies and notify users when new currencies are implemented on the platform. For a comprehensive and up to date list, you can check their support page which is updated frequently. As of the time of writing, they support 28 cryptocurrencies, the most commonly used include:
Bitcoin (BTC)
Litecoin (LTC)
Ethereum (ETH)
Dash (DASH)
Ripple (XRP)
Bitcoin Cash (BCH)
Komodo (KMD)
IOTA (MIOTA)
EOS
Ethereum Classic (ETC)
USD Coin (USDC)
Tether (USDT)
Trading Fees and Limits
Bitpanda Fees
Bitpanda uses third-party payment services, resulting in fees that are on the higher end of the scale. The fees are included in the price, meaning that many users will never actually know what the fees are. The transaction fees are 1.49% of the value of the transaction for buying cryptocurrency. The fee is 1.29% for selling cryptocurrency.
There are additional fees that you incur when depositing cryptocurrency into your wallet. The details are on this support page on the Bitpanda website (bitpanda.com). There are also extra fees for depositing money in a cryptocurrency that isn't supported by the platform. For instance, if you deposit money in a currency that isn't supported by Bitpanda, the processing bank will charge an extra conversion fee which will change depending on the currency.
There are also fiat deposit and withdrawal fees. These depend on the currency that is deposited and the payment method. For instance, if you deposit Euros via a bank transfer, there are no additional fees, whereas using a MasterCard/Visa debit card incurs a 1.50% fee. These fees are often waived when you make a larger deposit.
Limits
As with most cryptocurrency exchanges, Bitpanda has limits on transactions. These limits change depending on your verification status. In compliance with anti-money laundering regulations, unverified users have low limits and are unable to make fiat deposits. Verified users enjoy substantially increased limits for both withdrawals and payments. Finally, there are no trading limits in place for cryptocurrency.
Limits vary by currency, verification status, and type of payment method. A comprehensive breakdown of limits is available on Bitpanda's support page, which keeps up to date information that takes into account currency fluctuations. If you're recently verified, you need to note that the first deposit after verification will be limited to EUR 2,500 which will subsequently increase after the first deposit.
Customer Support and Ease of Use
Bitpanda has a very comprehensive online knowledge base that consists of support pages, FAQs, and other supplementary material. They also have a dedicated email support team for detailed or obscure questions and issues. They have a reputation for taking slightly longer to respond to email tickets, which is an industry-standard. They also have a helpdesk feature containing questions that other users have had. It's worthwhile checking this out before logging a ticket.
Unlike other cryptocurrency exchanges, however, Bitpanda's online reputation amongst customers remains good. Bitpanda's support makes an effort to respond to comments and queries and do their best to address all complaints. They have a four-star rating on Trustpilot, with 74% of comments rating them as excellent, which is well above the industry standard.
Is Bitpanda Safe to Use?
Whenever you use a cryptocurrency exchange, the main issue will always be the security of your funds. With several high-profile hacks, cryptocurrency has taken a reputation hit, and many investors regard exchanges as inherently risky spaces. As Bitpanda is a registered Austrian company, they have to comply with stringent EU regulations surrounding security. Bitpanda has taken several measures to keep their assets secure, making them one of the safest cryptocurrency exchanges to use.
Cold Storage
Most of Bitpanda's coins are stored in an offline environment that is inaccessible electronically. Many cryptocurrency exchanges in the past used to store their coins online in hot wallets, which would then get hacked and the coins stolen. A prime example of this is the Mt. Gox hack of 2014, where over 850,000 bitcoins were stolen and never recovered.
Bitpanda stores the majority of its coins in cold storage, only leaving enough in hot storage to cover anticipated withdrawals. Bitpanda's storage practices make most of the exchange's assets inaccessible to hackers, which in turn keeps your money safe from would-be thieves.
Communication Protection
Many hackers monitor traffic to and from websites hoping to steal information such as log-in details. Any reputable site will have a form of encryption that protects the data that travels between your computer and the host site. This encryption is called SSL encryption and can be identified by a green padlock in your browser window. Bitpanda has full SSL encryption, which protects your log-in details from being accessed by malicious attackers.
DDoS Protection
DDoS attacks are becoming increasingly common and can frequently interrupt a service, which can be frustrating to users and devastating to the business that is under attack. Many exchanges, such as Bitfinex, have been targets of DDoS attacks, resulting in traders being unable to take advantage of market fluctuations at the worst possible time.
While DDoS attacks won't affect the security of your cryptocurrency, they can have a significant impact on your trading ability. If a DDoS attack occurs during a highly volatile time, these impacts are exacerbated. A company that suffers from frequent DDoS attacks is probably one that hasn't invested in the security infrastructure needed to fend off these attacks. Bitpanda claims to have protection against DDoS attacks in place, which should reduce the amount of downtime in the event of an attack.
Bitpanda Account Security
In terms of user security, Bitpanda also has several processes in place to help you keep your account secure. The first of these is the two-factor authentication system. When you log in, a code is sent to your phone or third-party provider that will provide an extra layer of security. Unlike other crypto exchanges, Bitpanda doesn't enable this option by default. When you create a new account, make sure to enable the option the moment you log in.
Bitpanda also keeps track of the IPs used to access your account and will notify you if a new device or IP accesses your account. You will then need to confirm that it's you accessing the account or take action to prevent your account from being hacked.
As it's your responsibility to keep your account safe, be aware that Bitpanda won't be liable for any funds stolen if your account is compromised.
Frequently Asked Questions
Does Bitpanda have an app?
Bitpanda currently has an app available for Android, but not for iOS. The app uses the same account as the Bitpanda site and has much of the same functionality. It also has a contact feature where users can add friends, family, and external wallets, which allows for smoother cryptocurrency transfers. It's unknown at this time whether or not a version for iOS will be released.
What countries are supported by Bitpanda?
Bitpanda operates internationally and is available to all users. However, only EU residents within the SEPA can buy cryptocurrency via Bitpanda. These countries include most of the countries in the EU as well as Iceland, Liechtenstein, Monaco, Norway, and Switzerland. All other users can store and send cryptocurrency or sell it and get paid out via Neteller.
What type of Bitpanda Wallet can you use?
Bitpanda offers several wallet options, allowing you to use multiple wallets on their platform.
Their Fiat Wallet enables you to sell cryptocurrencies to the wallet and then withdraw that money in the currency of your choice. You can use your Fiat Wallet to deposit money and purchase cryptocurrency, giving you plenty of time to react to current and emerging market trends.
They also offer a traditional wallet option. This way you can store your cryptocurrency relatively securely. If you're skeptical, there are a ton of secure personal wallets also available.
Summing It Up
Bitpanda, formerly Coinimal, is a European cryptocurrency exchange that offers a wealth of options, including precious metal trading. Their site is secure, and their customer service is slow but reliable.
Disclaimer: Digital currencies and cryptocurrencies are volatile and can involve a lot of risk. Their prices and performance is very unpredictable and past performance is no guarantee of future performance. Consult a financial advisor or obtain your own advice independent of this site before relying and acting on the information provided.