Disclaimer: We may receive a commission for purchases made through the links on our site. However, this does not impact our reviews and comparisons. Learn more about our Affiliate Disclosure.
Do you know that over 50 active cryptocurrency exchanges contain "coin" in their names? I don't think it's the most creative marketing strategy to let users mistake you for another platform but it turns out I'm wrong. A few top performers like Coinbase and KuCoin are proud members of this coin-fellow group.
However, today I'm reviewing another "coin". CoinJar isn't a global player but it can be a loyal and reliable companion during the early stages of your crypto career. This Australian crypto exchange offers a variety of local payment methods and a pleasant trading environment.

I'm approaching CoinJar with respect as it withstood all tests of time, being here long before crypto went mainstream. But now, I'll dig a bit deeper into CoinJar's features to find out whether it's still a decent destination for crypto trading.
As far as I remember, CoinJar contributed a great deal to the development of the Australian crypto scene by throwing in a few revolutionary features for the time.
Website: https://www.coinjar.com
Country: Australia, UK
Mobile app: Yes
Deposit Methods: bank transfer, Osko, PayID, SEPA (EUR), Faster Payments (GBP), credit card/debit card, Blueshyft, Google Pay and Apple Pay.
Trading Fees:
1% conversion fee and 0.8% – 1% crypto trading fees
max 0.1% taker and 0% maker
Fiat Currencies: AUD, EUR and GBP
Cryptocurrencies: Bitcoin (BTC), Ethereum (ETH), Litecoin (LTC), BNB coin (BNB), and 50+ more
Pros
User-friendly design and smooth navigation;
A well-established company supported by corporate investors;
A vast choice of deposit methods;
A debit card to spend crypto;
Instant and spot market under the same platform.
Cons
Limited choice of popular altcoins;
High fees for instant purchases;
Lack of crypto derivatives markets and options for margin trading.
Noticeable liquidity issues.
What Is CoinJar?
CoinJar is a Melbourne-based cryptocurrency exchange established in 2013 as a precisely calibrated project of two renowned IT experts, Ryan Zhou and Asher Tan. They envisioned the platform as a "local store" for instant crypto purchases built on highly regulated grounds. CoinJar is an AUSTRAC and FCA-registered company under the name CoinJar Australia Pty Ltd (ABN 75 648 570 807).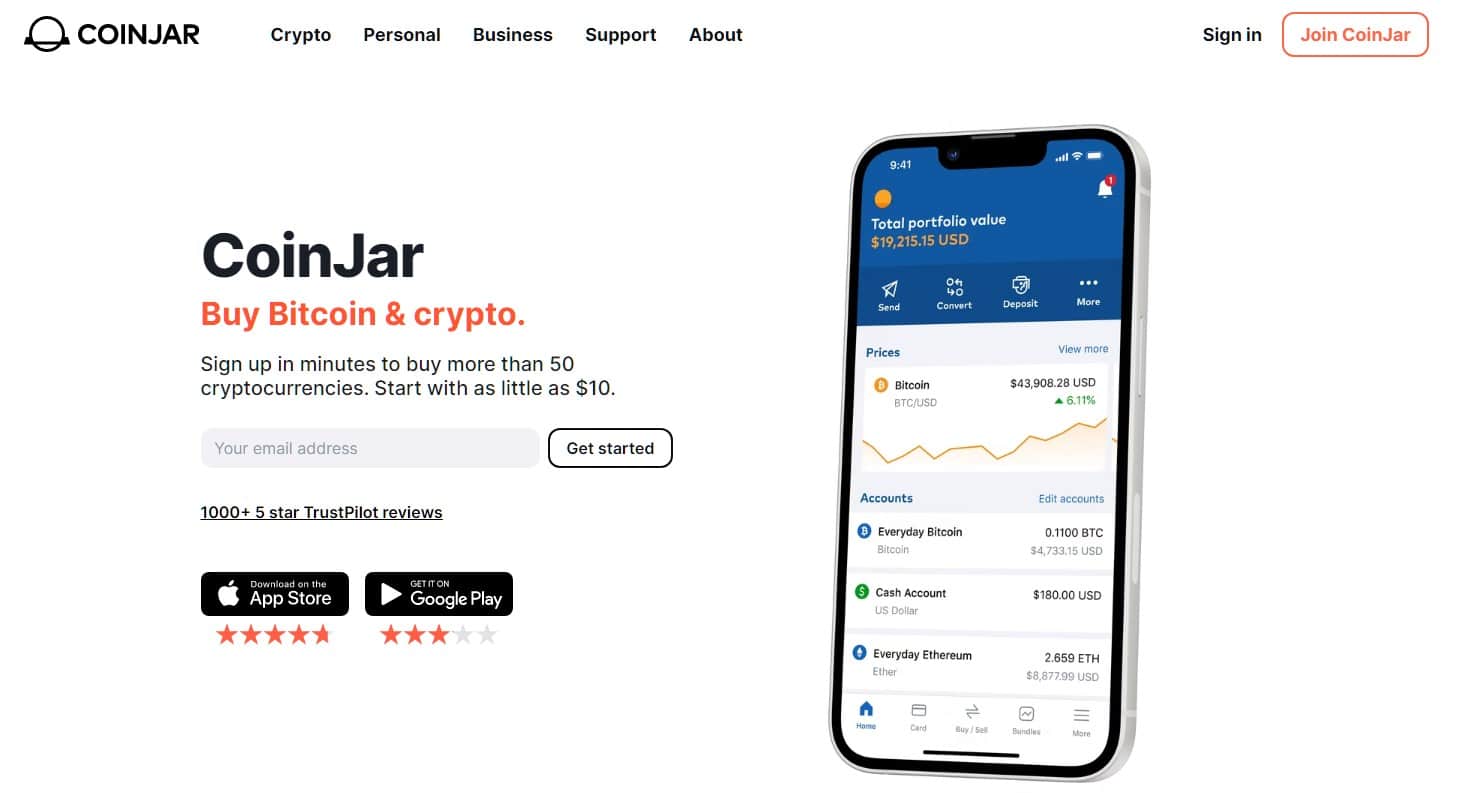 Over time, this Australian-based exchange expanded its operations to the territory of the United Kingdom and broadened its scope of services with a more sophisticated exchange market. Yet, for the most part, the CoinJar team has channeled their efforts into improving the primary purpose of the exchange — sleek AUD-to-crypto transactions.
They've integrated some fancy tools in the CoinJar package, including a mobile app, in-platform wallet, bundle purchases, and a debit crypto card. However, when it comes to the exchange coin selection, I can see that CoinJar has stayed pretty reserved.
Today, CoinJar is a common spot for Australian traders, counting hundreds of thousands of users and over $1.5 billion traded in crypto. It's also backed up by some of the most progressive investors, such as Boost VC, Digital Currency Group, and BlackBird Ventures, which contribute a great deal to keeping the image of a reputable company.
Who Is CoinJar Aimed at?
At first glance, I'd say that CoinJar is tailored for beginner-level users who don't plan to get involved in any trading activities. Yet, with the advanced platform, CoinJar can be a decent choice for intermediate users as well. Seasoned traders may love the compact UX/UI solution of CoinJar, but their fee system is pretty discouraging for day trading.
Moreover, I'm sure that both novices and pro-traders will enjoy the CoinJar card, which allows payments of everyday goods and services with automated crypto-to-fiat conversion.
Finally, the exchange offers corporate accounts for institutional investors and trust funds and a separate OTC desk for investments over $50,000.
Which Fiat and Cryptocurrencies Are Supported?
CoinJar supports a modest selection of 50 cryptocurrencies for instant buys. If you're a beginner, this "shortage" won't play any meaningful part in your decision, as you'll certainly stick to Bitcoin and other market-dominant altcoins like Ethereum (ETH), Litecoin (LTC), Ripple (XRP), Stelar Lumens (XLM), EOS (EOS), and Algorand (ALGO).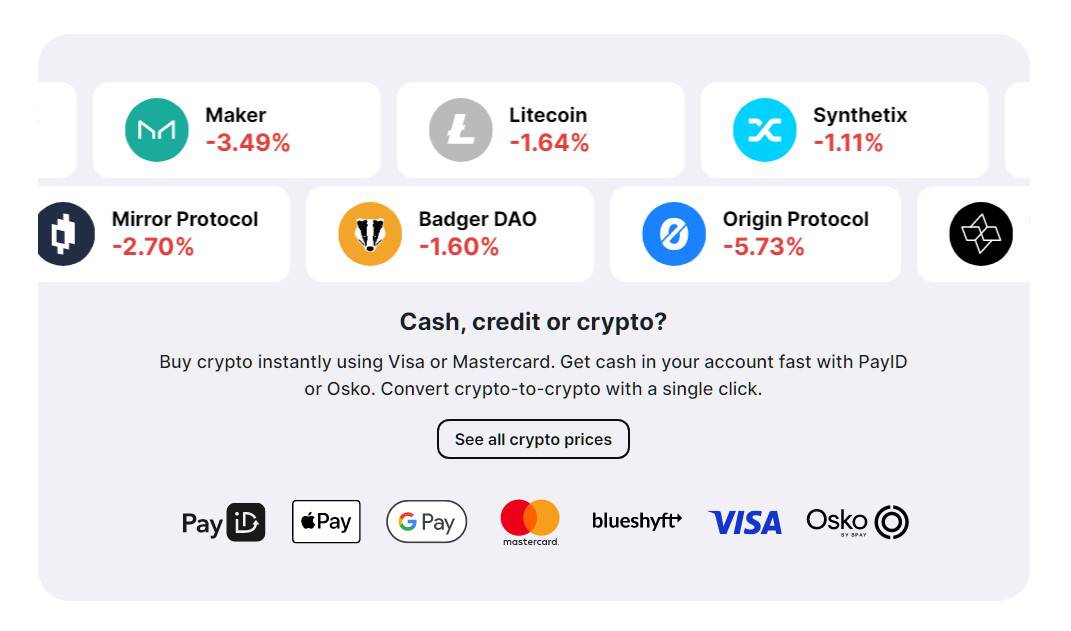 ERC20 tokens like Uniswap (UNI), Dai (DAI), Yearn.finance (YFI), 0x Token (ZRX), Basic Attention Token (BAT), and Chainlink (LINK) fulfill the rest of the list, with the stablecoins Tether (USDT) and USD Coin (USDC) as bestsellers in this DeFi selection. In terms of fiat, the instant market supports AUD and GBP deposits exclusively.
The CoiJar trading platform offers around 100 pairs, also with AUD and GBP as a base currency. Crypto-to-crypto trading pairs are also available on the spot market.
Key Features & Advantages of CoinJar
When I get to the Fee section, you'll see that CoinJar tends to overcharge, which negatively impacts the exchange's reputation. However, I can assure you that CoinJar offers a colorful feature set and doesn't lack users who don't mind paying a bit more in exchange for the ease of use and sense of security they have while staying on the platform.
Ease of Use
Despite my cumulative experience across various crypto exchanges, I always opt for those that make me feel comfortable. CoinJar is definitely one of them. I could feel it from the first moment l logged in on their platform. All features are easily accessible, the onboarding process is simplified to a great extent, and transfers run smoothly — everything you need for a pleasant virtual experience.
User Interface

The CoinJar dashboard is exceptionally neat, and you can directly navigate to your accounts, buy and sell tabs, and settings, all of which are placed on the left-side menu. The default page is the account page that gives you clear insight into your CoinJar wallets — both your cash balance and all other crypto wallets you add over time.
I eagerly directed myself to the Exchange only to see that it's rather poor with visual representation and in-depth market indicators. So, you need to integrate external charting software if you're planning to build a serious crypto career under your CoinJar account.
CoinJar Wallet
CoinJar offers reliable storage space for all available crypto assets regardless of whether you'll buy them onsite or import the crypto from another crypto wallet. I was impressed by their UX solution for funds management. All "banking" transactions — purchases, sales, deposits, and withdrawals — are processed from a single entry point.

Now, let me tell you something more important. In the hunt for convenience, we always neglect the security factor. Everybody can tell you that in-exchange wallets aren't the most secure storage solution in the long run.
When you give trust to the crypto exchange, you actually leave your private keys in the exchange's hands. In blockchain language, private keys are the only ownership proof of your crypto, i.e. they represent your coins in a way. So it's not very pleasant knowing that "somebody else" holds your coins.
On the other hand, having your crypto on the very spot cuts transacting times and extra conversion fees, so the answer is to find a wallet that can make a good balance.
In terms of combining security with convenience, the CoinJar wallet may be what you're looking for. The company keeps the majority of user funds in offline cold wallets distributed across various secure locations.
In addition, CoinJar employs multi-signature withdrawals, which means that users can't take out money to their bank accounts without the written consent of several employees. This security feature reduces the chances of unauthorized access and scams. Finally, the company claims that wallets and balances are backed up with reserves 100% of the time.
Buy or Sell Easily
The buy-and-sell feature is where CoinJar shines. The exchange offers three sleek options for you to purchase and sell crypto with ease — Buy/Sell, Instant Buy, and Convert Funds. I'll try to give you a quick outline of all three.
Let's start with the familiar route of buying and selling crypto. Just navigate to the Buy/Sell tab where you can take a close look at the current exchange rates for all ConJar-supported coins. Apart from their prices, each crypto comes with a price chart for the past 24 hours. Once you select the desired crypto, you'll see an additional set of information and crypto-related statistics, together with the buy or sell option.
Now remember this, to use the CoinJar Buy/Sell feature, you'll need to have AUD, EUR, or GBP on your CoinJar Cash Account to execute the transaction.
CoinSpot has recently introduced the Instant Buy feature, which allows you to purchase any of the supported cryptos without funding the Cash Account first. This "action" is possible through your Visa or MasterCard at a very competitive price. Moreover, if you make the purchase using the CoinJar mobile app, you can accelerate the entire process with Apple Pay or Google Pay. I tried it and I still can't believe that I bought a BTC fraction in the same jiffy manner I pay a utility bill.
Finally, CoinJar enables you to swap one crypto for another or what they call a Convert feature. Once you get to this crypto-to-crypto department, all you have to do is to select an account to convert funds from and an account for the crypto you want in return.
Send Funds the Easy Way
I pointed out several times throughout this review that CoinJar excels in providing sleek transactions on all levels. Yet, I believe that this Send Crypto feature deserves to be singled out.
Namely, CoinJar enables you to send a certain amount of crypto to another CoinJar user without any involvement of the blockchain and hence, without waiting for additional confirmations and transaction fees.
This is called an internal or off-chain payment, and it just reminded me of the most advanced fintech companies. In fact, I enjoyed this feature — it makes CoinJar a gate for conducting business in crypto with the same ease as day-to-day banking transactions.
CoinJar Card
I believe that CoinJar was the first Australian-based crypto exchange to release its brand own MasterCard known as CoinJar Card, which allows regular payments at any retailer and outlet with EFTPOS in Australia. More precisely, you can top up the CoinJar debit card with any crypto from your CoinJar wallets and use it in-store without taking care of the crypto-to-AUD conversions.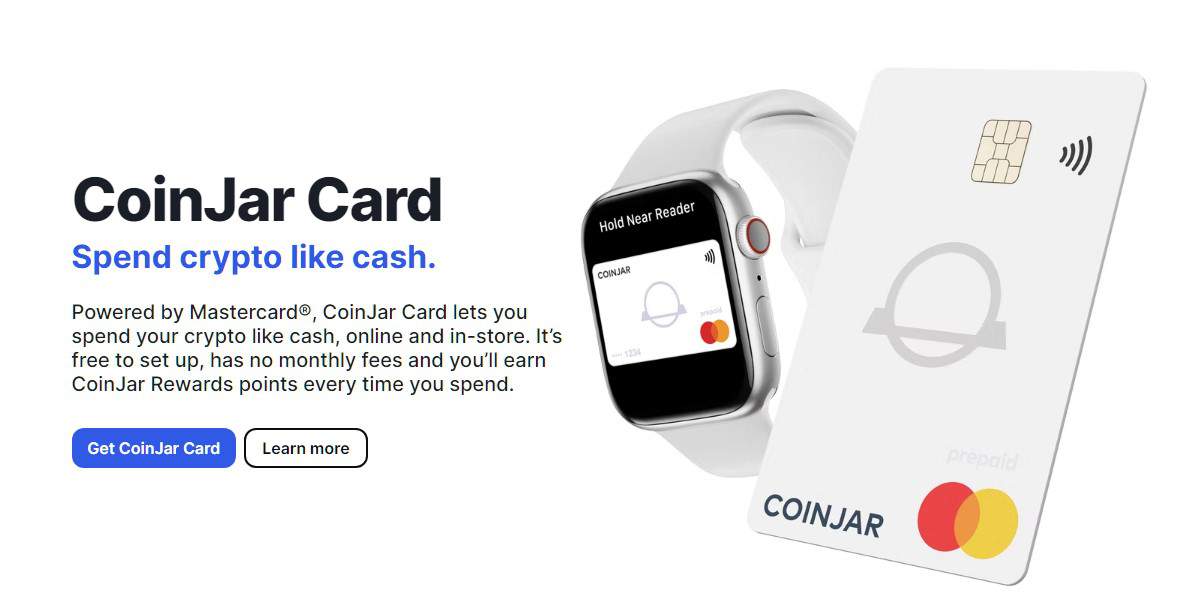 What's more, the CoinJar card is free to activate and doesn't come with a monthly or yearly maintenance fee. On top of it, you can earn CoinJar cash back rewards every time you spend some CoinJar money for a good or service. Finally, you can use the card for ATM cash withdrawals or link it to your Google Pay or Apple Pay account for contactless payments from your mobile device.
OTC Trades
The regular purchasing methods aren't suitable for large-scale investments. There are a million reasons why you should avoid order-based trading platforms if going big on the crypto investment scene — inflexible fees, market disturbance, low odds for fulfillment at the settled price, etc., all of which result in an unadvantageous outcome for the buyer.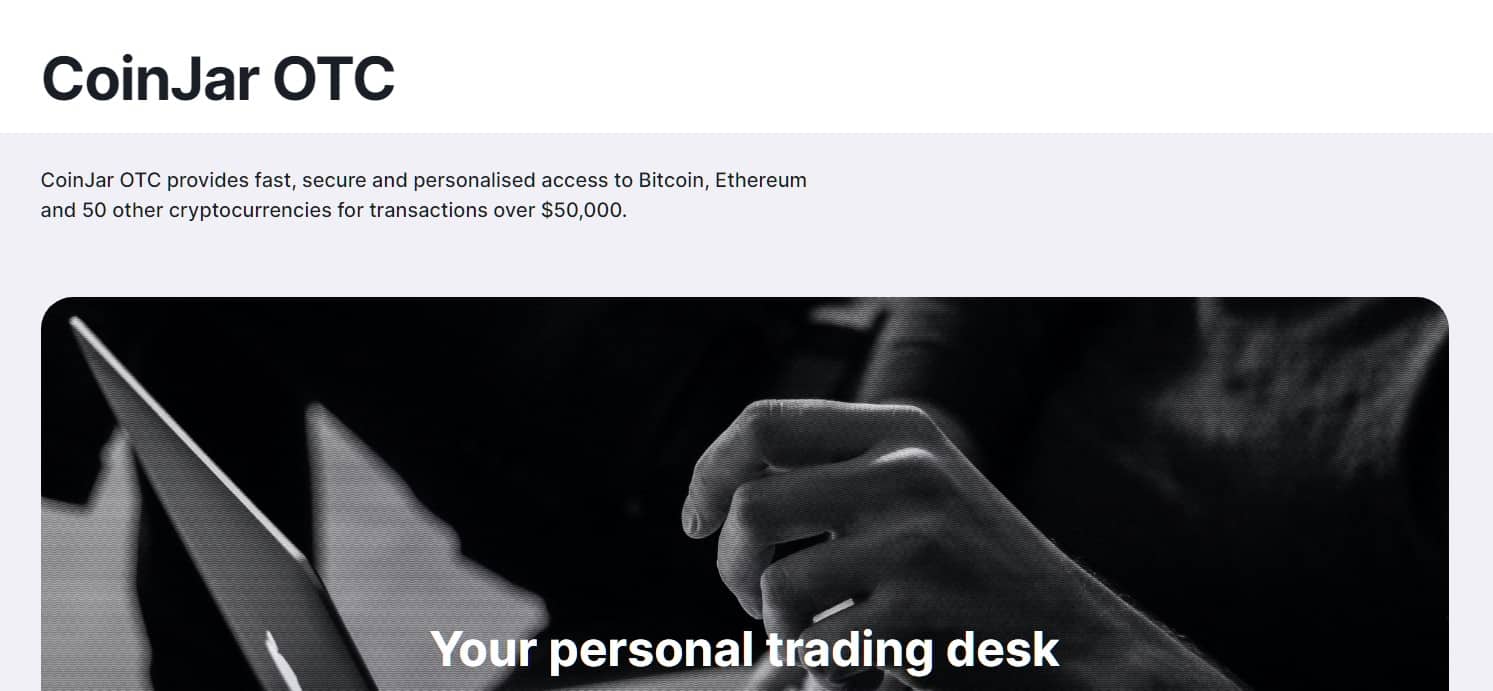 Fortunately, well-established crypto exchanges like CoinJar can offer you a separate OTC desk for favorable "whale" trades. That is to say, for every investment of $50,000 and above, you get qualified for a concierge service with guaranteed trade execution and globally-sourced liquidity. The CoinJar OTC desk is superb, giving you a chance to buy around 50 different cryptocurrencies over-the-counter with AUD, GBP, or USD-based stablecoins.
CoinJar Bundles
I'm glad to see this "bundle-shopping" option is available across multiple crypto exchanges across Australia. With CoinJar Bundles, you'll have the chance to buy some attractive crypto packages in a single transaction.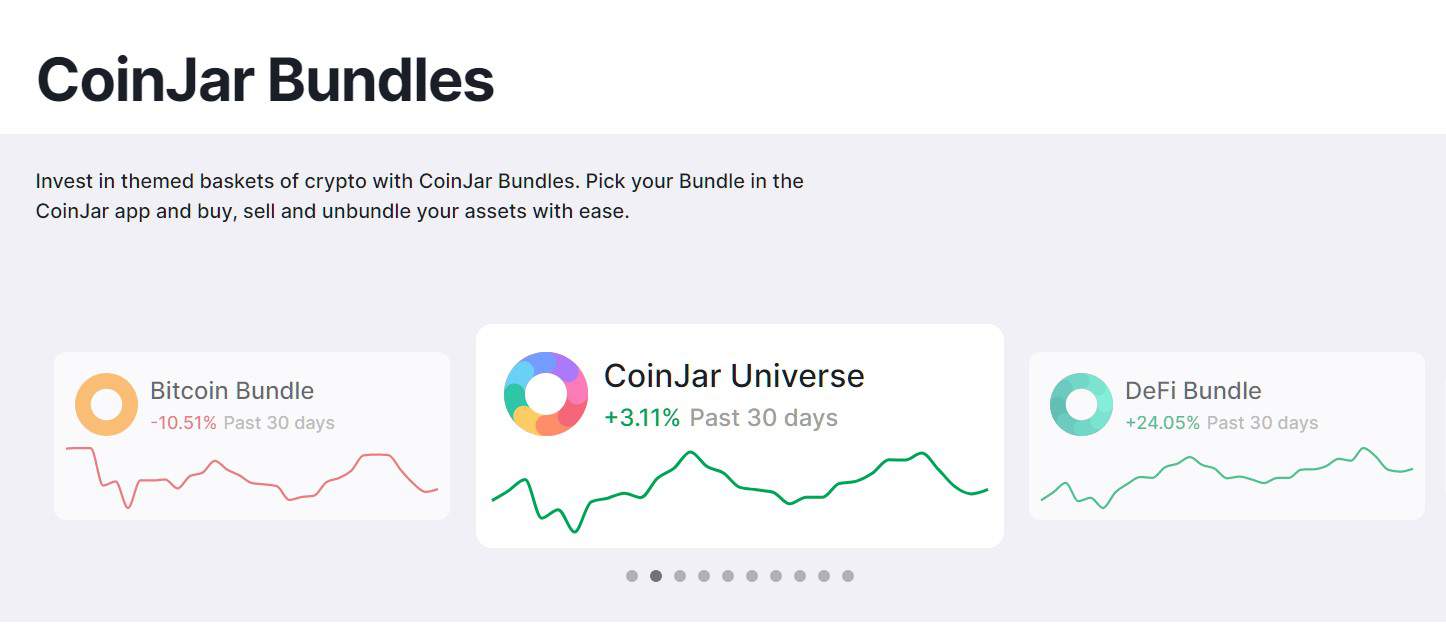 For instance, you can opt for the Popular Duo consisting of BTC and ETH in a proportional mix, the Popular Trio, with XRP as an enhancement, the DeFi Bundle (a selection of market-dominant DeFi tokens), or maybe the Stable Bundle (DAI, USDC, USDT, USDP). If you ask me, I'd go "like a boss" for the CoinJar Universe and get the top 25 cryptos on CoinJar with a single shot.
Remember that CoinJar Bundles come in all possible forms and sizes, with a free option to empty the bundle at any time. By "empty" I mean to sell some of the cryptos or transfer them to your wallet.
CoinJar App
I have the feeling that CoinJar is going mobile-first very fast. The exchange launched the newest version of its iOS and Android apps in 2019 and I can notice that all fresh features are better suited for on-the-go users.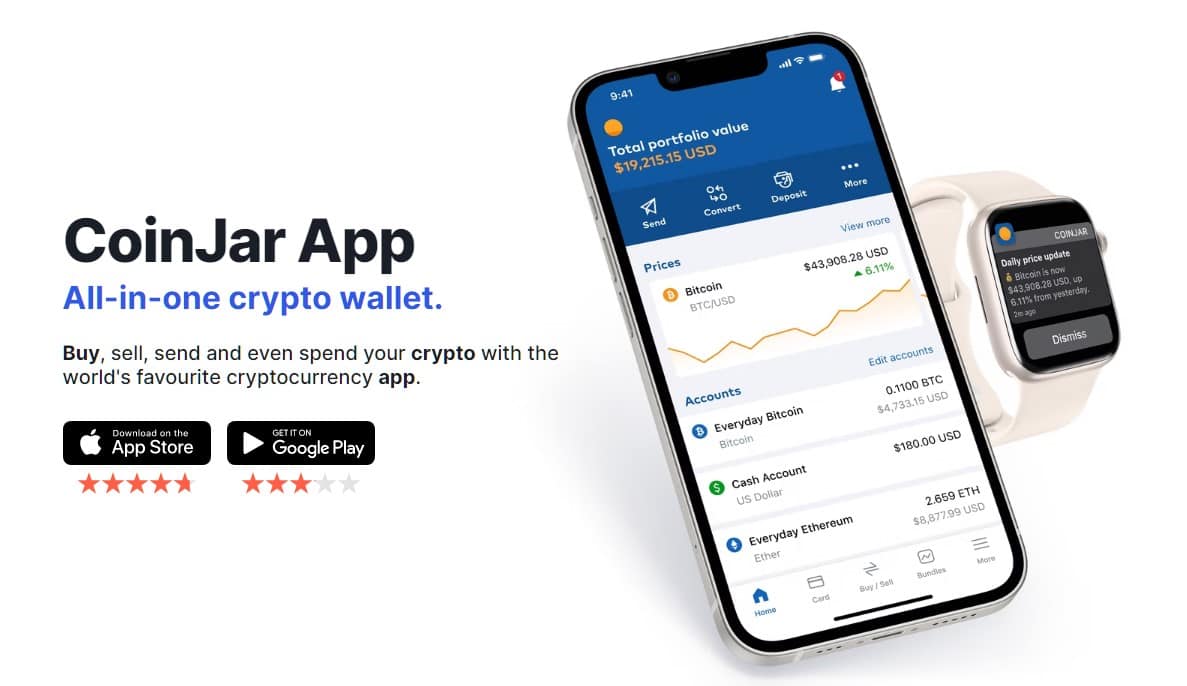 The modern design of the CoinJar mobile app is nothing else but a piece of art — the simplified interface works even better with the CoinJar feature set. In terms of usability, the app hasn't given up any function in favor of the web-based platform.
Even more, you can set price alerts based on your personal interests, manage your profile and wallet balances, monitor your transaction history, and get all the necessary in-house customer support. All in all, with CoinJar, you can readily exclude the use of a desktop in the entire crypto trading process.
Fees
My overall impression is that this exchange charges higher than all other native crypto providers with a similar trading model. Now, I'll go through all types of fees you should consider while purchasing and selling crypto on CoinJar.
Trading Fees
CoinJar uses the term conversion rate for what we usually call a trading fee on the instant market. It's a flat fee of 1% for all AUD-to-crypto and crypto-to-crypto transactions.
The CoinJar trading platform features a bit different fee schedule. It's less painful than the instant market and makes a clear difference between makers and takers. That is to say, takers don't pay any fees for trading pairs that contain AUD as a base currency while maker fees start from 0.1% and can drop down to 0.04% as your trading volume gradually uplifts.

Crypto-to-crypto trading pairs also incur a 0% fee for takers, and makers pay only 0.04% regardless of the trade size. I must admit that the image of an expensive exchange is rather unjustified when it comes to the CoinJar spot market.
Finally, let me remind you of a semi-hidden fee known as the spread, which is simply the percentage difference between the buying and selling price added to the price at which you buy crypto. The spread on CoinJar is around 0.2%-0.35%, which is great.
Deposit and Withdrawal Fees
Almost everything I found on the platform as a funding option is free of charge except for the Blueshyft cash deposits that come with a deposit fee of 1.5%. I'm not sure whether I can count credit and debit cards as a deposit method — after all, we use them for direct buys — but you should know that card payments incur a fee of 2%.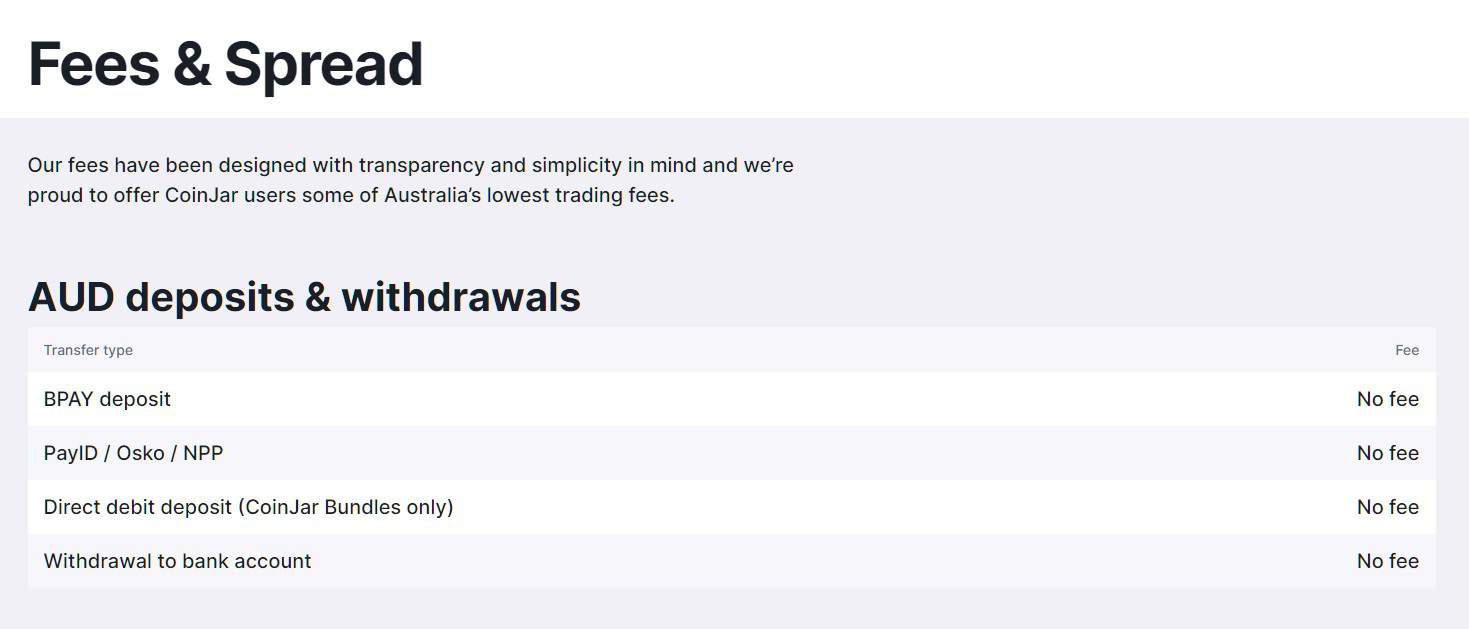 If you withdraw cash from your CoinJar account to BPAY Biller, you'll need to pay a withdrawal fee of 0.5%. When it comes to cryptocurrency, the exchange doesn't impose any particular commissions except for transaction fees, which are blockchain-imposed and variable depending on the native network of the crypto being traded.
Payment Methods
The variety of payment options is part of the CoinJar strategy for simplifying the trading process for Australian crypto users. As such, you can find plenty of methods designed for the local market, each with its own transaction speed and costs. This is the payment schedule I gathered from the official Coinjar website.
| | | | |
| --- | --- | --- | --- |
| Payment Method | Transaction Fees | Processing times | Notes and limits |
| PayID (supported by Osko and NPP) | 0% | Almost instantaneously | Not all Australian bank accounts support PayID |
| Bank transfers | 0% | Up to 3 business days | Not kept in the reserved balance |
| Blueshyft | 1.5% | Instant settlement | Comes with certain account limits |
| Debit and credit cards | 2% | Instant settlement | The most expensive option |
| Apple Pay/ Google pay | 2% | Instant settlement | Linked with your debit or credit card / available only for mobile app users |
They now also support SEPA (EUR) and Faster Payments (GBP).
CoinJar Security
I already covered 2 factors that make a secure crypto trading platform — fund storage and regulatory compliance. As you can see, CoinJar has passed the test with flying colors in both categories.

Concerning account protection, the exchange employs the standard set of security measures, including two types of 2FA (two-factor authentication) — authenticator app and SMS authentication. The app can be installed on your mobile device and works by creating a new authentication code every 30 seconds while the SMS authentication isn't directly encrypted by phone providers but it can serve a great deal in the fight against attacks of unauthorized account access.
Finally, CoinJar robustly protects its website by using data encryption, security audit reports, TSL (Transport Layer Security), and a few advanced machine learning techniques (MLTs) to detect fake logins and other financial scams.
Customer Support
I really enjoyed the neatly organized FAQ section on CoinJar. I found a knowledge base of super useful how-to tutorials, which can serve as a solid basis for your professional crypto development due to the exhaustive area they cover.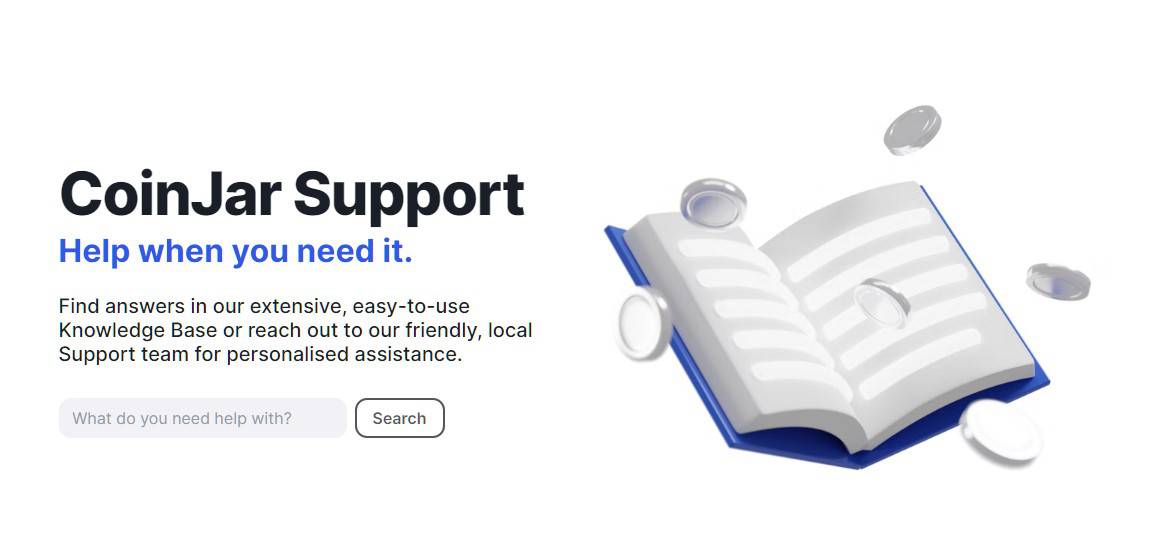 Yet, I think CoinJar can make certain upgrades in establishing better communication with its users. It offers a single method for users' inquiries through the regular ticket system. However, I won't say that the CoinJar support team isn't helpful and effective — they responded to my question with full accuracy in less than an hour.
CoinJar Sign-Up Process
Even if you aren't very tech-savvy, I assure you that it's almost impossible to get stuck at any stage of the sign-up process. You need to pass 2 major steps before being able to use the full range of CoinJar services in your trading routine practice.
Create an account
Signing up on CoinJar doesn't differ from joining any other interactive platform. At this point, you'll need to submit your full name, email address, and a strong password.
Confirm your account by following the link in your email.
When logging in for the first time, the exchange will ask you to choose a user name, select your country of permanent residence, insert your phone number, and upload a profile picture.
Don't forget to activate 2FA during the registration process. To enable this option, navigate to Enhanced Verification under Security on your profile page.
Verify Your Identity
To make your first trade, you'll need to complete a KYC form for compliance with the local AML/CFT (Anti-Money Laundering and Combating the Financing of Terrorism) policies. Fortunately, the process is automated through Australia Post (Digital ID), which means that it won't take days to get confirmation.
Despite the automated mechanism, the KYC requirements have remained unchanged. First, you'll have to prove your identity by uploading a government-issued document (ID card, passport, or driving license) and inserting the required information about the document.
When everything is done, double-check the information and click Confirm. The green light will bleep in a minute.
Alternatives to CoinJar
I believe that you can see the real strengths and weaknesses of a single crypto exchange through a vis-a-vis comparison with its competitors. It's a bit irrelevant to evaluate the CoinJar performance without knowing how it compares with other crypto players on the Australian scene.
CoinJar vs Binance
You must've heard about Binance — it's the exchange across all global crypto markets. Binance has been an unparalleled leader in market cap, trading volume, and traffic since its inception in 2017. Its success lies in the colorful crypto package that comes at a very low price. Binance literally delivers every blockchain-related activity under a single platform — instant purchases, a grandiose spot market, P2P platform, mining pool, margin trading, futures, and so on.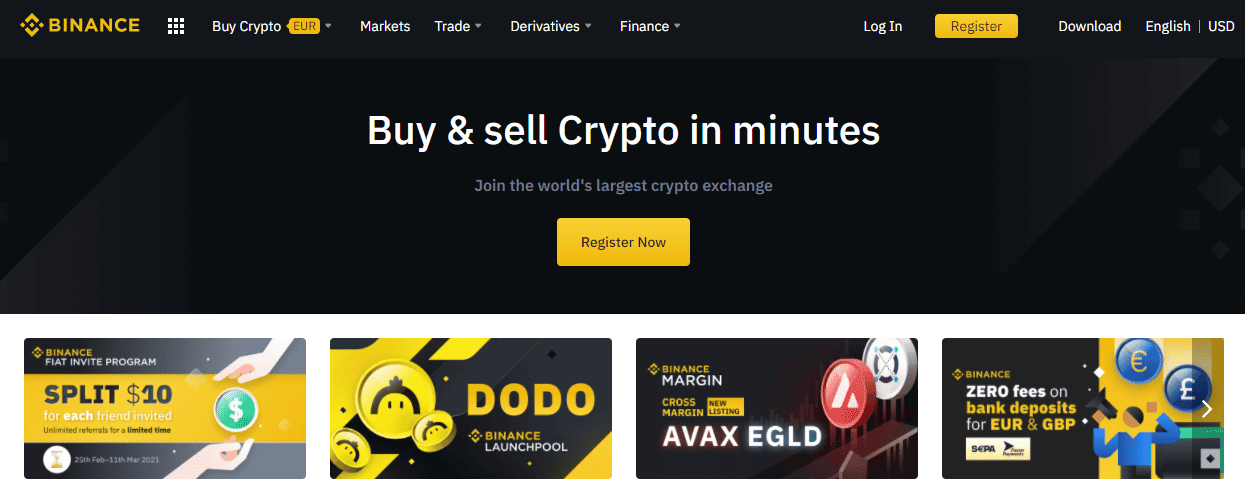 But let's be clear. This doesn't mean that Binance is the right exchange for you. If you lack a certain crypto experience, this abundance of features and coins can only frustrate you. Home-based exchanges with widely open fiat gates for Australian Dollars are always a better solution for beginners.
Yet, in the very battle between Binance and CoinJar, I'll give my vote to Binance regardless of your experience level. Despite everything, Binance is a more cost-effective solution for Australian traders.
CoinJar vs CoinSpot
CoinJar and CoinSpot share many features in common apart from the "coin" prefix. Both are reputable Australian brands with long mileage in the industry, both target beginner audiences and corporate investors, and both charge a bit higher than the younger kids on the block.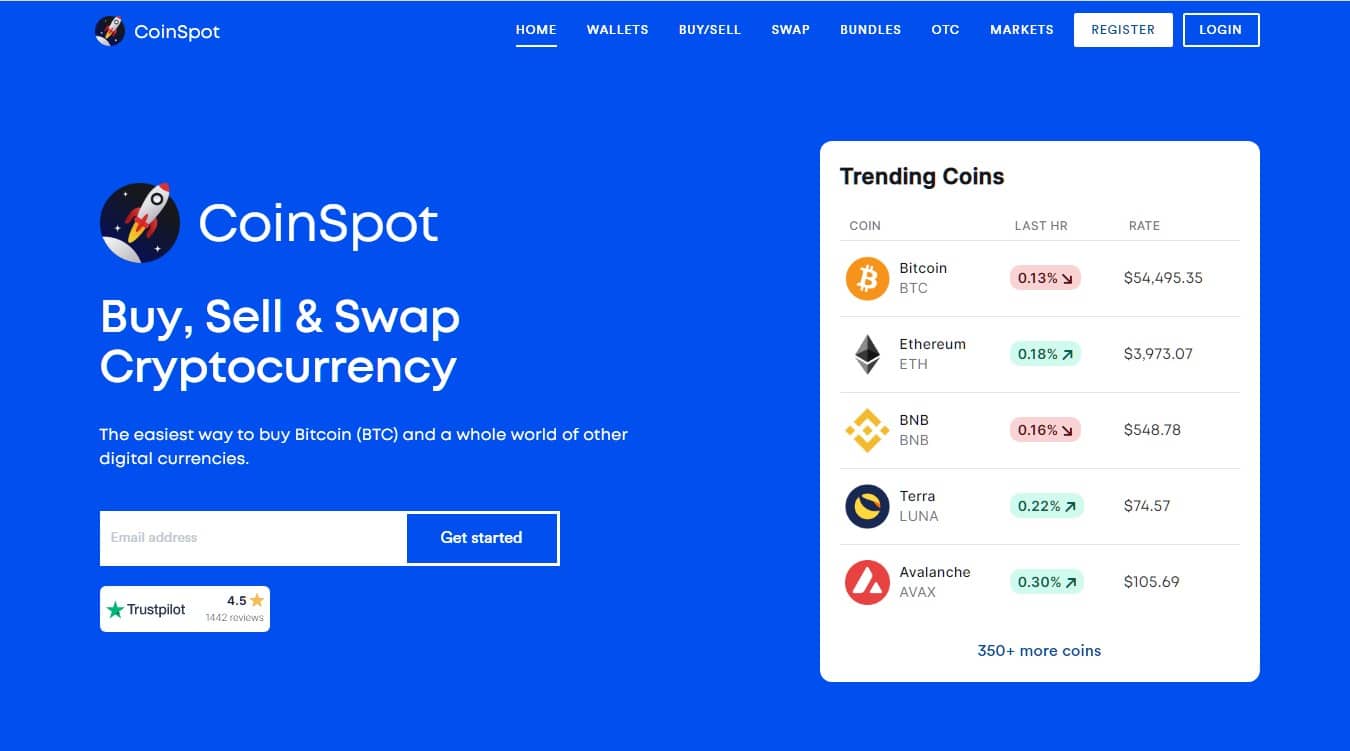 However, I noticed that CoinSpot has far better customer support and a bit more competitive fees. On the other hand, CoinJar offers credit/debit card payments and has its own CoinJar card, while CoinSpot doesn't. So, the choice for a better "Australian coin" will depend on these "tiny details."
CoinJar vs Swyftx

The competition between CoinJar and Swyftx is also a home-ground battle, but here, the outcome is pretty clear. From this point, I can say that Swyftx has surpassed the old-good CoinJar in all respects — ease of use, fees, and customer support. Again, the card payments are the only advantage CoinJar has over Swyftx.
Frequently Asked Questions
Is CoinJar FCA regulated?
This Melbourne-based exchange has expanded its operations overseas by launching a CoinJar platform adjusted to the UK purchasing routines. CoinJar UK Limited is a fully regulated entity registered as a Cryptoasset Exchange Provider and Custodian Wallet Provider under FCA.
Is It easy to withdraw from CoinJar?
Yes, it is. I could read plenty of positive user reviews about the exchange withdrawal system. CoinJar withdrawals are processed as NPP payments, which guarantees that they'll be settled in less than 5 minutes.
Is CoinJar a wallet?
CoinJar is a cryptocurrency exchange with a built-in cryptocurrency wallet, which is frequently referred to as the safest storage solution you can get from a custodial exchange wallet.
Which countries does Coinjar support?
CoinJar isn't a global crypto provider. It's available only for users in Australia and the United Kingdom.
Conclusion
Now that I read through the CoinJar features myself, I can clearly see why it's no longer part of the Australian crypto elite. It falls behind the competitive fee systems of modern exchanges and doesn't offer any of the trending crypto activities like staking, lending, and an NFT market. The spot market is moderate in terms of advanced orders but rather poor with technical analysis tools.
All things considered, CoinJar is still a reliable crypto destination. It has an exceptionally user-friendly interface and a simplified approach to buying and selling crypto. For 400,000 registered users, this has been a legit reason to stay loyal to the exchange. Finally, I always give CoinJar a bonus point because of the super-cool CoinJar Debit Card.
Related:
Coinjar Alternatives
| Exchange Name | Deposit Methods | Fiat Currencies | Crypto | Trading Fees | Sign Up |
| --- | --- | --- | --- | --- | --- |
| Swyftx | PayID, POLi, OSKO, Bank Transfer, Debit Card, Credit Card, and Crypto | USD / AUD | 300+ | 0.6% | $20 BTC Sign-up Bonus |
| CoinSpot | Bank Transfer, Crypto, Fiat, BPAY, PayID | AUD | 300+ | Instant buy/sell: 1% OTC: 0.1% | |
| Binance | Crypto, Debit Card, Credit Card, PayID, Osko | 40+ | 350+ | 0.1% | |
| Bybit | Credit Card, Debit Card, Bank Transfer, Wire Transfer, EFT, Crypto | 50+ | 160+ | 0.1% to 0.6% | |
| Coinjar | Google Pay, Apple Pay, NPP, Crypto, Cash, Osko, Blueshyft, PayID | AUD | 50+ | Instant Buy fees (Visa/Mastercard): 2% Conversion fees: 1% | |
| Independent Reserve | Crypto, POLi, PayID, Swift, Osko, EFT | AUD, USD, NZD, SGD | 30+ | 0.02% – 0.5% | |
| Kraken | Swift, Osko, Bank Transfer | USD, GBP, CAD, YPY, EUR, AUD, and CHF | 100+ | Maker fees: 0% – 0.16% Taker fees: 0.10% – 0.26% | |
| Coinbase | Crypto, Debit Card | USD, AUD, GBP, EUR, AUD | 50+ | Credit/Debit Card Fee: 3.99% Taker Fee: 0.60% ($0-10K) – 0.05% ($500M+) Maker Fee: 0.40% ($0-10K) – 0% ($500M+) | |
| Bittrex | Crypto, SEPA Transfer, Wire Transfer, Bank Card | USD, EUR, GBP, JPY | 300+ | Maker fees: 0% – 0.75% Taker fees: 0.05% – 0.75% | |
Disclaimer: Digital currencies and cryptocurrencies are volatile and can involve a lot of risk. Their prices and performance is very unpredictable and past performance is no guarantee of future performance. Consult a financial advisor or obtain your own advice independent of this site before relying and acting on the information provided.