Disclaimer: We may receive a commission for purchases made through the links on our site. However, this does not impact our reviews and comparisons. Learn more about our Affiliate Disclosure.
The Australian Swyftx and the Chinese Binance are two of the best crypto exchanges for Australians that offer their crypto trading services locally. While Binance is the crypto giant in terms of trading volume, liquidity, and popularity on an international level, Swyftx is more of a local hero.


VS


Both established in 2017, Swyftx and Binance appear to have pursued distinct goals in the business, although each of the exchanges has risen to the top of the industry's ladder. This article will look at how these two exchanges compare and what characteristics have helped Binance and Swyftx earn the industry's "best exchange" title.
Comparison Table
| | | |
| --- | --- | --- |
| Features | Binance | Swyftx |
| Supported Coins | 600+ coins | 290+ |
| Trading Fee | 0.1%-0.5% | 0.6% |
| Market Spread | 2.5% | Starting at 0.41 % |
| Deposit Fee | Free | Free AUD deposits |
| Withdrawal Fee | Free AUD withdrawals to an Australian bank account | Free AUD withdrawals to an Australian bank account |
| Payment Methods | P2P transfers, Visa/Mastercard issued credit card/debit card. | AUD deposits and withdrawals through wire transfers, PayID, OSKO bank transfers. |
| Regulatory Status | Not regulated | Fully regulated |
| Customer Support | Customer support in eight languages, email support ticket | 24/7 help desk, live chat, and phone support |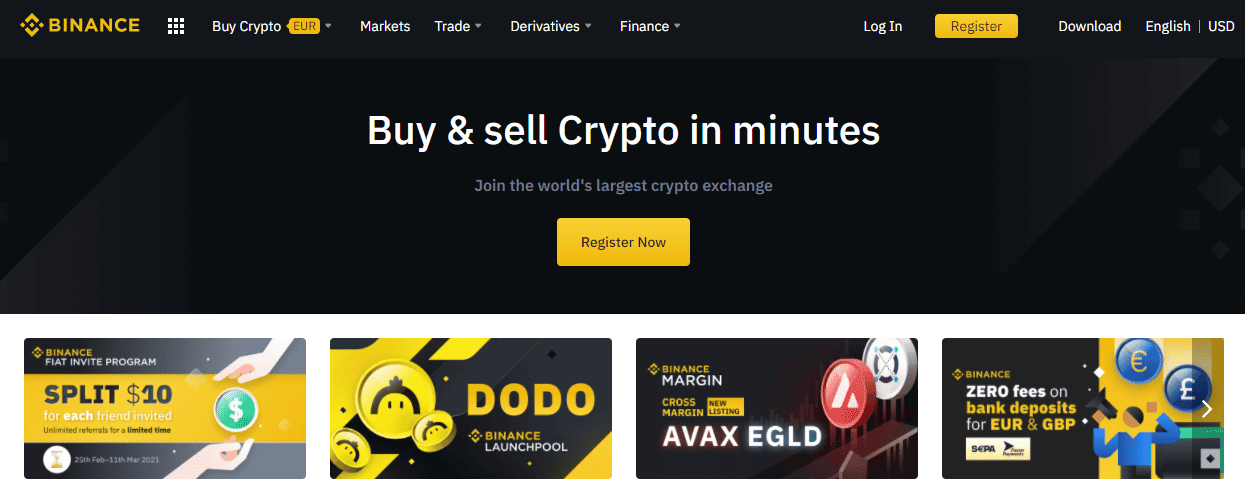 To go along with its status as the world's largest and best-known cryptocurrency exchange, Binance offers an exceptionally wide range of basic and advanced trading options from across the globe.
This trading platform also offers various cryptocurrencies and fiat currencies, allowing crypto investors to expand their trading options even further.
The Binance exchange has a robust user interface that includes detailed market charts that display the current market fluctuations. It includes advanced trading options such as liquidity farming, spot, margin, derivative trading, and staking and options trading, among other others.
Pros
Large number of supported cryptocurrencies and trading pairs;
Broad range of financial instruments;
Low trading fees;
Peer-to-peer trading (P2P);
Credit card/debit card payments;
Offline cold storage of user assets;
Deep liquidity.
Cons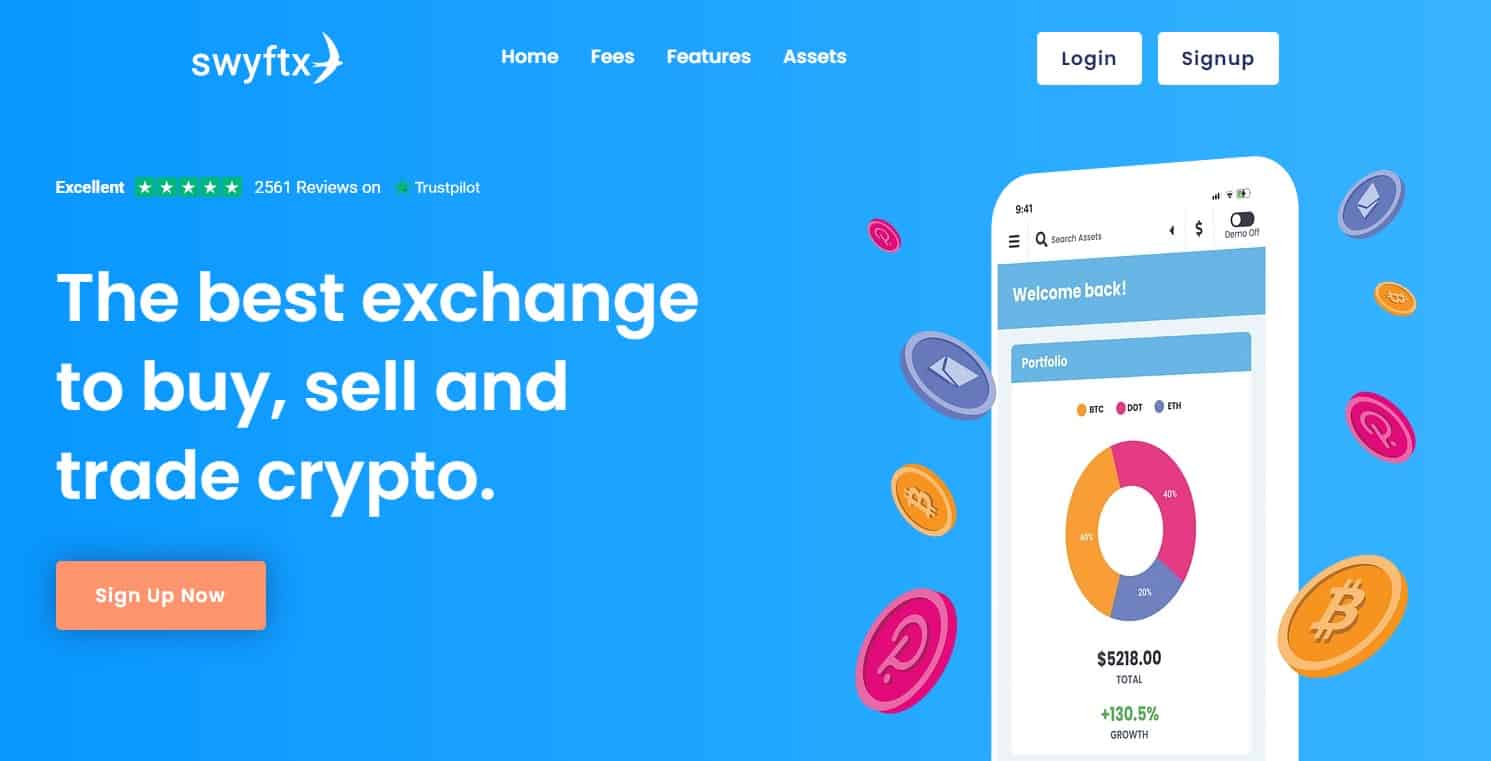 Swyftx is the most popular cryptocurrency trading platform in Australia, developed to cater to the needs of local crypto traders. In this regard, Swyftx provides new users with a free demo account so they may practice trading and get used to the platform's user interface before investing any real money.
Overall, Swyftx represents the best cryptocurrency trading medium for Aussies because it offers a safe and user-friendly platform where crypto investors can effortlessly swap a decent number of coins for a cheap transaction cost.
Pros
Regulated exchange;
Beginner-friendly and secure platform;
Fast and easy registration process;
Low fees and low spreads;
Demo mode available;
Credit/debit card deposits;
Large selection of cryptocurrencies;
Supports AUD, USD, and NZD fiat currencies;
24/7 customer support featuring a phone and live chat support;
Cons
Supports only one fiat currency;
Available only to Australians;
No PayPal payment option.
Supported Cryptocurrencies
With over 600 digital currencies and more than 1,000 trade pairings available on the Binance platform, it's no wonder that the exchange is a global industry leader in liquidity.
Without a doubt, every trader can find their favourite cryptocurrency, token, or stablecoin on this exchange and combine it with a wide variety of other trading pairs to create a profitable investment strategy for themselves.
On the other hand, Swyftx offers twice as few virtual currencies for trading on this platform. In addition to the most powerful coins on the market, like BTC, ETH, LTC, BNB, XRP, and ADA. Swyftx supports some less popular altcoins that can be a more affordable choice for traders who are about to enter the market.
Figures-wise, Swyftx supports more than 290 markets and an equal number of coins. The Australian dollar (AUD) is the default currency accepted by Swyftx for fiat deposits, excluding large transactions that you can carry out in other currencies, such as USD and NZD.
Supported Cryptocurrencies Winner: Binance
One of the reasons Binance is the most popular international platform is its large selection of coins that opens almost endless trading options for crypto investors.
Truthfully, the 600 cryptocurrencies and the even more significant number of trading pairs incorporated into the exchange's large ecosystem open up extensive trading opportunities that are hardly achievable by any other crypto exchange in the world.
Fees
According to industry standards, the transaction fees imposed by Binance are among the most competitive on the market. Namely, spot trading costs are charged at a rate of 0.1%, whereas cryptocurrency purchases and trades are levied at a rate of 0.5%, according to company policies.
Furthermore, if you choose to pay for your trading costs in BNB coins, you'll get a 25% discount on your transaction fees. As a result of this transaction, your BNB balance will be reduced automatically.
If you choose to trade cryptocurrencies through the Swyftx exchange, be ready to pay slightly higher fees. Namely, Swyftx imposes a flat 0.6% instant buy fee, and that is somewhat higher than Binance's 0.1%.
Fees Winner: Binance
Binance is well-known for its 0.1% trading fee, which can be reduced even further to 0.075% if you pay your transaction fees in BNB tokens. This exchange can provide the most competitive trading fees in the industry due to the deep liquidity provided by its massive user base and high trading volume.
Market Spread
Due to their strong liquidity, high-volume trading platforms, such as Binance, usually have modest spreads. Thus, we shouldn't expect a significant difference between the buy and sell prices of the available currencies. As a result, the maximum spread on this exchange amounts to 2.5%.
Albeit smaller in size and trading volume, Swyftx offers a highly competitive spread thanks to its substantial liquidity pool drawn from its global partners. Thus, the spread between the buy and sell price starts at 0.41% and reaches an average of 1.7% for the most prominent coins.
Spread Winner: Swyftx
Despite the fact that Swyftx's trading volume does not come close to that of Binance, this Australian exchange manages to outperform the crypto titan in the spread category.
Mobile App
For starters, both of these exchanges provide mobile applications that allow their customers to take advantage of the trading opportunities on the go without restricting users' mobility. Both apps are available for free download to any iOS or Android supported device.
Trade Bitcoin and over 300 other cryptocurrencies using the Binance mobile app, available for iOS and Android devices. To purchase and trade cryptocurrency instantaneously, just link a debit or credit card to your account.
If there is no trading pair available, you can toggle between any cryptocurrency you like using the app's Lite Mode.
When it comes to Swyftx's mobile app, it offers fewer functionalities than Binance's app but provides greater practicality. You can instantly buy or sell any of the 280+ supported coins through this app, which will intuitively guide you through the process. Simply fund your account and pick your trading pair.
What's more, you can directly swap crypto to crypto through the Swyftx app. Swyftx's online chat functionality, integrated within the app, also allows you to receive expert assistance from a real person.
Mobile App Winner: Swyftx
Having someone to watch your back while you're trading on the go is, in our opinion, absolutely invaluable. So, our vote in this category goes to the efficient use of the Swyftx app, which is, after all, the reason we use mobile apps in the first place.
Customer Support
Binance's customer service is primarily based on the support ticket system, available in 8 world languages. The world's largest exchange does not offer live chat or phone assistance. Just thinking about having several million clients from different time zones requesting assistance can be quite intimidating, let alone coordinating and providing the service itself.
Consequently, Binance provides an extensive knowledge base translated into 17 world languages to compensate for the mediocre customer support.
So, if you're not facing a pressing issue regarding any of the trading processes on Binance, it would be a good idea to look up the solution yourself and brush up on the blockchain concept along the way.
For this part, Swyftx steps into the game and enables its users a real phone conversation with some of their team of professionals. Also, their help desk is available 24/7 via email. The exceptional responsiveness and dedication of the exchange's support team are touted not only in Australia but in the overall industry as one of the best practices to be followed.
Support Winner: Swyftx
Swyftx clearly exceeds Binance in terms of dedicated customer support and the diversity of channels through which you can obtain professional assistance.
Deposit Methods and Withdrawals
Binance supports P2P transfers between bank accounts, purchases made with credit cards or debit cards issued by Visa or Mastercard, and wire transfers made through Simplex.
On top of that, there's a broad range of fiat currencies for purchasing cryptocurrencies on Binance. If you prefer to buy and sell crypto through this exchange, you could also use USD-pegged stablecoins, such as Tether (USDT), the Coinbase USD Coin (USDC), or Binance USD (BUSD).
Swyftx accepts AUD deposits by OSKO bank transfers, POLi, and PayID. While POLi and OSKO deposits are instantly credited to your account, the initial PayID deposit will take about 24 hours to reflect in your balance.
Following the first PayID deposit, any subsequent deposit made using this payment option will be almost instantaneous.
Regarding withdrawals, neither Binance nor Swyftx levies any fee on the AUD withdrawals to an Australian bank account. On the other hand, crypto deposits and withdrawals on both exchanges are subject to a mining fee depending on the blockchain condition of the respective cryptocurrency.
Deposit Winner
Notwithstanding that Binance provides the largest selection of cryptocurrencies, fiat currencies, and – naturally – payment methods for its army of international users, Swyftx's payment methods are tailored to the local Australian payment providers and services.
There's even an option to use your bank account, which is convenient and straightforward for newbies who are not accustomed to alternative payment methods.
For this reason, Binance and Swyftx are a tie in this category.
Security
Binance incorporates a set of security procedures in its platform and operations to protect its users' accounts and assets. To begin with, the exchange keeps 10% of all trading costs in a safeguarded asset fund (SAFU) to preserve a portion of customer financial resources.
There is also a customisable security system for further peace of mind, which allows you to limit the devices and domains that could access your Binance account.
Additionally, your transaction data is encrypted end-to-end, guaranteeing that your personal information is only accessible to you. Binance also implements the Know Your Customer (KYC) protocol as an AUSTRAC-compliant business in Australia.
Furthermore, a two-factor authentication (2FA) is enabled through Google Authenticator or SMS as an additional layer of protection from any fraudulent activity.
On the low end, Binance has been subject to a security breach in 2019 and is currently dealing with regulatory issues in some jurisdictions, including China, the United States, the United Kingdom, and Europe.
As part of their commitment to providing Australian users with a safe and secure trading platform, Swyftx has implemented a comprehensive set of security measures.
For this intention, Swyftx uses a multi-faceted approach that includes two-factor authentication (2FA), Know Your Customer (KYC) compliance, biometric log-ins, and Customer Account Verification (CAV) to keep their clients safe from fraud, scams, or cyberattacks.
Aside from that, the exchange has due diligence systems in place that operate around the clock and require specific accounts to submit to various forms of user identity verification. Last but not least, Swyftx has partnered with Chainalysis, the largest global Blockchain analysis corporation, to compete for the title of Australia's safest crypto trading platform.
Security Winner: Swyftx
Swyftx appears to have adhered steadfastly to Australian financial standards right from day one to create the safest trading environment for local citizens. This insight is complemented by the fact that Swyftx has never been hacked, which only reaffirms our preference for this exchange as a more secure trading platform for Australians than Binance.
The Final Verdict
Swyftx, in our opinion, is the overall winner, even though Binance is considered the most globally popular exchange. We found Swyftx to be a more fitting choice for Australian traders since it conforms to Australian security standards and the best local crypto trading practices.
Furthermore, Swyftx supports Australia's most popular payment methods and third-party payment providers. Finally, the exchange has established a reputation as Australia's most reliable and secure trading platform allowing for effortless crypto trading at a low cost.
Ultimately, every trader should carefully examine the most critical aspects of a trading platform (security, services, customer support, and fees) and determine which combinations would be the most effective for their trading inclinations.




Related:
The Top Australian Exchanges Compared
| Exchange Name | Deposit Methods | Fiat Currencies | Crypto | Trading Fees | Sign Up |
| --- | --- | --- | --- | --- | --- |
| Swyftx | PayID, POLi, OSKO, Bank Transfer, Debit Card, Credit Card, and Crypto | USD / AUD | 300+ | 0.6% | $20 BTC Sign-up Bonus |
| CoinSpot | Bank Transfer, Crypto, Fiat, BPAY, PayID | AUD | 300+ | Instant buy/sell: 1% OTC: 0.1% | |
| Binance | Crypto, Debit Card, Credit Card, PayID, Osko | 40+ | 350+ | 0.1% | |
| Bybit | Credit Card, Debit Card, Bank Transfer, Wire Transfer, EFT, Crypto | 50+ | 160+ | 0.1% to 0.6% | |
| Coinjar | Google Pay, Apple Pay, NPP, Crypto, Cash, Osko, Blueshyft, PayID | AUD | 50+ | Instant Buy fees (Visa/Mastercard): 2% Conversion fees: 1% | |
| Independent Reserve | Crypto, POLi, PayID, Swift, Osko, EFT | AUD, USD, NZD, SGD | 30+ | 0.02% – 0.5% | |
| Kraken | Swift, Osko, Bank Transfer | USD, GBP, CAD, YPY, EUR, AUD, and CHF | 100+ | Maker fees: 0% – 0.16% Taker fees: 0.10% – 0.26% | |
| Coinbase | Crypto, Debit Card | USD, AUD, GBP, EUR, AUD | 50+ | Credit/Debit Card Fee: 3.99% Taker Fee: 0.60% ($0-10K) – 0.05% ($500M+) Maker Fee: 0.40% ($0-10K) – 0% ($500M+) | |
| Bittrex | Crypto, SEPA Transfer, Wire Transfer, Bank Card | USD, EUR, GBP, JPY | 300+ | Maker fees: 0% – 0.75% Taker fees: 0.05% – 0.75% | |
Disclaimer: Digital currencies and cryptocurrencies are volatile and can involve a lot of risk. Their prices and performance is very unpredictable and past performance is no guarantee of future performance. Consult a financial advisor or obtain your own advice independent of this site before relying and acting on the information provided.