Disclaimer: We may receive a commission for purchases made through the links on our site. However, this does not impact our reviews and comparisons. Learn more about our Affiliate Disclosure.
Coinbase was founded in 2012, making it one of the oldest cryptocurrency exchanges around. It was founded by Brian Armstrong and Fred Ehrsam and headquartered in San Francisco, California. Initially, the service dealt exclusively as a Bitcoin wallet service, but soon diversified and became better known as a cryptocurrency brokerage service.
Since then, they've expanded the number of countries they work with, as well as the number of digital currencies they accept. Coinbase is available in 103 countries. Though in many places, you are only able to use Coinbase to convert between various currencies. If you're looking to trade, Coinbase is an option in over 32 countries, including many countries in North America and Europe. For a full list of US alternatives, check out our post on the Best US Cryptocurrency Exchanges.

Related Comparisons:
Coinbase services
While Coinbase started as a cryptocurrency wallet service, it has evolved into the most recognized and popular cryptocurrency exchange. An exchange is any place where traders can purchase or sell cryptocurrencies, safely and securely. Coinbase is the exchange of choice. With a user-friendly interface, the platform makes trading accessible and straightforward for novices.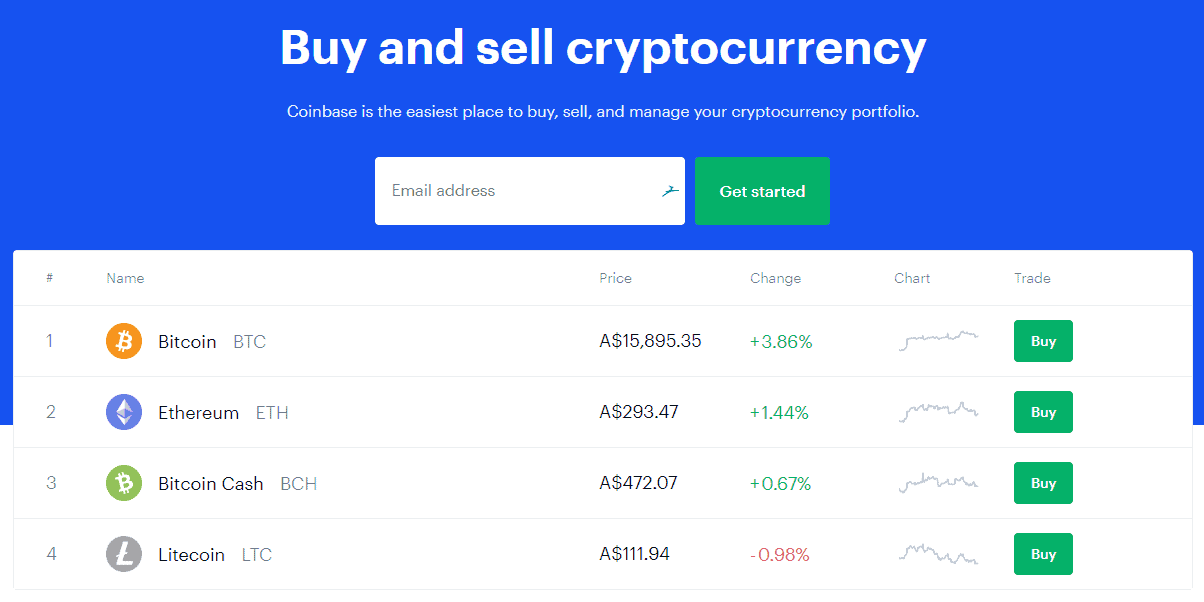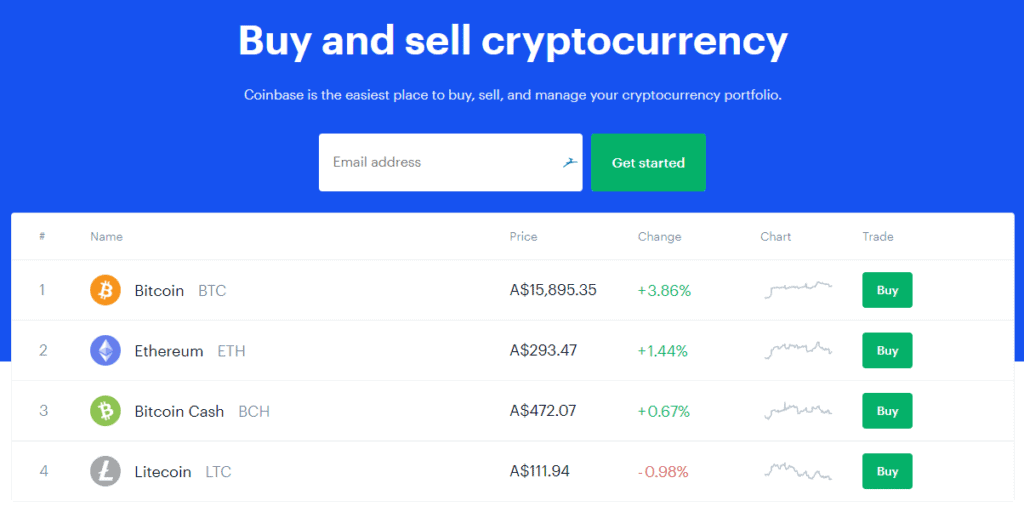 Coinbase Pro
Coinbase also offers a more sophisticated cryptocurrency trading platform called GDAX (now Coinbase Pro), aimed at more experienced traders who want to maximize their profits. The main difference between Coinbase and Coinbase Pro is that Coinbase Pro offers a less simplified and streamlined interface, allowing users to tailor the platform to their needs. Fees are considerably lower than for the traditional Coinbase brokerage service to offset the increased risk.
Coinbase Wallet
If you're looking for a cryptocurrency wallet, Coinbase also has you covered. They recently launched a mobile app that acts as a wallet, giving you secure access to your funds on both Android and iOS. Coinbase also offers plug-ins for most major CMS platforms that allow e-commerce shops to accept cryptocurrency via Coinbase. Vendors who want to provide various payment options to their customers stand to benefit from this feature. The supported platforms include Shopify, Magneto, and WooCommerce.
Bitcoin and Other Supported Cryptocurrencies
Coinbase offers different levels of support for various cryptocurrencies, with some getting limited assistance, and others being fully supported on Coinbase Pro. With limited support, some currencies can only be sent. Others can be sent and received. Some can be bought, sent, or received via the brokerage service.
The level of service depends both on the digital coin, as well as the country from which you're operating. There are even regional restrictions, so while most US citizens are free to trade several currencies, residents in New York may find themselves excluded.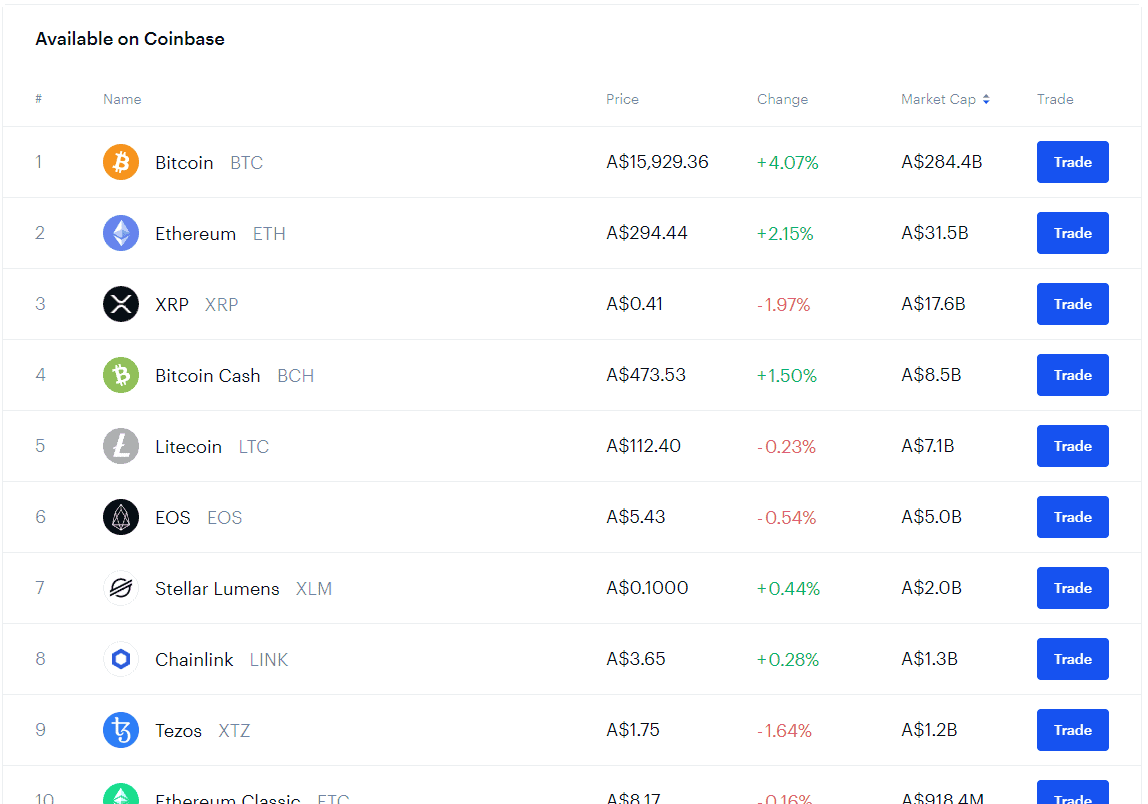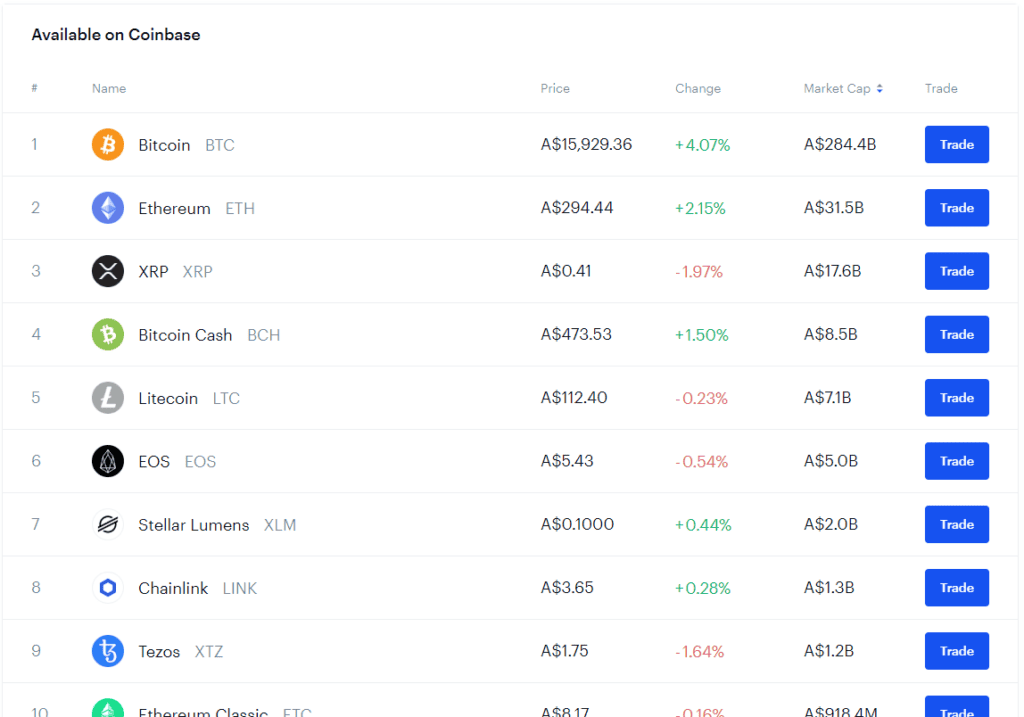 To get a comprehensive list of currently supported digital currencies, check out Coinbase's support page on the topic. In general, though, you can buy/sell most of the popular cryptocurrencies like Bitcoin (BTC), Ethereum (ETH), Bitcoin Cash (BCH), and Litecoin (LTC) in most regions and countries. You can also take courses on lesser-known tokens like XLM, XRP, ZRX, USDC, XTZ, etc.
Payment Methods
When it comes to payment methods, Coinbase offers a huge range of options, including bank transfers, credit cards, Visa debit cards, SEPA, and wire transfer. You can also withdraw money to your PayPal account, though currently, you can't make purchases with the service.  You can buy Bitcoin with fiat currencies such as USD, EUR, and GBP.
Trading Fees and Limits
Coinbase Fees
Coinbase has a tricky pricing structure. It's worthwhile to read through the entire document to get a grasp on the situation. In general, Coinbase has two main fees, a spread fee of 0.50% of any digital currency purchase or sale as well as a Coinbase fee. The spread fee takes into account the value of the currency at the time you were quoted, not when the transaction is executed, which can be misleading when working with a volatile currency.
The Coinbase fee is either a fixed fee or variable percentage fee, depending on your location and payment method. Coinbase charges you the higher of the flat fee or variable percentage fee—you don't get to choose. The flat fee can range between be between $0.99 and $2.99, depending on the value of the transaction. The variable percentage fee can be up to 3.99% for credit card purchases.
Many Coinbase detractors cite Coinbase's fee structure and lack of transparency as one of the significant drawbacks of using the brokerage. If you're someone who wants to know what the fees entail upfront, you may have to do some puzzling to come up with a clear answer. In the worst case, Coinbase may decline your trade altogether when there are extreme price shifts.
Working out how much you're going to be paying in fees can be tricky when working with Coinbase. However, at the end of the day, they still have some of the lowest fees when compared to other brokerage services with high fees. Coinbase also offers digital currency conversion services, which are an affordable way to convert between two cryptocurrencies without having to sell the one and buy the other. These transactions are subject to a spread margin of up to 2% but don't have an associated transaction fee.
Limits
When you first set up your Coinbase account, you'll find that you have to work with a relatively small limit. Raising these limits requires identity verification. You can provide and verify your email, phone number, and photo ID to increase your limit to up to $25,000 per day. However, as with everything else, these limits are subject to regional differences, as well as the method of payment you use. For instance, ACH wire transfers have higher limits than credit card purchases.
Coinbase Customer Support
Coinbase offers a comprehensive set of support pages aimed at supporting both new and experienced cryptocurrency pages. They have a considerable knowledge base and FAQ that answers most of the common questions that you may have, so be sure to check that out before getting in touch with support.
In terms of customer support, you can contact Coinbase either via phone or email. Many customers report being dissatisfied with the level of service they get through both of these channels. In general, the Coinbase support team seems to be half-hearted, with canned responses. Their service is so notably bad that they have an F rating on the Better Business Bureau (BBB) site, with hundreds of unanswered queries and complaints.
A huge concern for many cryptocurrency enthusiasts is the fact that because Coinbase operates from the US, it is subject to Anti-Money Laundering (AML) and Know Your Customer (KYC) regulations. These practices are in place to prevent money laundering and other criminal practices. However, it also requires you to give away a large amount of information about yourself, including the last four digits of your social security number and proof of identification.
Another drawback of the AML and KYC laws is that they expect Coinbase to keep track of transactions and report suspicious activity. So, if you use cryptocurrency to buy contraband, gamble or sell coins on another exchange, you can expect your account to be closed without any additional feedback. Unfortunately, Coinbase's stringent algorithm has led to the erroneous shutdown of users' accounts who did not engage in these activities. Combined with their poor customer service, the chances of your account being reinstated are slim. Though your money will be refunded, the experience can be frustrating, particularly if you don't know why your account was shut down.
There has been a lot of negative press around security concerns regarding online brokerages, and many people assume that it's precarious to invest in cryptocurrency. Much of this negative press came from the Mt. Gox incident, in which hackers stole around 740,000 bitcoins, most of which have never been recovered. The incident left Mt. Gox bankrupt and drove many investors away from cryptocurrency altogether.
While there are many issues still surrounding the security of cryptocurrency, Coinbase has a reputation of being one of the safer exchanges out there. Much of this comes from the fact that Coinbase is US-based, thus subject to state and federal regulations and laws. In fact, Coinbase has worked actively with legislators and regulators to ensure that cryptocurrency brokerages are safe and effective. This pro-active approach has led several banks, including the Bank of Tokyo to invest in Coinbase and help develop a financial system that is open, secure, and innovative.
Coinbase-side
The main security concern of Coinbase is that it tends to act like a bank for cryptocurrency. It's a centralized system, at odds with the principle of decentralization that cryptocurrencies are built on. Luckily, unlike other banks, Coinbase is relatively transparent about where funds are stored. Customer funds are kept entirely separate from operational funds, so that if Coinbase ever does go bankrupt, Coinbase has no entitlement to customer's funds.
Customer funds are stored in custodial bank accounts, 98% of which are stored offline in cold storage and safety deposit boxes in many global locations. Even in the event of a hack like the one that hit Mt. Gox, the attackers wouldn't be able to access customer's funds. The portion of customer funds that are stored online is insured by the FDIC. Even if your money gets stolen, it is Coinbase's responsibility to use their insurance claim to recover that money for you.
User account-side
Coinbase also provides high-end security on the user side in the form of two-factor authentication. In addition to logging into your account, a separate code will be sent to either your phone or a third-party app to add an extra layer of security. Coinbase is programmed to notify you if it detects a suspicious log-in from a different IP or device, allowing you to secure your account in the event of an attack quickly.
As the onus is on you to keep your account safe using the provided tools, Coinbase doesn't accept liability for loss of funds if your account is compromised. To ensure your cryptocurrency's safety, be sure to use an offline wallet that you control.
Frequently Asked Questions
Does Coinbase have an app?
Yes, Coinbase has an app that is compatible with Android and iOS systems. The app can be found in the App Store for iPhone or Play Store for Android phones. This app allows you to do everything that you would be able to on the Coinbase website.
You can add payment methods, verify phone numbers, as well as purchase and sell cryptocurrencies. You even get access to Coinbase's knowledge base as well as their dashboard, which will show you the value of your assets in real-time. Some users find the app to be more informative and easier to use than the site, so if you're interested in trading, make sure to give the app a try.
The Coinbase app shouldn't be confused with the Coinbase Wallet app, which is something completely different. The wallet app allows users to secure their digital currency without having to rely on an exchange and doesn't have to be linked to your Coinbase account. The wallet app is a fantastic security measure to keep your cryptocurrency safe but doesn't offer the same functionality as the primary Coinbase app.
Summing It Up
Coinbase is one of the biggest names in the cryptocurrency exchange market and also one of the oldest. Their experience in the field has led to a secure, easy-to-use user interface with one of the best apps in the industry. However, their customer service is lackluster and their affordable but variable unclear fee structure is less than ideal. Whether the positive aspects of Coinbase outweigh the drawbacks is entirely up to your preferences and comfort level. If you're not sure which way to go, definitely have a look at our Coinbase alternatives.
Disclaimer: Digital currencies and cryptocurrencies are volatile and can involve a lot of risk. Their prices and performance is very unpredictable and past performance is no guarantee of future performance. Consult a financial advisor or obtain your own advice independent of this site before relying and acting on the information provided.