Coinbase VS Kraken:
2023

Crypto Exchange Comparison
Disclaimer: We may receive a commission for purchases made through the links on our site. However, this does not impact our reviews and comparisons. Learn more about our Affiliate Disclosure.

In the last ten years, cryptocurrencies have revolutionized the way we look at money. What began as a far-fetched concept in the world of cryptography, became its reality once Bitcoin was launched in 2009. As the demand for digital currencies grew more and more, even outlining the possibility to supplant fiat currencies with cryptos, there was a need to develop proper trading platforms.
Enter cryptocurrency pioneers. Accepting the challenge, they managed to create cryptocurrency exchanges or online platforms where traders were not only able to trade their cryptocurrencies but sell them and store them too. The crypto exchanges have become so popular that today there are so many of them to choose from, which makes decision making increasingly difficult.
In this comparison guide, we're going to focus on two well-known and trustworthy crypto exchanges from the United States – Coinbase and Kraken. You will get an insight into when and how they made their trading debut and how they've continued to develop since then. We will draw parallels between the two by comparing their services, responsiveness, the types of currencies they support, their reliability, and level of security.
Whether you are a newbie crypto investor or a seasoned one, we have you covered!
About the Exchanges
Coinbase
Coinbase is a crypto exchange launched in 2012 and headquartered in San Francisco, California. It was founded by Brian Armstrong and Fred Ehrsam, whose vision was to create the most user-friendly, easy-to-use crypto exchange on the digital market. It was modeled on other already familiar platforms like PayPal, in order to ease their customers' way into this new technology.

In less than two years, Coinbase managed to entice above one million traders, and this number has only kept growing. According to their official website, Coinbase now has more than 50 million customers that have exchanged over $150 billion in digital currencies. It has become one of the largest exchanges to date.
Coinbase Pro
Coinbase is a great platform for beginners but experienced traders have been complaining about the lack of advanced trading features. To address and solve this issue, in 2016, Coinbase launched it's advanced trading platform GDAX, now called Coinbase Pro.
Kraken
Kraken is one of the oldest crypto trading platforms currently in operation. It was founded in 2011, by Jesse Powell, who had previously helped over at the largest crypto exchange of its time, Mt. Gox. After two major hacks and security issues going out of control Mt. Gox was shut down, and Powell assisted their CEO in bringing the site back online. Traders lost enormous amounts of Bitcoins at record speed, and the future of cryptocurrency prospects looked bleak.


This didn't discourage Jesse Powell. He took the failure of the platform in his stride, confident he could do a better job on his own. His main incentive was to create a secure cryptocurrency exchange that would earn the traders' trust and bring back the faith in crypto. That's how Kraken came to be. So far, Powell's security system has resisted hacking attacks, and Kraken has become a true leader in the crypto world.
Kraken vs Coinbase: The Comparison
Supported Cryptocurrencies
Coinbase currently allows users to buy Bitcoin, Bitcoin Cash, Ethereum, and Litecoin but it also launched a relatively new platform called "Coinbase Earn" whose motto is to make digital assets easier to obtain and easier to understand. You can take various courses and fill your Coinbase wallet with the corresponding altcoins. Availability for buying, selling, depositing, and withdrawing also depends on your country and payment method. For example, trading with DASH excludes New York and it's unavailable in the UK.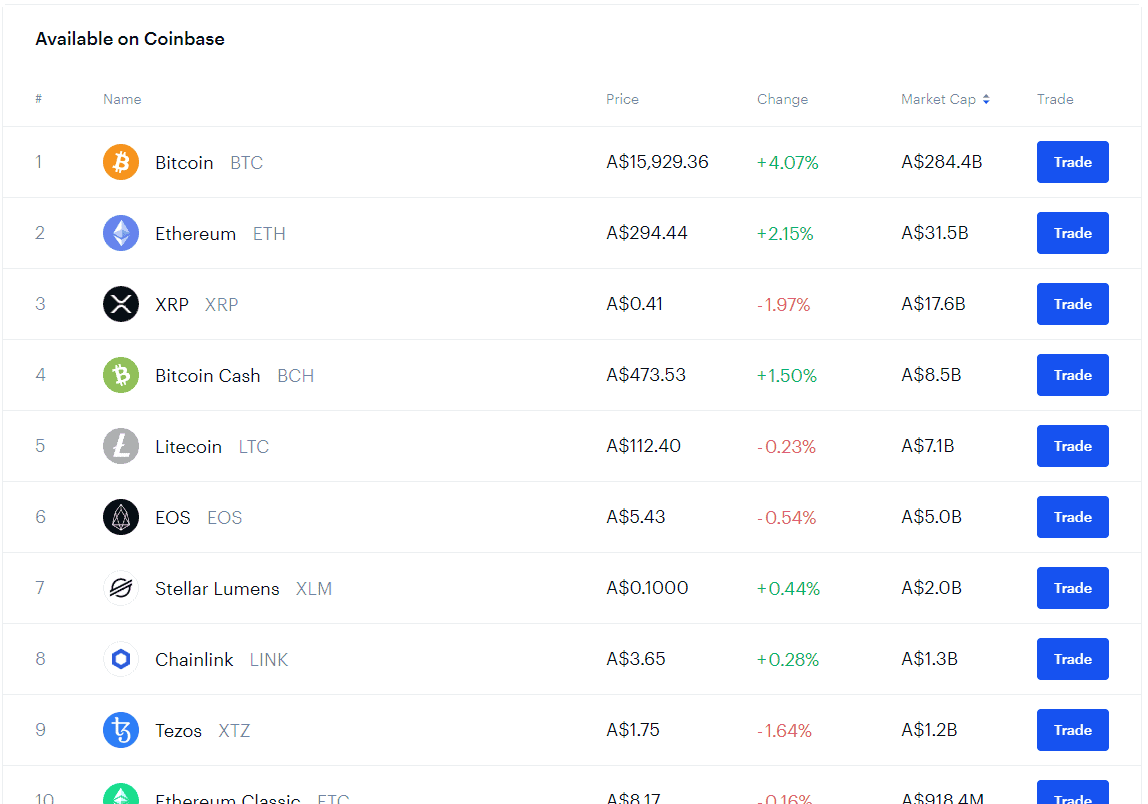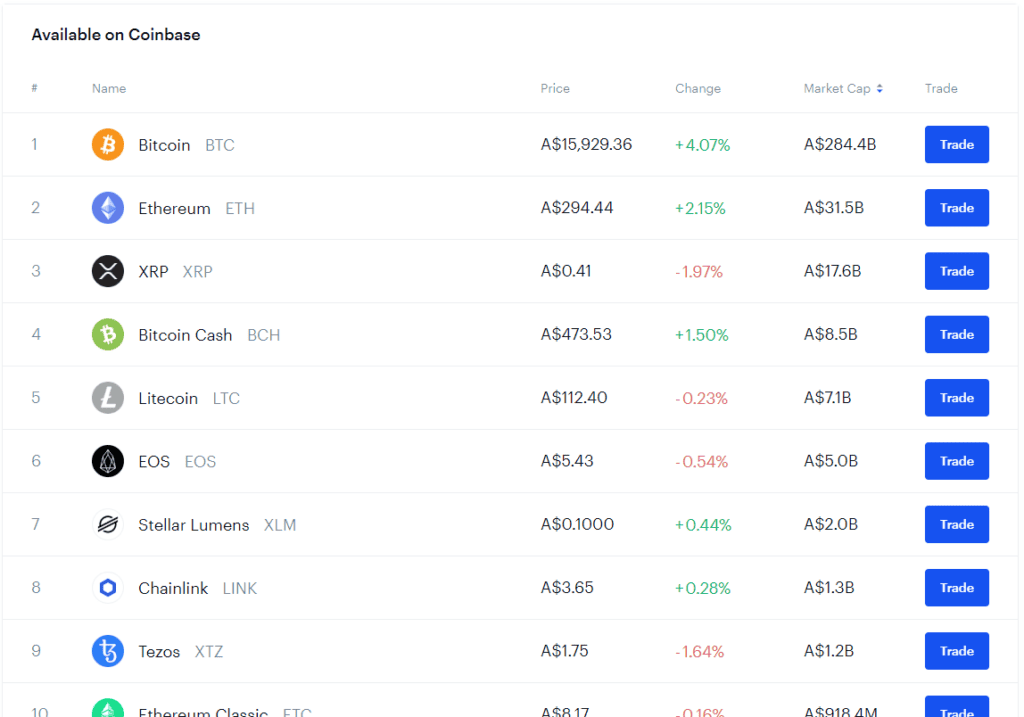 Kraken is the obvious winner here because it offers a wider range of over 20 cryptocurrencies to purchase and trade with including Bitcoin, Bitcoin Cash, Ethereum, Ethereum Classic, Litecoin, Ripple, Cardano, Monero, Gnosis, Zcash, Dogecoin, Tether, Augur, and others. The platform features over 400 trading pairs! Kraken also accepts fiat payments via wire transfers as a deposit method in the following currencies: US Dollars (USD), Euro (EUR), Pound Sterling (GBP), Japanese Yen (JPY), and Canadian Dollars (CAD).
Bitcoin
Some traders only buy, sell, and trade Bitcoin. If you're one of them, you can use either Coinbase or Kraken because both of them support trading BTC. The difference is that Kraken offers more trading pairs whereas Coinbase is the only platform that allows debit card deposits.
Security
Both Coinbase and Kraken adhere to crypto sphere practices for storing and securing your crypto and fiat currencies. They don't use customer funds for company operational purposes, store the majority of the funds in cold storage, and offer two-factor authentication to secure your account.
Coinbase won't take responsibility if your account has been hacked or compromised. Any coins you lose will be gone forever. That being said, they have their own security features to minimize these potential scenarios and secure your wallets. According to their customer support page, all digital currencies that Coinbase stores online are insured. The insurance covers losses resulting from a breach of Coinbase's physical or cybersecurity, as well as instances of employee thefts. If you are a resident of the US, your wallet is insured by the FDIC (Federal Deposit Insurance Corporation), up to a maximum of $250,000.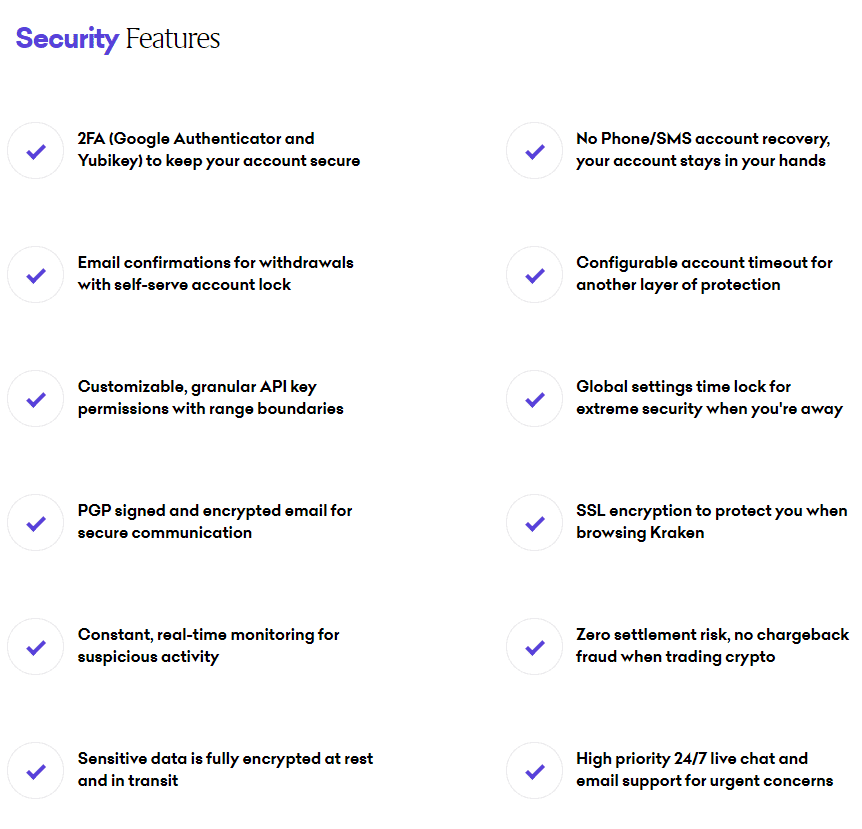 Kraken, apart from the two-factor authentication for withdrawals, has a Global Settings Lock that would block any IP address that hasn't been used with your account prior to that. It is a platform created with security valued above all, and in its 8-year history, it has never been hacked.
Fees
The main stumbling block to investors using Coinbase seems to be the higher fees they have to pay. They have fixed and variable fees, depending on the amount and the payment method in question. There's a flat fee for small transactions, regardless of whether you'll pay using fiat currency from your wallet, a debit/credit card, or simply your bank account.
These fees are as follows:
$0.99 for a transaction worth up to $10.99 and below
$1.49 for a transaction worth from $11.00 up to $26.49
$1.99 for a transaction worth from $26.50 up to $51.99
$2.99 for a transaction worth from $52.00 up to $78.05
For a larger transaction up to $200, the fee would remain $2.99 when using your USD wallet or bank account, adding a variable fee of 1.49% for a transaction worth $201 and above. Credit and debit cards are on the higher end of the scale, with Coinbase charging around 3.99% for transactions starting from $78.06 upwards.
Fees are Kraken's time to shine! They're way lower than those at Coinbase, but trying to understand how their trading fee structure works might lead to a headache. It's all listed on their comprehensive guide but we'll give you the gist of it to make it easier for you.
Kraken has a maker-taker fee schedule which depends on volume incentives based on your activity in the past 30 days, and fees are charged on a per-trade basis. Therefore, if the trading volume is lower than $50,000, the maker fee is 0.16% and the taker fee is 0.26%. If the 30-day volume is higher than $50,000, the fees go down to 0.14% and 0.24% for maker and taker respectively. Kraken also offers volume-based discounts on its trading fees.
Ease of Use
When comparing Coinbase and Kraken, most of you would want to know which one is more user-friendly and suitable for newbie investors. These are real money you're trading with so it seems just right to fully understand what you'll be dealing with.
Remember how we mentioned that Coinbase was created with the very idea of accessibility in mind. It's far less intimidating for beginners and instead makes them feel more comfortable when buying crypto. It's all down to a few clicks before you have your account and are ready to purchase some Bitcoins or altcoins.
Working with Kraken proves challenging at first because it has a bit of a learning curve to it. This is not to say that it has irrelevant features but it does make it far more suitable for someone who has taken up trading cryptos as their full-time job. To purchase any cryptocurrency you have to create and verify your account and deposit fiat currency via bank transfer which would then take additional 1-5 business days before it reaches your Kraken account. This is a time-consuming process.
Support
With crypto growing in popularity, it has become increasingly difficult for exchanges to offer high-quality customer support. Both Coinbase and Kraken struggled with this in the past but they've improved a great deal since then.
Coinbase has a separate support page that offers customer support via email, the option to browse through their FAQ or use their customer chatbox and telephone service for quicker replies. Traders have been reporting an average response frame of 24-72 hours for support tickets.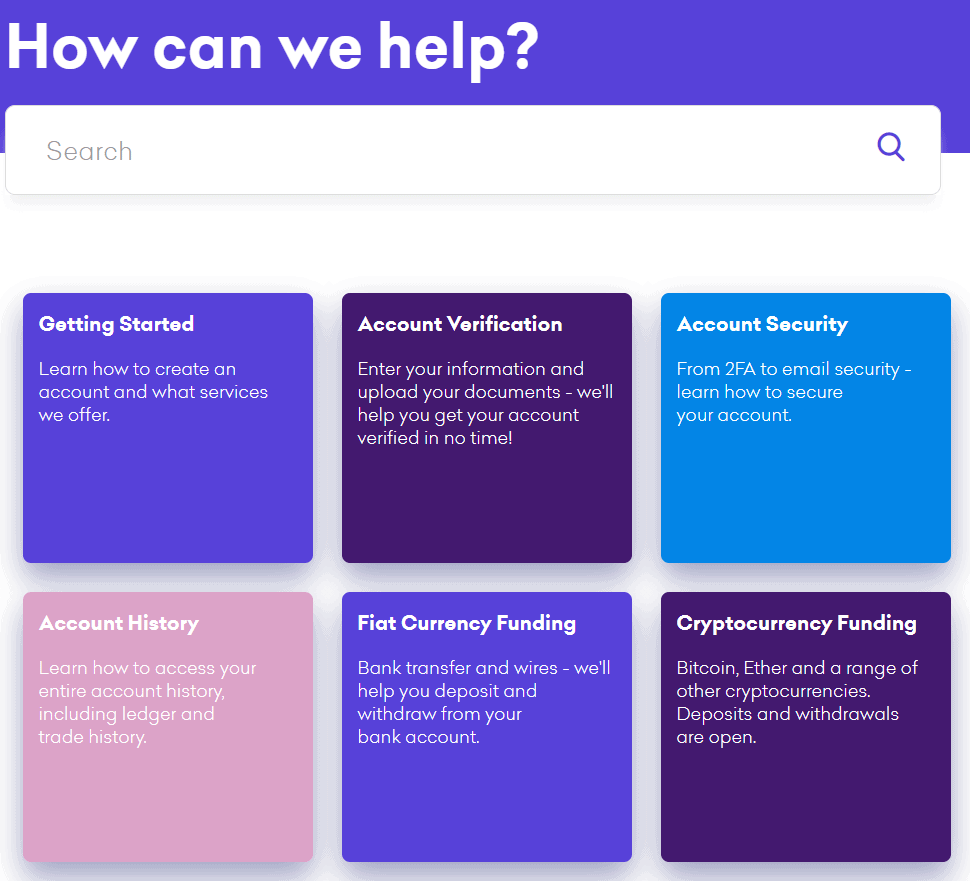 Recently, customers have been encountering problems when trying to verify their accounts on Kraken, followed by complaints that the Kraken team takes a lot of time to resolve their problems. To make up for this, Kraken has now added a high priority 24/7 live chat to their support, which means you can get your questions answered at any time, no matter where you are in the world.
Mobile Trading
The obvious winner here is Coinbase with a mobile app available to their customers, which makes it easier than ever to access and check your crypto exchanges on the go. It's free to install and it has high ranking from users for its intuitive interface and reliability.
On the official Kraken website, it says that they used to have an iOS app available but they've lost support for it, which is why it has been removed from the iOS App Store.
Pros and cons
Coinbase pros:
You can complete an exchange instantaneously
Two-factor authentication for any withdrawal
Customer service offers support via email and phone, plus a chatbox
High responsiveness (24-72 hours for a support ticket)
User- and mobile-friendly
Supports fiat bank deposits
Coinbase cons:
Higher trading fees from 1.49% to 3.99%
Limited cryptocurrency selection
Kraken pros:
An average trading fee of 0.26%
Supports fiat bank deposits
Supports over 20 cryptocurrencies and 5 fiat currencies
Two-factor authentication and a Global Settings Lock
Has a 24/7 live chat
Kraken cons:
It takes 1-5 business days for your fiat deposit to reach your Kraken account
No mobile application
Challenging user interface for beginners
Slow ticketing response time
Final Thoughts
Coinbase and Kraken are one of the oldest and most reputable cryptocurrency exchanges on the crypto market. They have been the number one choice for traders, especially those interested in making fiat-to-crypto exchanges since this is a feature made available by a limited number of crypto exchanges.
When choosing among the two, be sure that you won't go wrong either way. The important thing to focus on is developing your investment strategy first. Once you have a clear picture of what you're after, you can look for the more suitable exchange out of the two.
Having said that, if you're a crypto novice or just looking for simplicity in design in general, Coinbase would be the right fit for you. You'll be able to complete your payments without any hindrance in just a couple of minutes, provided you don't mind spending a little extra on trading fees.
On the other hand, if you're hoping to purchase a wider variety of altcoins, definitely opt for Kraken instead. They might be less responsive to queries, and take a longer time to finalize your transaction, but trading with them comes at a lower fee.
Cryptocurrency Exchange Reviews
We hope you found our comparison guide to be useful to you as a future or an already established trader. We did our best to give you a general idea of how these exchanges work and what they do differently from one another. We brought their slight drawbacks but also their unique strengths to the fore, and hopefully, you've already set your mind on one of them.
If you need some more time to think and analyze the crypto market, feel free to check out our crypto exchange reviews. You can compare Coinbase to Bittrex, or Kraken to Gemini, or read about the features of a completely new platform instead.



Disclaimer: Digital currencies and cryptocurrencies are volatile and can involve a lot of risk. Their prices and performance is very unpredictable and past performance is no guarantee of future performance. Consult a financial advisor or obtain your own advice independent of this site before relying and acting on the information provided.