Coinmama VS Coinbase:
2023

Crypto Exchange Comparison
Disclaimer: We may receive a commission for purchases made through the links on our site. However, this does not impact our reviews and comparisons. Learn more about our Affiliate Disclosure.

In recent years, more and more people have decided to invest in different cryptocurrencies. The silver lining for investors across the globe is the great volatility that the crypto industry became known for.
For someone to capitalize on the crypto market, they have to choose a trading platform that would cater to their investment needs. Our task is to make sure you don't waste your time engaging with exchanges that aren't suitable for you. Our detailed comparison guides outline the advantages and disadvantages, the peaks and slumps of various digital platforms.
Today, we will take a closer look at Coinmama and Coinbase – two reputable Bitcoin exchanges that are different from one another in many respects. Let's find out where they stand out from the rest, and what type of traders are most likely to benefit from them.
About the Bitcoin Exchanges
Coinmama Review
Coinmama is a brokerage service for cryptocurrencies, founded in 2013 in Israel. The company is registered in Budapest, Slovakia as a property of NBV International, the daughter company of New Bit Ventures Financial Services in Israel.

As a buy-only outlet, the platform was created to offer a faster way of purchasing cryptocurrencies via credit or debit cards. Coinmama pioneered this payment method and earned a lot of customers thanks to the convenience and accessibility of these transactions. The platform quickly became available in more than 200 countries in the world and in most of the US.
Coinbase Review
Coinbase is another crypto exchange veteran which has stayed on the top lists in the United States and abroad since 2012. The platform was designed and developed by two software engineers and crypto market enthusiasts, Brian Armstrong and Fred Ehrsam, and their team of experts. Their corporate headquarters are located in San Francisco, California.


Coinbase can be used in more than a hundred countries, and according to their official website, the platform has had more than 30 million traders globally. The great care it takes for its customers, its reliability, and the almost flawless performance has earned the platform the trust of many investors. World-leading venture capital firms like Andreessen Horowitz, Union Square Ventures (USV), and Ribbit Capital, have all invested a lot of money in Coinbase since its early days.
Even though Coinbase complies with US crypto industry regulations, the big-budget investments and instant success of the platform caught the attention of the US International Revenue Service (IRS). In 2017, they asked from Coinbase to assemble all personal user data so that they can subject their customers to a tax investigation. But Coinbase didn't give in to the pressure and did all in its power to at least lower the number of investigated users to approximately 13,000. The IRS was only granted the right to investigate those users who had bought, sold, sent, or received more than $20,000 through their accounts between 2013 and 2015.
Coinmama VS Coinbase: The Comparison
How to Buy Bitcoin and Other Cryptocurrencies
Over at Coinmama you only get to buy cryptocurrencies, and not to sell or trade them. At the moment, these are the supported coins at your disposal: Bitcoin (BTC), Ethereum (ETH), Ripple (XRP), Litecoin (LTC), Bitcoin Cash (BCH), Cardano (ADA), Qtum (QTUM), and Ethereum Classic (ETC). The option to sell Bitcoin and other cryptocurrencies is something that the Coimama team is considering at this very moment.
As we've mentioned in the introduction, the platform accepts credit cards or debit cards but they have to be issued by Visa or Mastercard. Recently, SEPA payments have been added as a payment option. PayPal payments are not an option. Another thing to keep in mind is that Coinmama is not a wallet provider, which means that you will have to find a secure storage method elsewhere for your digital coins elsewhere.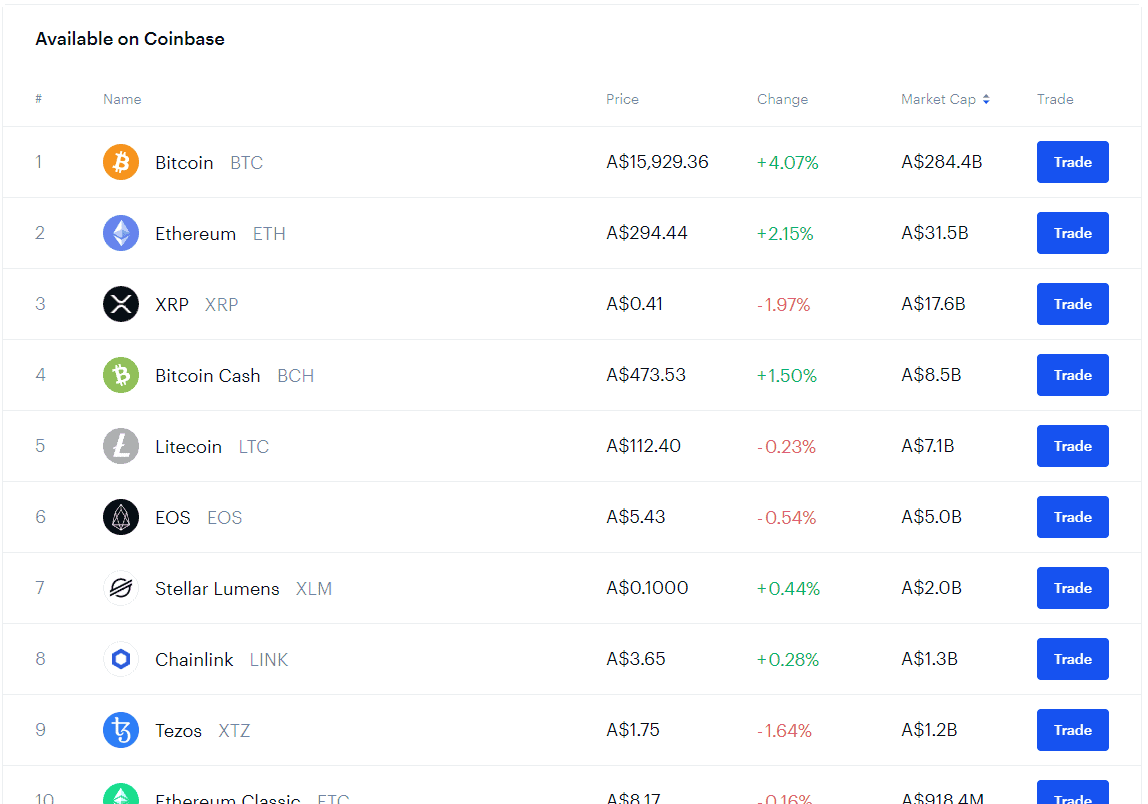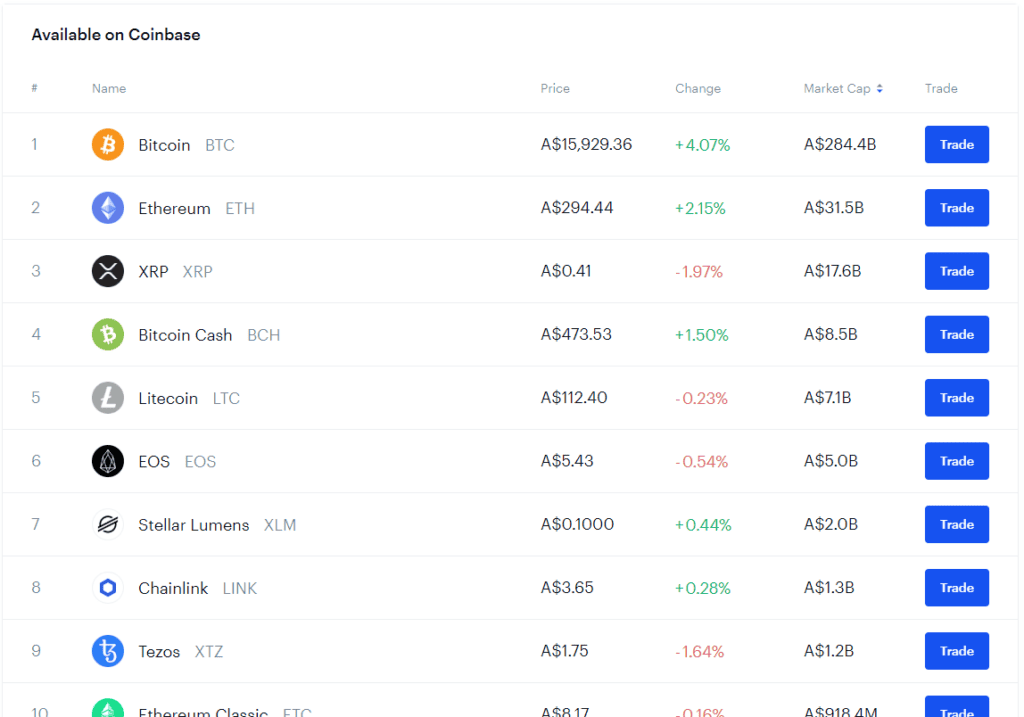 In comparison, Coinbase supports even fewer cryptocurrencies due to its strict Digital Asset Framework that evaluates the coins before they're deemed secure enough to be listed for purchase. Currently, the platform only supports the famous four: Bitcoin, Bitcoin Cash, Ethereum, and Litecoin. However, on Coinbase, you're allowed to buy Bitcoin and other cryptos, sell them, store them, convert, or transfer them to someone else too. Plus, there's a special Coinbase wallet where you can store these coins. You will find details on storing customer funds in the Security section below.
The digital coins can be bought and traded for fiat and cryptocurrencies but the precise limitations and restrictions can be checked on the Coinbase website since their availability largely depends on one's place of residence. Trading with USDC, for example, is not an option in New York, but transfers are allowed for European and UK residents.
To make lesser-known coins more accessible to its customers, Coinbase has introduced a new feature called "Coinbase Earn" where they can sign up for courses and learn the backstory of these coins. As a reward, they get a certain amount of the same coins which are automatically sent to their Coinbase wallet.
Security
It's highly unlikely for hackers to attack Coinmama since customers don't store their funds in wallets on the platform. This is why the company doesn't employ such stringent security methods as other exchanges might do. They even lack the basic two-factor authentication method which is a bit worrisome, so make sure you come up with a strong password that contains upper and lower case letters, numbers, and symbols. The strongest protection used by Coinmama is the 256-Bit SSL encryption on pages guarding private information.
Coinbase values security above all and employs a wide range of safeguarding practices to ensure maximum protection. This is why the platform hasn't been hacked ever since it was launched in 2012. First of all, Coinbase avoids mixing customer funds with company funds to avoid fraud and misuse. The money belonging to its customers is stored in "air-gapped" cold wallets (around 98%) disconnected from the Internet and hidden from potential thieves.
If you activate two-factor authentication you'll need confirmation from two user devices before gaining access to your Coinbase account. All confidential data is secured with AES-256 encryption and insured by the FDIC (Federal Deposit Insurance Corporation) for US residents, up to a maximum of $250,000.
On top of that, new users are required to perform a KYC check as part of their AML (Anti Money-Laundering) Policy.
Fees
The fees at Coinmama prove that convenience comes at a price. The company functions as a brokerage service and sells the coins to you directly, which significantly reduces the processing time but that makes it more expensive.
The high fees that you see on their website are based on Coinmama's Bitcoin rate and already include the fixed 5.90% fee. You can compare this to the average market rate on TradeBlock's XBX Index. If you choose to pay with credit or debit cards, you will pay an additional 5.00% fee added to the final sum once you choose the payment method. There's no processing fee for bank wire payments.
Coinbase has slightly lower trading fees. The platform takes into account your trade amount and the payment method to calculate your fee before you submit your order. Transactions under $200 have a flat fee regardless of how you pay for the service.
The transaction fees are as follows:
$0.99 for a transaction worth up to $10.99 and below
$1.49 for a transaction worth from $11.00 up to $26.49
$1.99 for a transaction worth from $26.50 up to $51.99
$2.99 for a transaction worth from $52.00 up to $78.05
Transactions over $201 are charged at a variable fee of 1.49%, added to the transaction total.
Credit Card and Other Payment Methods
For debit card deposits, the fees are again higher, with a 3.99% fee of the trade amount. Bank wire payments are free of charge in Europe with a SEPA transfer, but US customers have to pay 1.49%. It's similar for withdrawals – SEPA withdrawals cost $0.15, as opposed to a standard wire transfer in the US which costs $25.
Ease-of-Use
Coinmama has a straightforward, intuitive user interface, with a calming blue layout. Registering and creating an account won't take more than a few minutes. Also, if your intended trading amount is under 10,000 USD, Coinmama has a simple and quick verification process. You only need to provide a government-issued ID, which can be either a passport, a national ID card or a driver's license. Once you've passed the initial verification, you have a daily limit of $5,000 in purchases. Users that provide additional documentation such as an additional ID, a utility bill, and a selfie of you holding your ID can activate higher tiers.
It's opponent, Coinbase, is the number one choice for newbies because of their user-friendly interface and clutter-free dashboard. You won't be overwhelmed by a language full of terms you don't understand or irrelevant charts and order books. With the launch of Coinbase Pro, experienced users are redirected to use the sister-platform for more advanced trading options.
Customer Support
Both exchanges have a Support button on their website which takes you to their help center to get all the information you need. There's a designated area for support tickets which are usually answered within 24 hours at Coinmama and 24 to 72 hours at Coinbase.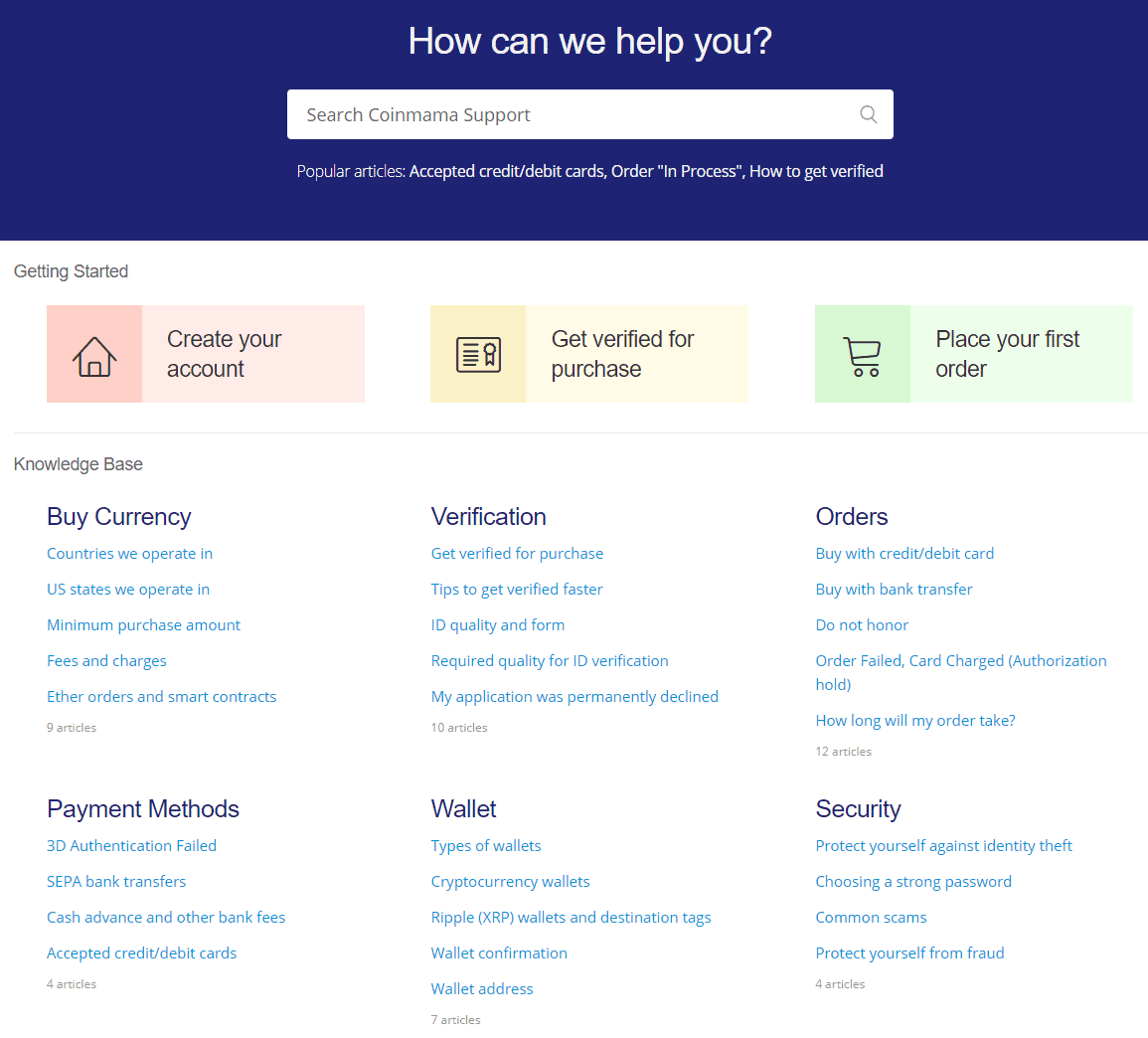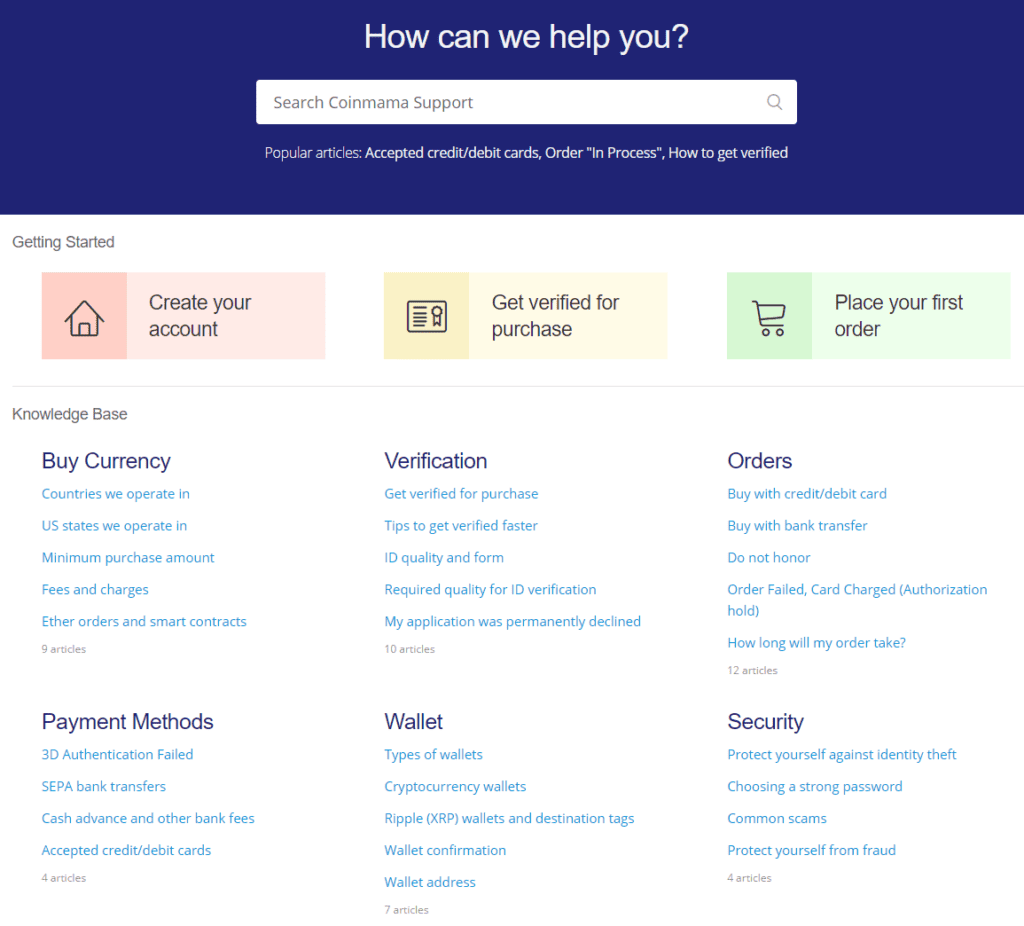 The help center also has guides and manuals, and a very organized knowledge base, neatly divided into categories like "Your account", "Buy Currency", "Verification", etc. There's also a FAQ section, and a 24/7 chatbox option available only on Coinbase.
Mobile Trading
Coinbase is an indisputable winner as far as mobile trading goes. Their mobile app can be downloaded by Android and iOS users who want to trade on the go. You can also check your past and active orders. Coinmama doesn't have a mobile app nor has it released an API to enable users to create compatible custom applications.
Pros and Cons
Coinmama pros:
Supports more cryptocurrencies
Allows deposits via credit/debit cards and bank accounts
Simple verification process
You can buy cryptocurrencies immediately
Coinmama cons:
No mobile app
You can only buy digital coins for now
Very high trading fees
Doesn't have a wallet
Coinbase pros:
Supports fiat currencies and offers lower trading fees
Provide digital wallet services
2FA plus offline storage
Encrypted data and segregated funds
Customer service offers support via email, phone, and chatbox
User- and mobile-friendly
You can buy digital currencies via bank transfers, and debit cards
Coinbase cons:
Doesn't support a lot of cryptocurrencies
Slower in answering support tickets
Credit card purchases aren't allowed
Final Thoughts
Deciding between these two platforms is not an easy task, which is why we tried to break their most important features down into different categories. This makes it easier to compare them side by side.
We would recommend Coinmama to beginners or retail traders who don't dream about making a career in crypto trading. At least for now, this platform only allows you to buy cryptocurrencies and then store them somewhere else online or withdraw them altogether. It's a safe and reliable way for fast purchases.
For more adventurous crypto enthusiasts, Coinbase is a reasonable alternative. It gives you more freedom to sell your coins or exchange them for other coins and make the most out of the market. The trading fees are lower, and the security levels are top-notch! However, neither of the two platforms supports altcoins.
If you want to see more comparisons with Coinbase, see how it fares against Gemini.



Disclaimer: Digital currencies and cryptocurrencies are volatile and can involve a lot of risk. Their prices and performance is very unpredictable and past performance is no guarantee of future performance. Consult a financial advisor or obtain your own advice independent of this site before relying and acting on the information provided.