Disclaimer: We may receive a commission for purchases made through the links on our site. However, this does not impact our reviews and comparisons. Learn more about our Affiliate Disclosure.
Investing in crypto has never been easier, thanks to the hundreds of crypto exchange platforms available for users across the globe. However, not all crypto exchanges offer reliable and secure services. There are a lot of exchanges with low trading volumes, poor security, and a lack of liquidity, so it's quite easy to find yourself on a low-quality exchange platform that charges high fees but doesn't provide satisfying services.
That's why it's best to stick to the most popular crypto exchanges with the highest trading traffic because nothing says that a platform is worth using like a huge base of satisfied customers. Some of the most popular exchanges on the market include Binance, Coinbase, Kraken, and Gemini, but other crypto exchanges are taking over rapidly by offering a wide range of high-quality services. One of these platforms is Crypto.com, whose name and web domain is probably one of the best marketing examples since it directly states what it's all about.
Let's take a detailed look at Crypto.com to find out all the characteristics of the platform and explore why it has become such a popular exchange in just a couple of years.
About the Crypto.com Exchange
Calling Crypto.com a crypto exchange platform would be an understatement because it's much more than that. In fact, it's more of a cryptocurrency ecosystem that enables users to perform all of their crypto-related operations on a single platform. This is one of the keys to the platform's popularity, as many crypto users, especially beginners, want to keep things as simple as possible and conduct all of their business on a single platform.

Crypto.com is an exception to this rule as it provides all sorts of crypto services that can satisfy both beginners and more experienced crypto traders. The platform was launched in 2016, in Hong Kong, by an all-star crypto business team consisting of blockchain and financial experts from different parts of the world. Since its launch, Crypto.com has been providing reliable services to more than 10 million satisfied customers from over 90 countries.
The Crypto.com exchange offers spot trading, margin trading, and leverage trading. Traders have a very user-friendly mobile app compatible with Android and iOS smartphones at their disposal for trading on the go, along with the Crypto.com DeFi wallet.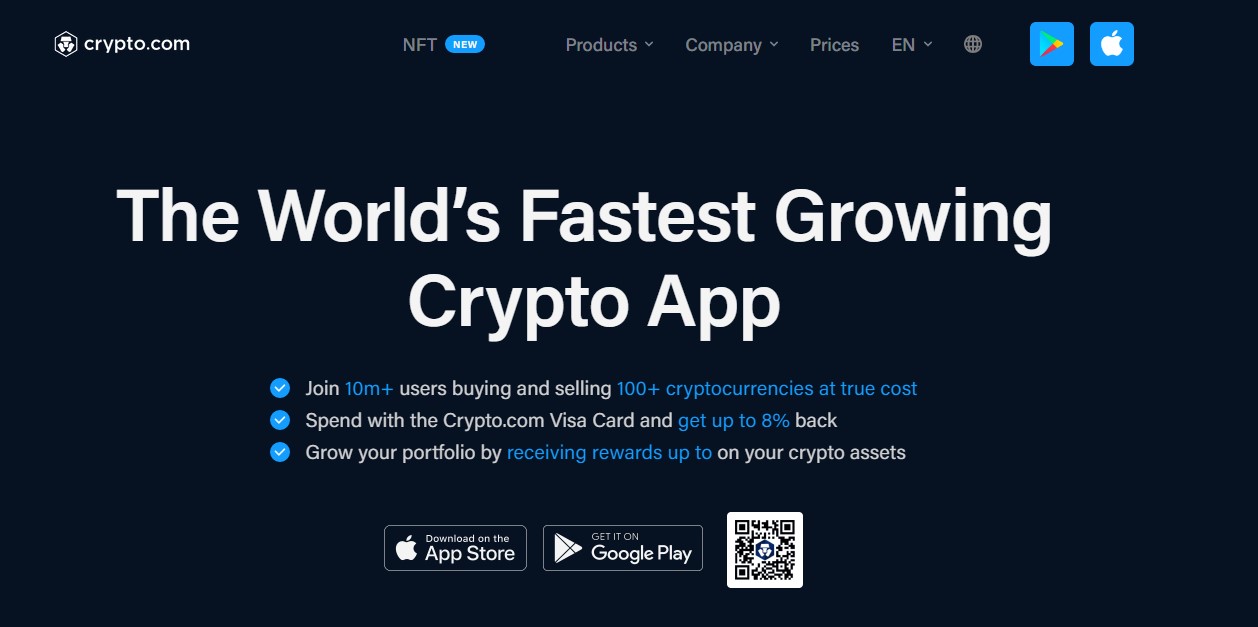 Similar to Binance, Crypto.com has its own blockchain network, along with its native CRO coin, which is firmly positioned among the top 50 digital currencies according to Coinmarketcap.
You can stake a wide variety of popular cryptos on Crypto.com and earn high returns. You can also sign up for a Crypto.com Visa debit card to cash out moderate amounts of crypto through ATMs.
Platform Trading Features
The Crypto.com trading platform is easy to navigate and has a similar design compared to many popular cryptocurrency exchanges. Once you create a user account and log into the platform, you'll see several trading interface options in the top section of the window.
The Markets tab gives you an overview of all of the cryptocurrencies available on Crypto.com. You can browse assets and see their prices in Tether (USDT), Bitcoin (BTC), CRO coin (CRO), or USD Coin (COIN). The prices are displayed in real-time, based on actual market conditions, along with the 24-hour trading volume of each crypto.
When you click on specific crypto, you'll be taken to the Spot trading interface for that asset. Here, you'll see a detailed market chart for the selected crypto, along with various technical analysis tools that advanced traders use to get additional information out of the price charts and implement different trading strategies. In the middle of the screen, you'll see the order book for the crypto you've selected, with all of the actual market orders and trading prices. On the right side of the screen, you'' find the order execution bar for Buy/Sell orders. You only need to specify your target price and shift to the 10X Margin trading mode if you wish to. In the lower-left section of the window, you'll see your order history and open orders.

In the top section of the trading interface is the Derivatives tab, which offers a choice between Futures and Perpetual trading. It can be set up to 50x leverage with derivatives trading.
Finally, there's the newly added OTC (over-the-counter) trading tab in the top section of the interface, which allows you to use the Crypto.com OTC broker service and trade large amounts of crypto at custom rates, negotiated directly through the OTC brokerage service.
The CRO Coin and the Crypto.org Blockchain
Crypto.com is a crypto ecosystem with its own Crypto.org blockchain and the CRO coin. The Crypto.org chain is open-source, and anyone can use it to build tokens, dApps, and most recently, NFTs. In many ways, the Crypto.org chain is similar to the Binance Smart Chain (BSC) and the Ethereum (ETH) network because it enables creators and developers to launch their own projects on an already existing network providing them with all the necessary development tools.
CRO coin plays an important role for the whole network. Network fees are paid in CRO, and users can stake CRO to gain rewards and special discounts on transaction fees.
Staking Features
Crypto.com has one of the largest selections of coins and tokens available for staking. Users can earn interest up to 14.5% every month by holding their assets with more than 40 coins eligible for staking. The coins you can stake include BTC, ETH, CRO, ETC, ALGO, OMG, ATOM, USDT, USDC, LTC, and many others.
Users can choose whether they want to stake assets for one month, three months, or with a flexible staking plan where funds are withdrawable at any moment.
It's possible to stake digital assets through your Crypto.com app and your Crypto.com DeFi wallet.
Bitcoin and Other Cryptocurrencies
Crypto.com offers one of the strongest selections of digital currencies among the leading global crypto exchanges. There are more than 250 crypto coins and tokens available on the platform, and you can purchase them with more than 20 fiat currencies, including USD, CAD, AUD, GBP, and EUR.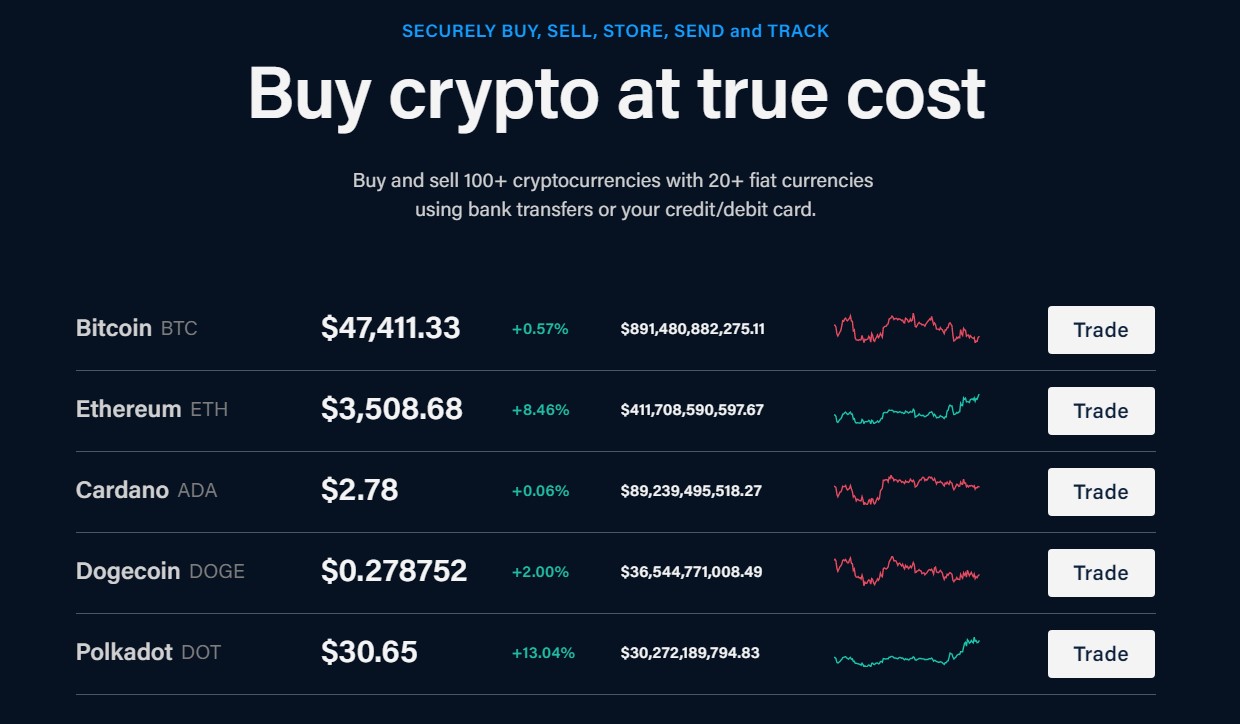 Available cryptocurrencies include Bitcoin (BTC), Ethereum (ETH), Aave (AAVE), Cardano (ADA), Litecoin (LTC), Tether (USDT), Dogecoin (DOGE), Algorand (ALGO), Gala games (GALA), Decentraland (MANA), Sandbox (SAND), Bitcoin Cash (BCH), Cosmos (ATOM), Avalanche (AVAX), Polkadot (DOT), Dai (DAI), Eos (EOS), Ethereum Classic (ETC), Fantom (FTM), Polygon (MATIC) and various other stablecoins and altcoins.
The platform is constantly expanding its portfolio of supported cryptocurrencies. As soon as a certain cryptocurrency starts trending on the market, Crypto.com adds it to their exchange.
Payment Methods
You can buy crypto on Crypto.com with all of the most popular payment methods, including bank account transfers, credit/debit cards, and cryptocurrency.
If you wish to buy crypto with a bank card, you just need to enter your card details in the Crypto.com app. The details you need to provide include the bank card number, name, security code, and expiration date. During your first crypto purchase, you'll need to verify the card by sending a small test amount of 0.10 SGD, which is then held for 7 days to make sure your card is legit. This process doesn't require you to wait 7 days, you just need to confirm the test transaction and proceed with your purchase, and the test amount will be refunded to your account after 7 days. The fee for bank card purchases and withdrawals is set at 2.99%, which isn't that cheap, but it's around the standard market fee for card purchases.
If you want to deposit fiat currency to your Crypto.com account with a bank transfer, you can do so through a wire transfer or ACH transfer if you're a US resident and a SEPA transfer if you're an EU resident. Traders from other global regions can use a SWIFT transfer to move fiat money from their bank account to Crypto.com. Deposits through bank transfers are free of charge, but keep in mind that your banking service providers might charge you a transaction fee.
Trading Fees
Crypto.com operates on a maker and taker fee structure. The taker and maker fees for monthly trading volumes below 25,000 US dollars start at 0,40% per transaction, but the more you trade, the more the fee drops. The lowest trading fee is 0,04% for large-scale market makers with a trading volume of more than 200 million USD per month. However, average active crypto traders with monthly trading volumes between 50,000 USD and 100,000 USD can take advantage of lower fees that go down to0,15% for market makers.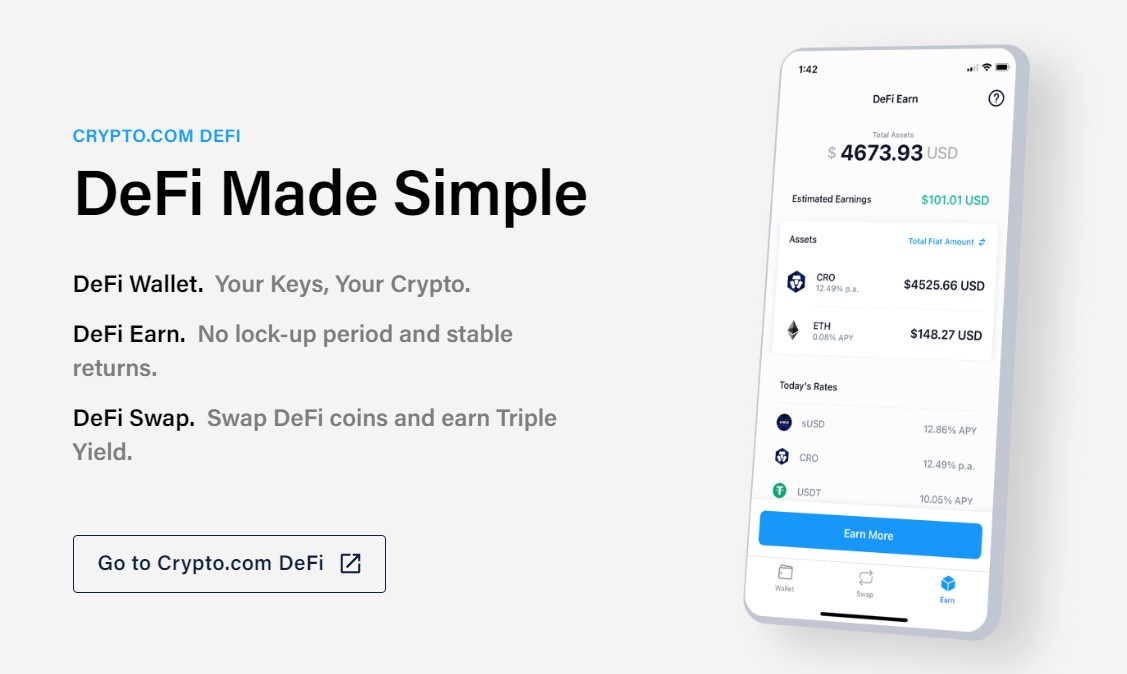 Users are eligible for up to 10% fee discounts, which are evaluated daily by calculating your 30-day trading volume, CRO staking balance, and fees paid in CRO coins.
Crypto.com NFT Marketplace
NFTs are becoming increasingly popular and Crypto.com has joined the market by opening its own NFT marketplace based on the Crypto.org blockchain. You can pay for NFTs in CRO and store them in your Crypto.com wallet without paying sky-high transaction fees like those on the Ethereum blockchain.
Crypto.com DeFi Wallet
The Crypto.com DeFi Wallet is a non-custodial crypto wallet that gives users full control over their private keys. The wallet is compatible with both iOS and Android operating systems.
Apart from storing crypto safely with the help of two-factor authentication and password protection, users can also swap tokens in an instant and control their transaction fees and speed.
The Crypto.com Visa Card and Cashback Features
One of the best features of Crypto.com is the Crypto.com Visa card. The card lets users spend crypto just like fiat money at stores because it's used just like any other debit card. You need to top up the card through the Crypto.com app, and then you can spend the funds on the card by paying retailers or withdrawing fiat currency at ATMs. This is a great way to cash out small and moderate amounts of crypto into fiat because you just move some crypto from your Crypto.com wallet to the Visa card, and it's automatically regarded as fiat money when you're withdrawing funds at an ATM.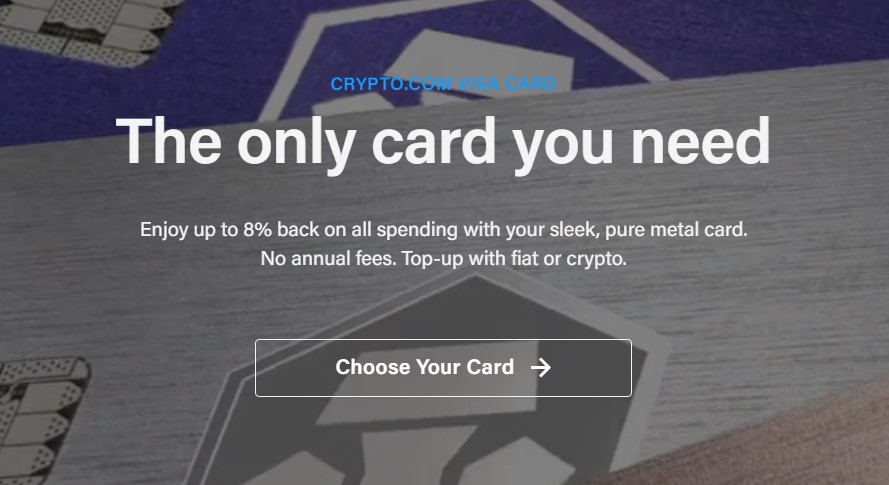 There are five tiers of cards. Each of them has specific benefits and requirements. The most basic Midnight Blue card is available to all users, without any CRO staking requirements, and it awards users with 1% CRO cashback rewards and 200 USD worth of free monthly ATM withdrawals. Ruby Steel cards require users to stake at least 400 USD worth of CRO for 180 days and rewards users with 2% CRO cashback.
The requirements and benefits further increase for the Royal Indigo, Jade Green, Frosted Rose Gold, Icy White, and Obsidian cards. Apart from the cashback rewards, which can go up to 8% for the Obsidian card, users can also get free monthly Netflix, Spotify, and Amazon Prime memberships, along with exclusive airport lounge access rewards and other perks.
Educational Resources
The platform has a very detailed Learn section with six subsections containing all the necessary information for crypto beginners and experienced users. The What's Trending, Product News and Events subsections contain information about trending cryptocurrencies, new Crypto.com services, and various Crypto.com affiliated events.
The University subsection is great for beginners because you can find lots of educational material about crypto trading that can be of huge help for anyone who is just entering the world of crypto.
The Research & Analysis and Market Updates subsections are the most useful sections for active traders because they contain all of the important news about the crypto market, price changes, and fluctuations of trading volumes for the most popular cryptocurrencies.
Platform Security
Crypto.com has security features similar to many popular exchange platforms, including multi-factor authentication and password protection of user accounts. However, despite solid security measures, Crypto.com has been subject to a major hack in January of 2022. The hackers managed to steal about 35 million USD worth of Ethereum and ERC-20 tokens, but the platform reimbursed all affected users.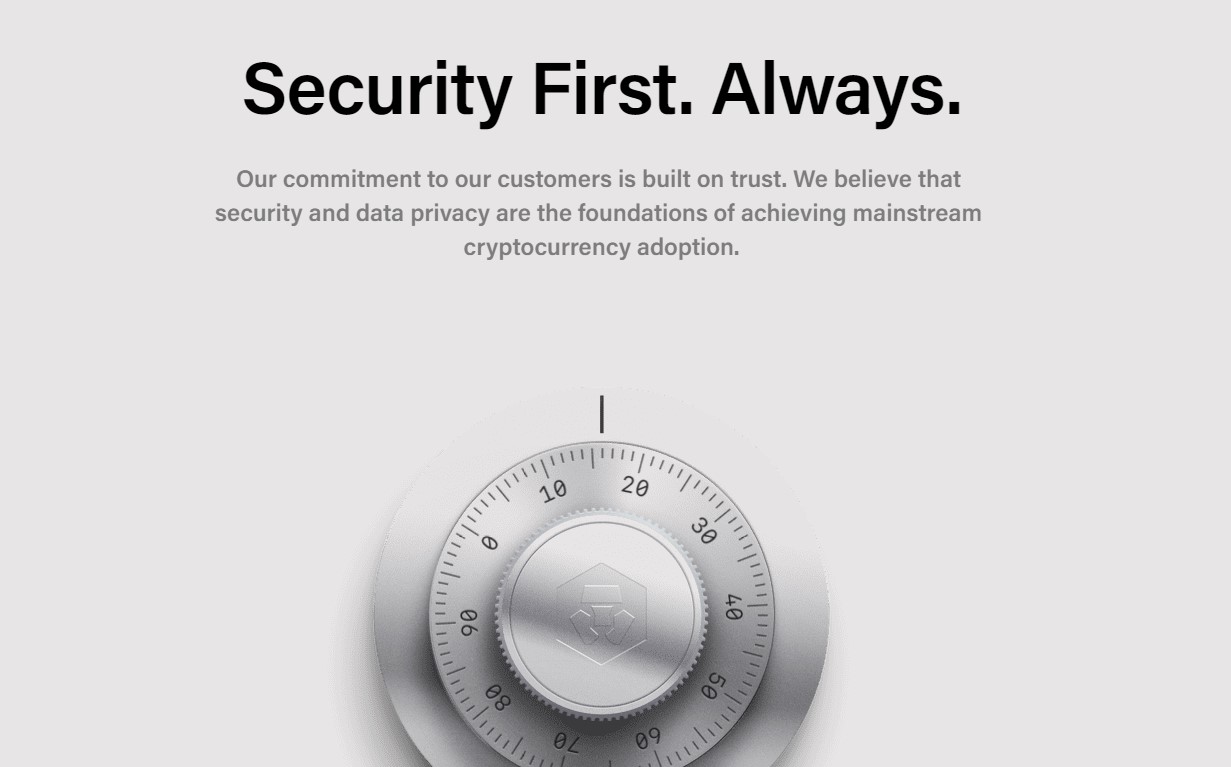 The hack happened due to a breach of the Crypto.com two-factor authentication protocol, resulting in withdrawals without the second authentication. After this hack, Crypto.com introduced multi-factor authentication and additional measures such as a 24-hour waiting window when a user is transferring funds to a new destination address. During this window, the user has time to approve or reject the transaction, and the funds can't get processed in less than 24 hours without the user's approval.
This hack is one of the rare negative aspects of Crypto.com, but the way the exchange handled the case by reimbursing funds and strengthening security is very promising.
Customer Support
Customer Support is another field where Crypto.com isn't exactly excelling. Users can contact customer support through email and live chat, which is the industry standard for crypto exchange customer support, but many users report that the team is either slow to respond or isn't very helpful.
Given the fact that Crypto.com is such a huge platform with numerous services, it's a bit disappointing that their customer support isn't top quality like their crypto services.
The Crypto.com App
Crypto.com has a superbly designed mobile app, which enables users to quickly buy or sell digital currencies supported by the platform. Traders can instantly buy crypto with fiat money or sell their coins and cash out on the app. Users can buy crypto in a matter of minutes after connecting their credit card, debit card, or bank account to the app. The app works great with the Crypto.com wallet, and users can also send digital currency to each other without any fees if both parties are using the app.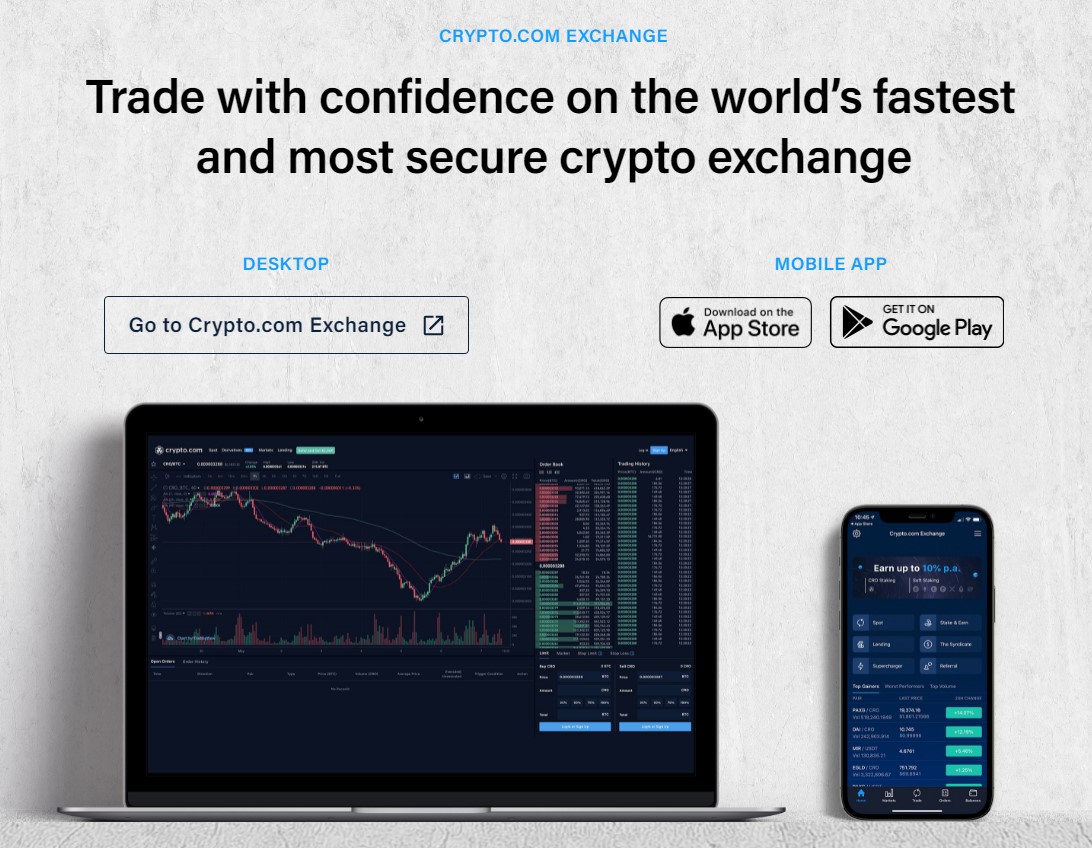 If you want to keep up with price changes of your favourite crypto assets, you can easily set a price alert for any crypto and receive notifications when prices fluctuate. The app is also very convenient for managing the assets you're staking on Crypto.com. You can also access and fund your Crypto.com Visa card through the app.
Pros & Cons
Let's go over the key pros and cons of Crypto.com.
Pros
Huge variety of trading tools;
User-friendly platform interface;
Great selection of available cryptocurrencies;
Moderate fees;
Various popular payment methods;
The Crypto.com Visa debit card comes with special user privileges, discounts and cashback rewards in CRO coins.
The Crypto.com DeFi wallet enables safe crypto storage and smooth trading on the platform.
Cons
Fees can be quite high for users with low trading volumes;
The customer support isn't very responsive;
The platform was subject to a security hack in January 2022.
FAQ
Can I withdraw fiat money from ATMs with the Crypto.com Visa card?
Yes, you can use it as a classic debit card and withdraw funds at any ATM. Just keep in mind that ATM withdrawals incur fees, and depending on the tier of your Crypto.com Visa card, you get a certain amount of free monthly ATM withdrawals. Once you're over the free withdrawal limit, each withdrawal is charged a standard 2% fee.
What is the difference between storing crypto in the Crypto.com app and using the Crypto.com DeFi wallet?
When you're storing crypto in the Crypto.com app, you're keeping funds on the platform, and Crypto.com acts as your custodian. On the other hand, when you're storing assets in your Crypto.com DeFi wallet, you're using a non-custodial client that gives you full control over your private keys by storing them on your device and not on company servers.
A Few Ending Words…
Crypto.com is a powerful cryptocurrency ecosystem that provides absolutely all of the necessary services for average traders, plus it's very beginner-friendly. You can invest in, trade, and stake cryptocurrencies, buy NFTs, take out crypto loans, cash-out altcoins, make purchases with the Crypto.com Visa card, store assets in your Crypto.com DeFi wallet, and much more on Crypto.com. The platform provides top-quality services except for its customer support which could use some improvement.
Disclaimer: Digital currencies and cryptocurrencies are volatile and can involve a lot of risk. Their prices and performance is very unpredictable and past performance is no guarantee of future performance. Consult a financial advisor or obtain your own advice independent of this site before relying and acting on the information provided.