NDAX Review 2023 – Crypto Exchange in Canada
Disclaimer: We may receive a commission for purchases made through the links on our site. However, this does not impact our reviews and comparisons. Learn more about our Affiliate Disclosure.
It's never been easier to enter the enchanting world of cryptocurrency. Crypto exchanges have simplified the buy-and-sell process to a retailer level, allowing you to buy some bitcoins in a few clicks. The question is what after?
At this point, you must have come up with a crypto strategy. Will you bury the coins in a crypto wallet or become an active trader? The good news is that the modern crypto market has a working solution for everything you'll decide to do.

Cryptocurrency trading is more attractive than ever. Still, I feel like the general public is reluctant to make a step further, not because they don't believe in "blockchain money" but because they think they cannot read charts and understand trends.
That's why I'm bringing onboard a crypto exchange whose aim is to break this fear of seemingly advanced trading platforms. NDAX is one of the most successful crypto stories in Canada, as it has managed to reshape the view of trading cryptocurrency on local ground.
Website: https://ndax.io/
Country: Canada
Mobile app: Yes
Deposit Methods: Interac e-Transfer, wire transfer, and bank draft
Trading Fees: 0.20%
Fiat Currencies: CAD
Cryptocurrencies: Bitcoin (BTC), Ethereum (ETH), Polkadot (DOT), Solana (SOL), Litecoin (LTC), Bitcoin Cash (BCH), and 30+ more
Pros:
Competitive fee schedule: low trading fees and no deposit fees;
Quick processing times for deposits and withdrawals;
Intuitive trading platform with advanced order types and sophisticated visualization;
Reliable customer support.
Cons:
Limited options for staking;
Small choice of crypto-to-crypto trading pairs;
CAD deposits only.
What Is NDAX?

National Digital Asset Exchange or NDAX was soft-launched in 2017 in Calgary, with Bilal Hammoud as a creative designer behind the brand. The exchange raised the necessary capital through a successful seed round and went live in June 2018.
Initially, NDAX offered a modest package of four cryptos but it gradually expanded its coin selection. In fact, it was the first Canadian exchange to add Ripple (XRP) and EOS to its list.
Currently, NDAX offers two trading models — basic and advanced. There is also a separate OTC desk for large-scale investments. Unlike other exchanges, the basic version doesn't appear as a panel for instant purchases, but in the form of a simplified and intuitive trading platform where you can place basic order types. The advanced version is a piece of art, given the sophisticated charting design and different order types.
Who Is NDAX Aimed At?
Despite the feature-rich trading platform, I don't think that NDAX targets professional traders only. On the contrary, it has that beginner-friendly vibe that encourages less experienced traders to join the trading game. NDAX's basic platform offers all pre-requisites to start exploring the crypto world.
Seasoned traders will love the charing package but the limited number of available cryptos is something that worries me. So, I'm sure that ultimate traders will find a better shelter on more coin-diverse platforms like Binance or KuCoin.
Finally, there is a possibility for creating a business account but I couldn't find any details on the NDAX webpage about the advantages for institutional investors. I guess you should personally reach out to a support agent to send you a business application.
Supported Cryptocurrencies
You won't find a never-ending coin list on NDAX, but you'll definitely be pleased to trade with the 30 most popular crypto assets against the Canadian Dollar. This certainly includes Bitcoin (BTC) and some other "blockbuster" altcoins and DeFi tokens like Ethereum (ETH), Stellar (XLM), Cardano (ADA), EOS (EOS), Dogecoin (DOGE), Shiba Inu (SHIB), Chainlink (LINK), Aave (AAVE), and Uniswap (UNI).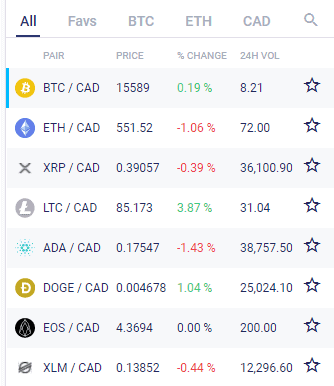 As far as I can see on the NDAX front page, BTC/USDT is the only crypto-to-crypto pair.
Supported Countries
NDAX was specially designed for the needs of the Canadian crypto community. Since its inception, the exchange has been available only for Canadian residents.
Useful Features
I won't say that the Canadian crypto market is oversaturated. Yet, there are multiple attention-worth exchanges that guarantee top service and security. On the NDAX side, these are the very traits that make the exchange stand out as a unique offer.
Staking
First of all, you need to understand that staking is an in-blockchain business. Some blockchains use it as a way of minting new coins. Unlike mining, this process doesn't incentivize participants (validators) to contribute computing power but coins they already possess. It's simple — users lock their capital on the blockchain to serve as collateral for validating transactions between blockchain-native coins and receive more of the same coin in return.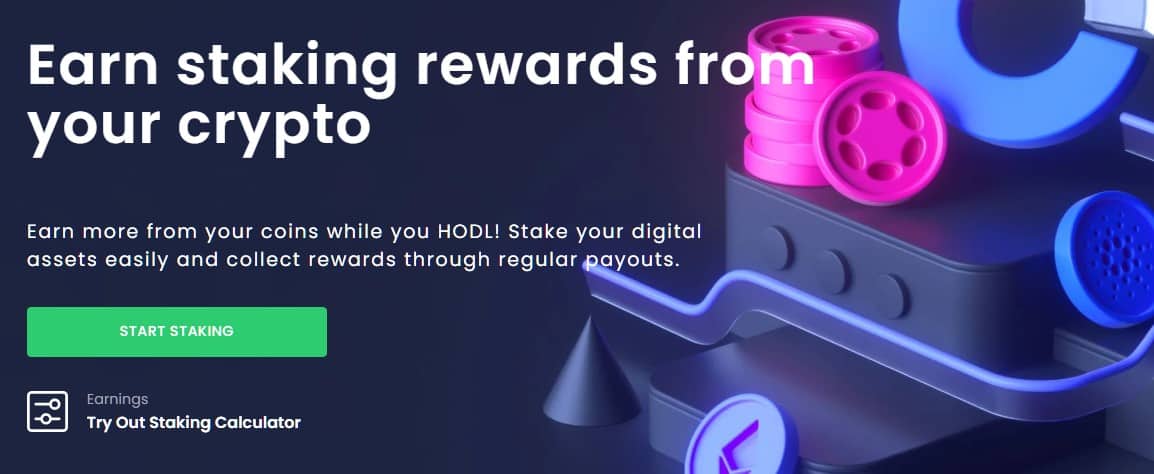 In this setup, crypto exchanges are a bridge between the user and the blockchain. Staking solo usually requires considerable initial investment and meeting complex software specifications. Exchanges form staking pools that users can enter with minimal investment capital and without any concerns about the technical requirements. The earned profit is then shared between participants, depending on their contribution.
In the crypto realm, staking is a well-established method for passive income. Almost all exchanges offer it as an option, but they can drastically differ in the APY they distribute as a reward. On NDAX, you can stake five coins: Graph (GRT), Polkadot (DOT), Matic (MATIC), Cardano (ADA), and Ether (ETH).
Fast CAD Deposits
Deposit times are crucial for active crypto players. Fast deposits mean you won't need days or even a week to have your CAD delivered to your exchange account. Believe me, it's "now or never" on the crypto scene as crypto prices change with the speed of light. Bitcoin, for example, can go 10% up and down in a single day, so you must catch the hot offer just in time.
Also, you should know that deposit times sometimes depend on the payment method itself. On NDAX, wire transfers and bank drafts don't take more than a single business day, while Interac e-Transfer deposits are nearly instant (up to 30 minutes).
Mobile and Desktop App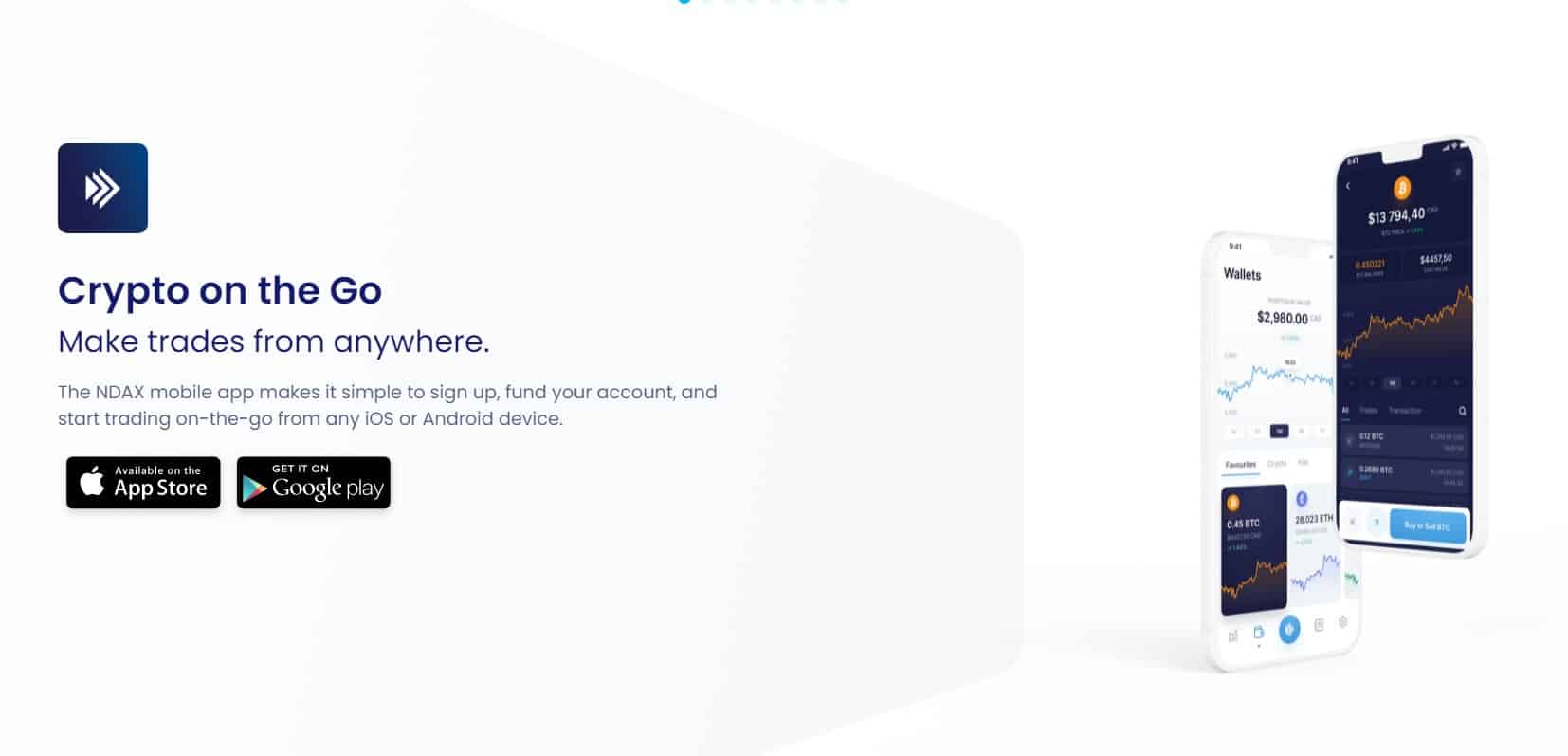 From my experience with different crypto exchanges, I can tell you that trading-oriented platforms are always desktop-first because of the charting-system placement. The platform solution of NDAX is simply adorable. They have carefully designed every aspect to offer an intuitive platform regardless of whether you use the basic or advanced mode.
Desktop Platform
The first thing you'll notice after opening an NDAX account is a comprehensive chart displaying the Bitcoin price history and a list of other exchange-supported coins. After clicking on the desired crypto, you'll see the buy-and-sell price and the spread between the buy-and-sell price.

I like how transparent NDAX is about spreads. Spreads are usually considered a hidden fee — some exchanges don't show the price difference, so it's too late when you notice the unfavorable transaction. On NDAX, you can also monitor the spread movement from the main window (showing the latest trades) apart from the separate crypto panels.
Each crypto comes with a separate charting set that allows different trading tools and options. These charts include the opening price, the low/high/close price, and a daily loss/gain against the opening prices.
As I already mentioned, seasoned traders have the chance to enter more complex charting tools and advanced order types. The best thing is that upgrading the view sight doesn't affect the easy navigation through different markets.
Mobile App
Given the unwritten desktop-first rule, I was fascinated by the NDAX mobile app. It's even surreal how they managed to transfer the full trading package to a pocket-size version. The NDAX app has identical functionality to the desktop-based platform, including all the advanced options and tools accommodated on an incredibly clean interface.
The mobile version of the NDAX exchange is available for both Android and iOS users. Needless to say, user ratings are excellent on both Google and App Store.
NDAX Referral Program

The NDAX affiliate program is another easy way to earn some passive income. Every user can apply for an affiliate link and then share and promote it within their network. For each new member who signs through that link, the user receives up to $10 and a 10% commission from all the trading fees the referee pays per transaction. This program is based on a loyalty-threshold system and comes with a handy profit tracker.
Trading Features
Back to the trading arena, let's explore the functionality set of the NDAX trading platform.
Order Types
Once you have some knowledge of market trends, NDAX will allow you to manipulate the market by placing more advanced orders apart from market orders and limit orders. I took a detailed look at the NDAX selection of order types and can readily say it's more than decent, compared to what you can expect on other CAD-supportive exchanges:
stop orders
stop-limit orders
trailing-stop-market orders
trailing-stop-limit orders
Iceberg (reserve) orders
Fill-or-Kill (FOC) orders,
Immediate-or-Cancel (IOC) orders
OTC Desk
Open order books aren't the best choice for large-scale investments. They can negatively affect or falsely boost the price movement of the crypto being traded. What's more, there is little likelihood for such a huge order to get executed fast as a whole.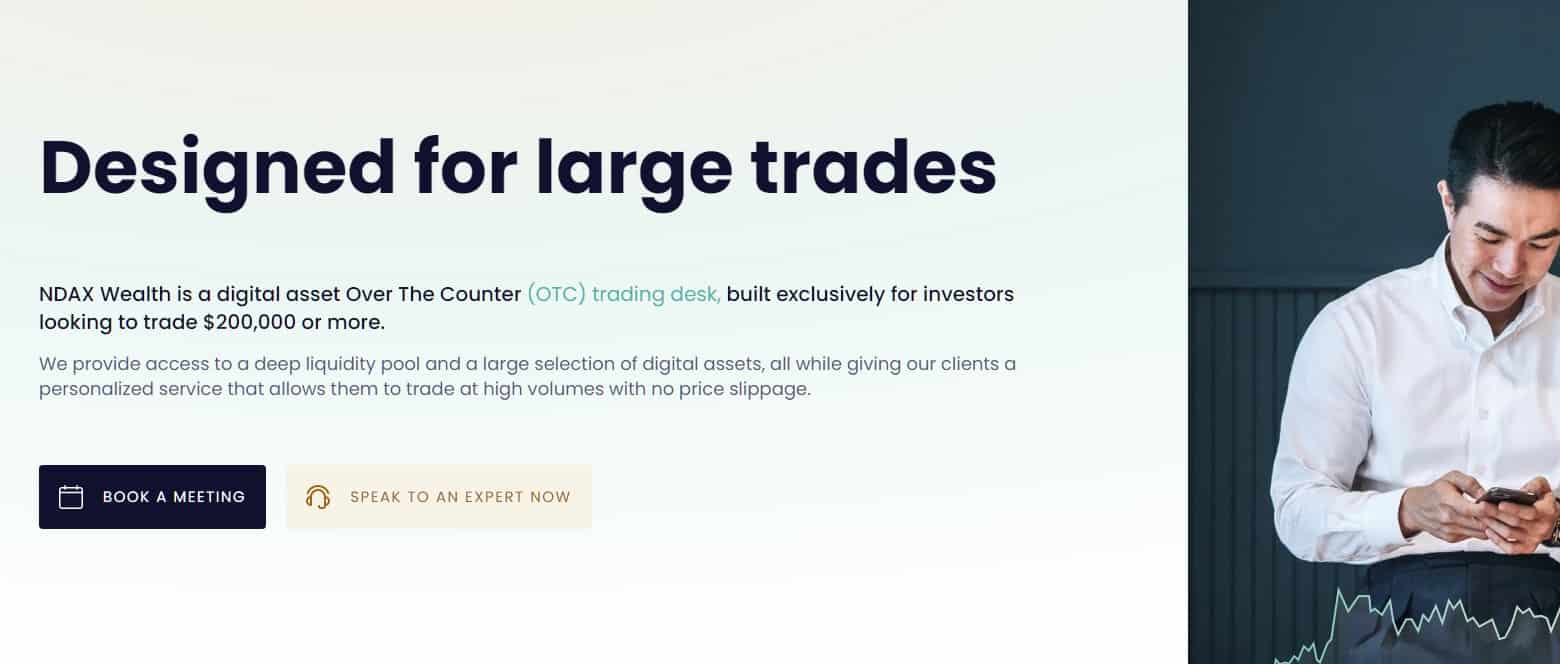 That's why more and more exchanges offer a separate over-the-counter desk. On NDAX, you'll find it under the name of NDAX Wealth. NDAX OTC desk is available for investments over $200,000 and comes with a range of benefits, such as zero withdrawal fees, personal assistance from a qualified broker, fixed fees, and most importantly, guaranteed execution of your trade in a deep liquidity pool.
NDAX Fees
If you ask me to describe the NDAX fee schedule in two words, I'd say fair and favorable. I suppose they're perfectly aware of the fact that you can't attract active traders without competitive fees.
Trading Fees
Buying and selling crypto on NDAX comes with a flat fee of 0.2%. This number is on par with the global standard of trading platforms. You may find slightly lower fees on other exchanges but those deals come with certain conditions — large trading volume or a position of a maker. NDAX just tries to keep it simple.
Deposit and Withdrawal Fees

Both crypto and fiat deposits are completely free, without any third-party commissions or conversions lurking for you in the middle of your trade.
Fiat withdrawals come with a fixed fee of $4.99, while the withdrawal fees for crypto transfers are individually calculated based on the current load of their native blockchain.
NDAX Deposit Methods
Despite the lack of credit/debit card payments, I listed the NDAX deposit system as one of its shining features because of its fast processing and simplicity.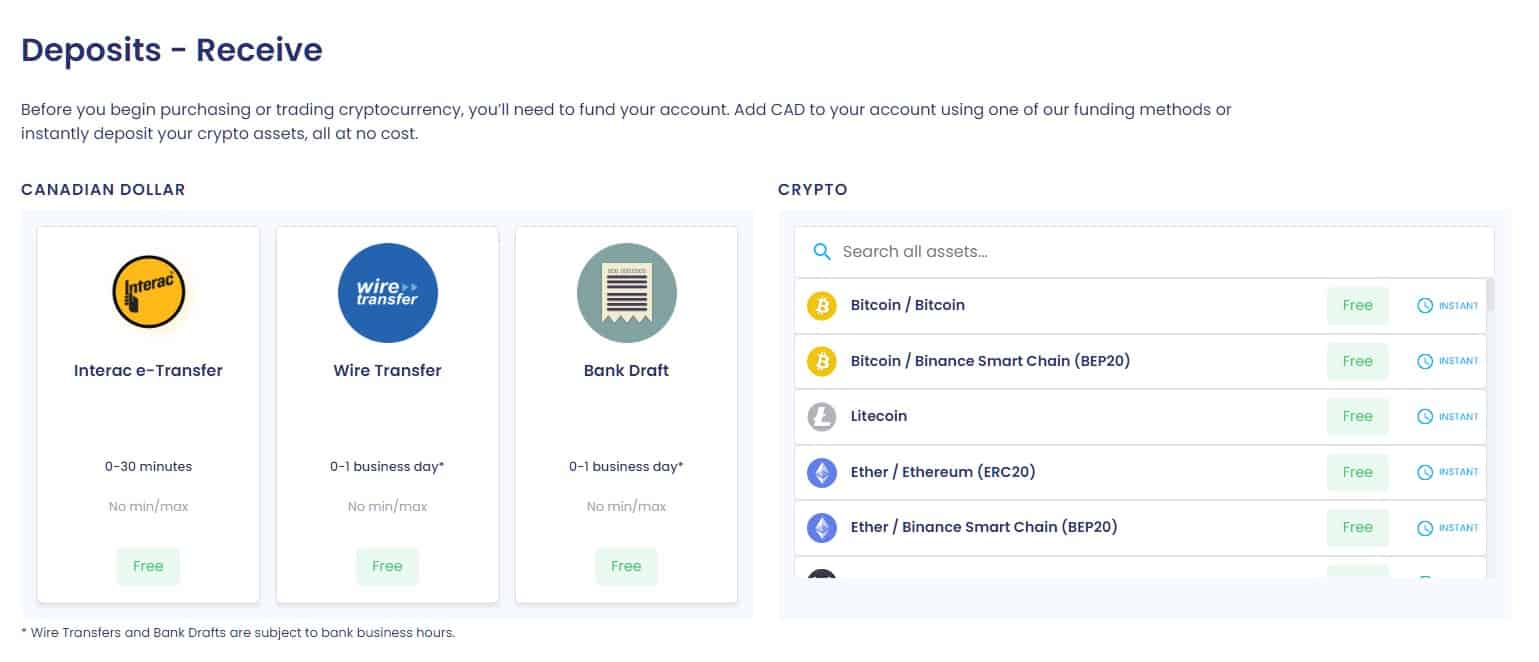 The exchange offers three funding methods that are fully adjusted to Canadian purchasing behavior:
Interac e-Transfer
Wire bank transfer
Bank draft
Once again, NDAX doesn't impose any form of a deposit fee. Interestingly, I found out that NDAX doesn't impose any deposit limits in addition to those determined by your bank.
NDAX Security and Safety
Your trading needs and expectations aside, the first criterion for a landing crypto destination is the exchange's security. Virtual crypto ventures have a shady history of scams, but things have changed drastically since the early Bitcoin era. Particularly in Canada, the cryptocurrency industry is run on highly regulated grounds, and NDAX isn't an exception. So, before I conclude that NDAX is a trustworthy marketplace, let's take a deeper look at its security features and status.
Is NDAX Safe?
After going through the list of security features NDAX employs to protect users' funds and accounts, I had no doubts about placing my first deposit on their platform.

First, the exchange uses the offline Ledger Vault, a renowned cold storage technology that operates on a multi-signature standard. This means that when activating a withdrawal request, it has to get personal confirmation from multiple senior members of the NDAX management team. In addition, the Ledger Vault of NDAX is whitelisted for added security, allowing only permitted addresses to participate in outgoing transactions. From the users' side, they need to confirm the withdrawal through email.
Then, NDAX is one of the few crypto-related providers offering an insurance policy to protect its users' funds against potential external compromises and Hardware Security Module (HSM) malfunction. For full transparency, the exchange keeps fiat funds in segregated bank accounts at a Crown-owned Canadian bank.
From a technology standpoint, NDAX implements the Multi-Party Computation (MPC) mechanism as a solution for hot wallet management and requires a mandatory activation of 2FA (two-factor authentication).
Is NDAX Regulated?
For sure, it is. NDAX is a FINTRAC registered MSB (Money Services Business) with registration No. M18632135 and a full-time member of Revenue Québec. I wanted to figure out if the exchange is licensed by Ontario Securities Commission (OSC), but I couldn't find any records.
You'll see in the next section that NDAX is fully compliant with the strict KYC standards, which are part of the local Proceeds Of Crime (anti-money laundering) Act and Terrorist Financing Act (PCMLTFA).
How to Open an NDAX Account
I don't think you'll encounter any difficulties on your way to becoming a registered NDAX user. The exchange will guide you through all the steps you need to pass. All you have to do is visit the official NDAS website and navigate to the Sign-Up button.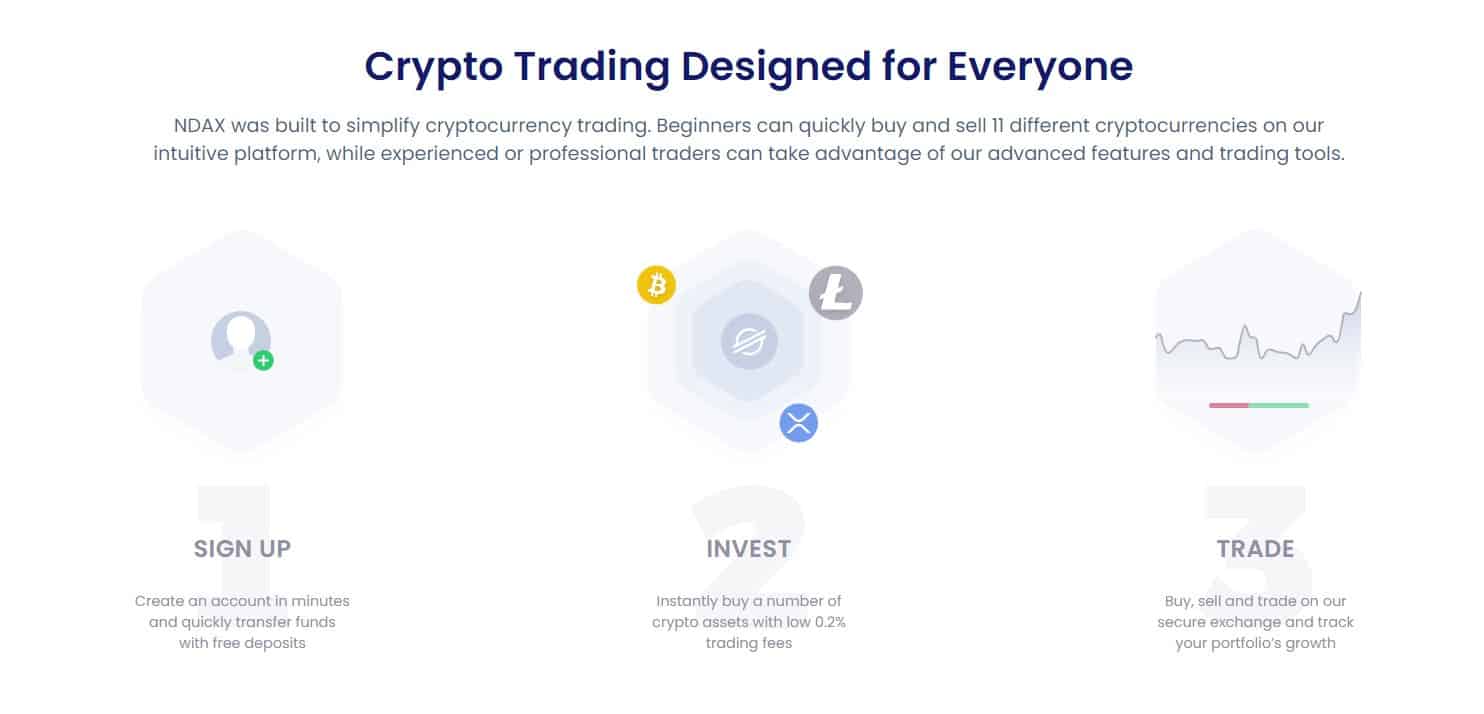 For starters, you'll have to type your full name, username, and password. You'll also need to provide a valid email address before confirming the User Agreement and Cookies Policy. The exchange will send you an email automatically redirecting you to the NDAX website. Log in by using your username and password as submitted in the previous step.
Step 1: Enter Your Personal Information
Now, it's time to get ready for the verification process. It's obligatory for full AML/CFT compliance, and you can't use any of the exchange services without completing it.
After entering the exchange using the confirmation email, you'll see a VERIFY IDENTITY prompt. At the beginning of this stage, you'll need to enter your birthdate and, optionally, SIN.
Step 2: Enter Your Contact Information
Then, you'll be asked to provide your contact information, starting with your phone number and full address of residence (postcode, street, street number, province, city, and country).
Step 3: Enter Additional Information
In this part, you'll have to state the type of your account and the type of your current employment.
Step 4: Phone Number Verification
After submitting the information correctly, the exchange will ask for phone verification. Insert the 6-digit code in the required field immediately upon receiving it on your phone (an SMS code or a phone call).
Step 5: Identity Verification
Now, you'll be diverted to the ID verification section, where you'll have to upload a government-issued document — passport, ID card, or a driver's license and finally, a selfie. From now on, it's better to continue the process from your mobile phone because you'll be able to complete the upload directly after taking a photo. NDAX will offer you the Continue on Your Phone option automatically.
Step 6: Submit a Selfie
The selfie is the last step of your verification process. Follow the on-screen instructions carefully as you need to make a 3D scan.
All this may sound a bit overwhelming, but remember that only a regulated exchange is a safe exchange. On the bright side, your identity verification on NDAX will be automatically confirmed. In some isolated cases, the exchange may decide to go through your application manually, but it won't take more than one business day.
Making Your First Deposit
Funding your NDAX account as a verified user is the easy part of the onboarding process. As I already explained in the Deposit Method section, there are three options for depositing CAD. Also, all supported cryptos can be easily transferred from your external wallet to your in-exchange NDAX wallet.
Crypto Deposits
Crypto transfers appear to be pretty sleek on NDAX. Once you log in to the platform, you'll see the Wallet tab on your left side. Select the cryptocurrency you're planning to deposit and click the Receive button at the bottom of the screen. Then, enter the wallet address or scan the QR code of your third-party wallet, and you're all set to go.
Fiat Deposits
Fiat deposits are also simplified to a great extent, but the step-by-step procedure depends on the payment option. Regardless of the provider, you'll need to navigate to the Deposit tab and choose the preferred one. NDAX provides detailed instructions for all supported fiat-funding options.
NDAX Customer Support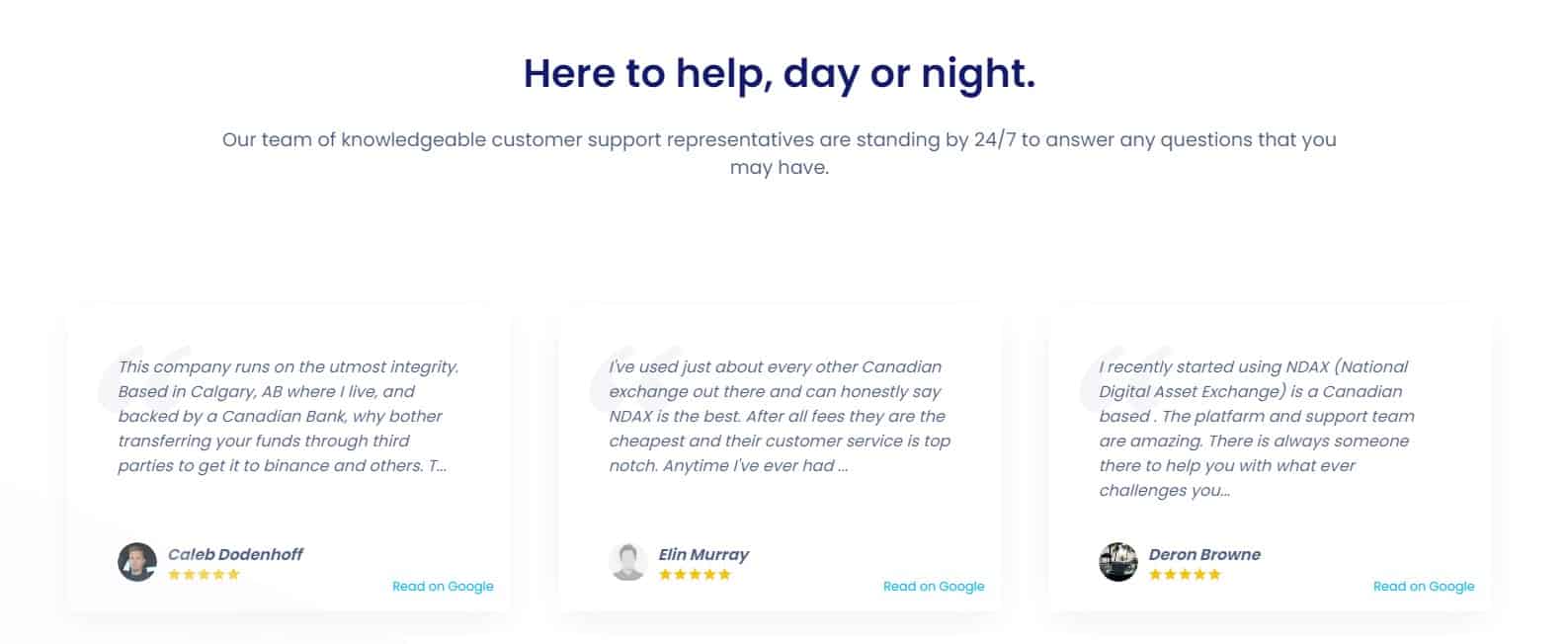 I can see that the exchange has a neatly organized support system. I like how they have arranged the Support section. It transparently covers all potential issues, exchange policies, and processes you need to pass to get ready for the trading part.
NDAX also offers a live chat. From my experience, it can be a very handy solution for receiving a prompt response in case you've got stuck at any stage. However, you need the status of a registered user to use the NDAX chat option. Also, I've noticed some response delays here, especially, when the ticket volume is overloaded.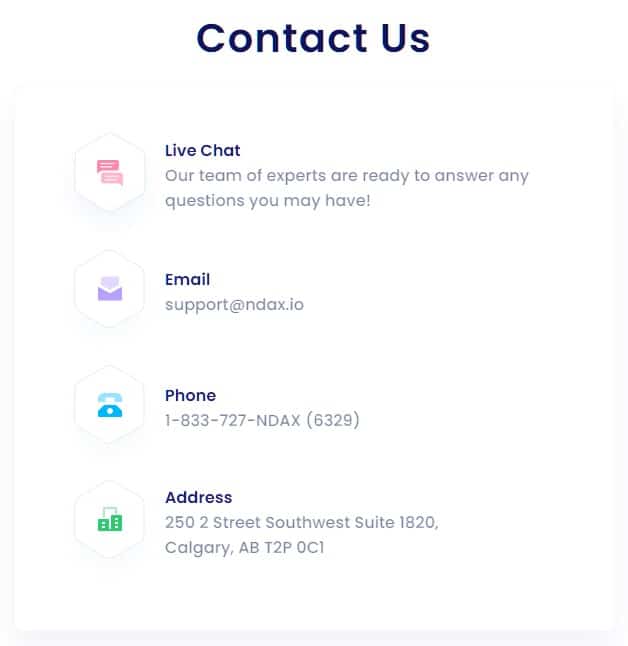 Finally, you can directly contact an NDAX representative through an email or their open phone line. They never fail to respond quickly but only during regular business hours. All off-office time inquiries are processed the following day.
Social Media Channels
NDAX has an active profile on all popular social media platforms Facebook, Linkedin, Twitter, Instagram, Youtube, and Reddit. I could notice that the exchange regularly posts updates and news on all of them, but I must admit, there is less user engagement than I expected.
Competitors
I have the feeling that NDAX fosters a different approach than all other beginner-friendly exchanges in Canada. But, it's not only the trading style that makes NDAX unique among its direct competitors. Let's see how it compares to other popular crypto spots.
BitBuy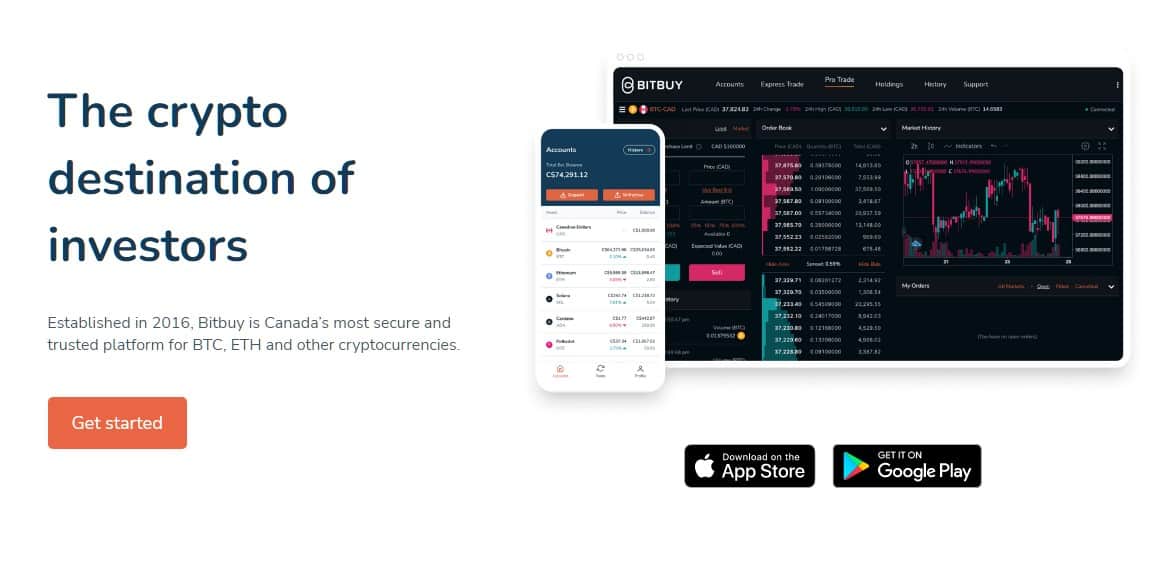 Established in 2016, Bitbuy has been present on the Canadian crypto scene a bit longer. Maybe because of that, It's been better accepted by the general public compared to NDAX. It features two separate platforms to suit the needs of both beginners and experienced traders. That's why I think that Bitbuy is somehow more comfortable for navigation even though NDAX is an exceptionally intuitive exchange.
Both exchanges are very similar in the number of supported digital assets and, more or less, very close in terms of total costs. Yet, Bitbuy has a scalable fee system and charges handsome percent for withdrawals.
All things considered, I'm pretty sure that Bitbuy is a better overall solution unless you're determined to spend your early crypto days analyzing market trends.
Newton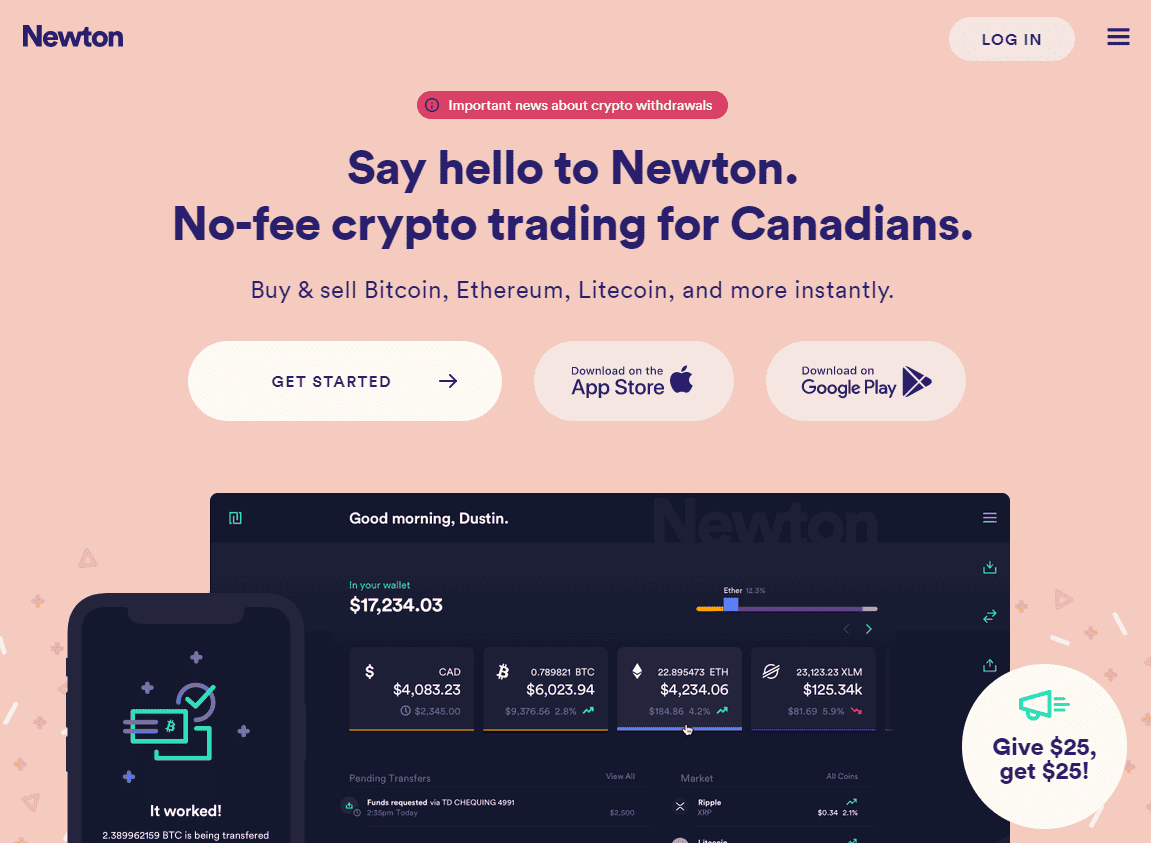 Similar to NDAX, the ultimate goal of Newton is to establish a user-friendly and secure basis for trading crypto. Personally, I found the NDAX design better, which doesn't mean that Newton has any significant UI drawbacks. On the contrary, this exchange features a state-of-the-art outline.
It's actually the fees that make NDAX a sounder choice, especially for novices. Newton promotes a no-trading-fee policy but this statement can be rather misleading and confusing for less experienced traders. Newton counts on spreads and this "fee Math" can sometimes cost you more than placing an order on a relatively expensive exchange as those spreads can go higher than 2.5%.
Coinberry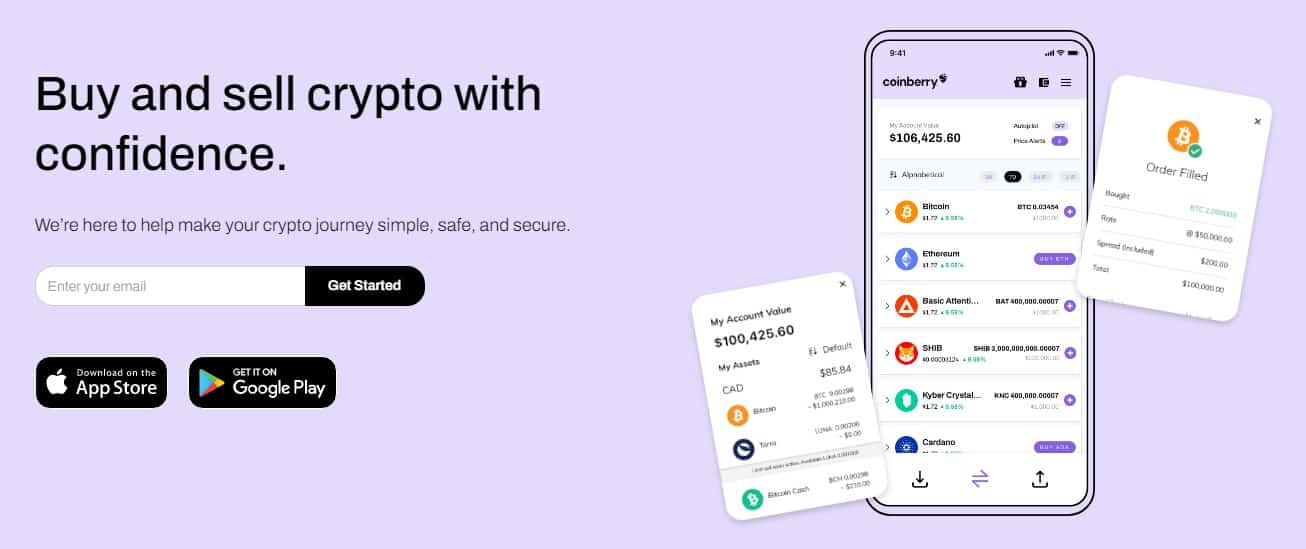 Coinberry and NDAX belong to the same crypto generation but they don't share many traits in common except for the limited selection of available cryptocurrencies and the user-friendly setup.
NDAX delivers a far richer trading platform and the built-in options and order types are incomparable to what Coinberry has to offer. On the other hand, Coinberry provides some fancy functionalities like Autopilot and Coinberry Pay that can't be found on NDAX.
The Coinberry fee schedule is spread-based, similar to that of Newton, which, as I mentioned above, can be a double-edged sword.
FAQs
How long does it take to get money from NDAX?
Once your withdrawal request is confirmed, you usually need to wait one business day for your funds to lay in your bank accounts. Bear in mind that financial institutions don't process transactions during weekends or after business hours.
Can you withdraw crypto from NDAX?
Yes, you can. When you initiate the outgoing transfer on the NDAX exchange, your crypto will be immediately sent to its native blockchain. Hence, the time for you to receive your crypto in an external wallet depends on the requirements of the respective blockchain. External crypto wallets and other centralized exchanges usually require between 2 and 6 confirmations before delivering your crypto to your address.
Is NDAX good for beginners?
Despite the lack of an instant market, NDAX has an exceptionally intuitive platform that allows even absolute beginners to place their first orders with confidence. So, yes. NDAX is one of the best Canadian cryptocurrency exchanges suitable for beginners.
Conclusion
I genuinely enjoyed the time spent on NDAX. The exchange simply knows how to combine the two most conflicting traits in the crypto realm — feature-rich trading platform and ease of use. On top of this, NDAX offers very competitive fees and a highly regulated environment for trading crypto. I believe that if the exchange were to expand the list of trading pairs, it would become the top crypto destination for the professional crypto community in Canada in no time.
Disclaimer: Digital currencies and cryptocurrencies are volatile and can involve a lot of risk. Their prices and performance is very unpredictable and past performance is no guarantee of future performance. Consult a financial advisor or obtain your own advice independent of this site before relying and acting on the information provided.