Disclaimer: We may receive a commission for purchases made through the links on our site. However, this does not impact our reviews and comparisons. Learn more about our Affiliate Disclosure.
Gate.io — a cryptocurrency exchange that has built its own blockchain ecosystem with a vast array of products and a strong focus on security.
Gate.io is claimed to be equally suitable for both beginners and seasoned crypto traders on the hunt for advanced trading options and less popular coins. Now, let's go through all the individual peculiarities of Gate.io and figure out whether its design and functionality can fulfill your call to crypto-action.
About Gate.io
Initially established in 2013 by Lin Han, Gate.io is one of the earliest Bitcoin exchanges that appeared in China.
The exchange suffered a painful hack attack in 2015 when 7,000 BTC were stolen from its cold storage. By that time, the exchange had already changed its name to Bter.com until 2017, when it got back the old brand name. That year, the Chinese government banned crypto-to-fiat purchases, and the company moved to Mclean, Virginia, where it started operating from a new domain.
Right after rebranding, Gate.io became an instant success with a renowned Exchange Offering (IEO) platform, over 500 cryptocurrencies for trade and 30 altcoins available for instant purchase. Apart from the spot markets, Gate.io also supports leveraged trading and ETF, futures and perpetual contracts, and other advanced financial options.


The platform has a robust trading engine to manage the ever-increasing traffic and diverse trading activities, yet its interface appears cluttered, making navigation a bit tangled, especially for someone without digital experience.
In 2020, the Gate.io exchange launched its official GateToken (GT), which was distributed through the platform as a gift to users, but now, they offer it for regular sale on the Gate.io spot market.
Gate.io isn't regulated by any official financial body but this doesn't seem to interfere with the high traffic and liquidity of approximately 3,500 BTC per day. On top of this, its parent company Gate Technology Inc. managed to raise over $64 million for the upcoming DEX project — Gatechain.
Supported Cryptocurrencies and Payment Methods
You'll find over 1,200 trading pairs on the Gate.io trading platform with Tether (USDT), Ethereum (ETH), Bitcoin (BTC), and USD as an underlying asset.

The exchange also supports instant fiat-to-crypto purchases in collaboration with three external payment processor gateways: Simplex, BANXA, and Mercurio, which allow you to easily buy some cryptos using your debit or credit card. Gate.io accepts over 20 fiat currencies, including AUD, USD, EUR, and GBP.
Remember that not all assets listed on the spot market are available for instant purchases but the following are BTC, ETH, USDT, Ethereum Classic (ETC), Litecoin (LTC), Binance Coin (BNB), Ripple (XRP), Bitcoin Cash (BCH), Dogecoin (DOGE), Tron (TRX), and a couple more.
Trading Fees and Limits
There are several types of fees you should consider when trading on Gate.io. Overall, the platform features a transparent fee schedule on par with the industry standard.
Deposits and Withdrawals
You can deposit over 100 different coins with no additional deposit costs except for the standard network fee applied to each crypto individually. Fiat deposits aren't supported on the Gate.io platform.
Additionally, there are no specific requirements for minimum deposits, but your order's minimum trade size can't be below $10 in value.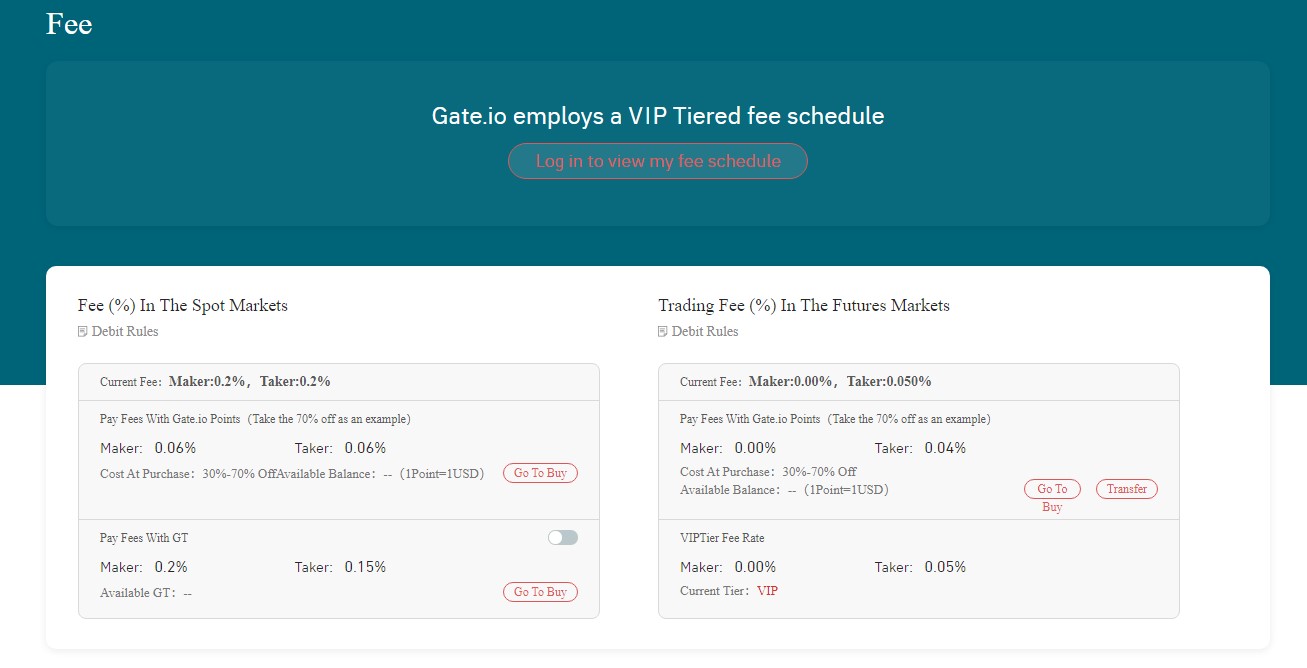 As for withdrawals, fees and limits vary depending on the coin. You can activate a withdrawal on Gate.io without ID verification, but there is a strict daily limit for unverified users, which can be increased afterwards by completing KYC.
For illustration, BTC comes with a limit of 100 units per day and a withdrawal fee of 0.001 BTC, while Ethereum comes with a 0.0047 ETH withdrawal fee and a daily limit of 3000 ETH.
The exchange starts processing withdrawals immediately, but sometimes, it can take a while, depending on the blockchain speed.
Spot Trading
The Gate.io spot market is based on a tier-structured fee schedule as the exchange encourages active traders with more competitive trading fees. Both taker and maker fees depend on the 30-day volume varying by VIP order from 1 to 16. For instance, maker fees start from 0.2% in VIP level 1 and can go down to 0.055% if you reach the premium 16 VIP level. Taker fees range between 0.2% and 0.065% depending on the VIP level.
In addition, Gate.io rewards its loyal users with a discount programme in the form of a point planner. Namely, users can buy points directly from the Gate.io wallet and exchange them for a trading fee discount.
Futures
Gate.io applies a similar tier-based system to its futures market. For instance, with no previous holdings and trading volume up to 1.5 BTC, there is a maker rebate of 0% and a 0.050% taker fee.

As your volume grows and reaches tier 16, you'll get a rebate of -0.025% in the position of a maker or 0.030% as a taker. However, in order to qualify for the highest tier, your 30-day volume must exceed 75,000 BTC or 50,000 GT, with total holdings in the amount of 2,500 BTC.
Gate.io Features
Signing up to Gate.io is pretty simple as all necessary instructions are clearly displayed under the sign-up link, and as we mentioned in the previous section, KYC verification isn't obligatory to start trading on the platform. In order to open a Gate.io account, you'll have to specify your region, provide a valid email, choose a username and two passwords. You'll need the first one to log in on the platform and the second one for fund password for withdrawals.
Once you register with Gate.io, you can choose between a simplified or advanced trading view as well as adjust the screen to light or dark mode.
The variety of options on Gate.io can be overwhelming even for the most skilled crypto professionals. Here is a compact overview of all activities you can do on the platform.
Spot, Futures, and Margin Trading
The Gate.io spot market has a wide selection of over 1,200 trading pairs and only about 30 pairs available for trading futures. On the Gate.io platform, you can also place Immediate-or-Cancel (IOC) and Iceberg orders in addition to standard limit and market orders.
On the other hand, margin trading can go up to 10x leverage on spot trades and up to 100x on futures.
Flash Swap
The Flash Swap feature is an extension to the spot market where you can swap your tokens for another type of token. However, on Flash Swap, the token price is rather different, i.e. higher from the quoted price in order books on the spot marker. In return, Gate.io doesn't incur any fees on the trades executed through Flash Swaps.
ETF Leveraged Tokens
ETF leveraged tokens are derivative tokens that serve as enhanced tokens against their spot counterparts. For instance, if you are bullish on Polkadot (DOT), you can either buy that crypto on a regular trading platform or "gamble" and purchase a certain amount of DOT5L, which stands for a leveraged position of the DOT token.

In other words, leveraged tokens are a substitute for margin trading with the difference that you don't have to pay interest or sustain a minimum margin.
Push Transaction
Push Transaction is another beneficial feature of Gate.io that allows you to receive or send cryptocurrency directly from another user in a P2P (peer-to-peer) manner. This convenience will cost you 0.20% of the total transaction value.
Copy Trading
Copy Trading is currently a rising trend among top-rated crypto exchanges worldwide. This option allows you to get access to the trading strategies and performance of experienced traders and copy their movements.
Once you enable Copy Trading on your account, the exchange will copy all implemented instructions of the trader you've selected. Gate.io doesn't charge anything for this service — however — 5% of the earnings generated from these winning transactions will go to the strategy "lender".
HODL & Earn
Gate.io has a decently lucrative offer for hodlers to earn passive income from their holdings. All exchange users can deposit their savings for a predetermined or flexible time and earn interest on a bi-weekly basis. This option is available with around 10 different cryptocurrencies, including TRX, EOS (EOS), and Cosmos (ATOM).
NFT Box
NFTs (non-fungible tokens) have become valuable collectables on the crypto market, with many digital enthusiasts ready to pay a fortune for a single "art" token. For the passionate NFT community, Gate.io has launched a separate auction and creation platform for NFT creators and collectors to interact in a way that is profitable for both.
Periodic Investment Plan
This feature is rather innovative in the crypto industry, but at the same time, it's a deeply rooted cost-averaging strategy in the traditional investment markets, known under the name of Systematic Investment Plan (SIP).
With the Periodic Investment Plan on Gate.io, you'll be able to invest a fixed rate of USDT at a given time interval, with the possibility of redeeming your savings at any point.
Along with the listed options above, Gate.io also offers its own platforms for Cloud Mining and Liquidity Mining as well as a Crypto Lending market.
Gate.io Security
Gate.io employs the standard security protocols to provide users with optimal protection of their funds and accounts, including:
2FA (two-factor authentication) with Google Authenticator and SMS 2FA, both activated as a default setting;
Anti-phishing code;
Blind IP access;
Sign-in verification;
Separate password for withdrawals followed by a detailed customer verification (KYC & KYC2) for immediate activation;
Cold Wallets.
Despite this, Gate.io's security is a bit questionable due to the shady history of the 2015 hacking attack and its unregulated status.
On the other hand, it seems that Gate.io has learnt the lesson from the past as it ranks in a very high position on CER — a reliable rating service for crypto exchange ratings and analytics.
Customer Support
There are several ways to reach out to the Gate.io support team in case you get stuck at any point in the trading process.
First, you can get technical support by direct messaging the Gate.io team on their social media channels or on the Telegram and Talk applications. Moreover, you'll find a 24/7 live chat option on their official website, or you can officially address the Gate.io support team using the standard email-ticketing system.
Finally, you can always count on the large knowledge base that Gate.io provides on their website in the form of step-by-step guides and tutorials.
Despite the multiple ways of getting direct help from the exchange tech experts — according to online exchange reviews — not all users are happy with the responsiveness and the accuracy they got when contacting Gate.io.
Pros and Cons
When dealing with cryptocurrency exchanges with such an extensive scope of services, it's quite normal to catch a glimpse of both their advantages and disadvantages. This is how we can summarise the work of Gate.io in a few sentences:
Pros:
A wide range of supported cryptocurrencies and trading options;
A superb IEO platform;
Transparent fee system.
Cons:
Messy IU design;
Unregulated marketplace;
No possibility for fiat deposits.
FAQ
Does Gate.io provide a mobile app?
Gate.io has launched a separate mobile app for both iOS and Android users that provides nearly the same functionality as the original browser-based platform. The Gate.io app has over 3 million downloads but relatively low rates because it inherited the original version's cluttered interface. This is understandable to a certain extent as it's practically impossible to transfer so many features on a small-size screen.
What countries does Gate.io support?
You can use the Gate.io platform from anywhere across the world except for the following countries: Cuba, Syria, Sudan, Iran, Venezuela, North Korea, Crimea, Pakistan, Washington, and New York.
Does Gate.io have a crypto wallet?
Gate.io gives all its users an opportunity to use its in-exchange crypto wallet for added convenience during the trading process. However, given the fact that exchange wallets are not the most secure option, investing in a secure personal wallet is best.
Also, don't forget to check whether Gate.io supports the coin you want to transfer to your wallet. The exchange won't be responsible for recovering your funds if you send them to an address not listed on their deposit page.
Conclusion
It seems that Gate.io knows how to keep its users busy. The variety of trading and other financial services seems to be endless and always in sync with the latest trends in the cryptocurrency world.
Therefore, we highly recommend this exchange if you're one of those cryptocurrency traders who dare try new trading approaches and aim at diversifying their crypto portfolios with unexplored digital currency.
Otherwise, if you're planning to start small or make a one-off Bitcoin investment, it'd be much better to rely on a simpler marketplace like Coinbase, for example.
Disclaimer: Digital currencies and cryptocurrencies are volatile and can involve a lot of risk. Their prices and performance is very unpredictable and past performance is no guarantee of future performance. Consult a financial advisor or obtain your own advice independent of this site before relying and acting on the information provided.