Poloniex VS Kraken:
2023

Crypto Exchange Comparison
Disclaimer: We may receive a commission for purchases made through the links on our site. However, this does not impact our reviews and comparisons. Learn more about our Affiliate Disclosure.

IMPORTANT: As of Nov 1 2019, Poloniex is no longer available for trading for U.S. Customers!
With the increasing number of exchange platforms, standing out and attracting traders is becoming a real challenge for companies. In order to succeed, some of them offer low trading fees and some a greater choice of altcoins or flexible payment methods. They invest in expensive security measures and systems for account verification.
In this comparison guide, we'll discuss the features of two reputable crypto exchanges – Poloniex and Kraken, and see if there's a clear winner between the two. We'll start with the companies' history and move on to more details on their fees, customer service, security, available coins and the accessibility of their interface.
About the Exchanges
Poloniex
Poloniex is a crypto-to-crypto exchange that was founded by Tristan D'Agosta in 2014. The headquarters of the company are located in Wilmington, Delaware, one of the most regulated states in America.

The company focuses primarily on the US market but the enormous availability of altcoins to trade in exchange for BTC has attracted traders from all around the world. Poloniex was also one of the most popular crypto exchanges until recently when the whole fiasco with CLAM happened. (More on this in the Support section).
Kraken
Kraken is one of the oldest crypto exchange platforms, and one of the largest when it comes to exchanges in euro volume and market liquidity. It was launched in 2011 in San Francisco, California, and its headquarters remain located there. The founder, Jesse Powell, had previously worked for the largest crypto exchange of its time, Mt. Gox. The platform suffered two major hacking attacks, and Powell, together with the rest of the team, helped solve the security issues.


Seeing how traders lost large amounts of Bitcoins, Powell was motivated to create his own crypto exchange that would manage things differently. He realized how important it was to invest in high-tech security measures and improve the way exchanges stored customers' funds. Kraken put that to practice and quickly earned its place at the top for its functionality and reliability.
Poloniex vs Kraken: The Comparison
Supported Cryptocurrencies
Poloniex only supports exchanges between different cryptocurrencies, with a choice of up to a hundred altcoins, which is one of its main advantages. However, that means that you cannot deposit fiat currencies and trade with them.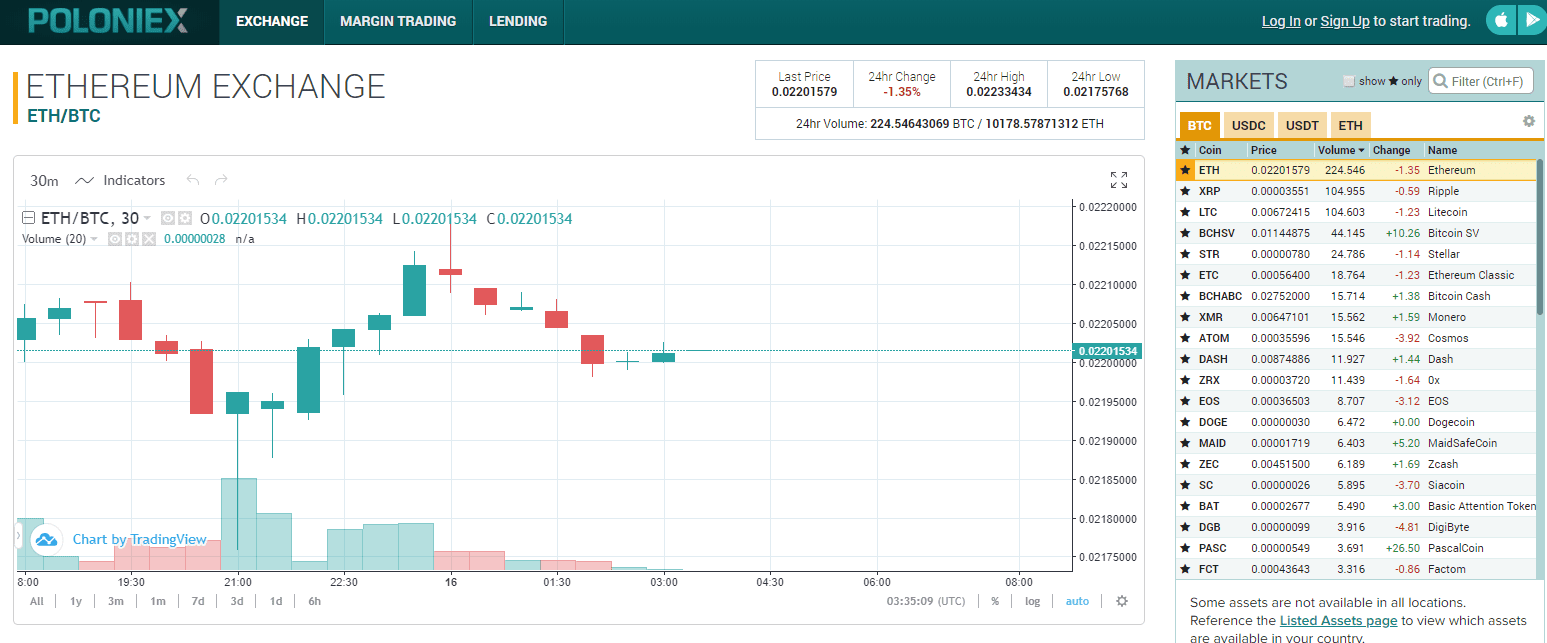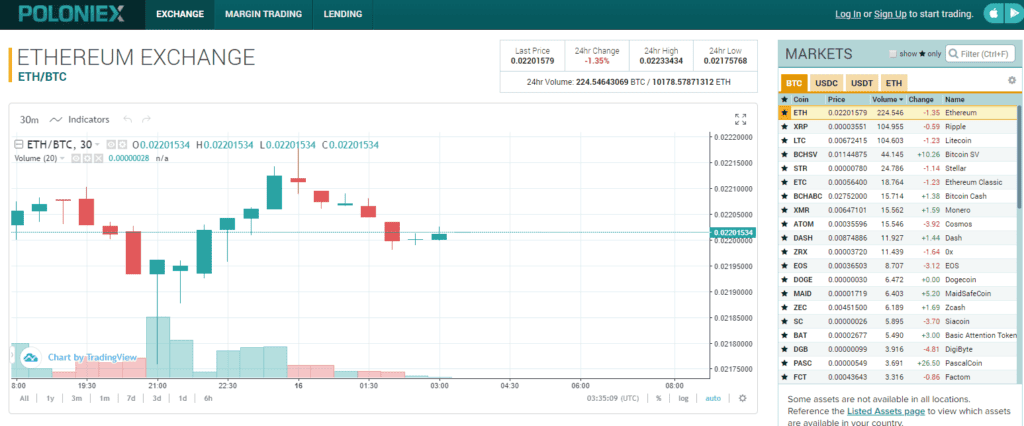 Kraken supports a smaller but decent amount of over 20 cryptocurrencies to purchase and trade with. You should have in mind that the platform uses XBT as an abbreviation for Bitcoin, instead of the regular BTC. The advantage of Kraken is that it offers fiat-to-crypto exchanges so you can deposit or withdraw the following fiat currencies in addition to cryptos: USD, EUR, CBP, JPY, and CAD. This makes it a clear winner in this category since most of the platforms either have a limited number of cryptocurrencies but support fiat, or offer a wide range of cryptos but no fiat exchanges. Kraken has the best of both worlds.
Security
Poloniex employs tested security measures such as separating customer from company funds, instead of using them for its operations, plus storing those customers' funds in separate hot and cold wallets. What this means is that only a tiny percentage of all your funds will be stored online (in a so-called "hot wallet"), whereas the main percentage will be stored offline (in cold wallets) where it's less accessible but safe and secure.
For your personal account security, Poloniex has two-factor authentication.
As we've mentioned before, Kraken was built with the goal of functioning as the most secure crypto exchange on the market. In order to keep your personal account safe from phishing and hacking, it not only has a two-factor authentication but it also has a special Kraken "Master Key" which is another passcode used for restricted account actions, and a Global Settings Lock as well. This blocks any unfamiliar IP address from making changes to your account for a set period.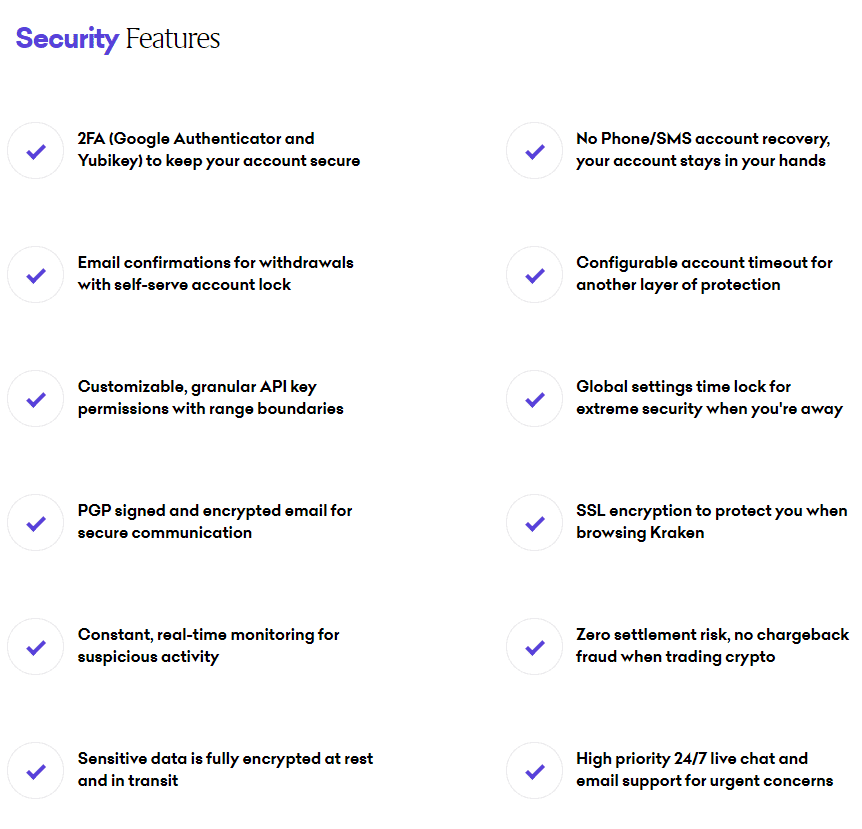 Kraken doesn't use customers' funds to support the activities of the company, and it stores your funds in separate wallets as well, with most of the digital assets being stored offline. In its 8-year history, Kraken's system has never been hacked.
Fees
Poloniex and Kraken are one of the most inexpensive crypto exchanges out there. They both use a fee schedule common for many cryptocurrency exchanges, namely the volume-based maker-taker trading fee schedule. This method evaluates your activity in the last 30 days and adds a fee per trade.
Therefore, for a trading volume of less than 600 BTC, Poloniex adds a maker fee of 0.15% and a taker fee of 0.25%. From Kraken's comprehensive guide we deduced the following fees: a maker fee of 0.16% and a taker fee of 0.26% if the trading volume is lower than $50,000. If the 30-day volume is higher than $50,000, the fees go down to 0.14% and 0.24% for maker and taker respectively. This makes Kraken's fees just a little bit higher than Poloniex' but the platform also offers volume-based discounts on its trading fees.
While deposits and withdrawals come free of charge on Poloniex, Kraken charges deposits made through wire transfers: a 5€ fee for EU countries, a 0.19% fee for USD deposits with a minimum of $20, and a 0.19% fee for GBP deposits with a minimum of £10. However, cryptocurrency deposits are free.
Ease-of-Use
Out of the two, Poloniex definitely has a more user-friendly interface, even more so with its successfully redesigned layout in 2015. This is in part because it only has options to trade cryptos, so the website is not burdened with tons of technical information. You are allowed to create one account only, with permission to trade, buy, and sell.
Kraken, on the other hand, requires some knowledge of crypto lingo and a more serious approach to trading with cryptocurrencies. The website has frequently been buggy but the team is working on resolving the issues.
Another drawback is the fact that completing a purchase takes more time than usual. Before you register and create an account, Kraken asks you to check whether you're a resident of its supported areas. The exchange is available almost everywhere in the world, except in Japan, Iran, Iraq, Afghanistan, Cuba, North Korea, and Tajikistan due to different crypto-financial regulations.
Next, you need to verify your account and whenever you want to make a transaction you have the option to open it using a Simple, Intermediate or Advanced interface. The latter two allow you to set stop limits and add various leverage options. When you need to deposit fiat currency via bank transfer, it would take an additional 1-5 business days before it reaches your Kraken account and you're allowed to make the transaction. This can prove to be a time-consuming process.
In addition, both platforms offer margin trading with a ratio of up to 100x and 5x on Poloniex and Kraken respectively.
Support
Poloniex used to be in the top 10 exchanges for its trading volume for a long time until, starting a couple of months ago, customers began complaining that it would sometimes take several months before the company answered their support tickets even when they had serious issues like frozen accounts or funds gone missing. Gradually, Poloniex began losing the trust of the crypto community.
The situation got even worse in May this year with the sudden 80% price drop of a little-known token called Clams (CLAM) in less than 45 minutes, causing a flash crash on the CLAM/BTC margin trading. This led to a loss of 1,800 BTC between traders, which amounted to around $13.5 million at the time of the crash. Poloniex reimbursed around 10% of the loses right after the accident, and, in a recent blog post, pledged to pay back the daily trading fees (in BTC) to the traders affected by the flash crash until their losses are fully recovered.
The company has learned a valuable lesson, and that is to not offer cryptocurrencies with a low level of liquidity for margin trading. In the meantime, they will need a really good strategy to earn back the trust of their past and future customers.
Kraken's customers, on the other hand, have been encountering some problems when trying to verify their accounts. The team was quick to react and make up for this inconvenience by adding a 24/7 live chat on their website, which means you can get your questions answered any time, regardless of where you're located.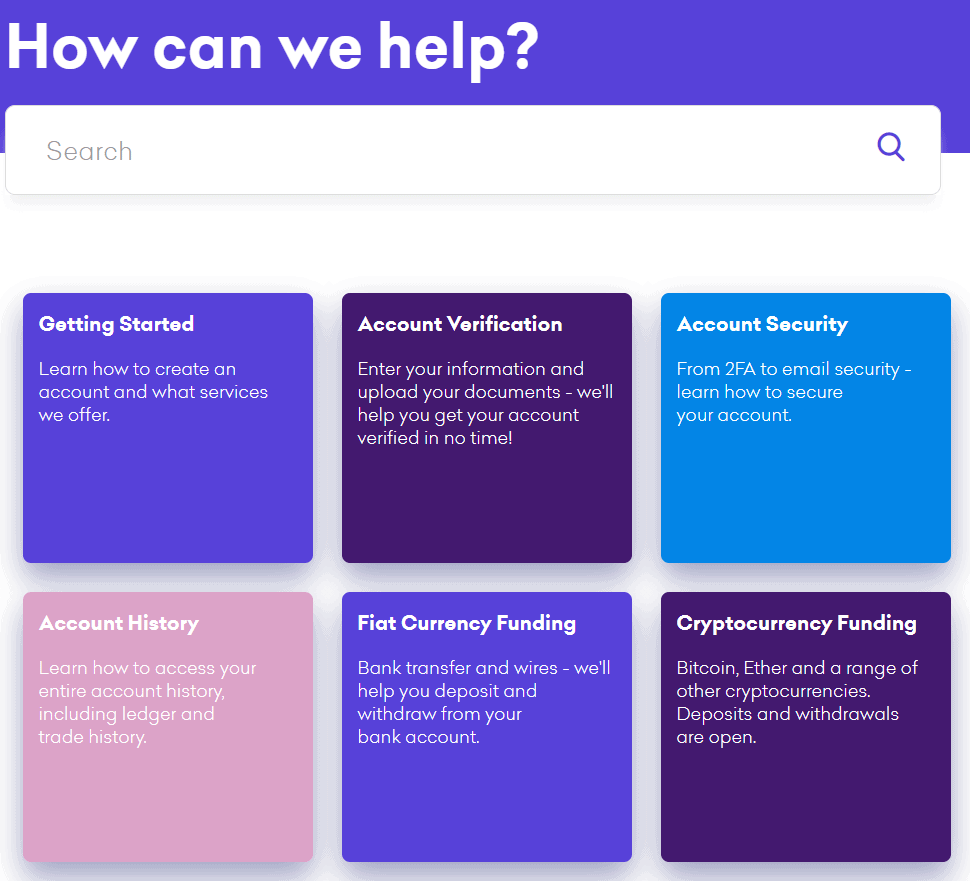 Mobile Trading
In 2018, Poloniex launched its mobile app available to Android and iOS users around the globe who are now privileged to trade on the go. Prior to that, there were some third-party apps created with Poloniex API available for download, although users agree that they cannot be trusted, especially not when engaging in a serious business like trading with money. The Poloniex website is also very responsive and the layout looks good when opened on mobile phones.
On the official Kraken website, it says that they used to have an iOS app available for download but they've recently lost support for it, and it has been removed from the iOS App Store.
Pros and cons
Poloniex pros:
A choice of 99+ altcoins
Low trading fees and no deposit/withdrawal fees
Two-factor authentication plus offline storage
Mobile-friendly website
Poloniex cons:
Crypto-to-crypto exchanges only
No fiat deposits
A serious margin trading crash
Slow support ticket responsiveness
Kraken pros:
An average trading fee of 0.26%
Supports fiat deposits and withdrawals
Supports over 20 cryptocurrencies and 5 fiat currencies
Two-factor authentication, a Master Key, and a Global Settings Lock
Stores customers' funds in hot and cold wallets
Has a 24/7 live chat
Kraken cons:
It takes 1-5 business days for your fiat deposit to reach your Kraken account
No mobile application
Challenging interface for beginners
Slow ticketing response time
Final Thoughts
We've covered a little bit of history, together with the innovations and drawbacks that move these two companies forward. Now that we've come to the end of our review, it's up to you to calculate which platform will do the trick for the trading plans you have in mind.
In our opinion, Kraken might prove a better choice out of the two, since it offers almost the same features as Poloniex in terms of variety of cryptocurrencies and low trading fees. It doesn't have a mobile app, and the interface takes some getting used to, but unlike Poloniex, it allows trading with up to five fiat currencies, and more professional security measures such as Global Settings Lock. What's even more important, it has never been hacked in the whole history of its existence.
Neither platform is flawless, but the way they handle unforeseen situations tells a lot about the value they place on their customers.
Trade cautiously, and opt for a different crypto exchange when larger sums are at play.



Disclaimer: Digital currencies and cryptocurrencies are volatile and can involve a lot of risk. Their prices and performance is very unpredictable and past performance is no guarantee of future performance. Consult a financial advisor or obtain your own advice independent of this site before relying and acting on the information provided.