How to Transfer From
Coinbase to Binance
Disclaimer: We may receive a commission for purchases made through the links on our site. However, this does not impact our reviews and comparisons. Learn more about our Affiliate Disclosure.
Coinbase is one of the world-leading crypto exchanges both in terms of trading volume and number of users worldwide. It has built a solid reputation thanks to its state-of-the-art security measures, customer care, and innovative trading features.
There's only one slight drawback and that's the limited number of supported coins. Coinbase currently supports Bitcoin, Bitcoin Cash, Ethereum, Ripple, and Litecoin as the most popular high-liquidity coins on the market. Therefore, many traders choose to transfer their cryptocurrencies to other platforms that offer a greater variety of trading pairs.
In our guide today, we're going to teach you how to transfer assets from Coinbase to Binance using Bitcoin as an example.
How to Transfer
Let's start with a step-by-step explanation:
Step 1: Sign Up with Binance
First, create an account by registering and completing the application as you did on Coinbase.

If you want to stay anonymous, Binance offers a Limited Account where you can trade without verifying your identity.
However, we don't recommend this option because it restricts your trading activity and limits your BTC withdrawals. Unless you're just trying out the platform for fun, we advise you to create a regular account.
Step 2: Grab Your Wallet Address
When you're all set, on Binance you can click on Wallet > Overview. On this screen just under Overview you should see the "Deposit" button.
Here you can choose "Crypto Deposit". You'll have to transfer over each of your cryptocurrencies separately. For example, you can "Select Coin" and pick Bitcoin. For network pick "BTC Bitcoin", you will now get a generated address like this: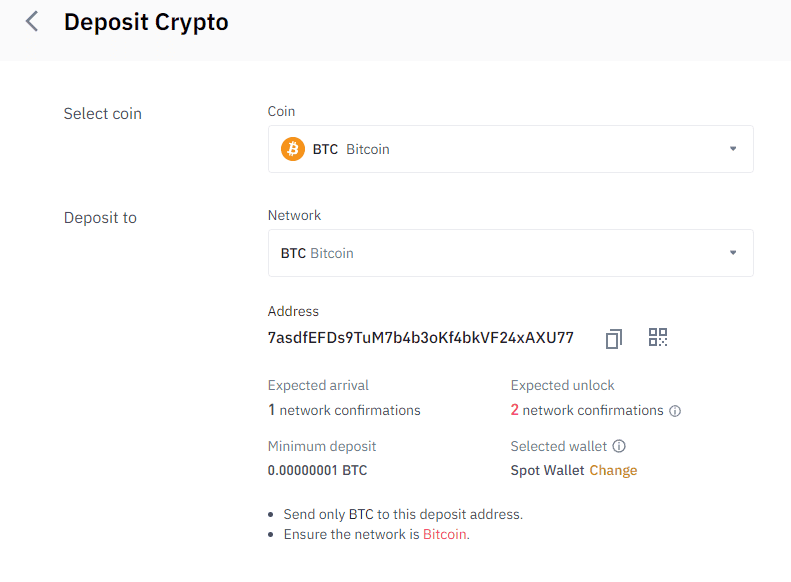 Copy the address, this is where you will send your Bitcoin to from your Coinbase account. You can repeat this process for each cryptocurrency you have, just make sure you are choosing the correct network each time, if you have any issues just ask their support team 🙂 This can be a stressful process the first few times you do it, but once you get the hang of it, it's quite easy!
Step 3: Transfer Your Crypto
Once you log into your Coinbase account, click on the "Accounts" tab, and then select the cryptocurrencies you want to transfer. Click on the "Send" button and wait for Coinbase to ask you for the "Recipient Address". This is where you need to paste the wallet address you copied from Binance. Finally, click "Continue" to send the request forward.
That's it! Now you just need to wait for the Bitcoin miners to verify your transaction. This could take from one hour to a couple of days if the network's busy. To check the status of your transaction you can visit https://www.blockexplorer.com/. Coinbase will give you a transaction ID that you can put in here and you can see real-time what's happening.
How To Transfer From Binance To Coinbase
What if you want to do the opposite and transfer your funds from Binance back to Coinbase? Maybe the coin prices have changed overnight and you'd rather hold onto them for a little while longer. The reverse process is quite straightforward. Just make sure you're sending currencies that Coinbase supports.
What you need to do is log into your Coinbase account, click on Bitcoin, and find the "Receive" option. The platform will generate a wallet address. Copy this address and paste it on Binance under "Funds" > "Withdraw Bitcoins". Simple as that! Again, consider the wait time the miners need to process your transaction.
Final Notes
At first, trading digital coins might seem complicated and confusing, something that only experts in the field could do. However, if you follow our carefully laid out steps, you should find no problem transferring cryptocurrencies from Coinbase to Binance and vice versa.
Whatever you do, our final advice is to be ultra careful about where you store your funds. The crypto exchanges are unfortunately the target of frequent hacking attacks because these people know a lot of users keep their money in online wallets. If you need to store them online, do it temporarily! If you aren't happy with Binance or Coinbase then you should check out our recommended Crypto exchanges or if you aren't from the US you can check our lists below:
Disclaimer: Digital currencies and cryptocurrencies are volatile and can involve a lot of risk. Their prices and performance is very unpredictable and past performance is no guarantee of future performance. Consult a financial advisor or obtain your own advice independent of this site before relying and acting on the information provided.