Kraken VS Gemini:
2023

Crypto Exchange Comparison
Disclaimer: We may receive a commission for purchases made through the links on our site. However, this does not impact our reviews and comparisons. Learn more about our Affiliate Disclosure.

What makes the cryptocurrency industry so dynamic? What lies behind the rapid expansion of the crypto market and why are more and more people investing and buying all these digital coins? Here, we're talking about billions of coins being traded daily!
Crypto enthusiasts have always been around, as early as the 1980s, but it all began in 2008 when Bitcoin was introduced to the public by Satoshi Nakamoto. He published a white paper called "Bitcoin: A Peer-to-Peer Electronic Cash System", where he presented this digital coin as a revolutionary way to buy, sell, and trade online, within a decentralized system.
The world's first cryptocurrency transaction was processed in 2009. Two years later, new cryptocurrencies started to appear on the market.
The next building block was to create a platform where these coins will be traded, namely, a crypto exchange. Software engineers interested in the crypto market saw this as a great way to profit so during the last few years, their number has doubled, if not tripled. Traders are having a hard time choosing which one would suit them best.
In our guide, we'll focus on two of the most popular exchanges – Kraken vs Gemini. We'll cover all their distinctive features, strengths and weaknesses, and help you decide whether they'll do the trick for you.
About the Exchanges
Kraken
Kraken was first launched in July 2011 but began its operations as a trading platform towards the end of 2013. The company's headquarters are located in San Francisco, California, and operated by Payward, Inc. Its founder and current CEO, Jesse Powell, had previous experience in the crypto market. He was the founder and CEO of Lewt, Inc., a company in charge of setting up the accounts and providing in-game currencies to players of online video games.
In 2011, when hackers stole a huge number of Bitcoins from the most popular platform at the time, Mt. Gox, their management asked Powell to help them get Mt. Gox back on its feet. This goes to show that even the top exchange thought highly of Powell's expertise.


This was a valuable lesson, which taught Powell the importance of high-level security measures for a reliable digital platform. He realized that if he were to create one on his own, he would have to convince traders that they could trust him. Since the time of its launch, the company has kept its transparency and made sure it wouldn't get hacked. Kraken is now the leading exchange when it comes to Euro-to-Bitcoin trading volume.
Gemini
Gemini is a trading platform and popular Bitcoin exchange founded in 2015 with headquarters in New York City. It's a crypto-to-crypto and fiat-to-crypto platform that allows users to buy, sell, and store digital currencies or trade them with fiat. The name "Gemini" comes from the fact that its founders – Cameron and Tyler, are the well-known Winklevoss twins.

The brothers rose to fame in 2008, when they sued Mark Zuckerberg over Facebook. They claimed that he stole their idea for creating a social networking site which was supposed to be called ConnectU. The outcome was $65 million for the Winklevoss twins that settled the lawsuit. As they've always been interested in the crypto market, in 2013, they used this money and invested $11 million into Bitcoin, an investment whose current value is well over 1 billion USD! Right around this time, the brothers decided to try themselves at launching their own exchange and use the advantages of the growing crypto industry.
They reaped the benefits of their venture since Gemini has earned the trust of the crypto community in next to no time. Nowadays, it enjoys the status of being one of the safest platforms for traders – as indicated by the daily trading volumes.
Gemini became the first licensed Ether exchange back in 2016. Operating in the United States, the platform adheres to the established regulations by the New York State Department of Financial Services (NYSDFS) in terms of important things like consumer protection and anti-money laundering.
Gemini vs Kraken: The Comparison
Supported Cryptocurrencies
The advantage when using either of these platforms is that you have the option to trade your cryptocurrencies in exchange for fiat currencies. These types of platforms are known as "Fiat Gateways". This information is useful for new traders who still haven't filled their wallets with altcoins of any sort.
Bitcoin
We recommend using Gemini to Bitcoin traders because the platform lists only the safest coins for trading, i.e. Bitcoin, Bitcoin Cash, Ethereum, Litecoin, and Zcash. It's available across the United States, UK, Canada, South Korea, Hong Kong, and Singapore, and accepts payments made in USD too.
Other Cryptocurrencies
If you're interested in trading altcoins, Kraken is the obvious winner in this category. It currently supports over 20 different cryptocurrencies with more than a hundred trading pairs traders can choose from. Their list includes Bitcoin, Bitcoin Cash, Ethereum, Ethereum Classic, Ripple, Monero, Dash, Dogecoin, Gnosis, Zcash, EOS, Augur, Stellar Lumens, Iconomi, Tether, etc. These coins, as we've mentioned, can be traded with US Dollars (USD), Canadian Dollars (CAD), and Euros (EUR) if needed. Due to banking regulations, Japanese Yen (JPY) are no longer supported.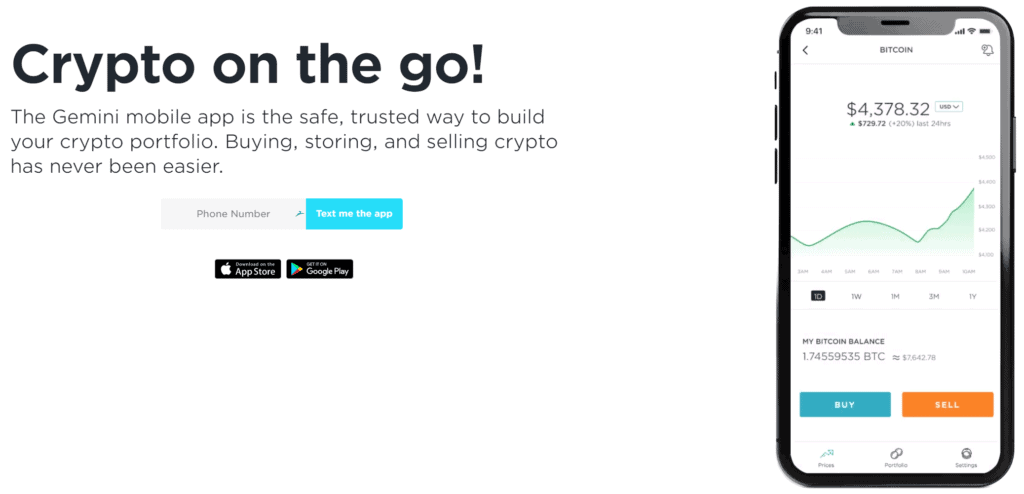 Security
What are the security measures to which Kraken and Gemini owe their reliability? What makes their security level stand out?
Both Kraken and Gemini are highly regulated platforms that comply with the laws and regulations for safe cyber trading. First of all, they segregate customer funds from company funds intended for operational purposes to avoid any mix-up and violations. The majority of the funds are stored offline in cold storage, disconnected from the Internet. Only around 2% are kept online.
On Gemini, these remaining digital assets are secured using Amazon Web Services (AWS) as a cloud service to store and access them on the Web. Moreover, fiat deposits are insured up to $250,000 by the FDIC. Kraken's strategy includes frequent encryption and daily updates of its data, and a regular penetration testing done by blockchain experts.
The security of your account is guaranteed with a two-factor authentication offered on both platforms, which asks you to provide your password and verify your identity actions from a device you own (such as a mobile phone) before you are allowed to enter.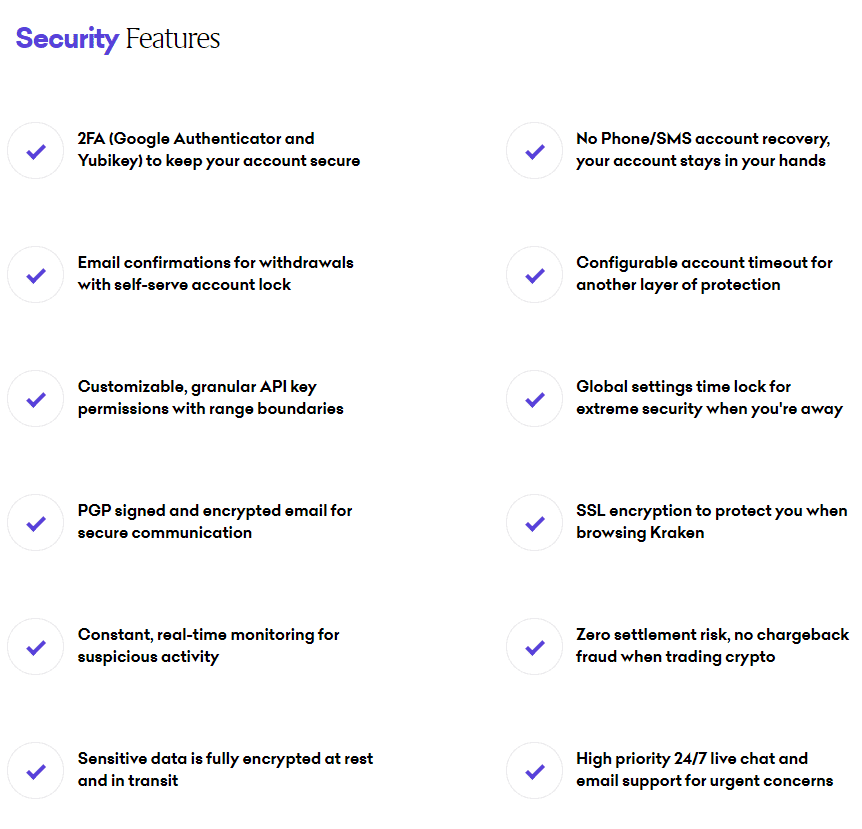 Kraken goes a step further with a "Master Key" which is another passcode to access restricted account actions. You also have an option to lock your account over a certain period with a feature called Global Settings Lock. This will block any unfamiliar IP addresses that try to make unauthorized changes to your account settings.
Fees
Kraken uses a common type of fee schedule that takes a look at the traders' status as buyers (makers) and sellers (takers) and their trading volume over a course of 30 days. Makers enjoy slightly lower fees.
For example, the maker fee is 0.16% per trade if your trading volume doesn't exceed a total of $50,000, as opposed to a 0.26% taker fee. Upon reaching a total of above $50,000 in trading over the last 30 days, the fees are reduced to 0.14% and 0.24% for maker and taker respectively.
Kraken has the following fees for deposits made with fiat payment through wire transfers: an additional 5€ for international wire transfers made in EUR, $5 for domestic wire transfers in USD, and $10 with SWIFT International wire transfer. The fees are higher for withdrawals. Kraken only supports debit and credit card deposits for CAD.
Gemini doesn't charge you for deposits, and the first 30 monthly withdrawals are free as well, but otherwise, it has higher trading fees than Kraken. It uses the same maker and taker fee schedule on a sliding scale where the amount of Bitcoin or Ether being exchanged is ranked from light to massive in volume. The maker and taker fee starts at 1.00% for light traders and goes as low as 0.10% or 0.00% as the trading volume increases.
Ease-of-Use
If you're in earnest about crypto trading, you won't have any problems with neither of these crypto exchanges. The one caveat is that their website layout might have a serious feel to it in the beginning, especially the Gemini one. It features lots of charts and crypto lingo that could seem off-putting for beginners.
We find Kraken's website to be more playful, including interactive visuals and illustrations to keep your attention. On the dashboard, newbies can choose the option to find out everything they need to know before they get started. There's another option for those who want to step up a level in their investment game, and another one for companies who were directed to the platform.
Before you create an account, Kraken will check the eligibility of your country since the exchange is not in use in Japan, Iran, Iraq, Afghanistan, Cuba, North Korea, and Tajikistan as a result of conflicting regulations. Next, you're asked to verify your account via email and choose a Simple or an Advanced interface. The second one is uninviting for newcomers but exactly what dedicated traders are looking for – with options like margin trading, futures, and over-the-counter trading.
Customer Support
The communication with these exchanges happens mostly through email correspondence with their tech support team. Both sites have a "Support" button that takes you to a separate support page with their FAQ section and a place to write your request.
Gemini customers have reported responses to their support tickets within a matter of hours, instead of days. Kraken features more buttons that help you get your way around their trading options, as well as a 24/7 chatbox for instantaneous answers.
Mobile Trading
Out of these two platforms, Gemini is the only one with a mobile app, available for download on both Apple and Google Play Store free of charge. With the app, traders are no longer stuck to their personal computers as far as crypto trading goes but can keep an eye on the price market and track their orders on the go.
Pros and Cons
Kraken pros:
Lower trading fees: 0.16% and 0.26% for maker and taker respectively
Supports a variety of digital currencies
Supports fiat deposits and withdrawals via ACH (US customers) and SEPA (EU customers)
High-level security measures
Two-factor authentication, a Master Key, and a Global Settings Lock
Stores customers' funds in hot and cold wallets
Has a 24/7 live chat
Kraken cons:
It takes 1-5 business days for your fiat deposit to reach your Kraken account
No mobile application
Gemini pros:
Regulated by the NYSDFS
Low fees, free deposits, and no charge for the first 30 monthly withdrawals
Two-factor authentication and cold storage
Amazon Web Services clouding
High responsiveness (24-72 hours for a support ticket)
Licensed US exchange
Mobile-friendly
Gemini cons:
Supports fewer cryptocurrencies
Supports only one fiat currency (USD)
Higher trading fees
You can only buy digital currencies via bank transfers
The interface is not suitable for beginners
Final Thoughts
What's it going to be, Kraken or Gemini?
Kraken definitely offers you the best of all worlds. You get over 20 different currencies, and an option to trade with fiat, and all that at very inexpensive fees. Kraken is also a highly protected exchange, with security measures that go beyond the usual 2FA and cold storage, but offers a master key and a global lock as well. The interface is smooth and intricately designed, plus you get to choose your level of engagement with the platform.
Gemini, on the other hand, has higher trading fees and supports only the most popular cryptocurrencies. If you think your trading volume will be low, and your priority is a safe market and not the number of cryptos exchanged – you won't go wrong with this platform. Your account and funds will be safely stored in cold wallets, and you'll never have to worry about any illegal doings by the company.



Disclaimer: Digital currencies and cryptocurrencies are volatile and can involve a lot of risk. Their prices and performance is very unpredictable and past performance is no guarantee of future performance. Consult a financial advisor or obtain your own advice independent of this site before relying and acting on the information provided.