Best Crypto Portfolio Trackers
Last Updated on July 10, 2023
The rapid digital development has made investors more comfortable with blockchain products, which is great. Now that we treat crypto as a regular financial instrument, trading opportunities are unlimited.
The thing is that cryptocurrency will behave the same regardless of the trading environment:
They're still more volatile than any other asset class.
You need crystal clear evidence of your crypto trades to create a viable strategy.
As we can't control market trends, let's focus on tools that help us keep track of our crypto portfolios. It's fascinating how modern portfolio trackers have put crypto management on a higher level. So, I explored these programs in detail and singled out the best market solutions.
You should know that things aren't just black and white. There are plenty of tiny details that make a reliable virtual management system, so we'll also discuss them in more general terms.
Featured On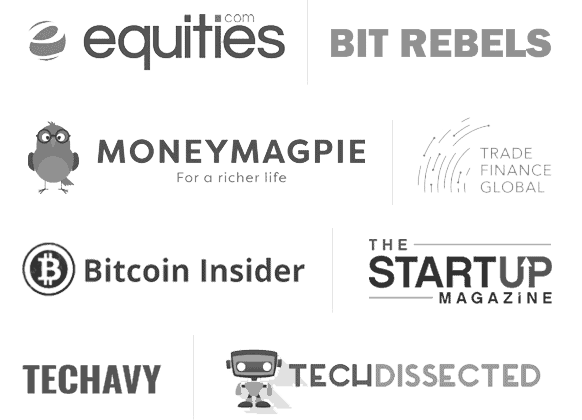 1. CoinStats
Pros:
Free package with decent functionalities;
Easy-to-use interface;
Possibility for a custom pay plan;
Great support for DeFi tokens;
Regular updates and daily caps on the cryptocurrency in your portfolio.
Cons:
Charting tools may appear too advanced for less experienced traders;
Some of the most popular hardware wallets aren't supported.
I went through many portfolio-tracking offers and believe me, CoinStats is the most powerful crypto package so far. It appeared as an Ethereum-oriented alternative for the most popular portfolio tracker Blockfolio, but I can readily say CoinStats is far more advanced in terms of visual presentation, notification system, and overall functionality.
CoinStats isn't just a portfolio tracker that delivers an illustrated display of your transactions. It's a multi-dimensional management system where you can store all your crypto with military-grade security, connect your account with popular crypto exchanges, and trade on them directly from your CoinStats dashboard. This portfolio tracker supports over 8,000 cryptocurrencies and integrates multiple exchanges and crypto wallets through API keys.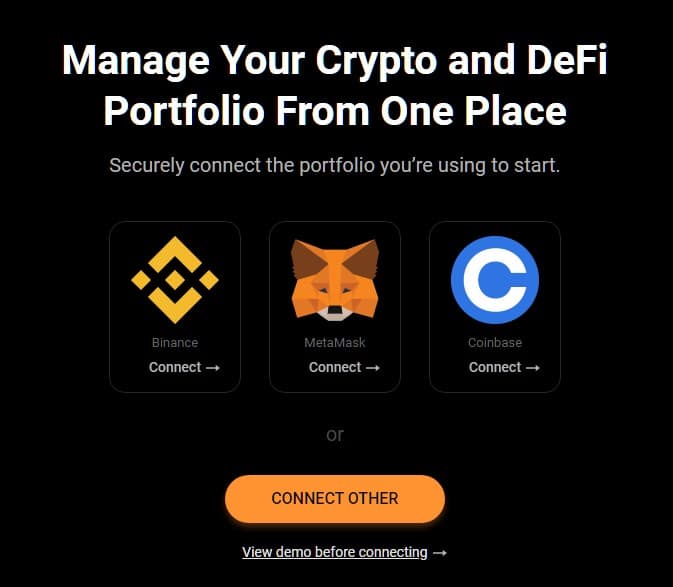 On top of this, you can adjust the alert system based on your preference CoinStats will deliver news and updates related to the topics of your interest from 40 reliable sources. For me, this sophisticated approach to communicating with users isn't just an extra convenience but the key ingredient that gives CoinStats a professional edge.
The basic CoinStats version is free but comes with tight limits — integration with up to 5 portfolios and processing no more than 1,000 transactions. You can unlock a pro account for a symbolic amount of $2.49 a month and get an unlimited number of transactions.

2. FTX (BlockFolio)
Pros:
In-platform buy-and-sell functionality;
High level of customization;
Accurate updates on the current market trends.
Cons:
Lack of support for non-custodial wallets;
Available on mobile only.
I won't be wrong to say that BlockFolio has been a synonym for a crypto portfolio tracker. This evergreen platform has been present in the crypto market ever since 2014, when portfolio diversification wasn't a trend in the crypto field.
As the first representative of its class, BlockFolio immediately became a hot spot for the avid bitcoiners who speculated on BTC price movement daily. Over time, this tracking system has expanded its scope of services, continuously integrating more advanced features and customization elements. This led to broader crypto audiences — over 6 million crypto enthusiasts use BlockFolio as their primary portfolio management tool.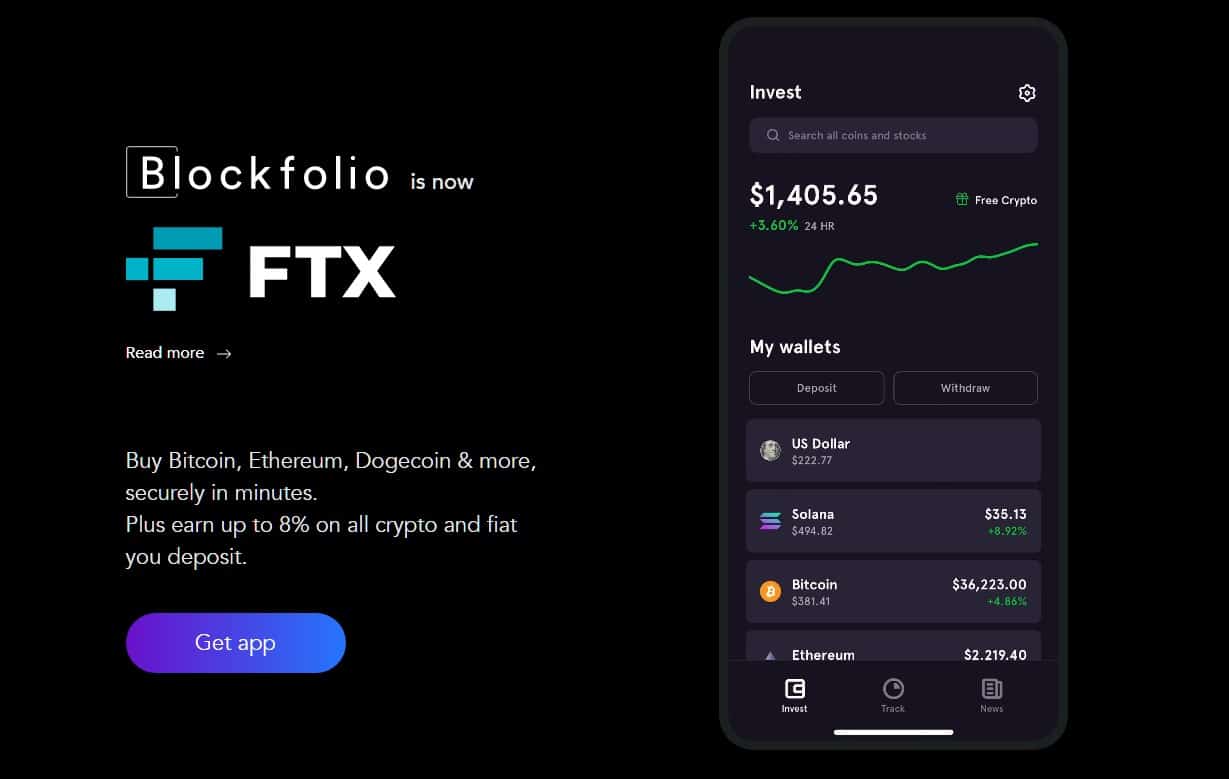 I've been familiar with BlockFolio ever since its beginnings. While I genuinely admire its ability to adopt all crypto novelties, I still think the Blockfolio Signal system is its most attractive functionality. The Blockfolio Signal is a unique communications sub-platform that gives you the chance to join various token teams and engage with their communities.
In 2018, BlockFolio was acquired by one of the fastest-growing crypto platforms, FTX. This didn't affect the BlockFolio policy for integration with an incredibly large number of external crypto exchanges. The portfolio tracker can synchronize over 500 crypto exchanges and supports 10,000 cryptocurrencies. Most importantly, this rebranded crypto-management tool is free.

3. CoinTracker
Pros:
Turns the data into accurate tax reports;
Equally suitable for desktop and mobile;
Automatic synchronization with major cryptocurrency exchanges.
Cons:
No free version for a portfolio calculator;
Poor integration with more advanced crypto platforms;
The interface looks a little obsolete.
CoinTracker is another chart-topping product for successful crypto management. The app focuses on delivering accurate tax reports, but you can use it as a regular portfolio assistant. In the role of a tax generator, CoinTracker is best-fitted for the needs of professional accountants, but as a crypto portfolio tracker, I'd say it's universal. Similar to FTX BlockFoilio, CoinTracker supports over 300 crypto exchanges and can process 10,000 different cryptocurrencies.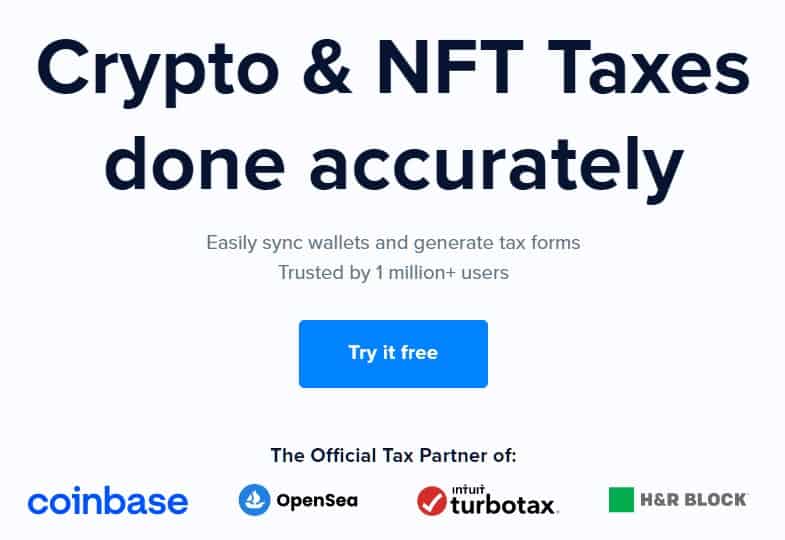 The CoinTracker portfolio section consists of a dashboard that gives you a clear view of all important data associated with your crypto trades. So, you can monitor your total market value, trading performance, and portfolio allocations. Regardless of whether you use CoinTracker as a tax generator or a portfolio tracker (or both), you can unify the history records of all transactions spread across various crypto services. I like that once your get your transactions unified, you can search or filter them depending on your on-the-spot needs.
The catch is that these types of automatically transferable services aren't usually free. Depending on your membership tier, the crypto portfolio assistant will cost you $14 or $99 per month. The built-in tax software comes with a different pricing system, which is timely-adjusted following the tax year.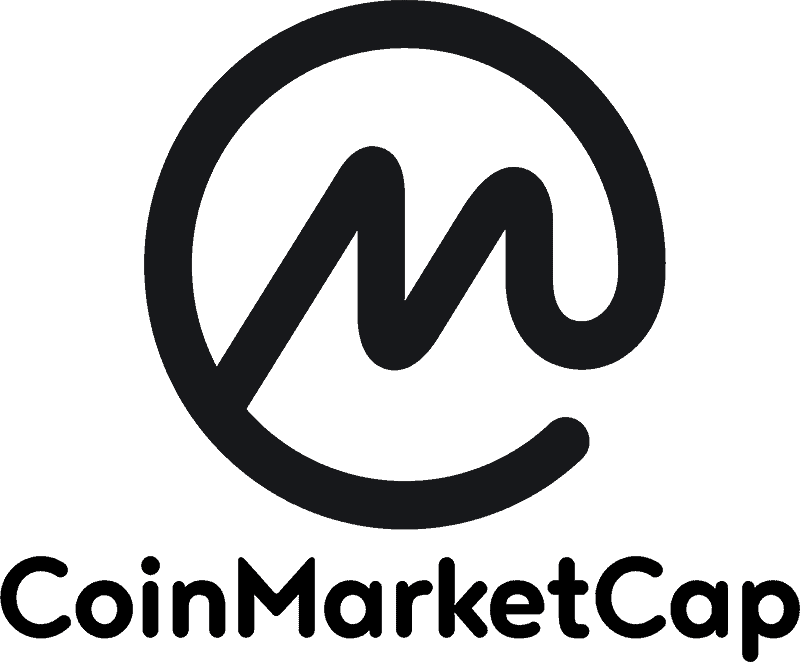 4. CoinMarketCap
Pros:
Reliable data that is based on well-established CoinMarketCap sources;
Great selection of supported cryptocurrencies;
Crypto prices are shown against your preferred fiat currency;
Cons:
The data for personal-portfolio use is mobile first;
Real-time updates sometimes require closing and reopening the app.
I believe you've already visited the CoinMarketCap site at some point in your crypto career. It's one of the most reliable and most-referenced sources for tracking crypto prices, volumes, and market caps. Apart from its proven reliability record, both casual and professional investors rely on CoinMarketCap because it presents historical price data with incredible ease.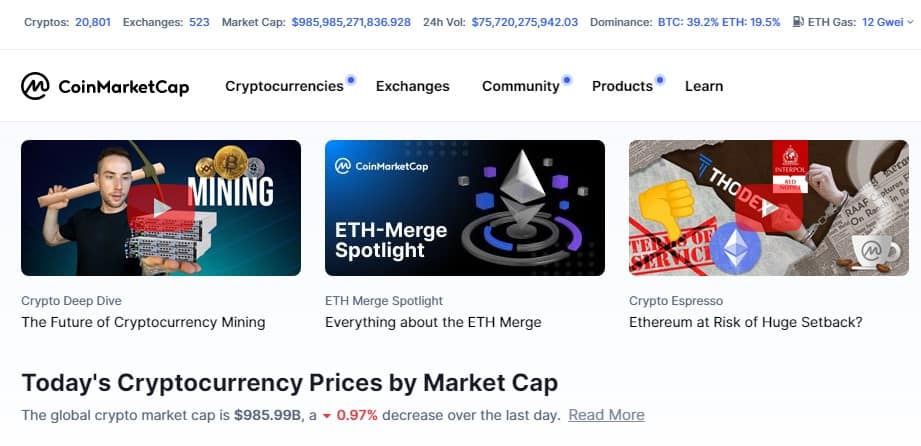 But did you know that this price-tracking website offers a free, personalized crypto portfolio? By opening a CoinMarketCap account, you can get valuable insight into your coins statistically ranked against other top performers. You can also explore global charts, spotlights, and historical snaps both from your desktop and mobile without the need to google separately for every information that pops up in your head.
Thanks to the massive public use, CoinMarketCap has a large network of both centralized (spot and derivatives) and decentralized exchanges, which are API-available for your portfolio account. The best thing is that with CoinMarketCap, you'll always keep up with the latest news about upcoming airdrops, referral campaigns, and ICO events.

5. CoinGecko
Pros:
Accurate data aggregator;
Seamless assets entry;
Extensive Learn Crypto section.
Cons:
No option for adding positions directly from integrated exchanges or wallets;
An over-cluttered interface that is a bit obscure to navigate.
Similar to CoinMarketCap, CoinGecko is one of the mainstream go-to websites for accurate crypto-price listings. While CoinMarketCap is superior in chart presentations, CoinGecko focuses on the community with educational tools, a calculator for yield gains, and giveaway updates.
CoinGecko portfolio tracker offers real-time data for over 12,000 coins and tokens from their independent aggregator. It's great that the platform allows you to create multiple portfolios to cover different strategies — DeFi collection, long-term HODL, risky positions, etc.

However, I don't recommend CoinGreco to large-volume traders, not because of the modest analytics system but because of the lack of automated uploads. You should understand that free packages like CoinMarketCap and CoinGecko don't enable you to attach your cross-exchange balances directly on their platform. Yet, I must admit that CoinGecko can be a handy crypto tool for personalized alerts and community engagements.
Finally, I was impressed by the new CoinGeco mobile app. Aesthetically, it's a piece that features incredible on-the-go functionalities and widgets. The mobile version is available and equally good for Android and iOS users.

6. Pionex
Pros:
A free grid-bot system with low trading fees;
Highly functional mobile app;
Excellent live chat support.
Cons:
Fiat funding isn't supported;
Not suitable for novices.
As you can see, not all of the platforms and apps that provide robust crypto portfolio management are designed exclusively for portfolio-tracking purposes. For example, Pionex is one of the market-dominant trading bots that offers a top-notch tracking tool as part of the package. This setup comes naturally, as bots are data collectors at their core, so they only need a workable solution to present that data in an organized manner.

Pionex is a perfect choice for traders who use automated trades in their strategies. It arranges transaction records in a neat yet sophisticated way, which gives bot traders incredible comfort of use. Still, let me remind you that you can't expect a beginner-adjusted visual presentation on Pionex. After all, this type of software is reserved for pro-traders.
Pionex aggregates liquidity from popular centralized exchanges like Binance and Huobi and allows you to activate up to 16 free in-platform trading bots. It's a sophisticated trading package offering some of the most advanced options in the crypto world, such as Dollar-Cost Averaging (DCA) and the unique Smart Trade, where you can set up multiple order types in a single trade.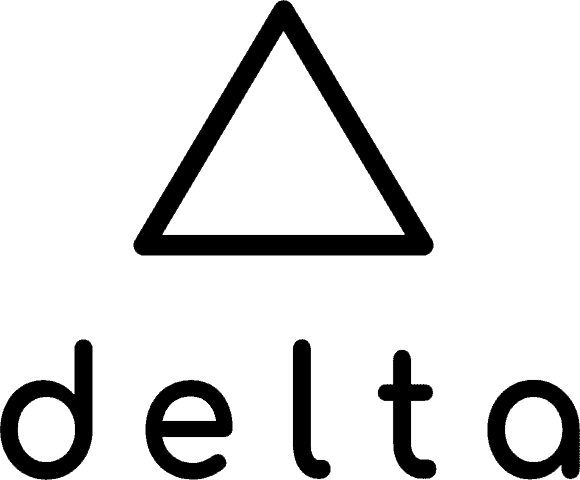 7. Delta
Pros:
The app UI/UX design is continuously improved;
The free version offers decent features;
Easy setup for linking wallets and exchanges.
Cons:
The paid version is a bit pricey;
Buy-and-sell prices aren't auto-filled when entering new positions.
Unlike the previous few items on my list, Delta is a piece of software designed primarily as a portfolio tracker. My first impression was that Delta focuses on Bitcoin and other popular altcoins, but I couldn't be more wrong — it seamlessly supports NFTs and traditional stocks. In fact, Delta aims to provide an on-the-go view of your entire investment portfolio.
Despite its mobile-first disposition, the tracker is also available on all commercial desktop systems, but you need to have downloaded the mobile app first. In both cases, I enjoyed the charming UI design, equipped with readable market insights.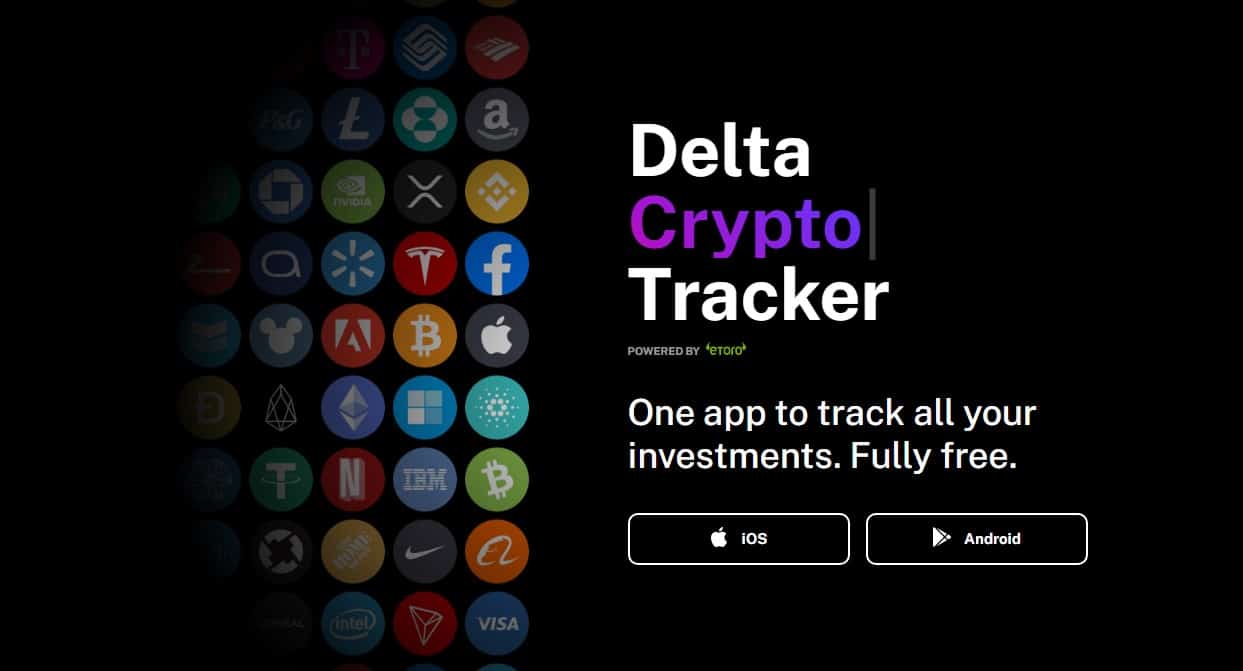 In 2019, the company was acquired by one of the leading crypto platforms eToro. However, the app still allows direct integration of your portfolios from over 30 popular crypto exchanges to the Delta crypto tracker. The list of supported trading platforms includes Binance, Coinbase Pro, Poloniex, Kraken, and KuCoin.This generous offer is part of the paid plan. The Delta free version restricts you to 2 exchanges.
I think that Delta's popularity lies in its ability to unify crypto and traditional assets under a single roof. But even without the support of stocks, Delta has a superb feature-set — real-time asset tracking, highly customizable options, and a strong development team behind it.

8. CoinMarketManager
Pros:
Highly advanced options accommodated on an intuitive platform;
Single point view of all your positions;
Smooth synchronization of all trade data.
Cons:
Some popular names are missing from the list of supported exchanges;
No mobile app.
Coin Market Manager (CMM) is another modern solution for the sole purpose of crypto portfolio tracking. As far as I could see, CMM is tailored for experienced crypto-derivates traders and offers highly-advanced analytics tools, tracking storage, real-time monitoring of your open positions, and ICO investments.
You can feel the professional touch of the platform the very first moment you land on its dashboard. The design is clean, but you need strong crypto fluency to navigate from one section to another.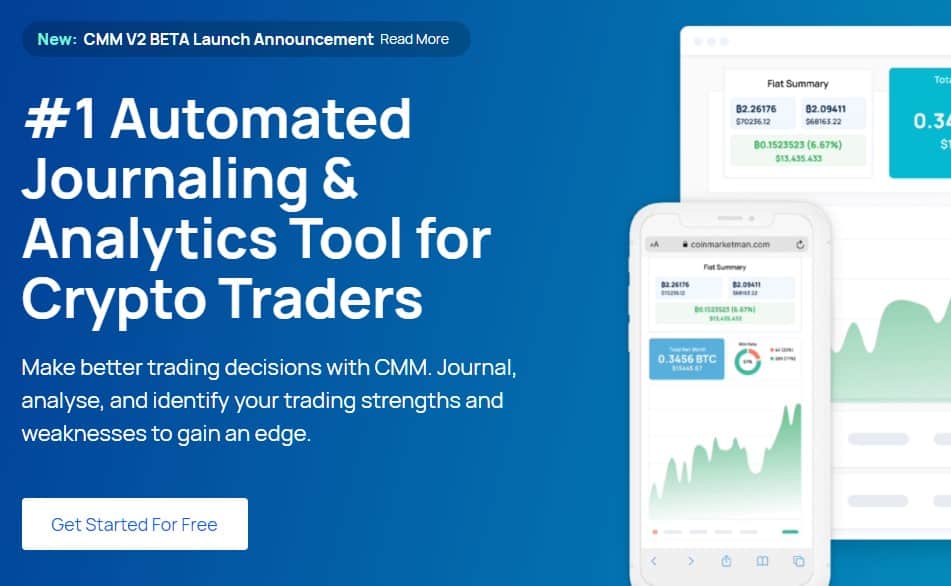 Before transferring your crypto history on CMM, the program gives you a 14-day trial period, after which you can opt for the most suitable package. Paid plans are rather expensive — $69 and $89 a month for Professional and Enterprise accounts, respectively. Believe me, they are worth every penny if you're a day trader. Not many crypto trackers can offer Rolling P/Ls, Break-Even stats, Automated Trading Journal, and an unlimited number of CSV downloads.
For casual investors, there is a free version that allows only a single account slot per exchange.

9. AssetDash
Pros:
One of the best free portfolio trackers;
Quick registration;
User-friendly design.
Cons:
Lack of connectivity with some major exchanges;
Weak linking with the DeFi section.
While looking for the best tracking tool for my NFT collection, I stumbled upon this name on multiple forums and discussion boards. Established in 2021, AssetDash is one of the youngest tracking solutions, so the NFT emphasis shouldn't surprise you.
Interestingly, AssetDash describes itself as an operating system because it attempts to deliver an all-in-one solution for portfolio tracking that covers cryptocurrencies, NFTs, and some traditional trading instruments. I like the AssetDash approach to synchronizing all data types under a single umbrella.

The presented grids of information are content-rich but not messy. So, you can enjoy a full view of your portfolio and receive real-time price updates for your holdings from your desktop browser or the AssetDash mobile app.
I was pleasantly surprised by how much effort this platform puts into users' privacy. It was designed by cybersecurity experts who managed to enable anonymous entrance on the platform. To open an account, you only need to submit an email address. However, you need to disclose your financial information to link your exchange accounts to the portfolio tracker software.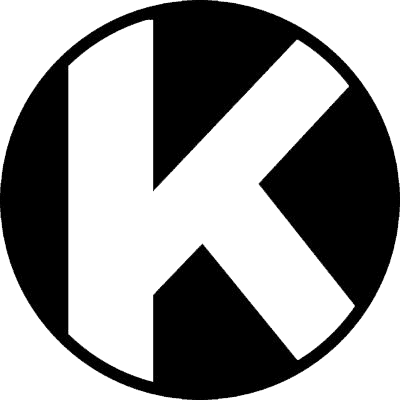 10. Kubera
Pros:
Adjustable design that accepts almost all valuable assets;
Ability to import data from international banks and exchanges;
Excellent coverage of the crypto sector.
Cons:
Manual data entry can be time-consuming;
A read-only version of your portfolio;
You need to refresh the account for updates.
I like the unique concept that Kubera offers as a fresh wealth-tracking app. It enables you to monitor your investment returns and transactions for nearly all investment instruments. Apart from crypto, you can also track the flow of your stock, fiat currencies, precious metals, real estate, private equity, etc.
I must admit that while reading the supported assets, I thought it wasn't possible to establish an order for such diversity. But somehow, Kubera manages to organize all that unrelated input using a simple spreadsheet-based design, which is equipped with fancy charts and graphs.

To be clear, Kubera doesn't serve as an automated tool for budgeting and income/expense tracking. Also, it doesn't offer automated bank/exchange synchronization, nor can it provide any built-in functionalities for score monitoring. I'd say that Kubera is a digital vault with industry-grade security that helps you convert all your assets to a preferred currency. This tracking style is more than necessary when investing in a variety of asset classes.
Kubera is available as a desktop app or a PWA (Progressive Web App) for mobile phones. The paid package comes at a reasonable monthly price of $15.

11. CoinLedger
Pros:
Multiple payment plans to suit different user needs;
Streamlined crypto accounting for different types of cryptocurrencies;
Excellent customer support.
Cons:
No option for crypto payments;
A limited number of tax forms are available for auto-fill.
Formerly known as CryptoTrader.Tax, CoinLedger was released in 2018 as an all-in-one crypto management system. Its main goal is to provide users with "polished" portfolios for tax purposes. CoinLedger complements the automated tax generator with a top-notch portfolio tracker and an extensive knowledge base with plenty of crypto-tax guides and video tutorials to achieve impeccable accuracy.
CoinLedger has always been one of the best-ranked management systems and now, I understand why. First, this software solution is beginner-friendly, unlike most other portfolio trackers, which are geared toward pro-audiences.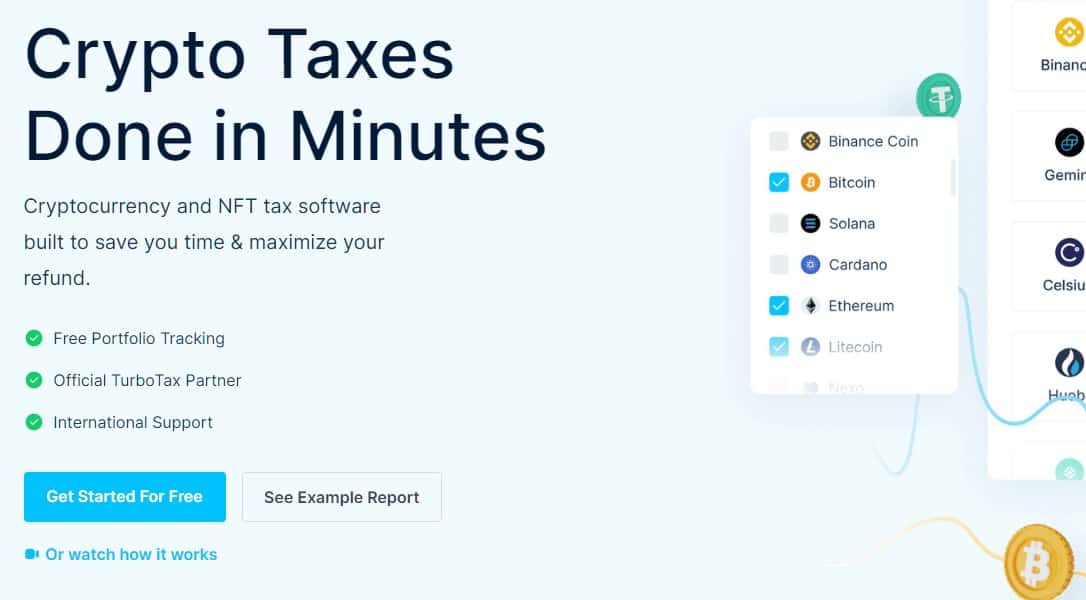 Also, I like the level of automation that CoinLedger delivers in the process of calculating taxes. The system smoothly integrates with the majority of circulating exchanges, so you don't need to manually import your crypto transactions.
In addition, CoinLedger can integrate directly with some popular blockchains. This is good news for NFT collectors and DeFi traders who only need to copy and paste their Ethereum address to get all necessary transaction data. Your crypto-tax obligations will be automatically calculated, and you'll get a few tax-loss harvesting opportunities.

12. CryptoCompare
Pros:
A large collection of educational content;
Well-equipped portfolio solution with real-time analysis;
Cons:
The design isn't suitable for inexperienced traders.
CryptoCompare delivered "fresh" crypto data long before crypto was a thing. It was founded back in 2014 as a data-source system that provides corporate crypto investors with accurate, in-depth data for over 5,000 different cryptocurrencies, and 240,00 trading pairs.
I've been familiar with the work of CryptoCompare ever since its very beginnings. I remember that it was better ranked in the early days, but it has never stopped being a popular destination for its target group.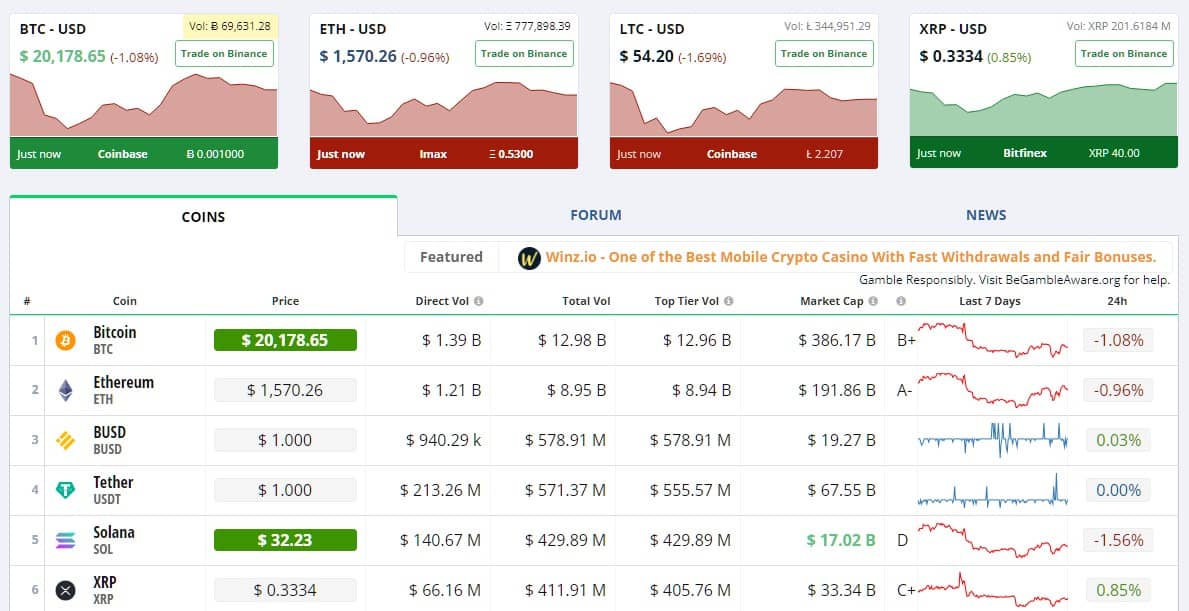 CryptoCompare uses a unique, holistic model for processing and presenting the data gathered from various crypto exchanges. It carefully collects, combines, and analyzes information from highly-liquid exchanges. Then, CryptoCompare adds up multiple labels to the selected crypto. For example, if you use Ethereum as a trading instrument, CryptoCompare will arrange ETH transactions by type, order books, social data, historical data, and other granular factors.
This approach to classifying data perfectly matches the definition of a good portfolio tracker. You can create a personalized portfolio to monitor price fluctuations and compare the selected data against another dataset in your portfolio.

13. CryptoPro
Pros:
Support for other types of assets apart from crypto (fiat currencies and precious metals);
Privacy-first storage system;
Automated import of your data from various sources;
Sleek synchronization across different iOS devices (even your iPod and Apple Watch).
Cons:
No access for Android users;
Limited browser version;
API integration is available only with a premium membership.
We'll complete the best cryptocurrency-portfolio list with Crypto Pro — a highly rated mobile app tailored for Apple users. As a mobile-first system for tracking your crypto activities, you can expect nothing less than compact and efficient service delivery.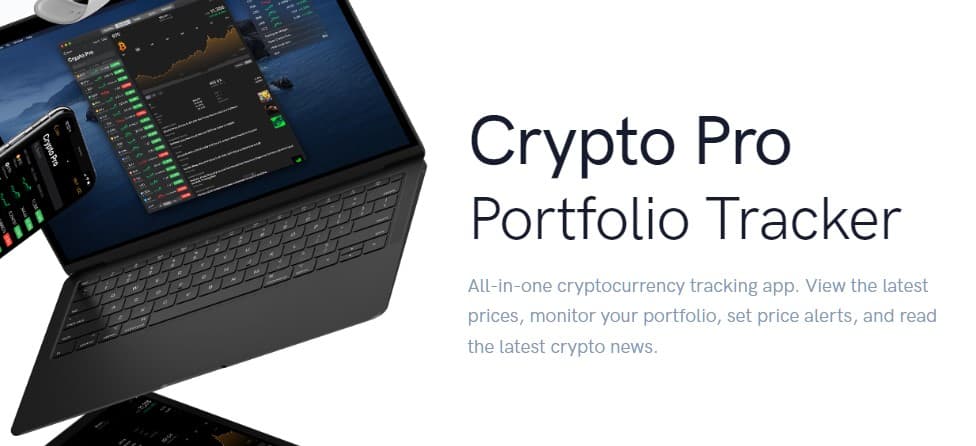 Crypto Pro offers sleek imports from different exchanges and independent wallets and a feature-rich display of price updates and market trends through sophisticated candlestick charts. You can also rely on Crypto Pro for detailed statistics of your gains and losses and level of diversification. However, Crypto Pro doesn't provide any in-depth analytic solutions.
Crypto Pro has caught my attention because of the unique storage method that ensures top-notch user privacy. Namely, all data related to your exchange accounts are kept on your device — Crypto Pro has no access to your personal information. At the same time, your data records are safely backed up in your iCloud account. It's such a brilliant solution!
Disclaimer: We may receive a commission for purchases made through the links on our site. However, this does not impact our reviews and comparisons. Learn more about our Affiliate Disclosure.
What Is a Crypto Portfolio Tracker?
It's a common misconception to identify your portfolio with a portfolio tracker. Your crypto portfolio represents you and the cryptocurrencies you have in your possession. Portfolio trackers are just an optional tool. That's why I mentioned HODLers at the beginning. If you own Bitcoin and don't do anything with it, you can write down the single-transaction records on a piece of paper or an Excel sheet and that will be your crypto portfolio.
On the other hand, portfolio trackers are specifically designed software programs that help you organize multiple transactions, their origin and volume, and the gains and losses that arise from them. The main goal of portfolio trackers is to provide an effective and visually satisfying projection of your transaction flow.
Depending on the brand, you can also expect an app or web platform that:
Enables you to monitor your crypto holdings from a clear interface;
Tracks trades and allocations of all types of crypto assets you possess;
Displays an adjustable view of the performance of your desired coins;
Regulates updates on crypto price changes in real-time;
Accurately generates your profits and losses.
How to Choose a Crypto Portfolio Tracker
After detailed research into the field of crypto portfolio trackers, I can conclude that there is no unified standard for a good one. As you can see, they come in various forms — as part of tax-generator solutions, open data sources, crypto exchanges, or specifically designed software items for asset management.
So, I found it pretty challenging to single out a model that satisfies all criteria for a conventional solution. Eventually, you'll settle for a deal that comes from the sphere of your interests. For example, your hunt for a management system that organizes your transactions in a tax-report format will differ from the portfolio choice of somebody who needs a neat ledger for their NFT collection.
However, I can outline all traits you need to consider when choosing a suitable portfolio tracker so that you make your priority list.
A Clean and Clear Layout
As I said, a portfolio tracker is necessary for active users who make multiple transactions daily — hence, professional traders or at least experienced players. You can't expect Coinbase-like UI solutions because of the data complexity crypto trackers handle. The more complex the subject matter, the more difficult it is to design a clear layout.
That's why it's of utmost importance to take a close look at the layout of the app or platform. A cluttered interface happened to kill my crypto enthusiasm many times.
Safety and Security
So far, you've probably learned that you shouldn't download any app or register on a platform without a thorough "investigation" of its background, regulatory status, and, most importantly, user reviews. This has become a norm especially when you deal with valuable assets. Portfolio trackers don't handle money transfers but information about your digital assets, which is the same in the virtual realm.
So, before anything else, you need a software item or an online platform that you can trust. Today, you don't need tech knowledge to check all the security features of your portfolio tracker to-be.
A Wide Range of Available Coins and Exchanges
The selection of coins and exchanges is crucial for successful crypto management, and I'll tell you why. The point of having a tracking system is the unification of all trading activities under a single viewpoint. If your portfolio tracking app doesn't support even one of the assets you hold, the tracking doesn't make sense. This becomes incredibly difficult in the current crypto landscape, especially with the rise of DeFi tokens and protocols. Still, I must admit that modern portfolio trackers make every effort to connect with as many exchanges and blockchains as possible.
Cross-Platform Compatibility
The compatibility factor affects all types of crypto users. It stands for the types of operating systems that support your portfolio tracker if it comes in the form of a desktop or mobile app. From my experience, users find it more convenient to deal with web platforms because of the simplified accessibility from any device. From a security perspective, online disclosure isn't the best-recommended solution despite the robust standards that modern crypto trackers utilize.
Intuitive Design and User Experience Features
It won't hurt to test the navigation when choosing a software program for tracking your crypto activities. As said, crypto trackers deal with complex subject matter — analytic tools, transaction details, market trends, etc. The visual projection of this data can be a game-changer for a successful user experience.
In fact, that's the first thing I pay attention to when onboarding on a certain tracking platform. It's a mastery to accommodate advanced charts and indicators on an intuitive platform and many few of the existing crypto portfolio trackers manage to accomplish that mission.
Customer Support Features
We all neglect this feature in the selection process for the best tracking piece until we get stuck at a certain point. It's then that we realize that the platform lacks live-chat support or an emergency phone line. Bear this in mind when choosing the best fit for your crypto needs. Though, today it's very likely to find a helping hand on social media. All well-established crypto-tracking programs have accounts on social media and allow you to reach out to a team representative through Facebook, Twitter, or Reddit.
Ease of Use
We need to gather all factors listed above before giving the easy-to-use stamp to a specific portfolio tracker. The program itself may be pretty intuitive but if it's not compatible with your native operating system or doesn't support the desired asset group, you need to look for another "virtual organizer."
The Ability to Sync Across Different Devices
I've noticed that many seasoned traders have a well-established practice of using desktops for making data entries and mobiles for real-time alerts. The thing is that not all crypto portfolio trackers will allow you to sync across different devices under a single account. Moreover, some solutions are available either as desktop or mobile apps.
On the other hand, web-based platforms are usually well optimized for mobile browsers or offer a separate mobile app.
The Ability to Integrate With Other Tools
As you can see from the list of recommended portfolio trackers, they all tend to provide shelter for all your crypto-related requirements. So, it's very common today for users to come across superb management platforms where they can trade, store, and keep a record of their transactions at the same time.
But if your crypto tracker isn't part of a multipurpose package deal, you need to check what external tools it supports. Most frequently, programs and apps of this caliber integrate trading bots or more advanced tax generators.
Analytics Features Dashboards
If you ask me, crypto portfolio trackers are a perfect destination for accommodating in-depth analytics tools. Tracking solutions offer a convenient placement of all data by default, which is perfect for market comparisons.
Ultimate pro-traders usually go for a portfolio tracker that can offer on-chain market indicators to compare momentary market sentiments and weigh the elements affecting their positions across various markets. Some of the portfolio trackers even allow you to create several dashboards where you can adjust different metrics by your preference.
Journaling capabilities
More sophisticated crypto trackers offer personalized space where users can record their trades in journals. For instance, you can map your position, pin your trading strategy, and even type down the estimated trade outcome. Just for the record, free deals for crypto trackers usually don't support this convenience.
Bonus Unique Features: Price Alerts, News Feeds, Tax Support, etc.
When it comes to successful crypto management, tiny details can make a big difference in the overall user experience. In a way, they're like good gestures that indicate whether the company takes care of its customers.
When I think back, the best-in-class portfolio trackers always come with a news feed section and adjustable price alert systems.
Frequently Asked Questions
Are crypto portfolio trackers safe?
The safety of crypto portfolio trackers depends partly on their built-in security features and partly on the data type you enter into them. Based on the overall records, they are a relatively safe zone, especially when integrated with non-custodial wallets and exchanges.
What is the most accurate crypto tracker?
All crypto trackers on the list above deliver accurate performance to help you build an effective trading strategy. Based on reviews, CoinStats and FTX are the most data-reliable cryptosystems.
How do I keep track of my crypto portfolio in Excel?
If you aren't a pro trader, Excel can do a great job keeping track of your crypto transactions. What's more, Excel allows you to build a professional portfolio tracker thanks to the easy API integration with most crypto marketplaces.
The most popular way to "self-craft your portfolio tracker is to download the Cryptosheet addon, which is designed for Excel use. I've seen pretty sophisticated DIY solutions powered by Cryptosheet. It may seem rather challenging, but you shouldn't worry at all. There is a comprehensive step-by-step guide on the Cryptosheet website to lead your entire way.
Can a crypto portfolio tracker help me report my taxes?
One of the main reasons for a well-organized portfolio is tax reports. Many of the popular crypto trackers come in a package with tax software programs. The software usually prepares a full gain-and-loss classification of your transactions in the format required by the authorities in your country. But even if the crypto tracker doesn't offer such an auto-fill functionality, you can use the data it generates for tax purposes.
How do portfolio trackers work?
Each crypto portfolio tracker comes with its unique navigation set. They also differ on many functionality grounds. Still, if I need to explain the workflow of a portfolio tracker in general terms, I'd say that all crypto trackers give use a data-processing mechanism to translate the movements of your crypto investments into a compact piece of data.
The way how this data is imported can also differ to a great extent. It can either be automatically or manually transferred from your exchange or wallet.
Finally, depending on the tracker's interface and your preferences, the processed data can be shown in various forms (charts, spreadsheets, grids) and can convey various information (market trends, portfolio comparisons, gains-vs-losses, estimated outcome).
Can I get started with a free crypto portfolio tracker?
You sure can. Even though these types of services come at a certain price, a few crypto tracking solutions are free or offer a free version. Free deals are either restricted in the number of transactions or the scope of functionalities. Or, they may offer a read-only version of your processed transactions.
How much does a crypto portfolio tracker cost?
As I just explained, fully-fledged tracking solutions aren't free. It's fascinating how drastically portfolio trackers can range in price. A handy method to get your money's worth is to follow the How to Choose a Crypto Portfolio Tracker guide and pick a tracker against your personal needs.
Disclaimer: Digital currencies and cryptocurrencies are volatile and can involve a lot of risk. Their prices and performance is very unpredictable and past performance is no guarantee of future performance. Consult a financial advisor or obtain your own advice independent of this site before relying and acting on the information provided.