Disclaimer: We may receive a commission for purchases made through the links on our site. However, this does not impact our reviews and comparisons. Learn more about our Affiliate Disclosure.
Blockchain is a digital ledger used for recording and storing data online. The blockchain technology was developed together with the first digital coin, Bitcoin, in order to protect these money transactions and make them private and irreversible.
The use of blockchain technology was a milestone in cryptography, an innovation that set the whole crypto industry in motion. A major turning point was the realization that blockchain can store more than just money transactions. The technology spread beyond finances, slowly making its way into spheres like healthcare, real estate, supply chain, life sciences, education, etc.
We can only imagine the kinds of questions you must have regarding this technology. Today, we'll share with you the most intriguing blockchain data and statistics. Let's begin!
Blockchain Market Statistics
At the end of 2016, the google searches for "blockchain" started going up significantly, reaching their peak in December 2017, at the same time when Bitcoin hit its all-time high in price and market cap. For Bitcoin, that was a big but a short-lived spike, whereas blockchain enjoyed its trend in the months to come with only a slight decline.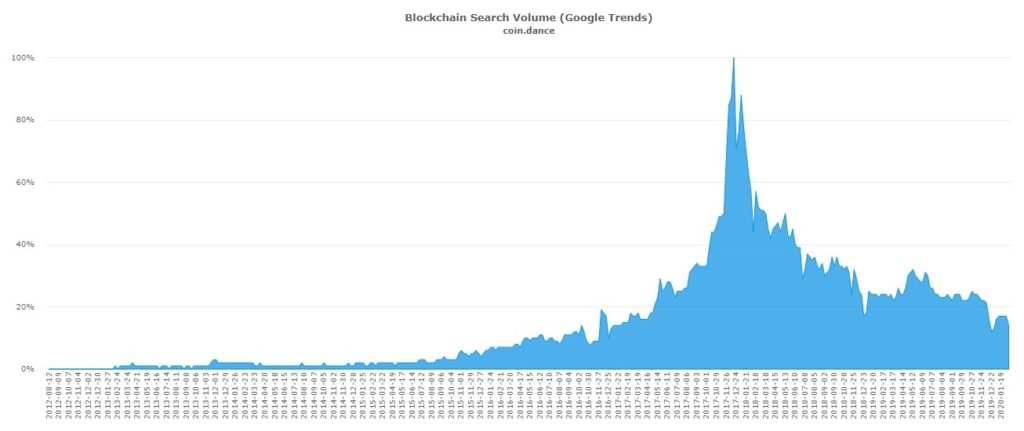 As of April 2020, around 516 million blockchain-based transactions have been made. Blockchain.com tracks the rising number of transactions since the very beginning. The data spanning one year only can be seen on the chart below:

The data from Statista shows that more than 60% of bitcoin's market value comes from the financial sector only. Next comes the manufacturing sector with 17.6% of the whole market share, distribution and services with 14.6%, public sector with 4.2%, and infrastructure with 3.1%.
The report from the US market research firm International Data Corporation (IDC) from March 2019, had estimated that the global blockchain spending will see an 88.7% increase and around $2.9 billion will be invested in 2019. We'll see whether their expectations have been met in their official report for 2020.
While a lot of industries are either considering or experimenting with blockchain technology, 29% of the companies in the consumer products and manufacturing industry have already implemented this technology in different ways. The life sciences companies come second, with 23% of them using blockchain in their practices.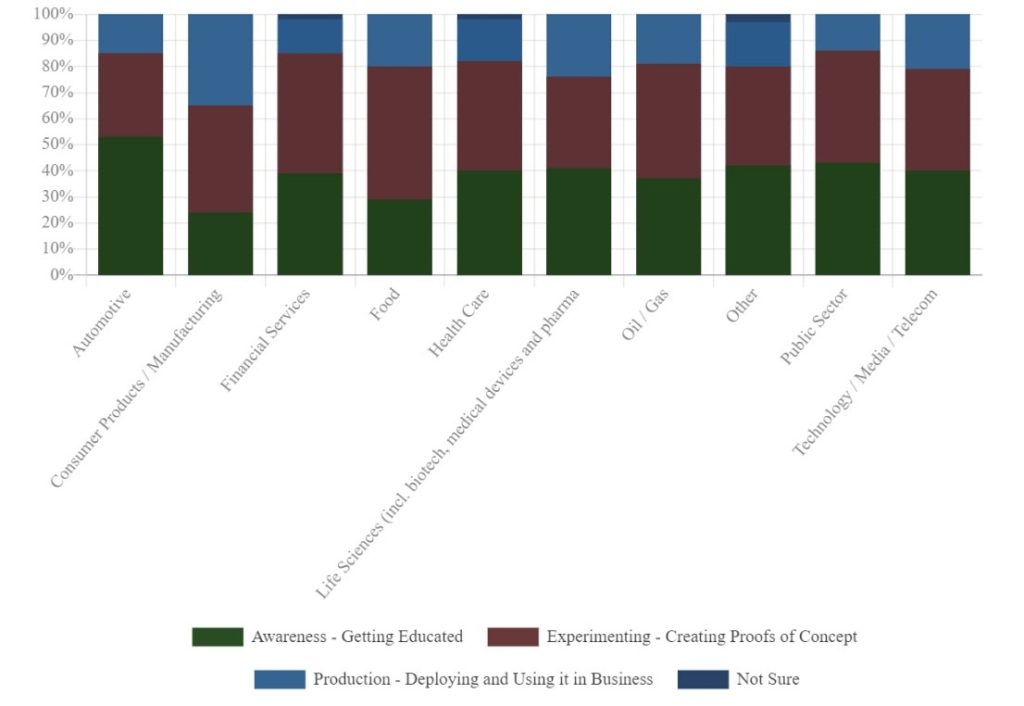 Blockchain adoption statistics: Technology implementation phases in organizations worldwide as of April 2018, by industry. Statista
Blockchain Statistics by Country
Blockchain is the driving technology behind digital coins and their user network. Ever since Bitcoin, a lot of countries have been thinking about adopting a national or central-bank digital currency (CBDC), regulated by the government.
In 2015, Tunisia was the first country to adopt one such currency, followed by Senegal in 2016, and the Marshall Islands and Venezuela in 2018.
Germany, Switzerland, Ecuador, Estonia, Japan, and Hong Kong have rejected the idea of issuing their own cryptocurrency. The following countries: Uruguay, Dubai, Singapore, and Iran are doing some experiments with state-issued digital currencies. Finally, the UK, Canada, Norway, Sweden, China, Thailand, and Israel are researching the concept of CBDC.
According to the Blockchain Council, the following countries are leading the blockchain technology in the world: Australia, China, Japan, Dubai, Malta, Switzerland, USA, Estonia, the UK, and Singapore. These countries have been improving their economy with all sorts of blockchain-based startups and innovations.
Blockchain Wallet Statistics 2016 – 2019
The increased popularity of crypto trading has dictated a gradual increase in the number of blockchain wallets with over 44 million blockchain wallet users by the end of 2019. Just for comparison, in the first quartal of 2016, there were less than 10 million wallet users worldwide.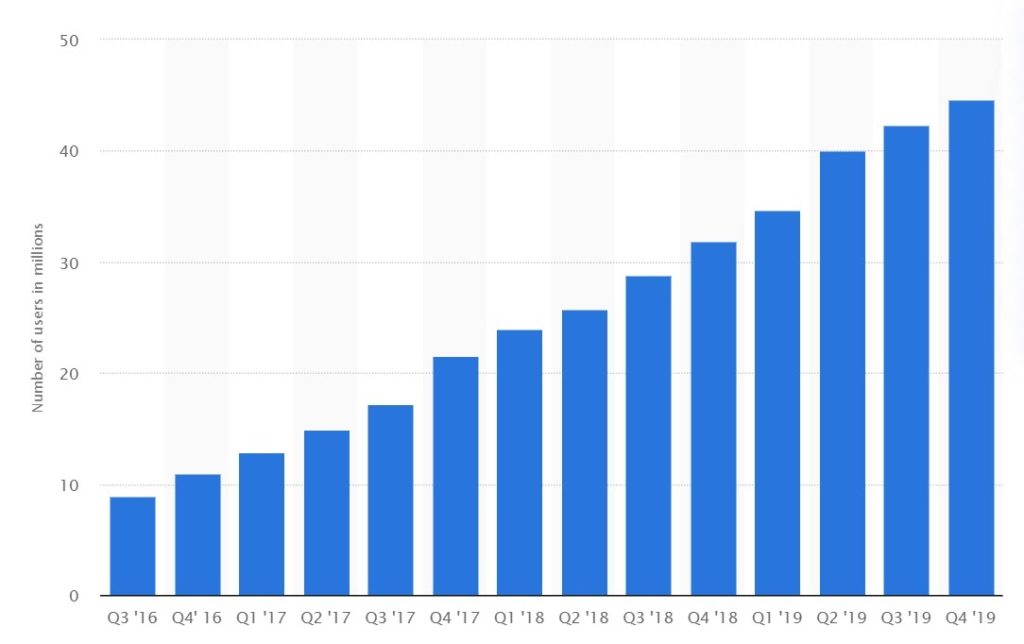 Number of Blockchain wallet users globally 2016-2019. Statista
Blockchain Growth Prediction Statistics in Different Sectors
The blockchain market could surpass $23.3 billion in size by 2023, experts predict. According to Statista, this also means that global spending on blockchain solutions is expected to grow exponentially in the following year, from $1.5 billion in 2018 to approximately $15.9 billion by 2023.
In recent years, the use of blockchain technology in the agricultural industry and food market has been on the rise. The statistics shows that in 2017 the global market value of blockchain in the food and agriculture market met $32.2 million. But this is only the beginning. This number is expected to climb up to 1.4 billion US dollars by 2028!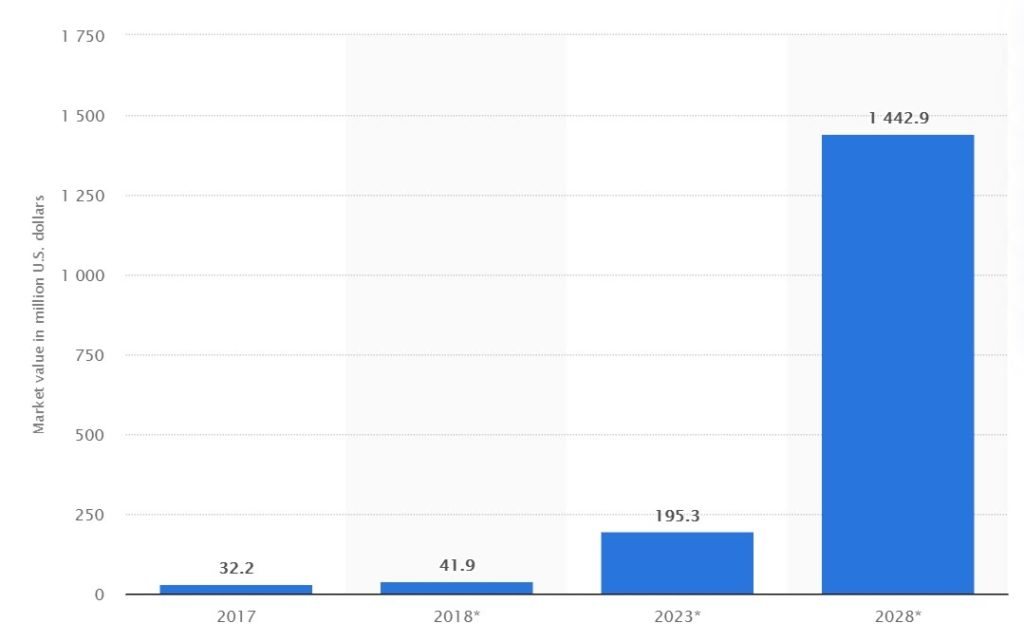 Global blockchain in agriculture and food market value 2017-2028. Statista.
Speaking of the food industry, a study by Juniper Research from 2019 revealed that blockchain can help the industry save up to $31 billion in global food fraud savings by 2024 by tracking food on the way to its consumers with blockchain technology.
The International Business Machines Corporation (IBM) has published a study exploring blockchain technology and healthcare. They claim that around 56% of healthcare executives are planning to adopt blockchain solutions by 2020.  IBM has more than 1,500 employees working on about 500 different blockchain projects.
Disclaimer: Digital currencies and cryptocurrencies are volatile and can involve a lot of risk. Their prices and performance is very unpredictable and past performance is no guarantee of future performance. Consult a financial advisor or obtain your own advice independent of this site before relying and acting on the information provided.