Blockchain is a digital ledger used for recording and storing data online. The blockchain technology was developed together with the first digital coin, Bitcoin, in order to protect these money transactions and make them private and irreversible.
The use of blockchain technology was a milestone in cryptography, an innovation that set the whole crypto industry in motion. A major turning point was the realization that blockchain can store more than just money transactions. The technology spread beyond finances, slowly making its way into spheres like healthcare, real estate, supply chain, life sciences, education, etc.
We can only imagine the kinds of questions you must have regarding this technology. Today, we'll share with you the most intriguing blockchain data and statistics. Let's begin!
Quick Stats & Facts
Click a fact or statistic to view more information about it.
Blockchain Market Statistics
At the end of 2016, the google searches for "blockchain" started going up significantly, reaching their peak in December 2017, at the same time when Bitcoin hit its all-time high in price and market cap. For Bitcoin, that was a big but a short-lived spike, whereas blockchain enjoyed its trend in the months to come with only a slight decline.

As of April 2020, around 516 million blockchain-based transactions have been made. Blockchain.com tracks the rising number of transactions since the very beginning. The data spanning one year only can be seen on the chart below: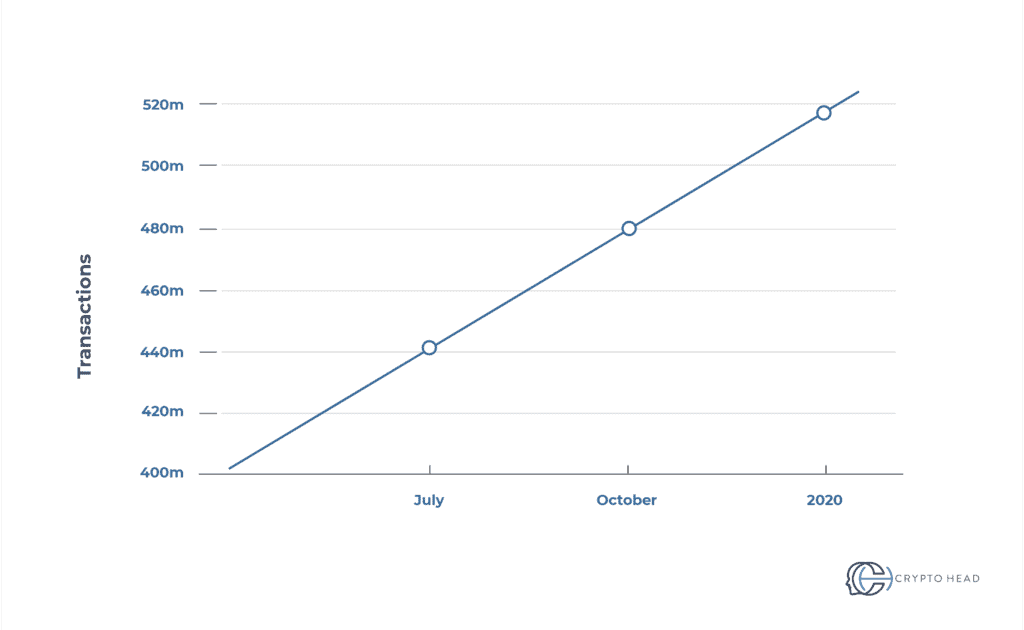 The data from Statista shows that more than 60% of bitcoin's market value comes from the financial sector only. Next comes the manufacturing sector with 17.6% of the whole market share, distribution and services with 14.6%, public sector with 4.2%, and infrastructure with 3.1%.
The report from the US market research firm International Data Corporation (IDC) from March 2019, had estimated that the global blockchain spending will see an 88.7% increase and around $2.9 billion will be invested in 2019. We'll see whether their expectations have been met in their official report for 2020.
While a lot of industries are either considering or experimenting with blockchain technology, 29% of the companies in the consumer products and manufacturing industry have already implemented this technology in different ways. The life sciences companies come second, with 23% of them using blockchain in their practices.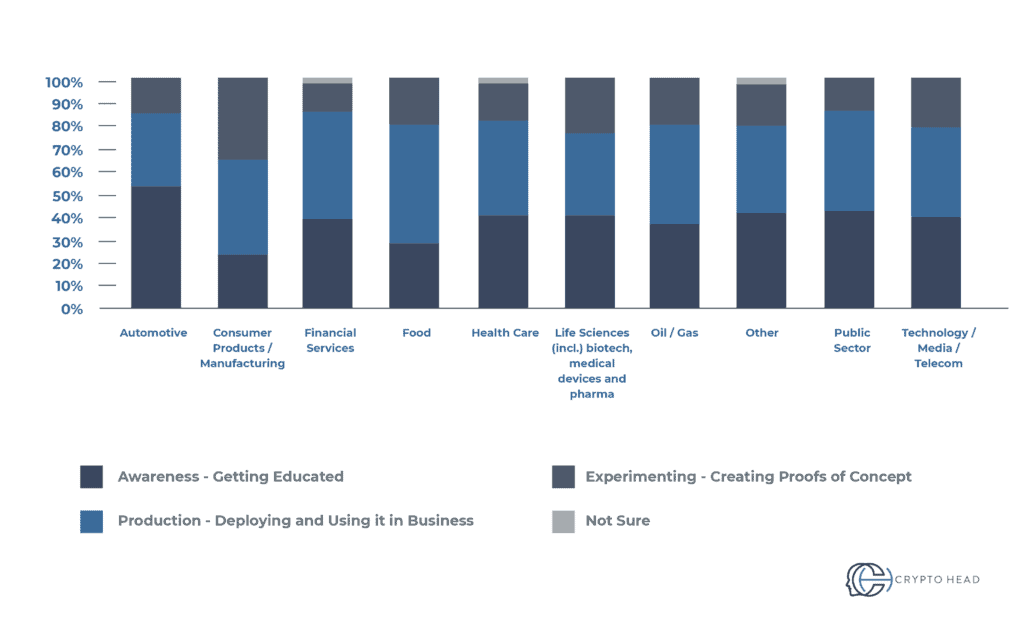 Blockchain adoption statistics: Technology implementation phases in organizations worldwide as of April 2018, by industry. Statista
Blockchain Statistics by Country
Blockchain is the driving technology behind digital coins and their user network. Ever since Bitcoin, a lot of countries have been thinking about adopting a national or central-bank digital currency (CBDC), regulated by the government.
In 2015, Tunisia was the first country to adopt one such currency, followed by Senegal in 2016, and the Marshall Islands and Venezuela in 2018.
Germany, Switzerland, Ecuador, Estonia, Japan, and Hong Kong have rejected the idea of issuing their own cryptocurrency.
The following countries: Uruguay, Dubai, Singapore, and Iran are doing some experiments with state-issued digital currencies.
Finally, the UK, Canada, Norway, Sweden, China, Thailand, and Israel are researching the concept of CBDC.
According to the Blockchain Council, the following countries are leading the blockchain technology in the world: Australia, China, Japan, Dubai, Malta, Switzerland, USA, Estonia, the UK, and Singapore. These countries have been improving their economy with all sorts of blockchain-based startups and innovations.
Blockchain Wallet Statistics 2016 – 2019
The increased popularity of crypto trading has dictated a gradual increase in the number of blockchain wallets with over 44 million blockchain wallet users by the end of 2019. Just for comparison, in the first quartal of 2016, there were less than 10 million wallet users worldwide.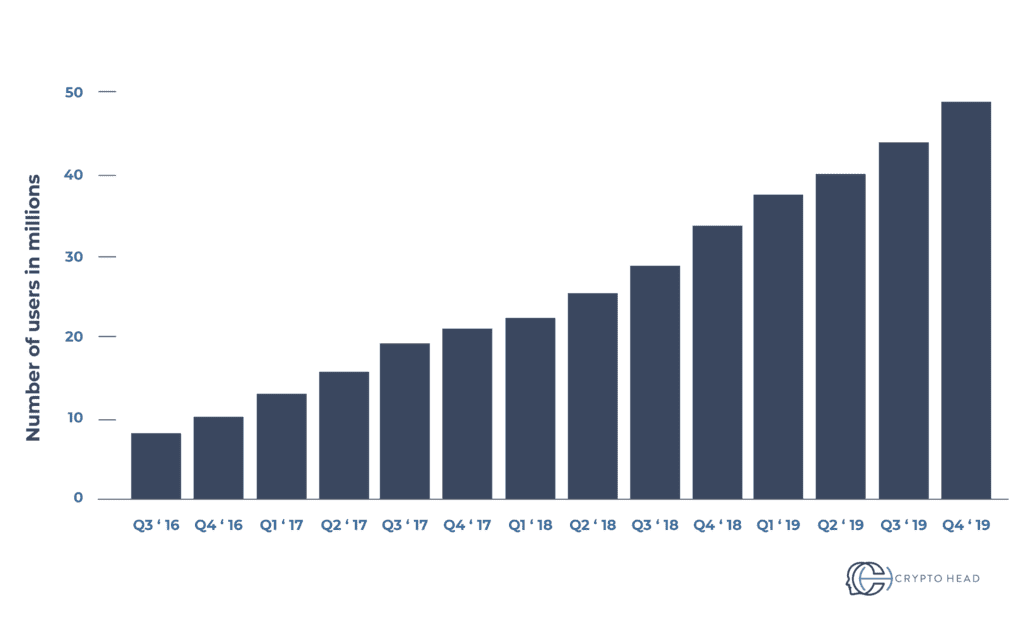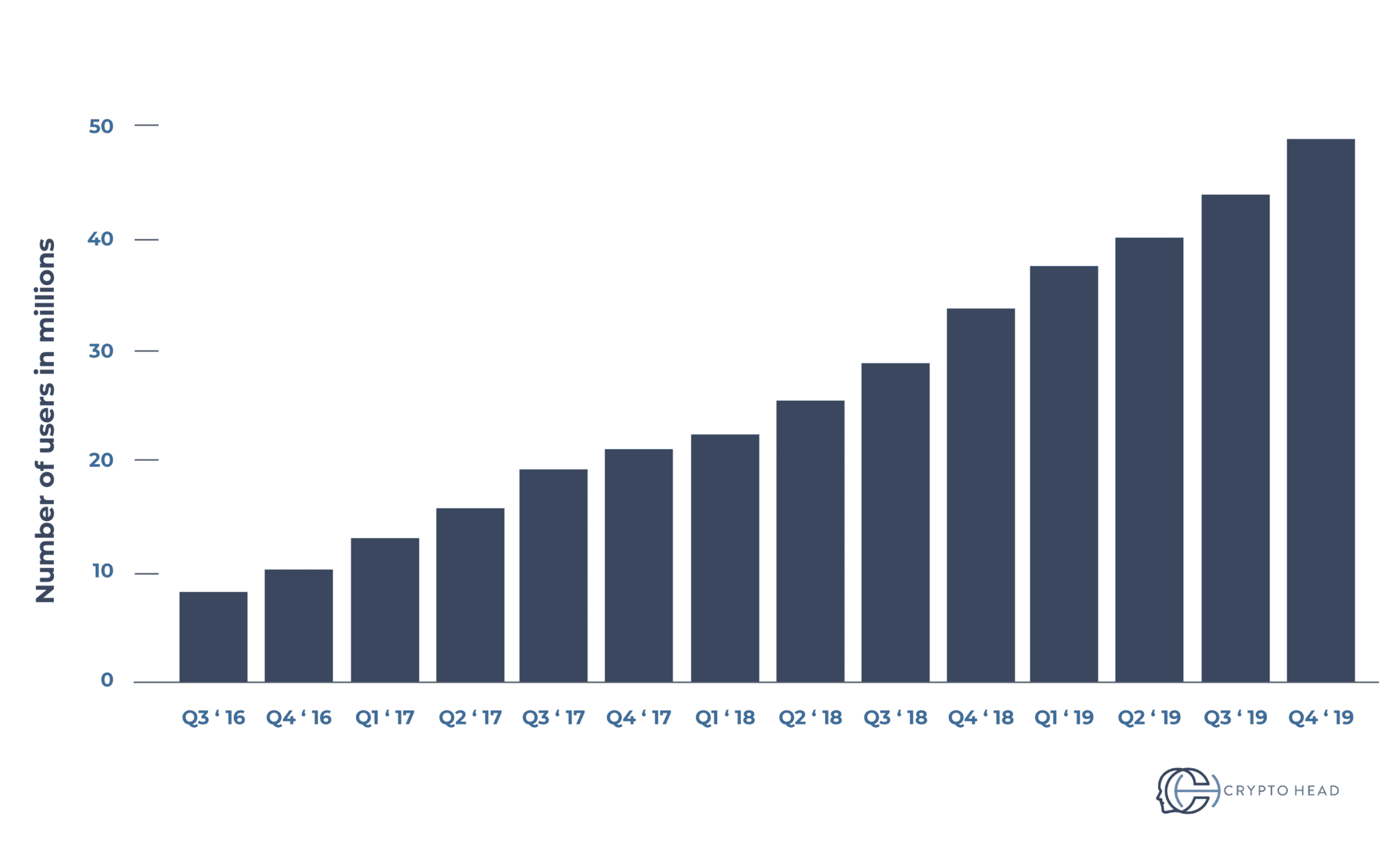 Number of Blockchain wallet users globally 2016-2019. Statista
Blockchain Growth Prediction Statistics in Different Sectors
The blockchain market could surpass $23.3 billion in size by 2023, experts predict. According to Statista, this also means that global spending on blockchain solutions is expected to grow exponentially in the following year, from $1.5 billion in 2018 to approximately $15.9 billion by 2023.
In recent years, the use of blockchain technology in the agricultural industry and food market has been on the rise. The statistics shows that in 2017 the global market value of blockchain in the food and agriculture market met $32.2 million. But this is only the beginning. This number is expected to climb up to 1.4 billion US dollars by 2028!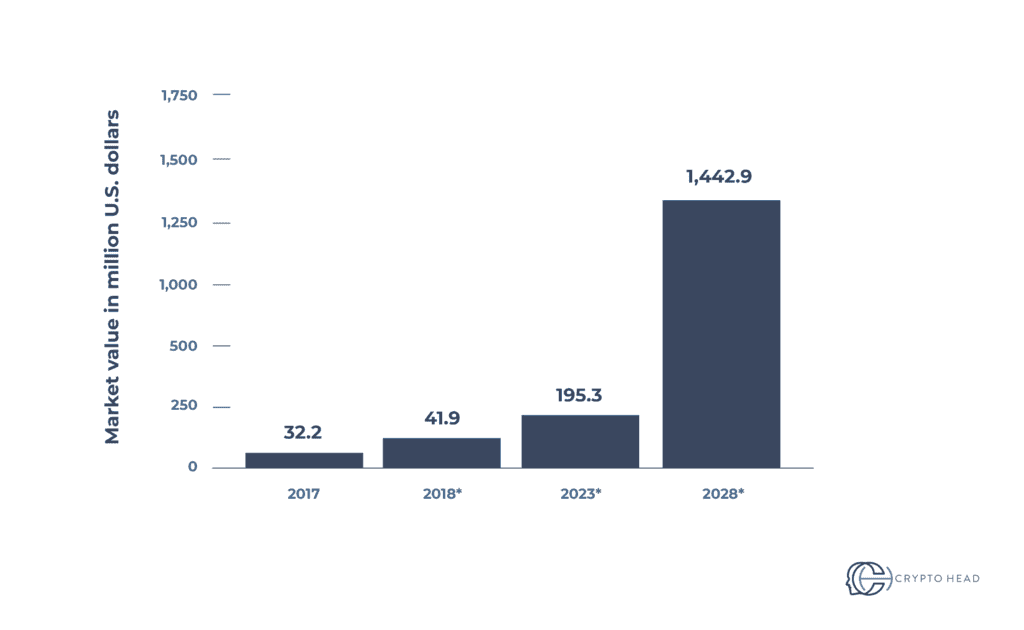 Global blockchain in agriculture and food market value 2017-2028. Statista.
Speaking of the food industry, a study by Juniper Research from 2019 revealed that blockchain can help the industry save up to $31 billion in global food fraud savings by 2024 by tracking food on the way to its consumers with blockchain technology.
The International Business Machines Corporation (IBM) has published a study exploring blockchain technology and healthcare. They claim that around 56% of healthcare executives are planning to adopt blockchain solutions by 2020.  IBM has more than 1,500 employees working on about 500 different blockchain projects.
Blockchain Statistics & Facts 2020:
General Facts About Blockchain
The first person to use the term blockchain was Hal Finney.

Source: Ethereum Stack Exchange

Even though Satoshi Nakamoto is the founder of blockchain, according to the Internet, he wasn't the first person to use this term for his own invention. In the white paper, Nakamoto refers to the blockchain as 'distributed ledger' or simply 'chain'. The earliest reference is credited to Hal Finney, another cryptographer and a colleague of his, who wrote the following message to Nakamoto a week after the white paper was published: "it is mentioned that if a broadcast transaction does not reach all nodes, it is OK, as it will get into the blockchain before long."

The number of Google searches for 'blockchain' culminated in late 2017.

Source: Google Trends

According to Google Trends, the peak time (or rather period) for Google searches on the word 'blockchain' began towards the end of 2016 and culminated in December 2017. This time frame coincides with Bitcoin's sudden price increase before it reached its all-time high in December 2017 as well.

Experts predict a 69% CAGR rate for the global blockchain market size by 2025.

Source: Globe News Wire
The reason why experts are so convinced that the blockchain market will continue to grow exponentially in the next couple of years is the progress of the CAGR rate in the last couple of years. For example, in 2017, the market was growing at a CAGR rate of 35.2%, whereas in 2018, the figure increased to 41.8%.

Central banks are closer than ever to launching their own digital currencies.

Source: Bis.org

The BIS Quarterly Review on international banking and market developments informs that blockchain technology is becoming increasingly popular with central banks. Most of them are transitioning from conceptual research to the practical development of central bank digital currencies (CBDCs). Their research also confirms that more than 17 governments in the world are exploring the use cases of CBDCs, primarily in relation to cross-border payments. The only drawback of these coins is that they go against the decentralized nature of blockchain as such.

Blockchain could help banks save up to 30% per year.

Source: Reuters

In a report published by Accenture, it has been estimated that the implementation of blockchain technology could help central banks cut their infrastructure costs by $8 up to $12 billion annually by the year 2025. This is an incredible 30% reduction! The survey analyzed that by using blockchain for finance reporting banks improve their data quality and transparency as well. Moreover, digitizing and decentralizing business operations, trade support, and KYC checks could reduce current costs by up to 50%.

Cybersecurity is one of the most common issues companies face when implementing blockchain technology.

Source: Deloitte

Most organizations put maintaining a high level of cybersecurity on their list of both priorities and challenges. Unfortunately, their efforts remain a work in progress as cryptocurrency thefts continue to be on the rise.

Only 0.5% of the world's population uses blockchain technology.

Source: Edureka

Even though these statistics seem quite encouraging, we shouldn't think that blockchain's fight is over. The technology still has to be more widely accepted, and we're yet to find new use cases to leverage its potential. Right now, only 0.5% of the world's population or around 40 million people actively uses blockchain. However, the percentage is expected to rise up to 80% in ten years or so.
Blockchain Influence in Various Countries
China comes first by the number of searches on the word 'blockchain'.

Source: Google Trends

The data collected by Google Trends points out the following five countries as having the most searches for the word 'blockchain': China (100), Ghana (91), Malta (89), St. Helena (83), and Nigeria (72). Google Trends is used by many companies and digital marketing agencies to look for popular keywords. You get to choose the time frame and area of the word you're interested in. The results are evaluated on a scale from 0 to 100 with 100 indicating the location with the highest number of searches.

The five best countries for developing blockchain projects are Switzerland, Gibraltar, Malta, Bermuda, and Slovenia.

(Source: Coinnounce)

Switzerland is an ideal place for blockchain startups because it has the world's most stable economy plus it's very crypto-friendly. Gibraltar made a major milestone by being the first country to form a Financial Services Commission that focuses on regulating cryptocurrencies and ICOs and issuing licenses to compliant crypto platforms and organizations. Crypto regulations are also present in Malta, which is already home to a great number of blockchain companies. If you want to save on taxes, Bermuda is the right choice for you. The country adds no taxes except for the 10% payroll tax. Finally, Slovenia offers blockchain developers cheap hydropower and cloud mining services.

China is seen as a future leader in blockchain technology development.

Source: Statista

In a study conducted in 2018, when respondents were asked who they perceive to be the current leader in blockchain technology development only 18% of them answered with 'China'. The most common answer was 'the US' with 29%. Interestingly enough, when asked who's most likely to be the leader in blockchain development from 2021-2023, the percentage of respondents who chose the US dropped to 18%, while those choosing China grew to 30%.

The Dubai Blockchain Strategy seeks to turn Dubai into a blockchain capital.

Source: Smart Cities World

Dubai launched its blockchain strategy back in 2016 with the final goal to be the first government in the world to conduct 100% of applicable transactions on the blockchain in a few years. For example, in order to eliminate data tampering risks, Dubai plans on transacting documents such as visa applications, bill payments, and license renewals using blockchain.
Investments in Blockchain Technology
The financial industry invests more than $1 billion into blockchain projects per year.

Source: IDC

Research shows that the financial industry remains the number one investor in blockchain-based projects. Individual and corporate entities include banking, securities, and insurance companies. The finance sector is closely followed by the manufacturing, and the resources and distribution sector, which invest over $600 million every year.

In the finance sector, blockchain projects aimed at international payments and settlements and (post)-trade finance and settlements receive the most funding.

Source: IDC

The finance sector is a broad term that encompasses a number of departments connected to finances. Therefore, the funding is aimed at creating blockchain solutions for all these departments and then distributed among them based on different parameters. Official data shows that the majority of the investment funds are assigned to cross-border payments and (post)-trade finance and settlements.

56% of global blockchain investments come from the US.

Source: Globe News Wire 

The States were one of the first countries to recognize the potential of blockchain technology and adopt it across various industries. Especially in the finance sector and business partnerships, the US has seen the rise of blockchain-based payment networks, smart contracts, decentralized applications, digital identity recognition, etc. Judging by this, it's easy to see why the US invested so much into the technology between 2012-2017 and continues to do so.

Despite the emerging environment-oriented blockchain use cases, blockchain investments in energy and sustainability solutions remain mostly overlooked.

Source: World Economic Forum

Experts believe that blockchain has the potential to address and find the solution to a number of environment-related challenges such as climate change, natural disasters, biodiversity loss, ocean-health deterioration, pollution, and water scarcity among others. However, a report made by the World Economic Forum, Stanford Woods Institute for the Environment and PwC shows that in 2018 less than 1% of blockchain investments targeted the energy and utility sector.
The Rise in Popularity of Blockchain
55% of the participants in Deloitte's 2020 Global Blockchain Survey view blockchain as a top-five strategic priority.

Source: Deloitte

On their website, Deloitte informs that the survey was conducted by polling a sample of 1,488 executives and practitioners in 14 different countries (Brazil, Canada, China, Germany, Ireland, Israel, Mexico, Singapore, South Africa, Switzerland, United Arab Emirates, UK, and the US). One of the major findings of this survey was that blockchain technology has a crucial spot in the business sector. That's why over 50% of the respondents believe that blockchain's place is in the top five business priorities.

82% think they should start hiring staff with blockchain expertise within the next 12 months.

Source: Deloitte

The same survey showed that 82% of the executives would prefer to hire people that are versed in blockchain technology. Analogously, 88% of the respondents are optimistic that blockchain technology will eventually receive mainstream adoption.

In 2018, LinkedIn revealed that 'blockchain developer' was on the top of the list of emerging jobs.

Source: Computer World

The popularity of blockchain technology has resulted in a higher demand for blockchain developers attested by LinkedIn's list of the top five emerging jobs in 2018. The growth rate has remained positive ever since, which is why the salary for this job continues to grow in lockstep.

UC Berkeley launches an online course on blockchain technology – over 7,000 students sign up.

Source: Computer World

In 2016, UC Berkeley introduced a course on blockchain and cryptocurrencies (the focus was primarily on Bitcoin). This was before Bitcoin reached its all-time high in December 2017, which is why only 70 students signed up. Two years later, the university launched an online professional certificate program for blockchain, a course in two parts that lasted three months. The purpose of the course was to educate the students on designing blockchain-based solutions. This time, over 7,000 students signed up!

There are more than 4,000 blockchain startups.

Source: Angel.co

Another proof that the use of blockchain has exploded in recent years is the growing number of blockchain startups in the world. According to research done by Angel.co, there are around 4,803 blockchain startups worldwide and more than 1,100 blockchain angel investors.
Blockchain Integration Into Daily Life
Italian fashion companies are thinking about including blockchain solutions in the industry.

Source: Statista

Fashion and luxury goods companies in Italy are taking an interest in blockchain technology and the solutions that it offers for the fashion industry. According to research published by Statista, companies were mostly interested in modernizing the supply chain traceability and management, combating counterfeiting, and strengthening cybersecurity.

Blockchain-based video games are rapidly evolving.

Source: Ikigai Law

Right now, blockchain gaming is still in its infancy but moving at a rapid pace with confidence. Blockchain technology offers a higher level of transparency, interactiveness, decentralization, and security to games. The first game which used this technology was HunterCoin, launched in 2014. To create such games, developers typically use existing blockchain platforms like Ethereum, EOS, and TRON that already have a wide user network. An important milestone was the founding of 'The Blockchain Gaming Alliance' in 2018 which focuses on promoting this gaming technology.

Over 40% of gamers report having bought or traded in-game items on the blockchain.

Source: Ikigai Law

A global survey called A Brief Overview, Blockchain Technology in Gaming conducted by Tradisys has found out that 44% of the surveyed 513 gamers have either purchased or traded in-game items on the blockchain in 2018 only.

The most popular type of blockchain-based game is the crypto collectible game.

Source: Ikigai Law

Crypto collectible games are games where the players purchase, collect and sell unique crypto tokens that in some way represent characters, animals, cards, locations, etc, with special visual features important for the game they're playing. The level of rarity and strength of these tokens coincides with their price. A popular crypto collectible game is Crypto Kitties which sold one of its collectible tokens for $140,000!

Institutional investors believe that healthcare will be the one industry to reap the benefits of blockchain technology the most.

Source: Pollright

A market research company called Pollright interviewed 71 institutional investors back in late 2018 and asked them to name the industry they believe is going to gain the most by implementing blockchain technology. The majority chose the healthcare industry mainly because digitizing, decentralizing, and securing patient records via blockchain can significantly increase the level of security of this sensitive data. At least more than cloud providers ever could. The American Medical Association has already reported a devastating finding which claims that four out of five physicians in the States have been victims of cyberattacks.
Disclaimer: We may receive a commission for purchases made through the links on our site. However, this does not impact our reviews and comparisons. Learn more about our Affiliate Disclosure.
Disclaimer: Digital currencies and cryptocurrencies are volatile and can involve a lot of risk. Their prices and performance is very unpredictable and past performance is no guarantee of future performance. Consult a financial advisor or obtain your own advice independent of this site before relying and acting on the information provided.