Gatehub VS Kraken:
2023

Crypto Exchange Comparison
Disclaimer: We may receive a commission for purchases made through the links on our site. However, this does not impact our reviews and comparisons. Learn more about our Affiliate Disclosure.

Cryptocurrency is currently the talk of the town. Step by step, these digital assets are finding their way into every possible industry.
The crypto market already offers more than 5,000 digital coins, with more than 1,000 platforms for cryptocurrency trading. With that comes the question of how to choose a platform that traders can trust.
Today, we'll be reviewing two famous crypto exchanges – Gatehub and Kraken. We'll start with the idea behind these companies, what they stand for and value above all. This will be followed by a detailed comparison based on supported currencies, security measures, trading fees, user-friendly interface, and customer support.
Let's dive into the crypto pool!
About the Exchanges
Gatehub
Gatehub is a crypto exchange created in 2014 by founder and current CEO Enej Pungerčar. Its headquarters are located in the UK, one of the countries with the largest number of exchanges. When it was first launched, Gatehub functioned as a digital wallet with an in-built platform where users could trade with Ripple (XRP) only. Over time, it has come to support other coins too.


Apart from exchanging digital coins, the platform offers various lucrative features as well. You can store your funds and send cryptocurrencies to another user in a matter of minutes.
Kraken
Launched three years earlier, in July 2011, Kraken is now one of the most famous and sought-for exchanges in the world of crypto, and an unquestionable leader when it comes to the daily volume of Euro to Bitcoin exchanges.
It was founded by current CEO Jesse Powell and operates from San Francisco, California. The platform is most known for having pioneered the first cryptographically-verified proof-of-reserves audit system and employs the highest level of security measures in comparison to others.


Powell's work experience prior to Kraken includes creating and managing Lewt, Inc., a company whose main task was to assist players of online video games with any account issues they had and to sell them in-game currencies. He is respected among other crypto enthusiasts for his qualities and expertise, which is why in 2011 when Mt. Gox became a victim of a major hacker attack, their CEO, Mark Karpelès, asked for his help in solving the security issues and bringing the site of the exchange back online.
The work he did for Mt. Gox got Powell into thinking about founding his own crypto exchange. This is how Kraken came to be, built on the idea of saving the reputation of crypto trading. His hard work bore fruit, and soon enough the platform reached millions of traders across the globe, who were drawn by Powell's promise of a new safe trading environment. It offers advanced trading options like margin, futures, and over-the-counter trading.
Gatehub vs Kraken: The Comparison
Supported Cryptocurrencies
Gatehub has a special focus on Ripple, using the coin to trade money on the so-called Ripple network. Currently, the platform supports seven additional coins: Bitcoin (BTC), Bitcoin Cash (BCH), Ethereum (ETH), Ethereum Classic (ETC), Dash (DASH), Gold (XAU), and Augur (REP). This means it's not suitable for traders interested in buying altcoins.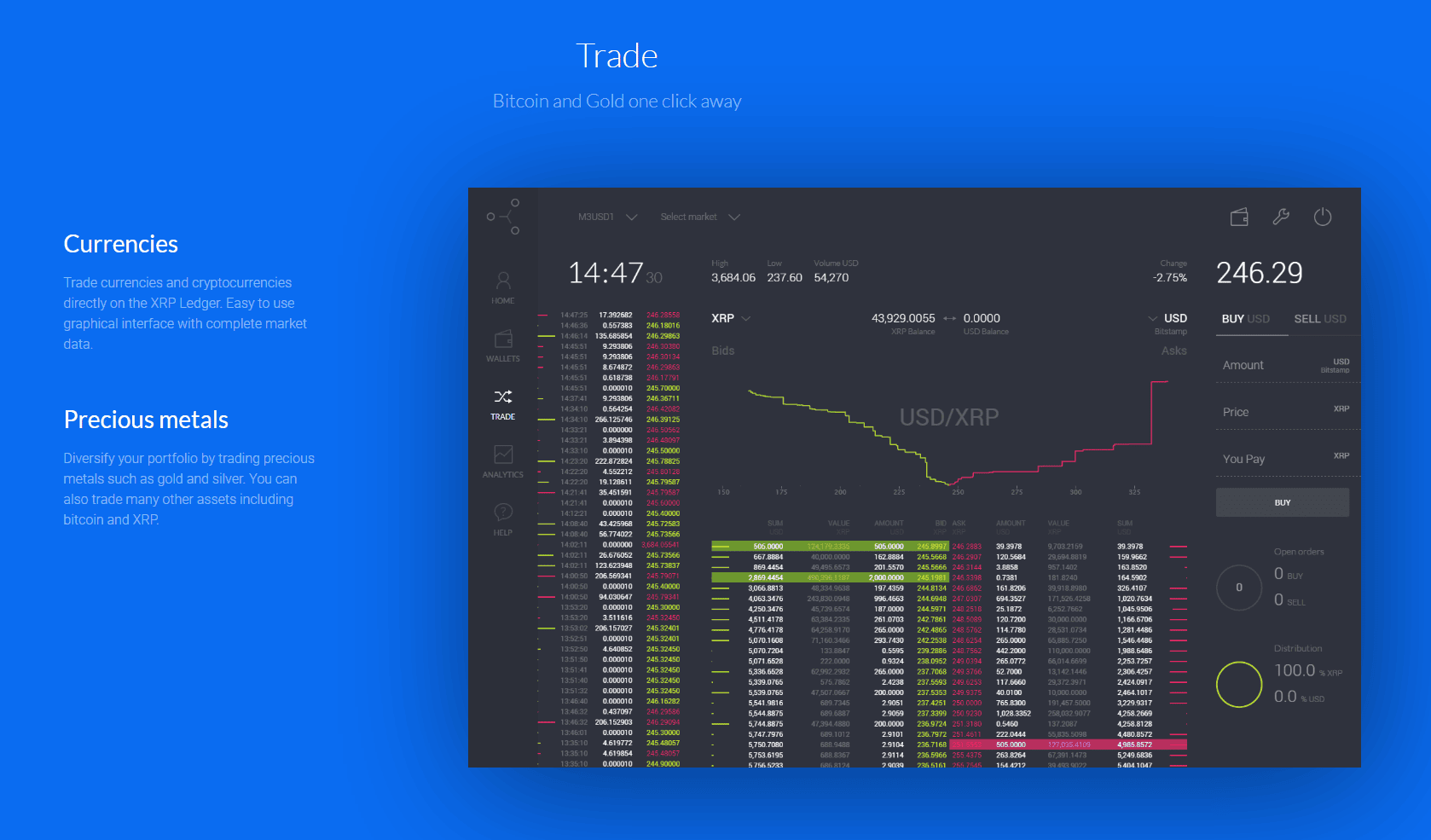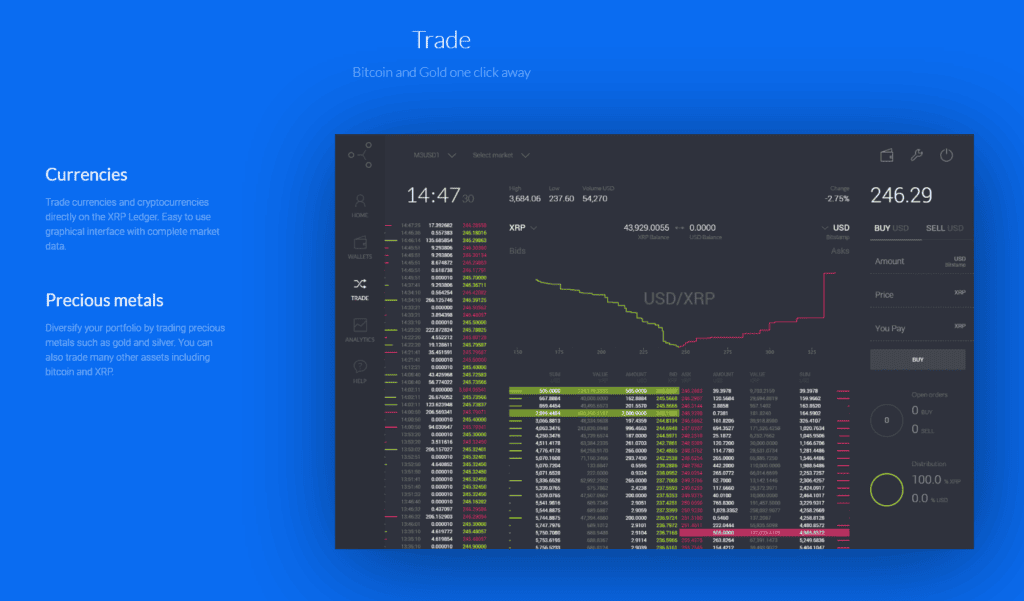 The platform is supported across the UK, US, the European Union, Canada, and Australia. It allows deposits through wire transfers but not via credit cards. You can withdraw fiat currencies (USD or EUR) if you have a verified user and bank account. This means that you as a user have passed the KYC (Know Your Customer) test, which asks you to provide personal information, identification documents, and proof of residency. All deposits of non-USD currencies will be converted to USD.
In comparison, Kraken currently supports 26 cryptocurrencies for purchase and has 124 trading pairs. Another advantage it has over Gatehub is that it offers Canadian Dollars (CAD) as a payment method, together with USD and EUR. Banking regulations have prevented Kraken from accepting Japanese Yen (JPY) payments in the future.
Bitcoin
If you're a Bitcoin trader, you're definitely in luck! You don't have to worry about whether or not an exchange supports your target cryptocurrency because they all do! If you're new to the market, Kraken can be an easier platform to start with.
Security
Gatehub Attacks and Ripple (XRP) Wallets
Gatehub uses two-factor authentication security and encrypts all of its data. Unfortunately, its reputation has been smirched after two major hacker attacks, one in 2017 and the other as recent as June 2019. In the last one, hackers gained unauthorized access to a database with access tokens belonging to Gatehub users. As a result, they entered into 18,473 encrypted accounts on the XRP Ledger wallet and stole their currencies.
The platform immediately disabled all access tokens. To regain the trust of their users, they generated new encryption keys and re-encrypted all sensitive information such as the secret keys for their XRP wallets.
In comparison, Kraken has never been a victim of a hackers' attack. For personal account safety, it also uses the 2FA for logins and withdrawals. However, it offers an additional "Master Key" or an additional passcode if you want to access restricted account actions. If you decide to take a break from trading, you can lock your account for a set period with a Global Settings Lock. This feature blocks any attempts at making changes to your account by unfamiliar IP addresses.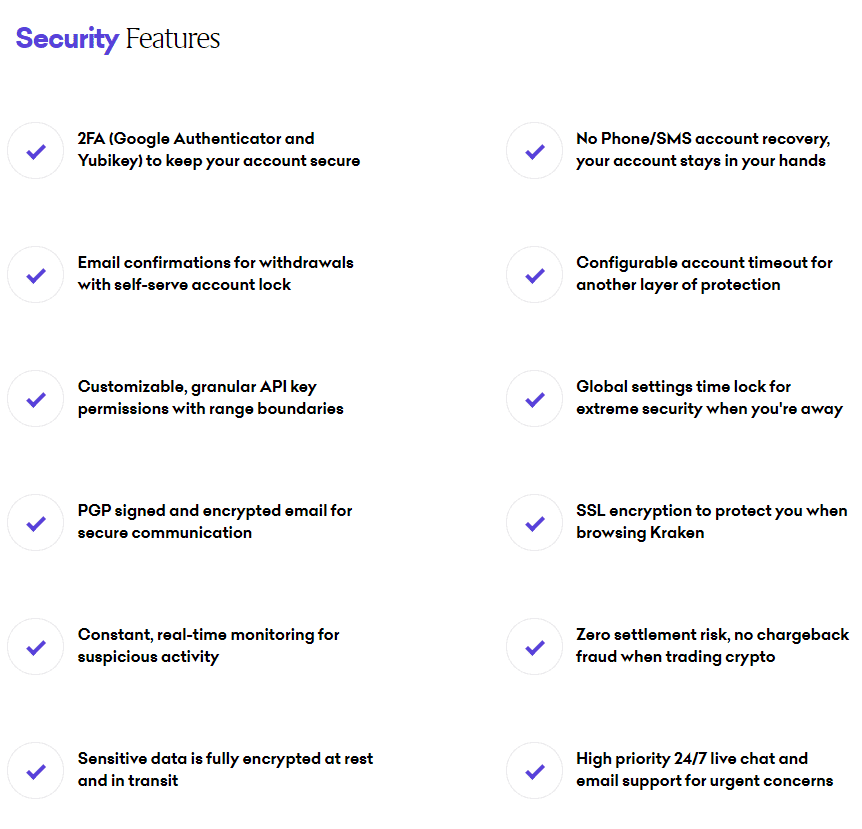 Fees
One of the drawbacks of Gatehub is the fees it offers. When trading, there's a flat fee of 0.30% of the total order value for both makers and takers. This is higher than the industry average, which remains around 0.25%.
Gatehub charges a withdrawal fee up to 0.005 BTC when you withdraw BTC, which is far above the industry average. Deposit fees depend on the payment method. Since these fees vary, is always a good idea to check the fee for a specific coin on their website.
If we put Kraken side by side with Gatehub, it will be seen as the clear winner. To determine your fee, the platform first checks your trading volume over the last 30 days. Then, depending on whether you're a maker or a taker you are charged for each trade. Kraken charges less to those who bring liquidity, i.e. the makers, adding a slightly higher fee for traders.
So, for example, if you're a maker with a trading volume lower than $50,000,  the added fee will be 0.16%. If you're a taker, you will be charged 0.26% for each trade. As your volume increases, the fees are discounted for maker and taker alike. For volumes above $50,000, the fees can get as low as 0.14% and 0.24%.
Kraken charges for fiat deposits made through wire transfers. The fees are 5€ for international wire transfer, $5 for domestic wire transfers, and $10 with SWIFT International wire transfer. Withdrawing currencies is more expensive.
Ease-of-Use
There's rarely such thing as an "absolute best" when it comes to trading exchanges, since each platform has a different interface, and each trader has a different preference. What all of them have, however, are order books, a separate price chart of different cryptocurrencies, order history, and buy and sell boxes. Before you make a decision, open the website, take a look at the trading view it offers, and check whether it feels right to you.
Gatehub wasn't made with beginners in mind. The website layout is pretty cluttered, and there's information all over the place. We would directly go to the newly updated support page for some guidelines.
When you create a new account on the platform, you get a recovery or a secret key to access the wallet. If you forget it, you'll be locked out of your wallet.
Kraken's website is more playful and interactive, featuring engaging illustrations and a clean design layout. The welcome screen is more inviting than the one over at Gatehub, and it opens up with four boxes, offering four different options to get you started. There's one aimed at newbies to introduce them to the world of crypto, one for those looking to upgrade their digital investments, a third one for traders who have transferred from another platform, and one for companies thinking about using Kraken.
When you feel like you're ready to start trading, it's time to create an account. Kraken checks the eligibility of your country since it's not available in Iran, Iraq, Afghanistan, Japan, North Korea, Tajikistan, and Cuba due to regulatory issues. Then, you verify your account via email and choose a Simple or Advanced interface upon logging in. Long-term traders will benefit from all the statistics, volumes, and charts available on Kraken.
The only drawback of the platform is that it takes 1-5 business days to transfer your fiat currencies to your account before you place an order.
Customer Support
In May 2019, Gatehub introduced the launch of their improved support page which is in line with their goal to provide more effective customer support. Among the improvements, they mentioned support guides, helpful articles, an upgraded ticket submission process, and a completely different design layout. The guides are divided into different categories depending on your level of crypto expertise and types of queries.
Kraken also has a separate support page where customers can submit their support tickets to be answered via email, read the FAQ section, and browse through informative guides and manuals. What makes Kraken's customer support stand out is the 24/7 live chat now available, which makes it easier than ever to get your queries addressed here and now.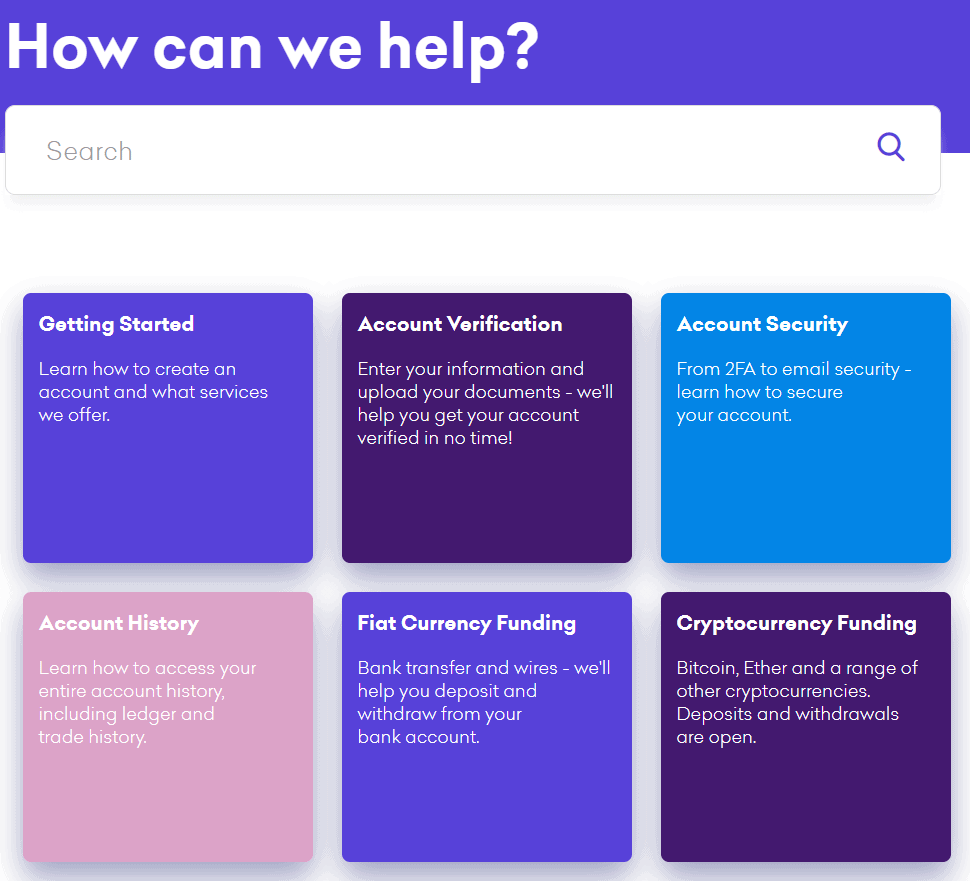 Mobile Trading
Neither of these platforms has made crypto trading available on mobile devices. This is definitely something they should work on and invest in the future, as traders would appreciate greater accessibility.
Pros and Cons
Gatehub pros:
One of the best exchanges for trading with Ripple
Supports fiat currencies
Great responsiveness to support tickets
Invested in innovative trading methods
Gatehub cons:
A limited number of cryptocurrencies
Higher trading and withdrawal fees
Problems with security in the past
No mobile app
Kraken pros:
A fairly low trading fee of 0.16% and 0.26% for maker and taker respectively
Supports over 20 cryptocurrencies
Supports fiat deposits and withdrawals
High-security measures
Two-factor authentication, a Master Key, and a Global Settings Lock
Stores customers' funds in hot and cold wallets
Has a 24/7 live chat
Kraken cons:
It takes 1-5 business days for your fiat deposit to reach your Kraken account
No mobile application
Final Thoughts
In conclusion, the only case in which we would recommend Gatehub is if you're an experienced trader who is currently looking to invest in Ripple. The platform is directly connected to the Ripple network and has a Ripple trading pair with all the coins and fiat currencies it supports. Otherwise, the security breaches in the recent past have made the platform unreliable, so trading there, for now, seems risky.
Kraken, on the other hand, is a reputable exchange which has withstood the challenges of the crypto world. There's a great choice of coins and options for fiat-to-crypto exchanges, plus the trading fees are inexpensive. Kraken still boasts high-level protection and takes excellent care in storing your funds.
Coinbase, Bitstamp and Other Crypto Exchanges
Since Gatehub isn't a tough opponent for Kraken, make sure some of our other guides, to see how Kraken compares to other crypto-exchange platforms, like Coinbase, Poloniex, or Bitstamp for example.




Disclaimer: Digital currencies and cryptocurrencies are volatile and can involve a lot of risk. Their prices and performance is very unpredictable and past performance is no guarantee of future performance. Consult a financial advisor or obtain your own advice independent of this site before relying and acting on the information provided.