Coinbase Pro VS Binance:
2023

Cryptocurrency Exchange Comparison
Disclaimer: We may receive a commission for purchases made through the links on our site. However, this does not impact our reviews and comparisons. Learn more about our Affiliate Disclosure.
Looking for the crypto exchange of your trading dreams? Tired of trying out platforms that don't work for you and your investment plan? Don't panic, you're not the only one dealing with this problem. Since the 2017 boom in the crypto industry, there're more digital coin traders than ever, and all of them are facing the same challenges on a daily basis.
Our team has set out to help you on this path with informative and unbiased crypto exchange comparison guides. Today, we have Coinbase Pro and Binance in the spotlight, two fairly new but surprisingly trust-worthy platforms with millions of traders across the world.
Let's find out what they have to offer!
About the Crypto Exchanges
GDAX / Coinbase Pro
Global Digital Asset Exchange or GDAX was launched as a separate crypto exchange in 2016. It now goes by the name Coinbase Pro as a reminder of the fact that the platform was designed as an extension of Coinbase aimed at seasoned and institutional traders.
The original platform was founded in 2012 by Brian Armstrong and Fred Ehrsam with headquarters in San Francisco, California. The unexpected growth in popularity was to a large extent the result of the user-friendliness of the platform, their simple, minimalistic design, and basic trading options. That's why, if you ask anyone for advice on which crypto exchange to choose as someone who is new to the crypto market, they will direct you straight to Coinbase.

While that fact still hasn't changed, experienced traders are growing in number, and many companies are deciding to invest in cryptocurrencies too. Coinbase saw the urgency to address their needs and enlarge the scope of their trading options to cater to the more risk-taking adventurous users. This is how the idea for Coinbase Pro was born. Over the months, as more and more features were added to the extension, the operating team of Coinbase realized it would be more convenient for traders if they launched Coinbase Pro separately.
Binance
Compared to Coinbase Pro and its sister-platform Coinbase, Binance is relatively new on the crypto market. It was founded in 2017 by Chinese national Changpeng Zhao, also known as CZ, with corporate headquarters located in Shanghai, China. Due to regulatory issues, the company was relocated to Japan. However, Japan turned out to be far from crypto-friendly as the Japanese Financial Services Authority (JFSA) followed Binance's every move. Finally, the company decided to settle down in Malta which is considered to be a global leader in crypto regulation.

Binance is regulated in Malta under the newly enacted Virtual Financial Assets (VFA) Acts but other than that it hasn't been registered with any legislative board. This doesn't mean that the platform doesn't comply with anti-money laundering regulations and precautions earning the trust of millions of investors around the world.
Binance is backed by a stellar team, spear-headed by CZ who is an experienced marketer with an impressive background in the crypto industry. Prior to launching his own crypto exchange, he worked for Blockchain.info on various cryptocurrency projects and excelled as a chief technological officer at OKCoin.
Binance vs Coinbase Pro: The Comparison
Bitcoin and Other Supported Cryptocurrencies
Coinbase Pro and Binance are quite different in terms of supported cryptocurrencies, trading pairs, and fiat exchanges. Coinbase Pro supports only the key players on the crypto scene, namely, Bitcoin, Bitcoin Cash, Ethereum, and Litecoin. The reason behind the limited choice of coins is the security aspect as most of the lesser-known coins have yet to pass the Digital Asset Criteria set by Coinbase and later on adopted by Coinbase Pro.
The good thing about Coinbase Pro is that it belongs in the group of the so-called "Fiat Gateway" platforms which allow fiat-to-crypto exchanges. Why is this important? Well, if you're new to crypto trading, this platform allows you to make USD, EUR, and GBP deposits. Coinbase Pro is the only one of the two platforms discussed in this guide that offers this option to its users.
Binance makes up for the lack of fiat support with an outstanding number of more than 150 supported cryptocurrencies. You can buy, sell, and exchange tokens like Ripple (XRP) and Eos, or even stablecoins. This also means that Binance offers a huge number of trading pairs. To make sure your target currency has the trading pair you aim for, check out the full list of pairs per coin on CoinMarketCap.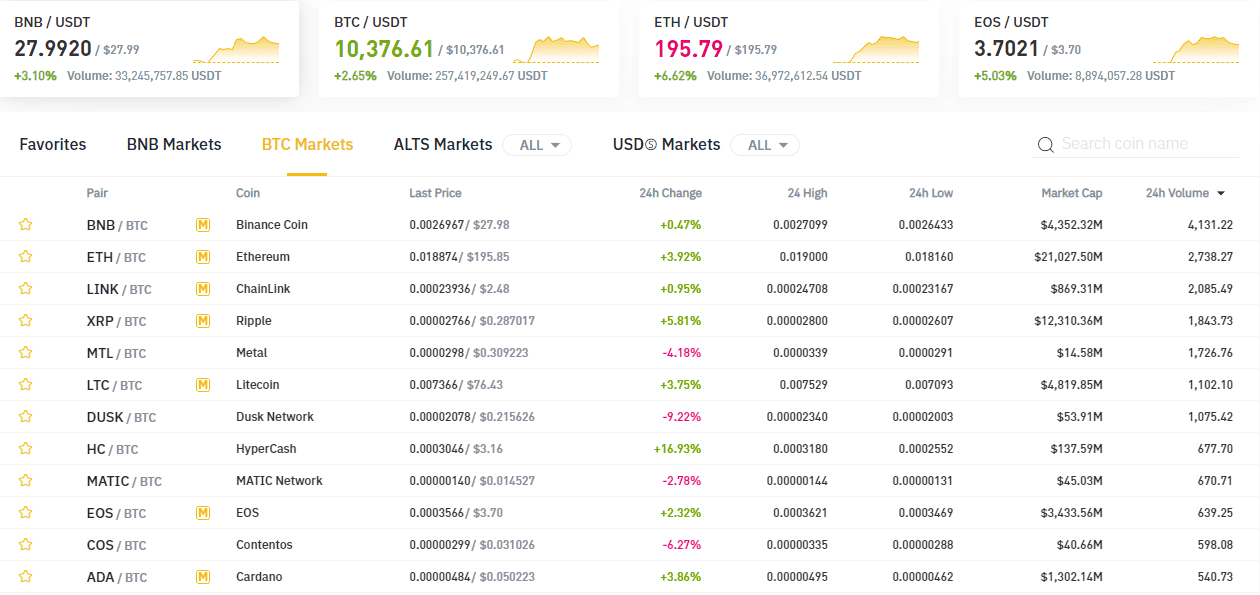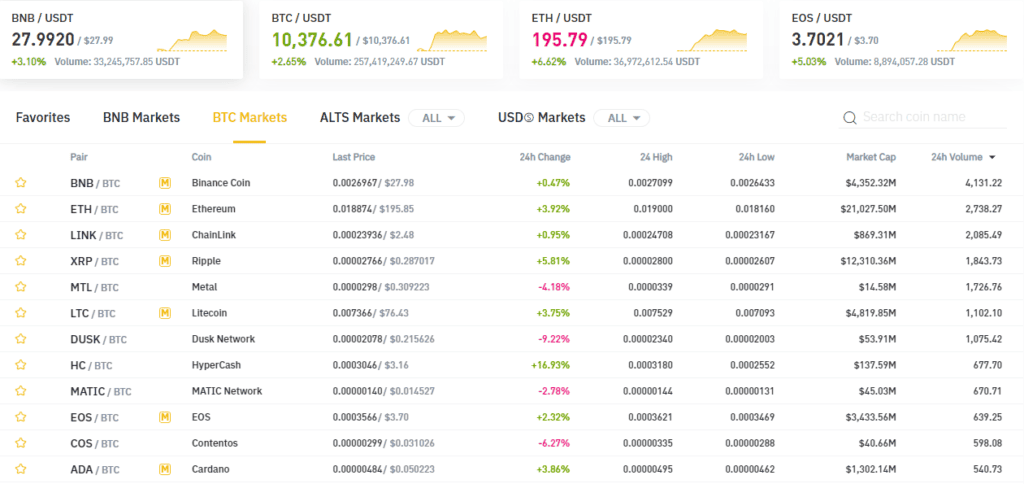 The platform has been reconsidering fiat exchanges and has recently added restricted availability on making fiat deposits and withdrawals via cards and bank transfers. To be eligible for deposits in the first place, you need to go through a simple KYC (Know Your Customer) verification process before Binance accepts your request.
Important information for US residents is that as of September this year, Binance has been redirecting US customers to Binance.us – the American arm of the company. The users will be able to withdraw their funds a little while longer but making trades and deposits is already disabled.
Security
The team of experts at Coinbase was already experienced in handling the security challenges faced by crypto platforms and used the same high-level security measures when designing Coinbase Pro. The major advantage of the platform lies in the two types of wallets used: an online 'hot' wallet that stores only 2% of your funds to be accessed at all times, and an offline 'cold' wallet known as cold storage to keep the majority of your funds disconnected from the Internet.
The wallets and private key are safeguarded with AES-256 encryption, established by the U.S. National Institute of Standards and Technology. The online wallet requires two-factor authentication for any account activity. The funds of US residents are additionally protected by the FDIC (Federal Deposit Insurance Corporation) up to $250,000.
Binance requires its users to install the commonly used 2FA so that even if hackers attempt to access your account, they won't succeed without accessing your mobile device as well. Another security method recently implemented by the platform is the withdrawal address whitelist. Normally, you can withdraw funds to any wallet address but if you activate this feature you can only make withdrawals to the addresses that were whitelisted. Of course, the settings can be changed at any time.
In 2018, Binance went one step further with its safety measures and introduced the Secure Asset Fund for Users (SAFU). You can think of SAFU as a large reserve pot accessed in the event of a security breach. Binance draws out 10% of all trading fees to fund SAFU which is just enough when you take into account the huge daily trading volumes on the platform.
Despite the extent of its security features, Binance was hacked in May 2019. The damage was estimated at around 7,000 Bitcoins, amounting to a market value of over $40 million. Thanks to SAFU, the traders were reimbursed for their loss.
Trading Fees
Trading fees are really important, especially if you aim for high trading volumes! Coinbase Pro employs the maker and taker fee structure and evaluates your trading volume in the last 30 days before it determines your fee. If you're a maker, which means you bring liquidity to the platform, you literally get to trade altcoins for free! This is Coinbase Pro's way of motivating high volume users to trade even more. For takers, there is an additional charge of 0.30% per trade.
The only drawback of the platform is that it doesn't support credit card deposits but it does accept debit cards instead. Bank account deposits made in Europe through a SEPA transfer are free of charge, while US customers have to pay 1.49% for ACH deposits. For cryptocurrencies, there's only the blockchain transaction fee. As far as withdrawal fees are concerned, those made through SEPA cost $0.15, whereas a standard wire transfer in the United States costs $25.
Binance fees won't make any difference to makers but for takers, this platform is the clear winner. Binance has some of the lowest trading fees on the crypto market. Despite using a schedule that distinguishes between makers and takers, there's a fixed fee of 0.1% per trade, and even this inexpensive amount is slashed by half if you pay the transaction using the Binance coin (BNB). This discount applies during the first five years.
Ease-of-Use
The interfaces of Coinbase Pro and Binance are often regarded as having a learning curve to them. While this is essentially true, the same thing can be said of any unfamiliar platform that you're just beginning to use.
At first glance, the darker-colored dashboard and lack of illustrations can be off-putting. They look a bit outdated and definitely need some retouching. The setup process is quite similar on both platforms. First, you register and fill in personal information to create your account. Next, you need to verify the account with an email and a photo ID. This will allow you to enter the trading market and place your first order.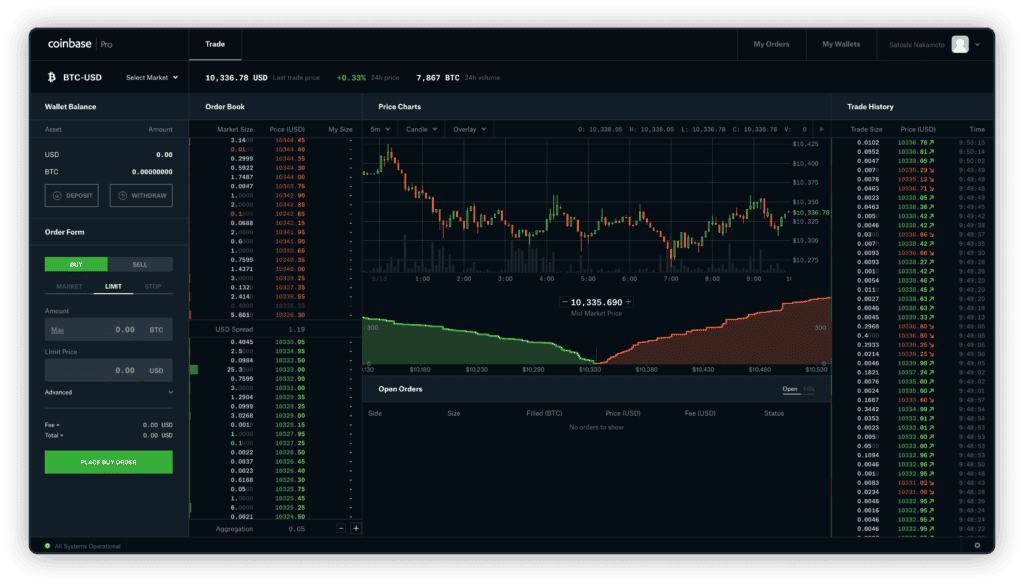 Different layouts appeal to different users, so before deciding, you can check how they look on their website. There's no need to register yet, just click on the "View Exchange" button and you'll get a real-time view of the order book, price charts, trade history, and available trading pairs. Binance allows you to choose between two trading platforms: Basic and Advanced. If you're a newbie, go with the first one. Otherwise, professional traders will benefit from all those displayed analytics.
Customer Support
The crypto industry is moving full speed ahead, with thousands of traders daily joining the ride. In times of such crypto-crazes, some exchanges have to suspend new registrations or hire extra staff to answer customer queries.
Coinbase Pro and Binance are doing their best to leave positive impressions with their users, and we can say it's working since we haven't come across any major complaints online. Both platforms have a designated Support section on their website where clients can file request tickets and wait for an email answer by the company staff in approximately 24 to 72 hours.
A very useful feature is the FAQ section – the perfect resource for any type of clarifications and additional explanations you might need. Some questions focus on the trading options, others on the supported cryptocurrencies and payment methods. If you're unsure how to set up your account, the FAQ covers that too!
Coinbase Pro also has a highly convenient 24/7 live chat and support lines for urgent queries. Binance is very active on social media, especially Twitter, with CZ posting frequent updates about the activities of the company to ensure maximum transparency.
Mobile Trading
Both platforms allow mobile trading for their users. Binance scores more points here since its mobile app is available for both Android and iOS users. Coinbase Pro launched its mobile app just this month, so, for now, it's only available for download on the Apple Store, while the Android app has only been announced for now.
Pros and Cons
Coinbase Pro pros:
Perfect for seasoned and institutional traders
2FA, cold storage, encryption
FDIC Insurance for US customers' funds
Offers low fees
Perfect for experienced and institutional traders
Average customer support with a 24/7 live chat
Coinbase Pro cons:
Has a limited number of cryptocurrencies
Doesn't support credit cards
The mobile app is not available for Android users
Binance pros:
A great selection of tokens
Lower trading fees for takers
An option to use BNB for a halved fee
Has a Secure Asset Fund for Users
Great transparency and responsiveness
Mobile app for Android and iOS users
Binance cons:
Limited fiat-to-crypto exchanges
Has been hacked once
Final Thoughts
To see where you stand with that final decision, weigh out the above-listed advantages and disadvantages of both platforms.
If security is your top priority, opt for Coinbase Pro! The platform has high-level security measures and has never been hacked. You also get to trade with the creme de la creme of the digital coins and exchange them with fiat currencies easily. Makers are even allowed to trade free of charge!
Binance has entered the crypto market with confidence and that's how it has faced the challenges of the industry so far. Even when the security breach happened, they managed to buck up and solve the problem readily. The platform is perfect for trading a variety of digital assets if you don't mind the restrictions on using fiat currencies.


Disclaimer: Digital currencies and cryptocurrencies are volatile and can involve a lot of risk. Their prices and performance is very unpredictable and past performance is no guarantee of future performance. Consult a financial advisor or obtain your own advice independent of this site before relying and acting on the information provided.