Binance VS Coinbase:
2023

Crypto Exchange Comparison
Disclaimer: We may receive a commission for purchases made through the links on our site. However, this does not impact our reviews and comparisons. Learn more about our Affiliate Disclosure.

Interested in cryptocurrencies, the biggest invention of the 21st century? Want to know how to trade with them and exchange them for fiat currencies? We'll cover all that and more in this comparison guide.
Maybe you're already hooked on the crypto market and only need to step up your investment game? Knowing how to properly trade these digital assets and what to look for in an exchange platform can be the missing link to your trading strategy.
Today we'll discuss the similarities and differences between two extremely popular crypto trading platforms – Binance and Coinbase.
We'll begin with a little bit of company history and move on to things like supported currencies, trading fees, security measures, and customer support. By the time you reach the end of this guide, you'll already know what choice to make.
About the Exchanges
Binance
Binance is a fairly new platform on the crypto market. It was founded in 2017 by Changpeng Zhao, also known as CZ, and was initially based in Shanghai, China. After facing regulatory issues, they moved their headquarters to Japan. This country proved to be even less crypto-friendly, and the company was constantly scrutinized by the Japanese Financial Services Authority (JFSA). As a result, they've recently relocated their headquarters to Malta.

Binance has been operating for no more than two years, and it still hasn't been registered with any legislative board. Nevertheless, it has earned the trust of millions of investors around the world. Its founder is an experienced marketer, who has a strong background in the crypto sphere. Before founding his own crypto exchange, he worked for Blockchain.info on various cryptocurrency projects and was a chief technological officer at OKCoin.
Zhao used his experience and knowledge of the target market and the ICO (Initial Coin Offering) boom of 2017, to launch Binance with a $15 million funding raised during one of the most successful ICOs the crypto world had ever seen.
In August 2019, Binance announced that the platform won't be available in the United States anymore. Instead, US traders were redirected to Binance.us instead, the American arm of this cryptocurrency exchange.
Coinbase
Coinbase is one of the oldest and largest digital currency platforms in terms of trading volume. It operates since 2012 when it was launched by software engineers Brian Armstrong and Fred Ehrsam. Its headquarters are currently located in San Francisco, California.
During these seven years of hard work and constant improvement, Coinbase has come to enjoy an A-list status among traders across the globe. Due to its amassed popularity, the company has been financially supported by world-leading investment firms and individuals such as Andreessen Horowitz, a venture capital firm, as well as stock exchanges like the NYSE, for instance.

The official website gives information about the availability of the platform, saying that it can be accessed from more than 100 countries around the world. Coinbase is licensed in almost every state in America which makes it even more trustworthy, as attested by its trading figures. The platform has more than 30 million customers who have exchanged over $150 billion in cryptocurrencies.
Coinbase Pro
In 2016, Coinbase decided to expand its platform and create a separate one for the needs and benefits of an experienced clientele. The platform was initially called GDAX but then rebranded as Coinbase Pro to be directly linked to its mother-platform.
Coinbase vs Binance: The Comparison
Supported Cryptocurrencies
Binance is a crypto-to-crypto exchange only, known for supporting a great number of ICO tokens. This strategy is what holds traders in since they're using the platform to trade tokens for profit. Binance supports over 500 altcoins, stablecoins, and tokens, with the most common trading pairs being Bitcoin, Ethereum, their own Binance Coin, and Tether.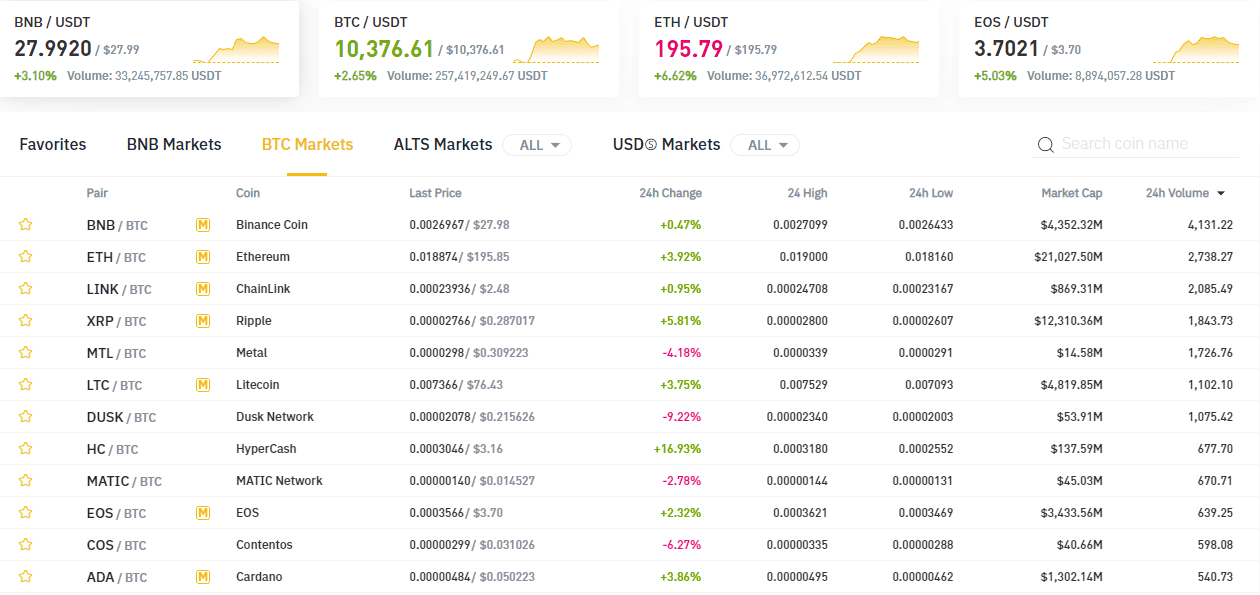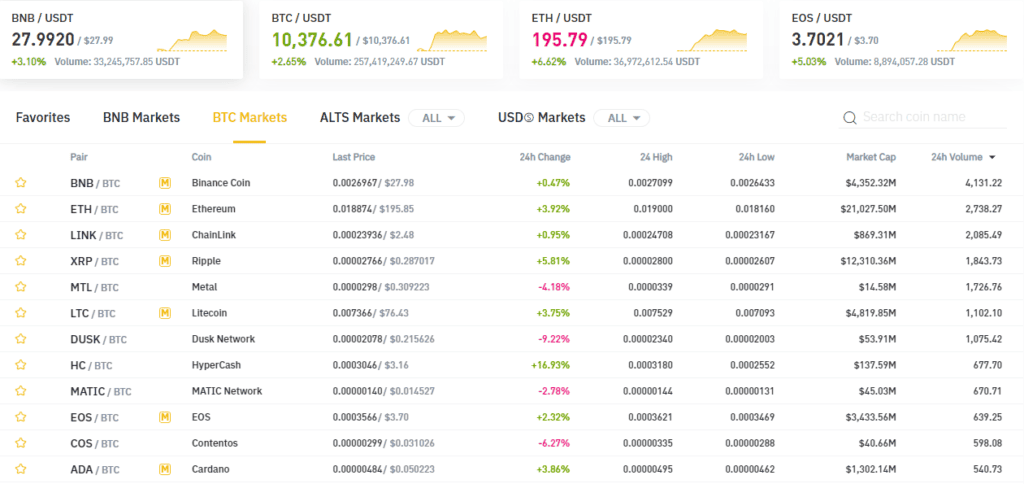 Bitcoin
Coinbase doesn't offer much to its users in terms of coins. It only supports four: Bitcoin (BTC), Bitcoin Cash (BCH), Ethereum (ETH), and Litecoin (LTC). However, it makes up to the traders by allowing them to use fiat currencies as a payment method, something that you don't get over at Binance. If your target cryptocurrency is Bitcoin, we recommend using Coinbase because it has more options and fiat support.
The companies are very much aware of their disadvantages, so starting early this year, Binance has launched two fiat-to-crypto exchanges called "Binance Jersey" for European customers, and "Binance Lite Australia" for Australian ones. We'll see whether they're planning on expanding these areas any time soon.
Coinbase has a different strategy. It has recently launched "Coinbase Earn", a learning trading platform that offers courses on existing altcoins to those curious to find out more. At the end of the course, you'll get paid with the same altcoin you've been studying. These coins are then stored in your Coinbase wallet, thus giving you the option to trade with more than just those four primary coins.
Security
Binance offers 2FA (Two Factor Authentication) as a verification method to enhance the security of your account. Moreover, before requesting a withdrawal, you will have to verify your request with a confirmation link that will be emailed to you.
In May 2019, Binance was the victim of a hacker attack and lost around 7,000 BTC. The company suspended all withdrawals and urged its users to reset their 2FA immediately and promised to uphold transparency during the process. The founder, Zhao, made a public announcement via Twitter, hoping to retain the trust of the community.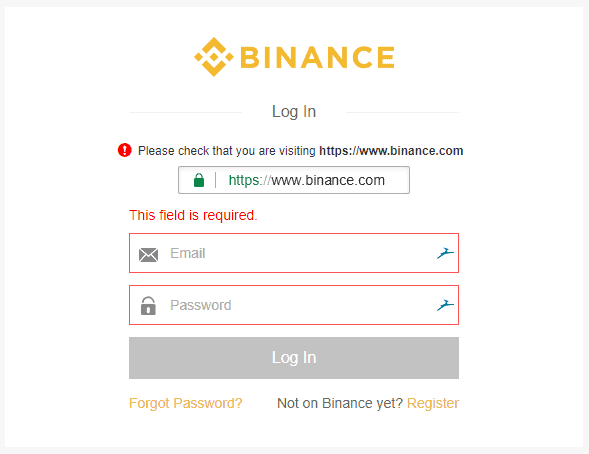 Coinbase is known to have efficient security measures, including the 2FA employed by Binance. To curb any misuse of funds, the company separates user funds from operating funds. The majority of the user funds, around 98%, are stored in cold wallets. This way, they can remain safely out of hackers' reach. In the case of an internal breach, the company offers additional fund insurance.
Moreover, new customers are required to perform a KYC (Know-Your-Customer) check to verify their identity. They provide their full name, place of residence, phone number, utility bill, and government-issued ID.
Trading Fees
In the world of crypto exchanges, Binance has some of the lowest trading fees imaginable. The platform adds a fee of 0.1% per trade, and even this inexpensive amount is slashed by half if you pay the transaction using Binance (BNB) tokens. This discount applies during the first five years.
The slightly higher Coinbase fees place the exchange at a disadvantage. They vary depending on the trade amount and how you decide to pay for the service. Low transactions of no more than $200 are charged at a flat rate independent of the payment method.
Coinbase's fee structure looks like this:
$0.99 for a transaction worth up to $10.99 and below
$1.49 for a transaction worth from $11.00 up to $26.49
$1.99 for a transaction worth from $26.50 up to $51.99
$2.99 for a transaction worth from $52.00 up to $78.05
For larger transactions exceeding $200, Coinbase adds a variable fee of 1.49% to your total. If you want to make debit card purchases, there's an additional 3.99% fee for transactions starting from $78.06 and above. Withdrawals cost $0.15 but there're no charges for bank deposits.
Ease-of-Use
So, which platform is easier to use? Most people will immediately say Coinbase.
While it's true that Binance is far from being the top beginner's choice, it's not rocket science either. The setup process consists of the usual steps: register, create an account, and verify it with an email and a photo ID. You'll receive a confirmation email, and once you confirm your identity, you are ready to trade. You can choose between two interfaces: Basic and Advanced. If you're a beginner, stick to the first one. If not, then you might benefit from the displayed analytics, real-live order book, and additional trading options.
That being said, Coinbase still remains the best choice for newbies. It has a minimalistic, clutter-free dashboard with an overview of your portfolio shown upon logging in. It also gives you your transaction history and the price of the coins you wish to trade. Experienced users can switch to the Coinbase Pro platform for more technical information and advanced features.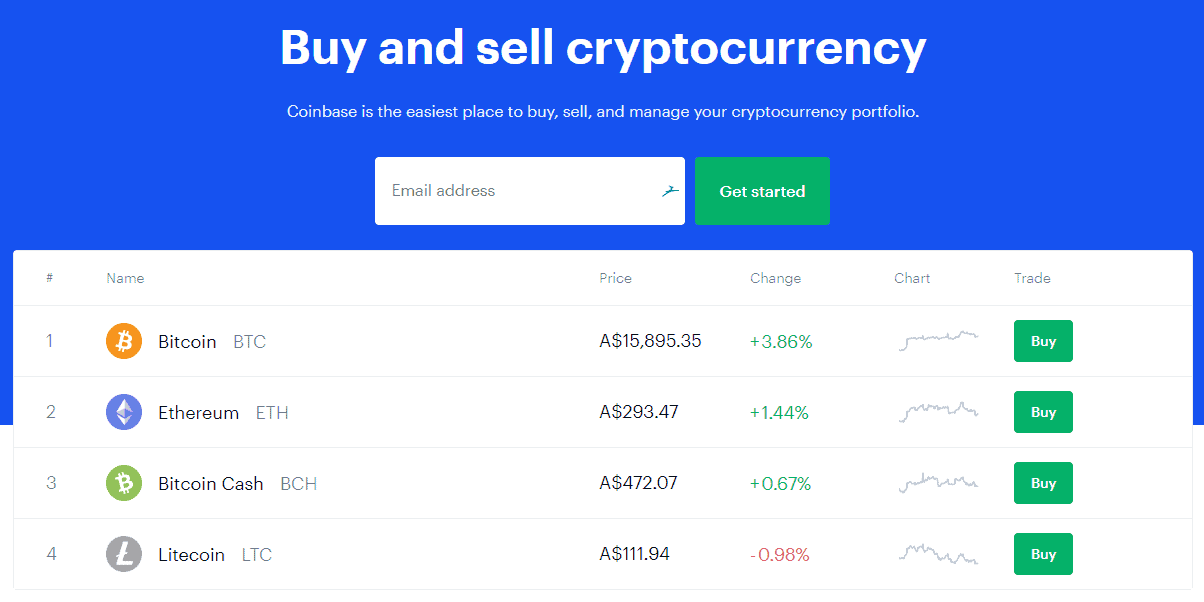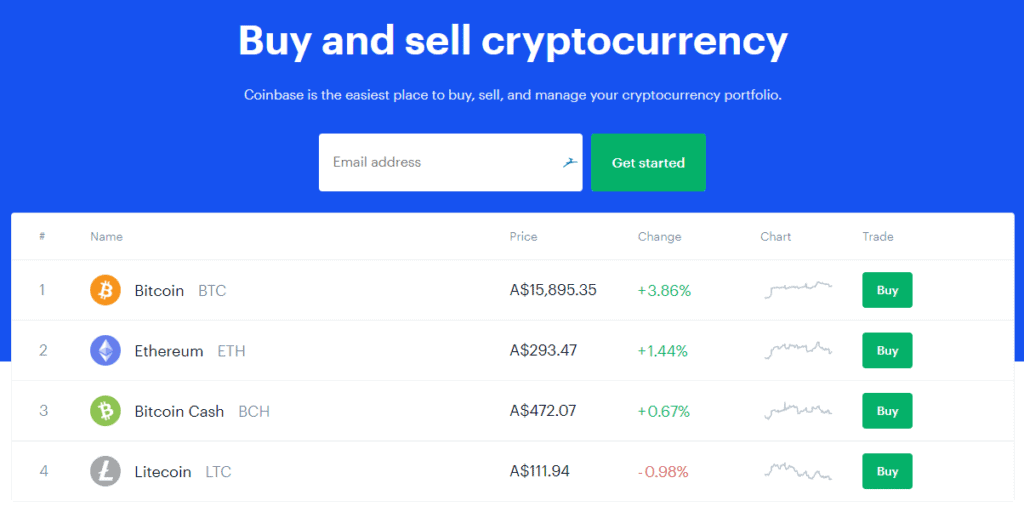 Customer Support
Customers are satisfied with the responsiveness of the Binance team. Whenever you have a problem, you can submit a support ticket on their website and receive a prompt answer via email. They are also active on social media. Binance's founder, for example, is very much present on Twitter, and it has been his policy since the very start to be as transparent as possible about the workings of his company.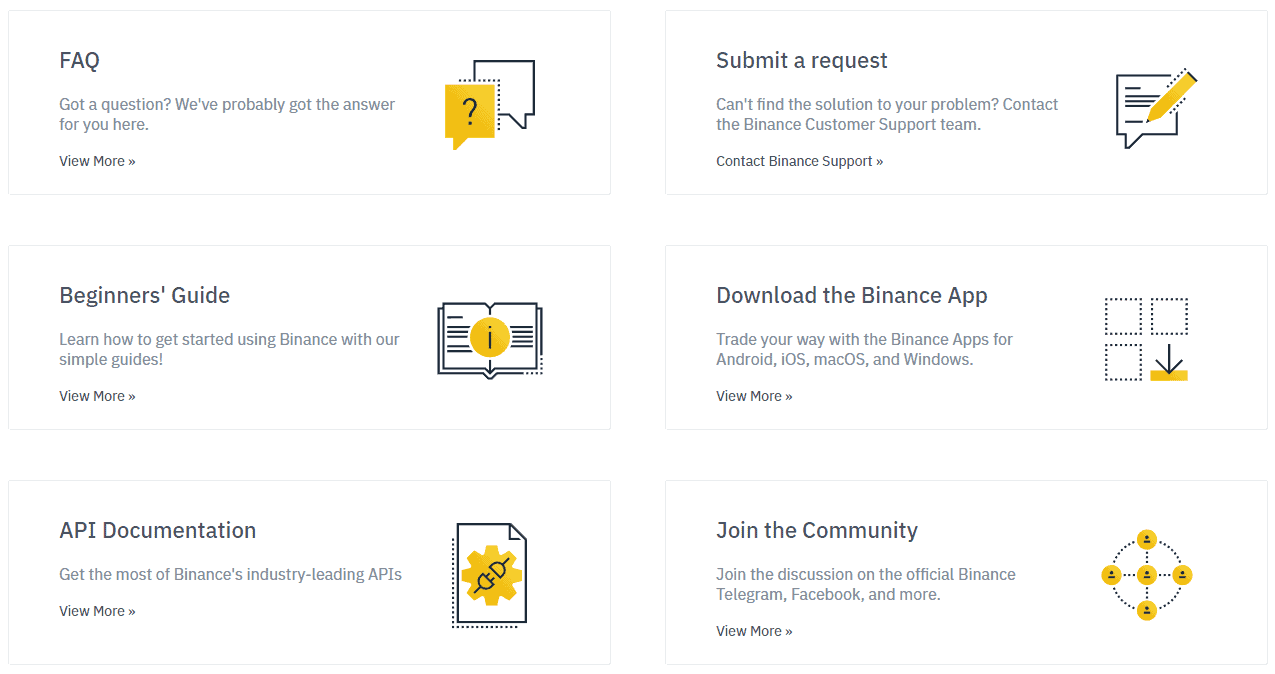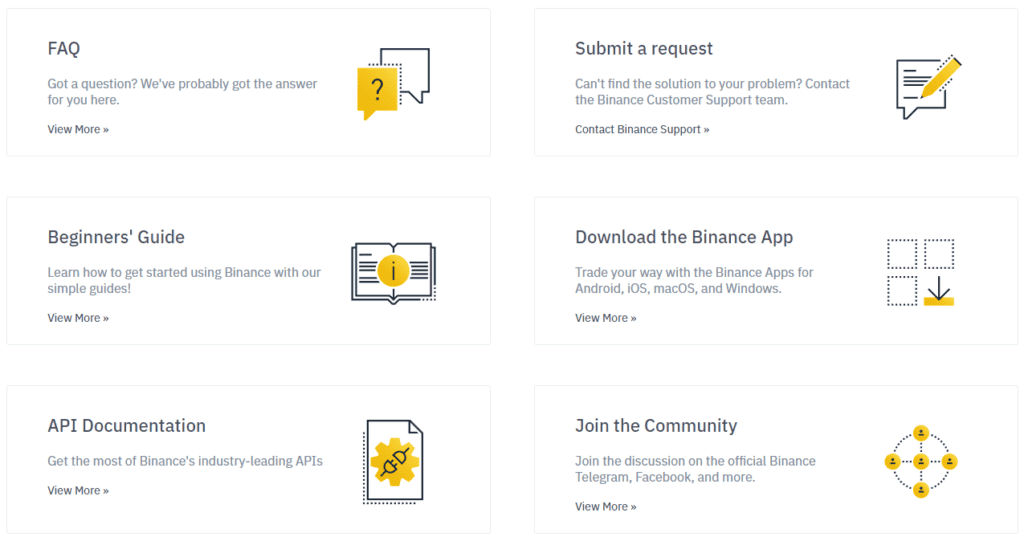 Coinbase has a support page on its website where you can go to the FAQ section or explore various guides and manuals. There's also a box to fill in a support ticket, the average response time being 24-72 hours. But the biggest advantage is that they give you the option to contact them via chatbox or directly on the phone for your most urgent queries.
Mobile Trading
Both platforms realize the importance of trading cryptocurrencies on the go. Traders want to be able to check their wallets or place an order wherever they are, and thanks to the mobile apps these exchanges offer – this is now completely possible! Their applications can be downloaded by Android and iOS users, free of charge.
Pros and Cons
Binance pros:
Quick to add new coins and ICO tokens
Very low transaction fees of only 0.1% per trade
An option to use BNB for a halved fee
Two-factor authentication for any withdrawal
Praised for showing great transparency
Higher responsiveness to customer queries
Mobile app for Android and iOS users
Binance cons:
New in the crypto space, has to show it's future-proof
Lack of fiat-to-crypto exchange (except for European and Australian market)
A bit advanced for beginners
Has been hacked once
Coinbase pros:
You can complete an exchange instantaneously
You can buy cryptocurrencies via bank transfers (ACH), and debit cards
Two-factor authentication for any withdrawal plus cold storage
Customer support via email, phone, and chatbox
High responsiveness
User- and mobile-friendly
Coinbase cons:
Higher trading fees
Limited cryptocurrency selection
No credit card support
Final Thoughts
So, in the end, which platform should you opt for?
Binance might be the less experienced platform out of the two but they've entered the crypto market with confidence. If you're looking for an exchange with a plethora of altcoins and trading pairs, and don't mind the lack of fiat-to-crypto trading, Binance is the right choice for you. Not only will you trade at a 0.1% fee but you will also pay half the price if you trade with their native coin BNB. An additional advantage is their responsiveness and transparency.
We direct novice traders to the user-friendly Coinbase for seamless cryptocurrency trading. It allows you to trade with the primary coins on the crypto market, plus the option to make fiat-to-crypto exchanges. Advanced traders can always check Coinbase Pro, where they get to choose from a greater number of altcoins and trading options.
Both exchanges have good trading volume and high liquidity. They have high-security measures and offer decent customer services. In spite of this, Coinbase still triumphs by being regulated and licensed, which should be very important especially when testing unknown trading and investment waters.


Disclaimer: Digital currencies and cryptocurrencies are volatile and can involve a lot of risk. Their prices and performance is very unpredictable and past performance is no guarantee of future performance. Consult a financial advisor or obtain your own advice independent of this site before relying and acting on the information provided.