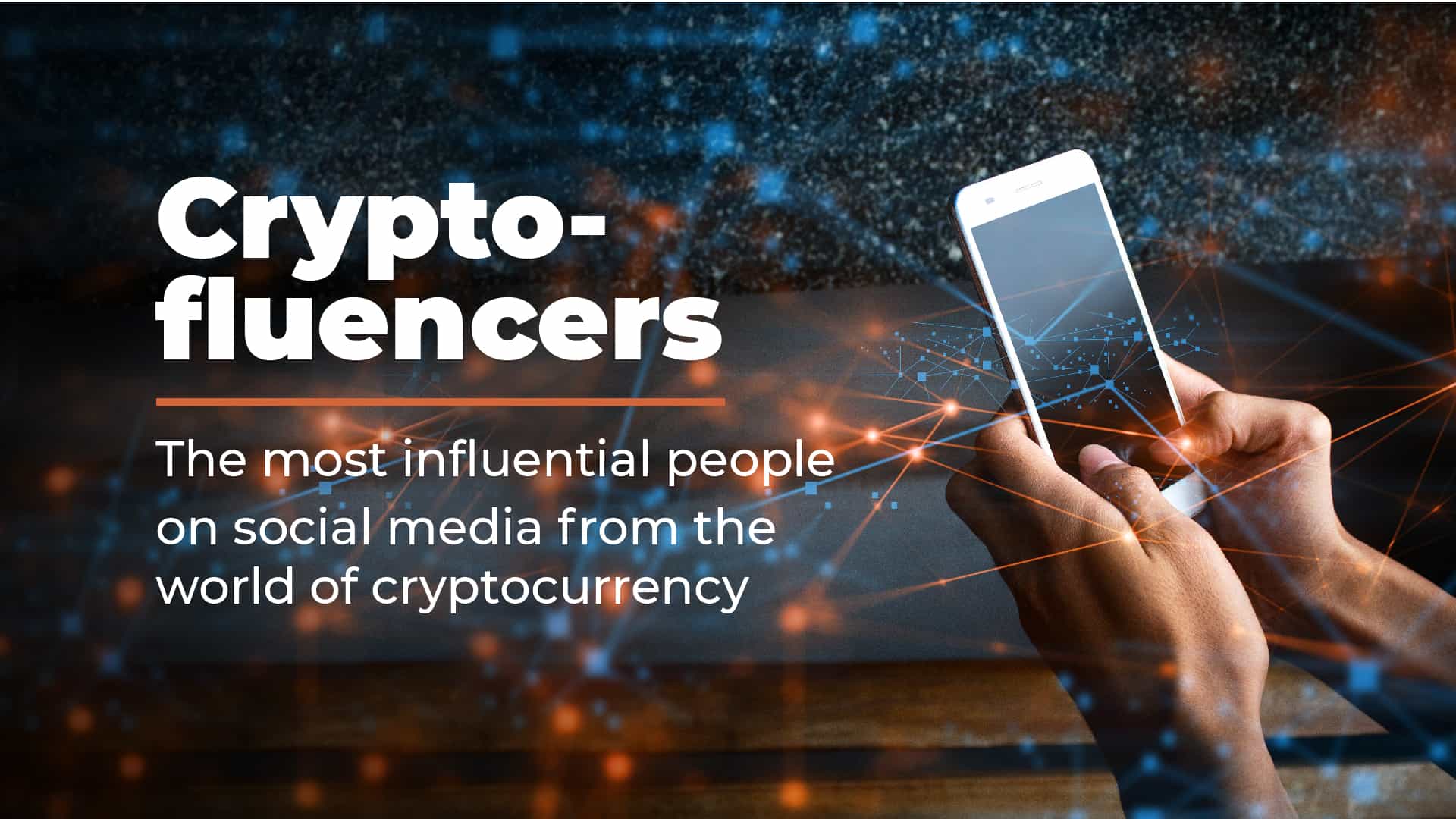 The 2010s saw the prominence and value of cryptocurrency take off. Bitcoin went from being worth a fraction of a penny in 2010 to a current value of over $58,000 and this growth has been mirrored by other cryptocurrencies (although many more never took off).
As we move through the 20s, the crypto community grows even bigger and there is a demand for accurate and insightful information to make smart investment decisions. This demand coupled with a new age of crypto experts online across platforms like Twitter and TikTok has created the 'crypto-fluencer'.
We have discovered who are currently the most influential and popular crypto-fluencers on the internet to see who has the most power over our investment decisions.
The Most Popular Crypto-fluencers
To establish who are the most popular crypto-fluencers we looked at how many followers each person has on the four main social media platforms: Twitter, Instagram, YouTube, and TikTok.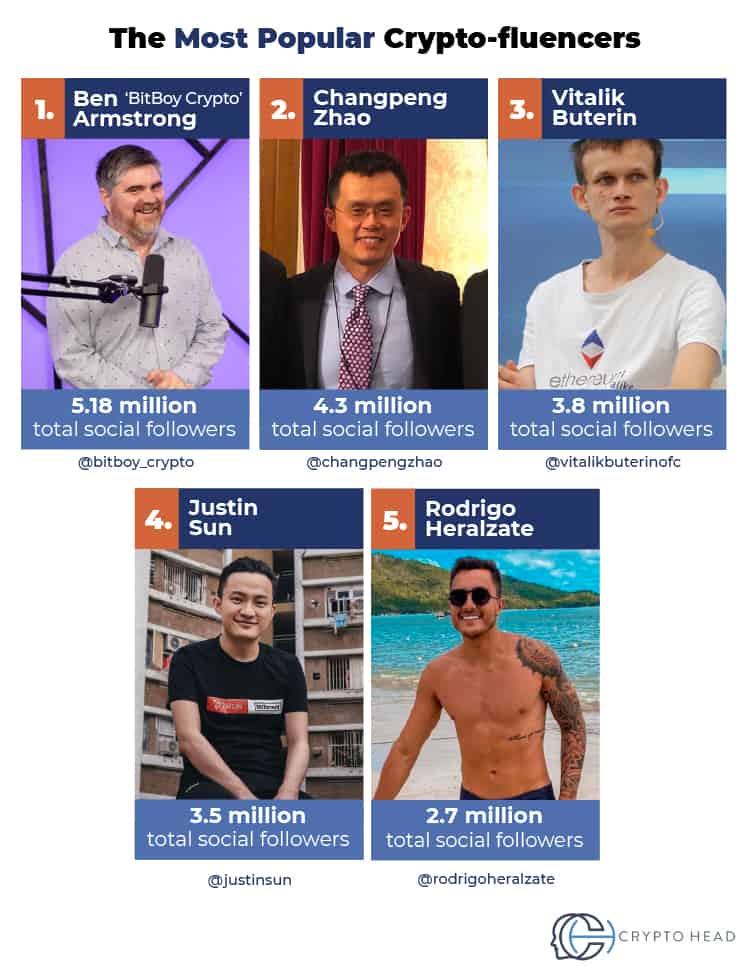 1. BitBoy Crypto, 5.18 million total social followers 
BitBoy Crypto was only set up three years ago as an informative YouTube channel teaching people about all things Bitcoin and cryptocurrency. Since then its presence online has grown massively and its founder Ben Armstrong's online presence is one of the most noteworthy sources of crypto information in the world. BitBoy Crypto achieved the number one spot in the rankings due to a spectacular presence across all social media platforms, especially TikTok and YouTube.
2. Changpeng Zhao, 4.3 million total social followers
Second is Changpeng Zhao, who you might know better as CZ. CZ is the founder of Binance, the world's biggest crypto exchange and he is one of the richest people in crypto. On top of this, he also finds time to be one of the world's most prominent sources of crypto information too. He has amassed an impressive following on Twitter as many clearly value his thoughts.
3. Vitalik Buterin, 3.8 million total social followers 
Vitalik Buterin was an early adopter of cryptocurrency and began influencing others on the subject way back in 2011 while he was still a teenager with his 'Bitcoin Magazine'. Fast forward 10 years, he now has almost four million followers across his social platforms, and has the most Instagram followers of all our crypto-fluencers.
4. Justin Sun, 3.5 million total social followers 
Justin Sun, the founder of the crypto platform TRON, has a huge Twitter following of 3.2 million followers and his presence also stretches to Instagram with 229,000 followers. The tech entrepreneur has gained success from his long involvement and entrepreneurships in cryptocurrency.
5. Rodrigo Heralzate, 2.7 million total social followers
Rodrigo Heralzate is predominantly active on Twitter, where he has 2.6 million followers. He's a particular champion of Binance Coin and currently holds over 2,000 BNB tokens which is equivalent to over $1.2 million.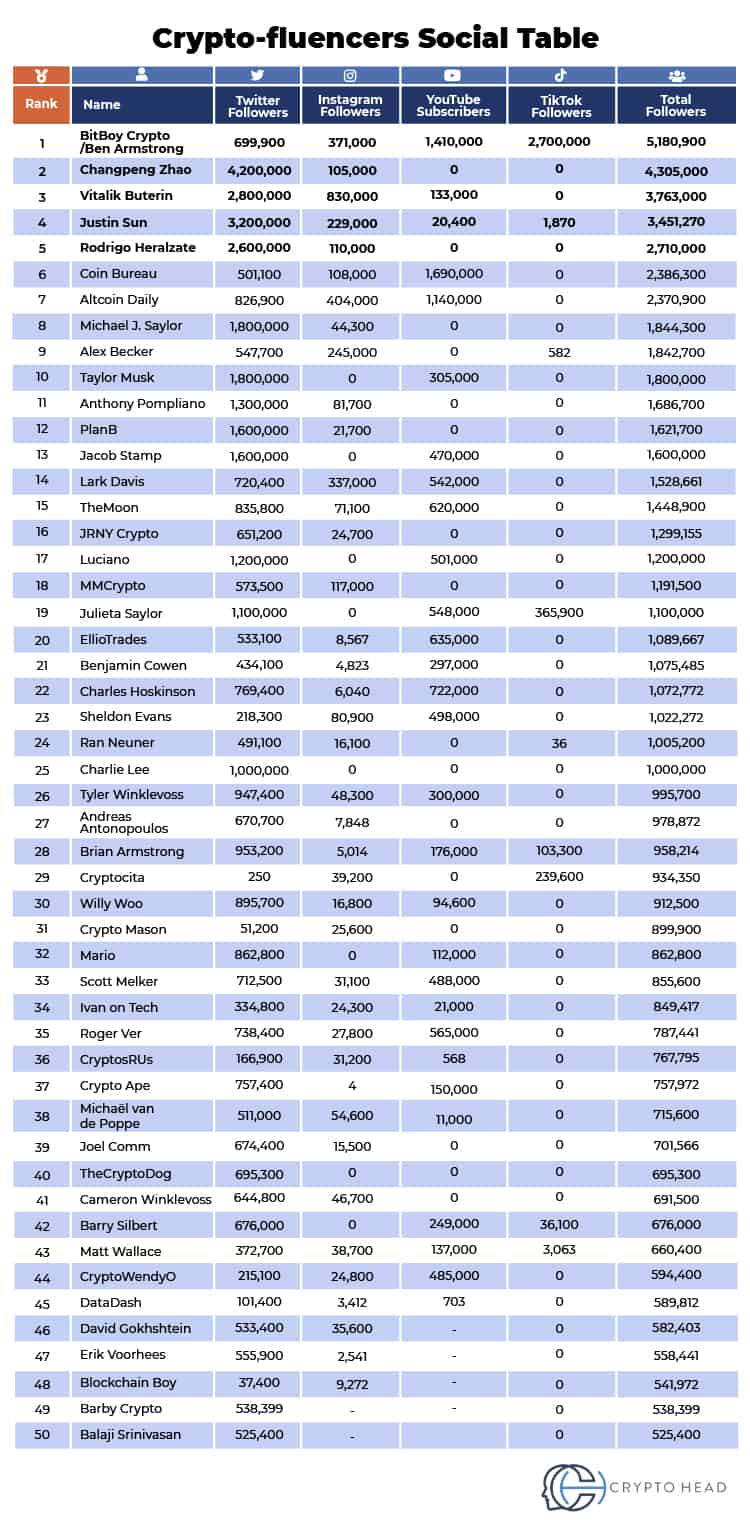 The most popular crypto-fluencers on each social media platform 
Twitter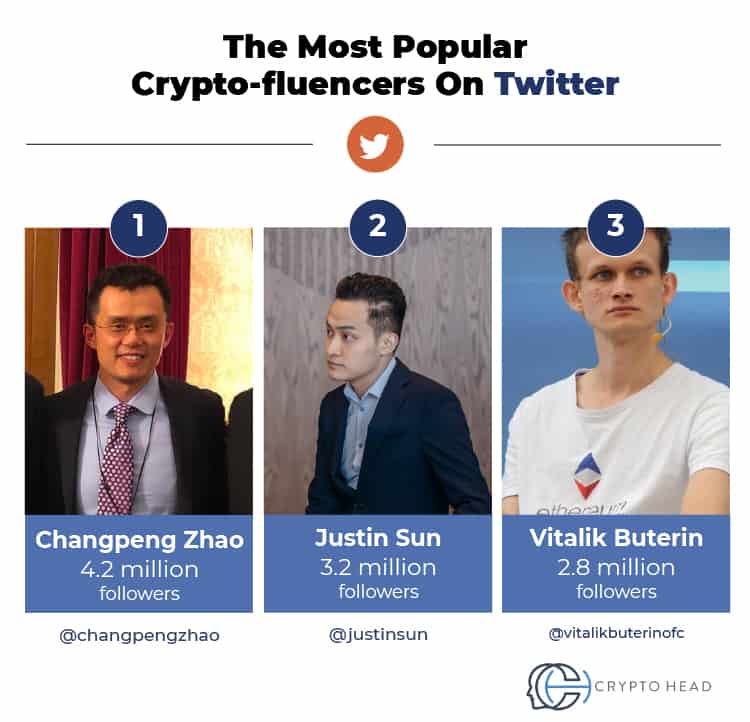 1. Changpeng Zhao (4.2 million followers):
Twitter appears to be the social media platform of choice for most crypto-fluencers as the top 50 influencers have a combined Twitter following of over 44 million – more than any other platform. Binance CEO Changpeng Zhao has the most of these with 4.2 million.
2. Justin Sun (3.2 million followers):
Trailing behind CZ by a million followers is Justin Sun, who has 3.2 million followers. As well as founding TRON, Sun is also the CRO of Rainberry, Inc and the mobile social app Peiwo.
3. Vitalik Buterin (2.8 million followers):
The person with the third-highest Twitter following is Vitalik Buterin, the co-founder of Ethereum who boasts 2.8 million followers on the platform.
YouTube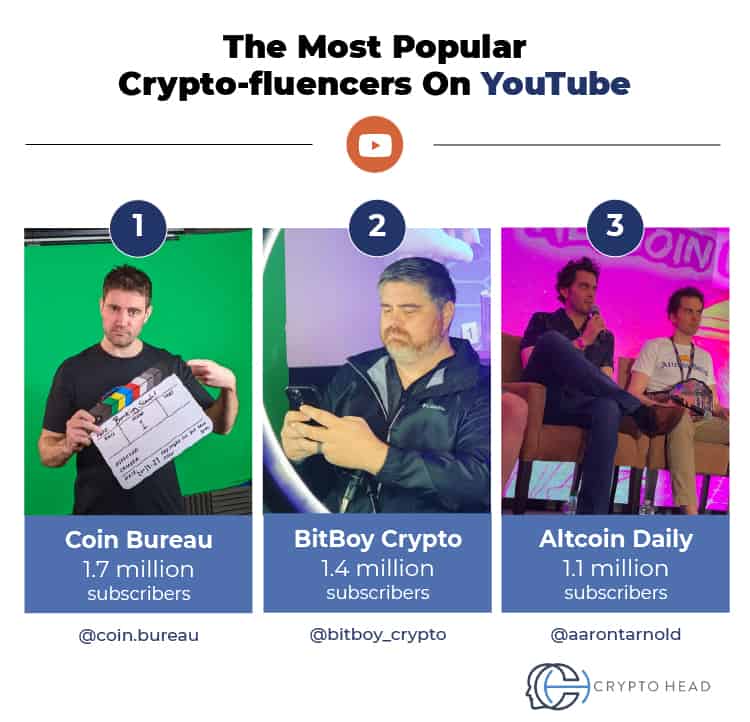 1. Coin Bureau (1.7 million subscribers)
Coin Bureau is a popular YouTube channel run by an analyst known as Guy the Crypto Guy which shares educational blockchain information to its subscriber base of around 1.7 million people.
2. BitBoy Crypto (1.4 million subscribers)
BitBoy Crypto was initially launched as a YouTube channel so it is perhaps unsurprising that he ranks so highly on this platform with 1.4 million subscribers to his channel. BitBoy Crypto produces regular videos discussing the latest cryptocurrency news.
3. Altcoin Daily (1.1 million subscribers)
Altcoin Daily is run by a pair of brothers, Aaron and Austin Arnold, who bring videos every day on everything to do with not just altcoins, but everything across the cryptocurrency sphere.
Instagram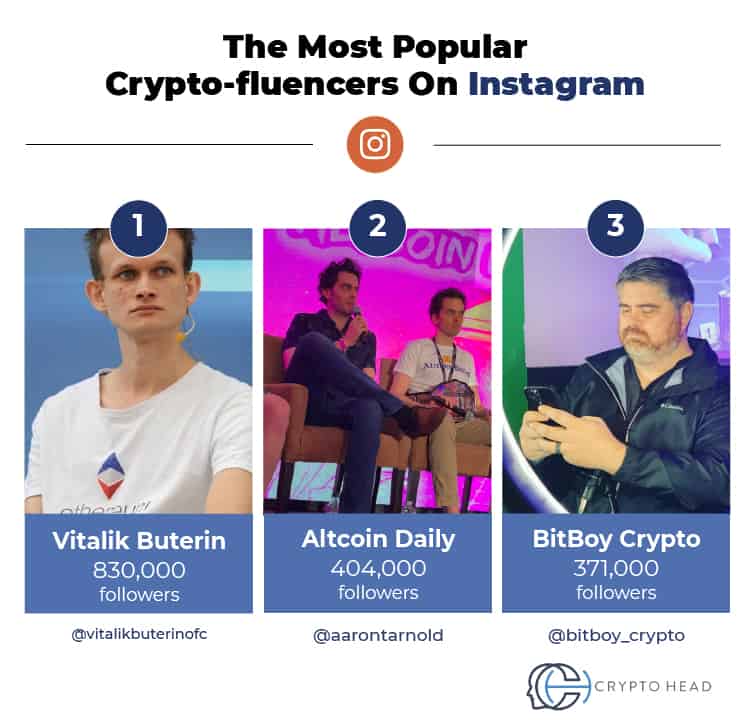 1. Vitalik Buterin (830,000 followers)
Vitalik Buterin holds the crown as the most followed crypto influencer on Instagram, with 830,000 followers, backing up strong followings across the other three platforms too.
2. Altcoin Daily (404,000 followers)
As was the case with YouTube, Altcoin Daily was once again in the top three most popular accounts, this time on Instagram with over 400,000 followers.
3. BitBoy Crypto (371,000 followers)
With healthy scores across the board, BitBoy Crypto places third for the number of followers on Instagram with an impressive 371,000 on the platform.
TikTok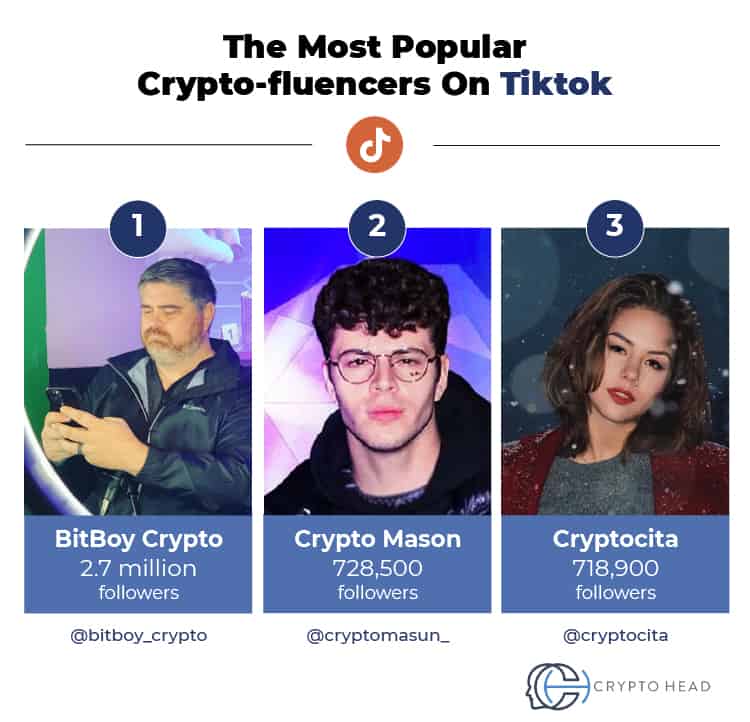 1. BitBoy Crypto (2.7 million followers)
BitBoy crypto was by far the most followed crypto influencer on TikTok, with 2.7 million followers.
2. Crypto Mason (728,500 followers)
Crypto Mason has built his biggest following on TikTok, amassing around three-quarters of a million at just 21 years of age. Crypto Mason's real name is Mason Versluis and he has been trading since he was just 15 years old.
3. Cryptocita (718,900 followers)
Not far behind Mason is Cryptocita, real name Alina, with 718,900 followers on TikTok. She is one of the most followed female crypto-fluencers, and is based in Russia.
Methodology
We looked at a list of over 200 crypto influencers in total, sourced from various list articles.
We then found the social media accounts of each (where present) to find out the number of followers on each platform, before whittling this down to the top 50 influencers with the biggest total followings as of November 30th, 2021.
Note that we excluded influencers who cover more general topics such as finance but also have an interest in crypto, instead focusing on those who specifically cover crypto.
Disclaimer: Digital currencies and cryptocurrencies are volatile and can involve a lot of risk. Their prices and performance is very unpredictable and past performance is no guarantee of future performance. Consult a financial advisor or obtain your own advice independent of this site before relying and acting on the information provided.