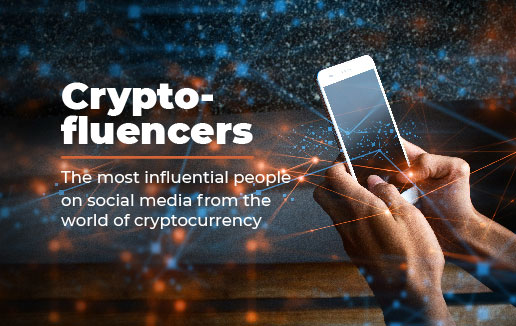 During the 2010s the rise in the prominence and value of cryptocurrency was astronomical. For example, if you had purchased £100 worth of Bitcoin in 2010, your investment would be worth around £73.8 million today, and this growth has been mirrored by other cryptocurrencies (although many more never took off).
As we move through the 20s the interest and popularity in investing in cryptocurrencies are exponentially growing, and as such, people want to be as informed as possible before investing their hard-earned money. Therefore there is a demand for informative individuals and groups of individuals to become incredibly influential as they impart their knowledge to the growing number of crypto enthusiasts.
Another area of massive growth in the past decade has been that of social media, and social media influencers, a new age of experts and celebrities who have been born as a result of a strong presence on a multitude of social platforms. So crypto influencers or 'cryptofluencers' could become a majestic melding of two growing areas of the online world, and we have discovered who are currently the most popular.
The Most Popular Crypto-fluencers
To establish who are the most popular cryptofluencers right now we looked at how many followers each person has on the four main social media platforms: Twitter, Instagram, YouTube, and TikTok.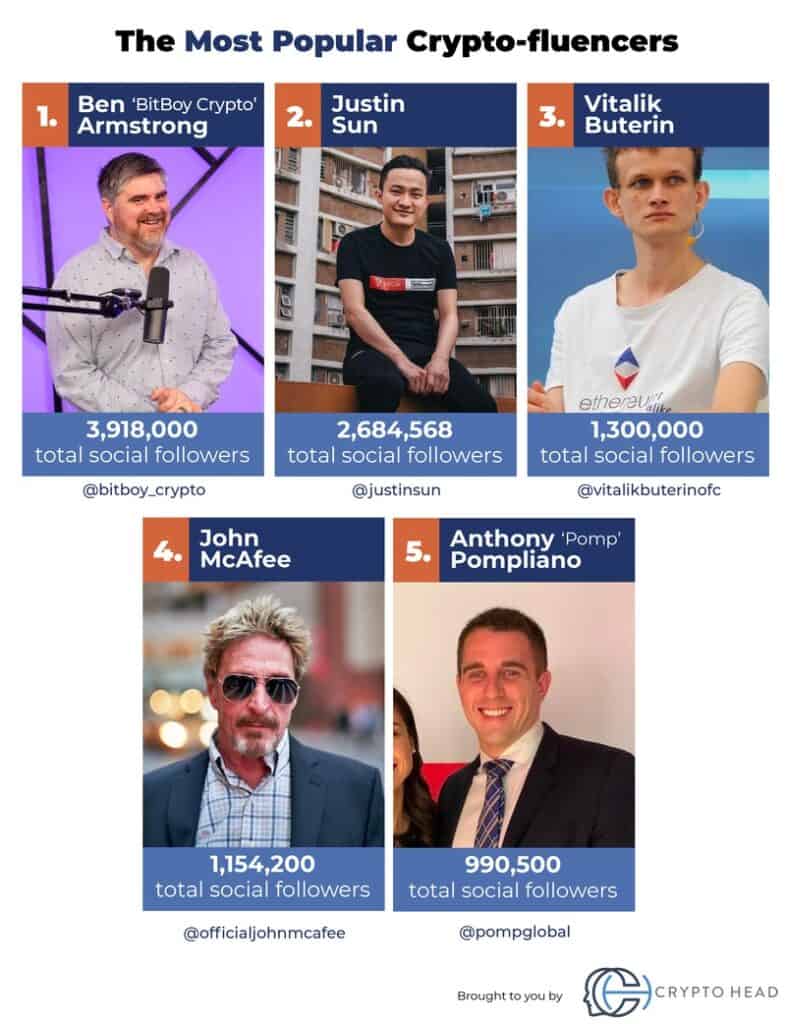 1 – Ben Armstrong (BitBoy Crypto), 3,918,000 total social followers
BitBoy Crypto was only set up three years ago as an informative YouTube channel teaching people about all things Bitcoin and cryptocurrency. Since then its presence online has grown massively and it is now Armstrong's online presence is one of the most noteworthy sources of crypto information and we have found him to be the most popular cryptofluencer. BitBoy Crypto achieved the number one spot in the rankings due to a spectacular presence across all social media platforms and is ranked in the top two for YouTube, TikTok, and Instagram followers, showing that his influence is widespread.
2 – Justin Sun, 2,684,568 total social followers
Justin Sun is a Chinese tech entrepreneur who has become massively successful due to his involvement in cryptocurrency and consequently has developed a popular following on social media from fans dreaming of following in his footsteps. The founder of the crypto platform TRON has a huge Twitter following with two and a half million followers, moreover, he has a big presence on Instagram with 163,000 followers, and he also has solid scores for the rest of the categories which helps earn him second place in the overall rankings.
3 – Vitalik Buterin, 1,313,500 total social followers
Vitalik Buterin was an early adopter of cryptocurrency and began influencing others on the subject way back in 2011 while he was still a teenager with his 'Bitcoin Magazine'. Since then as the world has evolved so has Buterin's sphere of influence as he now has over 1 million followers across his social platforms. Almost all of these followers are on Twitter where he shares most of his crypto-related information, and this large following outweighs his nonexistent presence on YouTube and TikTok.
4 – John McAfee, 1,154,200 total social followers followers
In third place in the rankings comes a man who perhaps has had too keen of an involvement in cryptocurrency, computer programming millionaire John McAfee. McAfee's eponymous antivirus software is still one of the leading products in its field, and he is one of the most influential voices in cryptocurrency. Furthermore, in 2019 he became the CEO of a cryptocurrency company, ergo his main focus is now in the crypto world. McAfee has a big social media presence as he ranked in the top ten on our list for Instagram and Twitter followers, as well as being in the top 25 for most YouTube subscribers.
5 – Anthony 'Pomp' Pompliano, 936,352 total social followers followers
The fifth highest-ranking cryptofluencer is the first on our list to have under 1 million followers, but at this rate, he is well on his way to cracking seven figures in the near future. Anthony Pomliano is an American investor in cryptocurrency and hosts a successful podcast based around the subject which has had over 20 million downloads. Conjunctively to this Pompliano has a large social media presence with most of his followers coming from Twitter, but also boasting 175,000 YouTube subscribers.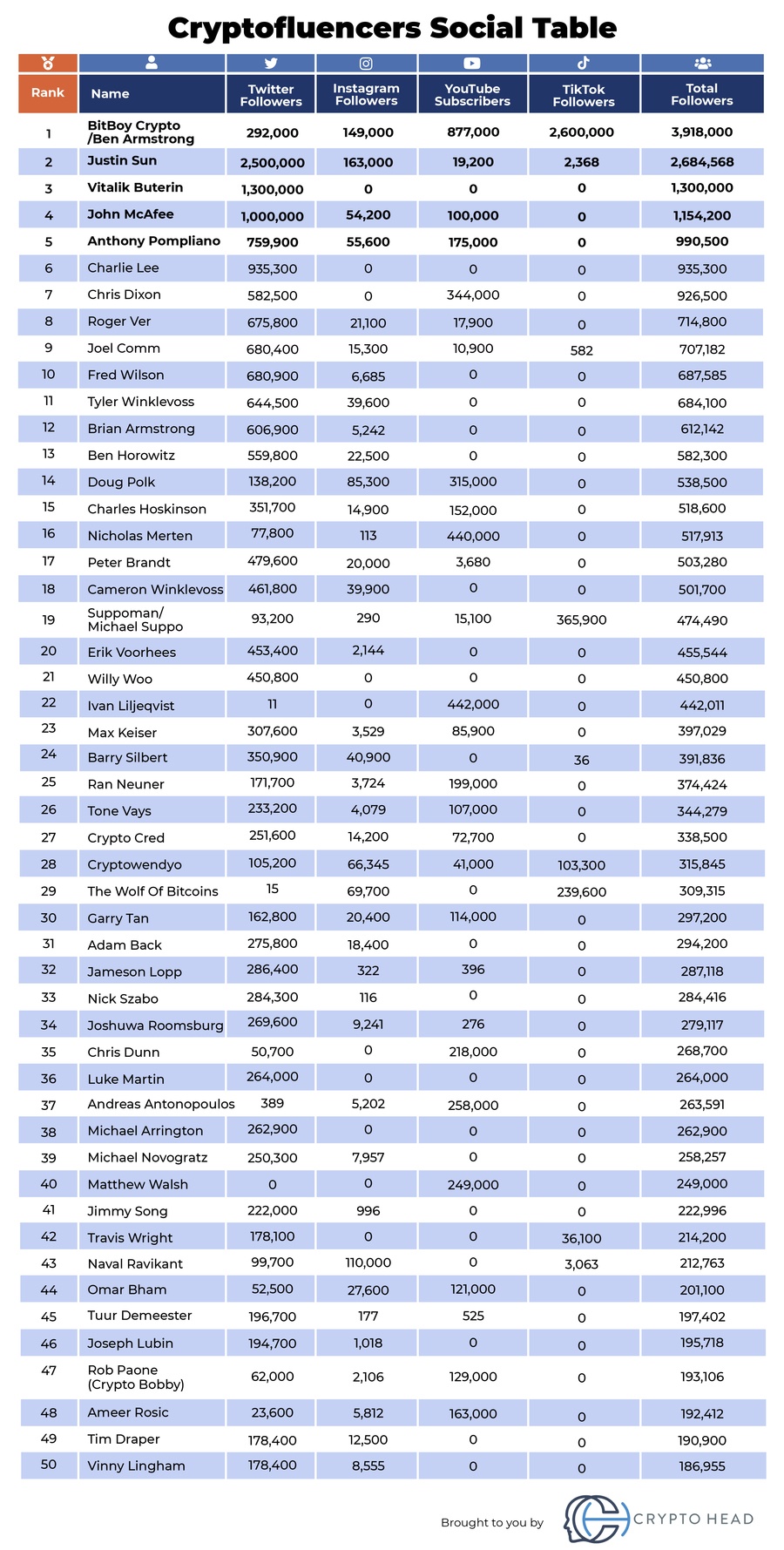 The most popular cryptofluencer on each social media platform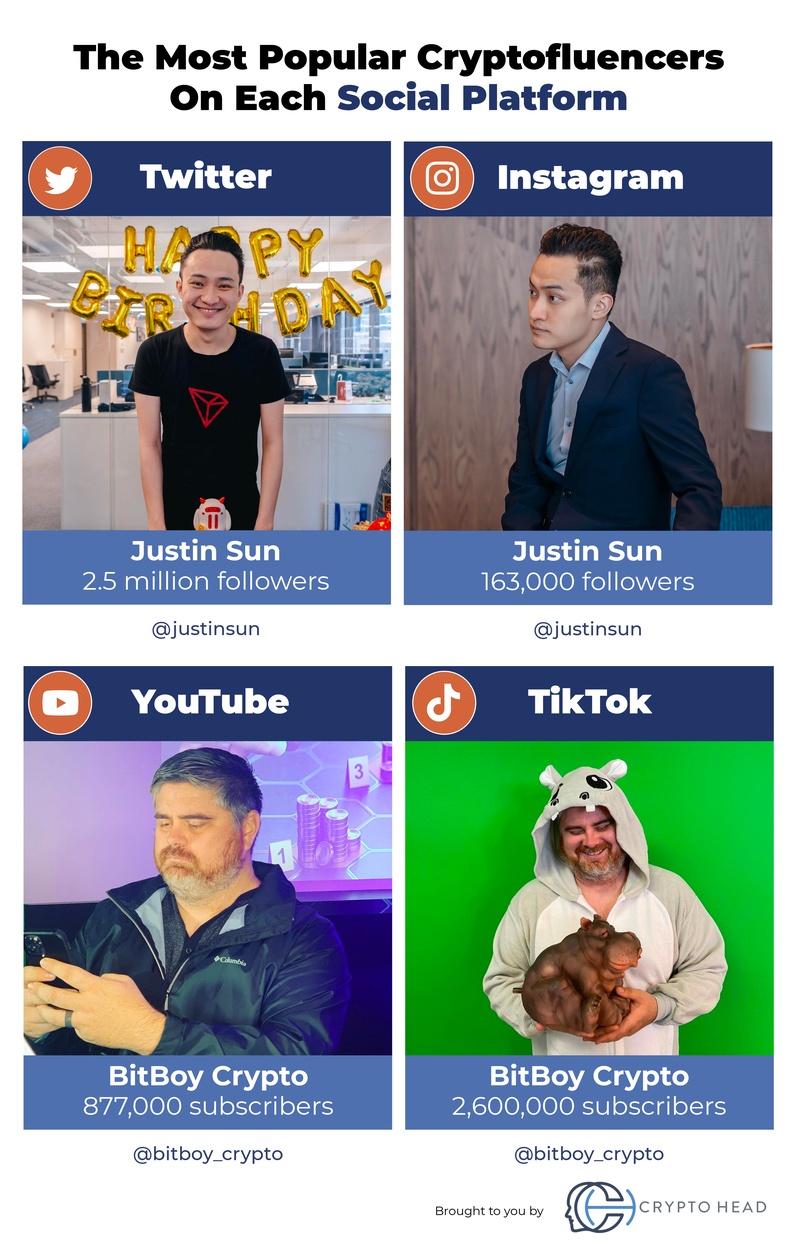 Twitter – Justin Sun
Twitter appears to be the social media platform of choice for most cryptofluencers as our list has a combined number of followers well over 21 million, which is over 15 million more than the next closest platform. Crypto entrepreneur and businessman Justin Sun has the most of these with 2.5 million.
Instagram – Justin Sun
Again Justin Sun's massive social media presence is seen on Instagram where he has 163,000 followers, which is 14,000 more than his closest competitor.
YouTube – BitBoy Crypto
When Ben Armstrong launched BitBoy Crypto it was as a YouTube channel so it is perhaps unsurprising that he ranks highest on this platform with 877,000 subscribers to his channel. BitBoy Crypto produces regular videos discussing the latest cryptocurrency news.
TikTok – BitBoy Crypto
TikTok is one of the fastest-growing social media platforms, but it would appear that most cryptofluencers are yet to use the service to promote themselves. Perhaps more should consider its importance though as the top-ranking cryptofluencer was also the most followed on TikTok.
Methodology
To create the list of 100 crypto influencers to research we looked at lists and articles of the most influential people in crypto.
We then found the social media accounts of each (where present) to find out the number of followers on each platform.
Data correct as of May 2021
Related Articles About Buying Crypto
One of the main problems getting into the crypto industry is finding a reliable crypto exchange in your country. A lot of influencers promote different exchanges but they are usually incentivized to promote some of others. At Crypto Head we've done a lot of research on this topic in a countries all around the world. We've reviewed and compared 100's of exchanges globally and feel that our lists provide the best options for people starting in the industry.
You can find our most popular lists below:
Disclaimer: Digital currencies and cryptocurrencies are volatile and can involve a lot of risk. Their prices and performance is very unpredictable and past performance is no guarantee of future performance. Consult a financial advisor or obtain your own advice independent of this site before relying and acting on the information provided.