Crypto Crimes –
Comprehensive Overview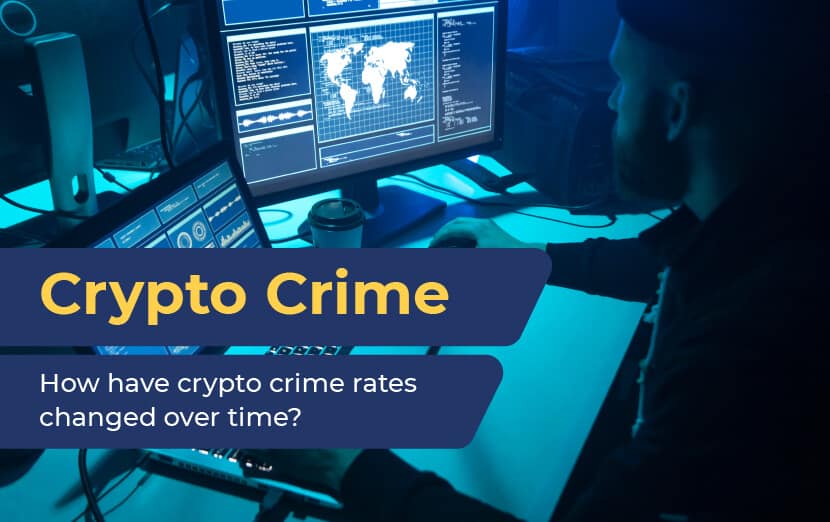 In 2021, we visited the topic of crypto crime, looking at the rates of reported crypto crime in Australia, the UK and the US. We discovered that as the popularity of trading in cryptocurrencies has increased worldwide, the level of crypto-related crime has also increased exponentially. Reports of crypto-related fraud and scams being run by criminals have been reported to authorities across the world, and as such, traders will have to be more aware of them.
Revisiting the issue of crypto crime in 2022, we wanted to find out how things have changed with another 12 months' worth of data to look at. Have crime rates continued to rise or are we becoming savvier when it comes to crypto scams and fraud?
Crypto crime in the United Kingdom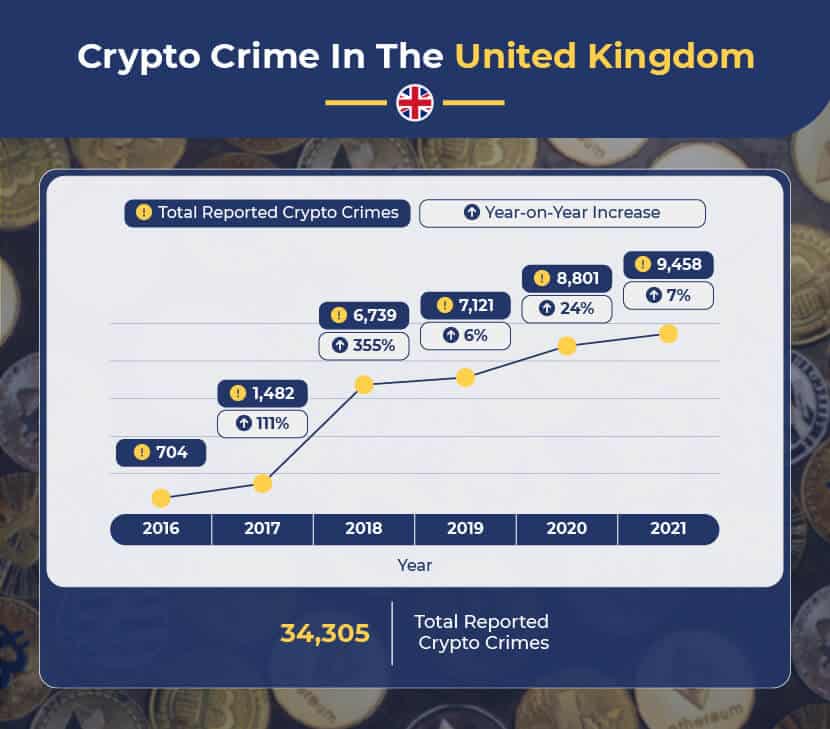 In 2016, there were just 704 crypto crimes reported but by 2020 this number shot up to 8,801, a massive total increase of 1,150%.
2021 saw another increase in crypto crime reports with a total of 9,458. While this increase of 1,243% since 2016 seems staggering, the year-on-year increase from 2020 to 2021 is considerably smaller than the 2019 to 2020 increase.
Reports of crypto crime stand at a six-year total of 34,305, showing that UK residents are falling foul of crypto crooks.

Not only were we able to find out the prevalence of crypto crime in the UK during 2021, but we were also able to discover more details relating to these crimes to give us a better picture of these incidents.
Crypto crime financial losses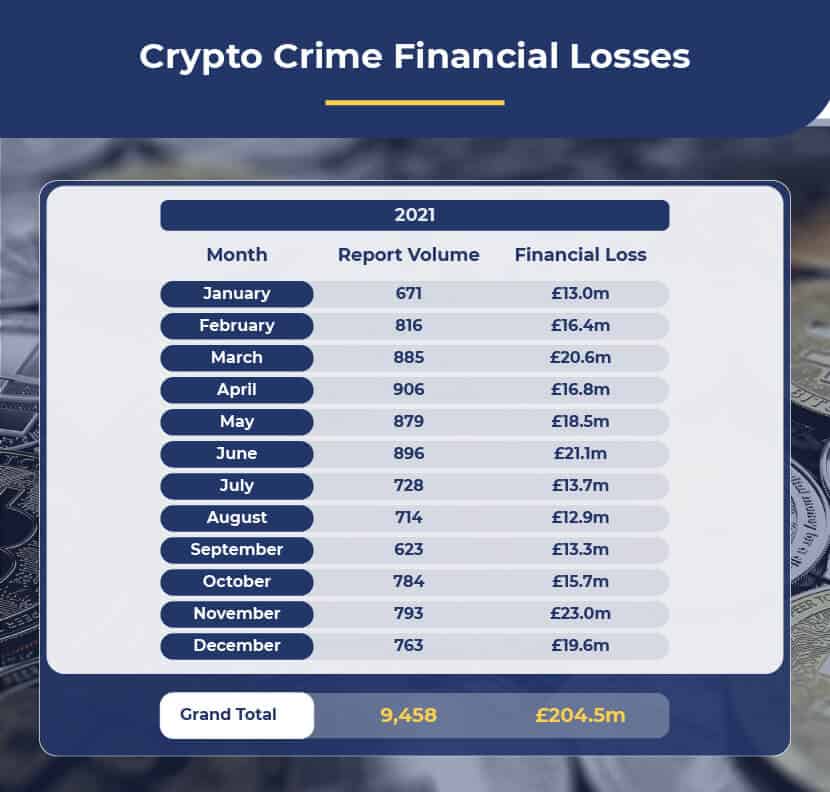 Over the course of just 12 months, UK crypto crime victims lost huge sums of money, totalling more than £204 million.
While April saw the highest volume of reports, November saw the largest financial loss. With reported losses of nearly £23 million across 793 reports, this equates to an average loss of £28,998 per report.
Crypto crime victims by age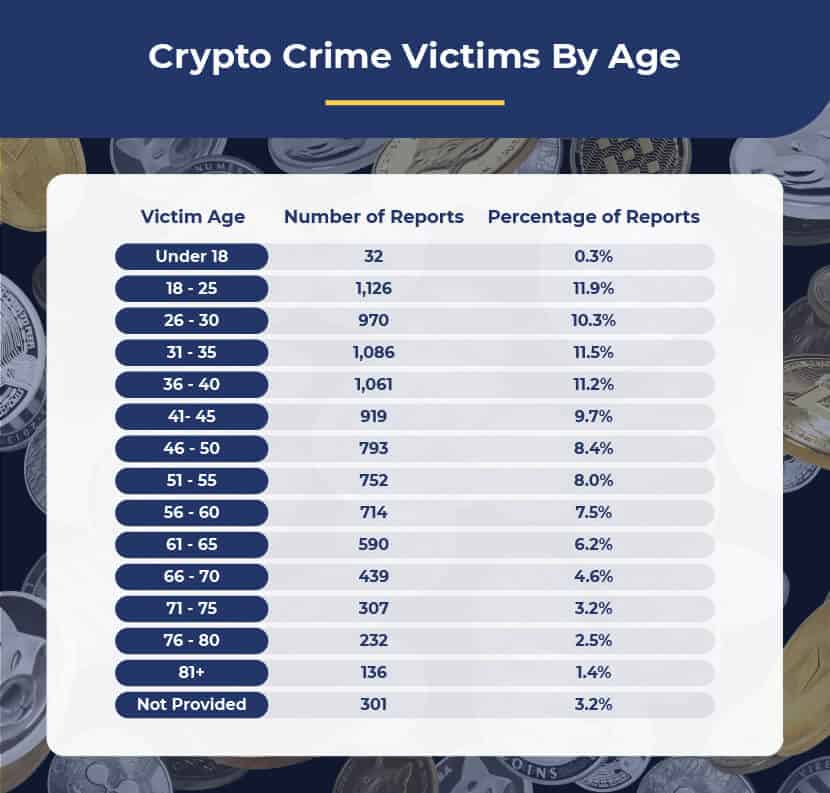 As crypto crime targets tech users, it is younger generations that tend to fall victim to these crimes. In fact, of the 9,458 victims in 2021, nearly 12% fell into the 18-25 age group. This is the most common age group to be targeted, followed by the 31-35 age group, accounting for 11.48% of 2021 victims.
Crypto crime victims by gender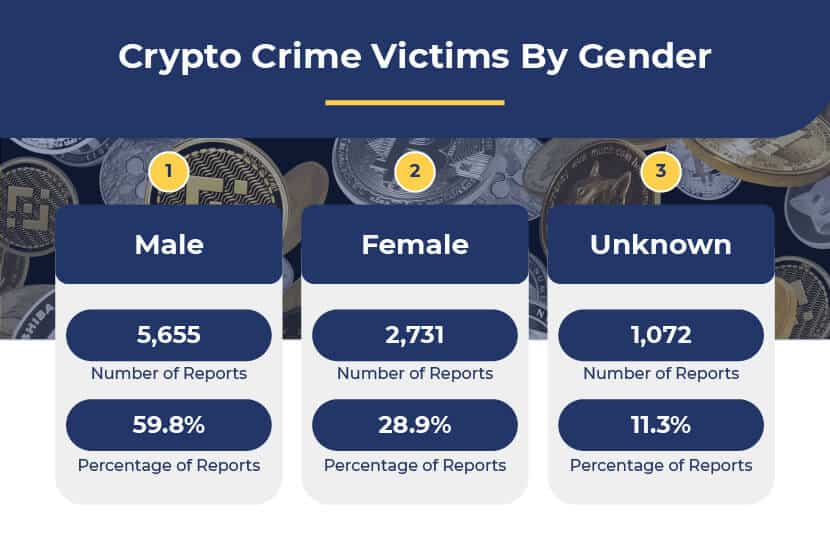 When we look at the gender of those who fall victim to crypto crimes, we can see that it is largely made up of men. It seems as though men are bigger adopters of crypto compared to women, so it follows that the proportion of crypto crime victims would also be weighted more towards men.
Crypto crime in Australia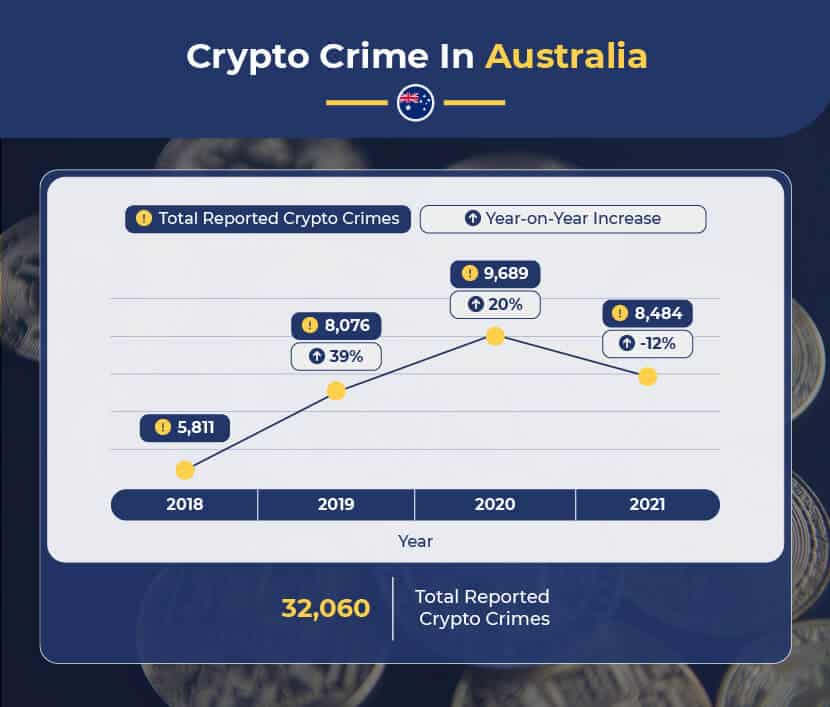 When looking at crypto crimes in Australia, data only goes back to 2018, so we are unable to compare to previous years. However, we can see that by 2020, reported crimes had already reached a total of 23,576.
While the total number of reported crypto crimes has increased in 2021 with an additional 8,484 crimes taking the grand total to 32,060, this actually shows a decrease in reports from 2020 to 2021.
In fact, 2021 saw a decrease of 12%, suggesting that either Australian residents were targeted less in 2021 or more potential victims are becoming savvy to scams and frauds.
Crypto crime in the US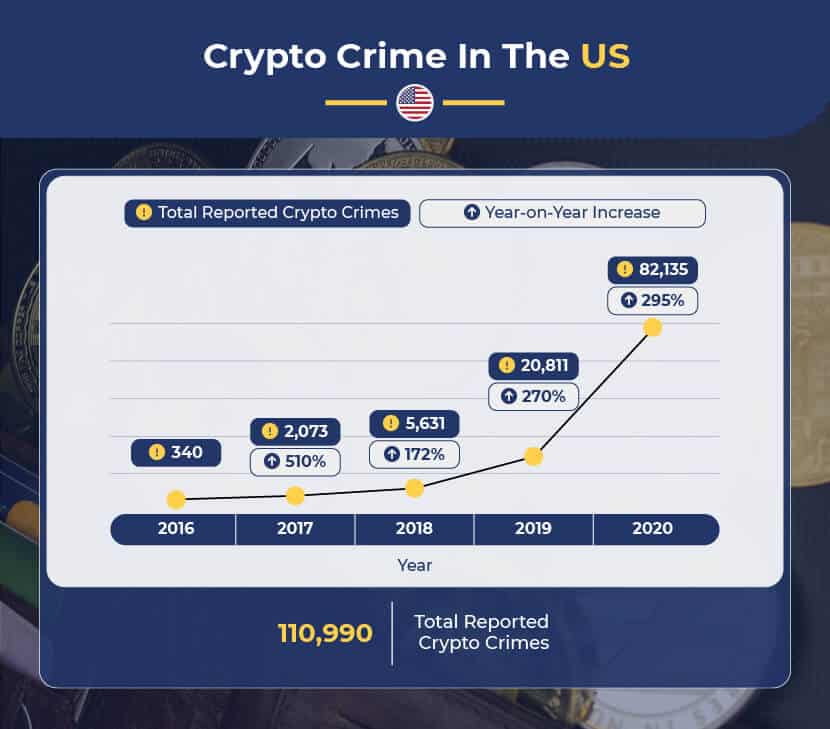 Unfortunately we were unable to obtain US data for reported crypto crimes in 2021. However, we know that between 2016 and 2020 there were 110,990 reported crypto crimes, with large year-on-year increases.
In fact, after just 340 crypto crimes were reported in 2016, the number rose by a massive 510% the following year with 2,073 in 2017. The next biggest increase happened from 2019 to 2020 when reports saw a huge increase of 295%, rising from 20,811 crimes in 2019 to 82,135 crimes in 2020.
Common Crypto Crimes
Crypto Scam Initial Coin Offering (ICO)
An ICO is when a cryptocurrency is offered to investors before it is launched in the market, but, when it's actually a scam, these ICOs could lose you all of your investment. Scammers will often lure people in with an ICO for a completely fabricated cryptocurrency, which will sometimes look very convincing with fake information taken from legitimate coin sites.
The main way to spot a scam ICO is by looking at the details – if it seems too good to be true then it probably is. By simply searching passages of the offering document on a search engine you can see if it has been lifted from another source.
The biggest ICO scams of all time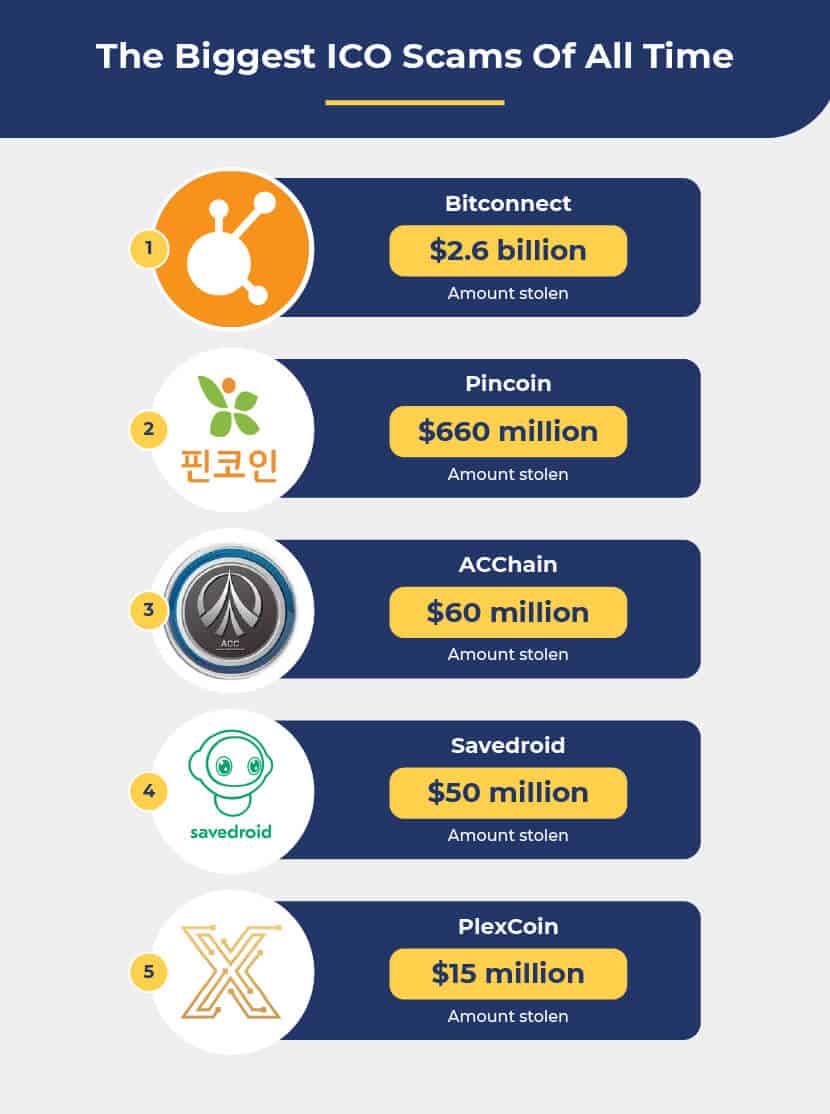 Bitconnect – $2.6 billion stolen
By far the biggest example of an ICO scam is that of Bitconnect, an open-source cryptocurrency that guaranteed investors 40% returns, but unfortunately turned out to be a Ponzi scheme that cost its investors an incredible $2.6 billion.
Pincoin – $660 million stolen
Another major scam that rocked investors was Pincoin, a Vietnamese cryptocurrency that raised about $660 million from 32,000 people. Rather than being paid back in cash, investors were rewarded with a new token called iFan, before the team behind Pincoin disappeared alongside all the invested money.
ACChain – $60 million stolen
ACChain was a highly promising ICO token created in Shenzhen, China, which managed to raise $60 million, but it quickly became clear that things weren't as they seemed when a picture of the ACChain headquarters leaked and turned out to be nothing more than an empty room. As you can imagine by that point, the company suddenly went very quiet, vanishing without a trace.
Savedroid – $50 million thought to be stolen
Savedroid is an interesting case, as at first glance it seemed like one of the most audacious ICO scams of all time, with founder Yassin Hankir posting an image of himself on a beach on social media with the caption "over and out", suggesting that he had fled with his investors' $50 million.
However, it appears that this was in fact a publicity stunt, but it still massively shook investor confidence and led to multiple lawsuits.
PlexCoin – $15 million stolen
The PlexCoin ICO scam was notable for the fact that it was shut down by the US Securities & Exchange Commission (SEC) and ordered to pay back much of the $15 million that it defrauded people of. The ICO initially promised people an incredible return of 1,354% which in hindsight probably should have seemed too good to be true.
Crypto Pump And Dump Schemes
A pump and dump scheme is a scam that has been around long before the cryptocurrency boom. It is where a small group of investors pump money into a low market capitalization. They then convince private investors to pump money in and create an artificial initial price jump. At this point, the initial investors sell their substantial shares in the company for a profit before the share price drops back down to its true value and leaves other investors out of profit.
In cryptocurrency pump and dump schemes, the same principle applies, apart from this time the investors artificially inflate the price of a low-value digital coin. To spot a pump and dump, often a coin will have risen a lot in value without any clear reason why. If it remains a mystery why the price is skyrocketing it is probably not a sound investment.
Crypto Theft
Cryptocurrency is not immune to old school theft, as although crypto wallets can be very protected, they are not completely secure.
Hackers can get into crypto wallets to directly steal your funds and they can also set up phoney crypto exchanges where you put your money believing it is legitimate, only to find your coins have been stolen.
To avoid this, make sure you do not trade on new exchanges without verifying their legitimacy and security and make sure you keep your cryptocurrency in an offline hardware wallet with a unique password that you change regularly.
The Most Common Funnels of Crypto Scams
Imposter websites
With so many new people getting involved with the world of cryptocurrency, there are lots of websites that claim to be able to offer tips on where to invest your money. While some tips websites are genuine, others will be completely fake and look very authentic, often telling you to pay money into an account that promises great returns and stealing this investment instead. Check for the padlock sign in your browser to ensure that the site is secure and always be careful if you get redirected to another site when it comes to processing payment.
Social media bots
You may also run into social media accounts offering great crypto investing opportunities, but the likes of Twitter and Facebook are rife with fake accounts and bots. The bots will post links to fake news articles, often accompanied by a celebrity endorsement to appear more convincing, telling people how much money they have made and what a great money-making opportunity it is. These fake articles often link to websites that tell you to invest in an account that ultimately steals your money. Never part with cash via social media and always remain vigilant when browsing social platforms.
Email
Scam emails have been around since well before cryptocurrency took off and have become increasingly sophisticated over the years. Try to verify that an email address is actually affiliated to the company that you think it is before transferring any funds and feel free to either reply to the email or reach out to someone else at the company to make sure that the email that you're dealing with is legitimate.
While the data shows that across the board cryptocurrency scams are on the rise, this shouldn't deter you from trading and investing. With sensible research, staying alert and using reliable platforms, scams and fraud are avoidable and if ever something appears too good to be true, check and check again.
Methodology
All crime statistics were sourced from Freedom of Information requests made to Action Fraud in the UK, Federal Trade Commission in the USA and the Australian Competition and Consumer Commission.
Note that these are only crimes which were reported to the above agencies and the actual numbers of offences could be higher, especially as such crimes are still relatively new and many are unaware of where to report them to.
Further information on scams was sourced from: https://constantinecannon.com/practice/whistleblower/whistleblower-types/financial-investment-fraud/cryptocurrency-fraud/
Disclaimer: Digital currencies and cryptocurrencies are volatile and can involve a lot of risk. Their prices and performance is very unpredictable and past performance is no guarantee of future performance. Consult a financial advisor or obtain your own advice independent of this site before relying and acting on the information provided.