How many crypto ads have been banned for breaching advertising guidelines?
Recently, the world of cryptocurrencies has seen an explosion in advertisements as companies attempt to broaden the appeal and understanding of crypto in the general public. For many years, cryptocurrencies have been seen as a complicated subject that makes little sense to people outside of the crypto community who don't have an astute understanding of blockchain technology.
Yet, this does not need to be the case, and most people agree that just about anyone should be able to get involved in trading crypto. After all, levelling the playing field is part of what cryptocurrencies and blockchain technology are all about. To this end, the recent advertising splurge can be seen as a good thing, educating people about the new opportunities this developing market presents.
While many of these promotions arguably help to answer common questions like how to buy crypto, the surge in advertising has caused alarm and concern among regulators and some members of the public. For example, unlike most investment options, crypto assets are not protected by the UK Financial Conduct Authority (FCA), though people unfamiliar with cryptocurrencies might see an advert and assume they are equally protected.
Celebrity endorsements have been raising crypto's profile
As the advertising race between competing crypto companies has picked up the pace, we've been seeing more and more celebrities brought in to promote crypto assets and different crypto exchanges. While these advertisements are not always well received, they never fail to stir up a conversation, thereby succeeding in spreading brand recognition and crypto awareness.
To illustrate just how prevalent celebrity endorsements of crypto products have become, take a look at the table below which shows some of the more high-profile celebs who've jumped on the advertising gravy train.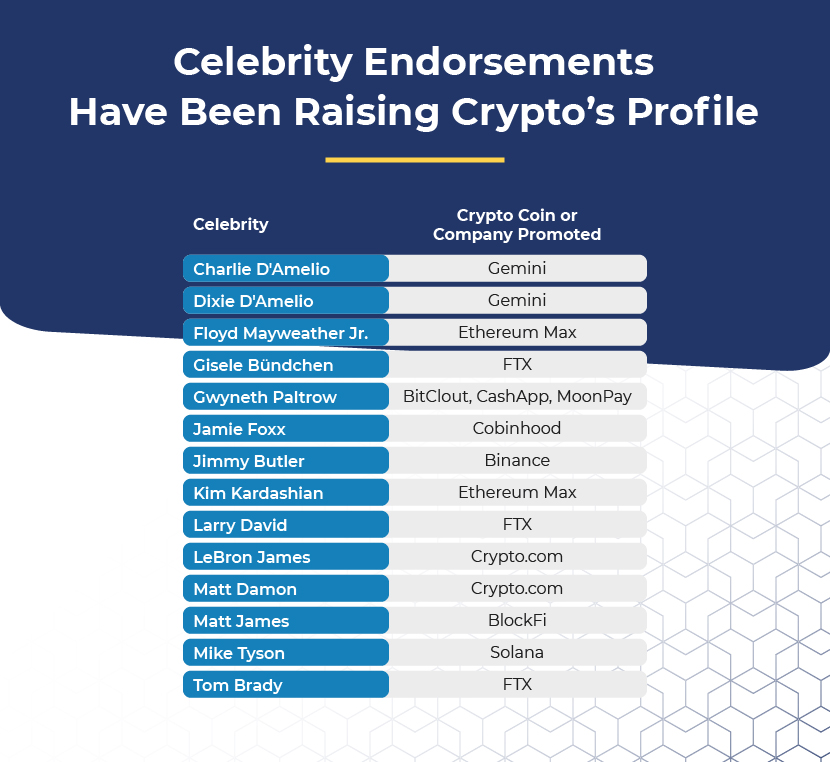 Most recently, the 2022 Super Bowl featured four separate crypto adverts, two of which starred high-profile celebrities. Crypto exchange FTX teamed up with comedy legend Larry David to promote their trading platform, though this was met with mixed reactions, especially among die-hard Larry David fans who asked the question "What does Larry David know about crypto?" However, this seems to be the whole point of the ad, with Larry playing characters throughout history who said no to the next big thing.
Then there was NBA superstar LeBron James whose Super Bowl advert for Crypto.com saw him hanging out with his younger self, encouraging him to go for it and chase his dreams before revealing the slogan "Fortune favors the brave". This was relatively well-received, especially compared to Crypto.com's previous advert from October 2021 which featured Matt Damon comparing some of the greatest achievements in human history with investing in crypto. This former advert was widely panned, even being ridiculed in a recent episode of South Park, so LeBron's version seems to have been a good recovery for Crypto.com.
However, the controversy in using celebrities to endorse crypto products is not limited to personal taste. Kim Kardashian's recent promotion of Ethereum Max, which is not linked to Ethereum in any way, is just one example of many irresponsible actions that do the wider industry a discredit. Months after being promoted on her social media channels, Ethereum Max had lost 97% of its value and now Kim Kardashian is being sued for misleading investors along with other involved celebs such as Floyd Merryweather Jr. and the currency's creators.
This unfortunate incident struck a nerve with the head of the UK's Advertising Standards Authority (ASA), Charles Randell, who criticised Kim Kardashian's actions, accusing her of promoting "a speculative digital token created a month before by unknown developers". Randell added that Kim's Instagram post was possibly the "financial promotion with the single biggest audience reach in history", going on to decry the actions of influencers fuelling the "delusions of quick riches".
In fact, the boom in crypto advertising in the UK was of such concern to the ASA that they released a statement in November 2021 whereby they announced a concerted effort to get these ads under control and properly regulated. This led to a sudden spurt of crypto ads being taken down for breaches of advertising codes which has continued into 2022. Through these rulings, the ASA hopes to create clarity and their expectations of crypto ads so they can responsibly market their products to potential investors while preventing illegitimate scam ads from slipping through the gaps.
Banned crypto ads
The majority of crypto advertisements are responsibly made and do not put any vulnerable members of the public at risk of unwittingly losing their money. However, as regulators such as the ASA try to get to grips with the requirements for adverts in this new industry, an increasing number have been falling foul of established regulations.
In this section we will highlight every crypto advertisement that has been banned in the UK by the Advertising Standards Authority, beginning with the most recently prescribed.
Ziglu Total advertising code breaches: 6
Ban date: 09/03/22

The most recently banned crypto ad in the UK was for Ziglu, a cryptocurrency trading platform. This ad was a digital poster with headline text that read "Scotland, your capital is at risk", which was accompanied by an image of a search bar containing the text "ziglu.io/capital".
The ad was found to breach advertising standards in a total of 6 different ways. The phrase "Scotland, your capital is at risk" was found to be harmful as it could cause undue stress to people who thought this message meant their money was not safe. The ad's suggestion of going to the Ziglu website was also an issue, as it implied the use of Ziglu would be a safer way if investing your money. However, as cryptocurrencies are unregulated this was clearly not the case.
Floki Inu Total advertising code breaches: 4
Ban date: 02/03/22

This banned crypto ad was for the new meme coin Floki Inu, named for Elon Musk's pet dog and an apparent alternative to the popular Dogecoin token.
This ad had an image of a cartoon dog wearing a Viking helmet with text saying "MISSED DOGE. GET FLOKI". This ad was found to have failed the social responsibility test, as the call to action played on people's fear of missing out by implying that they had to invest now to make the same profits that investors experienced with Dogecoin, while also trivialising the purchase of cryptocurrency by using a comic cartoon character.
The advertisement also took advantage of consumers' inexperience or credulity by not making clear that profits from cryptocurrency trading may be subject to capital gains tax (CGT). These combined factors led this ad to be banned at the beginning of March 2022.
Crypto.com Total advertising code breaches: 13
Ban date: 05/01/22
This ban refers to two separate advertisements for trading platform Crypto.com seen on the Daily Mail app and the Love Balls app. These ads initially fell foul of regulators because they did not state that cryptocurrencies were not regulated in the UK and that values could go down as well as up. This was an issue as they were placed on apps where the audience is not necessarily going to be informed about crypto.
The omission of information regarding CGT was also an issue for regulators, as was the statement "Buy Bitcoin with credit card instantly", as crypto purchases on a credit card could be subject to higher cash interest rates, could be subject to advance fees, and may impact your credit rating which would affect your future borrowing ability.
One of the ads also claimed that investors could "Earn up to 3.5% p.a" which increased to "Earn up to 8.5% p.a". The issue here is that no information was given for the type or length of crypto investment required to make these profits, while there was also no evidence that 8.5% would be paid. This meant the advert also breached the codes of misleading advertising, substantiation and financial products.
Arsenal F.C. Total advertising code breaches: 9
Ban date: 22/12/21

Premier League football club Arsenal has also broken advertising regulations for two adverts promoting the Arsenal Fan Token, the sports team's recent foray into the world of crypto. These ads were banned because they did not both make it clear to the audience that they would need to make an account on sports crypto app Socios, or that they would need to purchase these tokens using another cryptocurrency.
Regulators also found that these advertisements did not adequately inform potential investors of the risks of investing in crypto, that they are an unregulated asset, or that CGT may be payable on any profits.
Skrill Total advertising code breaches: 6
Ban date: 22/12/21

The ASA took issue with a paid-for Reddit advertisement for wallet and money-transfer service Skrill. This advert featured text that included the lines "Want to try crypto risk-fee?" and "Want to try making a profit on crypto without risking your money? Sign up now and give crypto a go, for free. If the value goes up the profits are yours to keep.", both of which were troublesome for the regulator.
The ASA argued that while these comments about "risk-free" investments in crypto were made because of Skrill's promotion, they also implied that investing in cryptocurrencies was simple, rather than a complex decision. The advert was deemed to be irresponsible in its over-simplification of crypto investing and failure to mention that crypto investments can fall in value as well as increase. The ad was also judged to be misleading due to its omission of information about crypto being an unregulated asset.
Coinbase Total advertising code breaches: 12
Ban date: 15/12/21

This paid-for Facebook ad was found to have breached the ASA's advertising code a total of 12 times, making it the second highest-offending advert in our list. For instance, the line of text that read "£5 in #Bitcoin in 2010 would be worth over £100,000 in January 2021. Don't miss out on the next decade – get started on Coinbase today" was deemed misleading as it suggested that the growth seen by Bitcoin was indicative of future levels, which could not be proven.
Also, text saying "Buy Bitcoin in 5 minutes with as little as £25" and "Simple and easy to use" was found to be irresponsible and inappropriate for the marketing of financial products. The ASA claimed this oversimplified the act of investing in crypto, suggesting that it was not a complex and sophisticated investment where values can fall as easily as they rise, while also failing to mention that CGT would be due on any profits.
Another point that was particularly challenging for the ASA was that Coinbase included the text "Unregulated" in a list of bullet points under the header "The Competition", which implied that investing in cryptocurrency would be a regulated activity with Coinbase, which is not the case.
Luno Money Total advertising code breaches: 9
Ban date: 15/12/21

This ban relates to an in-app ad for cryptocurrency exchange service Luno which appeared on the Daily Mail Online app and stated "Invest in crypto for as little as £1".
The ad was deemed to be misleading as there was no mention that you would need to pay fees in order to trade cryptocurrencies, while also failing to warn consumers of the risks of crypto trading such as the potential for losses or the fact that crypto investments are not regulated.
The ASA also found this ad to be taking advantage of consumers' inexperience or credulity by suggesting that investing in cryptocurrency was simple and by failing to mention that CGT would be due on any profits.
Coinburp Total advertising code breaches: 6
Ban date: 15/12/21

Coinburp, a cryptocurrency trading platform, fell foul of the ASA due to a Twitter page that included a bio section which stated "Register in minutes, deposit instantly, then make super-easy and secure crypto trades".
This advert was found to be socially irresponsible and misleading for its suggestion that trading crypto was "super-easy", with its reference to "secure crypto trades" not including any information about crypto being an unregulated asset. The ad also failed to mention that CGT would be due on any profits and implied that crypto trading was a simple process that was suitable for anyone regardless of their financial situation.
eToro Total advertising code breaches: 6
Ban date: 15/12/21

This banned advert for eToro included text which stated "Invest in the world's top crypto's with one click" and "Discover eToro's unique BitcoinWorldwide offering, a ready-made portfolio, holding the world's leading cryptoassets". The ASA took issue with the suggestion of investing with "one click" as it oversimplified the complex nature of crypto investing.
The regulator also found the advertisement to be in breach of the rules by not referencing CGT, the fact that investments can go down as well as up, and portraying crypto investments as suitable for everyone regardless of their financial background.
Exmo Exchange Total advertising code breaches: 6
Ban date: 15/12/21

This ban refers to the text in a description of a video on the "Wingin' It!" Paul Lucas' YouTube channel that included statements like "Download EXMO now and save LOADS on trading commissions!", "EXMO is a great place to start your trading journey", and references to the "nice clear simple trade tab".
As the advertisement was featured on what is primarily a travel and transport channel, the audience could not be presumed to know anything about crypto. Therefore, the advertisement should have included information about crypto investments being unregulated and that they can go down in value as well as up. The ad was also deemed irresponsible as it targeted people with little or no prior knowledge of crypto trading and failed to mention its complexity or that CGT would be due on any profits.
Payward / Kraken Total advertising code breaches: 6
Ban date: 15/12/21

The ad in question was a digital poster in London Bridge station which advertised the Kraken crypto exchange. While this ad did include a warning about the risks involved in trading crypto, it was only visible for the first second of a total 20 seconds, which was deemed insufficient warning for consumers who would likely only see a fraction of the advertisement as they passed.
The ASA also found this advert to be trivialising crypto trading with lines such as "Buy 50+ crypto in minutes" and "Get started with as little as £10", which made it seem like a simple process that is suitable for everyone.
Papa John's & Luno Money Total advertising code breaches: 2
Ban date: 15/12/21

This banned ad was a promotion run by Papa John's whereby customers would receive Bitcoin for purchasing pizzas. This promotion was designed to reference the first purchase made with Bitcoin, which saw someone use the cryptocurrency to buy pizzas from Papa John's.
The ASA took issue with what they considered to be a complex investment being trivialised to an audience that could not be assumed to have any prior knowledge of crypto investing, while also including no warnings about the risks of investing in crypto.
Luno Money Total advertising code breaches: 5
Ban date: 26/05/21

Another ad for Luno Money that was banned by the ASA consisted of posters seen across the London Underground and London Buses networks featuring a cartoon image of a Bitcoin with text that stated "If you're seeing Bitcoin on the Underground, it's time to buy".
This was found to be a misleading promotion as it appeared in untargeted media and those who saw it may have no experience or knowledge of crypto trading, and would therefore be unaware of the risks involved. The ad made no mention of the fact that crypto trading was unregulated and didn't make its audience aware that investments could fall in value.
Coinfloor Total advertising code breaches: 7
Ban date: 17/03/21

This regional press ad was seen in the Northamptonshire Telegraph and was titled "There is no point in keeping your money in the bank…". It featured the image and name of a woman, aged 63, along with lines of text that included "Today there is no point keeping it in the bank", "when I received my pension, I put a third of it into gold, a third of it into silver and the remainder into Bitcoin", and "Bitcoin is digital gold and it has allowed me to take the steps to secure the cash I already have".
The ASA found that the overall message of the ad was that buying Bitcoin represented a secure investment and that this implied crypto investing was just as regulated as any other financial transaction. The ad directly compared investing savings in Bitcoin with the use of regulated services, discouraging consumers from placing their money in banks, leading it to be labelled as misleading and receiving a ban.
Fortune Academy Total advertising code breaches: 4
Ban date: 13/11/19

The advert for financial training provider Fortune Academy, which promoted their cryptocurrency course, featured a video accompanied with text saying "Habib has helped 700 students in 2017 create a wealth of £2.5 million amongst them!" and "WATCH THE VIDEO ABOVE TO SEE HOW HABIB, OUR CRYPTO TRAINER CAN HELP YOU WITH THIS LUCRATIVE INDUSTRY!".
This ad received a complaint that challenged if these claims about potential returns from the course were misleading and whether the quoted figures could be substantiated. Fortune Academy did not respond to the ASA's enquiries and was found to have breached the rules on misleading advertising and substantiation as there was no evidence to support the advert's claims.
HDR Global Trading / BitMEX Total advertising code breaches: 4
Ban date: 14/08/19

This was a newspaper ad for cryptocurrency trading platform BitMEX which showed a graph spread across two pages showing dates between January 2009 and January 2019. This graph depicted a sudden rise in the value of Bitcoin after July 2010, with a highest value of $10,000 between July 2017 and January 2018. The accompanying text referenced the rise in the value of Bitcoin since the first block was mined in January 2009.
This prompted numerous complaints, some of which claimed the ad exaggerated the potential return on investment, while others believed it failed to highlight the risk of investing. The changing scale on the graph was deemed to be too complex for an untargeted audience who could not be presumed to accurately dissect the information presented, while the image as a whole suggested a steady rise in the price of Bitcoin, ignoring its inherent volatility.
Additional text including the phrases "the Bitcoin protocol appears robust" and "Bitcoin's still got a chance at glory" was seen as promoting Bitcoin investment and was not properly qualified with warnings of the associated risks. The ad was banned for being misleading and exaggerating gains from Bitcoin trading.
Inside Access LLC / Cryptobank Total advertising code breaches: 5
Ban date: 10/10/18

An ad for cryptocurrency investment firm Cryptobank carried the text "bitcoin to hit £30,000 in 2018! FREE CENTRAL LONDON SEMINAR … There are more millionaire's [sic] being made from Bitcoin faster than anything in history. DON'T miss your chance AGAIN! Come to our FREE London Seminar and learn how you can make money in Bitcoin".
Understandably, the ASA took issue with some of the claims made in this advertisement when a complaint was made by Barclays Corporate Banking challenging whether the claim "bitcoin to hit £30,000 in 2018" was misleading, as well as challenging the lack of information about Bitcoin being an unregulated product. Both of these claims were upheld by the ASA and the advert was banned.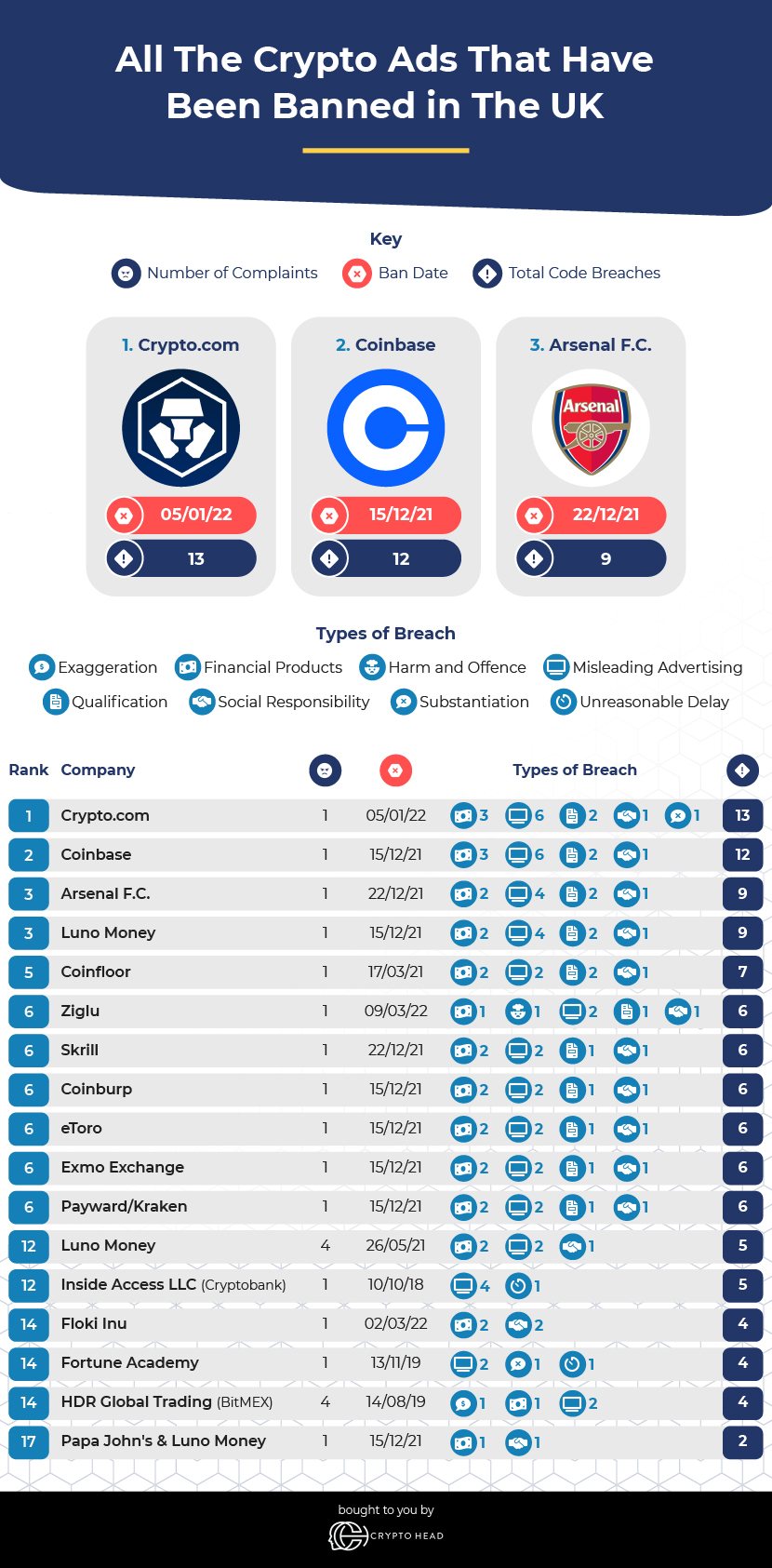 The most common types of advertising code breaches
Having looked at all of the crypto advertising bans in the UK so far, we can assess which types of advertising breaches are the most common.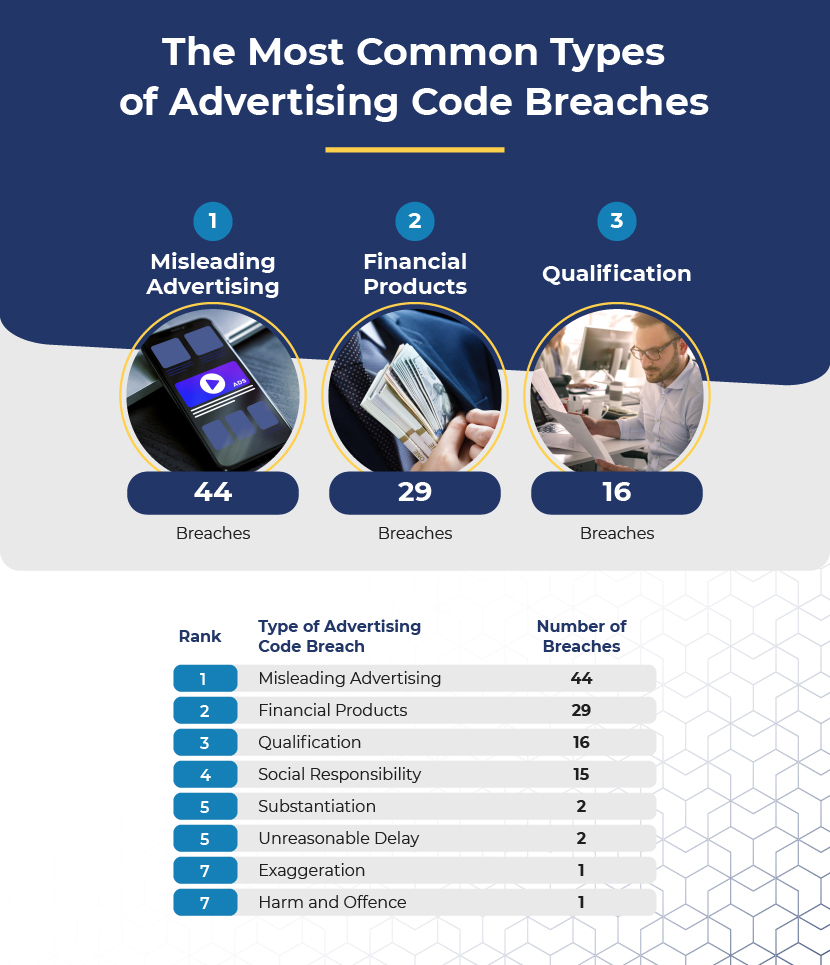 Misleading Advertising Number of Breaches: 44
Misleading advertising is the most common form of breach of advertising rules when it comes to crypto, with 44 separate instances recorded in the UK so far. This terminology refers to instances where an advertisement misleads the viewer by either suggesting things that are untrue, or leaving out information that is crucial in order for the viewer to form a balanced opinion.
Financial Products Number of Breaches: 29
The second most common breach is for rules surrounding the advertising of financial products, for which there were 29 separate violations. There are many rules already in place to regulate the advertising of financial products which can in turn be applied to cryptocurrencies. A very frequently-occurring example of this is that many of these crypto ads failed to mention the tax implications of investing in crypto, which is a breach of regulations as profits may be subject to capital gains tax (CGT).
Qualification Number of Breaches: 16
The form of ad breach with the third highest count is qualification, whereby marketing materials must state any significant limitations or qualifications to the claims or implications made in the promotion. So far there have been 16 occasions where this rule was broken.
Methodology
We wanted to understand some of the issues that crypto advertising is facing as it becomes more widespread. We considered the rise in celebrity endorsements, picking out some of the more recent high-profile celebs who have caused a stir with their promotions and paired it with research into crypto ads banned in the UK.
For the information on banned UK crypto ads, we used data from the Advertising Standards Authority (ASA), which documents all of the ads banned in the UK. By searching their database for crypto-related terminology, we extracted data for all of the relevant bans, creating a comprehensive list which we then explored in more detail.
Disclaimer: Digital currencies and cryptocurrencies are volatile and can involve a lot of risk. Their prices and performance is very unpredictable and past performance is no guarantee of future performance. Consult a financial advisor or obtain your own advice independent of this site before relying and acting on the information provided.