Disclaimer: We may receive a commission for purchases made through the links on our site. However, this does not impact our reviews and comparisons. Learn more about our Affiliate Disclosure.
Traders keeping an eye on Bitcoin's price fluctuations throughout the years know how frequently the coin moves in and out of its upward and downward trajectories.
When Bitcoin was released to the public, at the start of 2009, most traders took a skeptical approach towards its success. The thought of digitizing money was attractive to them, but not everyone dared risk and invest. Needless to say, those who took the plunge and invested in this coin when it was worth less than one US dollar, now reap the fruits of their unerring intuition.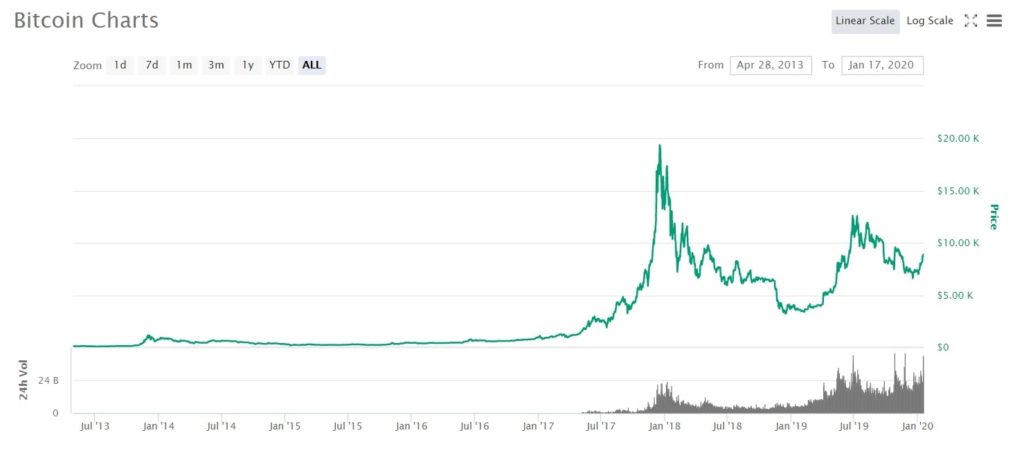 Bitcoin had been experiencing a steady growth until the end of 2017 when, suddenly, its price skyrocketed to an unbelievable $20,000 for 1 BTC after oscillating between $1,000 and $3,000 for half a year. It was an unprecedented surge of almost 2,000%! Unfortunately, due to a lack of real-world usage and a lot of betting against its price, Bitcoin began a downward spiral and went back to just over $3,000 by the end of 2018, only to raise itself from the ashes and climb back to its current value of $8,800.
This has been both beneficial and detrimental to Bitcoin's popularity. There's an increasing number of traders who are convinced that the asset is a bubble waiting to burst out and harm those holding onto it. Interestingly enough, Bitcoin keeps proving the exact opposite. This makes us wonder, why does it continue to rise both in price and mainstream usage?
Holding Onto Bitcoin
It's true that more and more businesses and industries are opening their doors for Bitcoin. At the same time, only a tiny fraction of these coins are actually used for day to day purchases.
A report from Chainalysis, a leading blockchain analysis company, shows that the largest group of bitcoin users are the long-term investors, known as "holders", who make up 30%, and the speculators, who come up to 23% of all users. This proves that despite the criticism, Bitcoin is still seen as a profitable investment.
Bitcoin's Halving
Another reason for Bitcoin's rise may be the halving that will take place in May this year.
When Bitcoin was launched, the mining reward was set at 50 BTC for verifying one block. Every four years, however, the reward is being halved. In just a few months' time, miners will earn only 6.25 BTC per block.
The key to Bitcoin's success is precisely this halving and the fact that there's a hard cap on the supply limit set at 21 million bitcoins. It means that with people applying more use cases to the coin, there will be higher demand and, in turn, higher scarcity. By rule of thumb, higher scarcity results in an increase in the asset's value.
Increased Institutional Involvement
Institutional investors were initially unwilling to join the Bitcoin train. For them, the crypto world seemed all too volatile and uncertain. However, they can no longer turn a blind eye to Bitcoin's widespread acceptance and profitability. After all, if the risk is higher, the potential reward would be higher too.
That's why in September 2019, the Intercontinental Exchange (ICE) released a platform for physically delivered Bitcoin Futures contracts called Bakkt. The company has received a license from the New York State Department of Financial Services (NYDFS) and offers a way for institutional traders to enter the crypto market.
Final Words
During the ten years that Bitcoin has been with us, the coin has transformed our outdated financial system so that it's tuned in with the latest advances in technology. It has paved the way for the digitalization of the economy and has brought back the power of controlling one's finances back to the consumers themselves. Even though it prompted the emergence of a number of cryptocurrencies, it still has the privilege of being the first digital coin both in terms of its value and market capitalization.
Disclaimer: Digital currencies and cryptocurrencies are volatile and can involve a lot of risk. Their prices and performance is very unpredictable and past performance is no guarantee of future performance. Consult a financial advisor or obtain your own advice independent of this site before relying and acting on the information provided.