Cryptocurrency Growth Statistics
There are a number of reasons why cryptocurrencies are becoming increasingly popular around the world, not only with giant investors and venture capital firms but with the general public as well.
The heightened distrust in the traditional financial system and the exclusive power that financial institutions have over consumer funds are just some of the reasons. There's also the high inflation rates, unstable economies, and lack of privacy. Not to mention the impractical cross-border payment system.
This guide looks into the hows and whys of the crypto market development and gives you an overview of the most important cryptocurrency growth statistics.
Cryptocurrency Wallet Growth 2019
The growing demand for crypto wallets indicates that the number of crypto-traders has been going up in recent years.
According to Statista, at the end of 2016, there were almost 11 million blockchain wallets available across various providers worldwide. In 2019, that number had climbed to over 40 million wallets.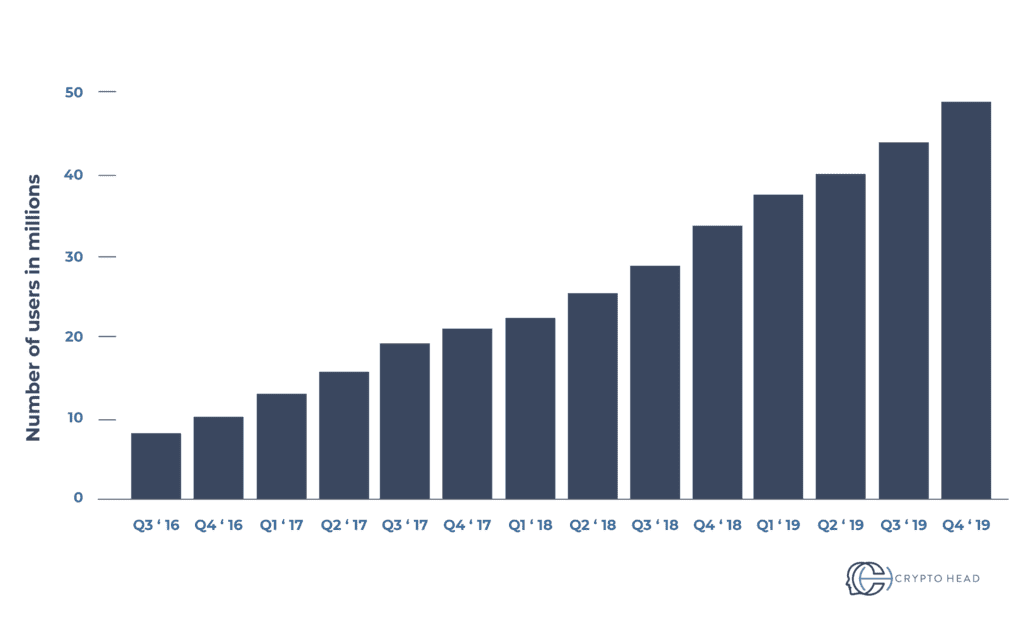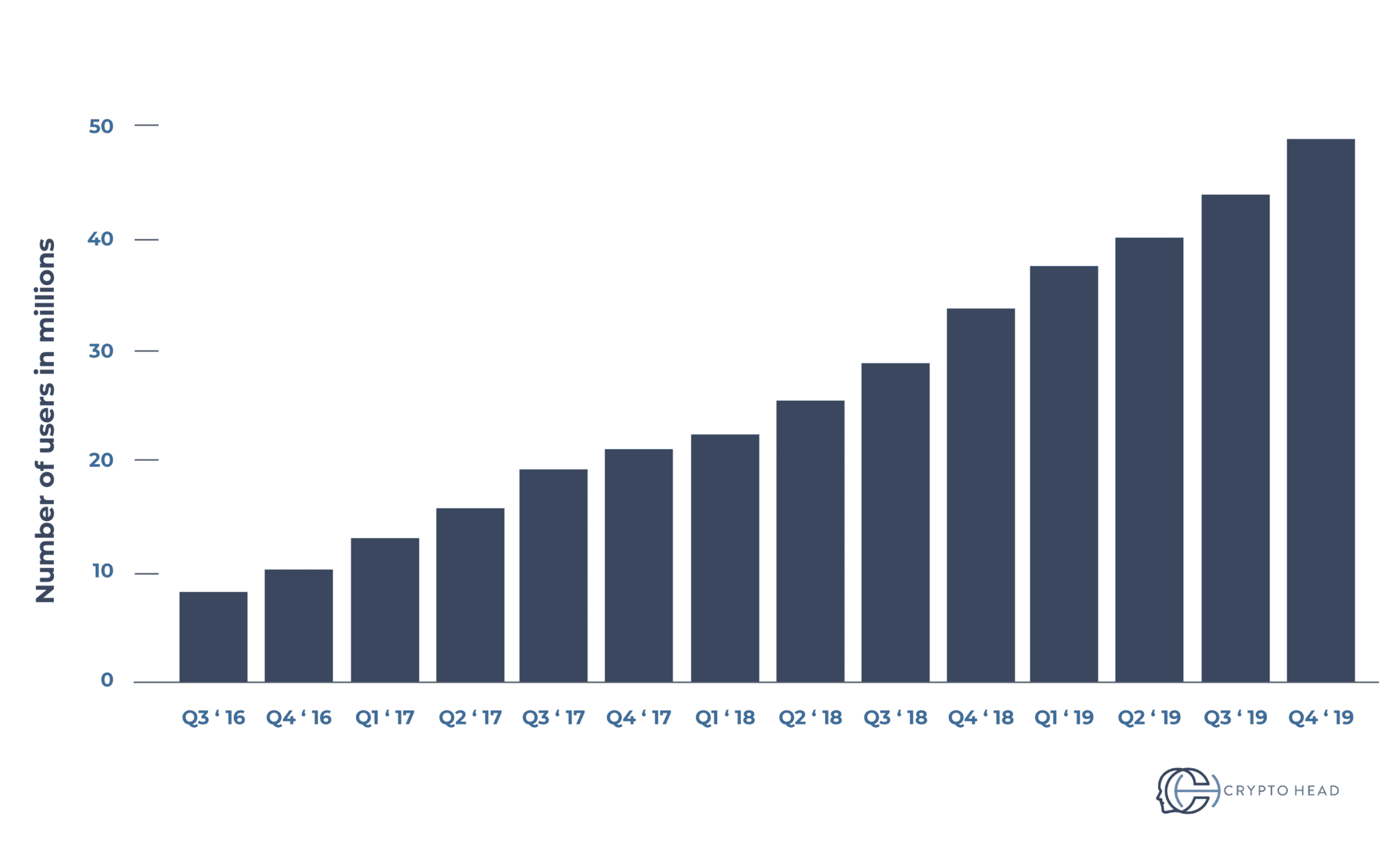 Number of Blockchain wallet users worldwide from 3rd quarter 2016 to 4th quarter of 2019 (in millions). Statista.
This graph only shows the wallets created by Blockchain.com, a renown wallet provider which supports major cryptocurrencies like Bitcoin (BTC) and Bitcoin Cash (BCH). If we look at their official data, as of April 2020, the number of blockchain wallets amounts to 47 million!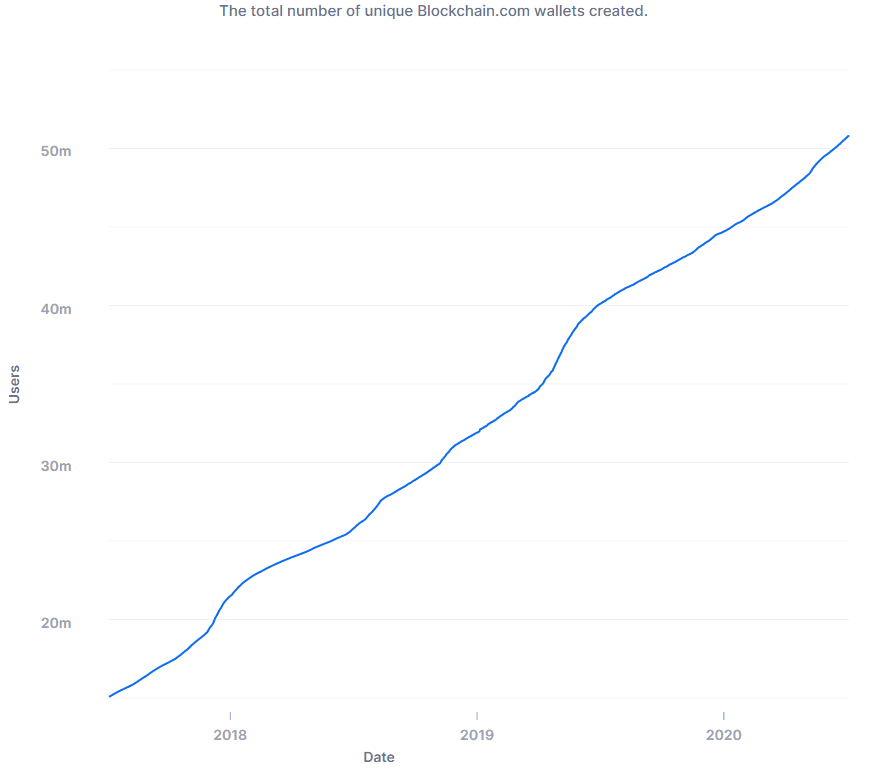 The total number of unique Blockchain.com wallets created. Blockchain.com.
While it's hard to estimate the exact number of crypto wallets across the globe, these graphs can give us some insights into the nature of the crypto market itself.
For example, at the end of 2017, there was a slight surge in the demand for digital wallets which coincides with the price fluctuations of the most popular cryptocurrency, Bitcoin. Namely, in December 2017, Bitcoin hit its all-time high of $19,89!
Cryptocurrency Adoption by Country
Since 2017, Statista has been conducting an annual Global Consumer Survey that covers a broad scope of trend topics ranging from finance, travel, gaming, health, gender, smartphone brands, etc. It's like an online analysis tool that people can use in their own research.
Statista has collected data from around 400,000 consumers from 46 countries, and found the following results in regards to the use of cryptocurrencies: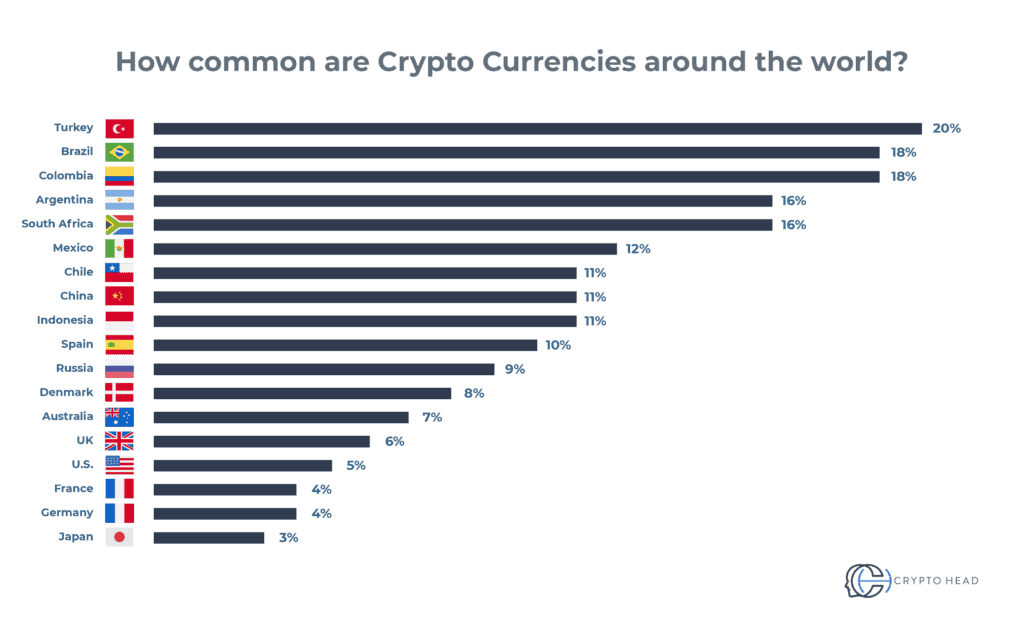 Global Consumer Survey, Update 2019. Statista.
The main reason for the wide adoption of cryptocurrencies in Turkey has been the unexpected devaluation of their native fiat currency, the Turkish Lira. This has resulted in a sudden major investment in Bitcoin, especially by young people aged 20-25. It remains to be seen whether Bitcoin can be a long term solution for the foreseen collapse of their financial system.
Next comes Brazil, a country that has turned to crypto in an age of increased government corruption and high inflation rates. It's a market that we should keep a close eye on, especially since Brazil is the fifth largest country in the world.
However, what about the general awareness about the use of cryptocurrency in the world? A survey by Dalia Research from 2018, shows an encouraging upward trend: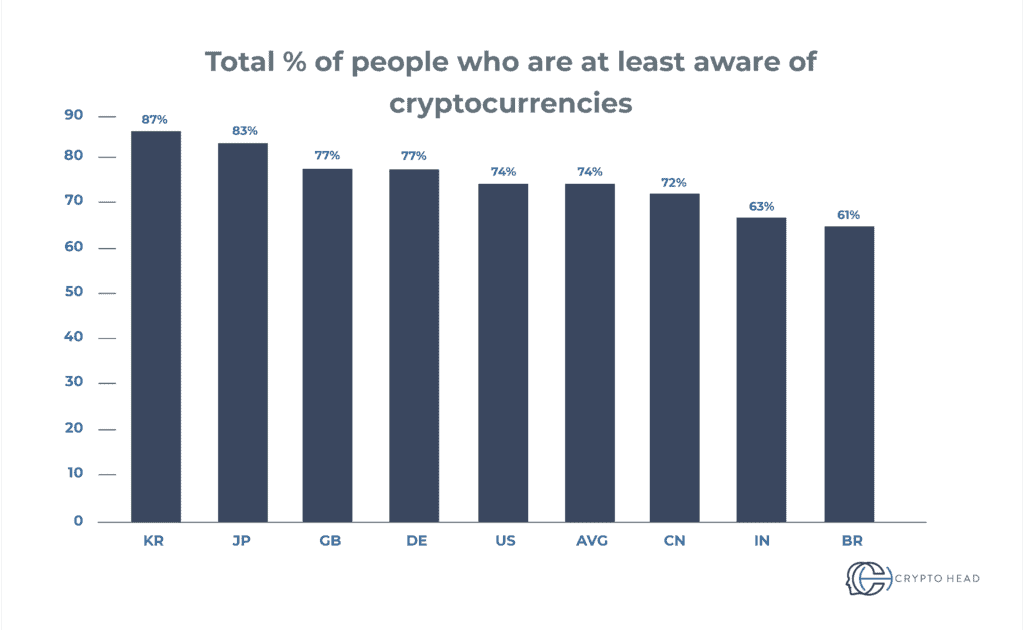 The results shown are based on a survey of 29,492 internet-connected respondents from the US, the UK, Germany, Brazil, Japan, South Korea, China and India conducted by Dalia Research in March 2018. DaliaResearch.
Quick Cryptocurrency Growth Statistics & Facts:
General Facts About Cryptocurrency
You can choose from more than 5,000 cryptocurrencies and digital tokens online.

Source: CoinMarketCap

Reliable crypto websites estimate that there are approximately 5,000 different cryptocurrencies available for trading on the market. This number includes popular cryptocurrencies, altcoins, obscure tokens, utility and security tokens, etc.

In 2017, the cumulative cryptocurrency market capitalization exceeded $566 billion, which was over 30 times more than the market cap in 2016.

Source: Statista

Unlike typical market capitalization, crypto analysts calculated the capitalization of the crypto market by multiplying the number of cryptocurrencies on the market by their prices which gives them a better overview of the size of the market. The biggest leap in market cap took place in 2017 when the cumulative sum jumped from around $18 billion to $566 billion in just one year!

The ten most popular and lucrative cryptocurrencies account for 80% of the total crypto market value.

Source: Finivi

Out of the cumulative crypto market capitalization, over 80% belongs to the ten most popular cryptocurrencies with the highest trading volumes and individual market cap. The top ten digital coins are Bitcoin (BTC), Ethereum (ETH), XRP (XRP), Tether (USDT), Bitcoin Cash (BCH), Litecoin (LTC), EOS (EOS), Binance Coin (BNB), Bitcoin SV (BSV) and Tezos (XTZ). This means that they represent the best stores of value and long-term investments according to users' choice.

The majority of cryptocurrency owners buy the coins instead of mining them.

Source: Leftronic

When Bitcoin was launched, the small circle of Bitcoin enthusiasts used to mine the coins themselves rather than buy them online. As crypto exchanges were becoming more popular and the mining difficulty was increasing, traders realized that buying cryptos from popular online platforms was much faster and cheaper. That's why, as a recent study shows, 78.95% of crypto owners are buyers instead of miners.

It's possible for altcoins to experience incredible rises in price in the course of one day only.

Source: Finder

Aeron (ARN) is a revolutionary cryptocurrency that focuses on keeping aviation data secure using blockchain technology. The platform collects and verifies the data from aircraft operators. The interest in this project has resulted in a major surge in price in 2018. The price of ARN increased by more than 337% in just a 24-hour span! This speaks volumes on the unpredictability of the crypto market.

Central banks are making progress in launching their digital currencies.

Source: In The Black

Central banks around the world are weighing the advantages of launching central bank digital currencies (CBDCs) that would become an alternative for cash or supplant fiat currencies completely. CBDCs will come in very handy in making cross-border payments easier and cheaper because third-party intermediaries will be completely unnecessary. However, these coins will be fully centralized and governed which some argue goes against the main values of cryptocurrencies.
Cryptocurrency Influence in Various Countries
Slovenia and Nigeria come first by the number of searches on the word 'cryptocurrency'.

Source: Google Trends

Data from Google Trends shows the following top five countries by the number of searches on the word 'cryptocurrency': Slovenia (100), Nigeria (100), Singapore (97), Uganda (82), and Australia (82). This app is a great way to check the popularity of a target word or phrase across the globe within a given time frame. Locations are ranked on a scale from 0 to 100, from highest to lowest number of searches. A value of 0 indicates that there was limited data for that country.

Turkey has the world's highest cryptocurrency adoption rate.

Source: Bitcoinlist

Many people would find it hard to believe that Turkey is the leader in cryptocurrency adoption with an incredible 20% rate. The main reason for this is the devaluation of its native currency because of the country's tense socio-economic situation. Second to Turkey come Brazil and Colombia, both with an 18% adoption rate, then Argentina and South Africa with 16%

Ecuador became the first country to launch its own digital currency in 2015.

Source: CNBC

Although cryptocurrencies are mostly decentralized, some governments in the world have understood their potential and decided to issue their own cryptocurrencies. In 2015, Ecuador became the first country in the world to have a government-issued digital currency. In 2000, the country ditched its unstable currency for the US dollar, so now the new digital currency supports the dollar-based monetary scheme.

The countries with the biggest number of crypto exchanges are the UK, the US, Hong Kong, and Singapore.

Source: Coin Telegraph

Coin Telegraph informs that according to a study done by Crystal, a blockchain analytics platform, the UK, US, Hong Kong, and Singapore have the largest number of registered cryptocurrency exchanges. The UK, for example, has over 40 different platforms. Countries with the lowest number of exchanges include Argentina, India, Mexico, Russia, and Indonesia, while 10% of the platforms list no country of origin.

Study finds that China and India have the strictest approach towards cryptocurrencies.

Source: Coin Telegraph

Even though both China and India don't have anything against blockchain technology, in fact, both countries have invested in blockchain projects in the past, they don't feel the same way about cryptocurrencies. They're perceived as a threat to the financial system because they're decentralized and unregulated for the most part. India has announced a law that will make the use of cryptos illegal and punishable with a fine or imprisonment. China, on the other hand, has banned both crypto training and ICOs.

The top five cities in terms of cryptocurrency usage are San Francisco, Vancouver, Amsterdam, Ljubljana, and Tel Aviv.

Source: Investopedia

We talked about crypto popularity in different countries, now let's take a look at the leading cities in crypto adoption: San Francisco (US), Vancouver (Canada), Amsterdam (the Netherlands), Ljubljana (Slovenia), and Tel Aviv (Israel). The survey was based on three important parameters: the number of merchants and retailers accepting crypto as a payment method with data from Coinmap, the number of Bitcoin ATMs via Coin ATM Radar, and population size merged with Bitcoin activity.

The countries with the highest increase of women users of crypto are Greece, Romania, Argentina, Portugal, and Indonesia.

Source: CoinMarketCap

CoinMarketCap made a list of countries where there has been a significant leap in the number of women using and trading cryptocurrencies. In the top five, Greece is at the winning spot with a 163.67% growth, followed by Romania (145.09%), Argentina (98.23%), Portugal (89.95%), and Indonesia (88.92%). Following closely behind are Ukraine (86.68%), Czechia (85.6%), Colombia (82.03%), and Venezuela (80.23%).
The Rise in Popularity of Cryptocurrency
Gwyneth Paltrow, Paris Hilton, Johnny Depp, and Ashton Kutcher are just a few celebrities backing up and owning cryptos.

Source: Business Insider

Business Insider has listed the following thirteen celebrities who have publicly voiced their opinion on the use of cryptocurrencies and own some themselves: Bill Gates, Gwyneth Paltrow, Paris Hilton, Snoop Dog, Madonna, Johnny Depp, Ashton Kutcher, Hugh Laurie, Mike Tyson, Pitbull, Lionel Messi, Mel B, and Floyd Mayweather Jr. The increasing number of public figures investing in cryptocurrency will definitely help the coins achieve mainstream adoption.

Only 4.68% of millennials have invested in cryptocurrency.

Source: Leftronic

Millennials or Gen Y is a term used for people born between the late 80s/early 90s and the beginning of the 2000s. This generation grew up amidst the emergence of the Internet and saw the rapid development of technology which is why it comes as no surprise for them to invest in crypto. Just 3% of Gen X have bought cryptocurrencies, while baby boomers lag behind with under 2%.

There's a new post about Bitcoin every three seconds on social media.

Source: Finder

It won't be an exaggeration to claim that much of cryptocurrency popularity can be attributed to social media. Starting from Bitcoin forums where the early discussions on the importance of cryptos began, all the way to mainstream social media channels like Reddit today, the two of them have always been interconnected. Therefore, statistics like this one saying there's a new Bitcoin post every three seconds is only logical.

People using a mobile banking app on their phones are more knowledgeable about cryptocurrencies.

Source: DeCenter

Out of the total number of respondents in the ING International Survey, 69% of the people who regularly use a mobile banking app on their mobile devices said they've heard about cryptocurrencies, compared to 59% of the people who don't use mobile banking. This shows a direct correlation between cryptocurrencies and the acceptance of digitalization and modern technology.
Cryptocurrency Integration into Daily life
Microsoft and Subway allow you to pay in Bitcoin.

Source: Fortune

The leading world company Microsoft has added Bitcoin as a payment option to its Windows and Xbox online stores. This comes as no surprise as Microsoft founder Bill Gates is a fervent cryptocurrency supporter. Moreover, in the food industry, Subway is not the only brand support BTC payments. KFC Canada, Burger King Venezuela, Bees Broos, and Pex Peppers are just a few of them.

The East Japan Railway Company accepts payments in cryptocurrencies.

Source: The Daily Hodl

East Japan Railway Company together with the Internet service provider IIJ are working together on adding the option for Japanese subway riders to pay with Bitcoin and other prominent cryptocurrencies. This payment option should be added to Suica, the national public transport smart card. To make such transactions a reality, Japan Railway group, the country's main railway operator, plans on launching a crypto exchange and partnering with a major bank.
Cryptocurrency Security Risks
Mt. Gox lost almost half a billion dollars in the first major crypto exchange hacking attack.

Source: Wired

The Mt. Gox hack is probably the most famous successful hacking attack of a cryptocurrency exchange. In 2011, in a major security breach, a user on the exchange managed to trick the security system and transfer a large number of BTC to his/her own account. The loss was over $460 million! Later on, a former Mt. Gox developer blamed the company's practice of not testing software changes before launching them on the platform as the main reason for the weak security level.

The number of cryptocurrency theft and scams continues to increase.

Source: Reuters

Cryptocurrency exchanges are continuously working on new advanced security measures to prevent any money thefts and illegal activity on their platforms. Unfortunately, research shows that these fraudulent activities remain on the rise. Annually, losses from cryptocurrency thefts exceed $1 billion. The reason for this lies, experts believe, is the lack of regulations in most areas.
Disclaimer: We may receive a commission for purchases made through the links on our site. However, this does not impact our reviews and comparisons. Learn more about our Affiliate Disclosure.
Disclaimer: Digital currencies and cryptocurrencies are volatile and can involve a lot of risk. Their prices and performance is very unpredictable and past performance is no guarantee of future performance. Consult a financial advisor or obtain your own advice independent of this site before relying and acting on the information provided.