Ever since Bitcoin became available to the general public in 2009, speculation on its potential success has lingered. Until a few years ago, there wasn't much research done on it's future potential, or if there was, the sources were bias and unreliable.
Luckily, some major crypto and stats websites like CoinDance, CoinMarketCap, Statista, etc, started compiling insightful data on the topic that we'll share with you today.
Regardless of whether you have a lot of burning questions surrounding Bitcoin or you feel like you know everything on the topic, some of our carefully selected Bitcoin statistics will blow your mind!
Global Bitcoin Statistics 2019
According to Coin Dance, Bitcoin is currently unrestricted in 128 out of 257 countries or regions. As shown on the map, Bitcoin is restricted primarily in Asian countries like China, Egypt, India, Nepal, Qatar, and Zambia, Morocco, and American Samoa.
It's completely illegal in South Asia in Afghanistan and Bangladesh, then Saudi Arabia, Vietnam, Algeria, Bolivia, and the Republic of North Macedonia.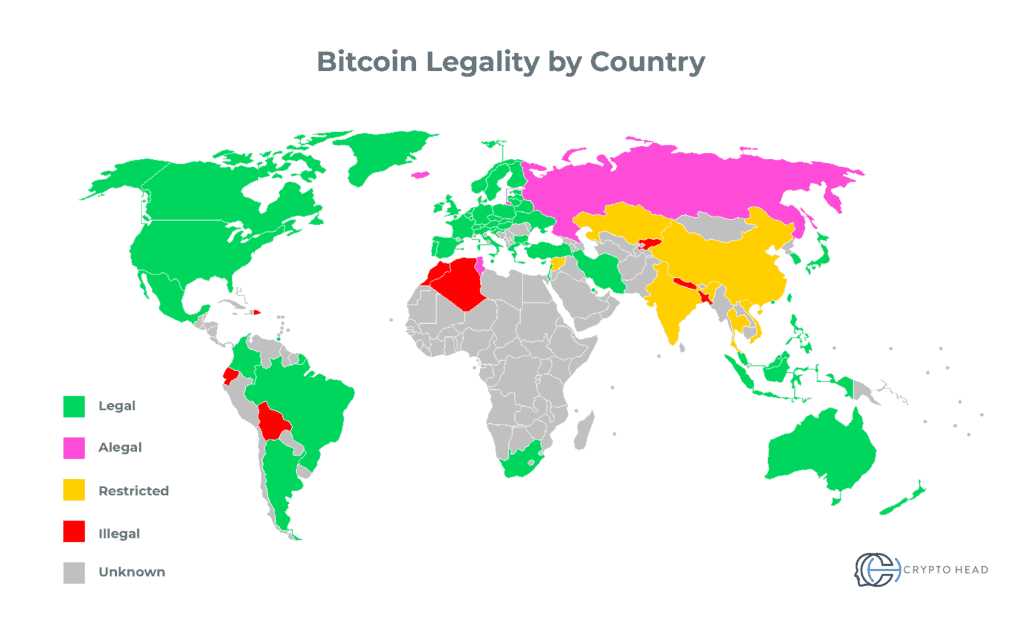 If we were to trace Bitcoin's popularity historically, by looking at the Google Trends chart, we can see that Bitcoin reached its peak in December 2017 in terms of search volume. This was followed by a gradual decline until June 2019 when a slight rise in searches was noticed.

These search volume results are proportional to both the coin's price fluctuations and market capitalization. On December 17, 2017, Bitcoin reached its all-time high of $19,891 and a market cap of $334 billion.

Bitcoin's price chart and market cap from January 2017 until July 2020, CoinMarketCap.
Bitcoin Users and Demographics Statistics 2019
The Coin Dance site tracks all kinds of Bitcoin-related metrics. One such chart tracks the most popular interests of the Bitcoin community with data gathered by Google Analytics who analyze the websites where Bitcoin users were most active.
The results give us the following interest categories, on a scale from 0 to 10%:
Financial and investment services (8.14%)
Software/ Design software/ Drawing and animation software (3.72%)
Banking services (3.3%)
Employment (2.76%)
Consumer electronics and mobile phones (2.7%)
Computers (2.65%)
Dating services (2.14%)
Travel, hotels, and accommodation (2.12%)
Real estate (1.72%)
Business and productivity software (1.71%)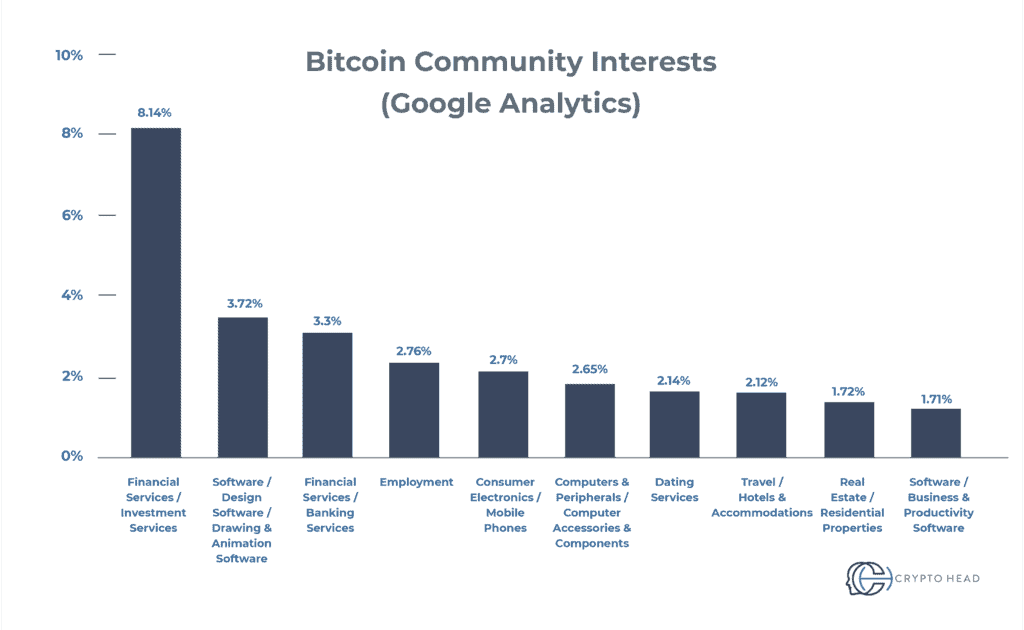 Similarly, in terms of community affinities, the data from Google Analytics has found the following categories ranked from most to least common: avid investors, technophiles, shutterbugs, movie lovers, TV lovers, news junkies and avid readers, political junkies, mobile enthusiasts, music lovers, and travel buffs.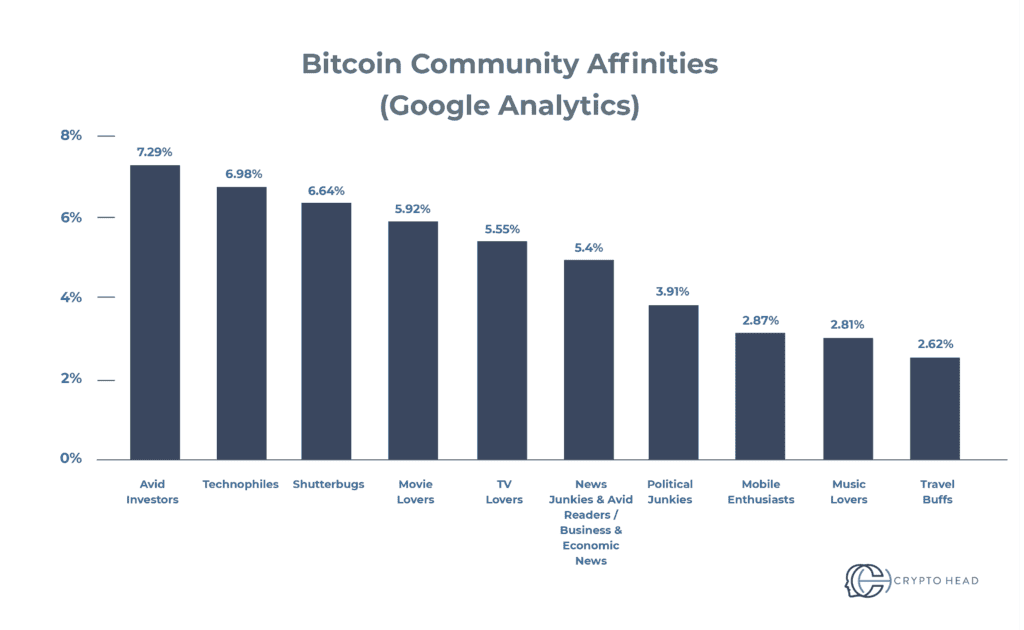 Moreover, their research shows that Bitcoin is by far more popular with the male audience compared to the female. The gender engagement chart shows that 87.72% of Bitcoin users are men, with only 12.28% female users.
When we take a look at the age engagement, we see that the majority of the users (46.32%) are aged 25-34.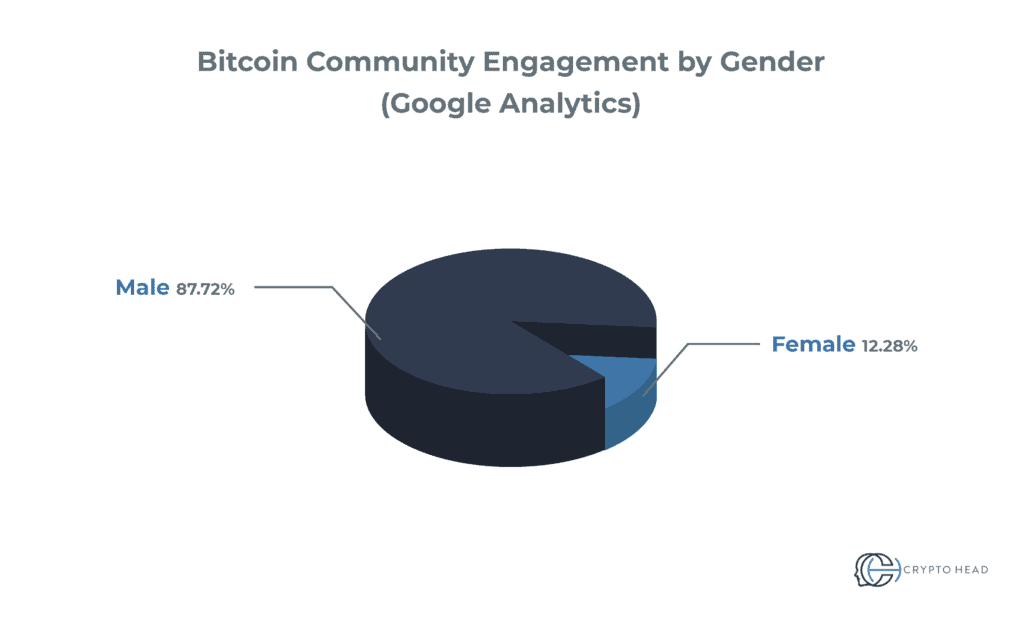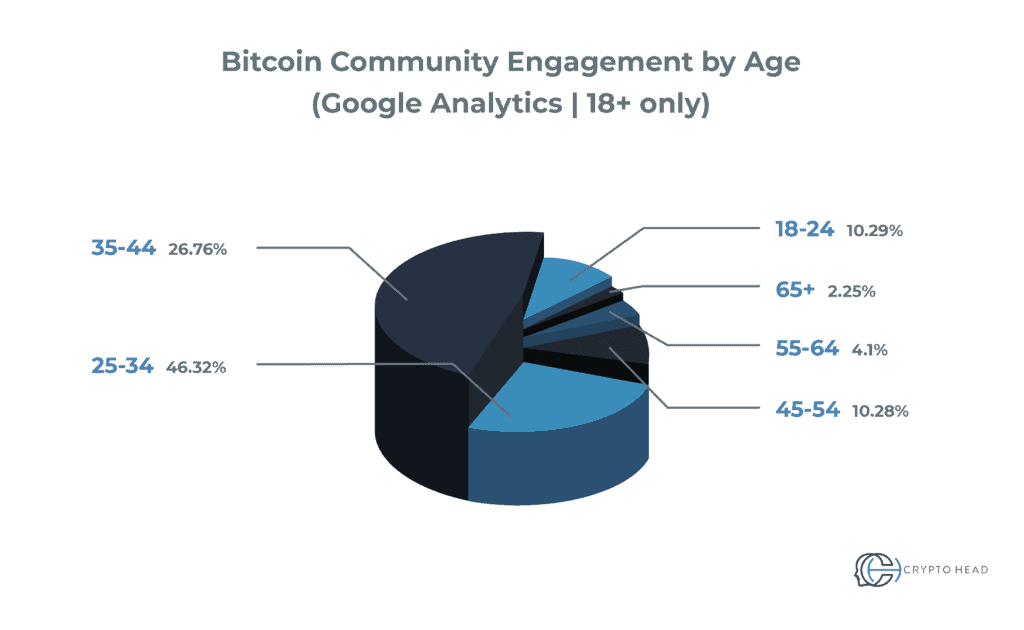 Bitcoin Mining Statistics
When Bitcoin was first launched, the total number of coins was hard-capped at 21 million BTC. Until now, around 18,300,812.5 BTC or more than 87% of all bitcoins have been mined. Experts have estimated that the remaining 2,699,187.5 BTC will probably have been mined by 2140.
The Bitcoin miners often pool their computer resources together over one network and create a mining pool. This way, they can generate more power, mine more coins, and then split the reward equally. According to Statista, in 2018, 44% of all Bitcoin mining pools were located in the Asia-Pacific region.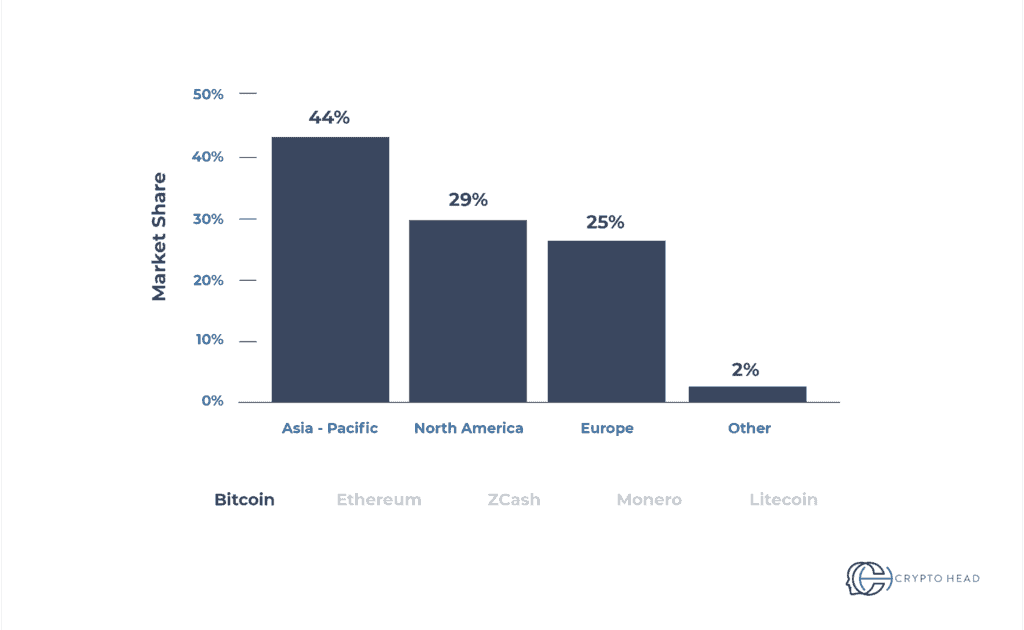 Distribution of cryptocurrency mining pools worldwide 2018, by region. Statista.
On average, 144 blocks are mined every day. Each of these blocks contains 12.5 BTC, so if we multiply the number of blocks times 12.5, we get around 1,800 new BTC daily.
Bitcoin Wallet Statistics
The number of Bitcoin investors, traders, and crypto enthusiasts has been on the rise in recent years, thus spurring greater demand for Bitcoin wallets.
Before, there used to be more standalone third-party wallets, but nowadays, traders find it more convenient to use a trading platform or brokerage service that offers Bitcoin wallet as well, instead of rotating multiple platforms.
The Bitcoin team has collected data from 23 most popular Bitcoin wallet providers, i.e. providers with an active user-base and found out that there are over 12 million Bitcoin wallets worldwide. From the chart below, we see that out of these wallets, 4.57 million belong to Blockchain, 4.1 million to Coinbase, and 1.51 million to Multibit.
However, Bitcoin believes that the number is much bigger as some of the data from these providers were outdated or partial.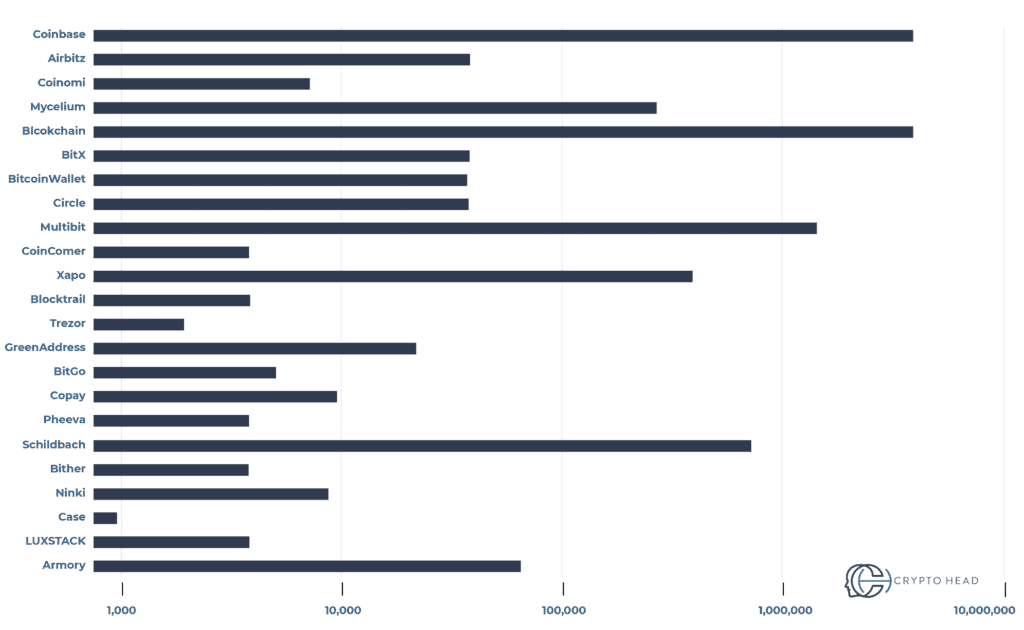 Bitcoin Rich List
Bitcoin's blockchain is open to the public so anyone can find out what the richest Bitcoin addresses are. Although you can't discover their personal identity, you can still see their balance.
As of April 2, 2020, the richest Bitcoin address is 35hK24tcLEWcgNA4JxpvbkNkoAcDGqQPsP holding 255,502.15 BTC in its possession. The second richest one owns 161,501 BTC, while the third holds 101,857 BTC.
Bitcoin Statistics & Facts 2020:
General Facts About Bitcoin
Bitcoin is the most expensive cryptocurrency in the world.

Source: Statista

Even though Bitcoin's price has never been completely stable, and despite its many ups and downs, this cryptocurrency has never been surpassed by another digital coin. Bitcoin has always been the most valuable cryptocurrency of all.

The real identity of Bitcoin's founder remains a mystery to this day.

Source: Investopedia

When Bitcoin's white paper was published in October 2008, it was signed by Satoshi Nakamoto. However, it turned out that this name was just a pseudonym used to hide the identity of the real creator (or creators?) of Bitcoin. The search for the individual behind this pseudonym has stirred a great deal of controversy throughout the years. One theory went so far as to propose that Bitcoin was a collaborative project between the following four companies: Samsung, Toshiba, Nakamichi, and Motorola.

Satoshi is the smallest Bitcoin denomination.

Source: Coin Telegraph

One of the great things about Bitcoin is the fact that this currency is divisible. Named after Bitcoin's creator, a satoshi is the smallest unit that the Bitcoin blockchain can register. It represents one-hundredth millionth of a single bitcoin (0.00000001 BTC), i.e. 100 million satoshis equal one bitcoin.

Here's the full list of Bitcoin denominations: Satoshi (SAT) = 0.00000001 BTC, Microbit (uBTC) = 0.000001 BTC, Milibit (mBTC) = 0.001 BTC, Centibit (cBTC) = 0.01 BTC, Decibit (dBTC) = 0.1 BTC, Bitcoin (BTC) = 1 BTC, Decabit (daBTC) = 10 BTC, Hectobit (hBTC) = 100 BTC, Kilobit (kBTC) = 1,000 BTC, and Megabit (MBTC) = 1,000,000 BTC.

The number of Google searches for 'bitcoin' culminated in late 2017.

Source: Google Trends

The Google Trends site is a great tool to check the popularity of a target word or phrase during a particular period of time. In 2017, Bitcoin started to gain in popularity at an incredible speed. The growing demand drove its price up which culminated in Bitcoin's all-time high of $20,000 in December 2017. Therefore, it's not surprising that the word 'bitcoin' had its peak time during 2017.

Bitcoin has the largest market capitalization out of all existing cryptocurrencies.

Source: Coin Dance

Data from Google Analytics has estimated that Bitcoin accounts for 66.17% of the total crypto market capitalization. Bitcoin is followed by Ethereum with only 9.85% of the cumulative market cap and Tether, with 3.64%.

There are almost 8,000 Bitcoin ATMs around the world.

Source: Statista

Bitcoin ATMs represent a quick and convenient way to purchase some BTC. Most of these machines only offer a buying option but there are also some that allow people to sell BTC too. The only thing you need is a credit/debit card or cash. Research on Statista has found out that there are over 7,900 Bitcoin ATMs worldwide out of which 81% are in the States. The main manufacturers of Bitcoin ATMs are General Bytes with 31.8% and Genesis Coin with 30% of the market share.

Bitcoin's supply has been hard-capped at 21 million.

Source: Investopedia

The total number of Bitcoins that can be mined was pre-set at 21 million BTC by Nakamoto when he created this coin as a way to prevent inflation. Right now, more than 18 million BTC are already in circulation. However, there's no need for panic because experts predict that the final bitcoin is unlikely to get mined before 2140. The main reasons for this are the mining reward halvening and the fact that Bitcoin's mining difficulty increases over time.
Bitcoin Influence in Various Countries
Nigeria comes first by the number of searches on the word 'bitcoin'.

Source: Google Trends

Google Trends is also useful if you want to check the popularity of Bitcoin around the world. The data collected by this app gave us the following five countries with the highest number of searches for the word 'blockchain' on a scale from 0 to 100: Nigeria (100), Austria (46), Switzerland (44), South Africa (44), and Ghana (41). As it turns out, African countries are really drawn to fiat alternatives such as Bitcoin because they're frequently dealing with high inflation. Bitcoin's decentralized nature offers them a way to avoid bank policies.

Three countries account for 50% of all Bitcoin mining nodes.

Source: The Next Web

Research done in 2019 by DataLight, a company that works with cryptocurrency and blockchain analytics, illustrates the distribution of Bitcoin nodes around the world. The graph shows that the US and Germany are the two leading hosts with 2,625 and 2,016 nodes respectively. France comes third with 698 mining nodes. This might come surprising to people who see China as an unparalleled mining power.

Seven countries in the world incur no taxes on Bitcoin investments.

Source: Forbes

In countries with strict crypto regulations, owning Bitcoin can be taxed in some way. Here's a list of seven countries that apply no taxes to your Bitcoin investments: Germany, Singapore, Portugal, Malta, Malaysia, Belarus, and Switzerland. In most of these countries, if you hold on to your BTC for more than a year, they're not taxed as income which is different for businesses that have to pay taxes on gains derived from Bitcoin.

One-third of small businesses in the States accept Bitcoin.

Source: BusinessWire

Around 36% out of 505 small and mid-sized businesses from the US accept Bitcoin as a payment method, according to the data from the HSB nationwide survey conducted by Zogby Analytics in 2020. Moreover, 59% of the companies behind these businesses have purchased Bitcoin at some point. Another interesting fact is that 47% of the companies have had their businesses for 5 years or less, with only 21% working for more than 20 years.
Bitcoin Engagement
The use of Bitcoin is male-dominated.

Source: Coin Dance; Financial Times

Data gathered from Google Analytics shows that more than 87% of the Bitcoin community are men. This is not the only research done on the topic of gender engagement. Uphold, a digital cryptocurrency wallet, has estimated that 75% of its users are men based on their registration background check. A study cited by Financial Times has found out that men are more likely to take risks which could explain why they don't mind Bitcoin's volatility.

The majority of Bitcoin users are aged 25-34.

Source: Coin Dance

Google Analytics has also found out that the majority of Bitcoin users or 46.32% are aged between 25 or 34. The second-highest percentage (26.76%) are Bitcoin users aged 35-44. Next, we have users aged 18-24 with 10.29% and users aged 45-54 with 10.28%. The lowest percentages represent users aged 55-64 with 4.1% and users aged 65 and older with only 2.25%.

Google Chrome is the most popular web browser for Bitcoin users.

Source: Coin Dance

More than half of Bitcoin users, i.e. 58.47% use Google Chrome as their faculty browser when purchasing, selling, or trading Bitcoin. Second to Chrome comes Safari with 22.39%, followed by Firefox with 7.75%. Around 2.07% use Samsung Browser, 1.86% use Edge, 1.78% use an Android Browser, 1.69% use Opera, 1.15% use Internet Explorer, 0.33% use YaBrowser, and 2.51% use a different browser from the ones mentioned above.

Bitcoin users prefer trading on their personal computers.

Source: Coin Dance

When it comes to engagement by device type, up to 59.24% of Bitcoin users choose to work from their desktop, either by downloading a desktop version of some trading platform or accessing its website. Mobile devices are favored by 37.73% of the users, while only 3.03% have stated that they use their tablets the most.

The number of Bitcoin transactions varies from 270,000 to 300,000 transactions per day.

Source: YCharts

The bigger the interest in Bitcoin, the greater the daily transaction occurrences. The highest number of Bitcoin transactions per day was registered on December 14, 2017, at the height of Bitcoin's fame with 490,644 transactions. Nowadays, the number of daily transactions fluctuates between 270,000 and 300,000.
Bitcoin Integration Into Daily Life
Mining Bitcoin consumes more energy than Switzerland or the Czech Republic.

Source: The Verge

It's no secret that Bitcoin mining hardware generates an incredible amount of energy and computational power to mine coins. Researchers from the University of Cambridge have launched an online tool called the Cambridge Bitcoin Electricity Consumption Index or CBECI, a tool that measures the energy needed to keep the Bitcoin network running properly. The team estimated that Bitcoin spends around 64 TWh of energy per year! In comparison, Switzerland and the Czech Republic consume around 58 TWh and 62 TWh respectively on an annual level.

Wikipedia and Microsoft both accept Bitcoin payments.

Source: Coindesk

The largest digital open-sourced encyclopedia, Wikipedia, has been accepting donations paid in Bitcoin for the last couple of years. Microsoft accepts BTC payments when purchasing videos, games, and other content from its Xbox, Windows, and Windows Phone stores. Other leading companies who have added Bitcoin to their list are AT&T, Overstock, Playboy, Twitch, and Norwegian Air among others.

Popular fast-food chains now accepting Bitcoin.

Source: Bitrates

Burger King has partnered with a crypto gateway called Cryptobuyer to offer its customers the option to buy their food with Bitcoins in many Burger King restaurants around the world. Similarly, Starbucks has teamed up with Bakkt to accept BTC through Bakkt's payment app. Bitcoin can also be used in Domino's Pizza restaurants in Singapore and Malaysia.

The use of Bitcoin in illegal activities is only 10%.

Source: Coinmama

From the start, one of the main arguments held against Bitcoin was that traders will primarily use this cryptocurrency to buy illegal goods on darknet markets. Although this was partly true for the 2011-2012 period, the myth has been recently debunked by an agent from the US Drug Enforcement Agency (DEA). The Cyber Investigative Task Force has found out that 90% of Bitcoin's transactions have no connection with drug purchases or any other illegal activity.
Bitcoin Trivia
The first Bitcoin real-life transaction was made to buy pizza.

Source: Bitcointalk

Laszlo Hanyecz is the first person who used Bitcoin to make a commercial transaction. On May 22, 2010, Laszlo bought two Papa John's pizzas for 10,000 BTC from Jercos. At the time, 10,000 BTC equaled around $25. To commemorate his transaction, this day is now known as "Bitcoin Pizza Day".

In 2013, a man threw away BTC now worth millions by mistake.

Source: CNBC 

James Howell is an IT worker from the UK who was among the first Bitcoin miners back in 2009. He used to mine Bitcoin on his personal computer until 2013 when he sold the individual parts of his broken laptop, keeping only the drive where he stored the 7,500 BTC he owned. Back then, Bitcoin wasn't worth much so he wanted to wait for the right moment and see whether its price will go up. Unfortunately, when he was cleaning his home that same year, he accidentally threw the drive in the landfill and lost all his coins, realizing his mistake when it was too late to dig up the garbage.

More than 64% of Bitcoin's supply remains in "ghost" wallets.

Source: Coin Telegraph

At the end of 2019, Coin Telegraph reported that around 64% or 11.8 million bitcoins out of the total number of mined Bitcoins (18.08 million) have been kept dormant in so-called "ghost" or inactive wallets for more than one year. The majority of these Bitcoin "hodlers" have probably kept their coins waiting for their price to get even higher, at which point they might sell them or cash out.

Bitcoin will reach the "four nines" uptime on November 14, 2025.

Source: Decrypt

If everything turns out well, Bitcoin will achieve the 99.99% uptime before the end of 2025. So far, the Bitcoin network has only been down twice, meaning its functionality is at 99.98%. In 2010, in what's now known as "the value overflow incident", two Bitcoin addresses received 92.2 billion coins by mistake. The network was down for 8 hours and 27 minutes before a soft fork got rid of the bugged transactions. In 2013, Bitcoin was down for 6 hours due to a minor chain split where certain miners were running different versions of the Bitcoin blockchain causing problems with one of the blocks.

In 2010, there was a faucet that gave away free Bitcoins.

Source: Bitcoin

In the beginning, there were no Bitcoin exchanges or buying outlets for quick and easy purchases. You either had to mine the coins yourself or ask someone on the Bitcoin forums to send them to you over-the-counter. Then, in 2010, a developer called Gavin Andresen created a faucet that gave people 5 BTC for free. Andresen's faucet was one of the many to follow that aimed at popularizing Bitcoin. The only thing you had to do to earn those bitcoins was to visit the website and complete a captcha.

There are more millionaires than bitcoins in the world.

Source: Coinmama

The number of millionaires around the world has exceeded 46 million! This means that now we have more millionaires on the planet than the total hard-capped supply of BTC, i.e. 21 million BTC, and it also means that not all millionaires can afford to own one of these special coins.
Disclaimer: We may receive a commission for purchases made through the links on our site. However, this does not impact our reviews and comparisons. Learn more about our Affiliate Disclosure.
Disclaimer: Digital currencies and cryptocurrencies are volatile and can involve a lot of risk. Their prices and performance is very unpredictable and past performance is no guarantee of future performance. Consult a financial advisor or obtain your own advice independent of this site before relying and acting on the information provided.