Disclaimer: We may receive a commission for purchases made through the links on our site. However, this does not impact our reviews and comparisons. Learn more about our Affiliate Disclosure.
Ever since Bitcoin became available to the general public in 2009, speculation on its success has been rife. Until a few years ago, there was scarcely any research done to consult it, or if there was, the sources weren't reliable enough.
Luckily, some major crypto and stats websites like CoinDance, CoinMarketCap, Statista, etc, started compiling insightful data on the topic that we'll share with you today.
Regardless of whether you have a lot of burning questions surrounding Bitcoin or you feel like you know everything on the topic, some of our carefully selected Bitcoin statistics will blow your mind!
Global Bitcoin Statistics 2019
According to Coin Dance, Bitcoin is currently unrestricted in 128 out of 257 countries or regions. As shown on the map, Bitcoin is restricted primarily in Asian countries like China, Egypt, India, Nepal, Qatar, and Zambia, Morocco, and American Samoa.
It's completely illegal in South Asia in Afghanistan and Bangladesh, then Saudi Arabia, Vietnam, Algeria, Bolivia, and the Republic of North Macedonia.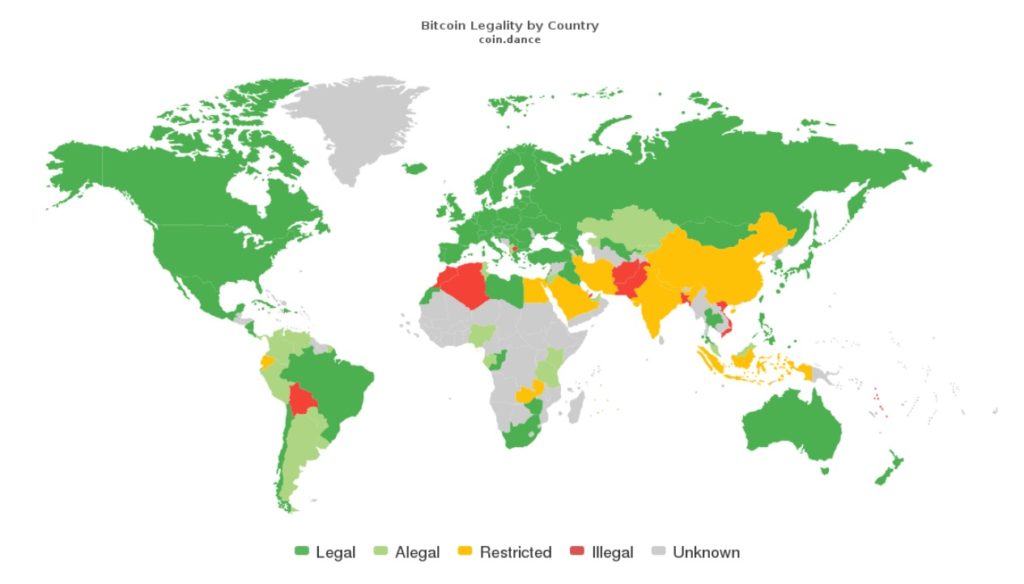 If we were to trace Bitcoin's popularity historically, by looking at the Google Trends chart, we can see that Bitcoin reached its peak in December 2017 in terms of search volume. This was followed by a gradual decline until June 2019 when a slight rise in searches was noticed.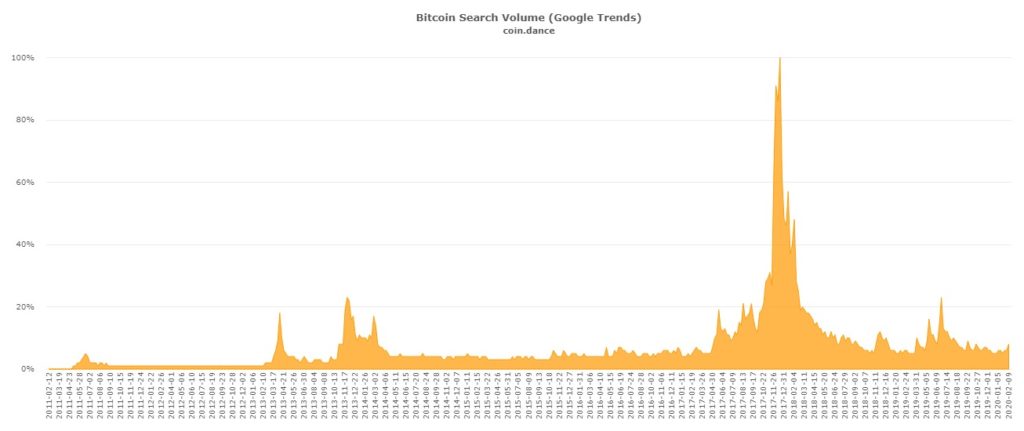 These search volume results are proportional to both the coin's price fluctuations and market capitalization. On December 17, 2017, Bitcoin reached its all-time high of $19,891 and a market cap of $334 billion.

Bitcoin's price chart and market cap from January 2017 until April 2020, CoinMarketCap.
Bitcoin Users and Demographics Statistics 2019
The Coin Dance site tracks all kinds of Bitcoin-related metrics. One such chart tracks the most popular interests of the Bitcoin community with data gathered by Google Analytics who analyze the websites where Bitcoin users were most active.
The results give us the following interest categories, on a scale from 0 to 10%:
Financial and investment services (8.14%)
Software/ Design software/ Drawing and animation software (3.72%)
Banking services (3.3%)
Employment (2.76%)
Consumer electronics and mobile phones (2.7%)
Computers (2.65%)
Dating services (2.14%)
Travel, hotels, and accommodation (2.12%)
Real estate (1.72%)
Business and productivity software (1.71%)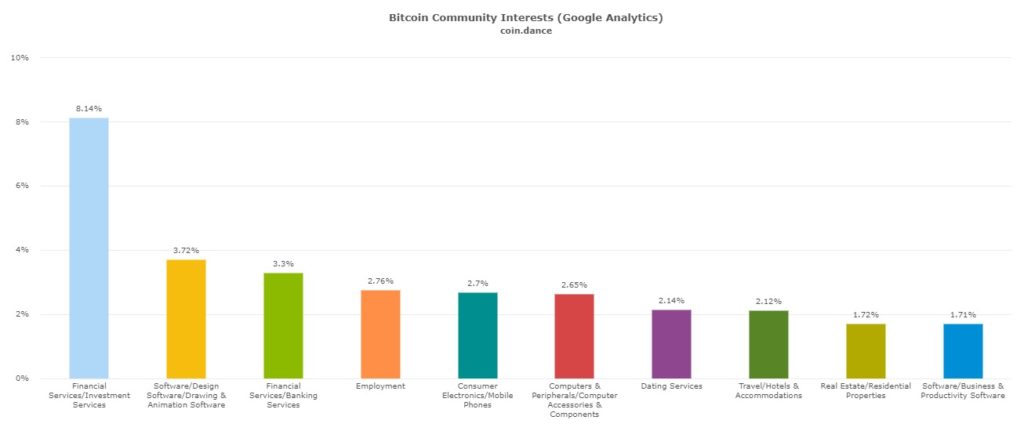 Similarly, in terms of community affinities, the data from Google Analytics has found the following categories ranked from most to least common: avid investors, technophiles, shutterbugs, movie lovers, TV lovers, news junkies and avid readers, political junkies, mobile enthusiasts, music lovers, and travel buffs.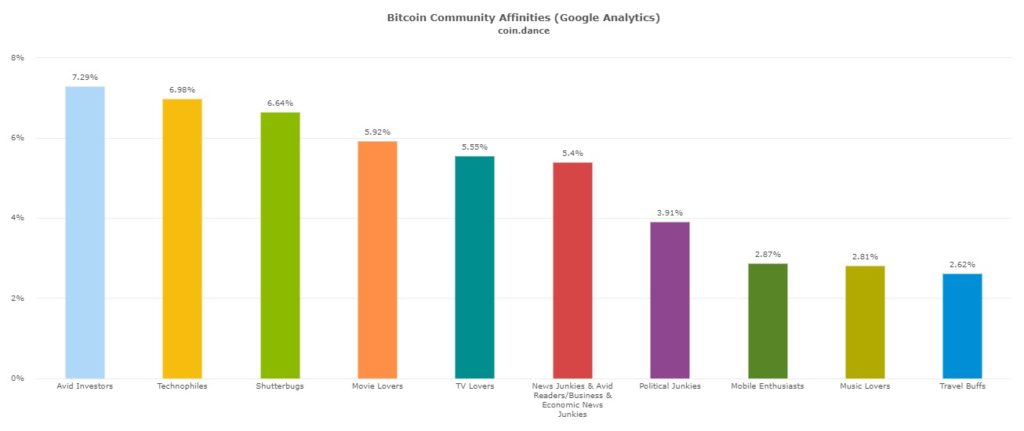 Moreover, their research shows that Bitcoin is by far more popular with the male audience compared to the female. The gender engagement chart shows that 87.72% of Bitcoin users are men, with only 12.28% female users.
When we take a look at the age engagement, we see that the majority of the users (46.32%) are aged 25-34.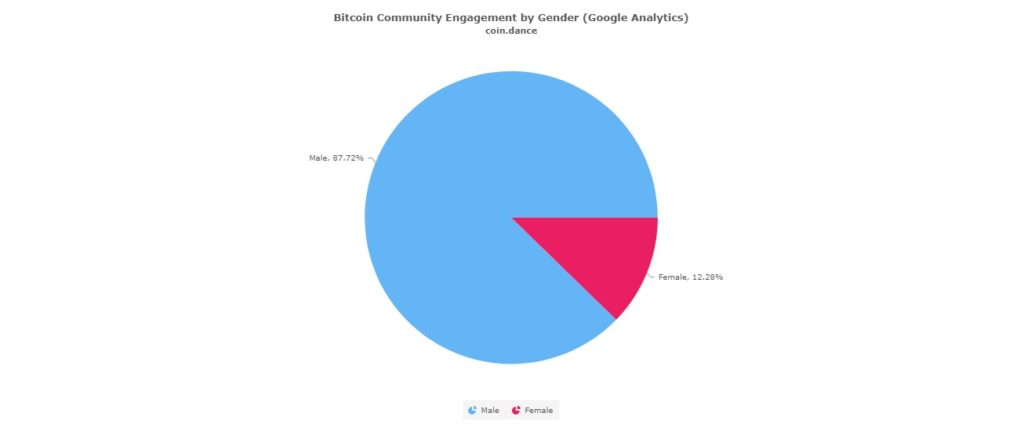 Bitcoin Mining Statistics
When Bitcoin was first launched, the total number of coins was hard-capped at 21 million BTC. Until now, around 18,300,812.5 BTC or more than 87% of all bitcoins have been mined. Experts have estimated that the remaining 2,699,187.5 BTC will probably have been mined by 2140.
The Bitcoin miners often pool their computer resources together over one network and create a mining pool. This way, they can generate more power, mine more coins, and then split the reward equally. According to Statista, in 2018, 44% of all Bitcoin mining pools were located in the Asia-Pacific region.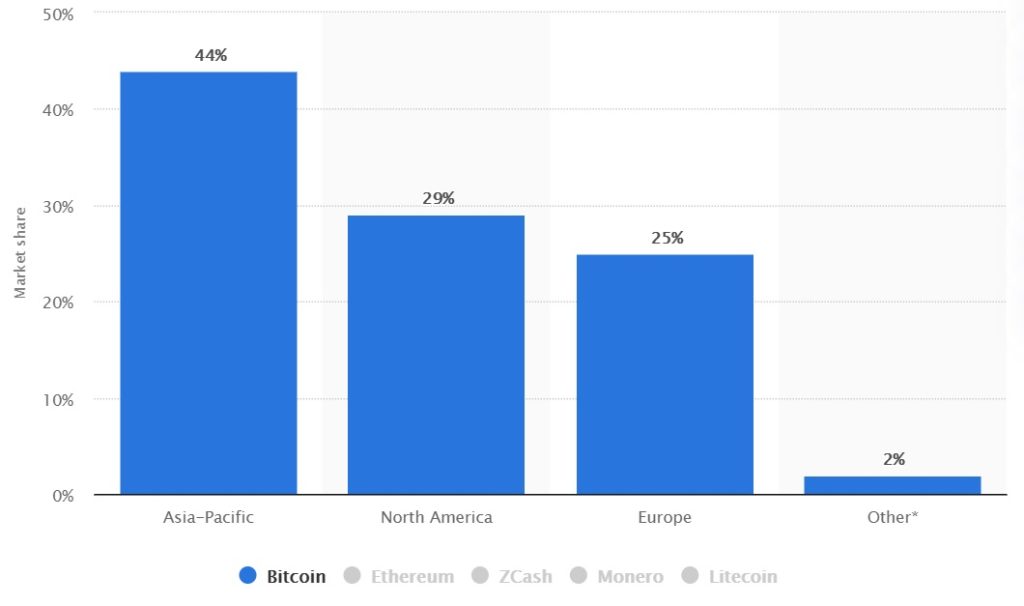 Distribution of cryptocurrency mining pools worldwide 2018, by region. Statista.
On average, 144 blocks are mined every day. Each of these blocks contains 12.5 BTC, so if we multiply the number of blocks times 12.5, we get around 1,800 new BTC daily.
Bitcoin Wallet Statistics
The number of Bitcoin investors, traders, and crypto enthusiasts has been on the rise in recent years, thus spurring greater demand for Bitcoin wallets.
Before, there used to be more standalone third-party wallets, but nowadays, traders find it more convenient to use a trading platform or brokerage service that offers Bitcoin wallet as well, instead of rotating multiple platforms.
The Bitcoin team has collected data from 23 most popular Bitcoin wallet providers, i.e. providers with an active user-base and found out that there are over 12 million Bitcoin wallets worldwide. From the chart below, we see that out of these wallets, 4.57 million belong to Blockchain, 4.1 million to Coinbase, and 1.51 million to Multibit.
However, Bitcoin believes that the number is much bigger as some of the data from these providers were outdated or partial.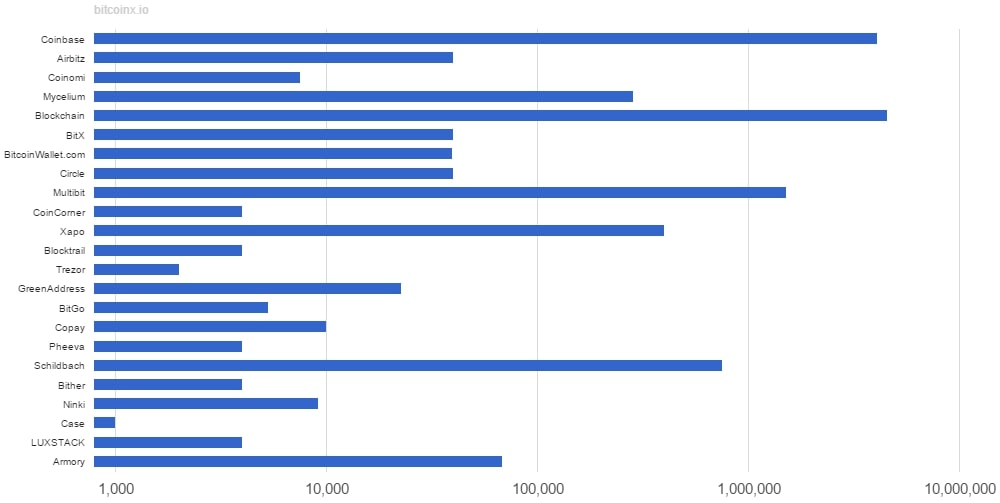 Bitcoin Rich List
Bitcoin's blockchain is open to the public so anyone can find out what the richest Bitcoin addresses are. Although you can't discover their personal identity, you can still see their balance.
As of April 2, 2020, the richest Bitcoin address is 35hK24tcLEWcgNA4JxpvbkNkoAcDGqQPsP holding 255,502.15 BTC in its possession. The second richest one owns 161,501 BTC, while the third holds 101,857 BTC.
Disclaimer: Digital currencies and cryptocurrencies are volatile and can involve a lot of risk. Their prices and performance is very unpredictable and past performance is no guarantee of future performance. Consult a financial advisor or obtain your own advice independent of this site before relying and acting on the information provided.