ShapeShift VS Changelly: Cryptocurrency Exchange Comparison
Disclaimer: We may receive a commission for purchases made through the links on our site. However, this does not impact our reviews and comparisons. Learn more about our Affiliate Disclosure.

If you're thinking about getting involved in crypto trading, you've probably heard that there are two main types of exchange platforms that make this process a lot easier and accessible for everyone. They're known as centralized and decentralized exchanges. The former function similarly to banks and they adhere to certain rules and regulations governing the crypto industry. They're owned and operated by a company that approves all the transactions and has control over the stored funds.
It was the decentralized exchanges, however, which changed the way we think about money and trading with digital currencies. They offer more privacy and fewer registration requirements, and sometimes even the option to trade without creating an account. The transactions are made using the blockchain technology which directly connects buyers and sellers. This means there's no need for a third party to process their trades.
Today, our guide brings into focus two well-known decentralized crypto exchanges – ShapeShift and Changelly. Even though they serve more or less the same cryptocurrency trading purpose, they still have some distinct features that make them stand out from one another. Let's see their performance side by side!
About the Crypto Exchanges
ShapeShift Review
ShapeShift was founded back in 2013 by Erik Voorhees, with headquarters in Switzerland. The company became famous for offering its users the option to trade cryptocurrencies without providing any personal data, performing a KYC check, or creating an account at all. Many found this option appealing but there were also those who were quite skeptical about the whole anonymity thing.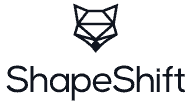 As it turned out, these people were right to raise their eyebrows at ShapeShift since there have been a couple of security breaches throughout the years, due to the lack of rigid regulations. Therefore, from October 2018, customers are asked to fill in some personal information before they're allowed to start trading.
The unrestrained geographical accessibility has been another reason for the growing popularity of this instant exchange among international traders.
Changelly Review
Changelly is a decentralized trading platform based in Prague, the capital of the Czech Republic. It was founded in 2015 by the same team that designed MinerGate, the famous mining pool that navigated users through the process of mining.
Changelly has quickly gained the trust of more than 3 million users around the globe. The platform itself doesn't have restrictions based on the users' geographic location, but some countries might have stricter laws that prevent their residents from using a site seen as unsafe.


The great reputation of the exchange owes much to the hard work and expertise of its team. Eric Benz, the current CEO of Changelly, has been working in the domain of financial technology for more than ten years and has been active within the crypto sphere since 2012. Apart from Changelly, he's involved in various blockchain businesses as an investor, board director, and founder.
From the start, it has been the company politics to establish good communication with other big names in the crypto industry. Changelly has partnered with businesses like Exodus, Binance, MyEtherWallet, BRD, Edge, Coinomi, Trezor, Ledger, Enin, Huobi Wallet, and more.
CoinSwitch
Another crypto business that Changelly is partners with is CoinSwitch, the world's largest crypto exchange aggregator. CoinSwitch supports over 270 altcoins and thousands of trading pairs. It allows users to compare cryptocurrency market prices on various exchanges and select one that works best for them without creating an account.
Changelly vs ShapeShift: The Comparison
Bitcoin and Other Supported Cryptocurrencies
Both platforms support a great number of cryptocurrencies, ranging from the primary "mainstream" coins like Bitcoin, Ethereum, and Litecoin, the lesser-known but promising coins like Ripple, Monero, and Dash, to some newly launched coins available to traders who are ready to take the risk at the prospect of higher returns. ShapeShift currently supports more than 50 different cryptocurrencies, while Changelly supports over one hundred.
The main difference between the two platforms is in the fiat availability. ShapeShift doesn't support fiat currencies but it has partnered up with Simplex which at least gives you the option to convert Bitcoins to US Dollars or Euros. Changelly sets itself apart by allowing users to buy all digital coins with USD or EUR, and even use your credit or debit card for purchases. However, your bank card has to be Visa or Mastercard, and although you're allowed to use any fiat currency, they will automatically be converted to USD or EUR.
Security
Since both platforms are non-custodial, they don't hold on to your funds or store them in a digital wallet as other exchanges do. The funds only move through the site and end up in a wallet of your choice. This makes you responsible for your coins, so always double-check that you've provided the correct wallet address before placing an order. This also means that hackers already know they won't find pools full of money on these platforms and usually stay away from them.
Decentralized exchanges are valued for the anonymity that their users can enjoy while trading on the platform. However, what was once seen as a clever marketing strategy, proved to be ShapeShift's biggest shortcoming. In 2016, one of the employees raided the hot wallet where the company stored its own funds and leaked sensitive information that led to two more attacks performed in the same month. The damage was estimated at $230,000 worth of Bitcoins.
The company's CEO, Erik Voorhees, was very transparent about the whole security breach in his public announcements and updates on social media. ShapeShift's website went offline while the team was changing the whole infrastructure, switched to an entirely different host, and brought the site back online within a week.
Changelly, on the other hand, asks its users to provide an email address when completing a transaction which activates the two-factor authentication to reduce the risk of fraud.
Trading Fees
ShapeShift Fees
ShapeShift charges a mining fee for every transaction, which is paid directly to each respective blockchain. This fee varies from currency to currency and depends on current market trends and market volatility. Some people argue that the exchange purposely lists higher miner fees than the actual ones in order to profit. While it's true that ShapeShift has a small profit which is then used to restock its reserves, the fees are rarely above 0.5% of the original transaction.
Changelly Fees
On the other hand, Changelly adds a flat commission fee of 0.5%, displayed at the top of their page when you're making each trade. This way you get the fairest deal! However, you need to have in mind that Changelly charges an additional 5% commission and a 5% processing fee on credit or debit card purchases. A good tactic would be to invest more money at once and then trade among cryptocurrencies for lower transaction fees.
Another thing you should be aware of is that Changelly applies certain transaction limits during the first month of using the platform. So, for example, your first fiat payment can't be above $50 and you have to wait for four days before placing a second transaction, this time-limited to no more than $100. The third transaction can't exceed $500 and you have to wait seven days from the first transaction.
Ease-of-Use
ShapeShift has a bit of a learning curve, and beginners might find the platform more complicated than Changelly.  No need for panic, as we'll walk you through the whole process.
When you open the homepage, a pop-up appears saying "trading requires an account" and lists all the advantages of using the app. Don't worry about it and just exit the pop-up in order to find the "Sign Up" button and create your account. When that's done, you'll choose the currencies you want to exchange and the desired amount and voila – you're already trading!
Some other features you can do with your account is access transaction history, discounts depending on trading volume, and higher trading limits.
Changelly has a very user-friendly and intuitive interface. All you need to do is click on "Sign Up" and enter your email address for verification. You'll receive an email with a set password that you can replace with something else later one from your profile. The settings in your account let you activate the 2FA protection method.
Next, click on "Buy Crypto with Credit Card", located on the homepage, to purchase your first digital coins. The platform will ask you to provide the wallet address where you want these coins to be stored since Changelly can't hold them for you. Upon providing all the payment details, you should have your coins in less than thirty minutes!
Customer Support
It's really important to be sure that the platform you've chosen truly cares about the demands of its customers and won't let you down the first time you encounter a problem.
From the two, ShapeShift has been the exchange with the worse reviews. Their Support section offers a list of FAQs and a request box for user tickets but no live chat, phone lines, or detailed guides and manuals. ShapeShift is not an isolated case where its user reviews are full of complaints about certain funds gone missing or transactions being lost. The support team tries really hard to reply to all of them and point them in the right direction.
Things stand way better for Changelly. When you open their website, you'll immediately spot the "Support" button at the top. When you click on it, a dialog box appears and gives you the option to visit their Helpdesk, FAQ section, and blog, or take a free cryptocurrency crash course. If you choose the Helpdesk, you'll be transferred to a dashboard where you can submit a support ticket, watch video guides or go through their 'knowledge base'.
Changelly also has an email address for support issues – [email protected]. The only problem is that they're not very responsive. The platform also lacks some more advanced support features like a chatbox or phone line for urgent queries.
Mobile Trading
If you spend less time in front of a computer, mobile trading could come really handy for you! Luckily, both platforms have their own mobile apps available to Android and iOS users alike. The only drawback of ShapeShift's app is that it supports fewer cryptocurrencies than their website due to some regulation protocols.
Pros and Cons
ShapeShift pros:
No geographic location restrictions
Mobile app available for Android and iOS users
Low fees
ShapeShift cons:
No support for fiat currencies
Exchange rates vary based on the cryptocurrency
Lesser-known coins have lower liquidity
Fewer supported coins on the mobile app
Changelly pros:
Supports a greater number of cryptocurrencies
Allows credit or debit card deposits
Simple user interface
Available in all countries
Has a mobile application
Quick access to liquidity
Changelly cons:
You cannot sell cryptocurrencies for fiat currencies
Higher commission and processing fees on credit/debit card purchases
Final Thoughts
It's time to wrap up our discussion and choose a winner. Let's try to sum up what's covered so far!
First of all, both ShapeShift and Changelly are decentralized exchanges which means they don't rely on third-party services to store personal data and funds but leave the customers to stay in charge. As a result, customers don't have to worry about losing their funds to hackers or server downtime.
On the other hand, these types of exchanges currently offer only the most basic trading options. For example, it's a rarity to find one that supports fiat deposits, which is exactly where Changelly stands out. The platform is one of the few that allows you to use your credit or debit card to purchase digital coins. This, however, comes with higher processing fees.
Another potential drawback is that decentralized exchanges can suffer from poor liquidity but Changelly manages to tackle this challenge as well. The user-friendly interface makes the platform more suitable for beginners, but when it comes to placing an order, you'll be done within minutes using either of the exchanges. If you prefer trading on the go, ShapeShift and Changelly have their own mobile apps for both Android and iOS users.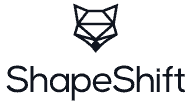 Cryptocurrency Exchange Comparisons
Disclaimer: Digital currencies and cryptocurrencies are volatile and can involve a lot of risk. Their prices and performance is very unpredictable and past performance is no guarantee of future performance. Consult a financial advisor or obtain your own advice independent of this site before relying and acting on the information provided.