Kraken VS Bittrex:
2023

Crypto Exchange Comparison
Disclaimer: We may receive a commission for purchases made through the links on our site. However, this does not impact our reviews and comparisons. Learn more about our Affiliate Disclosure.

The world of cryptocurrencies is constantly changing and evolving. Nowadays, the need to be precautious and alert means that the industry is growing, and so are its challenges.
It's no longer enough to trade but to pay attention to how and what you trade. This is exactly what you need crypto exchanges for. They're the number one medium and catalyst for buying, selling, and trading digital assets. Today our focus is on two of them.
Kraken and Bittrex are among the most esteemed crypto exchange platforms. In this comparison guide, we're going to outline what these have in common, and what sets them apart. We'll weigh in their positive and negative sides, but ultimately leave the decision to you.
About the Exchanges
Kraken
Kraken is a crypto exchange founded by current CEO Jesse Powell in July 2011, with headquarters in San Francisco, California.  It officially opened its order books to the public in September 2013. In just under three years since it was first launched, Kraken managed to become the number one exchange by Euro to Bitcoin trade volume and pioneered the first cryptographically-verified proof-of-reserves audit system.


Prior to Kraken, Powell was the founder and CEO of Lewt, Inc., a company assisting in online video game players in managing their accounts and buying in-game currency. In 2011 when Mt. Gox, one of the leading crypto exchanges of the time, fell victim to a major hacker attack, their CEO Mark Karpelès turned to Powell and Roger Ver – the current Bitcoin.com CEO – to assist him in bringing the site back online.
Powell witnessed how traders at Mt. Gox lost great amounts of Bitcoins due to inefficient security measures employed by the platform. He realized that the reputation of crypto exchanges was facing the risk of being tarnished forever, and didn't want to let that happen. Kraken was built with the idea of bringing back the faith in safe crypto trading platforms, and soon enough it started winning the heart of millions of traders for its reliability and transparency.
Bittrex
Bittrex is a US-based crypto exchange launched in 2014 in Las Vegas, Nevada. Its headquarters are now located in Seattle, Washington. The platform was founded by Bill Shihara, Richi Lai, and Rami Kawach, a stellar team of security engineers who drew on their previous experience working for world-leading companies such as Microsoft, Amazon, and BlackBerry.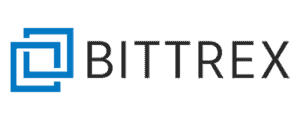 Their background in cybersecurity taught them how to invest in technology that would protect their platform and customers' funds from any security breaches or reliability issues that posed a threat to crypto exchanges in the past. This reputation brought waves of crypto traders at Bittrex's door.
Bittrex vs Kraken: The Comparison
Bitcoin and Other Supported Cryptocurrencies
The first thing you need to do when eyeing a crypto exchange is to check whether it's a crypto-to-crypto exchange exclusively or it supports fiat-to-crypto trades as well. If you're an experienced trader then you probably already have a wallet full of altcoins. However, if you're just starting, you'll need the right platform to exchange some USD or other fiat currencies to get your trading started.
Out of the two, only Kraken is one of the so-called "Fiat Gateways" platforms, which means that you get the option to trade with US Dollars (USD), Canadian Dollars (CAD), and Euros (EUR). Due to banking regulations, they no longer accept Japanese Yen (JPY) payments.
As far as the range of altcoins goes, Kraken currently supports 26 cryptocurrencies to purchase and has 124 trading pairs. Kraken also offers advanced trading options like margin trading, futures, and over-the-counter trading.
While Bittrex might not have the option for fiat trading, it compensates with its outstanding number of around two hundred different altcoins at your disposal including popular coins like Bitcoin, Ethereum, Bitcoin Cash, Litecoin, Monero, Ripple, Dash, Zcash, Tether, Eos, Dogecoin, etc.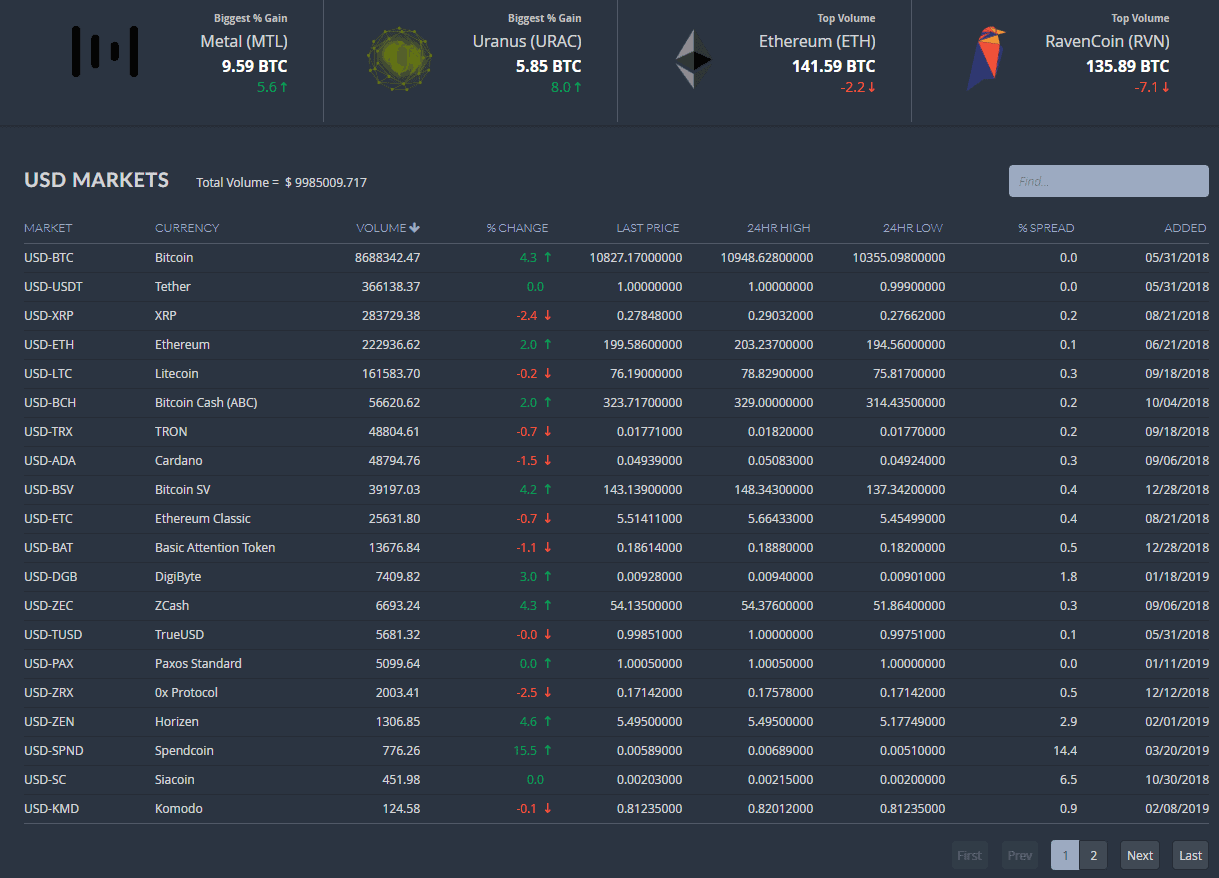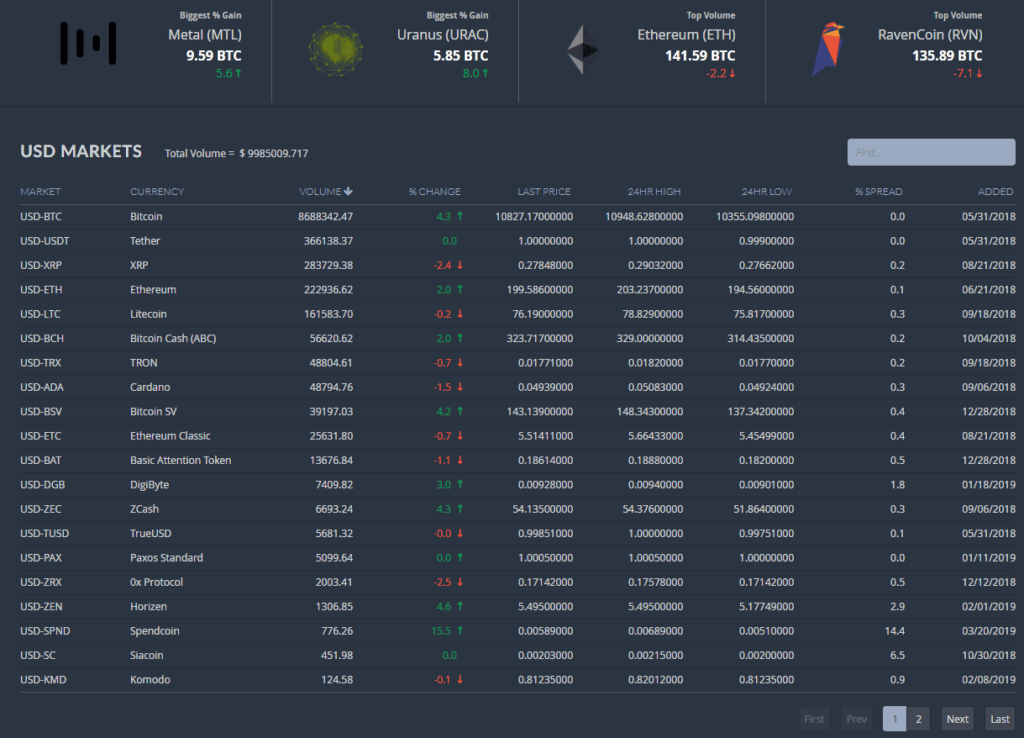 As of June 2019, Bittrex offers USD trading to identity-verified personal or corporate accounts across most of the states in America and elsewhere in the world. You can check the full list of eligible countries together with the trading conditions on their website.
Security
To this day, neither Kraken nor Bittrex has suffered a hacker attack. So, how do they maintain their security?
Both platforms have employed rigorous fund storing measures by placing the majority of their customers' funds in cold storage wallets which are "air-gapped". These wallets are securely stored and aren't connected to the Internet.
Kraken takes its security measures one step further by encrypting and updating all the data on its system on a daily basis. They also get blockchain experts to perform regular penetration testing. To avoid any misuse, Kraken separates the company network from the data uploaded by the traders which means that the Kraken team doesn't have any access to your account and funds, except to verify them.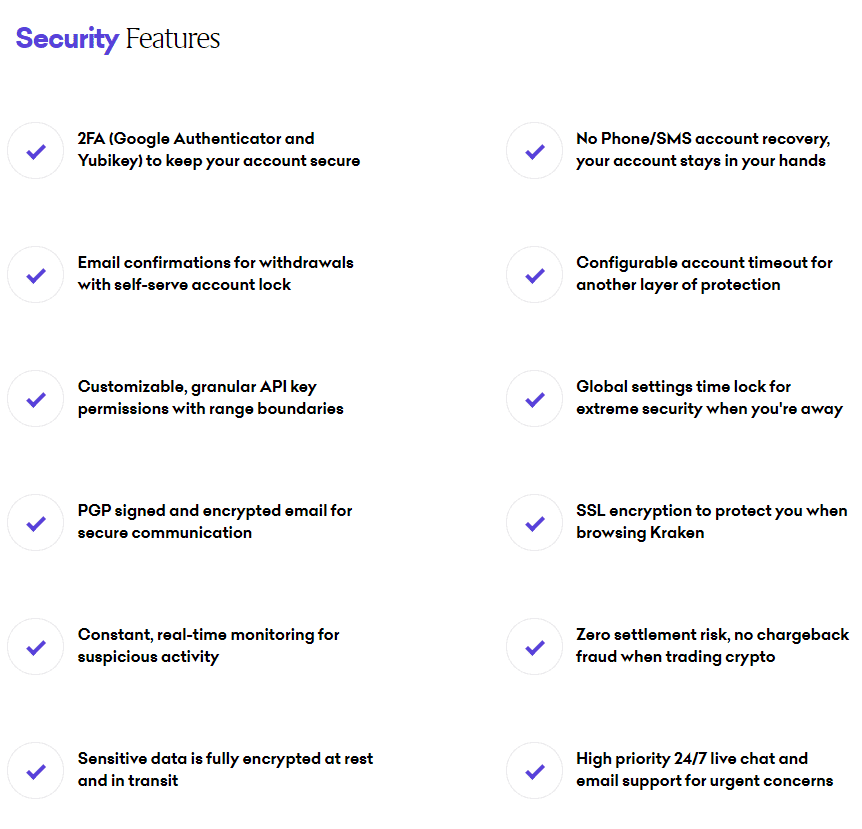 On the level of your personal account safety, both platforms have two-factor authentication for logins and withdrawals. Kraken has an additional "Master Key" which is another passcode to access restricted account actions. You can also lock your account for a set period with a Global Settings Lock. This feature blocks any attempts at making changes to your account coming from unfamiliar IP addresses.
Fees
Your profitability as a trader is directly affected by the trading fees of the chosen exchange, especially if you aim for high volume trading. The good thing is that both Kraken and Bittrex have fairly low fees.
To determine your fee, Kraken takes look at your trading volume over the last 30 days and whether you're a maker or a taker. The platform offers lower fees for those who bring liquidity, i.e. the makers.
So, for example, if you're a maker with a trading volume lower than $50,000, the added maker fee will be 0.16%. If you're a taker, you will be charged a 0.26% taker fee for each implemented trade. If the 30-day volume is higher than $50,000, the fees can get as low as 0.14% and 0.24% for maker and taker respectively. The platform also offers volume-based discounts on its trading fees.
Kraken charges deposits made with fiat through wire transfers: EUR international wire transfer has a 5€ fee, domestic wire transfers in USD have a $5 fee, and $10 with SWIFT International wire transfer. The withdrawal fees are slightly higher. You can link your bank account and make a deposit via debit card as well.
Bittrex, on the other hand, has an even simpler and inexpensive fee system. The platform charges a fee of 0.25% of the trade amount for each trade. This means that regardless of the number of coins involved in your trade, the fee will stay the same.
Ease-of-Use
The interfaces of both platforms have a bit of a learning curve to them but at the same time offer simplified trading features for beginners.
When you visit Kraken's website, the dashboard will list four options to choose from in order to get a more detailed explanation and introduction to the platform. There's one for people who are new to crypto, one for those looking to upgrade their digital investments, a third one for traders who have turned to Kraken because they heard it has more trading options than a platform they used previously and one last option for companies thinking about using Kraken.
We really like how the website layout has been put together and organized into a clutter-free space with the essential information just a click away. While the technical jargon can be off-putting at times, it's perfect for long-term traders who can benefit from the statistics, volumes, and charts available.
To create an account, Kraken will check the eligibility of your country. The exchange is available almost everywhere in the world, except in Japan, Iran, Iraq, Afghanistan, Cuba, North Korea, and Tajikistan because of crypto-financial regulatory issues. When you've completed this step, you will need to verify your account via email and choose a Simple or an Advanced interface.
The only drawback of the platform in terms of how the trades function is the additional time of 1-5 business days during which your fiat currencies are being transferred before you complete an order.
Bittrex functions in a similar way. To open an account, you click the "Sign Up" button and are asked to provide a photo ID together with the rest of your personal data. At this point, you'll get a confirmation email, and you'll be ready to trade. Customers praise the website for the numerous charts (12 types total) and drawing tools.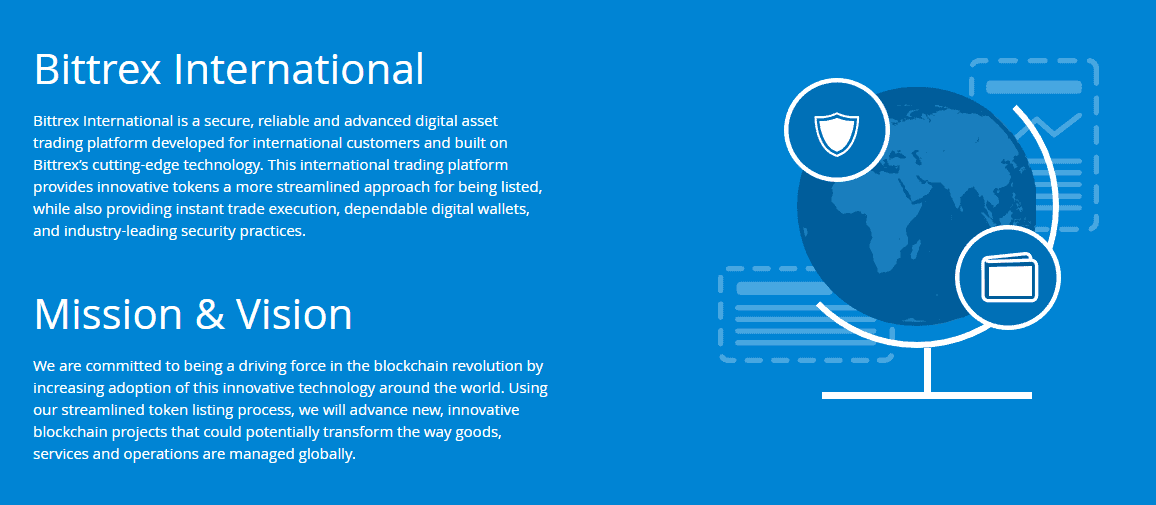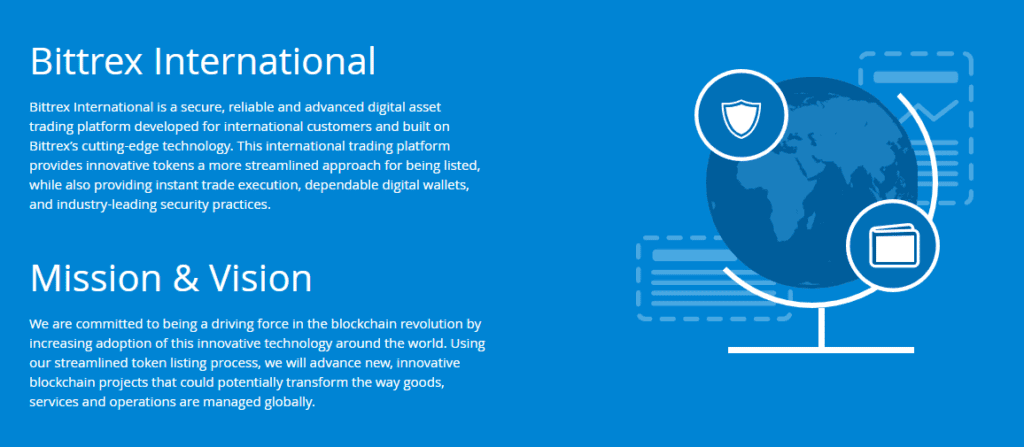 Customer Support
How to provide satisfactory customer support is something that crypto exchanges are struggling with at times when the number of traders is expected to continue to grow.
Both Kraken and Bittrex have received a fair amount of complaints about their lack of responsiveness by individual users. However, this doesn't do justice to the hard work they're putting to minimize these unfavorable experiences. The platforms have separate support pages where customers can submit their requests or support tickets to be answered via email, and they can also read the FAQ section and browse through informative guides and manuals.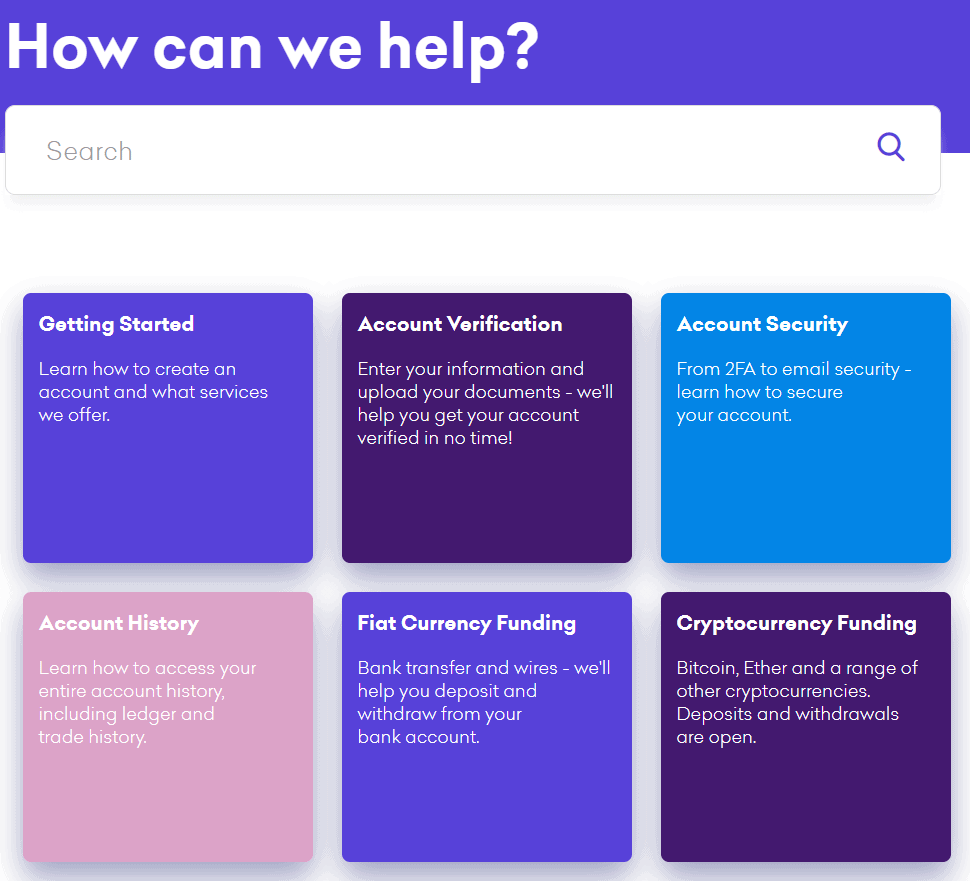 In addition, Kraken and Bittrex have a 24/7 live chat which makes it easier than ever to get your queries addressed immediately. We have no doubts that positive customer support reviews will dominate in the future.
Mobile Trading
When it comes to mobile cryptocurrency trading, both platforms should invest in developing a mobile app to enable their users to trade on the go. Until recently, Kraken used to have an app available for iOS users only but it has been removed from the App Store due to lack of support. As for Bittrex, there're a few third-party trading apps with the same API key but we wouldn't recommend them since they seem liable to phishing and hacking.
Pros and Cons
Kraken pros:
A fairly low trading fee of 0.16% and 0.26% for maker and taker respectively
Supports fiat deposits and withdrawals
High security measures
Two-factor authentication, a Master Key, and a Global Settings Lock
Stores customers' funds in hot and cold wallets
Has a 24/7 live chat
Kraken cons:
A limited number of cryptocurrencies
It takes 1-5 business days for your fiat deposit to reach your Kraken account
No mobile application
Bittrex pros:
Supports hundreds of cryptocurrencies
Charges low fees of 0.25% per trade
Two-factor authentication plus a multi-stage wallet with offline storage
24/7 live chat
Bittrex cons:
Less beginner-friendly interface
No mobile app
No fiat trading except for limited USD trading for verified accounts
Final Thoughts
So, what's going to be the final verdict in this Kraken-vs-Bittrex duel?
If you're a newbie to crypto trading, Kraken is the place to start. Since you likely don't have any altcoins, this platform enables you to use the fiat currencies you own to purchase digital assets. The choice of coins is not the biggest one, but you have the essential trading pairs available. Kraken is also one of the most protected exchanges, with measures that they go beyond the usual 2FA and cold wallets but include a master key, global lock, and frequent penetration testing of their system as well.
While you can also choose the Advanced trading options on Kraken, for more experienced traders we would recommend switching to Bittrex. Those are the type of traders who would benefit the most from Bittrex's wider range of altcoins, the charts and drawing tools, and their swiftness and practicality when it comes to placing orders.
Both exchanges offer low trading fees and average towards satisfactory customer support. Neither of them has let the customers' funds fall in hackers' hands. Whichever one you choose, make sure it's in line with your investment strategy.
Coinbase, Binance and Other Crypto Exchanges
Feel free to check our crypto exchange comparisons to see Kraken and Bittrex side by side with other popular exchanges like Coinbase, Binance, Gemini, and Poloniex to get even more insight into the workings of these Bitcoin exchanges.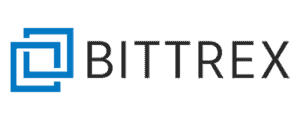 Disclaimer: Digital currencies and cryptocurrencies are volatile and can involve a lot of risk. Their prices and performance is very unpredictable and past performance is no guarantee of future performance. Consult a financial advisor or obtain your own advice independent of this site before relying and acting on the information provided.