Gemini VS Coinbase:
2023

Crypto Exchange Comparison
Disclaimer: We may receive a commission for purchases made through the links on our site. However, this does not impact our reviews and comparisons. Learn more about our Affiliate Disclosure.

About the Exchanges
Gemini
Gemini is a digital currency exchange, launched in 2015, with headquarters in New York City. It allows users to store, sell, and buy digital currencies. It was founded by the Winklevoss twins – Cameron and Tyler, which is why they chose that particular name for their company.
These are the same guys who in 2008 sued Mark Zuckerberg for stealing their ConnectU idea for creating a social networking site, and later on founding Facebook. They have always been crypto enthusiasts, so after winning the case they invested in large amounts of Bitcoin with the money made from the lawsuit. They founded Gemini soon after, to profit from the growing cryptocurrency trends.

Despite being fairly new on the digital market, Gemini has earned its place among the highly esteemed exchanges in the crypto sphere, as it boasts some of the largest daily trading volumes.
Operating in the United States, Gemini is regulated by the New York State Department of Financial Services (NYSDFS). This makes it compulsory for them to adhere to established regulations such as consumer protection, anti-money laundering, and high-tech cybersecurity set by the NYSDFS. As a result, Gemini has attracted the attention of many institutional and high-volume traders in the crypto sphere.
Apart from the US, Gemini is available in the UK, Australia, Canada, Singapore, Hong Kong, Puerto Rico, and South Korea.
Coinbase
Coinbase has been operating as a crypto exchange since 2012, founded by software engineers Brian Armstrong and Fred Ehrsam, and since then it has acquired a reputation as one of the first licensed and reliable platforms for trading cryptocurrencies. The corporate headquarters are currently located in San Francisco, California.  According to their official website, Coinbase is now available in 100+ countries around the world and figures as the most trusted place for crypto in the United States.


It has more than 30 million customers who have exchanged over $150 billion in cryptocurrencies.  In 2017, Coinbase was singled out by the United States International Revenue Service. They had noticed that a number of its users had earned large amounts of money via trading cryptos and wanted Coinbase to report all of them to the IRS. For the period between 2013 to 2015, they had to subject around 13,000 customers, who have made at least $20,000 in transactions, to a tax investigation.
Coinbase vs Gemini: The Comparison
Supported Cryptocurrencies
Unfortunately, neither of the two trading platforms offers a large number of cryptocurrencies. Gemini currently supports Bitcoin, Bitcoin Cash, Ethereum, Litecoin, and Zcash. This, of course, dramatically limits the investors' chances of investing in altcoins but it still allows them to invest in the top cryptocurrencies on the market.
Coinbase allows its users to buy only Bitcoin, Bitcoin Cash, Ethereum, and Litecoin. However, the platform has launched "Coinbase Earn", an interface that gives you the opportunity to take courses on different cryptocurrencies. At the end of the course, you're rewarded with a certain amount of coins from the cryptocurrency you've been studying which are directly transferred to your Coinbase wallet.
Coinbase allows you to fund your account by linking your bank account and making an ACH transfer or wire transfer. You can also buy cryptos using debit instead of a credit card.
Bitcoin
As the world's first and most popular cryptocurrency, Bitcoin is available on every crypto exchange. This digital asset is always paired up with the other supported tokens and fiat currencies to give traders more freedom and options.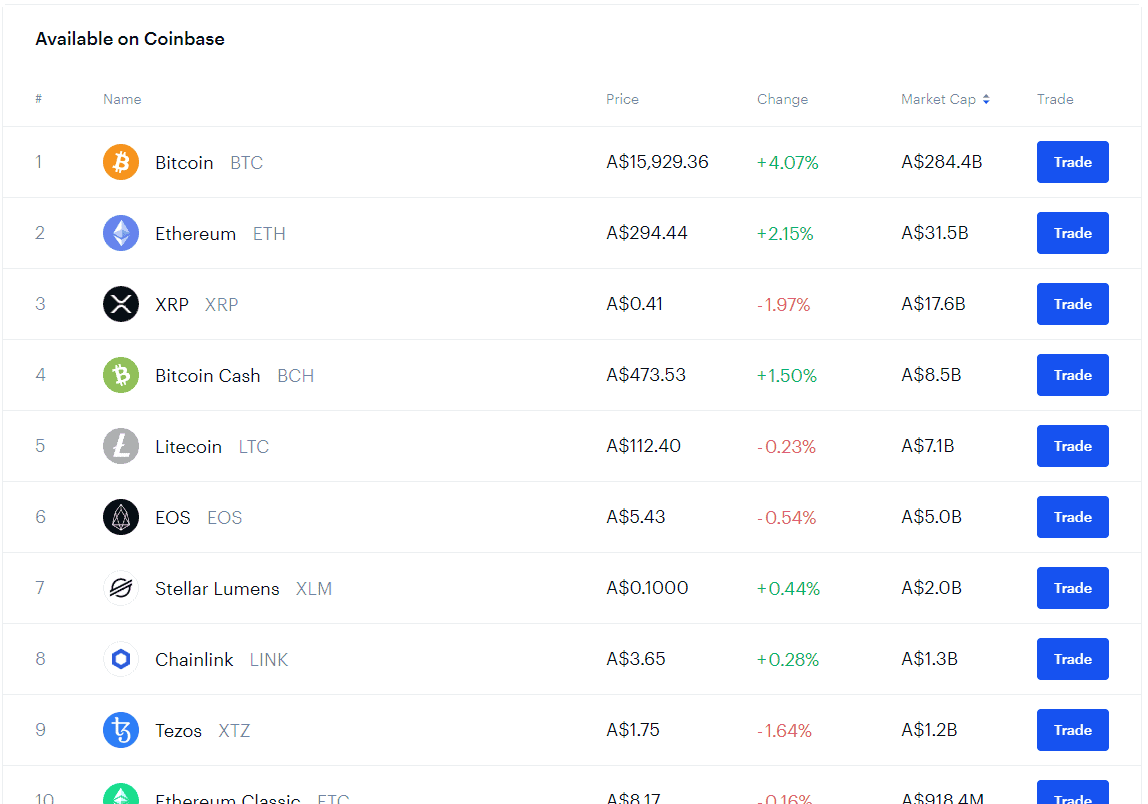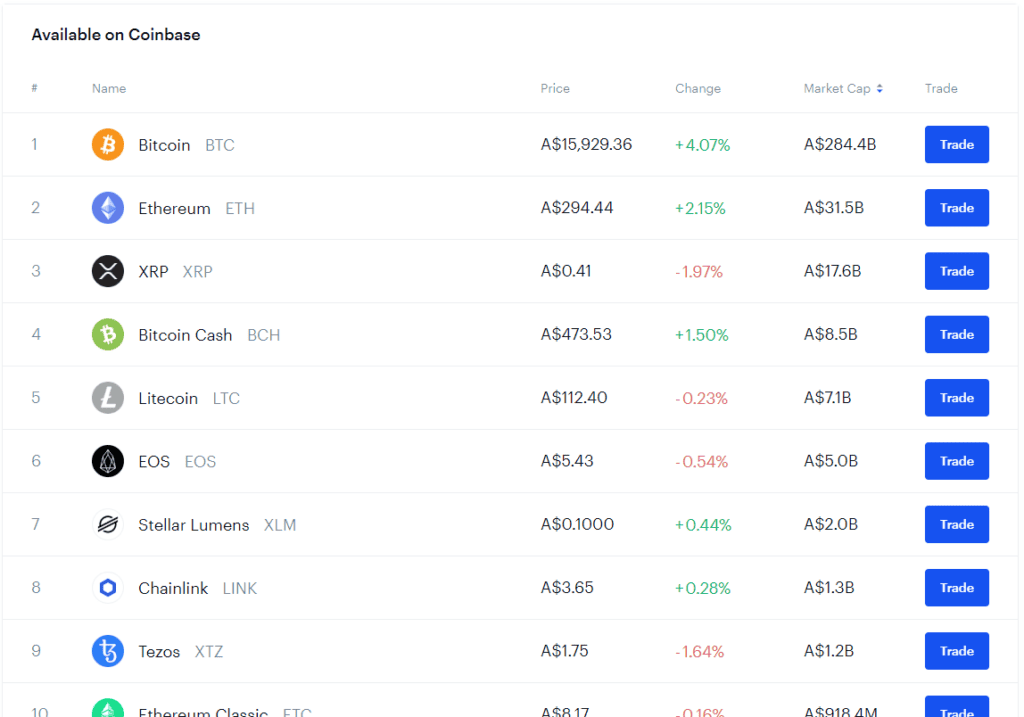 Security
Gemini and Coinbase comply with crypto regulations for properly storing and securing your crypto and fiat currencies. First of all, they segregate customer funds from operational funds. To ensure the protection of your personal account, both exchanges offer two-factor authentication which asks you to provide a password and an additional confirmation from a device you own (such as a mobile phone) before you are allowed to enter.
The largest part of your currencies is stored offline in cold storage. With Gemini, the remaining digital assets that are stored online in a "hot wallet" are secured using the widely known Amazon Web Services (AWS). Its competitor, Coinbase, offers the insurance of their US customers' wallet by the FDIC (Federal Deposit Insurance Corporation), up to a maximum of $250,000.
Coinbase takes no responsibility if your account has been phished or hacked due to your own negligence. If that sort of thing happens, you lose your coins. However, they do have high-security measures to keep these risks at a minimum.
Your wallet and private key are protected with AES-256 encryption, adopted by the U.S. government and other intelligence organizations around the world. Moreover, Coinbase includes a mandatory KYC check as part of the registration process where users need to provide their personal details, including their phone number, place of residence, and a copy of their ID.
To date, neither Gemini nor Coinbase have been the subject of any major hacker attacks. That being said, you should still bear in mind that cryptocurrency exchanges are not the safest place to store your currencies long term.
Coinbase Fees vs Gemini Fees
Trading fees are where Gemini triumphs over Coinbase by far. The platform doesn't charge any fees for deposits or withdrawals. For trading, they have a maker and taker fee schedule based on how many trades the user has made in the last 30 days. The trader's amount of Bitcoin or Ether bought and sold is ranked from a light to a massive volume.
Based on that, you have a maker and taker fee starting at 1.00% for light traders, decreasing all the way down to 0.10% or 0.00% when trading huge volumes of crypto. This is why Coinbase's high fees are a major drawback if you decide to trade on this platform.
Their flat and variable fees are decided based on the trade amount and the chosen payment method. Transactions under $200 are charged at a flat fee regardless of how you pay for the service, as shown below:
$0.99 for a transaction worth up to $10.99 and below
$1.49 for a transaction worth from $11.00 up to $26.49
$1.99 for a transaction worth from $26.50 up to $51.99
$2.99 for a transaction worth from $52.00 up to $78.05
For trade amounts over $201, a variable fee of 1.49% is added to the transaction total.  The fees for debit cards are on the higher end of the scale, with Coinbase adding a variable of around 3.99% for transactions starting from $78.06 and above. Bank deposits come at no charge but withdrawals cost $0.15.
Ease of Use
If you already have some knowledge of how cryptocurrencies work, and you're in earnest about crypto trading, the more advanced Gemini trading platform wouldn't be a problem for you. Their website layout has a serious feel to it. It features technical charts and finance jargon which could be uninviting for beginners but exactly what serious traders are looking for.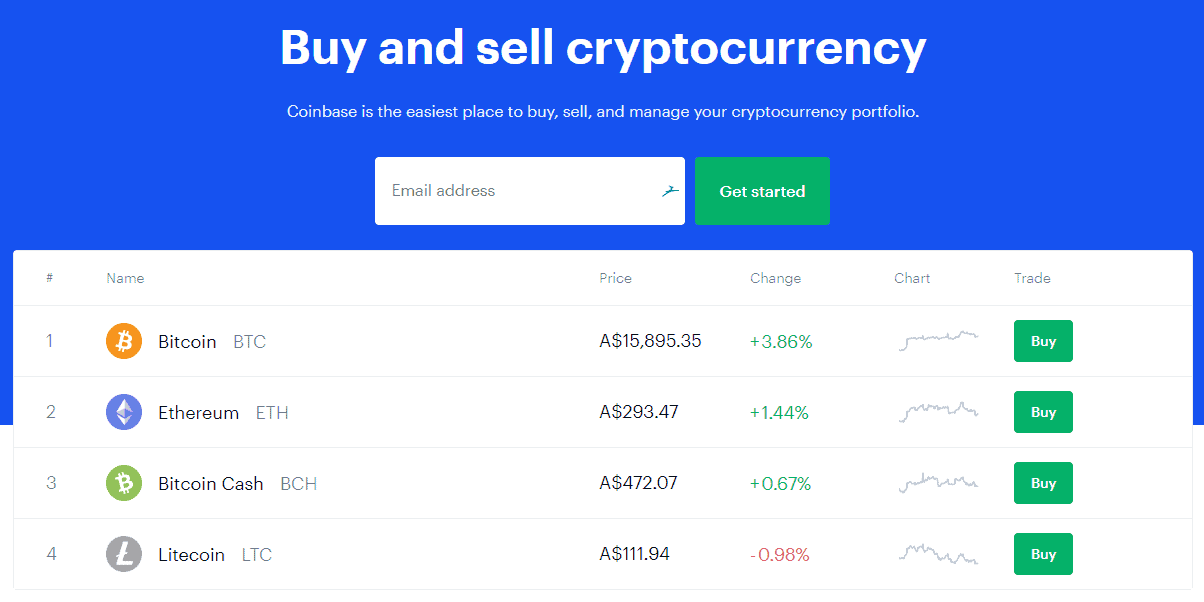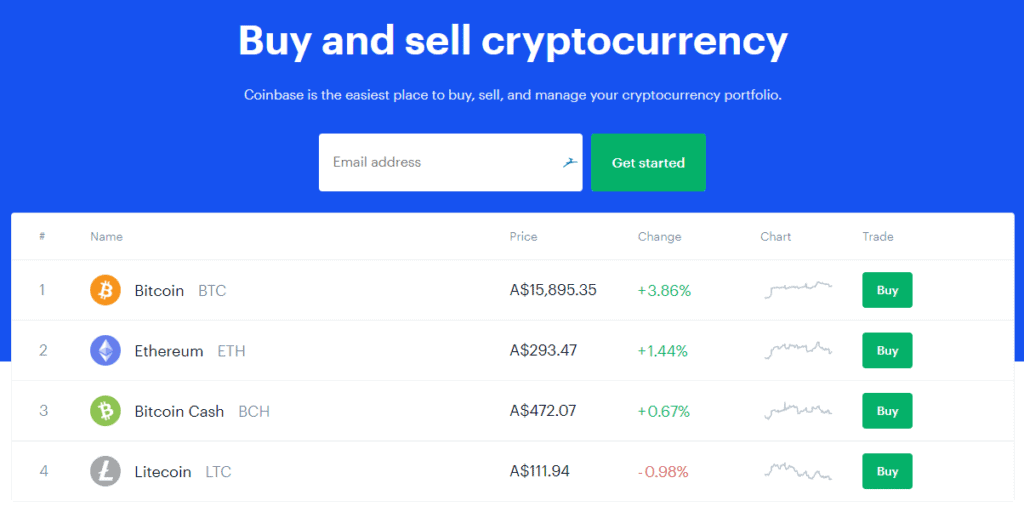 For all you newbies out there, a friendly reminder that Coinbase was created with the intention to be as user-friendly as possible. Its interface is easy to navigate and you have all the tools right at your fingertips. It's free from clutter and confusing trading terms. All you need to do is open a personal account and upload some money on it, and it literally takes just a few minutes before you can purchase your first cryptocurrencies.
To address the needs of its more experienced traders, in 2016, Coinbase created a separate platform called GDAX, later renamed to Coinbase Pro, where users have more cryptos and trading tools to choose from.
Customer Support
Providing quality customer support is a difficult task, even more so for the most popular cryptocurrency exchanges. Trying to address the huge number of customers using their platform daily might result in lesser responsiveness. Gemini and Coinbase are constantly improving themselves in regards to this challenge. These exchanges handle their customer support through email correspondence.
Users find them quick to respond to their support tickets, usually within a 24-72 hour frame. Both sites have a "Support" button that takes you to their FAQ section and allows you to write your request or ask a question straightaway. On top of that, Coinbase utilizes a chatbox and telephone services for more urgent queries.
Coinbase has a separate support page that offers customer support via email, the option to browse through their FAQ, or use their customer chatbox and telephone service for quicker replies. Response times for support tickets seem to be similar to those at Gemini.
Mobile Trading
The future of money is both digital and mobile, so, naturally, both Gemini and Coinbase have extended their trusted platforms on mobile devices. They're free and available for download on the Apple Store and Google Play Store. Engaging with crypto has never been easier!

Pros and cons
Gemini pros:
Regulated by the NYSDFS
Lower trading fees
Two-factor authentication for any withdrawal plus an offline storage
High responsiveness (24-72 hours for a support ticket)
Licensed US exchange
Mobile-friendly
Gemini cons:
Supports trading for Bitcoin and Ethereum only
You can only buy digital currencies via bank transfers
The interface is not suitable for beginners
Coinbase pros:
You can complete an exchange instantaneously
Two-factor authentication for any withdrawals plus cold storage
Customer service offers support via email, phone, and chatbox
Quick to respond to customer queries
User- and mobile-friendly
You can buy digital currencies via bank transfers and debit cards
Coinbase cons:
Higher trading fees from 1.49% to 3.99%
Limited cryptocurrency selection
Final Thoughts
Today, the need for trusted and accessible crypto exchanges is bigger than ever. The number of people buying cryptocurrencies has skyrocketed since the appearance of Bitcoin in 2009. All this has resulted in a great degree of greediness which has stood behind a number of extremely high profile hacks of major exchanges in the past. This has placed a heavy amount of responsibility on trading platforms like Gemini and Coinbase, whose teams work daily to minimize these potential risks. With their dedication and hard work, they've both become highly respected staples of the crypto industry that have earned the trust of the community.
We have no doubt that both platforms will continue to grow and improve in every single aspect in the years to come. Having more than one reliable crypto exchange helps create a balance of power and eliminates monopoly on the crypto market. It also stimulates companies to find different ways to outshine their competitors by adding more digital coins on their list or expanding internationally. This facilitates a healthy competitive environment.  So, is Gemini a better exchange than Coinbase, or is it the other way round? Both! We managed to lay out the facts in front of you, and guide you through their politics and services, advantages and disadvantages.
The decision depends on your investment standpoint. Gemini allows you to buy and sell Bitcoin and a couple of other cryptos for lower fees. Your personal account and funds would lie safe and sound in their cold storage, and you'll never have to worry about any illegal doings by the company – their regulations adhere to NYSDFS guidelines.
We would recommend this trading platform as a worthy choice for bigger companies and experienced traders. For newcomers, Coinbase is at your side with an organized and user-friendly interface. You won't be bombarded by crypto lingo or burdened with lots of unnecessary charts. Coinbase is perfect for when you're in a hurry and want to make a debit card purchase. It accepts, sends, and verifies your transaction in record time.
This, however, comes at a price, as you have higher fees but the convenience is worth it.  We recommend Coinbase to those of you who don't plan on making frequent purchases.  We hope we succeeded in helping you in your search for a trustworthy crypto exchange whose convenience goes hand in hand with your set expectations. Whichever one you choose, you're likely going to be satisfied with the experience.



Disclaimer: Digital currencies and cryptocurrencies are volatile and can involve a lot of risk. Their prices and performance is very unpredictable and past performance is no guarantee of future performance. Consult a financial advisor or obtain your own advice independent of this site before relying and acting on the information provided.