Disclaimer: We may receive a commission for purchases made through the links on our site. However, this does not impact our reviews and comparisons. Learn more about our Affiliate Disclosure.
Coinfloor was acquired by Coincorner in Oct 2021.
Coinfloor.co.uk was established in 2013 to serve as a cryptocurrency exchange for the UK market. It only allows users to trade fiat currency for cryptocurrency, with no option for crypto-to-crypto trading.
Coinfloor is the first publicly auditable exchange. Every month, Coinfloor provides users with proof of solvency based on blockchain technology. They also experimented with zero trading fees for 12 months in 2017 but have resumed charging trading fees in 2018.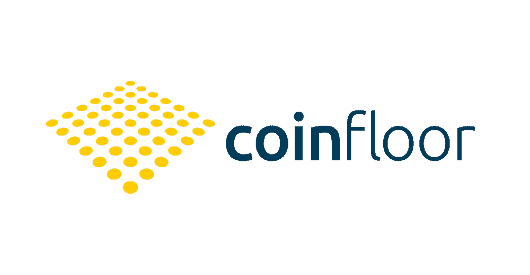 Coinfloor is registered as a UK company but is not registered with the Financial Conduct Authority (FCA), though they claim to remain 'in regular contact' with FCA regulators. The reason Coinfloor gives for this lack of registration is that they were informed that registration is not required, as Bitcoin isn't legally defined as a currency. Instead, Coinfloor is registered with Revenue and Customs as a Bureau de Change. They have also recently obtained a license from the Gibraltar Financial Services Commission.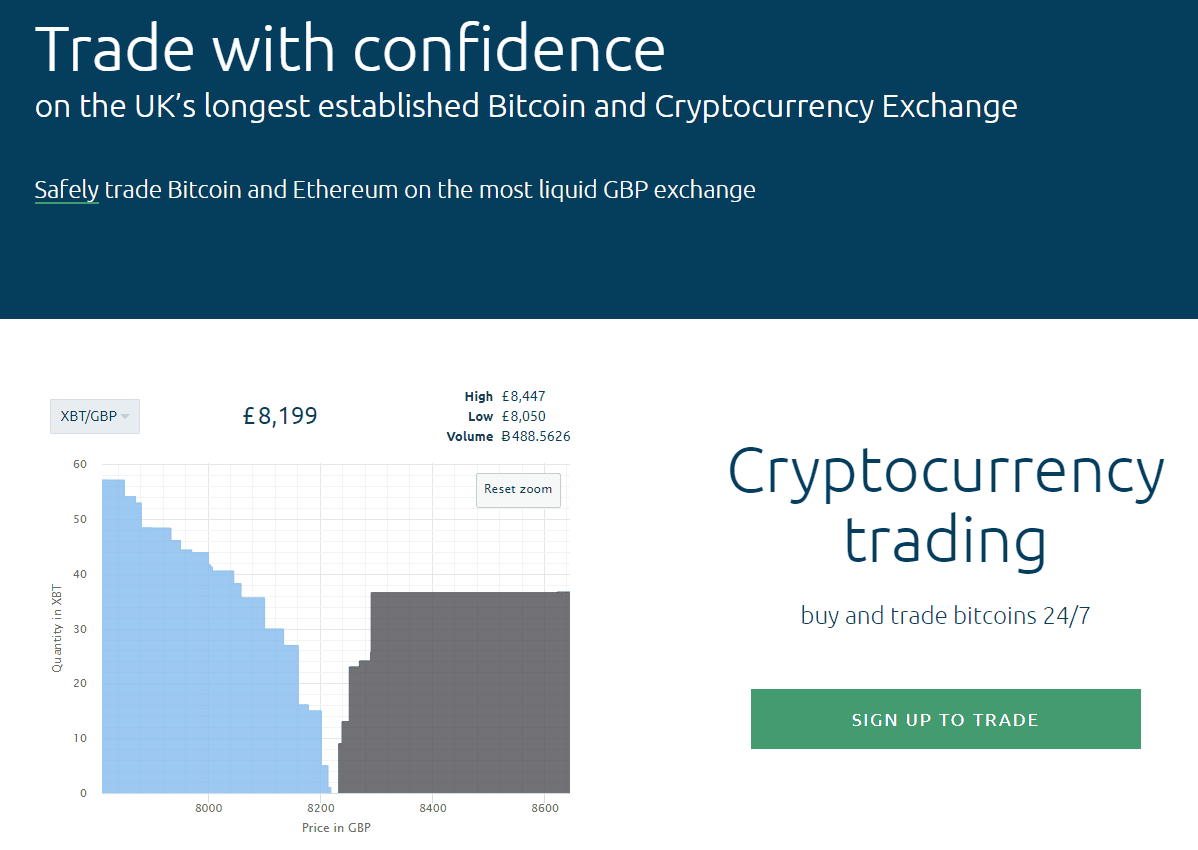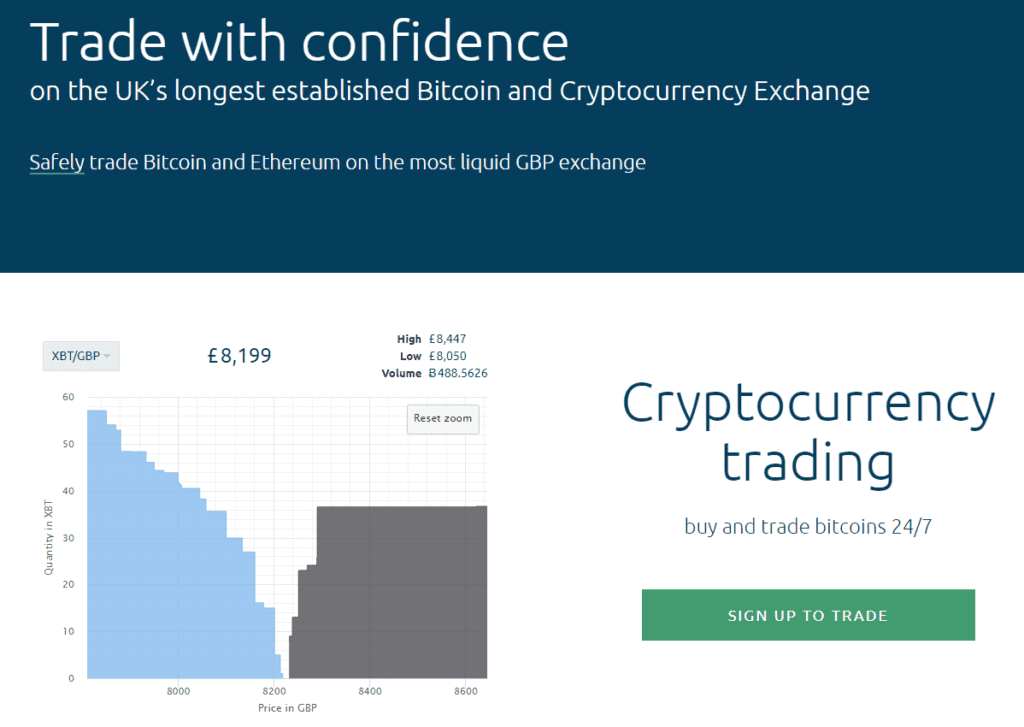 Coinfloor has not reported any hacks that have compromised their security. Combined with its 100% cold storage policy, Coinfloor is one of the safest exchanges in the United Kingdom.
Coinfloor Exchange Services
Coinfloor only offers cryptocurrency exchanges and fiat currency on its simple and user-friendly web-based trading platform. It has the minimum required functionality to get the job done, and simple, mobile-friendly design. What makes Coinbase appealing is the high liquidity levels on GBP trading, which makes it one of the best choices for UK residents.
Coinfloor offers two types of Coinfloor accounts, one for private clients and one for corporates. The private client account allows for the buying and selling of cryptocurrency using the Coinfloor platform. The corporate account provides corporate and institutional clients with higher limits and competitive liquidity in GBP, EUR, and USD. Additionally, the corporate account has a set of API tools designed for low latency connections.
The trading platform itself is designed to run on any software, including Windows, Linux, and even Mac. If you're a day trader, you'll find the software easy to use and good at executing transactions swiftly and effectively. You can use the Xchange Financial Trader API, which allows you to view real-time data on market fluctuations across several Bitcoin exchanges.
This tool gives you an edge that'll help you make swift and informed decisions. However, experienced traders will find the platform very basic, offering very little in the way of information that can be used to identify market trends. Cryptocurrency exchange platforms have become increasingly sophisticated over time, and it feels like Coinfloor has not kept up with what modern traders expect.
Bitcoin and Other Supported Cryptocurrencies
Coinfloor was initially designed only for users who wanted to buy Bitcoin or sell Bitcoin. However, they have adapted their design to accommodate a bigger slice of the ever-growing cryptocurrency market. Today, the platform only supports Bitcoin.
Coinfloor also supports four fiat currencies, namely the British pound, the Euro, the US Dollar, and the Polish Złoty (PLN). As Coinfloor is a UK-based exchange, many of the trades are listed in GBP. This makes sense, as the majority of trading pairs are GBP-based. For global traders, this may be inconvenient. They have to consider fluctuations in the pound in addition to fluctuations in the cryptocurrency market.
As far as payment methods are concerned, you can link your bank account to deposit funds via bank transfer. Coinfloor supports international wire transfers that usually take 1 to 5 days or SEPA transfers that typically take one to two days only. Credit cards aren't accepted.
Autobuy Feature
One of the features we love on Coinfloor is "Autobuy" which allows anyone to easily "Dollar Cost Average" (DCA) via GBP into Bitcoin. If you believe in Bitcoin long term and want to put a small portion of your salary into it each month then this is the perfect exchange to do it on.
Trading Fees and Limits
Coinfloor Fees
Coinfloor charges variable exchange trading fees depending on the 30-day trailing trading volume, between 0.30% and 0.10%, depending on your trading volume. 0.30% is well above the market average and applies to both purchasing and selling cryptocurrency. When you've traded between 500,000 and 1 million GBP per month, this gets reduced to 0.20%. When you've traded over 1 million GBP, the percentage is further reduced to 0.10%. These exchange fees would suggest that Coinfloor is aiming for the corporate and institutional market instead of the private day trader market.
Coinfloor also charges a flat deposit and withdrawal fee. The fees are dependent on the currency used and can also vary between withdrawals and deposits. For instance, withdrawing or depositing in Euros will cost 1.5 EUR, but the same transaction will cost $10 for a deposit and $15 for withdrawal.
Limits
Coinfloor has very high minimum limits on deposits, with a minimum deposit of 1,000 EUR/GBP/USD. Many new traders may find themselves excluded from the platform as these costs are too high. The high costs are likely a strategic decision. Coinfloor seems to target corporate clients instead of individual customers, so keep that in mind when considering this exchange.
Customer Support
Cryptocurrency exchanges have a reputation for providing lackluster customer support, and Coinfloor is no different. Apart from a relatively comprehensive FAQ, there are very few options to get in touch with Coinfloor and get advice on how to use the platform.
Users can submit online tickets using a ZenDesk platform, which seems to get responded to relatively quickly. There is no live help chat function or a telephone helpline either. The FAQ itself is reasonably well done and helpful for new users who are looking for advice on navigating the platform and finding out how to use it to their advantage.
When it comes to keeping customers satisfied, Coinfloor gets the job done. Their Trustpilot score is 4/5, with 45% of reviews rating them as excellent. However, they've also received 30% negative reviews, suggesting that the type of help you get will largely depend on the luck of the draw.
Most of the complaints have to do with the stringent identity verification requirements, with many users reporting their accounts being frozen or suspended after the verification process, with no reason given as to why.
Is Coinfloor Safe to Use?
Cryptocurrency has a reputation for being an unsafe and risky investment. Several years ago, there were multiple exchange hacks, resulting in the theft of hundreds of thousands of bitcoins. These security threats should never be taken lightly. In order to protect your assets, you have to use a cryptocurrency exchange that takes security very seriously. Coinbase has not yet been hacked, which would suggest that their current security features are well-designed to drive away from most threats.
Coinfloor-side
Cold storage has become the standard safety feature of most cryptocurrency exchanges. Cold storage means that most of the cryptocurrency is stored offline, in secure vaults where hackers can't access them electronically. Different exchanges will keep various amounts of cryptocurrency in cold storage to allow them to maintain liquidity while still offering a high level of security.
Coinfloor has a 100% cold storage policy, meaning that all cryptocurrency on the site is stored remotely on an inaccessible medium. Coinfloor uses a Multi-Signature Pay 2 Script Hash cold storage solution, which secures a bitcoin address with three private keys. When withdrawing funds from that address, two of the three keys need to be signed, which dramatically enhances the security level of the storage system.
Many users wonder how Coinfloor can operate their business at all with such a high reliance on cold storage. The platform solved the issue by using its assets to fund the withdrawal service. Users receive their cryptocurrency immediately while Coinfloor waits for the withdrawal from cold storage.
In addition to keeping coins in cold storage, Coinfloor is also proactive at preventing cyberattacks by performing external penetration tests on a regular basis. They further compartmentalize all their key applications to prevent a system-wide shutdown and have a rigorously trained and vetted team of employees.
A major weak point in any cryptocurrency exchange is where users transmit data to the exchange or vice versa. That's why SSL encryption is key, as it protects the information as it passes from the user to the host by encrypting it. You can always check the SSL status of a website by looking for the green padlock in the address bar. Make sure to never log in to Coinfloor, or any other site, that doesn't have the padlock enabled. If the padlock is disabled, hackers may be able to steal your login credentials.
User-side
While Coinfloor is responsible for keeping the information on its servers and cryptocurrency on the exchange secure, the onus is on you to keep your account secure. Coinfloor helps you do this by prompting you to turn on two-factor authentication when you set up an account. Two-factor authentication provides an extra layer of security that can be invaluable if a hacker gets access to your login details.
In compliance with local and regional regulations, many cryptocurrency exchanges will need you to validate your identity before you're allowed to transact on the platform. Coinfloor is no exception to this standard. All Coinfloor users are required to provide proof of identity and go through a verification process before they're allowed to start withdrawing funds or making deposits.
The verification process requires that users submit confirmation of their identity as well as proof of residence. Documents can be sent directly to Coinfloor and can include a passport or valid driver's license as well as a bank statement or utility bill. Corporate accounts have an extra layer of validation in the form of an incorporation certification, a list of shareholders 20% or higher, and one of the shareholder's passports along with proof of address.
Initial verification takes seconds to set up the account, but the actual verification process can take much longer. Coinfloor aims to get users validated within 24 hours of submitting their documents. Most of Coinfloor's customer complaints come from this verification process. Many users are rejected without any explanatory statements. If you're aiming for a smooth verification process, make sure to comply with all of the instructions provided and make sure your documents are up to date and valid.
Frequently Asked Questions
Does Coinfloor have an app?
Coinfloor doesn't have a dedicated iOS or Android app. Some users find the website to be usable on their mobile devices, while other users find it impossible. There is a third-party app called CoinFloor Connect for Android that has been approved by the CEO of Coinfloor and can use the Coinfloor API to trade in a mobile-friendly app.
Coinfloor has, however, developed a standalone application for desktop computers for users who don't like using browser-based platforms. The Trader application has all the features of the browser-based platform. Additionally, it doesn't have a session time-out, which is perfect for traders who are called away from their PC on a regular basis.
What countries are supported by Coinfloor?
Coinfloor is primarily aimed at the UK market, but the platform can be used internationally as well. Unsupported countries can be found in the footer of their website.
Does Coinfloor provide a cryptocurrency wallet?
No, Coinfloor doesn't provide a wallet alongside its service. Coinfloor does store cryptocurrency on your behalf in their cold storage wallets. There are many third-party options available. You can always look into cold storage yourself, particularly if you don't do many withdrawals and deposits on a daily basis.
Conclusion on the Bitcoin Exchange
Coinfloor is an attractive option if you're a high-volume trader in the UK that deals primarily in Bitcoin trading or one of the six supported currencies. However, the high fees and high minimum deposit amounts may dissuade new investors or individual day traders from using the service. Coinfloor is more suitable for the corporate market.
Another drawback of Coinfloor is its dated trading area. It offers the bare minimum of what traders need to make good decisions, and a lack of a mobile app means that you can't work on the go. These drawbacks, combined with a lack of payment options and the low altcoin support, make Coinfloor feel inflexible and dated. There are so many options out there that you may want to give this one a skip.
Coinbase
If you're looking for a popular alternative to Coinfloor in the US, we recommend checking out our review on Coinbase, a San Francisco-based brokerage with sophisticated trading options and worldwide clientele.
Disclaimer: Digital currencies and cryptocurrencies are volatile and can involve a lot of risk. Their prices and performance is very unpredictable and past performance is no guarantee of future performance. Consult a financial advisor or obtain your own advice independent of this site before relying and acting on the information provided.