Coinbase VS Coinbase Pro:
2023

Crypto Exchange Comparison
Disclaimer: We may receive a commission for purchases made through the links on our site. However, this does not impact our reviews and comparisons. Learn more about our Affiliate Disclosure.
The cryptocurrency market is worth more than 250 billion US Dollars (USD) these days! The fact that you've opened this guide means that you've probably taken an interest in crypto trading and want to know more about the niche. Maybe you already started looking for crypto trading platforms but got stuck in the process. No need to panic as you're definitely not alone!
More and more teams of cyber experts and crypto enthusiasts are giving the industry a try, with the list of available platforms now consisting of up to 200 choices. This can be overwhelming, especially if these are things that you haven't engaged in before.
In our thorough comparison guide today, you will find all the details on Coinbase and Coinbase Pro – two sister-platforms enjoying the full crypto spotlight at the moment.
About the Bitcoin Exchanges
Coinbase
Coinbase was founded in 2012 and it became the first licensed Bitcoin exchange in the United States shortly after. The founding team comprises of two software engineers, Brian Armstrong and Fred Ehrsam. They have been following the growth of the crypto market and decided to test the waters by investing in a digital platform. The company is run from its headquarters in San Francisco, California.
During these seven years since it was first launched, the exchange gradually turned into one of the most powerful brokers on the market. The numbers on their website speak for themselves. Coinbase has served more than 30 million traders across more than 100 countries around the world, and they have traded more than $150 billion in digital assets. In 2017, the estimated yearly revenue of the company was over 500 million US dollars!

The advantage of Coinbase is that the platform allows users to trade cryptocurrencies at a set price based on their market value, and all this is done faster than with other exchanges. The reputation of the platform has drawn in the investments of many world-leading venture capital firms and individuals such as Andreessen Horowitz, Union Square Ventures (USV), and Ribbit Capital.
This happened as early as mid-2013, the year in which Coinbase became the highest funded Bitcoin startup at the time, thanks to the $5 million investment from USV mentioned above. The popularity of Coinbase got its founders into thinking about expanding the platform. This brings us to our second exchange – Coinbase Pro.
GDAX / Coinbase Pro
GDAX stands for Global Digital Asset Exchange. It's actually a re-branded form of Coinbase, launched in 2016, which means that it's operated by the same organizational team. The trading platform was born from the idea of catering to the needs of larger institutional traders by creating a more powerful exchange with more cryptocurrencies, worldwide access, and in line with financial regulations at the same time.

The initial company Coinbase, however, didn't rebrand the whole business but divided its focus into two separate businesses: the original Coinbase exchange and GDAX, now under the name of Coinbase Pro.
Coinbase vs Coinbase Pro: The Comparison
Supported Cryptocurrencies
On Coinbase currently supports the following cryptocurrencies: Bitcoin (BTC), Bitcoin Cash (BCH), Ethereum (ETH), and Litecoin (LTC). These are the main coins that you can buy/sell, store, convert, transfer, etc. There's a complete list on their website with the rest of the supported digital assets whose availability depends on the country and payment method. For example, for USDC trading, New York is excluded, European and UK residents are allowed to make transfers, but the coin is not available in Australia, Canada, and Singapore.
In 2018, the company announced on their blog that they were considering adding up to 30 new tokens over time. Talking about the process, they stated that to make this vision a reality, they needed to evaluate the shortlisted coins against their Digital Asset Framework which makes an assessment based on security and compliance.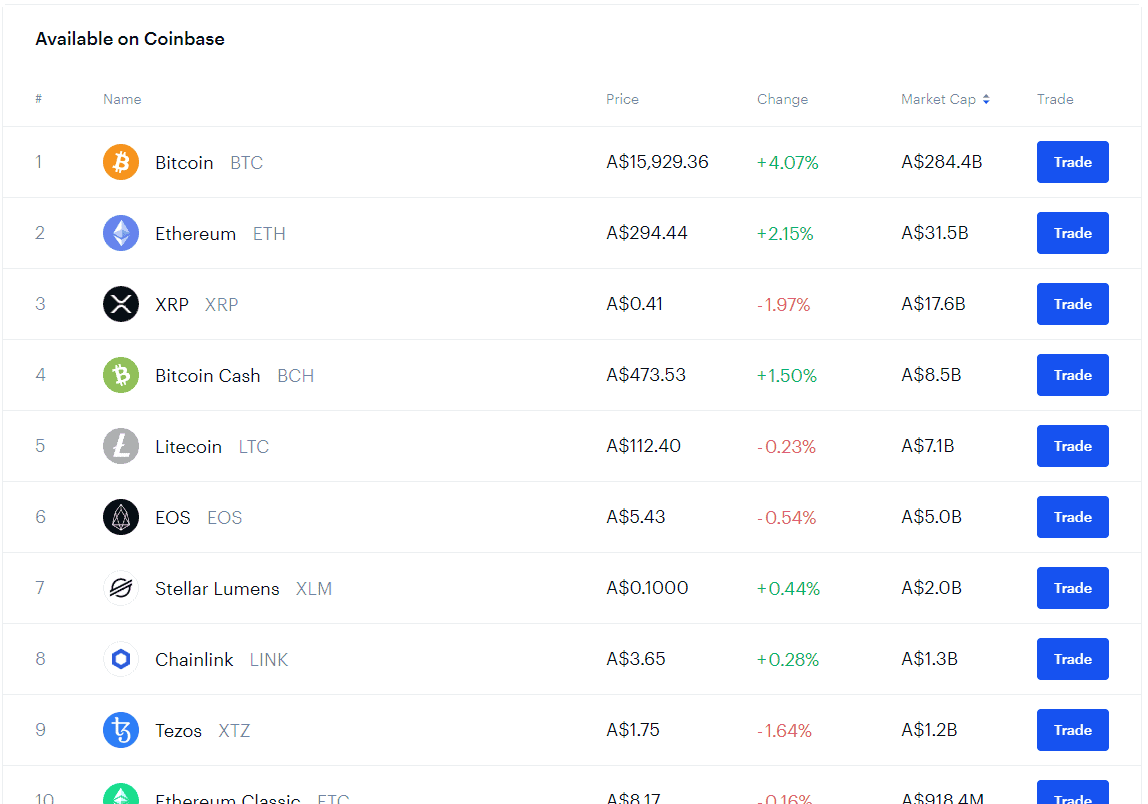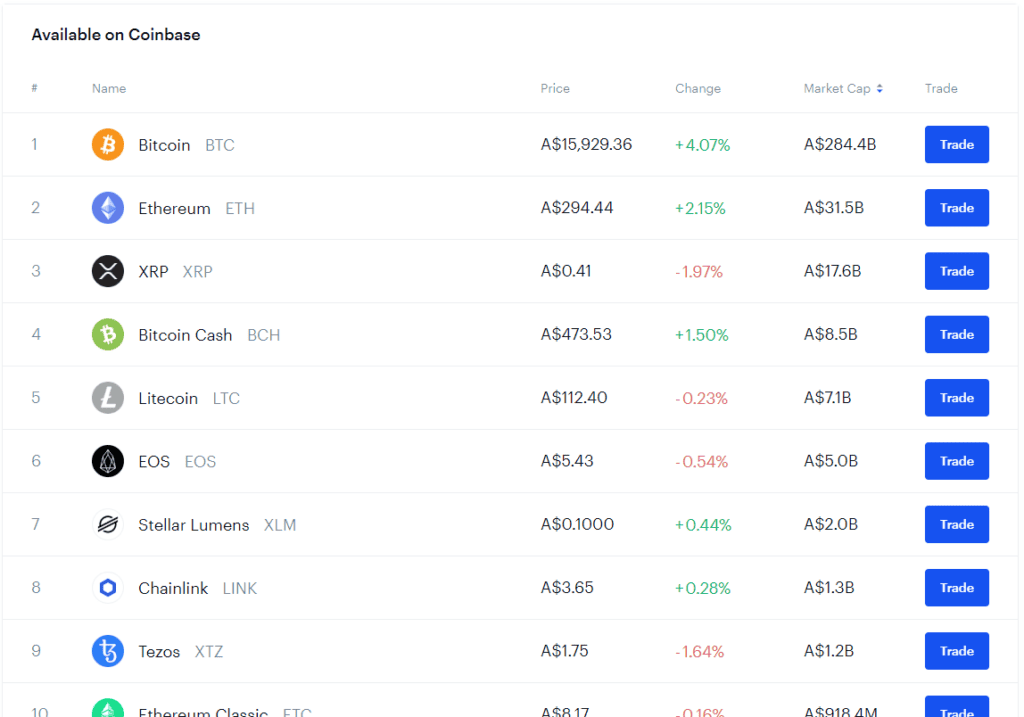 The platform has also launched a new project called "Coinbase Earn", a project that allows customers to earn money while learning about the features of lesser-known cryptocurrencies. Once you've completed a course, you're rewarded with an amount of those coins, added to your Coinbase wallet so you can try them out for yourself.
Coinbase Pro supports the same cryptocurrencies as Coinbase but the difference is in the greater variety of trading pairs that this platform offers. You can fund your Coinbase Pro account and buy Bitcoin (or other cryptos) with the following fiat currencies: USD, EUR, and GBP.
Security
Coinbase and its extension Coinbase Pro are one of the safest exchanges on the crypto market! First of all, both platforms store around 98% of the customers' funds offline, in so-called "cold wallets" disconnected from the Internet. They're held together with private customer data such as account logins and card numbers, which makes it almost impossible for hackers to reach them.
The remaining 2% online funds are protected with the essential two-factor authentication process which asks for verification via email and another device for every transaction. Another good thing is that user funds are separated from operational funds in order to avoid any violations from the company. Moreover, new users are required to pass a KYC check.
The main advantage is that on both exchanges, customer funds are protected by the FDIC (Federal Deposit Insurance Corporation), up to a maximum of $250,000. In addition to this, your wallet and private key are safeguarded with AES-256 encryption, established by the U.S. National Institute of Standards and Technology.
Transaction Fees
Coinbase fees are higher than the industry average because the platform has to protect itself from chargeback and unlawful activity. To determine your fees, they take into account your trade amount and the payment method. There's a flat fee for transactions under $200, regardless of how you pay for the service. Transactions over $201 are charged at a variable fee of 1.49%, added to the transaction total.
Let's take a look at the fee structure:
$0.99 for a transaction worth up to $10.99 and below
$1.49 for a transaction worth from $11.00 up to $26.49
$1.99 for a transaction worth from $26.50 up to $51.99
$2.99 for a transaction worth from $52.00 up to $78.05
The good thing about Coinbase is that you can fund your account using a debit/credit card or a bank account. The only prerequisite is to complete the KYC (Know Your Customer) check, where you're asked to provide personal information, your address, and a government-issued ID.
If you decide to fund your account via debit/credit card, the fixed fee is 3.99% of the trade amount. The fees for deposits made via bank accounts depend on the type of transfer. In Europe, SEPA transfers are free of charge, while US customers have to pay 1.49%. If you make the deposits using cryptocurrencies, you only pay the blockchain transaction fee. The same thing applies to withdrawals: SEPA withdrawals cost $0.15, a standard wire transfer in the US costs $25.
Coinbase also profits when you're buying or selling cryptos by adding a 1.49% fee over the initial market price.
The drawback of Coinbase Pro is that it doesn't support credit or debit card deposits. The fees for bank accounts are the same as those of Coinbase. However, the trading fee schedule is entirely different on this platform. Coinbase Pro determines the fees based on whether you're a maker or a taker and evaluates your trading volume over the last 30 days. The volume is calculated in USD so if you were trading in a different currency, Coinbase Pro will convert those trades. Maker orders incur zero fees, but there's a taker fee of 0.30% per transaction.
Ease-of-Use
Coinbase was made with the intention of making crypto trading accessible for the average retail trader. The interface and the Coinbase account itself have no learning curve even for the most uninitiated users. Some people might see it as a disadvantage, but simplicity is Coinbase's strength. It's one of the main reasons people seek to trade there. One of the few extra options is to use the platform as a wallet and store your funds there as well.
Coinbase Pro was designed to satisfy the crypto ventures of crypto professionals. It offers advanced options like margin trading, regular market orders, limit orders, stop orders, following a real-live order book, updated market data, etc. It features technical charts for in-depth analysis when predicting market changes, which make the platform look off-putting for less-experienced traders.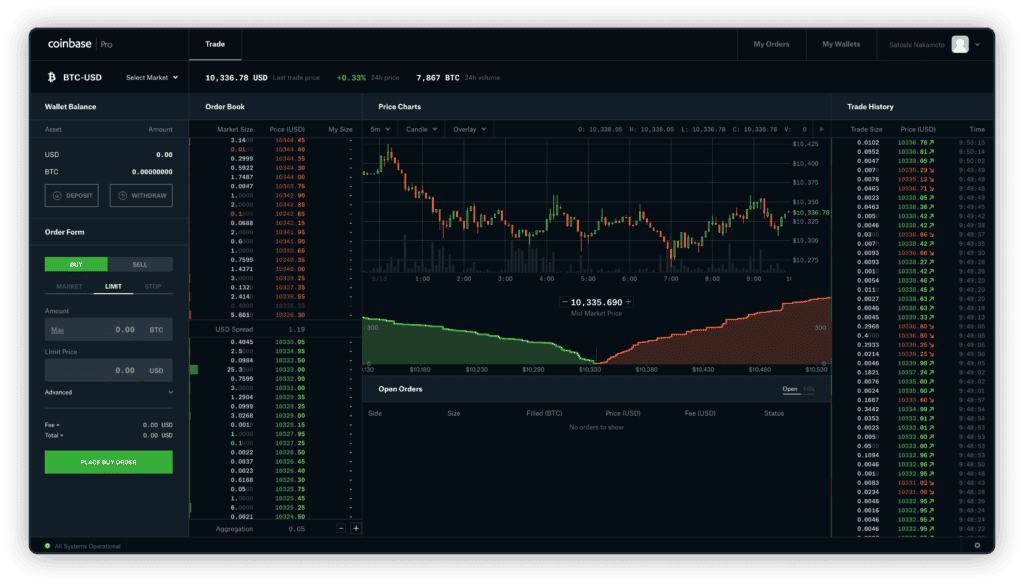 Customer Support
Coinbase and Coinbase Pro are doing a great job when it comes to providing satisfactory customer support. Both platforms have 24/7 support lines and a live chatbox for your most urgent queries. Otherwise, you can always visit the separate "Support" pages on their websites, where you have their FAQ section with a great selection of questions on account management, buys and sells, supported cryptocurrencies, payment methods, wallet services, and more!
You can also submit a request or support ticket, and wait for an answer via email. Users find them quite responsive, stating that their queries are usually answered within a reasonable 24-72 hour frame.
Mobile Trading
Designed to provide traders with all the necessary tools to trade on the go, both Coinbase and Coinbase Pro have their own mobile apps. The Coinbase mobile app is available for both Android and iOS users, while Coinbase Pro launched its app this month and for now, it can only be downloaded on the Apple Store.
Pros and Cons
 Coinbase pros:
Storing 98% of users' funds in offline wallets
FDIC Insurance up to $250,000
Customer service offers support via email, phone, and chatbox
Quick to respond to customer queries
Beginner-friendly
Has a mobile app
You can buy digital currencies via bank transfers (ACH), credit, and debit cards
Coinbase cons:
Higher fees from 1.49% to 3.99%
Doesn't support a lot of cryptocurrencies
Doesn't offer a lot of trading options
Coinbase Pro pros:
Storing 98% of users' funds in offline wallets
FDIC Insurance up to $250,000
Perfect for larger institutional traders
Lower fees per transaction
Coinbase Pro cons:
Not suitable for beginners
Doesn't support credit/debit cards
The mobile app is for iOS users only
Final Thoughts
If you read this guide carefully, you already know what the main differences are between these two platforms. We've covered everything from supported coins, fees, payment methods, security, and customer support!
We can't talk about the ultimate winner here since the two exchanges are very different from each other. This clear-cut distinction is exactly what makes both of them shine in the eyes of different traders.
We're convinced that Coinbase has already won the hearts of newcomers with no trading background. And that's the thing, you don't need any previous experience to be able to use the platform! What you need is a mix of enthusiasm, time, and some money to get you started.
If you have been using Coinbase for some time, switching to Coinbase Pro won't be difficult. Deep-rooted traders will welcome the advanced trading amenities on the long-sought extension of Coinbase.
Binance and Other Crypto Exchanges
It might be hard to make a decision solely based on one crypto exchange review. For example, you can see Coinbase compared to Binance, a major altcoin trading platform. These reviews will help you make a better-informed decision in the end.


Disclaimer: Digital currencies and cryptocurrencies are volatile and can involve a lot of risk. Their prices and performance is very unpredictable and past performance is no guarantee of future performance. Consult a financial advisor or obtain your own advice independent of this site before relying and acting on the information provided.