Coinbase Pro VS Poloniex:
2023

Cryptocurrency Exchange Comparison
Disclaimer: We may receive a commission for purchases made through the links on our site. However, this does not impact our reviews and comparisons. Learn more about our Affiliate Disclosure.

Update: Poloniex no longer serves US customers!
Choosing a suitable trading platform is no easy task and traders should be extra careful about trusting any of them with their funds. When deciding, you should take into account whether the chosen platform supports the currencies you need, both digital coins and fiat currencies.
You should check the trading fees and read a couple of customer reviews which detail their experience with that exchange. Are they quick to solve your problems or does their team take ages before getting back to you?
About the Exchanges
Coinbase Pro
The story of Coinbase Pro / GDAX begins in 2012 in San Francisco, California, with the launch of its sister-platform called Coinbase. The founding team was made of Brian Armstrong and Fred Ehrsam, two crypto enthusiasts who have helped revolutionize the way we trade with digital assets nowadays.
Coinbase caught the attention of crypto traders because of its compliance with government regulations. Most of the other crypto exchanges avoided them altogether, but Coinbase wanted to prove to their users that they offer a safe and protected trading network. Many renowned venture capital firms and individuals invested in Coinbase for the same reason.

This made it possible for the team to dream bigger. The growing number of users encouraged them to start making plans for expansion and showed them that they now have two groups of traders with different demands. Retail traders and newbies were interested in basic trading options, while seasoned and institutional traders who did this for a living, needed something more advanced and adventurous.
Therefore, in 2016, the team decided to turn Coinbase into a user-friendly platform perfect for beginners and to rebrand the original exchange into GDAX (Global Digital Asset Exchange) to cater to the needs of professional traders and offer them exciting ways of engaging with digital assets. In 2018, GDAX was renamed to Coinbase Pro.
Poloniex
Poloniex is a crypto-to-crypto exchange only, founded by Tristan D'Agosta in 2014. The corporate headquarters are located in Wilmington, Delaware.
The founder, D'Agosta, has an unusual background for someone working in the crypto industry. He attained a degree in Music after graduating from Rutgers, the State University of New Jersey, and worked for a while as a freelance composer. Next, he ran a company called Polonius Sheet Music. This just goes to show how the crypto space can be for people from all walks of life!

Poloniex has chosen the US as its target market but has managed to attract traders from around the world as well. This is thanks to the great variety of altcoins that the platform offers for cryptocurrency trading. Until mid-2017, it was common to see Poloniex reaching the highest daily trading volume together with other top exchanges. Nowadays, it's very rare to see the platform in the top five rankings. Fed up with the poor customer support and security threats – we'll tell you all about the CLAM flash crash in the Security section below –  many users fled to rival platforms such as Bittrex and Binance.
Coinbase Pro vs Poloniex: The Comparison
Bitcoin and Supported Altcoins
Before you commit yourself to a platform, make sure you check what cryptocurrencies it supports.
Over at Coinbase Pro, for example, you only get to trade with Bitcoin (BTC), Bitcoin Cash (BCH), Ethereum (ETH), and Litecoin (LTC).  However, the platform allows you to pair the cryptos with USD, EUR, and GBP.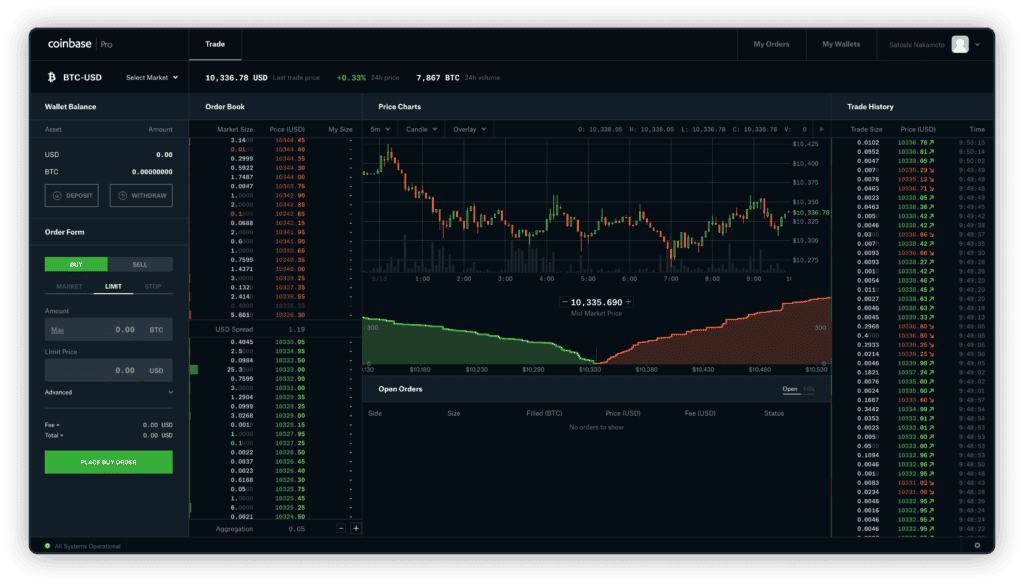 Poloniex lacks support for fiat currencies but strategically makes up for this by adding up to a hundred altcoins to its list of supported cryptocurrencies such as Ripple (XRP), Ethereum Classic, Zcash, Eos, and Dash. This means there's a large number of trading pairs too. All altcoins are paired with Bitcoin, Ethereum, Monero, and Tether. 
Security
Both Coinbase Pro and its sister-platform have strong industry reputations based on their impressive security practices. First of all, Coinbase Pro separates customer funds from company funds and never uses the former for operational purposes. The majority of these funds (98%) are stored in cold storage, which means that they are disconnected from the Internet and therefore safer. The remaining funds are fully insured.
They're protected from the start with two-factor authentication that doesn't authorize a transaction without an email and mobile phone verification. The USD balances of United States residents are insured by the FDIC (Federal Deposit Insurance Corporation) up to a maximum of $250,000. In addition, your wallet and private key are safeguarded with AES-256 encryption. The platform also complies with U.S. regulations like The Bank Secrecy Act and The USA Patriot Act.
Poloniex also stores customer funds into hot and cold wallets for maximum safety. All account actions need to be verified using the 2FA method. However, Poloniex isn't praised for reliability anymore. The reason? In May 2019, the platform experienced a flash crash due to a heavy price drop of a little-known altcoin called Clams (CLAM). In less than 45 minutes, the CLAM/BTC margin trading froze, and Poloniex customers lost around 1,800 BTC. At the time of the crash, this amounted to $13.5 million! Immediately following the crash, Poloniex reimbursed only about 10% of the lost amount to its customers but announced, in a recent blog post, that they have decided to pay back the daily trading fee amount (in BTC) to the affected traders until their losses are fully recovered.
Hopefully, this will teach the company to think twice before supporting cryptocurrencies with a low level of liquidity since they're less reliable and similar price drops may happen again.
Fees
Both Coinbase Pro and Poloniex determine trading fees based on a maker and taker fee schedule and your trading volume in the last 30 days. The percentage is slightly different.
Coinbase Pro likes to reward traders who bring liquidity to the exchange, i.e. the makers. The company likes to think that this would serve as an incentive for further trading. Takers, on the other hand, are charged at a 0.30% fee which is still in line with the industry average.
For deposits and withdrawals, there're other fees. Bank account deposits made in Europe through a SEPA transfer are free of charge but US customers have to pay 1.49% when making a bank transfer. As far as withdrawals go, those made through SEPA cost $0.15, whereas a standard wire transfer in the US costs $25. Cryptocurrency deposits are charged with blockchain transaction fees. Coinbase Pro doesn't allow deposits made via credit cards but you can use your debit card without a problem.
The maximum trading fee over at Poloniex is a bit lower for takers but makers are charged as well. For a trading volume of less than 600 BTC, Poloniex adds a maker fee of 0.15% and a taker fee of 0.25%.
Ease-of-Use
Out of the two, Coinbase Pro is a little more user-friendly and better suited for intermediate, professional, and institutional traders. Beginners might be intimidated at first but they won't have problems once they get the hang of it. If you still think Coinbase Pro is too advanced for you, head on to its sister-exchange Coinbase.
The interface of Poloniex definitely has a learning curve to it. It was redesigned in 2015 and now has a more user-friendly but still serious website. At first glance, it appears overburdened with technical information and trading jargon but that's because of the additional options like margin trading.
This feature allows users to trade with borrowed funds from other customers called lenders. Both Coinbase Pro and Poloniex offer this feature. The difference is that with Coinbase Pro, you get to trade up to 3x leveraged orders, while Poloniex allows up to 10x.
Customer Support
We can see that the crypto industry is currently in full bloom, and customers are pouring in by the hundreds. This is beneficial for the platforms but at the same time, they're struggling to attend to the needs of all those users. Coinbase Pro and Poloniex hold their reputations mainly because they excel in this area as well.
On the website, there's a separate "Support" page which leads to a dashboard with a request box for submitting support tickets. At the bottom of the page, there's a robust FAQ section that serves as an inside guide to the world of crypto for beginners. It doesn't just cover common support issues but explains investment terms, different currencies, and crypto trading options. It clears up customers' doubts about proper account management, supported cryptocurrencies, trading options, payment methods, etc.
Customers get answered by the support team via email. Coinbase Pro is known as a highly responsive platform, usually getting back to its users within a reasonable 24-72 hour frame. Now you can even reach the company on the phone or use the 24/7 live chat whenever you need instant support and wherever you are in the world.
No one can blame crypto exchanges if they loosen up from time to time, or if they can't keep up with an upsurge of support tickets during busy times. However, things got way out of hand for Poloniex. The main reason why the company is no longer among the top 10 exchanges for its trading volume, is that customers were constantly complaining of its unacceptably delayed responses. There were instances when customers didn't receive an answer for more than three months! These were also some reports of frozen accounts or customer funds gone missing without an explanation.
Mobile Trading
Nowadays, traders are looking for the convenience of mobile trading so most exchange platforms offer this option. Coinbase Pro launched a mobile app only last month but the app is still unavailable for Android users.
Meanwhile, Poloniex launched its application a year ago, and it can be downloaded both on Android and iOS mobile devices anywhere in the world. Prior to that, there were some third-party apps that have been created with the Poloniex API but users regarded them as too risky for trading money.
Pros and Cons
Coinbase Pro pros:
Employs better security practices
2FA, cold storage, encryption
FDIC Insurance and compliance with US regulatory laws
Perfect for experienced and institutional traders
Low fees and no charge for makers
Excellent customer support
Supports fiat-to-crypto exchanges
Coinbase Pro cons:
Limited choice of cryptocurrencies
Doesn't support credit cards
The mobile app is not available for Android users
Poloniex pros:
A choice of 99+ altcoins
Low trading fees and no deposit/withdrawal fees
Two-factor authentication plus offline storage
Has a mobile app
Poloniex cons:
Allows crypto-to-crypto exchanges only
Serious problems with security and a flash crash in 2019
Very slow support ticket responsiveness
Final Thoughts
You don't need to have extensive knowledge of the crypto market to notice that we have a clear winner this time. The lack of fiat support, the security breach in the past, the lack of customer support, and the long delays won't make you head on over to Poloniex and set up an account.
We think that it will be wiser to stick to Coinbase Pro, which has a superior reputation and excels by all metrics. For one, it has never been hacked nor has it had any problems with customer support. The platform also offers fiat-to-crypto exchanges and advanced features for professionals. The only disadvantage is the limited number of supported cryptocurrencies.


Disclaimer: Digital currencies and cryptocurrencies are volatile and can involve a lot of risk. Their prices and performance is very unpredictable and past performance is no guarantee of future performance. Consult a financial advisor or obtain your own advice independent of this site before relying and acting on the information provided.