GDAX (Coinbase Pro) VS Kraken:
2023

Crypto Exchange Comparison
Disclaimer: We may receive a commission for purchases made through the links on our site. However, this does not impact our reviews and comparisons. Learn more about our Affiliate Disclosure.
In this exchange guide, we take a closer look at two long-standing platforms – GDAX and Kraken. After a brief outline of the companies' history, we'll compare the two of them in a feature by feature breakdown.
Do you want to know which cryptocurrencies they support and which has more options? Do they support fiat exchanges? Have they ever been victims of a hacker attack or is their security system impenetrable? How to calculate costs and profits? Which platform offers lower fees?
Look no further than our guide!
About the Exchanges
GDAX (now Coinbase Pro)
The abbreviation GDAX stands for Global Digital Asset Exchange, a platform whose beginnings date way before 2016 when the exchange was officially launched as a separate trading network. Previous to that, GDAX was part of Coinbase, a crypto exchange founded in 2012 by Brian Armstrong and Fred Ehrsam.
The platform quickly gained momentum and the company's pursuance rather than avoidance of government regulations increased its value in the eyes of many world-leading venture capital firms. Thanks to their investments, Coinbase was able to grow and expand its cryptocurrency ecosystem. This led to the need for two separate platforms, each tailored to meet the demands of different types of traders.

The team decided that Coinbase was to become a more user-friendly platform perfect for the regular retail trader, while the original exchange was rebranded as GDAX and redesigned to offer new and exciting ways to interact with digital assets. This included discounts for high volume traders, detailed real-time market charts, and order customization. In 2018, GDAX was renamed to Coinbase Pro.
Kraken
Kraken is another veteran among crypto exchanges. The company began operating in July 2011 and is now one of the most reliable and sought-for exchanges to date and a well-known leader in Euro-to-Bitcoin daily trading volume.
The company was founded by current CEO Jesse Powell and has been operating from San Francisco, California. Kraken became famous for pioneering the first cryptographically-verified proof-of-reserves audit system and for the first-rate security measures compared to other exchanges in the crypto industry.


In the past, Powell was also the founder and subsequent manager of Lewt, Inc. This company partnered with online video games to provide account support and issue in-game currencies to the players. He is respected among other crypto enthusiasts for his expertise in the field, which is why when the Mt. Gox was hacked in 2011, their CEO, Mark Karpelès, asked Powell to help him service the security issues and bring the platform back on its feet.
This was the turning point that got Powell into thinking about founding his own crypto exchange. His main incentive: to win back traders' faith in crypto trading. His hard work bore fruit, and it didn't take long before Kraken could boast of having millions of traders exchanging their digital assets on the platform.
Coinbase vs Kraken
Over at Crypto Head, we have a separate comparison guide on Coinbase (the mother-platform of Coinbase Pro) versus Kraken that we recommend for you to check.
Kraken vs Coinbase Pro (GDAX): The Comparison
Supported Cryptocurrencies
The best thing about Coinbase Pro and Kraken is that they both offer not only crypto-to-crypto but also fiat-to-crypto currency pairs. If you're a complete beginner with no altcoins in your (virtual) pocket, this means that you can exchange fiat currencies for your first digital coins and start trading right away.
Bitcoin (BTC)
In terms of which coins are your option, Coinbase Pro currently only supports Bitcoin, Bitcoin Cash, Ethereum, and Litecoin, plus trading with USD, GBP, and EUR. This is one of their safety measures since not all coins are regulated and protected in the same way. Therefore, if your target cryptocurrency is Bitcoin, there's no need to use a complicated altcoin platform as Coinbase Pro has exactly what you need and more.
Other Cryptocurrencies
Coinbase Pro definitely has some good options, but Kraken is the clear winner here since it offers a wider choice of up to 26 supported cryptocurrencies that you can purchase and 124 trading pairs. It supports tokens like Bitcoin, Bitcoin Cash, Ethereum, Ripple, Dash, Monero, Zcash, EOS, Augur, Stellar/Lumens, etc.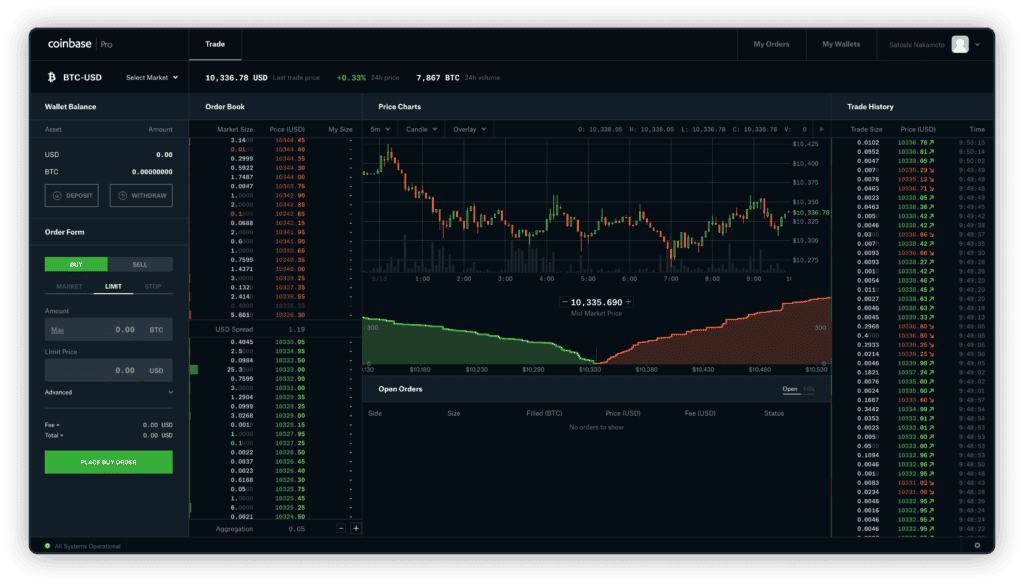 Another advantage it has over Coinbase Pro is that it supports an additional fiat currency – the Canadian Dollar (CAD). It used to support Japanese Yen (JPY) as a payment method as well but banking regulations have prevented future support.
Security
To be considered a world-class exchange, security should be your primary concern. Both Coinbase Pro and Kraken seem to agree with this. Their teams have developed top-level safeguarding measures and until now, neither of the two platforms has been a victim of a hacker attack.
Common for both exchanges is their strategic fund storage. They have an "air-gapped" cold wallets, disconnected from the Internet, where they store more than 90% of your funds. If you're worried about the remaining percentage of your money, the platforms make it highly unlikely for them to be stolen since they use features like two-factor authentication. No transaction would be authorized without an email and mobile phone verification. Moreover, user funds are separated from operational funds in order to avoid any violations or thefts.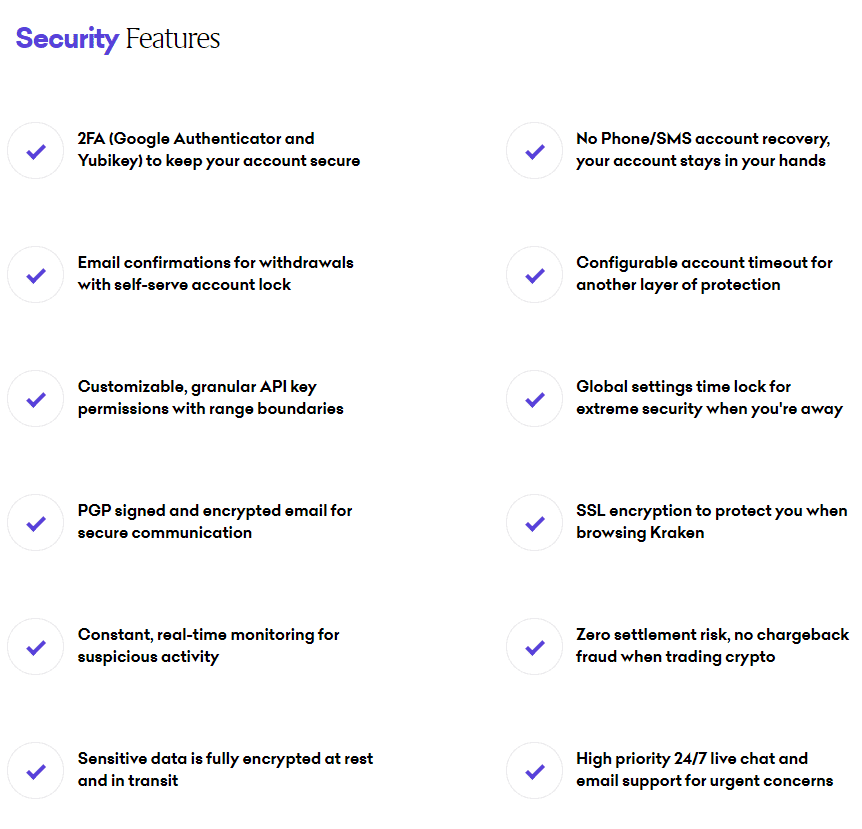 Coinbase Pro customers living in the US also enjoy the possibility of having their funds insured up to $250,000 by the FDIC (Federal Deposit Insurance Corporation). On top of that, the wallet and user private keys are safeguarded with AES-256 encryption.
Kraken offers an additional "Master Key", a passcode you use to access special account actions. You can also activate the Global Settings Lock to lock your account for a set period in order to block any unauthorized IP addresses' attempts from making changes to your account.
Fees
Both Coinbase Pro and Kraken use the volume-based maker and taker fee schedule to determine your trading fees. However, the amount differs on each trading platform.
The exchanges have decided to reward makers for bringing liquidity to their market and therefore, regardless of the volume, Coinbase Pro doesn't incur a maker fee, while takers have a fixed fee of 0.30% on the trade amount.
Kraken applies trading fees to both, but if you're a maker and your trading volume has been lower than $50,000 in the last 30 days, for example, the added fee will be 0.16%. If you're a taker, you will be charged 0.26% for each trade. As your volume increases, the fees are discounted for maker and taker alike. If your volume is between $250,001 and $500,000, the fees can get as low as 0.10% and 0.20%.
The platforms differ when it comes to deposit and withdrawal fees. Coinbase Pro doesn't support credit or debit cards as deposit methods. In Europe, bank account deposits made via a SEPA transfer are free, but in the USA customers have to pay 1.49% for bank transfers. If you deposit using cryptocurrencies as a payment method, you only pay the blockchain fee. As far as withdrawals are concerned, those made through SEPA cost $0.15, whereas a standard wire transfer in the US costs $25.
Kraken charges for fiat deposits made through wire transfers. The fees are 5€ for international wire transfer, $5 for domestic wire transfers, and $10 with SWIFT International wire transfer. Compared to Coinbase Pro, Kraken charges higher fees for withdrawals.
Ease-of-Use
The recent redesign of Coinbase Pro has simplified the deposits and withdrawals and made it easier to navigate the charts, order history, and the balance overview. Even though the platform is made for experienced traders, new users can stick to the basic trading option without a problem.
For the ones feeling adventurous, Coinbase Pro has three different order types available: market, limit, and stop. The options for limit orders include Good 'Til Canceled, Good 'Til Time, Immediate or Cancel, and Fire or Kill. There's also a limit price for each stop order.
Kraken's website is more appealing and less likely to scare you off, thanks to the engaging colorful illustrations and the clutter-free layout. To start trading, you begin by creating an account. Kraken checks the eligibility of your country. If you're a resident of Iran, Iraq, Afghanistan, Japan, North Korea, Tajikistan, or Cuba, you won't be able to use Kraken due to regulatory issues.
For the others, you will need to verify your account via email. When you go back to the website, you can choose between a Simple or Advanced interface. Kraken has statistics, charts, leverage, and margin trading available as well. The only inconvenience for traders is that Kraken needs 1-5 business days to transfer fiat currencies to your account if that's how you want to start trading.
Customer Support
Hats off to Coinbase Pro and Kraken for managing to provide decent support to their users and earn customer reviews full of praises even at the busiest times.
Both platforms have a Support page with a designated area for request tickets and queries which are promptly addressed via email, a rich FAQ section where you'll find an answer to any question you could think of asking, plus all sorts of manuals and crypto guides.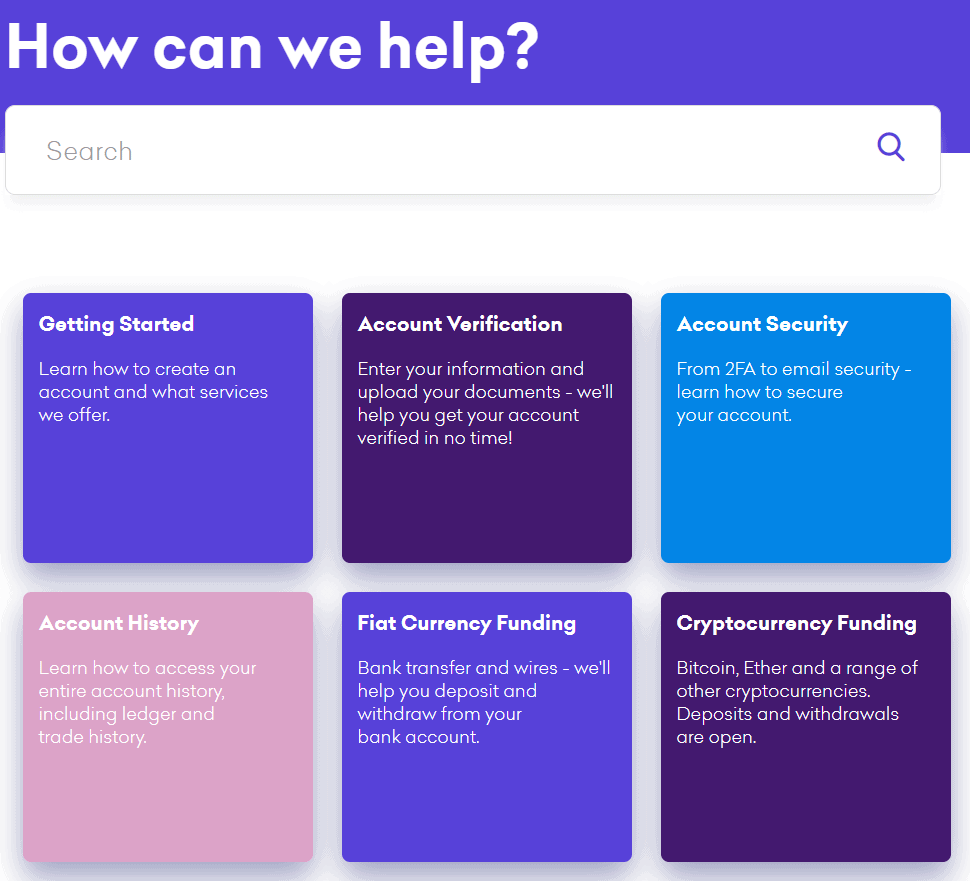 It has been reported that their responsiveness ranges from 24 to 72 hours, which is more or less the average for the crypto industry. The best thing, however, is that both platforms have included a chatbox to ensure customers get an immediate response wherever they are.
Mobile Trading
One of the less attractive things about Kraken is that it doesn't have a mobile application yet. This is unacceptable in an age where people spend hours on their mobile devices and their busy schedules would benefit from being able to check their trade orders, the market prices, and chart fluctuations on the go!
Coinbase Pro launched its mobile app recently, so, depending on when you're reading this, it might only available on the Apple Store, and they're working on an Android app at the moment.
Pros and Cons
Coinbase Pro pros:
Supports fiat-to-crypto exchanges
2FA, cold and hot wallets, encryption
FDIC Insurance for US customers' funds
No charge for makers and low fees for takers
Perfect for experienced and institutional traders
Has an iOS mobile app
Coinbase Pro cons:
Only four supported cryptocurrencies
Less suitable for beginners
Doesn't support debit/credit cards
Kraken pros:
A fairly low trading fee of 0.16% and 0.26% for maker and taker respectively
Supports over 20 cryptocurrencies and more fiat currencies
Supports fiat deposits and withdrawals
High-security measures
Two-factor authentication, a Master Key, and a Global Settings Lock
Stores customers' funds in hot and cold wallets
Has a 24/7 live chat
Kraken cons:
It takes 1-5 business days for your fiat deposit to reach your Kraken account
No mobile application
Final Thoughts
Now that you've read our guide and got acquainted with Coinbase Pro and Kraken, we think you're ready to pick one out of the two.
Overall, both platforms are well-protected and take excellent care in storing your funds, which has prevented hackers from finding ways to steal that money. The trading fees are average towards very low, and you can trade primary coins with fiat currencies too. Kraken has a better choice of coins and additional fiat support.
If you want some serious trading action, explore Coinbase Pro instead. You won't have to wait up to five days for a fiat transfer if you want to use the option as a payment method. Also, if you're an iOS user, you can benefit from the mobile app.
Cryptocurrency Exchange Reviews
Take your time to digest all the information we've presented in this detailed guide and pay special attention to important things like the number of supported currencies, available trading and payment methods, the level of responsiveness, security measures, and cost versus profit. We'd recommend checking out our other recommended Crypto exchanges in Australia or if you are just looking at buying Bitcoin we have guides for that. For instance, here you can see Kraken compared to Poloniex.



Disclaimer: Digital currencies and cryptocurrencies are volatile and can involve a lot of risk. Their prices and performance is very unpredictable and past performance is no guarantee of future performance. Consult a financial advisor or obtain your own advice independent of this site before relying and acting on the information provided.