Bittrex VS Bitfinex:
2023

Crypto Exchange Comparison
Disclaimer: We may receive a commission for purchases made through the links on our site. However, this does not impact our reviews and comparisons. Learn more about our Affiliate Disclosure.

Finding the right trading platform to exchange your digital assets is a time-consuming process. It requires a lot of research, following the changes and latest trends of the crypto market, and estimating the reliability and performance of different platforms. To help you out, our team has produced a list of comparison guides with crypto-rivals being compared and contrasted side by side.
Today we'll go over the features of Bittrex and Bitfinex, two very famous crypto exchanges that have been present on the crypto scene for more than five years. To find out how they've earned the trust of traders around the world, we'll shed light upon their trading options and currency offers.
We'll talk about the importance of low transaction fees when your plan is to trade high volumes of coins. We'll touch upon efficient security methods used by the platforms to ensure their users that the funds they keep within their online wallets remain safe and sound. We won't try to cover up any disadvantages or problems they've been dealing with in the past, but show how they managed to solve their crisis instead.
About the Exchanges
Bittrex
Bittrex is a crypto exchange launched in 2014 in Las Vegas, Nevada. The corporate headquarters have been relocated to Seattle, Washington. Behind the efficiency of the platform stands a stellar team of security engineers spearheaded by co-founders Bill Shihara, Richi Lai, and Rami Kawach.
Prior to Bittrex, all of them have been working in the security department of world-leading companies such as Microsoft, Amazon, and BlackBerry. It was this experience that gave them the incentive and confidence to found their own exchange. By then, they were already skilled at handling a diversity of tech challenges and security breaches. The promise of a safe and reliable trading platform is what prompted millions of traders (from the United States and beyond) to join Bittrex.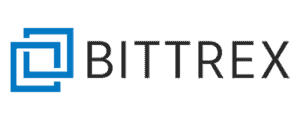 Bitfinex
Bitfinex was founded in 2012 by the IT technician Raphael Nicolle. The platform is registered in the British Virgin Islands with headquarters in Hong Kong. Due to regulatory issues, in 2018, the team announced that they were seriously thinking about relocating the exchange to crypto-friendly Switzerland but they haven't made a further step in that direction.

Bitfinex used to be available across the United States, except for New York and Washington residents, through its BFXNA Inc. party, while non-US clients were using the BFXWW Inc. party. However, in August 2018, the platform decided to cut all ties with individual and corporate US customers and offer its services only to US institutions which hold more than $10 million in digital assets and therefore qualify as Eligible Contract Participants.
The exchange also has connections with the popular coin Tether (USDT), through their mutual shareholders. In the past, there have been some accusations that the platform was using Tether funds to cover up for its own shortfalls but the whole thing was dropped due to lack of evidence.
Bittrex vs Bitfinex: The Comparison
Supported Cryptocurrencies
Bittrex offers an outstanding number of up to two hundred different altcoins to choose from and trade with. When you look at the number of trading pairs, it has as far as 450 pairs! Bittrex supports popular coins like Bitcoin, Ethereum, Litecoin, Ripple, and Bitcoin Cash, and some lesser-known but promising coins like Monero, IOTA, Zcash, Polymath, eBoost, Siacoin, Factom, and others, which makes trading more adventurous for some.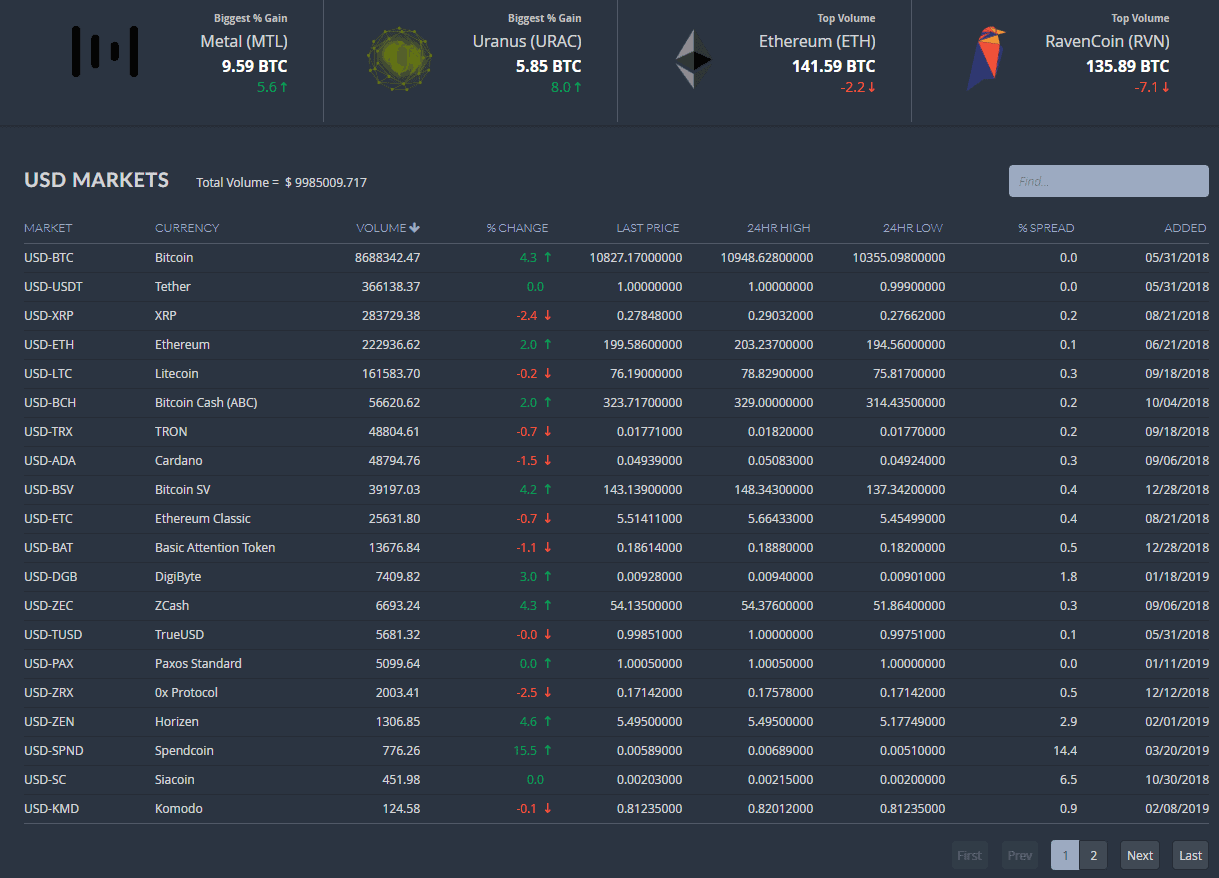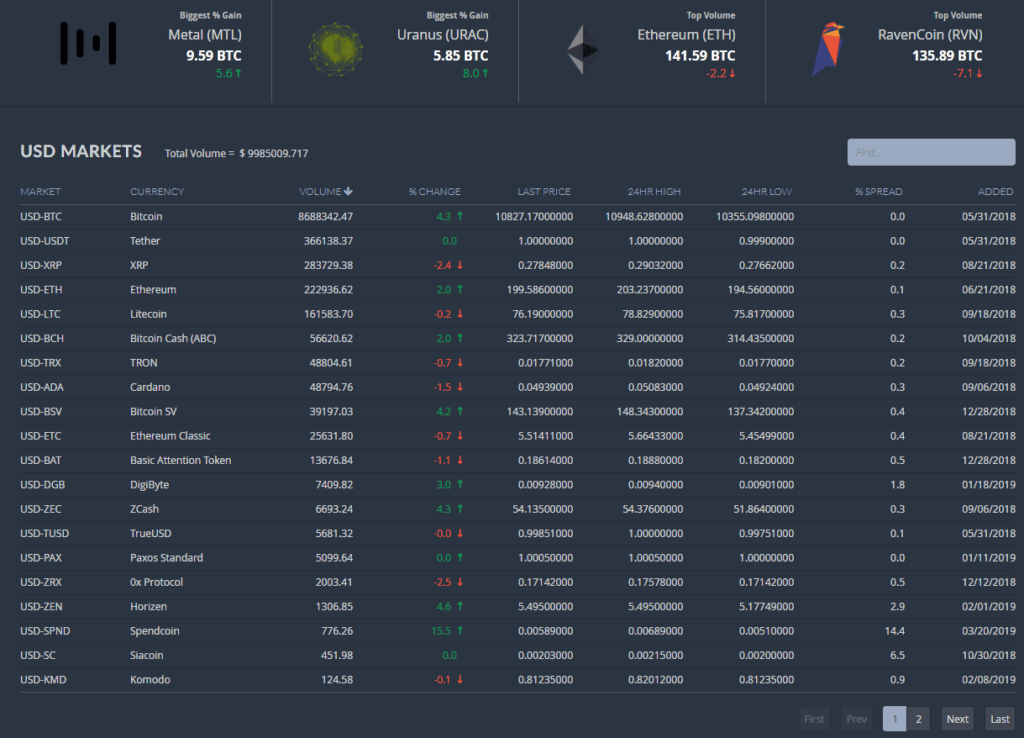 The only disadvantage is that Bittrex doesn't allow users to make fiat deposits. The company has been aware of this shortfall and made attempts to amend this. As of June 2019, Bittrex includes an option for USD trading for new users who have passed the KYC test, regardless of the type of account (personal or corporate). To familiarize yourself with this even better, visit their website to check out the full list of eligible countries and trading conditions.
Although Bitfinex can't be superior to Bittrex in the number of supported cryptocurrencies, it does offer over 90 different coins too. Plus, it deserves a tip of the hat for allowing users to make fiat deposits in USD, EUR, JPY, and GBP, even if they're only available through wire transfers for now.
Bitcoin
Bitcoin can be traded on either Bittrex or Bitfinex with the only difference being the lack of fiat deposits on Bittrex. For some traders, especially beginners, this can be crucial as they don't have other cryptos to buy Bitcoin with. Instead of using another platform to convert fiat into crypto, they can choose Bitfinex.
Security
The team behind Bittrex has years of experience in cybersecurity. They've thought things through and devised a well-protected platform. They use two types of wallets – an "air-gapped" cold wallet which stores the majority of customers' funds unplugged from the Internet, and an online hot wallet for the remaining 2% of the funds.
To protect that money as well, the team has added an obligatory two-factor authentication method to verify each and every transaction by sending a confirmation code to two user devices. To this day, Bittrex hasn't been hacked which just goes to show how reliable their safeguarding strategy is!
Even though Bitfinex uses two types of wallets (only 0.5% of the funds are kept online!), two-factor authentication, and a withdrawal whitelist to prevent account access to unauthorized IP addresses, the platform has experienced a couple of serious security breaches and scams in the past.
In 2015, Bitfinex's hot wallet was compromised and hackers managed to steal around 1,500 BTC. The exchange had no problem reimbursing the affected users since the amount was not that big. However, a more serious attack in August 2016 threw Bitfinex off balance when up to 120,000 BTC were stolen. At the time, this amounted to 72 million US dollars! To repay its customers, the platform had to issue "Recovery Rights Tokens" as an IOU, traded as BFX tokens.
Fees
Bitfinex uses a maker and taker volume-based fee schedule. The fees will vary depending on whether you're a maker or a taker, and on the trading amount achieved during the last 30 days.
For example, for makers, the fee begins at 0.1%, gets reduced to 0.08% if the trading volume is over $500,000, and continues to decrease until it reaches zero for a trading volume of $7.5 million. The taker fee starts at 0.2% and reaches 0.18% for a 30-day volume of $10  million.
Similarly, for a trading volume below $50,000, both the maker and taker fee over at Bittrex start at 0.20%. The trading fee decreases if you achieve a higher trading volume. Bittrex doesn't charge fees on fiat deposits unless your bank adds a service fee for bank wires. Withdrawal fees vary depending on the coin in question. There are no maximum withdrawal limits but the minimum is $10.
Ease-of-Use
Both platforms have quite straightforward websites with responsive HTML5-based layouts and easy-to-navigate interfaces. One of the conveniences when placing your order on Bittrex is that the candlestick chart, order books, and volume depths are all around the input box. These charts are one of the main things that traders praise the platform for as it gives them great insight into market changes.
When you want to open an account, you only need to click on the "Sign Up" button and then provide personal information and a photo ID to verify your account. At this point, Bittrex will send you a confirmation email before you get the right to trade.
Bitfinex also has numerous advanced trading options such as order types, margin trading, OTC desk, and more. Order types include one-cancels-the-other (OCO), hidden order types, trailing stop orders, fill-or-kill (FOK), and scaled orders. There's also margin trading with up to 3.3x leverage, margin funding, and exchange trading. Bitfinex's OTC desk is aimed at institutional traders who want to move large amounts of cryptocurrencies.
The order books also come with the option to add alerts for specific price levels from within the book. This is useful for those who frequently follow the change in levels and prices.
Customer Support
Both exchanges have been blamed on multiple occasions for showing slow responsiveness as a result of their understaffed support teams, but they're doing their best to make up for these negative user experiences. Bittrex has even published a blog post where the team promises to solve the issue. They blamed the crypto industry boom of 2017 which caught exchanges unawares.
Bittrex and Bitfinex have support centers with a well-informed knowledge base. Customers can submit support tickets and expect to receive an answer via email. In the meantime, they're encouraged to look for explanations from the robust FAQ section on the website and browse through informative guides and manuals.
Bittrex has even added a 24/7 live chat to reassure customers that their most urgent queries will be taken into account at any one time, wherever they are in the world.  We expect user reviews to reflect these positive changes very soon.
Mobile Trading
Traders who look for platforms that support mobile trading will be disappointed to learn that Bittrex doesn't have this option yet.
Bitfinex clearly wins this round because it offers a mobile app to both iOS and Android users. The app has a minimalistic layout and it's very easy to navigate. It includes four main sections: Trading, Funding, Transfer, and Account modules. Our only remark is that the watch list can benefit from further improvements.
Pros and Cons
Bittrex pros:
Supports hundreds of cryptocurrencies
Average trading fees
Two-factor authentication plus a multi-stage wallet with offline storage
24/7 live chat
It has never been hacked
User-friendly interface
Bittrex cons:
Not many advanced trading options available
No mobile app
No fiat trading except for limited USD trading for verified accounts
Bitfinex pros:
Offers around 90 cryptocurrencies
Supports USD, EUR, JPY, and GBP deposits
Cold storage, 2FA, withdrawal whitelist
Low fees for both makers and takers
Has a mobile app
Bitfinex cons:
Serious security breaches in the past
Multiple coverup allegations
Not available for US residents
Final Thoughts
That brings us to the end of our comparison guide on Bittrex versus Bitfinex. To make the decision process easier for you, we've covered the most important information regarding both of the exchanges.
For traders who like to have a great number of altcoins to choose from, and who don't mind the lack of fiat support or the slightly higher fees, Bittrex is the right choice. The platform offers high-level fund protection and enjoys the reputation for being one of the most reliable longlasting exchanges in the crypto industry. For the last five years, Bittrex has withstood the challenges and threats that accompany the business.
Bitfinex, on the other hand, has the advantage of supporting fiat deposits through wire transfers and adding lower fees for each trade. It applies up to date security methods and adjusts to the needs of the modern mobile trader with an app that is in sync with what the website offers. Bitfinex is perfect for experienced traders who dare venture into making advanced orders.
However, we want to remind you that the platform had been a victim of hacker attacks in the past, and isn't considered to be as trustworthy as it was during the first years after its launch. If you decide to use Bitfinex, be ready to trade at a certain risk.
Binance, Coinbase, and Other Crypto Exchanges
Bittrex and Bitfinex still have to compete with bigger players on the crypto scene such as Coinbase or Binance. If you're interested, you can check Bittrex's advantages and drawbacks when compared with popular platforms like Coinbase, Binance, Poloniex, and Kraken.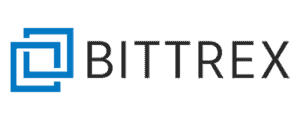 Disclaimer: Digital currencies and cryptocurrencies are volatile and can involve a lot of risk. Their prices and performance is very unpredictable and past performance is no guarantee of future performance. Consult a financial advisor or obtain your own advice independent of this site before relying and acting on the information provided.