Disclaimer: We may receive a commission for purchases made through the links on our site. However, this does not impact our reviews and comparisons. Learn more about our Affiliate Disclosure.
Bittrex or Bittrex Global is a top-ranking Seattle-based cryptocurrency exchange founded in 2014 with approximately $300 million in daily trading volume. Bittrex's user-friendly, stable, and secure platform is a firm favorite with both new and experienced traders alike, especially in the wake of many high-profile security breaches in other exchanges. For more details on other globally available exchanges, check out our Global Crypto Exchanges List.
Bittrex.com was founded by Bill Shihara, Richie Lai, and Rami Kawach, a team of digital security experts who used to work for industry giants like Amazon, Microsoft, and BlackBerry. Their previous work experience faced them with cybersecurity threats, which is why Bittrex is a platform focused on security and, to this day, remains unhacked.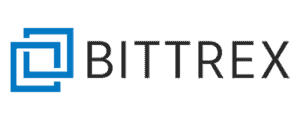 Related Comparisons:
Bittrex Exchange Services
Bittrex focuses on providing a trading platform service and comes with many useful crypto trading features. Not only does Bittrex support a wide variety of cryptocurrencies, but it also combines traditional spot trading and automation in a seamless package. It can execute stop-loss, margin trading, GTC, and instant buy or sell orders. It also comes with many of the charting tools and order books that experienced traders need to make well-informed trading decisions.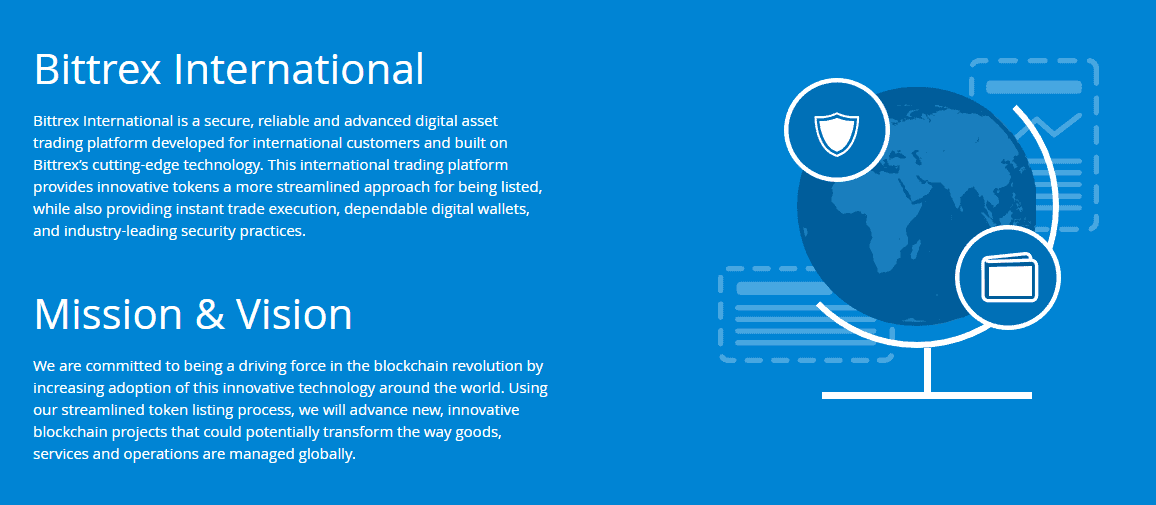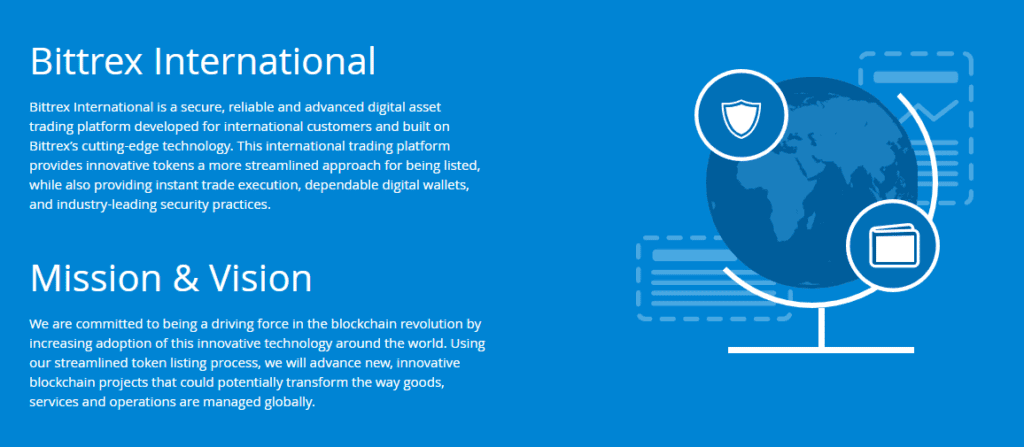 Users frequently report that the Bittrex trading platform is fast and easy to use, with no lag or crashes to interrupt trading. The platform's efficiency is no accident. Bittrex was designed around the principle of elastic computing, where resource usage can be scaled up or down according to the platform's needs. The implementation of elastic computing allows Bittrex to execute market orders almost immediately and offers a more reliable and stable service.
Bittrex also offers a wallet feature that allows you to store your funds securely outside of the exchange. The wallet operates like most other wallets, allowing for quick transfers of funds. What makes Bittrex's wallet service appealing is that it supports over 260 different digital currencies. No matter what cryptocurrency you use, you can safely store it in Bittrex's wallet.
A drawback of Bittrex is the result of one of its most important security measures. Bittrex stores up to 90% of its funds in cold storage through an elastic multi-stage wallet. While this is great for security, it does mean that their liquidity is very low, particularly if you want to make large trades. The elastic multi-stage wallet may be risky for traders as they wait for funds to clear, during which the market may change dramatically. For traders who make smaller trades and withdrawals, the low liquidity shouldn't pose a problem, especially when you factor in Bittrex's limits on withdrawals.
Supported Cryptocurrencies
One of the main draws of the Bittrex exchange is its wide variety of listings. You can trade in hundreds of different digital currencies, offering users over 450 trading pairs for their convenience. This selection of altcoins is carefully curated by Bittrex, with each altcoin being evaluated carefully before being listed. Any inactive or pump-and-dump coins are quickly delisted as Bittrex aims to raise the quality of their overall coin listings. In addition to the altcoins, you can trade in Bitcoin and Ethereum as well as USDT.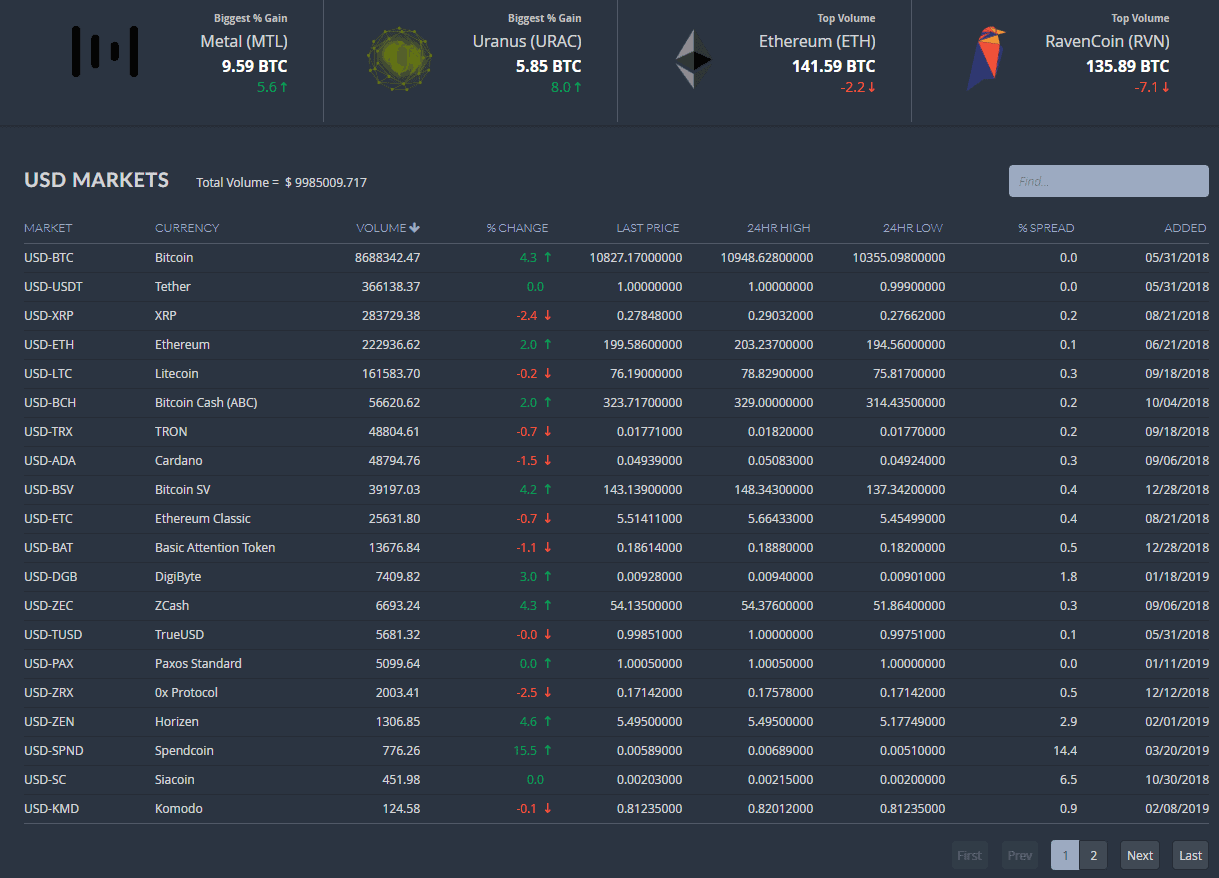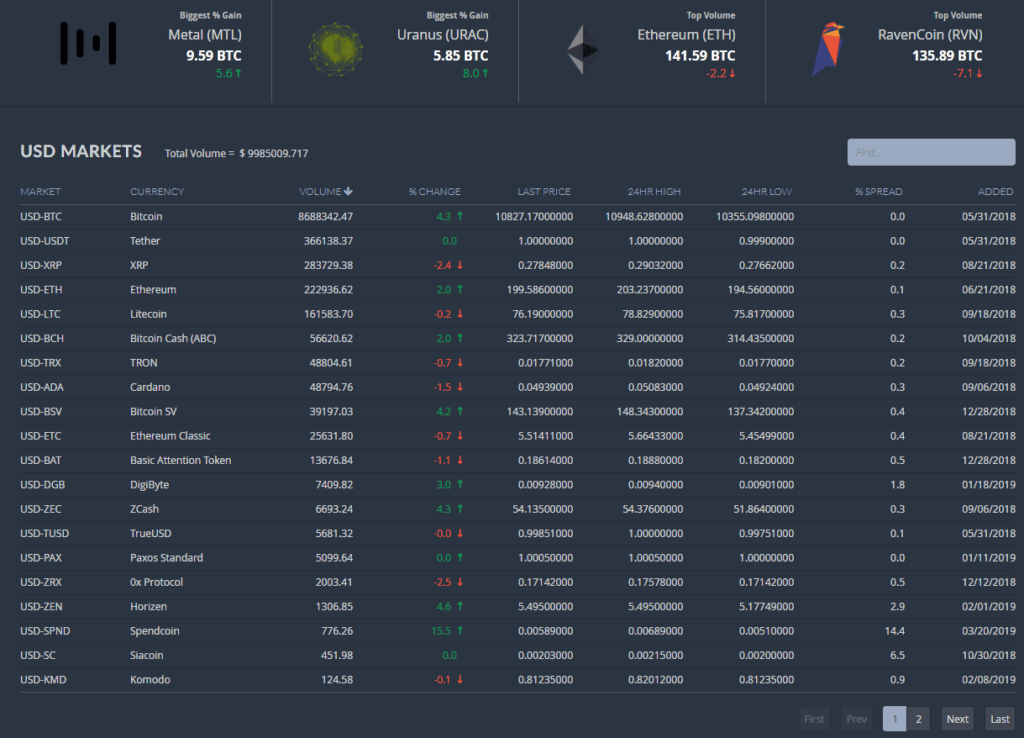 In 2018, Bittrex launched fiat trading in US Dollars for international customers and verified customers operating in the following United States: Alabama, Alaska, Arizona, Arkansas, California, Colorado, Florida, Georgia, Idaho, Illinois, Indiana, Iowa, Kansas, Kentucky, Maine, Maryland, Massachusetts, Missouri, Mississippi, Michigan, Montana, Nebraska, New Hampshire, New Jersey, New Mexico, North Dakota, Ohio, Oklahoma, Oregon, Pennsylvania, Puerto Rico, Rhode Island, South Carolina, South Dakota, Texas, Utah, Washington State, Washington, D.C., Wisconsin, West Virginia.
Payment Methods
On Bittrex, users can make deposits using four supported fiat currencies: USD, EUR, GBP, and JPY. They can link their bank account to fund their Bittrex account and make a regular bank transfer deposit or use their debit card. Credit cards aren't allowed. SEPA and Wire transfers are also accepted.
Trading Fees and Limits
Bittrex Fees
Unlike some other exchanges that have complicated pricing structures, at the time of writing, Bittrex charges a flat 0.25% commission fee on all trades. Bittrex's fee is higher than the industry average. Combined with a lack of rebates for high-volume trades or incentive models, Bittrex may be unappealing to some traders. However, Bittrex doesn't charge withdrawal fees or deposit fees either, which may balance out the higher transaction fee for some. Check here for more info.
Bittrex Limits
Bittrex places limits on users based on the type of account they have. As Bittrex operates in the U.S., the platform must abide by Anti-Money Laundering (AML) and Know Your Customer (KYC) regulations. Adherence to these standards means that all accounts must be verified before withdrawals can be made.
Accounts are placed in three main categories: unverified accounts, basic accounts, and enhanced accounts. Unverified accounts have stringent limitations and can't withdraw any currency, whereas basic accounts have verified a user's name, address, and date of birth, usually through public records. However, if the automated process fails, the user will need to continue with an enhanced verification process. When verified, a basic account with two-factor authentication enabled will be able to withdraw an equivalent of 3BTC per day.
Enhanced accounts require more personal information from the user, in the form of photo identification. Bittrex has partnered with Jumio to conduct the verification process. Jumio is a worldwide digital identity verification provider that uses advanced heuristics to determine if the photo I.D. used is legitimate or not. Jumio can serve clients from all over the globe and supports over 200 countries worldwide, making them an ideal partner to Bittrex's global client base. Once an enhanced account is verified, a user can withdraw up to 100BTC per day, provided two-factor authentication is enabled.
Customer Support
Bittrex has a comprehensive support and FAQ page that answers most questions that users will have regarding the platform. The support page contains guides on all aspects of trading and using the platform, as well as news updates to keep users informed of the latest happenings in the world of cryptocurrency and Bittrex.
If you're looking for a more personalized touch, Bittrex has active accounts on social media (Twitter and Facebook), as well as an email support option for user support tickets. However, there is no live chat option at the moment, and email ticket support times are terrible. Many users report wait times that last days, or even weeks for a response to their queries.
As with most cryptocurrency exchanges, Bittrex doesn't have a stellar customer service reputation. A central point of contention is the issue of suspended accounts. Bittrex has a policy wherein individual accounts may be temporarily suspended pending review, which has angered and upset a lot of users. The Bittrex team has offered only a minimal response to this issue, stating that only 0.1% of accounts are affected by suspensions or bans. The lack of resolution can be very frustrating for users who have been affected, particularly if they don't know why their account was flagged.
As Bittrex is subject to AML and KYC regulations, Bittrex is obligated to monitor and report suspicious activity to the U.S. government. If you're using cryptocurrency to conduct illegal dealings or make illicit purchases, your account faces suspension.
Adherence to AML and KYC regulations further necessitates identity verification for new users before they can make full use of the Bittrex service. These details may be shared with third parties who are performing services on behalf of Bittrex. This type of information gathering defeats the original point of cryptocurrency, which was to preserve the anonymity of users. Some cryptocurrency enthusiasts stay away from regulated exchanges, such as Bittrex, for the loss of privacy.
Despite not being rated by the Better Business Bureau (BBB), Bittrex has received over 980 complaints in the last three years, and only 22 of them were closed in the previous year. The vast majority of these complaints are to do with the account suspension issue. Some users report following the subsequent verification process and waiting weeks for their account to be reinstated.
The primary concern with all cryptocurrency exchanges is security. After several high-profile security breaches and the Mt. Gox debacle that left hundreds of users with their money stolen, cryptocurrency exchanges have a reputation for being poorly secured, posing a high-risk for many investors.
Bittrex-side security
A team of security experts designed Bittrex. The platform is continually updated with many of the latest security measures to prevent attacks and breaches from happening. Additionally, Bittrex ensures that most of the funds in the exchange are kept in cold storage to prevent them from being accessed in the event of a breach. This means that even if hackers manage to get access to the exchange, they will not be able to access up to 90% of the funds. The site also monitors IP addresses, which is why you'll receive a notification if you've logged in from a different device or I.P. address.
Customer-side security
First of all, customers have to perform a KYC check and provide personal details to verify their identity. Only a verified account can access higher purchase tiers. Bittrex takes advantage of two-factor authentication to enhance user security. Two-factor authentication will send a code to your phone via SMS or through a third-party app (e.g. Google Authenticator), ensuring that even if hackers get your log-in details, they will not be able to access your account.
Aware of the benefits, Bittrex highly incentivizes users to add two-factor authentication to their account by increasing withdrawal limits for both basic and enhanced accounts with two-factor authentication in place. As the security of your account details is your responsibility, Bittrex will not take on liability in the event of an account breach.
In 2016, hackers managed to get access to Bittrex user accounts that weren't protected by two-factor authentication and stole an unknown amount of currency. Bittrex has not compensated users for this loss, claiming that it was their responsibility to keep their accounts secure.
Frequently Asked Questions
Does Bittrex have an app?
There is no official Bittrex app for either Android or iOS. Mobile users have to use the desktop site, which many users complain about is slow and annoying to use on mobile devices. There are third-party alternatives that mobile traders can use instead until Bittrex decides to develop a mobile app.
What countries are supported by Bittrex?
Bittrex operates internationally and is open to most international customers, excepting users in North Korea, Iran, the Crimean region, Syria, and Cuba.
In 2018, Bittrex announced the launch of Bittrex International, which operates within the regulatory guidelines set forth by the E.U. and Maltese government. Existing Bittrex customers have been moved onto this exchange automatically, which retained all of the features of the original exchange. This move also allowed international customers to trade in currencies not available in the U.S. market before.
Does Bittrex provide a cryptocurrency wallet?
Yes. Bittrex's wallet is one of the most comprehensive available, offering the option to store over 260 cryptocurrencies. Depositing coins into the wallet is easy; you generate a new address on the wallet page and send the coins to the address.
Using a wallet is vital if you're trading in any sort of meaningful way on a cryptocurrency exchange. By using a wallet, you transfer money from the exchange into a secure location, preventing hackers from accessing it during a breach. Bittrex offers an easy-to-use wallet option that can be used to store multiple digital currencies at the same time.
Summing It Up
Bittrex offers robust security and a stable, easy to use platform for anyone who wants to start trading. It's an excellent trading engine form for beginners and experienced traders alike and comes with many analytical features that traders appreciate. It's one of the few exchanges that hasn't been hit by a high-profile security breach. Though some accounts forgoing two-factor authentication were breached in 2016, this was an isolated, small scale incident and Brittex was not fully to blame. Furthermore, their stringent security procedures make sure that your money is relatively safe.
However, as with all US-based exchanges, Bittrex requires a lengthy identity verification process that divulges a lot of personal information about the user. Bittrex also has a reputation for suspending accounts, and while most accounts automatically reopen within 48 hours, some users have been waiting for weeks with no resolution. This makes Bittrex challenging to recommend for serious traders, for whom such a disruption can be devastatingly expensive.
If you're looking to dabble in crypto and are willing to take the risk that your account may be frozen for some time without warning, Bittrex is worth a look. They're secure, easy to use, and have one of the largest varieties of cryptocurrency to trade with. However, if you want something reliable and with better customer service, you might be happier with a different service (check out our Bittrex alternatives).
Disclaimer: Digital currencies and cryptocurrencies are volatile and can involve a lot of risk. Their prices and performance is very unpredictable and past performance is no guarantee of future performance. Consult a financial advisor or obtain your own advice independent of this site before relying and acting on the information provided.