Bitbuy Referral Code 2023
Good news, Canadian crypto enthusiasts! Everyone who joins the Canadian exchange Bitbuy with our link gets a $40 welcome bonus.
There is no need for a promo code. All you have to do is to follow this link to go to the Bitbuy sign-up page. To qualify for the bonus, you'll have to open a Bitbuy account, verify your account (no hassle, since the Bitbuy verification is fully automated), and make your first CAD deposit.
I'll walk you through the registration process and highlight some of the most distinctive Bitbuy traits.
How to Use the Bitbuy Referral Code
The streamlined sign-up process is where Bitbuy shines. I don't think you can stumble at any stage of the onboarding process, despite the strict regulations the exchange follows.
Follow the steps below to become a verified Bitbuy user and receive a handsome $40 bonus.
Follow this link to land directly on the Bitbuy sign-up page. Once you get there, enter a valid email and wait for a confirmation message.
You'll be asked to submit personal information and ID proof once you become a Bitbuy member. You must complete the KYC protocol to fund your account and make crypto purchases/sales.
The KYC verification on Bitbuy is usually completed automatically (empowered by a third party) and takes no time. But, if the system fails to recognize you, you'll have to go with one of the two verification options Express or Manual.
Once you complete the identity verification process, you can deposit CAD through wire transfer, Interac e-Transfer, or credit card (via Simplex).
To get our $40 bonus, you need to deposit at least 250 CAD.
What Is Bitbuy?
Bitbuy is a leading marketplace in the Canadian crypto scene. It has been present since 2016 and has played a crucial role in the mainstream acceptance of decentralized finance.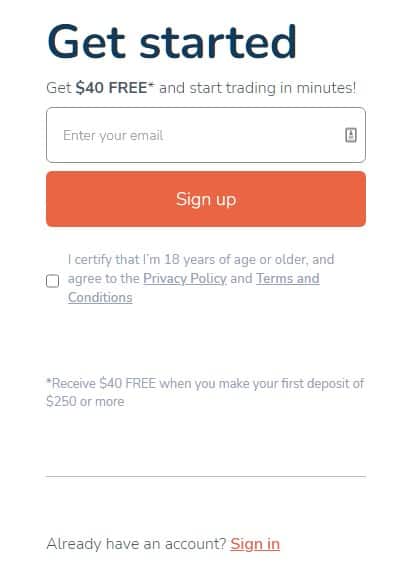 The exchange is an easy-to-use platform with locally-adjusted payment options and robust security standards. Bitbuy is a FINTRAC-regulated Money Service Business and the first Canadian exchange licensed by the Ontario Securities Commission and the Canadian Securities Administrators.
Bitbuy has become a common crypto destination for over 400,000 Canadians. The fact that Bitbuy was recently acquired by the fintech leader WonderFi Technologies is a testament to its legacy and prospects.
Bitbuy Review
I believe that Bitbuy has become a Canadian favorite thanks to its capacity to serve all crypto users, regardless of their experience levels. For beginners, the exchange has a separate Express Trade platform, where they can easily buy and sell crypto against their native fiat currency. And believe me, you can sense this beginner-friendly touch the moment you land on the platform.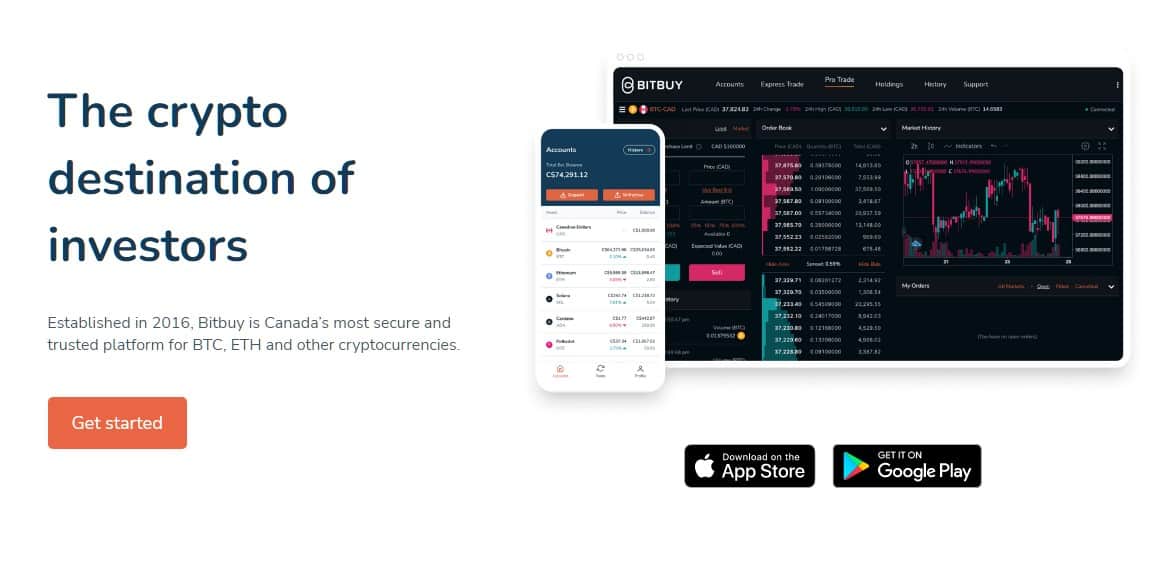 Yet, Bitbuy also features a sophisticated trading platform called Pro Trade for more experienced traders. Traders can place advanced order types and access a top-notch charting system to monitor market trends. In addition, the platform offers an OTC desk for large-volume trades over $50,000 and an insurance program with BitGo as a third-party custodian.
Supported Cryptocurrencies
The exchange offers around 30 popular digital assets for an instant buy. Apart from Bitcoin (BTC) and Ethereum (ETH), you can also buy other market-dominant altcoins like Cardano (ADA), Polkadot (DOT), Dogecoin (DOGE), EOS (EOS), Solana (SOL), Litecoin (LTC), and more.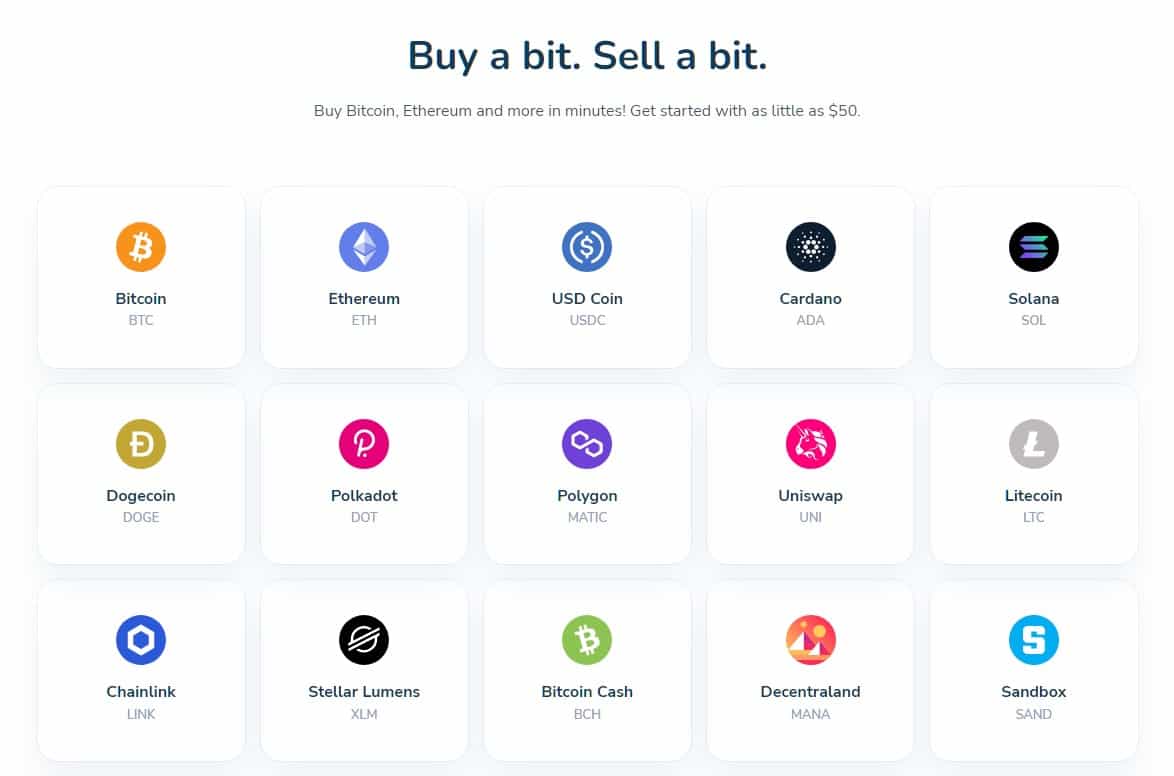 The list of the Express Trade market also includes recognized DeFi tokens such as Sushiswap (SUSHI), Polygon (MATIC), and Aave (AAVE), as well as USD Coin (USDC) as the only available stablecoin.
The crypto selection on the Pro Trade market is similar to the Express platform, and you can trade these crypto assets against BTC or CAD.
Fees
Bitbuy is incredibly fair and transparent regarding pricing, and the trading fees are clearly advertised on-site.
The Pro Trade platform employs taker and maker fees. As contributors to the exchange liquidity, makers pay only 0.1% per trade while takers pay 0.2%. Instant purchases will also cost you 0.2%, which is much lower than other crypto platforms offer.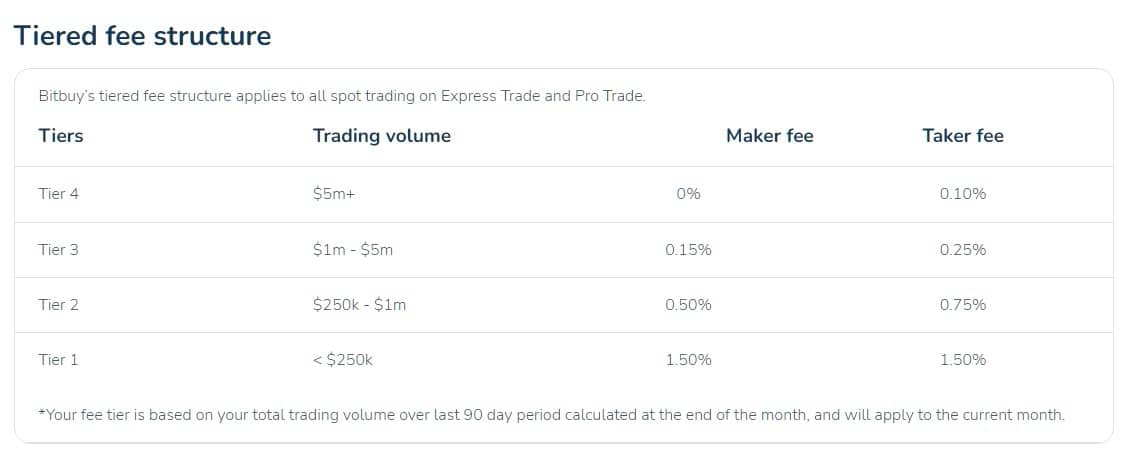 Fiat funding is free of charge whether you use bank wire or Interac for CAD deposits. Credit card payments cost a %6.5 fee.
On the other hand, fiat withdrawals come at a price of 1.5$ for Interac eTransfers and 1% for wire. When it comes to crypto, the withdrawal fee varies depending on the crypto/blockchain, while crypto deposits are absolutely free.
Pros:
User-friendly interface and sleek navigation across the Express and the Pro Trade platforms;
Robust security;
Highly responsive customer support;
Fast CAD deposits and withdrawals.
Cons:
A limited number of supported cryptocurrencies;
Lack of advanced trading options like margin trading and derivatives;
Available in Canada only.
Bitbuy vs Coinsmart
Bitbuy and Coinsmart are top-rated Canadian crypto platforms that share the same core values — ease of use combined with impeccable regulatory compliance. Yet, the exchanges have different strengths.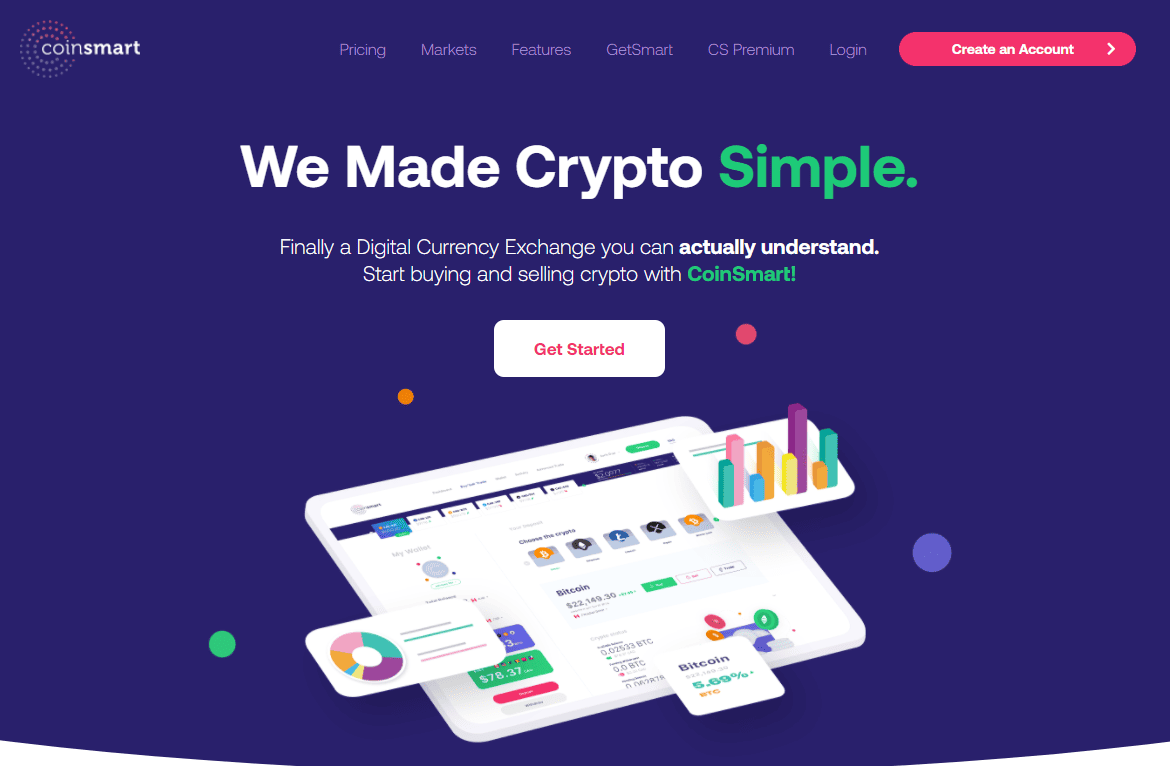 Coinsmart doesn't offer two separate trading platforms like Bitbuy, but it's user-friendly enough to let you handle the platform with comfort. More experienced Coinsmart traders can adjust their trading views with advanced charts and other market indicators.
The greatest benefit of Coinsmart is the Smart Trade option, which allows you to directly trade one altcoin for another without using BTC or ETH as a base. Also, I like that Coinsmart is one of the few native Canadian exchanges that support deposits other than CAD.
All things considered, Bitbuy is the more elegant solution. If you haven't opened a Bitbuy account yet, this is your chance. You'll get a $40 welcome bonus, which is substantially higher than Coinsmart's regular referral program— $15.
Bitbuy vs Newton
I really like what Newton is bringing to the cryptocurrency market in Canada. It has an aesthetically pleasing design and allows you to easily buy/sell over 70 different coins.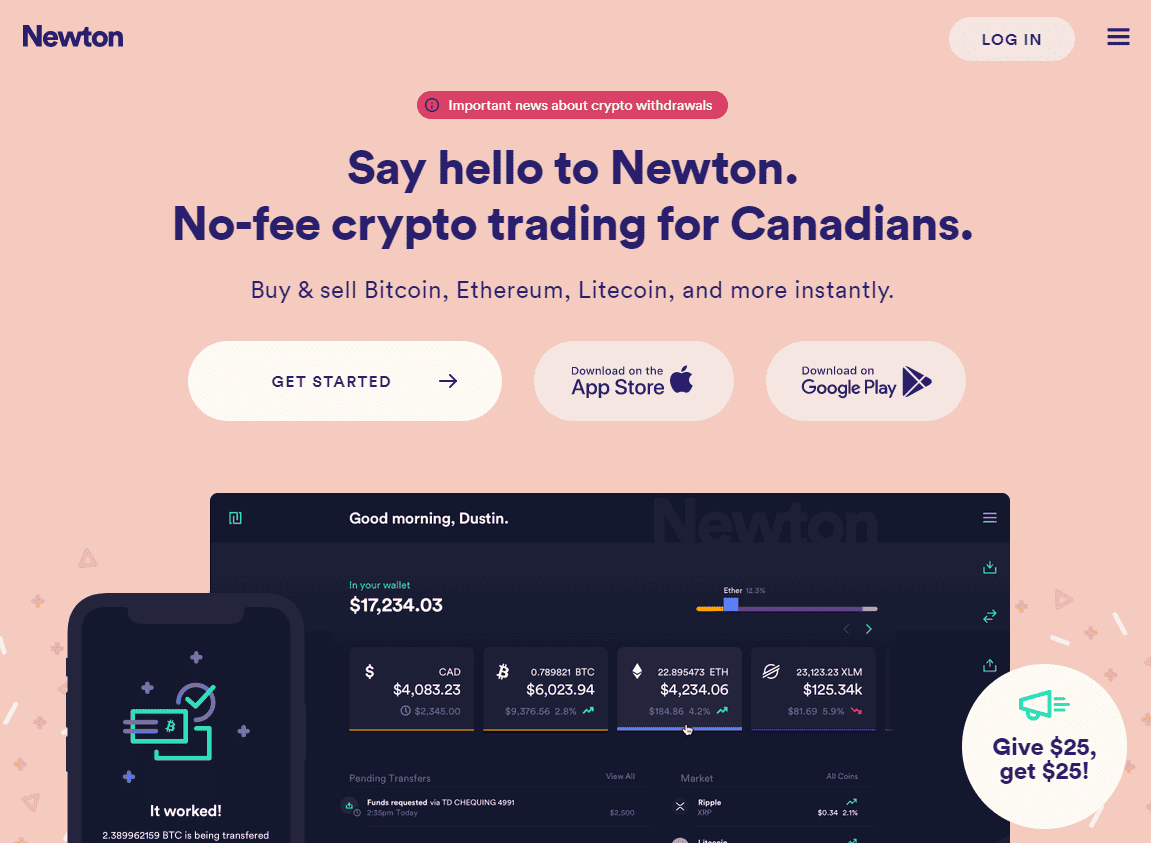 Yet, Newton promotes the so-called no-fee pricing system, which isn't that free. The exchange doesn't impose trading fees but uses the spread (the percentage difference between the buying and the selling price) to make a profit. Spreads can sometimes be far more than the standard 0.1-0.2% trading fees.
When it comes to promotions and bonuses, you can earn up to a $25 welcome bonus after you verify and fund your account on Newton. Our Bitbuy offer is much hotter, so don't miss the chance.
Bitbuy vs Coinberry
Coinberry is another Canadian-based crypto exchange designed for new crypto investors. Don't expect a chart-rich trading platform here.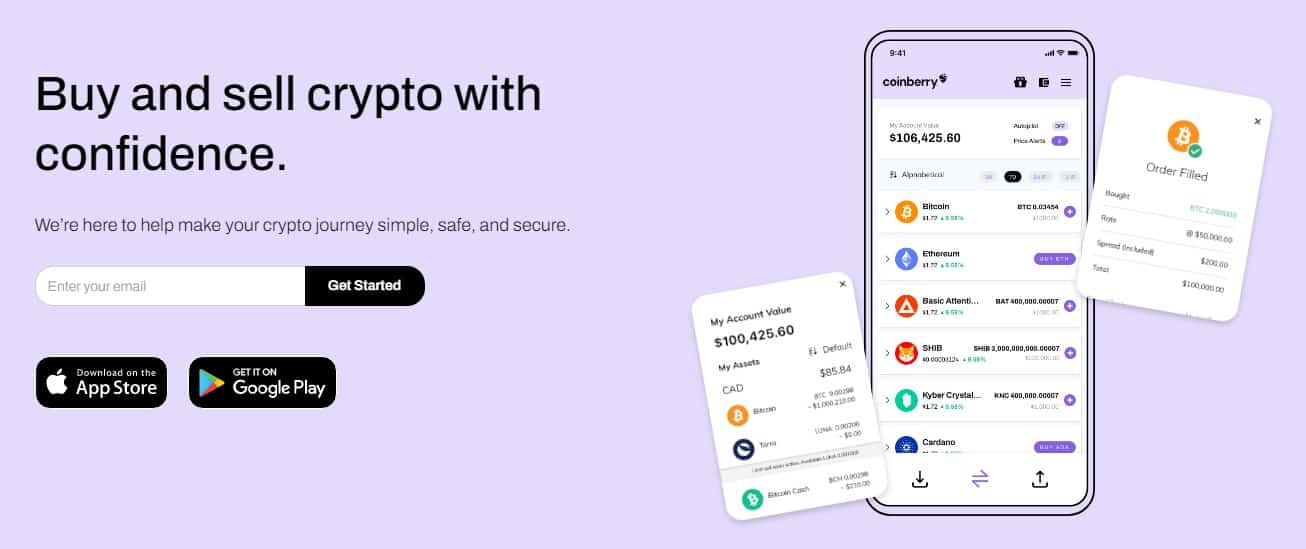 The choice between Bitbuy and Coinberry depends on your preferences and experience levels. Otherwise, both exchanges are reliable and transparent. Like Newton, Coinberry follows a spread-based pricing system, but the spreads are much lower here.
Finally, I must admit that Coinberry has a rather lucrative referral program. Every new user who joins the exchange with our referral link and trades a minimum of $50 gets a $50 bonus on their Coinberry accounts.
Bitbuy Alternatives
If you ask me to briefly describe the Canadian crypto market, I can tell you two things with certainty — it's fiercely competitive and highly regulated. The exchanges must fully comply with all FINTRAC-imposed AML/CFT regulations and work in their strictly defined capacity as MSBs.
This means that all Canadian-based exchanges meet the reliability criteria. So, we must choose a "winner" based on other key parameters such as fees, ease of use, and customer support. In my personal experience, Bitbuy is doing better than its competitors in this landscape. I believe that its success lies in its ability to adjust its platform to different users' needs, skills, and payment preferences.
FAQs
Can I find a Bitbuy referral code on Reddit?
Reddit is a common "meeting area" for seasoned bitcoiners and other crypto enthusiasts, so you can find plenty of referral codes for various exchanges. Still, I recommend a safer option. Sign up with Bitbuy using our link and get your bonus without a hassle.
How do I get my referral code for Bitbuy?
Once you go through the onboarding process and become a verified Bitbuy user, you can get your own code and share it with your friends for handsome bonus rewards.
What is the reward when you refer someone to Bitbuy?
When somebody signs up on Bitbuy with your referral code, you and your referee will each receive $20 after they make their first $250+ deposit.
How much can I get with a Bitbuy referral link?
The more people sign up on Bitbuy using your referral code, the better. The exchange doesn't impose any restrictions on the number of users you can refer.
Where can I promote my Bitbuy promo link?
You can promote your promo link everywhere — on your blog/website, social media channels, in public reviews, ads, YouTube, and more.