Binance Referral Code 2023
Did you know that being a loyal member of a crypto exchange can pay off well? Exchanges use referral codes as a viable marketing strategy for expanding their network, and for you, this can be a great source of passive income. As a leading crypto service, Binance is continuously throwing lucrative reward campaigns. Currently, you can earn up to 40% trading commission on each referral or use our link and get a handsome cashback voucher of $100.
For everyone else who signs up for a Binance account using our code, completes the verification process, and deposits a minimum of $50 in the next 14 days, you will receive a trading-fee voucher of 100 USDT. Your referee will get the same amount as a welcome bonus.
With the Standard Referral Program, you set the commission rate, share the link (or QR code) with your friends, and get up to 40% commission on their paid fees.
So, watch this space. I'll walk you through the way to getting your Binance reward, together with a short review of the Binance main traits.
How to Use the Binance Referral Code
For those who have just decided to join the Binance kingdom, I've prepared a step-by-step guide on how to start their Binance journey with a warm bonus. The sign-up bonus is possible with our code.
Use this link to get to the Binance signup page. The sign-up process has been rather streamlined. Still, be aware that you should insert our referral code at this stage. If you fail to use the code while signing up or enter the wrong one, you won't be able to collect your bonus.
Binance requires each user to go through Identity Verification (KYC) before getting qualified for using their services. If you don't want your referral bonus to expire, you must complete this step no later than two weeks after registration.
Now, it's time to fund your account or meet the last criteria for the reward. You can deposit fiat using a credit/debit card or cash deposit or through the P2P platform. Certainly, you can also deposit crypto from an external crypto wallet or another exchange. Remember that the deposit amount can't be lower than $50. Also, bear in mind that you won't be eligible for claiming the referral bonus if you use a third-party payment provider or transfer funds from another Binance account or sub-account.
You have 48 hours to claim your reward from the Reward Centre. You can find this section in the drop-down menu on your top-bottom side. After 7 days, your unclaimed reward will be deleted from the register.
Here, you'll have clear insight into all relevant reward details (limit, reward time, expiry date, redemption, eligibility, and accumulated cashback funds). At this stage, click Redeem and wait for a pop-up window to confirm the successful redemption. Your reward will be distributed to your Binance spot account in USDT in the amount that is equal to the fee of a selected product. For more details, take a careful look and Cashback Voucher Terms & Conditions.
What Is Binance?
Binance is the exchange in the cryptocurrency industry. It appeared on the scene in 2017, together with tons of other crypto startups that sensed the power of decentralized finance. However, none of them got even close to the market cap and daily trading volume of Binance.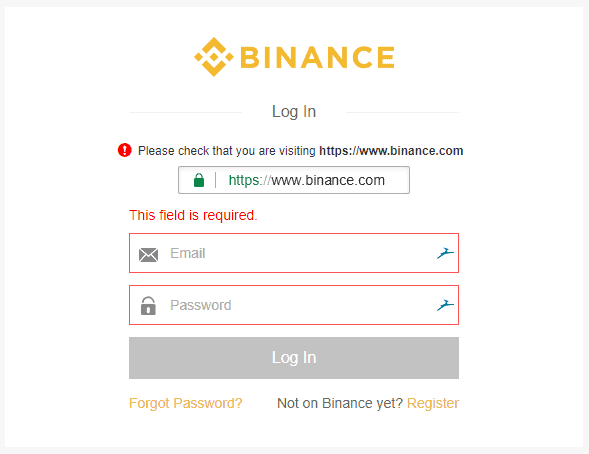 Binance started its way in China under the leadership of the brilliant entrepreneur Changpeng Zhao. Interestingly, China banned crypto that very same year, so CZ headed towards more crypto-friendly landscapes, only to state a few years later that global money doesn't need a headquarters. Despite some regulatory disputes that CZ faced across legislation systems, the Binance trading package has never been under question. The exchange covers all crypto-related activities under a single roof, combining the feature-rich platform with low fees and learning materials (Binance Academy).
So, you can keep trading assured that Binance has to offer myriad activities to keep your referees busy on the platform.
Binance Review
As I implied in the Binance introduction, the exchange delivers an unlimited number of earning possibilities. Its user base revolves around the huge spot market but Binance is equally good for more advanced trading techniques, such as futures and margin trading. In addition, Binance delivers a separate P2P platform, a mining and a staking field, an NFT marketplace, a non-custodial wallet, and its native coin accommodated on the Binance Smart Blockchain.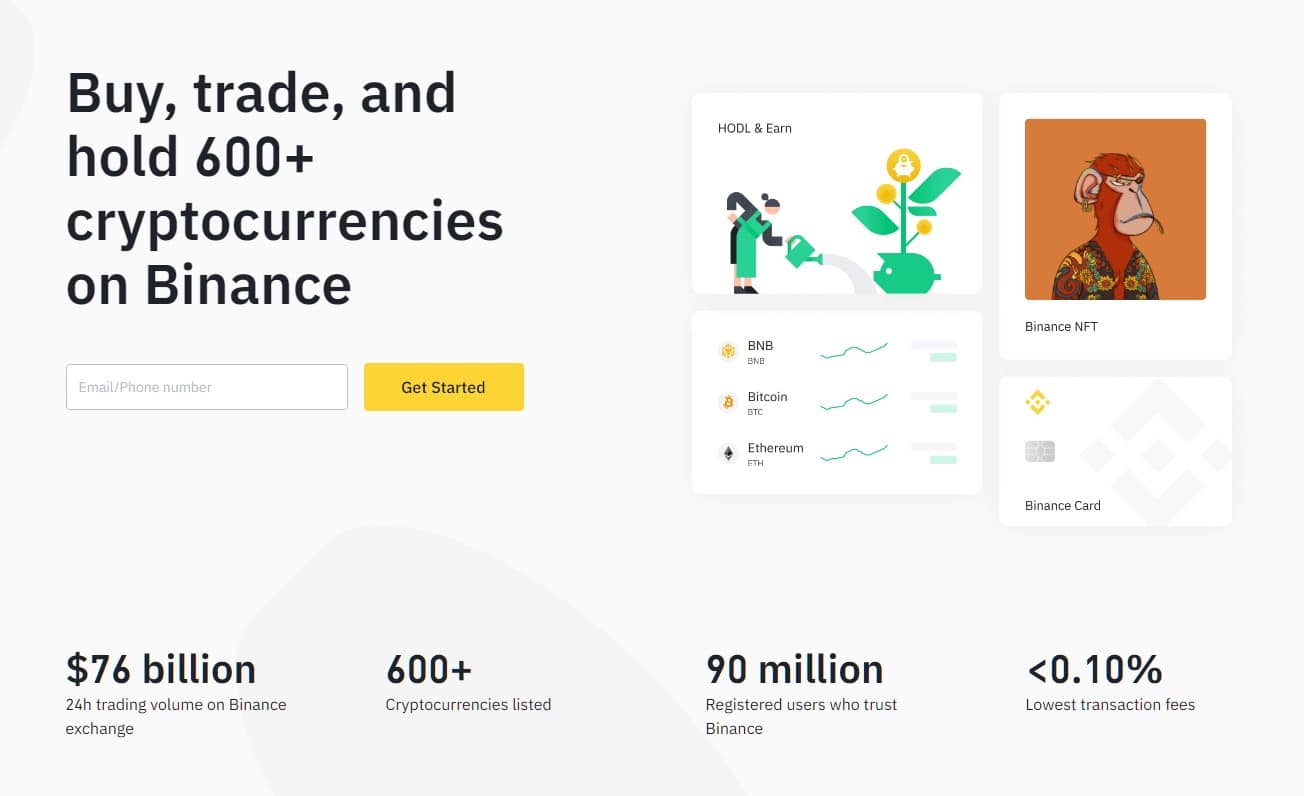 At first glance, I'd say that Binance is tailored for experienced users who have a clear vision for their crypto career. However, Binance is making every effort to leave a beginner-friendly stamp — it has established a one-click instant market and enables Basic Mode for less experienced traders.
I genuinely appreciate Binance because of the way it organizes different markets. The exchange allows you to create a separate account for each market (futures account, margin trading account, etc). Still, note that sub-accounts aren't eligible for claiming a referral bonus.
Supported Cryptocurrencies
Binance features an endless list of cryptocurrencies on both its spot and futures markets. The number of digital assets available for instant purchases is also impressive. In total, you can find over 600 cryptos available on Binance.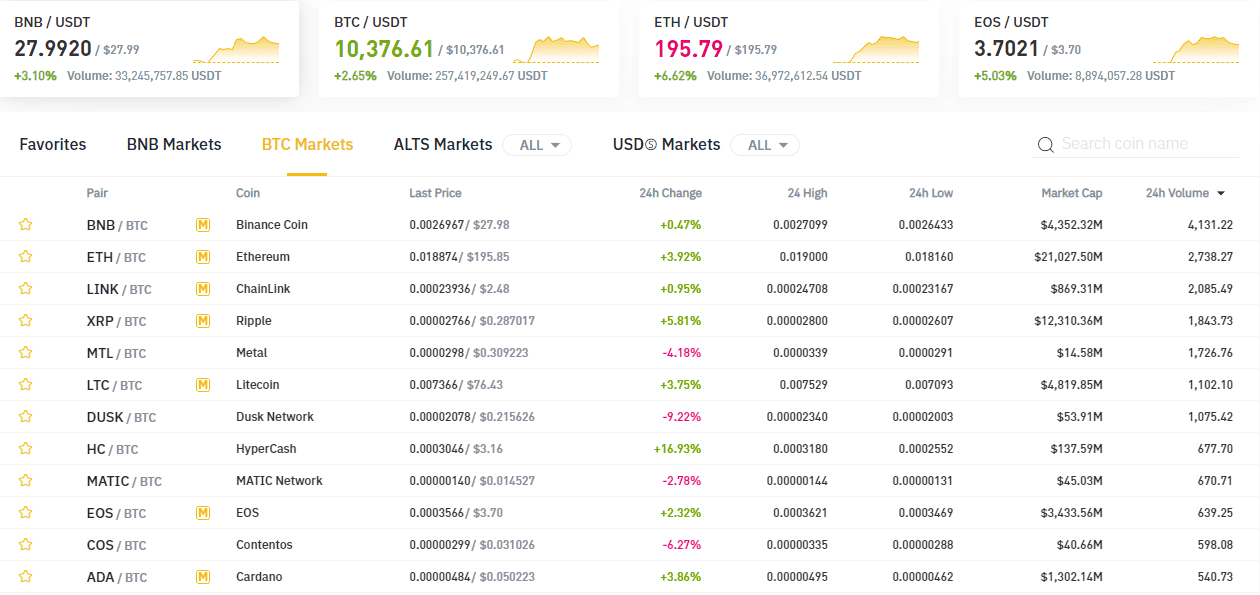 This list includes Bitcoin and other best-selling altcoins like Ethereum (ETH), Cardano (ADA), Stellar (XLM), Dogecoin (DOGE), and Litecoin (LTC). You can also expect a long array of DeFi tokens such as SushiSwap (Sushi), Aave (AAVE), Polygon (MATIC), as well as the popular stablecoins including Tether (USDT) and USD Coin (USDC).
Binance has always been open to the latest trends, so you can find plenty of new projects displayed on their list. I was happy to see they've adopted some of the hottest arrivals, such as MobileCoin (MOB) and BiSwap (BSW). Finally, there's the Binance native coin (BNB), which comes with a few advantages and discounts for its holders.
Fees
Binance is one of the most cost-efficient marketplaces in the entire crypto ecosystem. When it comes to trading fees, the exchange charges 0.1% per transaction, which is far below the industry standard.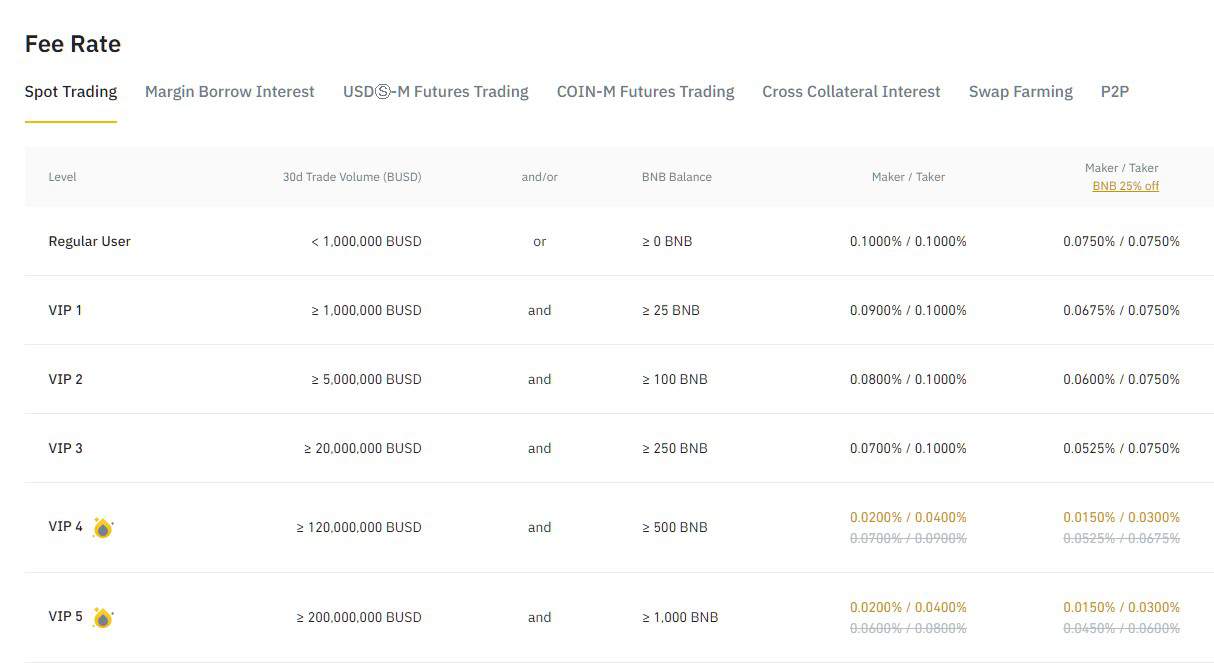 All crypto and the majority of fiat deposits are free. Depending on the payment method and the type of currency, some fiat deposits incur a commission. Yet, I find their deposit system fair and transparent as all available options are clearly shown on the Binance official website.
On the other hand, fiat withdrawals come at a given price (also depending on the payment method and their local bank distribution), while the fees for crypto transfers to another wallet or exchange are individually-determined for each blockchain.
Pros:
Competitive fees with discount possibilities;
A coin-rich spot market and plenty of other advanced trading opportunities;
Staking for 70 different cryptocurrencies;
High margins on the futures market;
Smooth deposits and withdrawals.
Cons:
Difficult to navigate for beginners;
Slow responsive customer support.
Binance vs Coinbase
Coinbase is the second largest cryptocurrency exchange with long-lasting experience in the industry. Yet, apart from the market dominance, Binance and Coinbase don't have many features in common.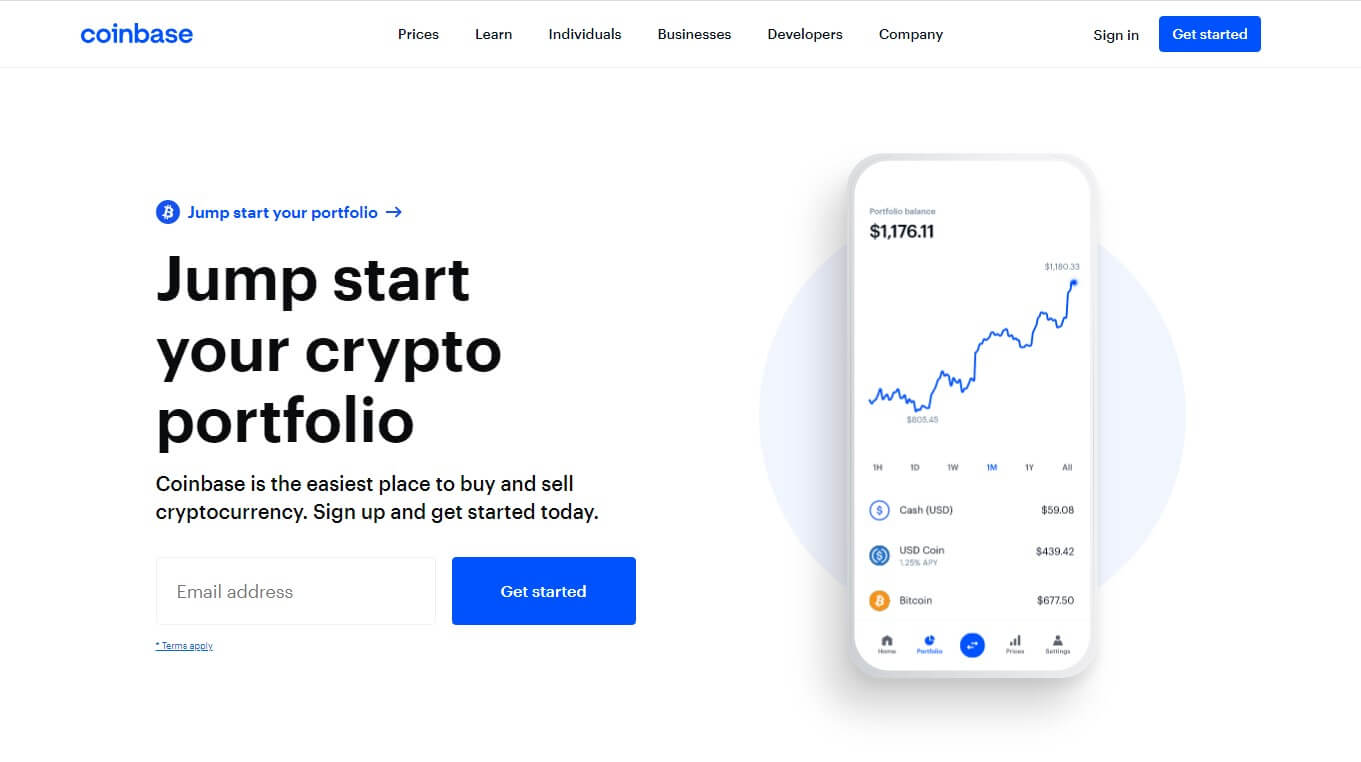 Coinbase is a beginner-friendly solution where you can buy BTC and other cryptocurrencies at a retailer level. It's a highly secure environment, and for the transactions, it charges much higher. That's because Coinbase operates as a broker rather than a trading platform.
In terms of sign-up incentives, Coinbase allows loyal users to earn $25 of Bitcoin for every new user they refer. The referee must buy at least $100 in BTC.
Binance vs Crypto.com
Crypto.com focuses on ease of use in the buy-and-sell process, unlike Binance, which strives for trading diversity. In my opinion, Crypto.com can be a great destination for one-off investments and credit-card crypto purchases.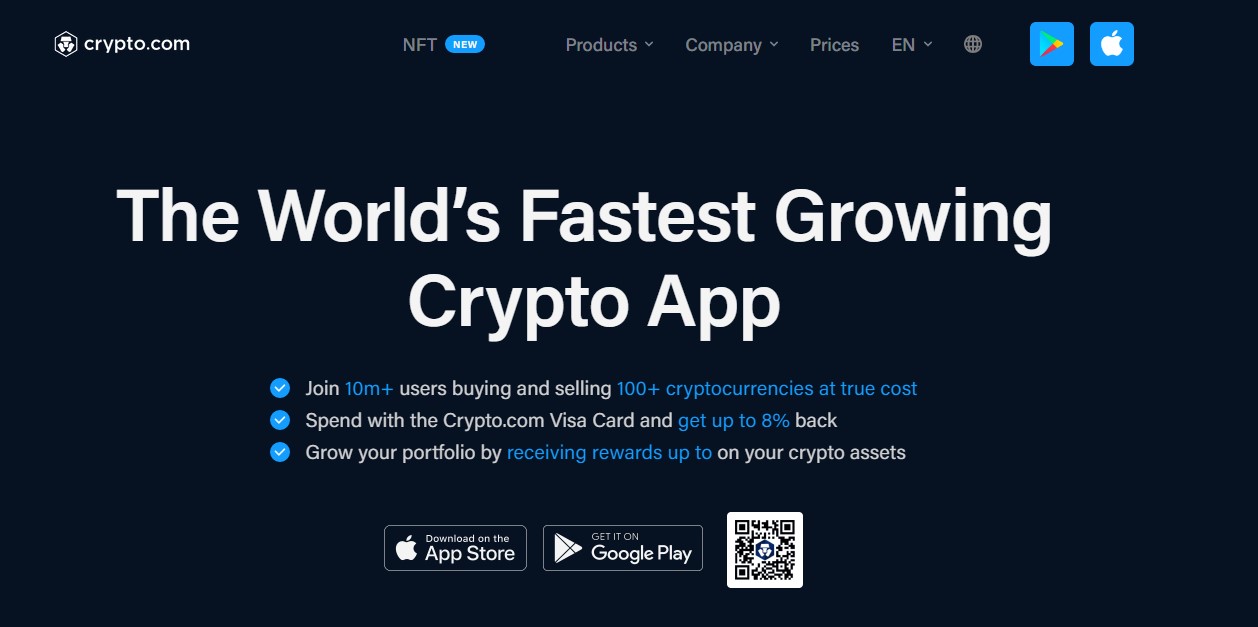 This exchange offers $25 in CRO (Crypto.com native coin) for every new user who signs up with your referral code. The reward is immediately sent to your CRO Wallet once the referee place and successfully reserve their CRO stake.
Binance vs Huobi
Huobi is another popular spot for active crypto traders where you can find an abundance of trading models, functionalities, and cryptocurrencies. However, Binance has double Huobi's user base and deeper liquidity on the supported trading pairs.

The Houbi referral program is very similar to the Binance Standard scheme. For every new user that uses your code to create a Huobi account, you can get up to a 30% discount in trading fees once they start trading on the platform. Huobi is also generous to newcomers. I regularly see lucrative sign-up campaigns on their website.
Binance Alternatives
All in all, it's not easy for all existing cryptocurrency exchanges to keep a competitive edge against Binance. There are exchanges with more beginner-friendly user interfaces, exchanges that offer more diverse fiat-payment options, and more advanced derivatives markets.
But, there is no better exchange package than Binance so far. The platform has found a workable way of integrating new crypto trends with incredible ease. What's more, Binance can now adjust to the majority of legislations of the countries of operations. That's why actively promoting your Binance referral code can lead you to a significant profit.
FAQs
Which Binance users are eligible for the $100 bonus?
All new users who open a Binance account using our code and complete the required sign-up steps can get the $100 bonus.
What's a Binance cashback voucher?
The Binance vouchers are specially-designed gift cards and recipients can redeem them for a designated amount of crypto, using one of their trading accounts on Binance (spot, futures. margin, etc.).
Does any Binance referral link provide a $100 bonus?
Sure. Follow this link and claim your reward when signing up for a new Binance account.