Best Places to Earn Interest on Crypto 2022
Disclaimer: We may receive a commission for purchases made through the links on our site. However, this does not impact our reviews and comparisons. Learn more about our Affiliate Disclosure.
There are different reasons why people invest in crypto these days. While some actively use cryptocurrencies as trading instruments, others look for crypto-friendly retailers to pay with Bitcoin. However, a great part of the new crypto investors just buries the coins in their digital wallets, waiting for a new crypto miracle.
The last group is called HODLers, and if you can call yourself one, we're bringing some great news — today's crypto industry can offer you a myriad of options to accommodate your crypto capital and earn lucrative passive income.
The process doesn't differ in any respect from the traditional bank saving system except for the fact that crypto "plays" with much higher numbers and interests rates. Admittedly, the risk rates for these volatile assets are higher as well.
For that reason, we've combed the current "hot deals" and listed the best crypto-saving accounts available on the market.
Best Crypto Savings Accounts
The attractive APY (annual percentage yield) is crucial when choosing your future crypto saving account but not enough for a positive experience. The platform where your crypto will reside in the long run must also be secure, user-friendly, and transparent. These are the crypto platforms that fall under this description.
Hodlnaut
Staking and yields in the crypto industry are most closely associated with DeFi tokens and AMM protocols, which maintain the platform's liquidity through individual users who voluntarily put their crypto holdings in exchange for rewards. The DeFi world, however, is still far-fetched for casual crypto investors, so it doesn't go unnoticed when a platform starts offering saving plans with mainstream crypto coins like Bitcoin and Ethereum.
Apart from the attractive coin selection, Hodlnaut offers perhaps the highest yields in the industry: 6.2% for Bitcoin (BTC), 6.7% for Ether (ETH), and 10.5% for Tether (USDT), USD Coin (USDC), and Dai (DAI).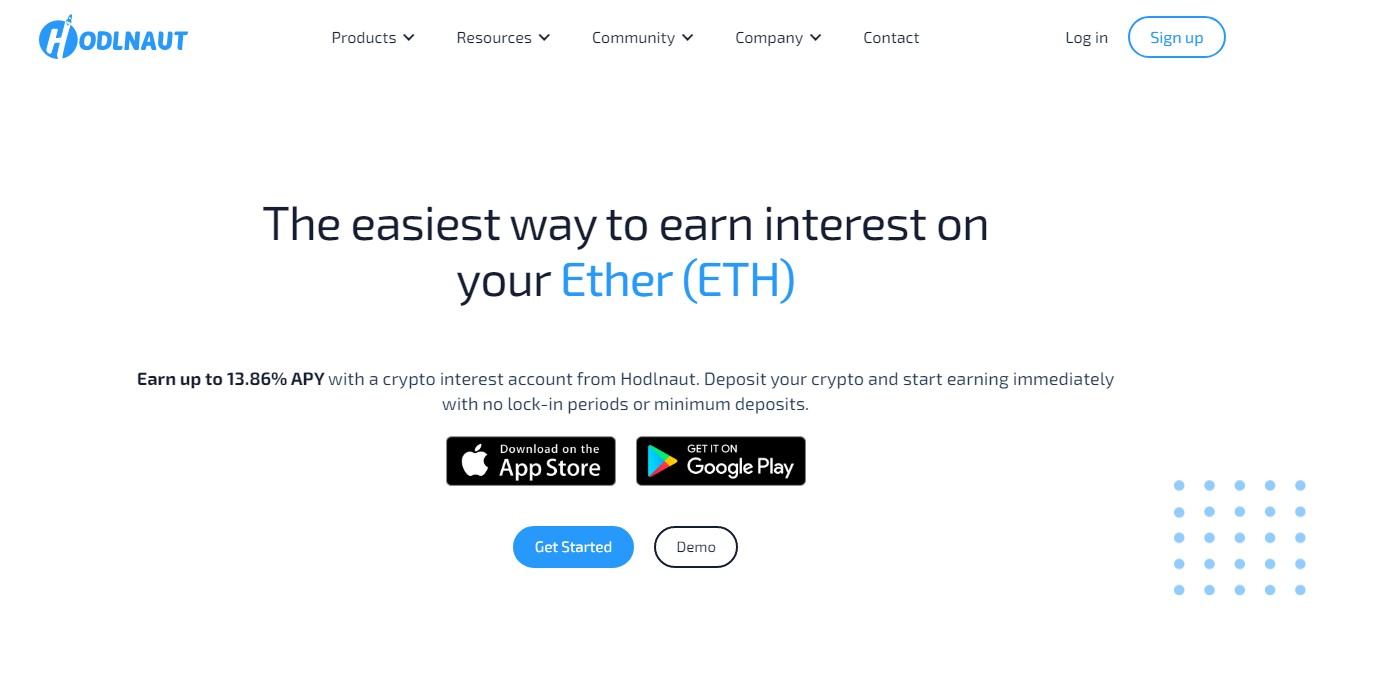 Hodlnaut doesn't restrict users with a lock-up period, so you can take out your funds at any point. On top of this, the platform is very easy to navigate and doesn't charge any transfer fees. The withdrawal fees cost 18 US Dollars on stablecoins and 0.0004 BTC/ 0.005 ETH on the respective cryptocurrencies.
Finally, Hodlnaut employs the highest measures for user and fund protection. The platform is a MAS-licensed company secured by Amazon Web Services (AWS) for password encryption and has adopted Fireblocks integration as an additional layer for private key security.
Pros:
Very competitive percentage yields
Time flexible savings;
Beginner-friendly design;
Easy sign-up process.
Cons:
A limited number of supported coins;
Relatively high withdrawal fees.
Celsius
Celsius is one of the very few blockchain-based platforms that has made a name in the borrow-lending sphere. This UK-based platform offers very generous borrowing and lending packages for users all over the globe.
As for the lending rewards, Celsius gives you a chance to earn up to 18.63% APY for keeping your digital assets on the platform. The rewards depend solely on the type of crypto you're "lending", not on the lock-up time, as Celsius saving accounts are fully flexible.
The platform supports over 30 altcoins, including Bitcoin (BTC), Ethereum (ETH), Cardano (ADA), Litecoin (LTC), 3 gold tokens PAXG, WDGLD, and XAUT, as well as over 10 popular stablecoins.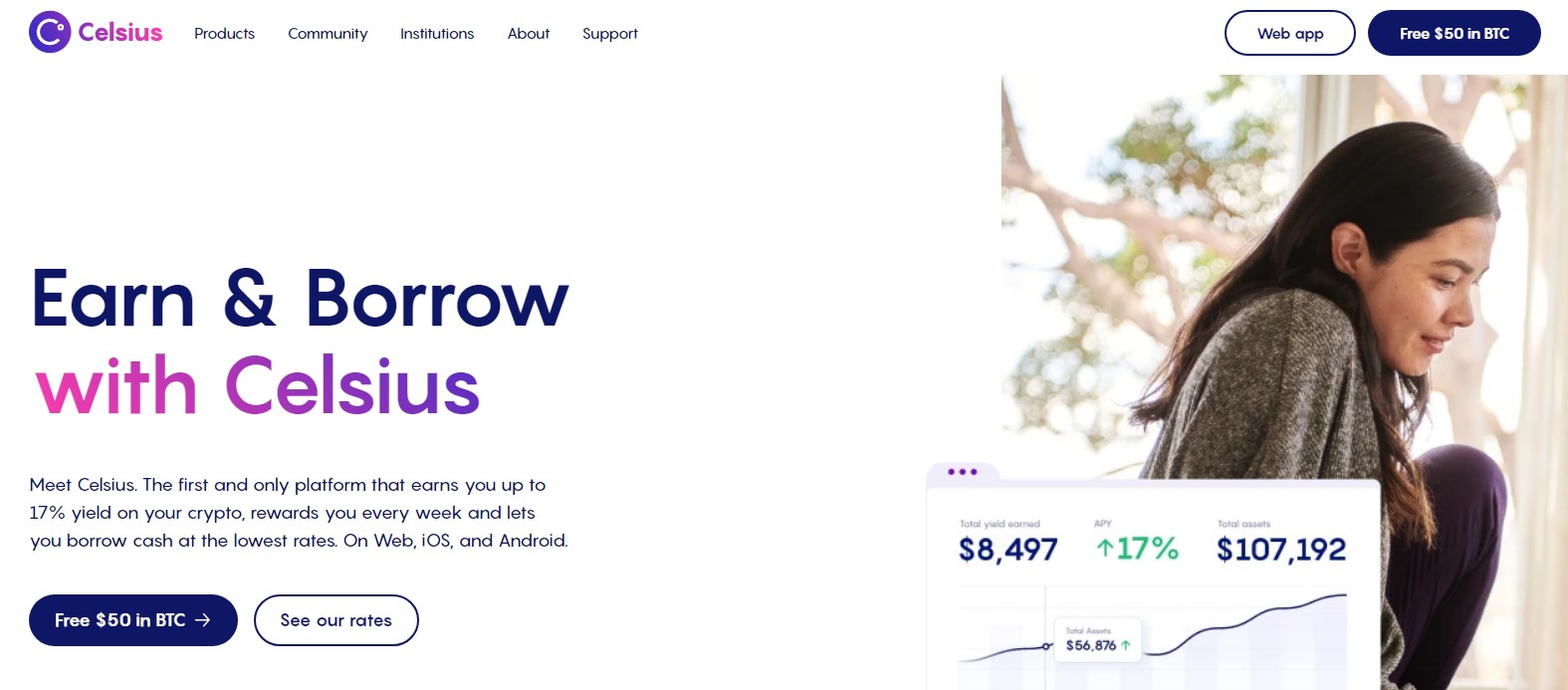 You will notice two reward amounts when going through the Celsius earn list. For example, the crypto with the highest yield, Synthetix (SNX), comes with an in-CEL reward APY rate of 18.63% and an in-kind reward APY of 14.05%. That's because the Celsius reward system is based on their native CEL coin.
Thus, if you have a certain amount of CEL in your portfolio, you are eligible for the in-CEL reward model, which is tier-structured (from bronze to platinum) based on the percentage of CEL tokens that occupy your portfolio.
Finally, Celsius payouts are activated weekly — every Monday, regardless of your loyalty tier.
Pros:
Zero-fee transactions and withdrawals;
No minimum limit for deposits;
Large choice of supported cryptocurrencies.
Cons:
Loyalty benefits are given only to CEL holders;
Funds aren't SIPC or FDIC-insured.
Crypto.com
Crypto.com has been a popular crypto-trading destination since 2016, especially among avid crypto traders looking for more than just a buy-and-sell platform. The cryptocurrency exchange claims to have 10 million registered users worldwide, even though its name has been recently connected with some controversy and lack of transparency.
Crypto.com features 2 carefully designed earning programs that operate under separate terms and reward systems, so you must draw a clear line between Crypto Compound Lending and Crypto.com Earn before activating a savings account on this platform.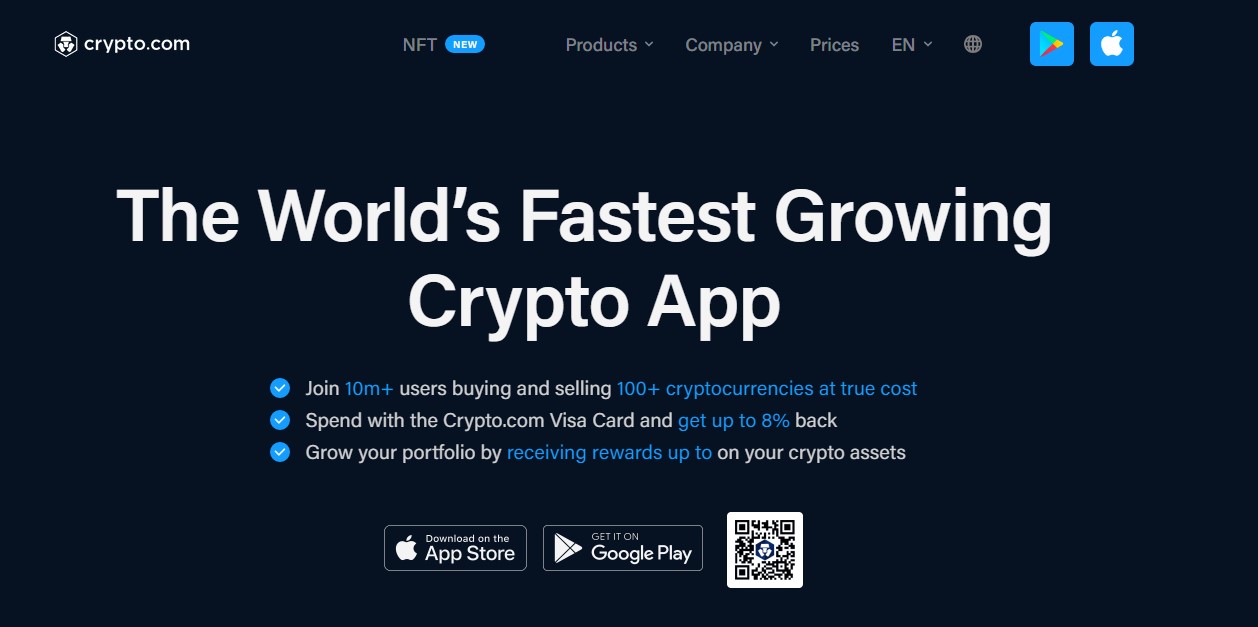 The first saving program provides saving plans through a decentralized mobile wallet, DeFi Earn, without the exchange being involved as a centralized intermediate in the process of staking/earning. However, in this compact guide, we'll focus on the Crypto.com Earn option, which comes as an in-app custodian feature that allows you to stake your crypto for a certain period in return for a predefined reward.
Similar to Celsius, Crypto.com has created a reward system based on its utility token CRO. More specifically, it is the number of your CRO tokens, together with the lock-up period, that determines the size of your interest rate.
You can acquire CRO tokens either with a credit card or trade them directly on the Crypto.com app against other cryptos in your possession. This is important to know because you need to purchase at least $400 worth of CRO to become eligible for Ruby, Jade, or Indigo Credit Card, which qualifies you for higher interest rates and other perks.
Last, on Crypto.com Earn, you can choose between three lock-up plans: flexible, 1 month, and 3 months and around 30 different cryptocurrencies.
Pros:
Clean UI design;
A wide range of saving options.
Cons:
Difficult-to-follow reward system;
Lower interest rates compared to its direct competitors.
BlockFi
BlockFi defines itself as a lending platform, even though it offers a full in-platform system for managing your crypto assets. The exchange delivers a sophisticated platform for crypto trading, crypto loans, BlockFi interest accounts, and a very extensive affiliate partner program. There is also a possibility for corporate clients to activate institutional profiles that come with a set of fees and no-limit benefits.
In terms of savings, BlockFi is famous in crypto circles for the handsome APY attached to BTC and USDT deposits. The amount of yield is determined exclusively by the size of cryptocurrency you've decided to keep on their platform. The profit you've earned on all types of crypto accrues daily in your balance, but it's paid out monthly.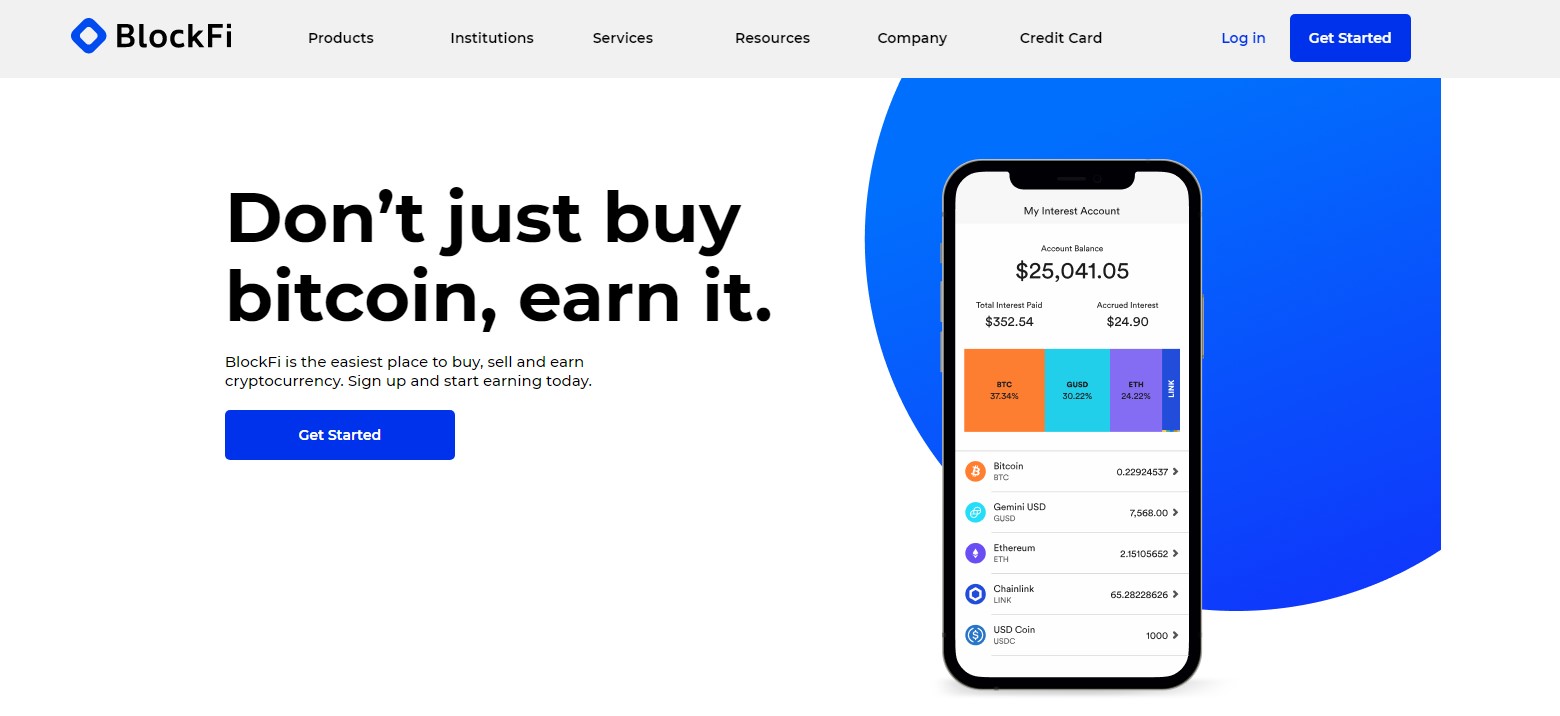 Each coin comes with a separate tier structure. For example, you can earn 4 % APY for keeping up to 0.25 BTC on BlockFi, and 1.5% for amounts up to 5 BTC. The tier-1 for Ethereum goes with 5% and a limit of 1.5 ETH. For USDC, BUSD, and GUSD, you can earn 9%, while the APY for USDT is an unbelievable 9.5%.
Finally, you should know that BlockFi doesn't act as custodian of your deposited funds but cooperates with external partners like BitGo, Gemini, and Coinbase for providing reserve storage.
Pros:
Transparent saving schedule;
No hidden fees and additional cost requirements;
No minimum balance requirement to activate your savings account.
Cons:
Cluttered interface, difficult for beginners;
APY and loan rates can be volatile;
Withdrawals from your crypto interest account are limited per month, depending on the type of crypto.
Nexo
Nexo is another blockchain-based system that targets HODLers and new investors by providing attractive yields and favorable crypto and cash loans. The platform was released in 2018 with the main goal to transfer Banking on Crypto, as their motto says.
The first thing that caught our attention on Nexo concerning their interest plans was that the Nexo savings account was open not only to crypto assets but also for USD, GBP, and EUR deposits with a 10% yield. When it comes to crypto, you will find an array of around 30 supported coins that you can stake with Nexo with up to a 17% interest rate.

However, these alluring numbers are available only for owners of the platform's native coin NEXO. More specifically, at least 10% of your total holdings on the Nexo account must be in NEXO coins so that you become eligible for the Earn in NEXO scheme, which is 2% higher for all staked assets compared to the regular Earn in Kind program.
Saving account holders should know that there is an automatic transfer of funds from their savings wallets to the credit line wallet, which is directly connected to the crypto-backed Nexo Mastercard. With this debit card, you can make direct payments at 40 million retailers without any FX costs and earn 5% cashback on all purchases.
However, remember that automatic transfers do not always have a sleek flow as they're conditioned by the current loan-to-value ratio, which imposes a certain threshold amount for your transferred assets.
Pros:
Possibilities for exceptionally high yields both with crypto and fiat currencies;
Excellent mobile app with full functionality;
Custodial insurance of $100M by BitGo and Lloyd's of London.
Cons:
The premium yield package requires holding a high percentage of NEXO coins;
Lower interest rates compared to individual crypto staking options outside of the platform.
Coinbase
Coinbase reputation as a highly secure crypto destination dates back to 2012, which means that in-platform earn-interest offers must be legit and transparent as well. The exchange has always kept a low profile when it comes to the scope of its services and supported cryptocurrencies — that is to say, you won't find many advanced features on the Coinbase regular platform like futures or margin trading, but for passive earning, the exchange offers more than one option:
Stake Crypto
This earning program refers to cryptocurrencies that run on the Proof-of-Stake protocol, where stakeholders validate transactions for full transparency. In a nutshell, the coins you'd stake for a given period contribute to the security of the entire blockchain, and you'll receive a certain amount of that coin in return.
Given the fact that the larger the staking funds, the higher the chances for a reward, Coinbase operates as a staking pool whereby stars join forces, i.e. their coins, and share the earned rewards based on the individual contribution of each validator.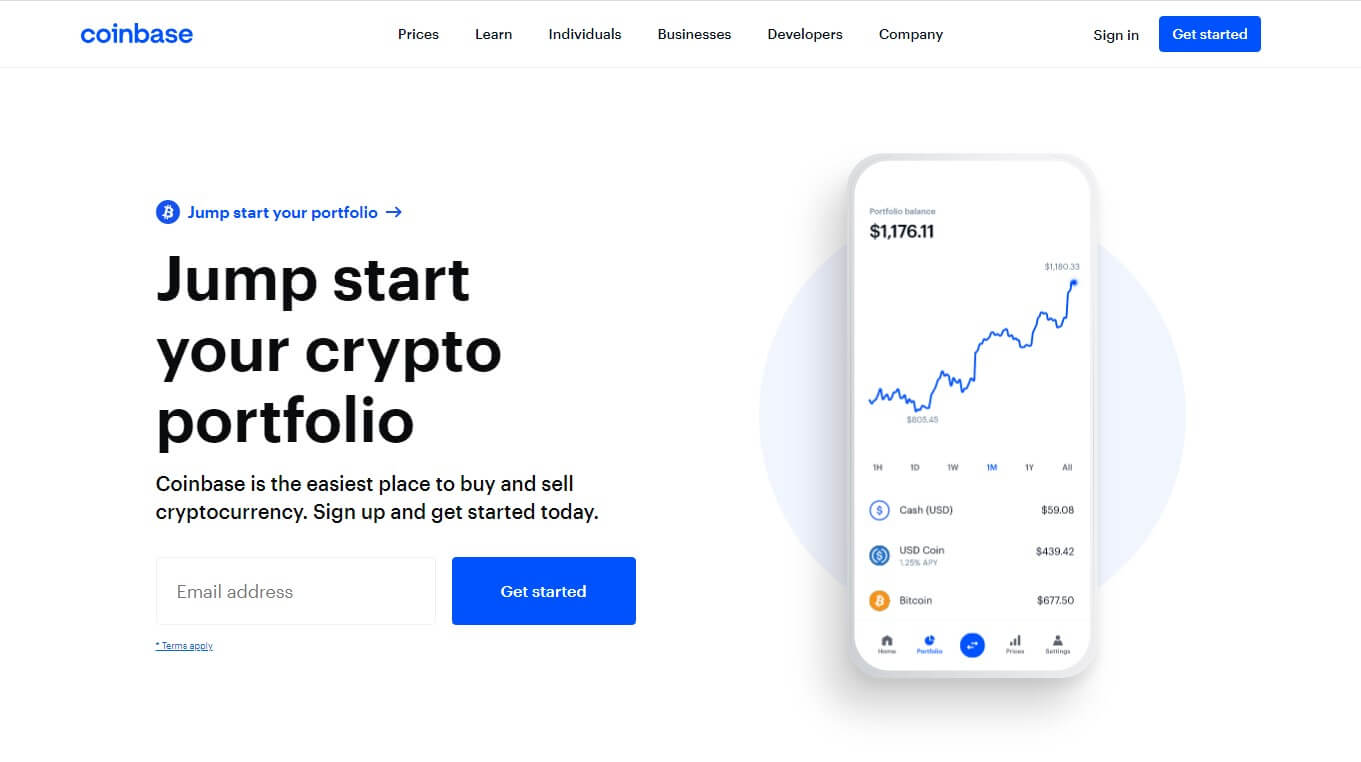 On Coinbase, you can get involved in the process of staking through a handful of PoS coins like ETH2 and Cosmos, with an average interest rate of 5%, depending on the coin itself.
Coinbase Earn
Coinbase Earn is an innovative program that encourages beginners to learn the basics about selected cryptocurrencies (through video presentations) and earn a portion of the respective crypto in return for the acquired knowledge.
The amount of rewards is insignificant. For example, if you successfully pass a quiz on Amp (AMP), you'll receive $4 worth of that coin. However, the Coinbase team claims that users have earned $100 million in total since this program launched in 2018. Other coins that Coinbase Earn covers are ZCash (ZEC), Dai (DAI), Stellar (XML), and many more.
In addition, you can use the independent Coinbase wallet app to get access to the trending DeFi apps like Compound or Aave, which maintain liquidity by allowing individual users to serve as liquidity providers in return for generous rewards.
Pros:
Beginner-friendly interface with an extensive knowledge base;
FDIC insurance on all funds kept on the platform;
Cons:
Coinbase keeps a 25% of the rewards for serving as a pool administrator;
Long-term lock-in periods for ETH2.
KuCoin
KuCoin is one of the most versatile crypto exchanges on the current market. It offers over 500 cryptocurrencies on its spot platform and a myriad of trading opportunities for more advanced traders. For that reason, it's not surprising that we've found multiple ways of earning passive income on KuCoin.
The most popular method is simply lending. The KuCoin lending platform supports around 100 cryptocurrencies, and the list includes some less-known coins that couldn't be found on competitors' lending platforms.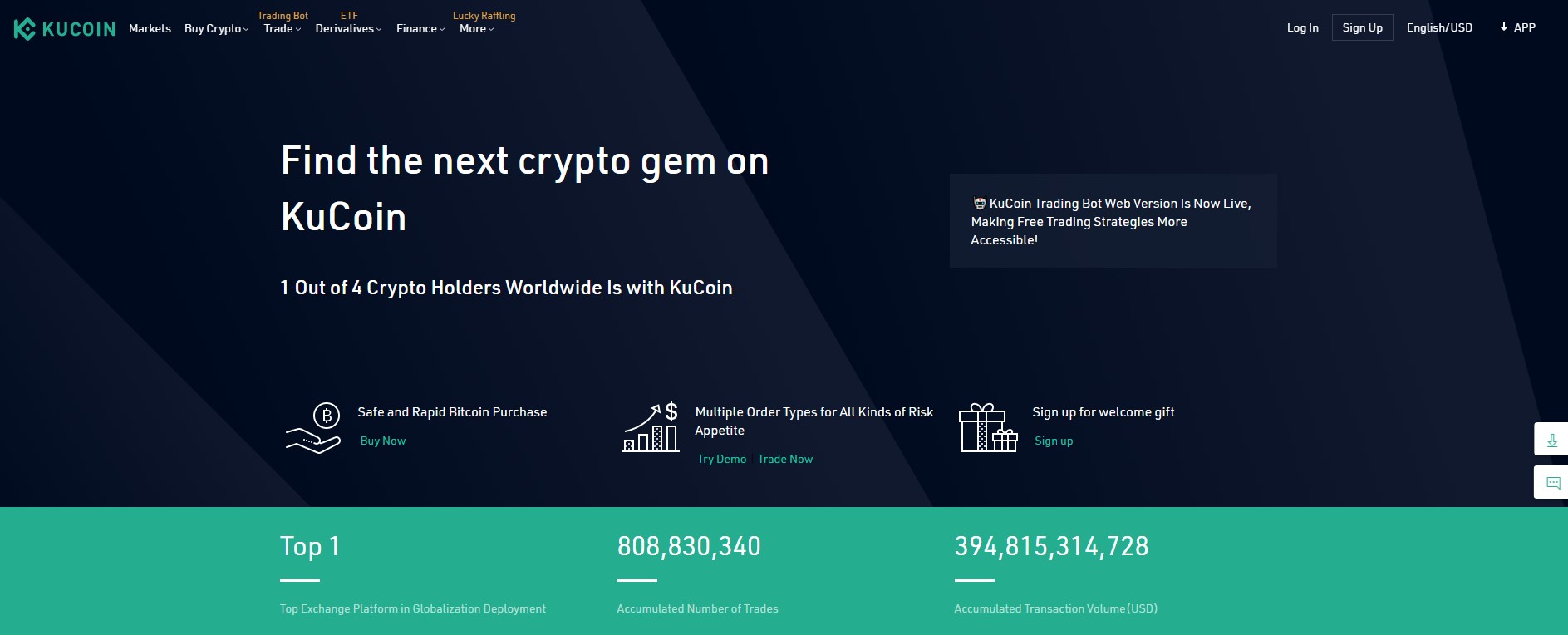 The KuCoin lending program works either as Auto-Lend or Manual Lend. The returns can be much higher on the latter, but because the borrow-lending process takes place directly between the participants, manual lenders face an issue with fast loan repayments.
In this scenario, borrowers can settle the debt in a few hours, making it impossible to calculate the yield rate. Auto-lending, on the other hand, guarantees that your deposited crypto will be "ready" for lending at any point, even when they've just been returned from the borrowers.
Similar to other platforms that have released their native coins, KuCoin offers lucrative offers for those using its KuCoin Token (KCS). The exchange features a KCS Bonus program whereby the network shares with KCS holders 50% of the total trading fees paid for processing KCS transactions daily.
Finally, KuCoin supports staking, and just like other staking-friendly exchanges, it offers a range of available PoS coins through its brand product Pool-X, which enables in-platform stakers to earn high interest.
Pros:
Variety of options for passive earning;
Low staking pool fees.
Cons:
The multi-layered platform can be overwhelming for new investors;
The different lending systems can confuse traders.
How to Earn Interest on Crypto?
Statistics show that there are 300 million people around the world who have already purchased some crypto, so the question What should I do now with my crypto? goes in favor of the development of crypto platforms, which are gradually expanding their services with different methods for passive income.
Most earning plans don't require specific technical skills to get started with making passive earnings. However, you should be aware of the overall performance and reputation of the platform on which you decide to leave your coins.
As pointed out before, the interest rate is a deciding factor, but sometimes, there are plenty of other features that can negatively affect the outcome if you fail to "detect" them on time. For that reason, we'd say that once you find a reliable lending service, half of the work is already done.
Once you find the perfect match, the steps for joining in are more-or-less the same on all platforms (expert for DeFi protocols, which do require a certain fluency in blockchain technology).
Create a Crypto Account
The crypto lending platforms we've listed in the previous section operate in a centralized manner. As such, you can expect the platform to take control of your funds during the lock-up period using its own security measures for funds protection.
As an active participant, you'll have to go through a KYC checkup before any interaction with the platform on a financial basis starting from the sign-up process. The identity verification does exclude any chance for anonymity but guarantees a company that complies with the applicable AML/CFT regulations.
Explore the Interest Rates
However, a good lending platform doesn't guarantee the most competitive interest rate on the market. if you do little APY research of a single coin across different platforms, you'll see quite different numbers. ADA, for instance, comes with 4-8% APY on Nexo, 3.98-4.97% on Celsius, and 5.5% on BlockFi. Rates depend on different factors, such as whether you stake or lend your ADA, the exchange fees, and the current market demand for that coin.
Stablecoins, on the other hand, often hit over 10% as they're one of the most attractive instruments for earning interest on the crypto market these days. That's because the majority of borrowers are seasoned margin traders, who need your funds to enhance their position, and the advanced margin markets usually use stablecoins as a base currency in the trading pairs they offer.
Whichever path you choose, don't jump locking in your crypto holdings without a detailed investigation of the exact amount you could earn. You can play around with our crypto staking calculator to an idea.
Fund Your Savings Account
If you've already registered on the selected platform, you won't need any additional registration process for funding your savings account. You'll just need to transfer the desired amount of crypto from your independent crypto wallet or in-exchange wallet. Crypto platforms usually don't charge for this transition.
If you don't own any crypto and still want to try your hands at lending, staking, or any other form of passive-earning, you'll have to buy some coins first. As you can see, the majority of lending services are part of the many features of a trading platform, where you can buy, sell, or trade digital assets of your choice.
Of course, you need to double-check whether the platform supports fiat-to-crypto purchases with your local currency. Undoubtedly, it's most convenient to make the entry-level purchase on the same platform where you'll create a crypto savings account to avoid additional money transfers and conversion costs.
Start Earning Interest
Once you satisfy all prerequisites for setting up a savings account, you can just sit in front of your computer and see how your crypto grows. The catch is that your savings will bloom only if the price of your locked coins is moving in an upward direction. In that case, the interest rate will grow proportionally with its value, resulting in quite a generous return.
However, if your crypto crashes for some reason, the attractive 10% APY will mean nothing on your portfolio balance sheet. All in all, it's a worth-taking risk considering the role cryptocurrencies have started taking in the global financial system.
Pros and Cons of Earning Interest in Crypto
Blockchain has proven to be a suitable environment for the development of a new borrow-lending industry, which will enable millions of HODLers to benefit from their crypto investment without selling their coins. However, there are a few disadvantages attached to the blockchain savings accounts, and this is how they compare against earning-interest perks:
Pros:
No specific requirements for opening a savings account;
Flexible lock-up periods and low or no minimum limits for depositing funds;
Considerably higher APY than central banks.
Cons
Fluctuating interest rates can't ensure high returns in the long haul;
The loose legal framework leaves room for hacker scams and other fraudulent schemes.
FAQ
Is YouHodler a good platform for earning interest?
Even though it didn't make it to our top list of the best crypto savings accounts, YouHodler is a world-popular crypto platform with several earning options. It allows HODLers to earn decent interest rates on over 50 cryptocurrencies, including BTC, ETH, Dogecoin (DOGE), Bitcoin Cash (BCH), and Binance Coin (BNB).
The platform is especially proud of the 12% interest rate for lending stablecoins like USDT, BUSD, TUSD, and HUSD, which is one of the highest in the industry. However, users often criticize YouHodler for not being transparent enough when it comes to risks and fees.
What's the best crypto interest account for Bitcoin?
Hodlnaut caught the attention of Bitcoin HODLers when it presented the new tier structure for Bitcoin savings that allows users to earn up to 7.5% APY on BTC and Wrapped Bitcoin (WBTC). This "novelty" made Hodlnaut the most attractive marketplace for passive earning in the industry.
Can I earn interest on Binance?
You can find quite a few options for earning interest on Binance. The largest world exchange offers a separate platform for DeFi Staking, a chance to earn a portion of the re-designed ETH2 tokens, and lending popular coins through the Locked Savings program. Also, you can benefit from using their native BNB coin by taking part in the Binance Vault investment opportunity.
What is compound interest?
This term is taken from the traditional banking system and denotes the interest on your savings funds that "piles up" on both the principal and the accumulated interest rate during the lock-up period. More crypto lending platforms apply this method of calculating yields compared to the simple interest, which takes into account only the principal deposit amount.
However, you should carefully check whether your selected platform applies a compound interest rate (APY) or simple interest rate (APR), as it can affect the size of your future interest payments.
Disclaimer: Digital currencies and cryptocurrencies are volatile and can involve a lot of risk. Their prices and performance is very unpredictable and past performance is no guarantee of future performance. Consult a financial advisor or obtain your own advice independent of this site before relying and acting on the information provided.